Snickerdoodle Cupcakes have all the cinnamon sugar goodness of classic cookies in cupcake form with a creamy cinnamon buttercream frosting.
If Snickerdoodle Cookies are your favorite Cookies, this tasty Cupcake Recipe is full of the cinnamon sugar goodness you love!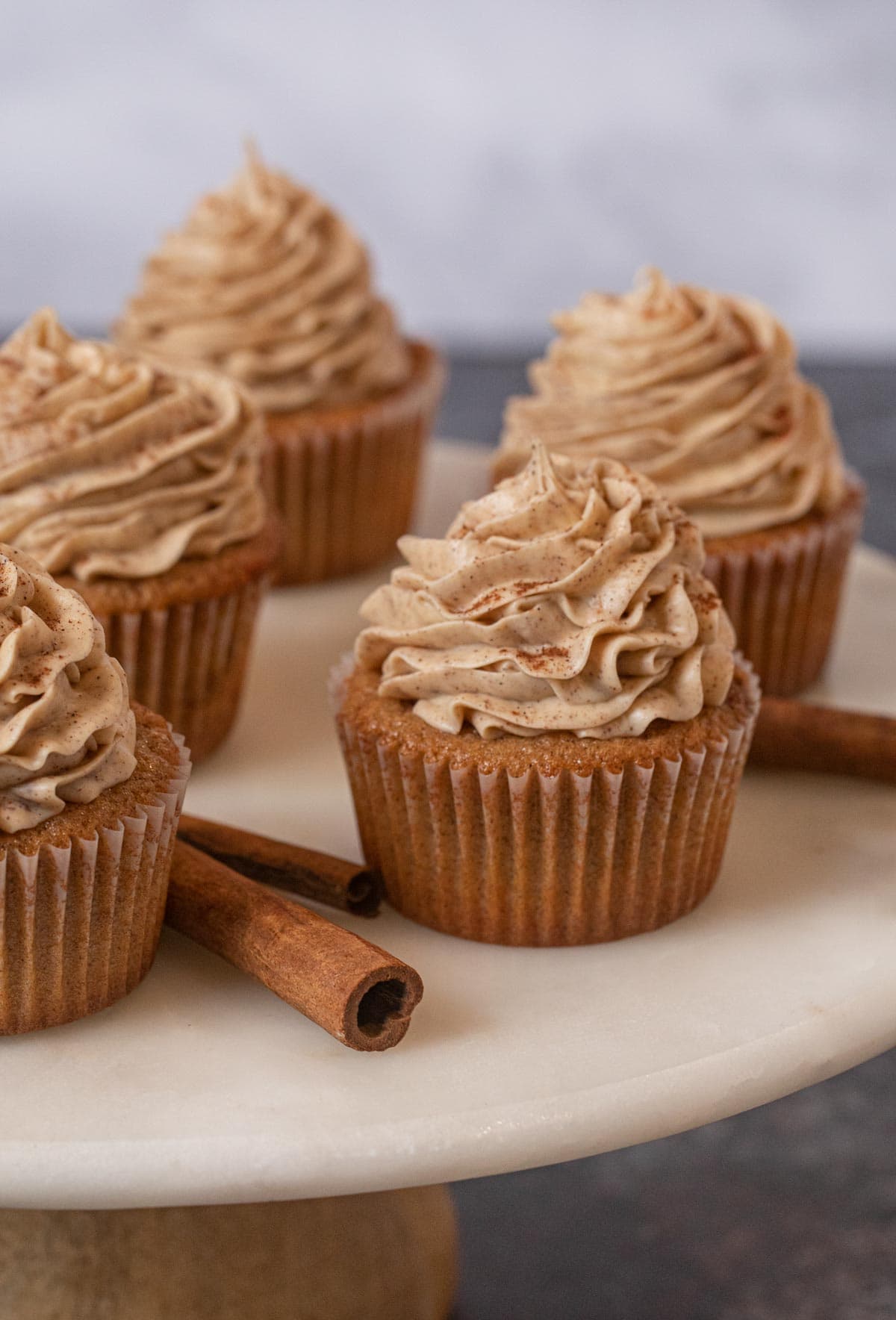 These cinnamon-vanilla cakes are sure to be a favorite cupcake for all the cinnamon sugar lovers out there! They are light and buttery, with the perfect balance of sweetness and spice from ground cinnamon and white sugar. With less work than a full cake, plus you can take them on the go, these are the best new cupcake for holidays and parties you need to make!
Snickerdoodle Cupcakes start with a basic Vanilla Cupcake recipe with lots of delicious cinnamon added. The cinnamon flavored cupcakes only take about 20 minutes to bake, but then they do need at least an hour to cool before frosting. Simple buttercream frosting gets even more cinnamon added so every bite is filled with sweet warm cinnamon flavor.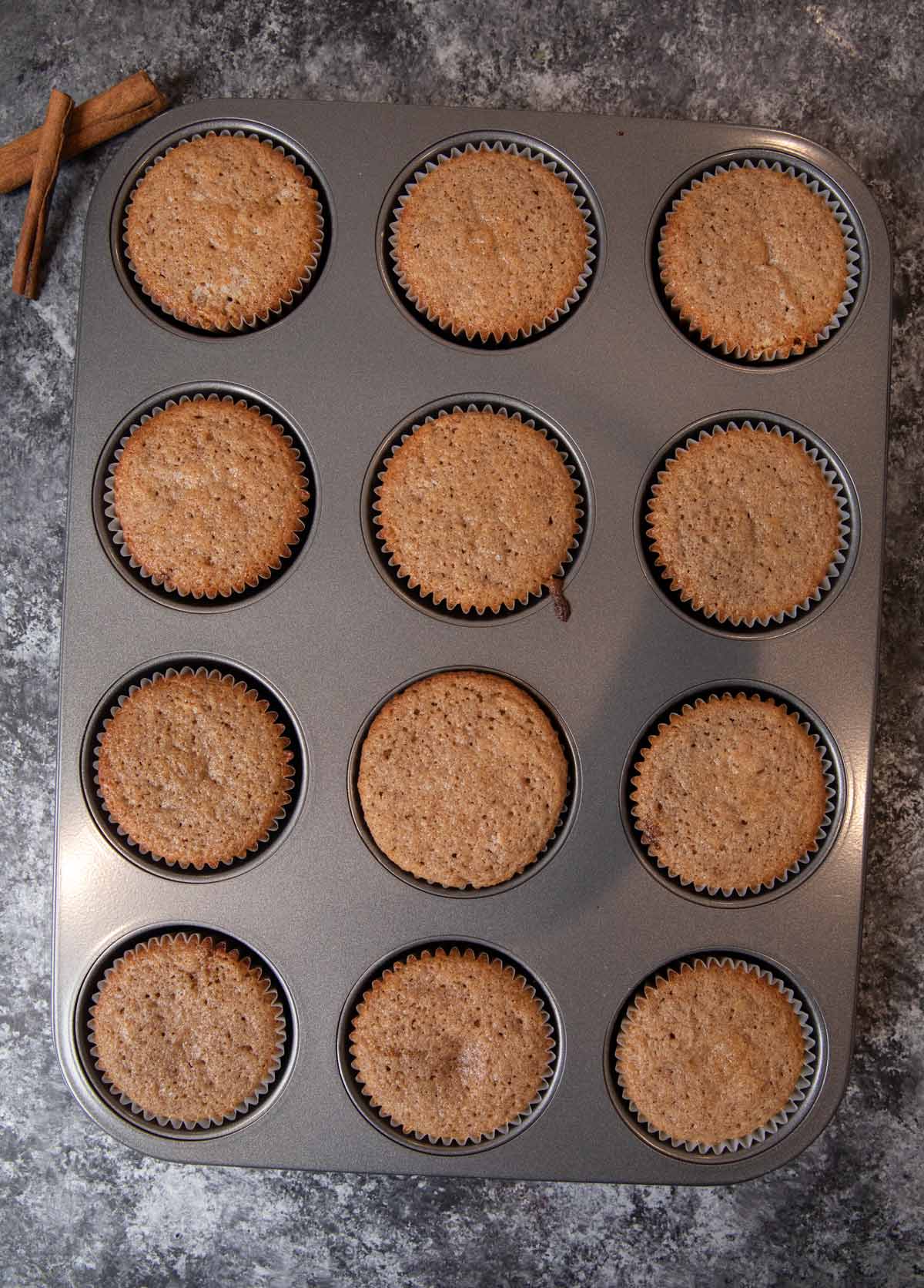 The cinnamon Buttercream Frosting is one that you are going to want to add to your baking list for all your favorite baked good recipes. Add it to Cinnamon Rolls instead of regular icing or anytime you want to instantly upgrade brownies or cookies. If this creamy, rich cinnamon frosting isn't delicious enough, you can always turn it into Cinnamon Cream Cheese Frosting with the instructions in the variation section!
If you are making these Snickerdoodle Cupcakes for a party or a special event, dress them up even further for a show-stopping treat! Bake them in festive paper liners or grab specialty lined cups for baking at the craft supply store. For extra fancy cupcakes, use a star tip with your piping bag to get the perfect decorative cinnamon frosting swirl then dust with a cinnamon-sugar mixture, drizzle with Salted Caramel Sauce, and top with mini Snickerdoodle Cookies!
What are Snickerdoodles?
Snickerdoodles are a type of cookie that originated in the United States, known for their soft and chewy texture. They're traditionally made with butter, sugar, flour, cream of tartar, and baking soda, then rolled in a mixture of sugar and cinnamon before baking. The key characteristic of Snickerdoodles is their tangy-sweet flavor with a strong cinnamon flavor, and a slightly crinkled, sugary top.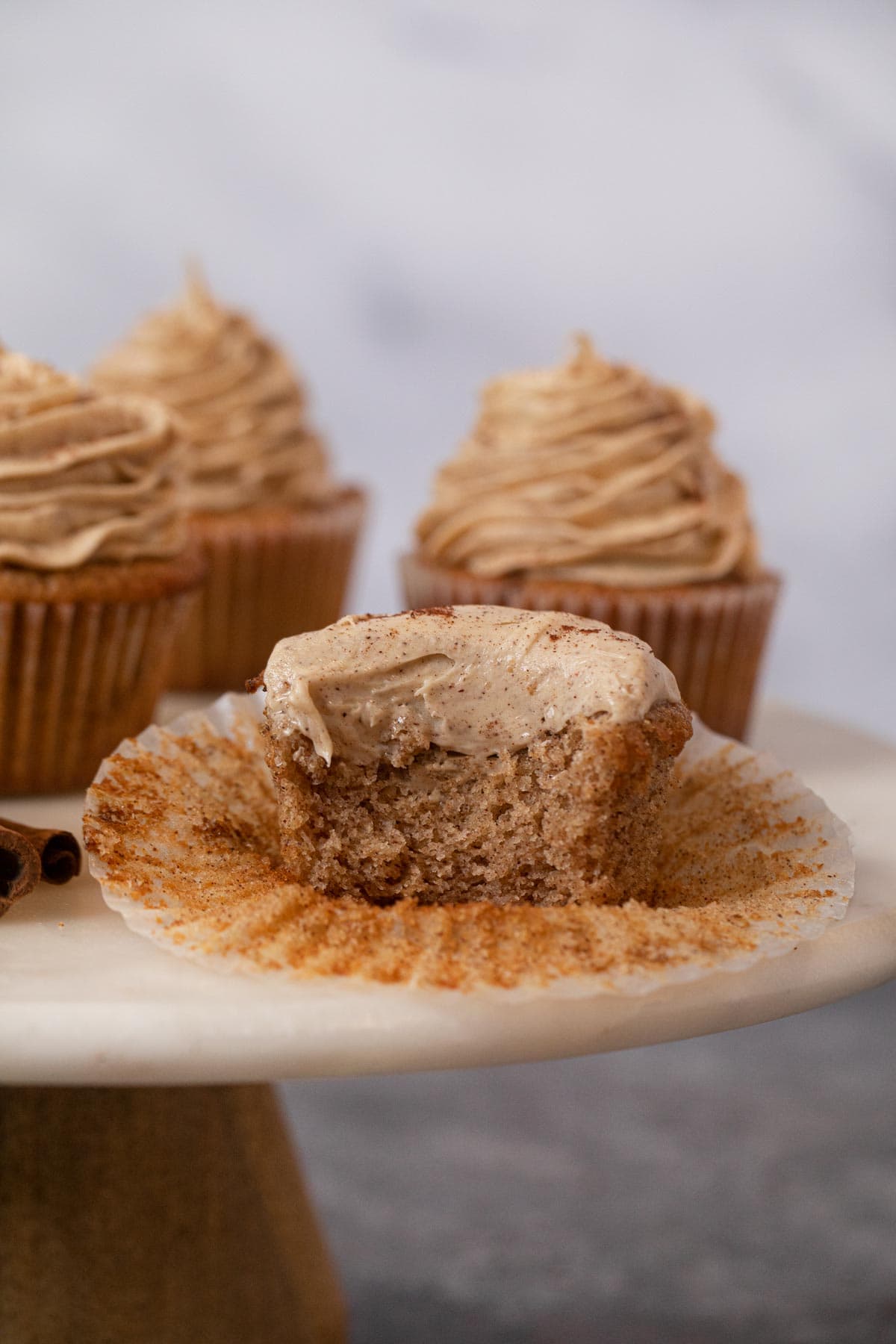 How to Make Snickerdoodle Cupcakes
Prep: Preheat the oven. Line a regular muffin tray with paper liners.
Cream: Cream the butter and sugar on medium speed until light and fluffy, then add in the egg, vanilla, and milk until smooth.
Batter: Sift the flour, baking powder, cinnamon and salt. With the mixer on the lowest speed, add the flour mixture until just combined.
Bake: Fill the lined cups 2/3 full with the batter. An ice cream scoop makes this easy. Bake until a toothpick comes out clean. Cool the cupcakes completely before frosting.
Frosting: Cream the butter on low speed, then add the powdered sugar in increments until fully combined. Raise to medium-high speed and mix one more minute. Add the remaining ingredients and beat until light and fluffy.
Decorate: Transfer the frosting to a piping bag with a round tip or star tip. Pipe frosting in a swirling mound.
More Delicious Snickerdoodle Flavored Treats
FAQs for Snickerdoodle Cupcakes
How long do cupcakes need to cool before frosting?
You'd be surprised how much heat these little cupcakes can hold in them. Let them cool completely before frosting, at least an hour, so that the frosting doesn't melt off.
What is the key to perfect cupcakes?
For light and fluffy cupcakes, be careful not to over-mix. Sift the flour to remove any clumps before adding and mix until just combined. Don't let the cupcake batter sit too long before baking either, or you will lose all the air you whipped into the batter.
What if I don't have a frosting piping bag?
You can make a piping bag with parchment paper rolled into a cone or use a Ziploc bag with a small corner snipped off. While it won't have the precision of a piping bag, it's still an easy, beautiful way to frost your baked goods.
Can I make these cupcakes into a regular cake?
This recipe can easily be made into a sheet cake, two round cakes (perfect for layering!), loaf cake, and mini cupcakes. There are baking times for different cake sizes included in this post.

Create a free account to

Save Recipes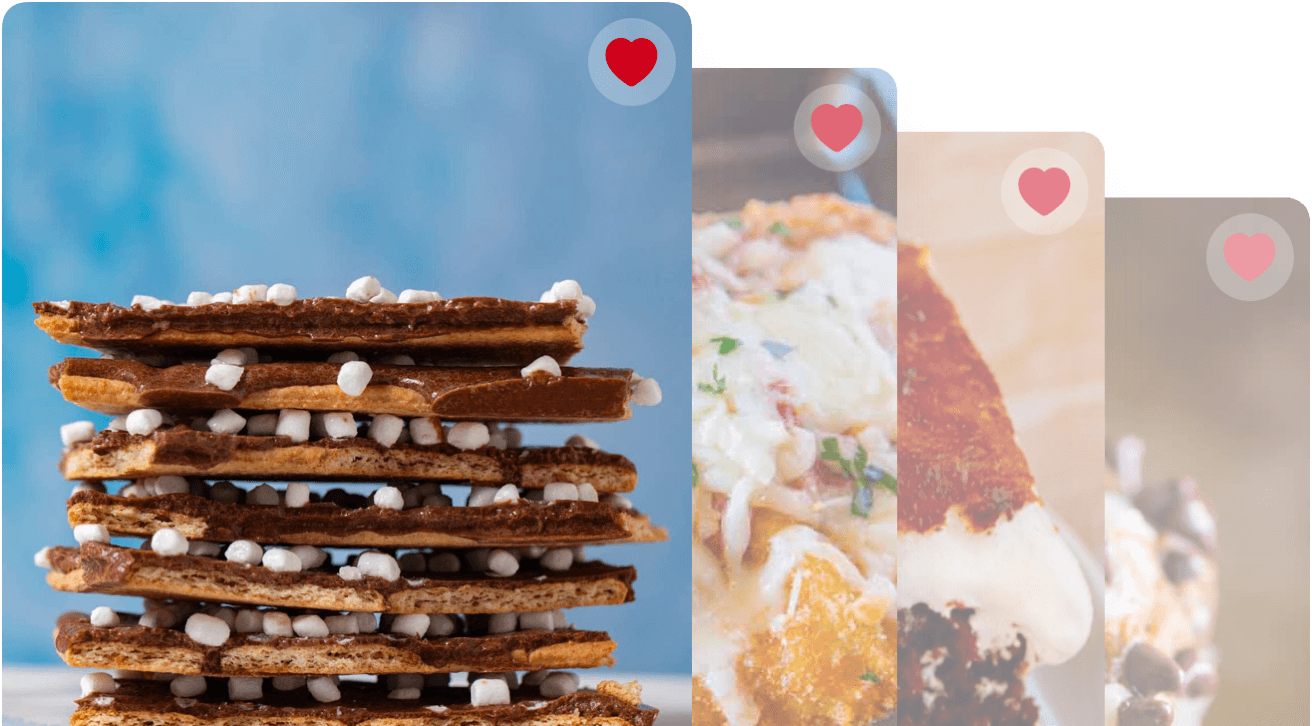 Key Ingredients
Butter: Butter contributes to both the moist, tender texture of the cupcakes and the creaminess of the frosting. It is unsalted to allow better control of the salty flavor.
Sugar: Sugar is essential in cupcake recipes to provide sweetness and it helps create the light and fluffy texture when creamed with butter and eggs.
Egg: The egg acts as a binder to hold all the ingredients together and contributes to the cupcakes' structure to keep them from being dense or sinking.
Vanilla: Vanilla extract enhances the flavor of the cupcakes and frosting, providing a subtle sweet, creamy warmth in the background.
Milk: Whole milk adds moisture to the batter, aiding in creating a smooth, velvety consistency, and the full fat milk gives them a delicious richness.
Baking Powder: Baking powder is a leavening agent used to help the cupcakes rise during baking, making them light and fluffy.
Cinnamon: Cinnamon adds the distinctive warm, spicy flavor that Snickerdoodle cookies are known for and it's in both the cupcakes and the buttercream frosting.
Powdered Sugar: Used in the frosting, powdered sugar provides both sweetness and a smooth consistency, essential for pipable buttercream.
Heavy Cream: When added to the frosting, heavy cream provides richness and aids in achieving a fluffy, spreadable texture.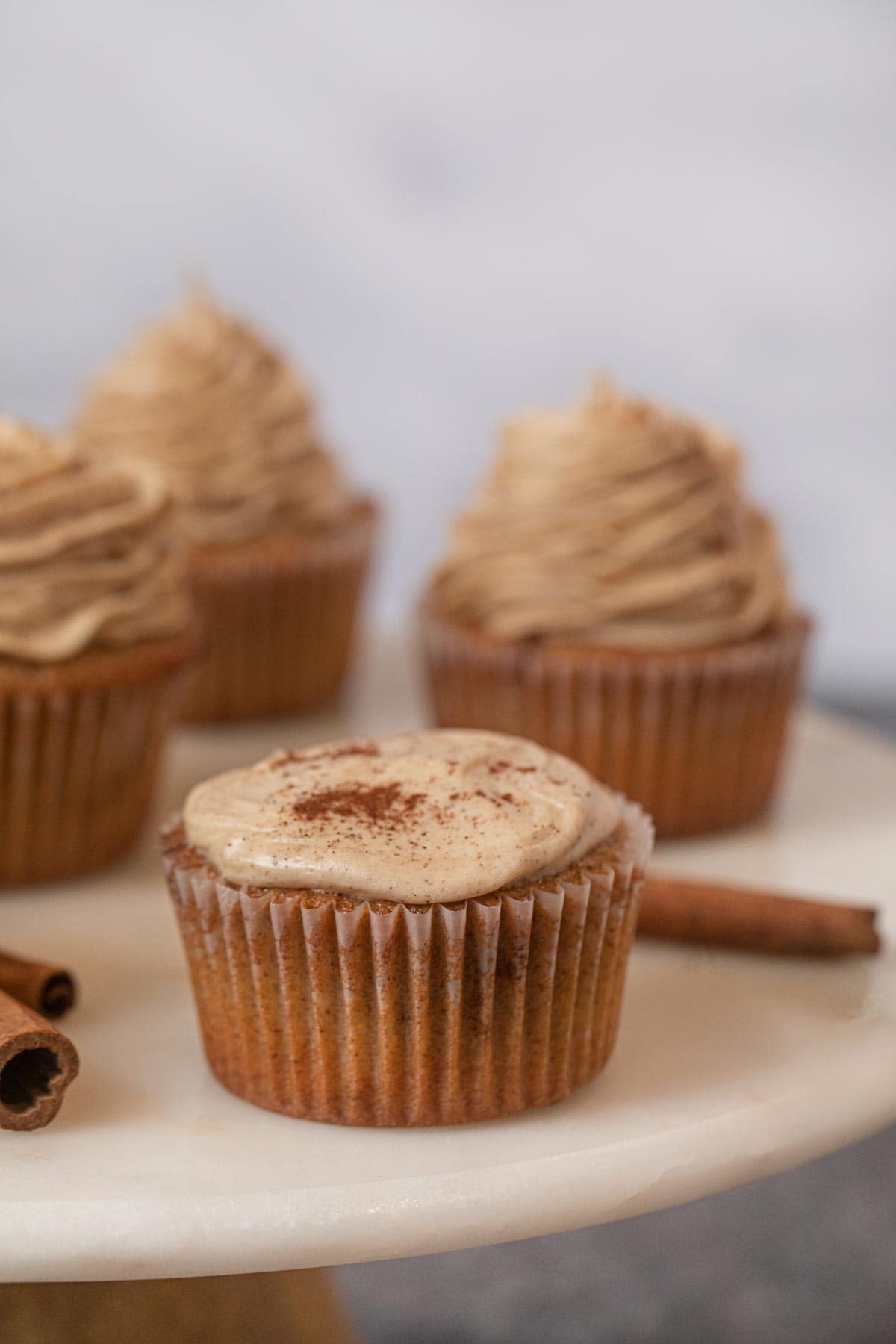 Can Snickerdoodle Cupcakes be made ahead of time?
Yes, Snickerdoodle Cupcakes can indeed be made ahead of time. The cupcakes themselves can be baked up to 3 days in advance and stored in an airtight container at room temperature. The frosting can also be prepared ahead and refrigerated, but it may need to be re-whipped to restore its fluffy consistency before use.
Variations
Chocolate: Replace ¼ cup flour with ¼ cup unsweetened cocoa powder to easily make Chocolate Snickerdoodle Cupcakes. You can also fold ½ cup chocolate chips into the batter for bursts of chocolatey goodness. White chocolate chips would taste amazing!
Nuts: Toast ½ cup chopped pecans or walnuts and gently fold them into the batter after it is mixed. Top the frosting with more toasted pecans or walnuts.
Pumpkin Spice: Make Pumpkin Snickerdoodle Cupcakes replacing the ground cinnamon with Pumpkin Pie Spice and add ⅓ cup Pumpkin Puree.
Tangy: Add a teaspoon of cream of tartar for some extra lift and that signature melt-in-your-mouth tangy flavor of Snickerdoodle cookies.
Sour Cream: Make your Snickerdoodles Cupcakes melt in your mouth by swapping the whole milk with sour cream. You can also use Greek yogurt or buttermilk, or try Eggnog during the holidays!
Cinnamon Cream Cheese Frosting: Reduce the butter to ½ cup and add 1 cup softened cream cheese to your frosting mixture. Add cream if the frosting is too thick.
Baking Time Variations
Sheet Cake: Bake in a 13×9 pan for 30-35 minutes at 350 degrees.
Round Cake: For two 9 inch round cake pans, bake 25-30 minutes at 350 degrees.
Loaf Cake: For a 9×5 loaf pan, bake for 40-45 minutes at 350 degrees.
Mini Cupcakes: For a 24 cup mini cupcake pan, bake for 10-12 minutes at 375 degrees.
More Flavorful Cupcake Recipes
How to Store
Serve: Keep unfrosted Snickerdoodle Cupcakes covered in cool, dry place for up to 3 days. Frosted cupcakes can be kept at room temperature for up to 2 hours before they should be stored.
Store: Snickerdoodle Cupcakes with frosting can be kept refrigerated in an airtight container for up to 5 days. Unfrosted cupcakes can be refrigerated for up to 1 week.
Freeze: Once completely cooled, transfer unfrosted Snickerdoodle Cupcakes to a large container. If stacking, place parchment paper between layers so they don't stick. Freeze unfrosted Snickerdoodle Cupcakes for up to 3 months. Thaw uncovered at room temperature, then frost and serve.


Ingredients
Snickerdoodle Cupcakes:
6

tablespoons

unsalted butter

, softened

3/4

cup

sugar

1

large

egg

2

teaspoons

vanilla extract

2/3

cup

whole milk

1 1/4

cups

flour

1 1/4

teaspoons

baking powder

2

teaspoons

ground cinnamon

1/4

teaspoon

salt
Cinnamon Frosting:
1

cup

unsalted butter

, softened

3

cups

powdered sugar

1

teaspoon

vanilla extract

2

tablespoons

heavy cream

2

teaspoons

ground cinnamon
Instructions
Vanilla Cupcakes:
Preheat the oven to 375 degrees and line a 12 cup muffin tray with liner cups.

To a stand mixer add the butter and sugar and beat on medium speed until light and fluffy.

Add in egg, vanilla and milk until smooth.

Sift together flour, baking powder, cinnamon and salt and add it to the stand mixer on the lowest speed setting until just combined.

Using an ice cream scoop fill the cups 2/3 full and bake for

18-20 minutes

until a toothpick comes out clean.

Cool completely.
Cinnamon Frosting:
To your stand mixer on low speed cream the butter then start adding in the powdered sugar in ½ cup increments until fully combined then raise the speed to medium-high for

1 additional minute

.

Add in the vanilla, heavy cream and cinnamon, beating until light and fluffy for

1 minute

.

Add frosting to piping bag and frost your cupcakes.
Nutrition
Calories:
425
kcal
|
Carbohydrates:
54
g
|
Protein:
3
g
|
Fat:
23
g
|
Saturated Fat:
14
g
|
Cholesterol:
74
mg
|
Sodium:
65
mg
|
Potassium:
84
mg
|
Fiber:
1
g
|
Sugar:
43
g
|
Vitamin A:
726
IU
|
Calcium:
52
mg
|
Iron:
1
mg