Vanilla Cupcakes with Vanilla Frosting are moist, light, and fluffy cupcakes packed with vanilla. A classic recipe for perfect cupcakes!
Just like our Easy Vanilla Cake, this classic Cake Recipe is simple and sweet perfection. The best recipe for moist, melt-in-your-mouth Vanilla Cupcakes ever!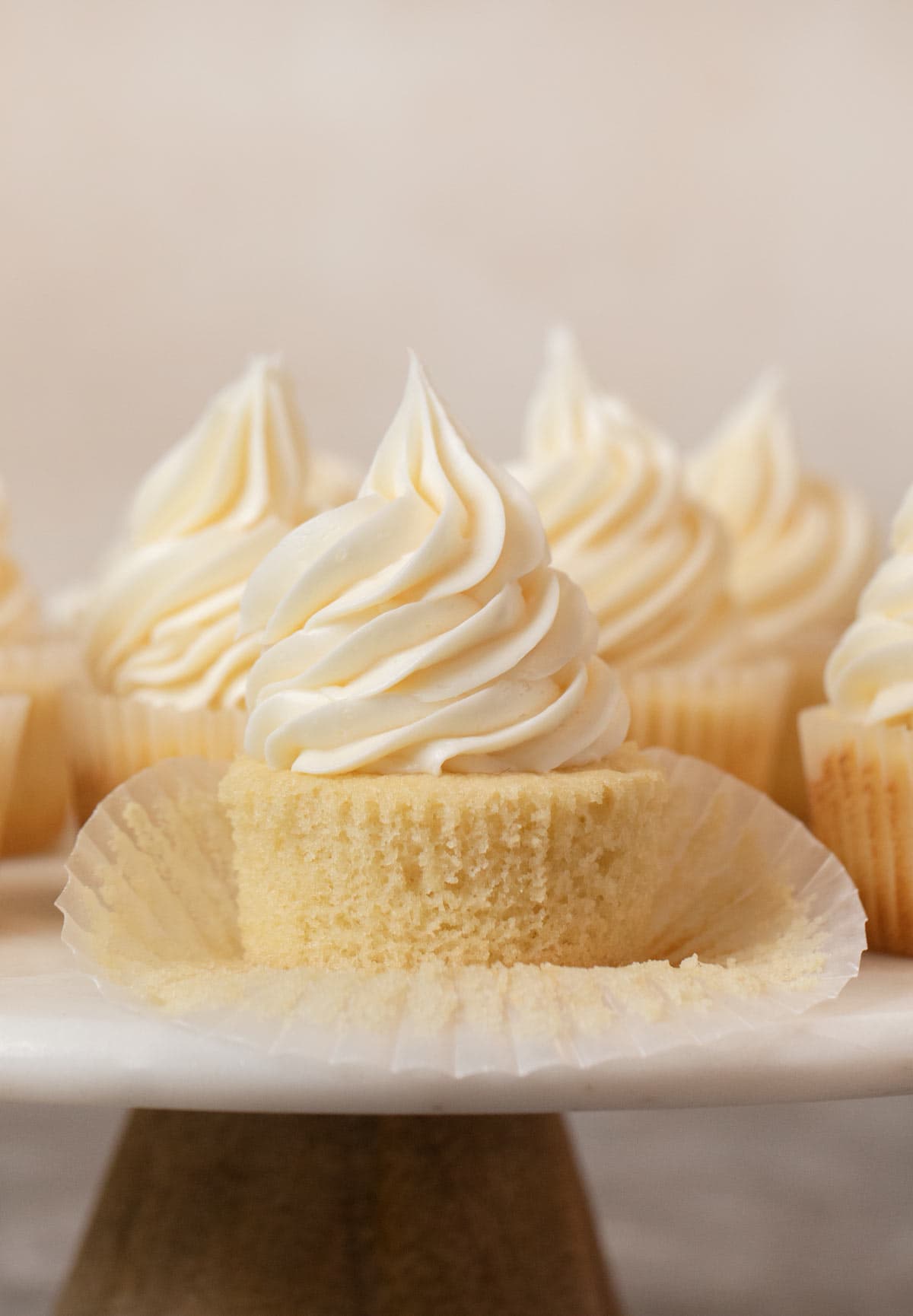 While it's commonly found in baking recipes, vanilla is anything but common. The second most expensive spice, vanilla sometimes gets a bad wrap as boring and that couldn't be farther from the truth! Vanilla is complex, both sweet and slightly bitter, with smoky and floral notes. It pairs well with almost everything but it's also delicious on it's own. Use this classic vanilla batter as a base to more flavors or enjoy the simple perfection of warm sweet vanilla.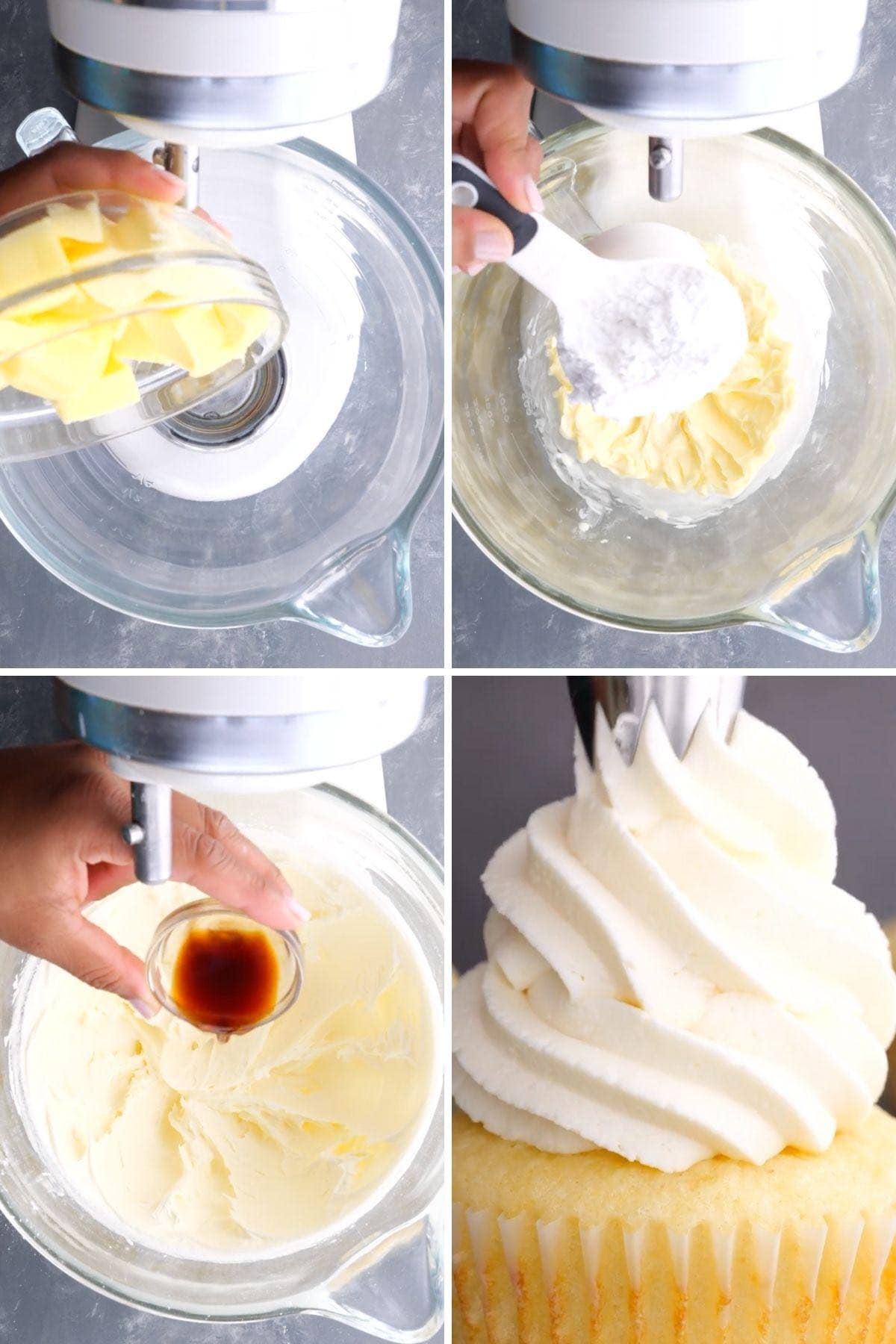 These homemade Vanilla Cupcakes might seem ordinary but one bite will show how wonderful they are. They are moist and fluffy, practically melt-in-your-mouth, and are bursting with sweet vanilla flavor. The egg yolks and whole milk add a layer of richness, and the classic Vanilla Buttercream Frosting finishes off the perfect classic cupcake.
The perfect Vanilla Cupcake recipe is made with just a handful of simple ingredients and a little extra care – but is still ridiculously easy with our step-by-step instructions. The main thing to remember, above all else, when you are making homemade Vanilla Cupcakes is to use real vanilla extract and not artificial vanilla or imitation vanilla. If your bottle says "flavoring," it's not the real stuff.
Easy Classic Cakes for Any Occasion
Tips for Making Perfect Vanilla Cupcakes
Use whole

vanilla beans

instead of

vanilla extract

for the best

vanilla flavor

. They are a little pricey but when vanilla is the main flavor, it could be worth the splurge. You could also get really fancy and use Tahitian vanilla, Bourbon vanilla, or vanilla powder.
Whatever kind of

vanilla extract

you use, be sure you don't use artificial

vanilla flavor

ing. It is bitter, doesn't capture the essence of vanilla flavor, and has a poor aftertaste. Trust us, it's worth an extra dollar or two for the real stuff.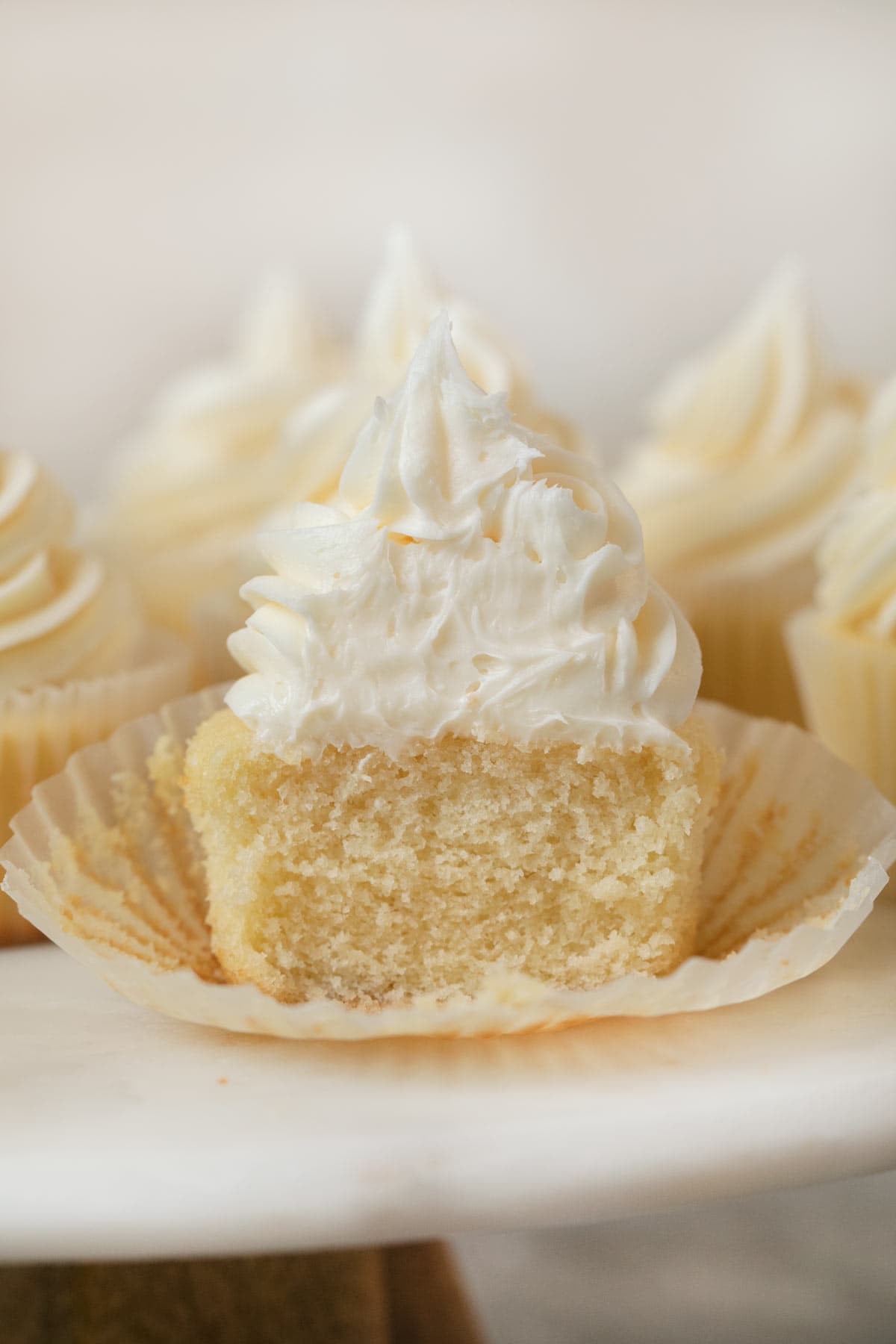 For a classic vanilla and chocolate cupcake combo, drizzle your

frosted cupcakes

with Chocolate Ganache! Salted Caramel Sauce would tasted delicious too.
Instead of the Vanilla

Buttercream Frosting

, try

Cream Cheese Frosting

. You can easily add a little pizazz to the frosting for birthday parties by adding

food coloring

or top with colorful sprinkles.
To keep your

Vanilla Cupcakes

super light and fluffy, don't mix them too much. Over-mixing releases all the air built by creaming the butter, eggs, and sugar. Sift the

dry ingredients

so they mix in easier with the

wet ingredients

.
Cool cupcakes on a wire

cooling rack

completely before frosting. The

wire rack

allows air to circulate under the cupcakes and cools them faster.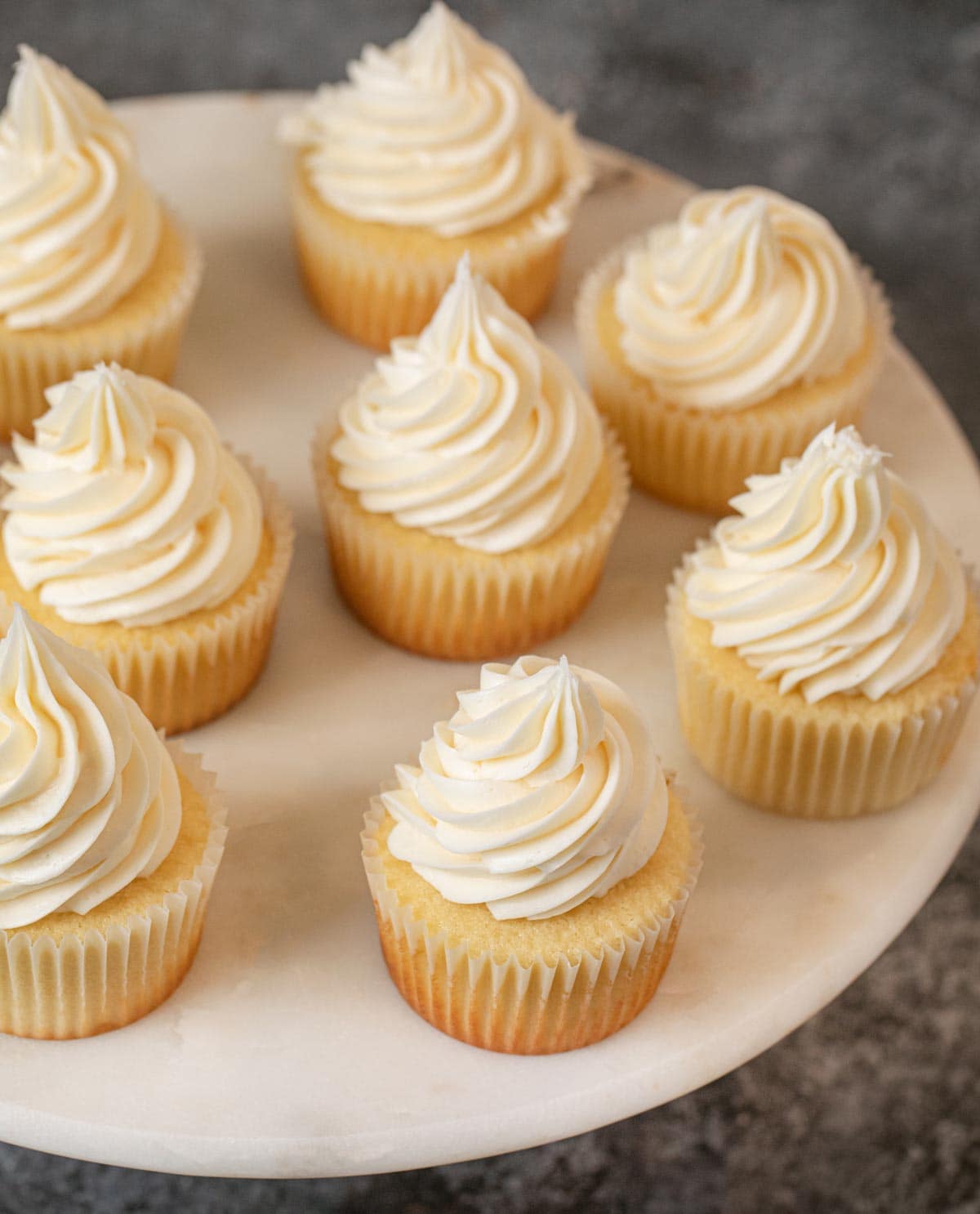 Create a free account to Save Recipes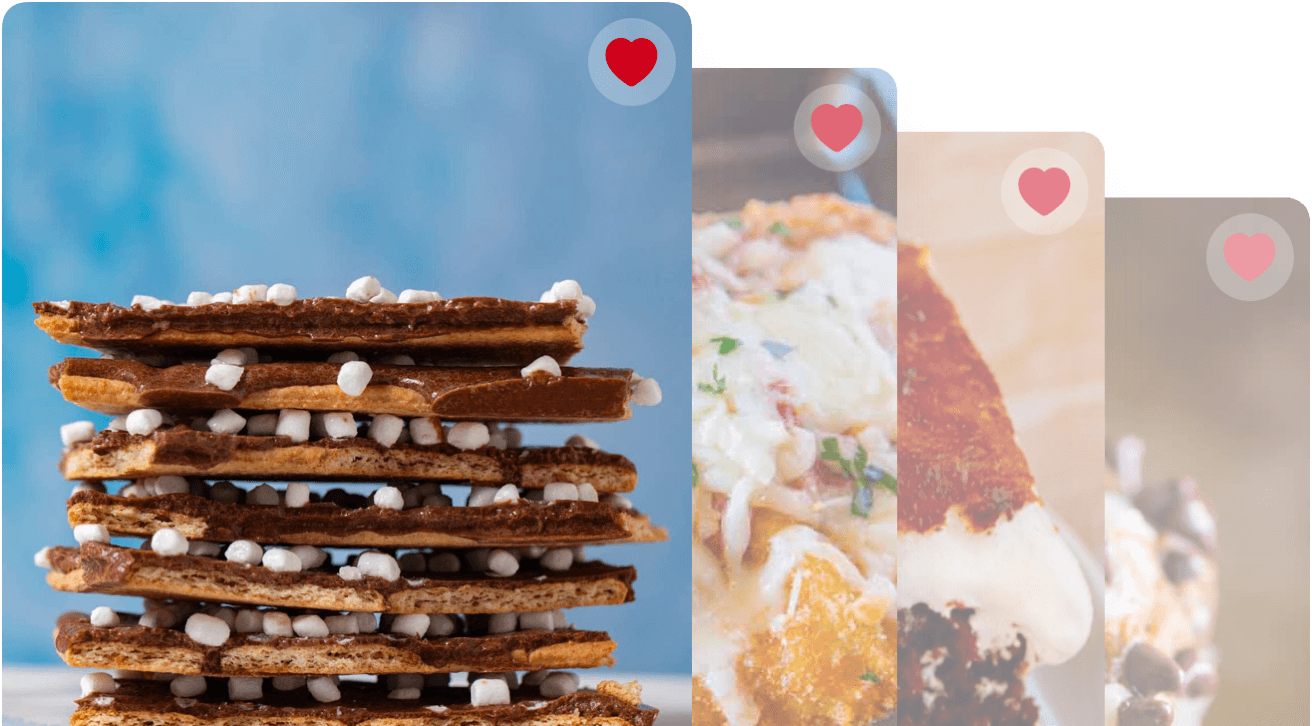 Frequently Asked Questions
Can I use sour cream in Vanilla Cupcakes?
Yes! For the ultimate rich and moist Vanilla Cupcakes, use full fat sour cream instead of whole milk. You can also use plain yogurt, Greek yogurt, or buttermilk.
How do I make Eggnog Cupcakes?
Use prepared Eggnog instead of milk and add a teaspoon of ground nutmeg for easy, rich Vanilla Eggnog Cupcakes during the holidays.
Are chocolate chips good in these Vanilla Cupcakes?
Absolutely! Fold in a ½ cup chocolate chips or baking chips in any flavor for a simple, delicious variations. For these Vanilla Cupcakes, try vanilla chips, caramel chips, or white chocolate chips, or contrast with dark chocolate.
How do I make Funfetti Cupcakes with this recipe?
For the easiest homemade Funfetti Cupcakes, fold ½ cup rainbow sprinkles (the large ones or jimmies) into the cake batter. Top frosted cupcakes with extra sprinkles for birthday parties or just a little extra joy.
Can I use this recipe for Chocolate Cupcakes?
Turn these moist Vanilla Cupcakes into Moist Chocolate Cupcakes by swapping ½ cup unsweetened cocoa powder for ½ cup all purpose flour. Top with a chocolate frosting. You can also use hot cocoa mix and fold in marshmallows for Hot Cocoa Cupcakes.
More Vanilla Flavored Desserts
How to Store Vanilla Cupcakes
Serve: Frosted

Vanilla Cupcakes

can be kept at room temperature for up to 2 hours before the frosting needs to be chilled.

Unfrosted cupcakes

can be kept covered at room temperature for up to 3 days.
Store: To keep moisture from collecting, cool

Vanilla Cupcakes

completely before storing in an

airtight container

. Frosted Vanilla Cupcakes will stay good in the refrigerator for up to 1 week and unfrosted will stay fresh for up to 2 weeks.
Freeze: Once completely cooled, place unfrosted

Vanilla Cupcakes

in large sealed container. Use parchment paper between layers if stacking so the cupcakes don't stick together. Freeze Vanilla Cupcakes for up to 6 months and thaw uncovered.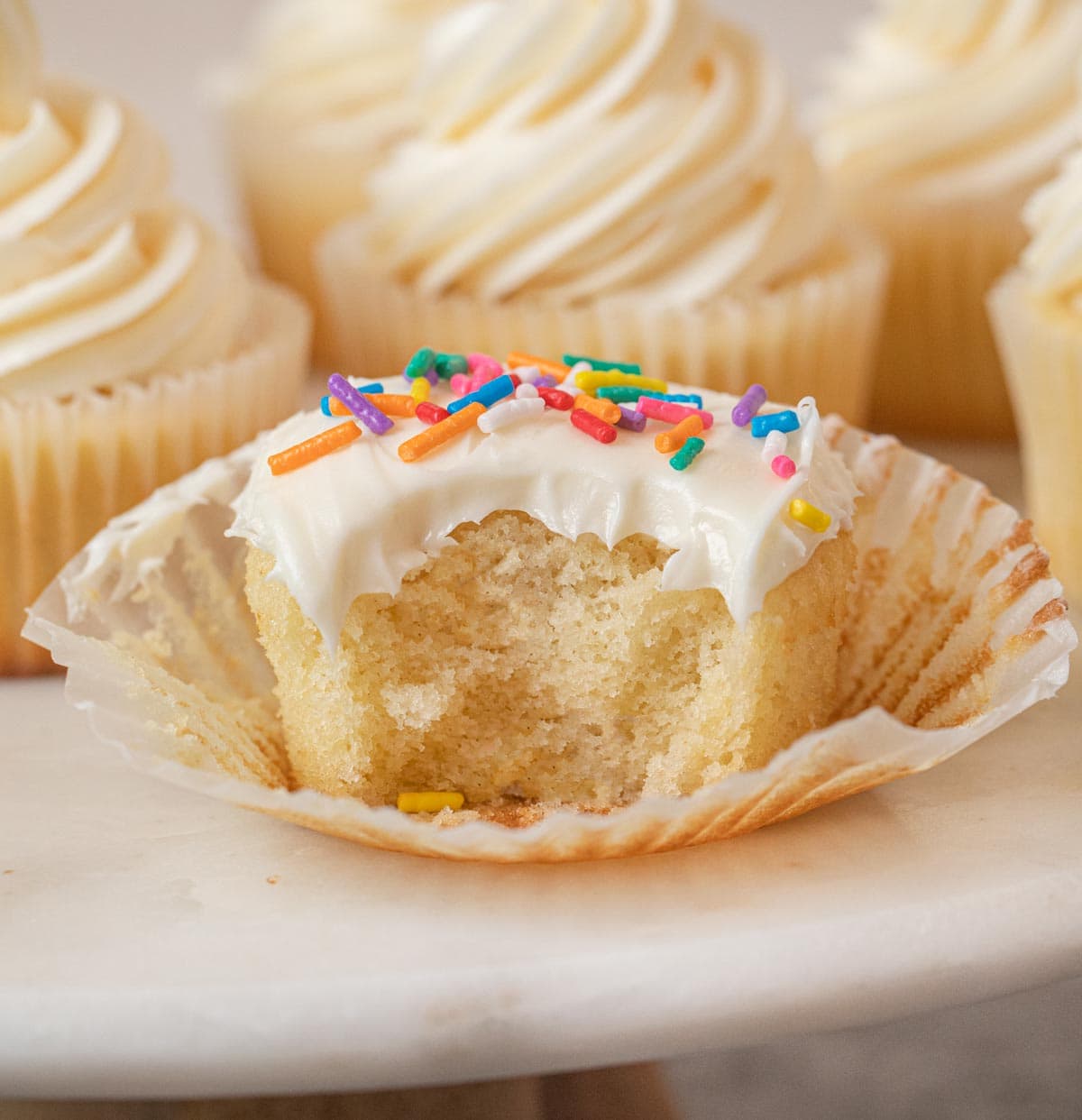 Ingredients
Vanilla Cupcakes:
6

tablespoons

unsalted butter

, softened

3/4

cup

sugar

1

large

eggs

2

teaspoons

vanilla extract

2/3

cup

whole milk

1 1/4

cups

flour

1 1/4

teaspoons

baking powder

1/4

teaspoon

salt
Vanilla Frosting:
1

cup

unsalted butter

, softened

3

cups

powdered sugar

1

teaspoon

vanilla extract

2

tablespoons

heavy cream
Instructions
Vanilla Cupcakes:
Preheat the oven to 375 degrees and line a 12 cup muffin tray with paper liner cups.

To a stand mixer add the butter and sugar and beat on medium speed until light and fluffy.

Add in eggs, vanilla and milk until smooth.

Sift together flour, baking powder and salt and add it to the stand mixer on the lowest speed setting until just combined.

Using an ice cream scoop fill the cups 2/3 full and bake for

18-20 minutes

until a toothpick comes out clean.

Cool completely.
Vanilla Frosting:
To your stand mixer on low speed cream the butter then start adding in the powdered sugar in ½ cup increments until fully combined then raise the speed to medium-high for

1 additional minute

.

Add in the vanilla and heavy cream and beat until light and fluffy for

1 minute

.

Add frosting to piping bag and frost your cooled cupcakes.
Nutrition
Calories:
424
kcal
|
Carbohydrates:
53
g
|
Protein:
3
g
|
Fat:
23
g
|
Saturated Fat:
14
g
|
Cholesterol:
74
mg
|
Sodium:
65
mg
|
Potassium:
84
mg
|
Fiber:
1
g
|
Sugar:
43
g
|
Vitamin A:
726
IU
|
Calcium:
45
mg
|
Iron:
1
mg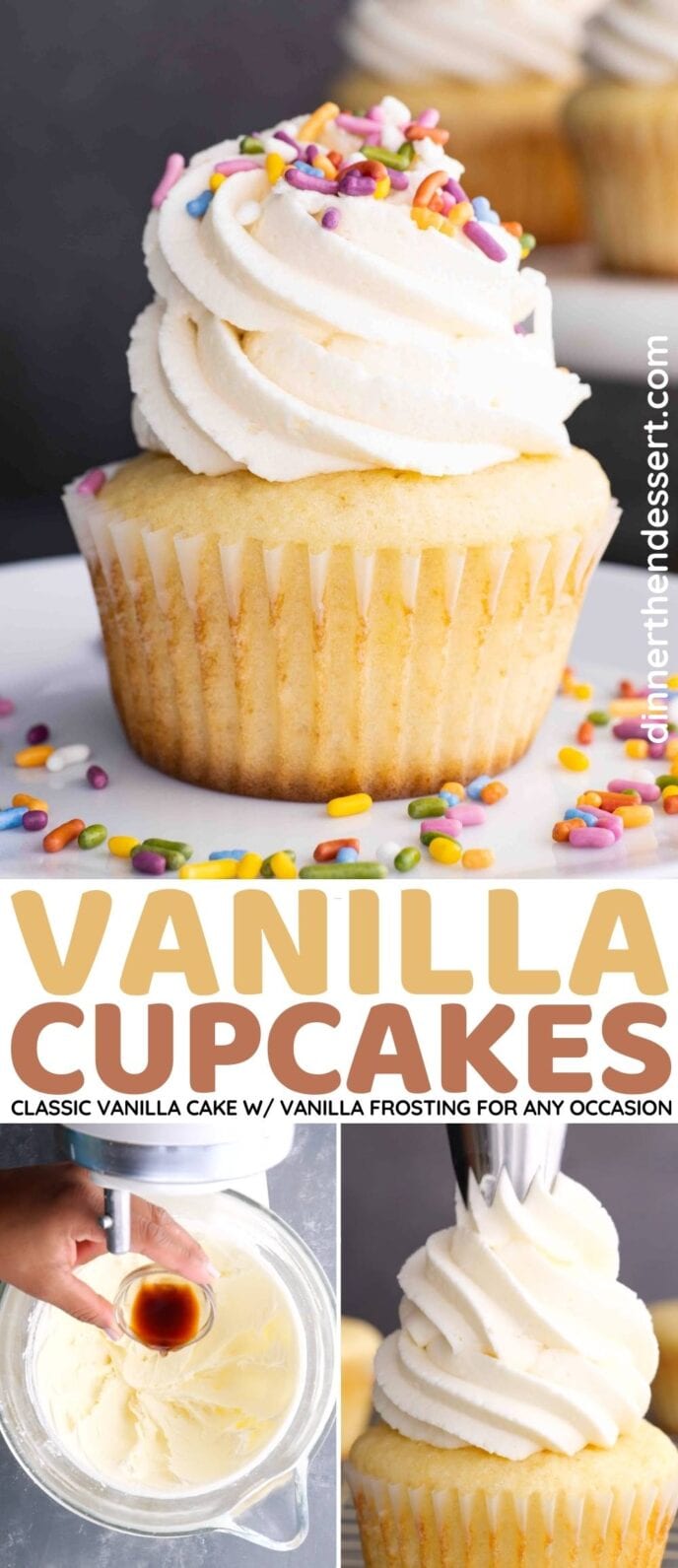 Photos used in a previous version of this post.