Red Velvet Cupcakes are soft and moist with an incredible red color, made with sour cream and buttermilk, and ready in under 45 minutes!
We love making classic dessert recipes, and these cupcakes bring up all your favorite cake recipes including Easy Chocolate Cake, Vanilla Pound Cake and New York Cheesecake.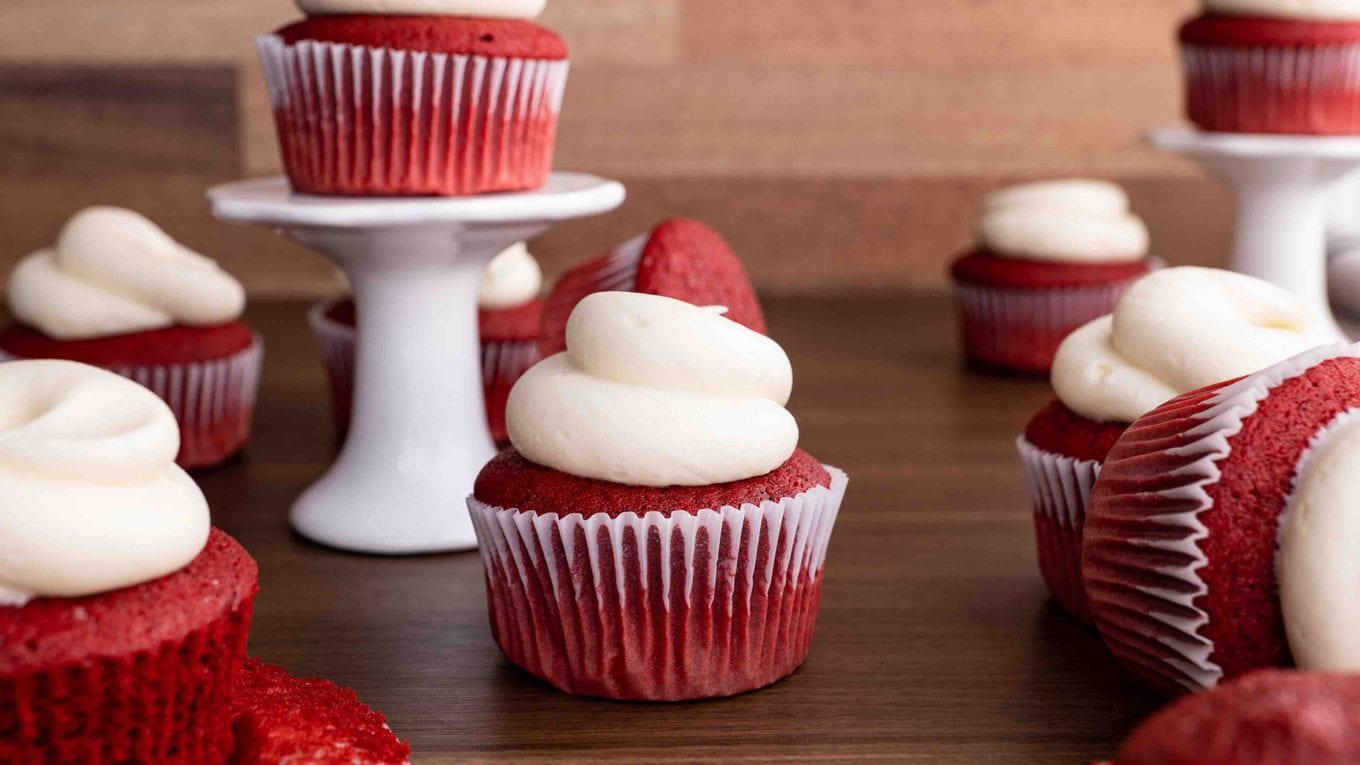 Red Velvet Cupcakes are one of the most popular desserts ever, made with buttermilk and sour cream for an unbelievably light and fluffy texture, topped with homemade Ccream Cheese Frosting. These are perfect to bring to a holiday party, and once you do you'll start to get special requests for this red velvet!
This red velvet cupcake recipe is also super kid-friendly because they'll love decorating them for Valentine's Day. You can use a few drops of food coloring in the cream cheese frosting to make it pink, then top with red sprinkles or chocolate candies. Or you can make a layer cake with Chocolate Ganache, and a dusting of powdered sugar.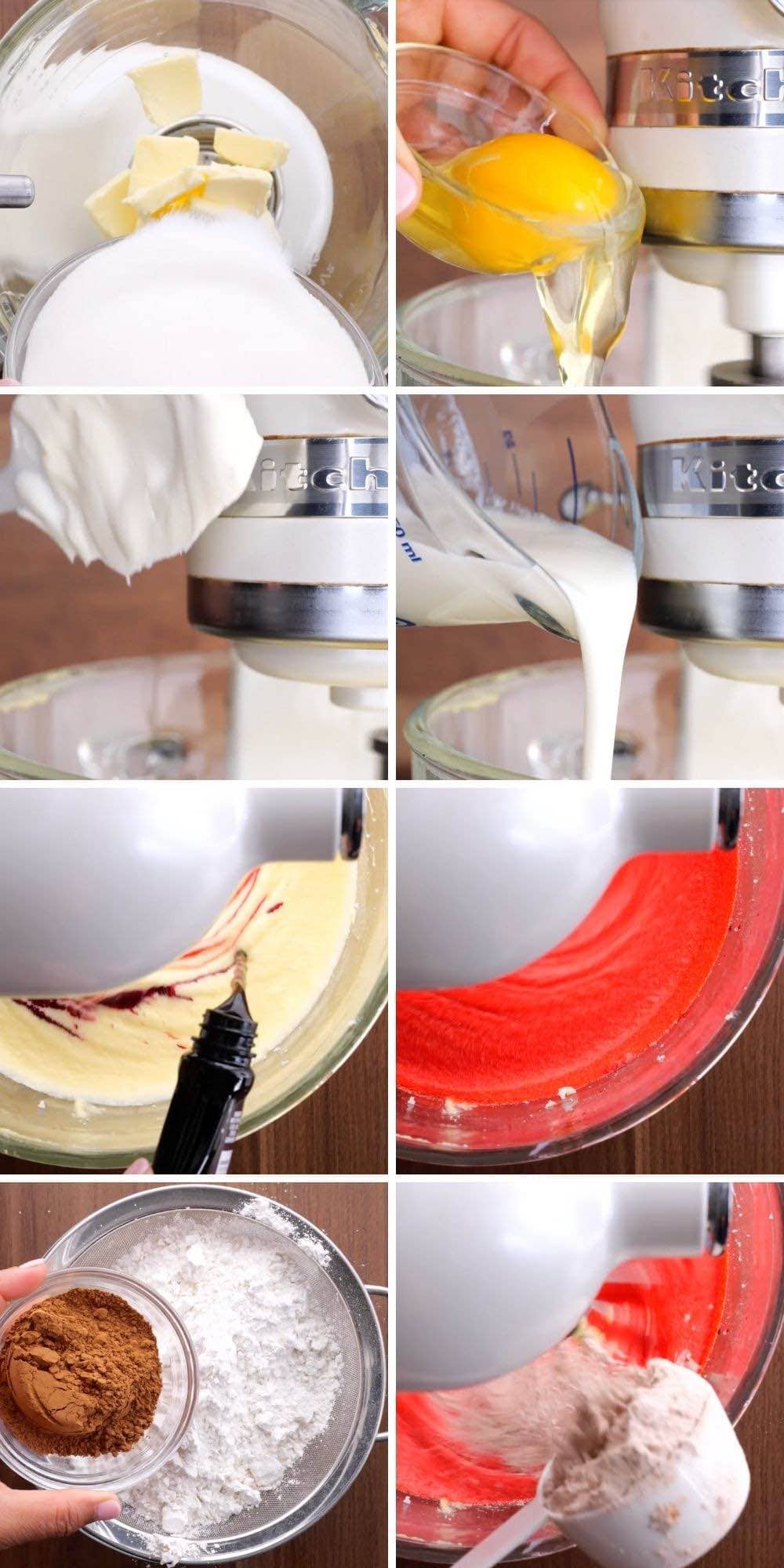 Frequently Asked Questions
Are Red Velvet Cupcakes just chocolate?
Red velvet cupcakes are similar to chocolate cake, with less cocoa and the addition of red food coloring. You can make this cake without food coloring and it will taste the same, but it won't turn out with the signature color that red food coloring brings.

Traditionally red velvet only appeared red because of a reaction between the buttermilk, vinegar, baking soda, and cocoa powder. Modern dutch-processed cocoa powder won't have the same effect, and a red velvet cupcake recipe will call for red food coloring.
How do you make Red Velvet Cupcakes moist?
Make sure your oven is cooking at the temperature you're setting it to. You can do this by using an oven safe thermometer to double check. If it's off, adjust your temp up or down accordingly. Set an oven timer for a few minutes less then you think the red velvet cupcakes will take to cook, just in case. Overcooking the red velvet will dry it out.

This recipe already has ingredients that are naturally higher in acid, like buttermilk and sour cream, which helps make the red velvet texture moist and fluffy. You might want to refrigerate red velvet cake depending on what type of frosting you're using, but bring it back to room temperature before serving. You can also make these cupcakes with half white sugar and half brown sugar to add some additional moisture to the cake.
Can I make Red Velvet Cupcakes without Buttermilk?
If you don't have buttermilk, you can use regular milk with ½ teaspoon of lemon juice for red velvet cake. Let the milk sit with the lemon juice for a few minutes before using it. The acid in buttermilk plays an important role in a red velvet cake's texture and rise, so we're trying to mimic that acid with this substitute.
How do I decorate Red Velvet Cupcakes?
Decorate Red Velvet Cupcakes with cream cheese frosting, buttercream frosting, red sprinkles, chocolate ganache (then dust with powdered sugar), crushed cookies, mini chocolate chips, berries, or chocolate shavings.
How do I make Low Fat Red Velvet Cupcakes?
Make this velvet cupcake recipe low fat by substituting the butter with applesauce and using light sour cream. Keep in mind that this may affect the texture, as the fat adds a lot of moisture. You can also lower the fat in the cream cheese frosting by using Neufchatel cheese instead of cream cheese.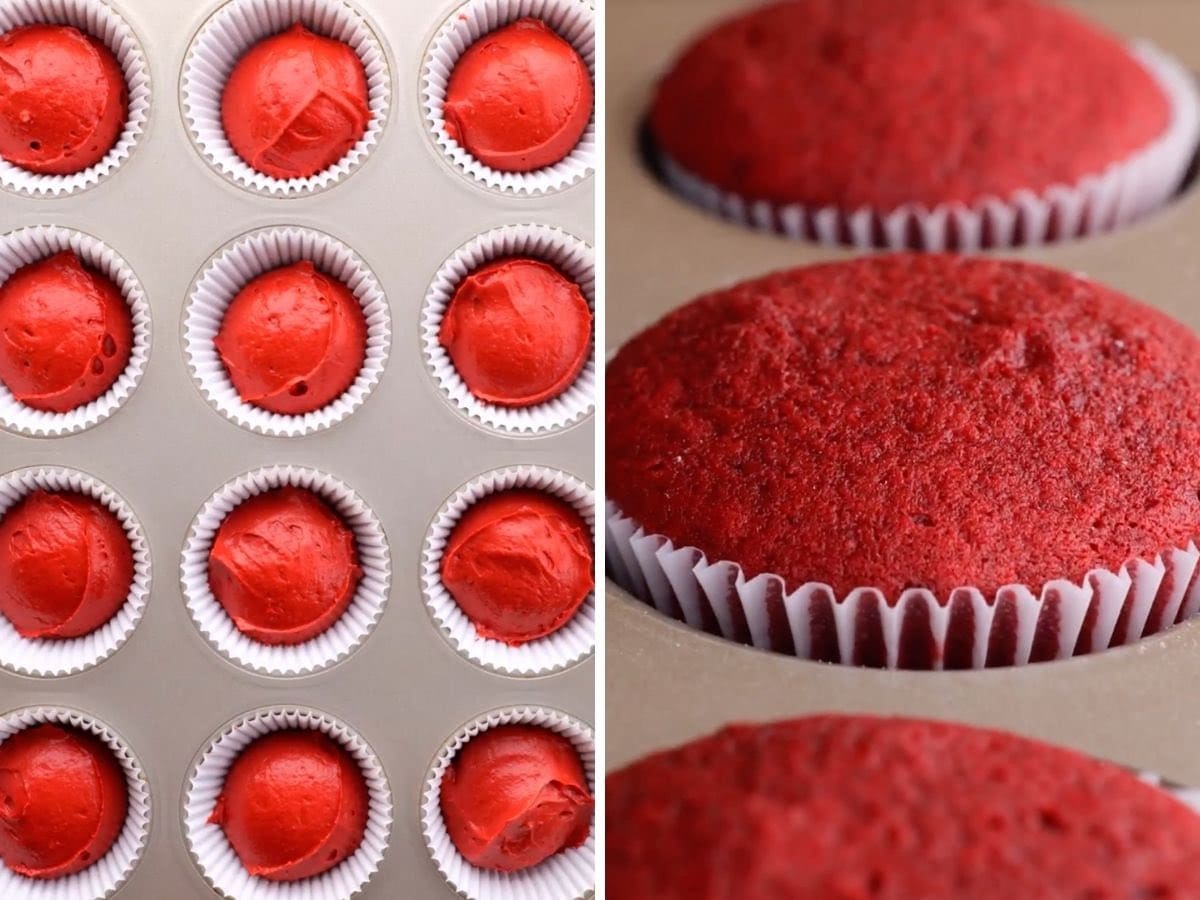 Create a free account to Save Recipes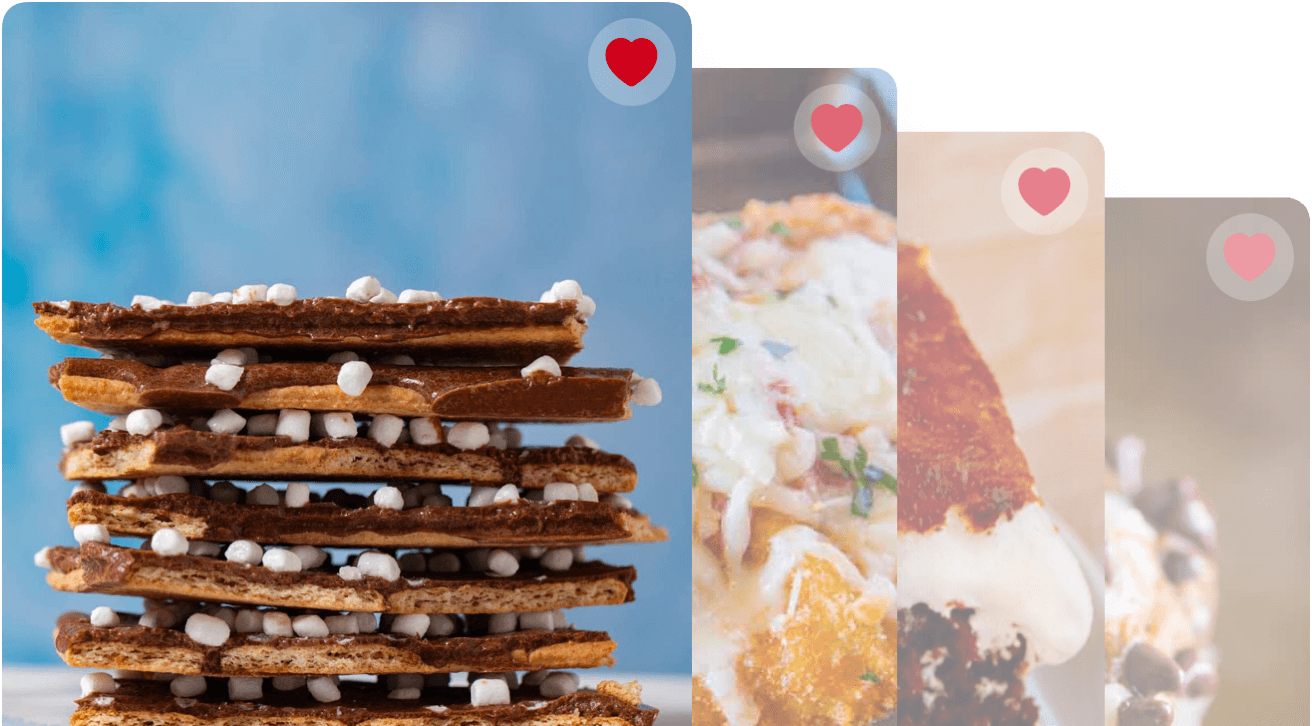 More Delicious Dessert Recipes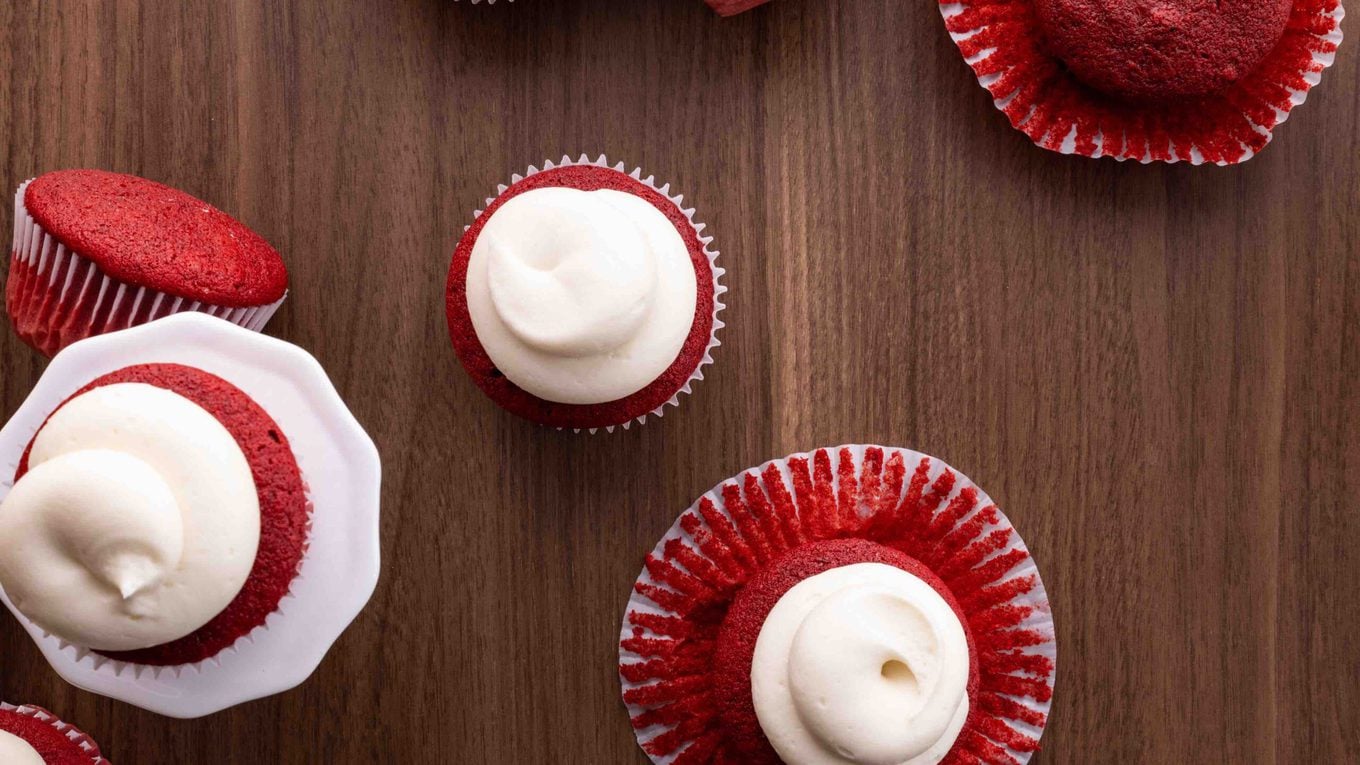 Tips for Making Red Velvet Cupcakes
Use an ice cream scoop with a release button to divide the red velvet batter into the cupcake tin. This will be faster, and ensure that all of the cupcakes are the same size.
This red velvet cupcakes recipe uses cake flour because it turns out lighter than all purpose flour, but you can substitute it with 1 cup (14 tablespoons) of all purpose flour, plus 2 tablespoons cornstarch.
You can grease your cupcake tin, but it's best to use a paper-lined tin to prevent the red velvet from sticking, and make cleanup easier.
Gel food coloring or liquid food coloring will both work for the red color in this recipe (the coloring itself provides no taste). Typically you will need less of the gel coloring than the liquid food coloring. You can also find recipes that use beetroot to color the cake instead of food coloring.
Add more flavor to these cupcakes with a tablespoon of instant coffee or espresso powder.
These velvet cupcakes are done when a toothpick comes out clean. You can use this recipe to make cupcakes, or make a full cake by using round cake pans and increasing the cooking time slightly.
How to Store Red Velvet Cupcakes
Serve: If you decorate the cupcakes with cream cheese frosting or buttermilk frosting, do not leave them at room temperature longer than 2 hours.
Store: Red Velvet Cupcakes can be stored in an airtight container on the counter for 2-3 days. If you keep them in the refrigerator, red velvet will keep for about a week.
Freeze: You can also freeze these cupcakes for 3-4 months. These will actually freeze better if you decorate them first because the frosting protects the cake.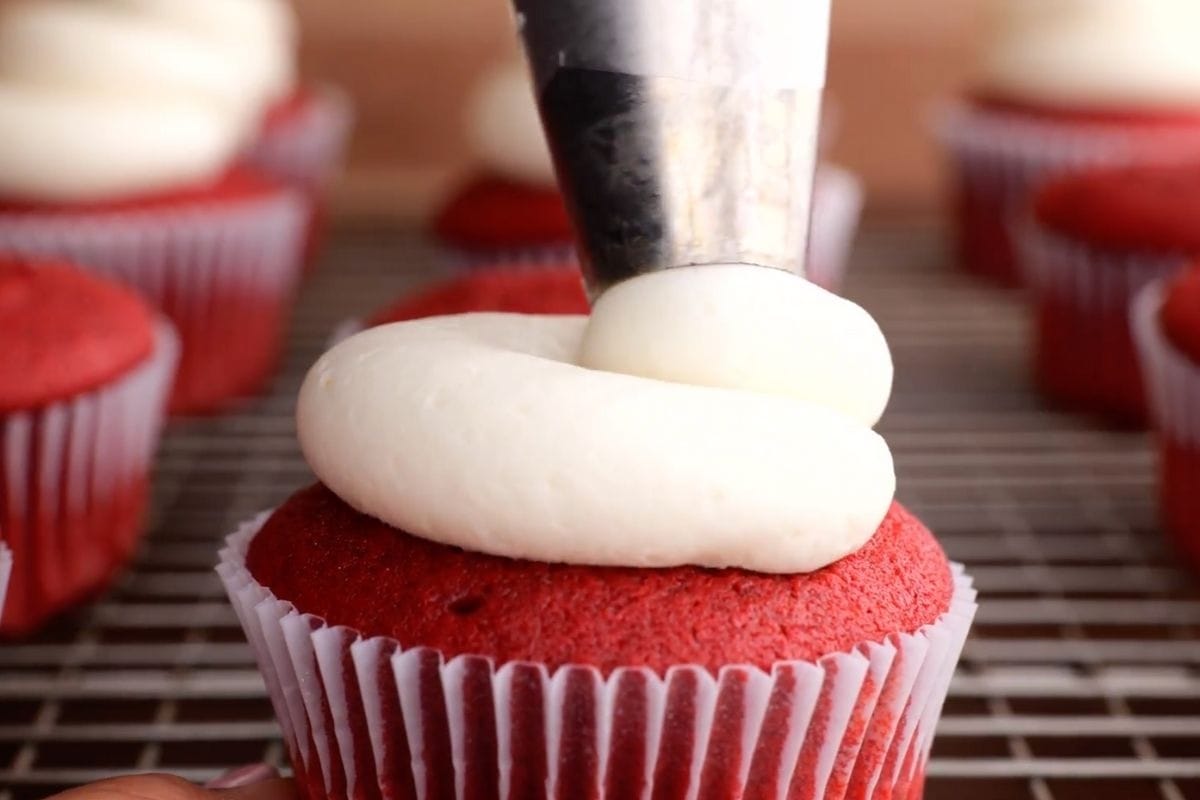 Ingredients
2 1/2

cups

cake flour

1/3

cup

unsweetened cocoa powder

1

teaspoon

baking soda

1/2

teaspoon

salt

1

cup

unsalted butter

, softened

2

cups

sugar

4

large

eggs

1

cup

sour cream

1/2

cup

buttermilk

1

ounce

Red Food Color

1

tablespoon

vanilla extract
Instructions
Preheat the oven to 350 degrees.

Sift the flour, cocoa powder and baking soda into a large bowl and add the salt to it.

In a stand mixer whisk together the butter and sugar until light and fluffy, then add in the eggs one at a time.

Whisk in the sour cream, milk, red food coloring and vanilla then add in the flour until just barely mixed in (do not overmix).

Scoop with an ice cream scoop into cupcake liners, ¾ full and bake for

18-20 minutes

, let cool completely and ice with cream cheese frosting.
Notes
Note: click on times in the instructions to start a kitchen timer while cooking.
Nutrition
Calories:
431
kcal
|
Carbohydrates:
54
g
|
Protein:
6
g
|
Fat:
21
g
|
Saturated Fat:
12
g
|
Cholesterol:
106
mg
|
Sodium:
238
mg
|
Potassium:
127
mg
|
Fiber:
1
g
|
Sugar:
34
g
|
Vitamin A:
690
IU
|
Vitamin C:
0.2
mg
|
Calcium:
52
mg
|
Iron:
0.9
mg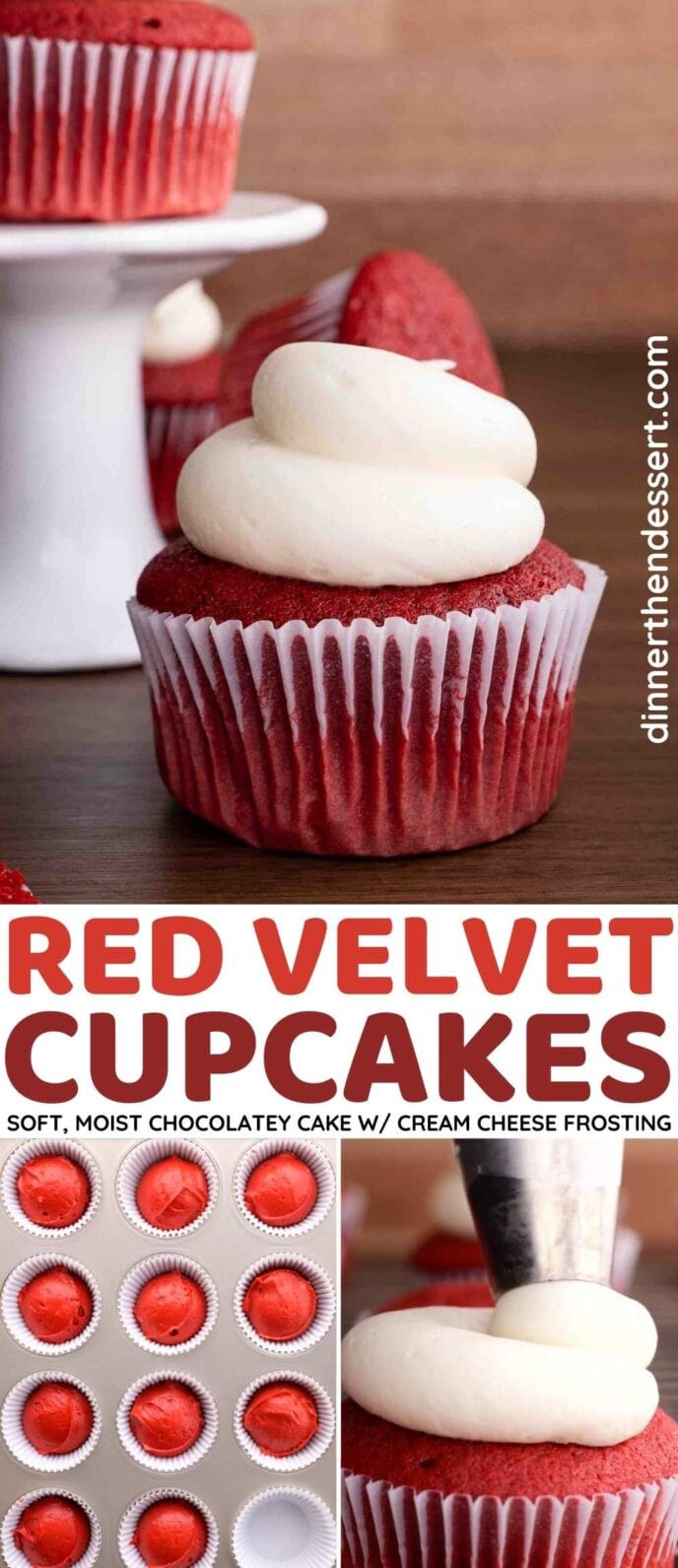 Photos used in a previous version of this post.