Cream Cheese Frosting made with just 5 ingredients is rich and creamy, PERFECT for cakes or cupcakes, and ready in under 10 minutes!
Everyone loves putting together sweet Desserts, and nothing tops them better than this Easy Whipped Cream, Chocolate Frosting, or Chocolate Ganache.

Cream Cheese Frosting, a luscious and velvety spread, is the crowning glory of many a dessert. This frosting adds the perfect finishing touch, complementing the flavors of the dessert without overpowering it. Made from cream cheese, butter, sour cream, and vanilla extract, it is known for its creamy texture and balanced sweetness. What makes this frosting truly stand out is its rich and tangy cream cheese flavor, which pairs beautifully with sweet cakes, cupcakes, and pastries.
One of the key factors of this frosting is its versatility. It's milder and lighter than American buttercream frosting. You can use it to frost a variety of baked goods, from cakes and cupcakes to cookies and pastries. Its rich, creamy texture and tangy-sweet flavor balance out the sweetness of the dessert, adding an extra layer of flavor that makes the dessert taste even better.
Another unique aspect of cream cheese frosting is the addition of sour cream. Sour cream adds a touch of tanginess to the frosting that enhances the overall flavor. It also contributes to the frosting's creamy and spreadable consistency. A hint of vanilla extract lends a delicate aroma that elevates the taste of the frosting.
Though cream cheese frosting is commonly associated with desserts like carrot cake and red velvet cake, it is a versatile frosting that can be used to enhance a variety of desserts. It is the perfect complement to Cinnamon Rolls which would taste heavenly with a layer of cream cheese frosting.
How to Make Cream Cheese Frosting
This homemade Cream Cheese Frosting recipe is not just delicious, it's also remarkably easy to make. With a few simple ingredients and a mixer, you can whip up a batch in no time. Check it out!
Step One: In a stand electric mixer or electric hand mixer on medium speed, combine the cream cheese, butter, sour cream, and vanilla extract. Beat these ingredients together in the mixing bowl until the mixture is light and fluffy.
Step Two: Gradually add the powdered sugar, one cup at a time, into the cream cheese mixture. Continue to beat the mixture until the powdered sugar is fully incorporated and the frosting is smooth. Over-mixing the frosting can cause it to have a sticky texture or too much stiffness. And voila! Your cream cheese frosting is ready to be spread or piped onto your dessert of choice.
Frequently Asked Questions
Can I use low-fat cream cheese?
Yes, you can use low-fat cream cheese in this recipe. However, keep in mind that it might affect the texture and taste of the frosting.
Why do I have runny Cream Cheese Frosting?
If your cream cheese frosting turns out runny, it may be over-mixed. To get a thicker frosting, try folding in more powdered sugar, a few tablespoons at a time, until the frosting thickens up. You can also add a tablespoon of cornstarch to the frosting to stiffen it.

Another reason may be that the cream cheese frosting is too warm. Return the frosting to the refrigerator, because the cream cheese and butter will harden as they cool.
How much frosting does this recipe make?
This recipe yields approximately 3 cups of frosting, enough to frost a two-layer cake or 24 cupcakes.
Can I flavor the frosting?
Absolutely! You can add a variety of flavorings to the frosting, such as almond extract, lemon zest, or even cocoa powder for a chocolate cream cheese frosting.
Does the frosting need to be refrigerated?
Yes, due to the dairy ingredients in this frosting, it should be stored in the refrigerator.
Why is my frosting lumpy?
It is absolutely essential to beat the cream cheese, butter, vanilla, and sour cream together before adding the sugar, and to make sure they're at room temperature before you start. If it's too cold, or the sugar is added too early, the frosting will be lumpy.

You can also start by just creaming the butter by itself, then adding the cream cheese, then the sour cream, and vanilla, to ensure everything is as smooth as possible. You need to have a really good mixture to smooth out the cream cheese to keep the powdered sugar from forming lumps.

If your frosting is lumpy, you can try pushing it through a strainer to remove the lumps. Or microwaving and stirring it at 30-second increments to melt them, then refrigerating to help the frosting harden again, and beating it one more time. This is not ideal and the texture will be off, but it is a last resort.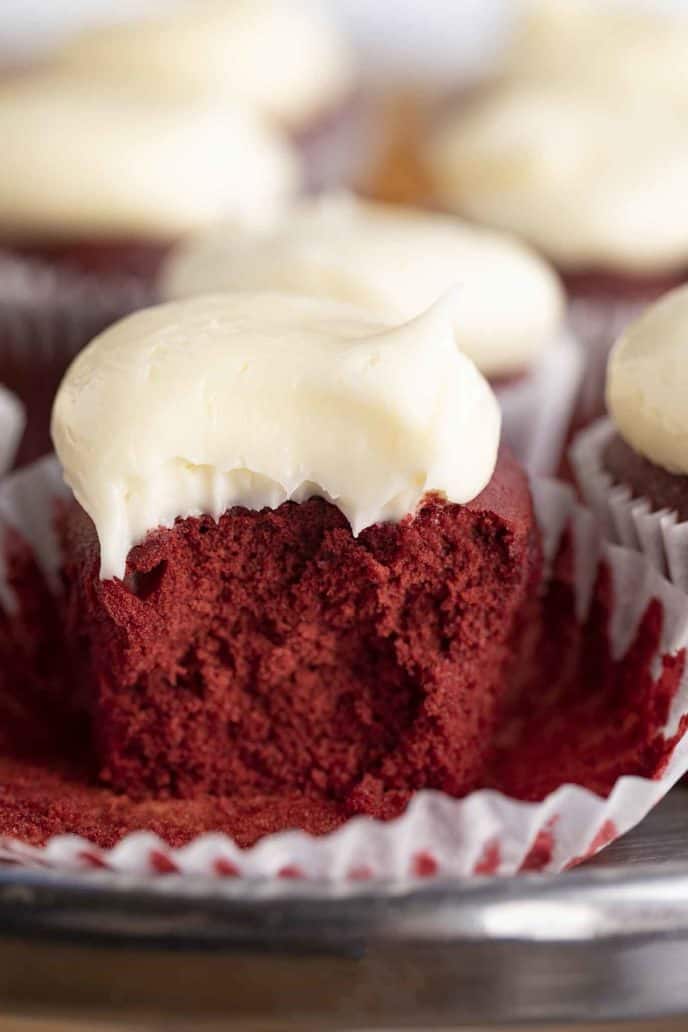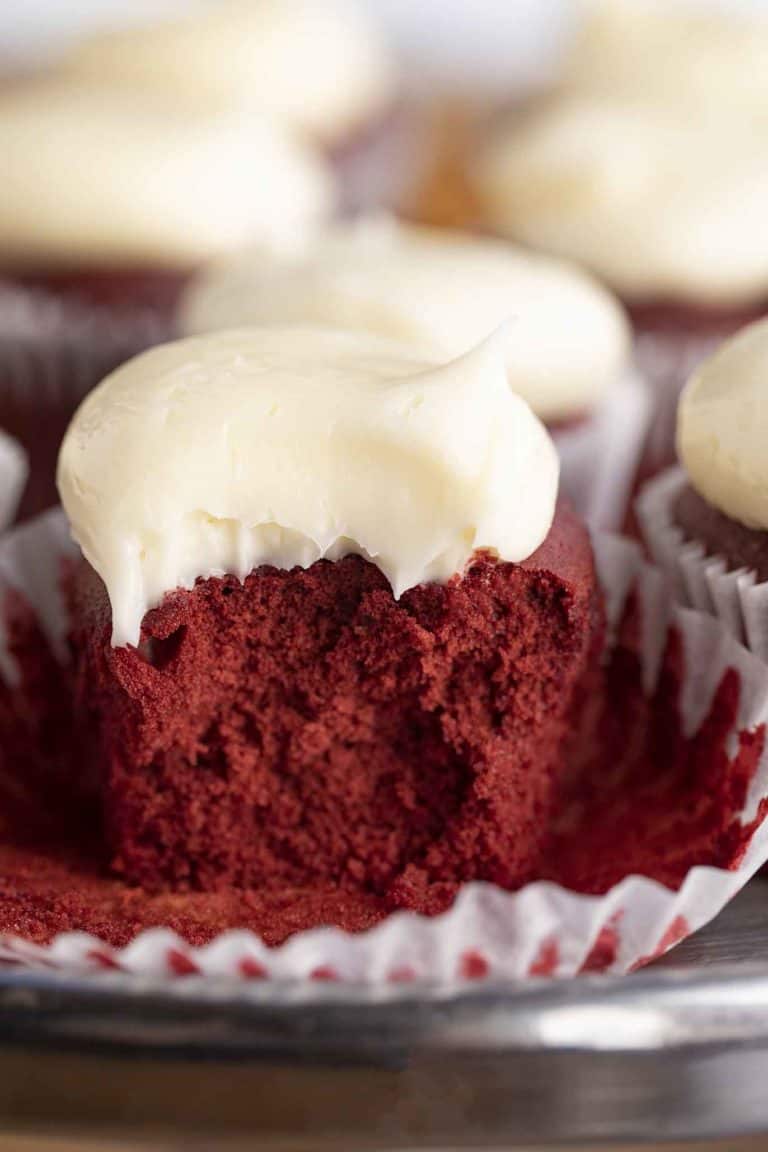 Create a free account to Save Recipes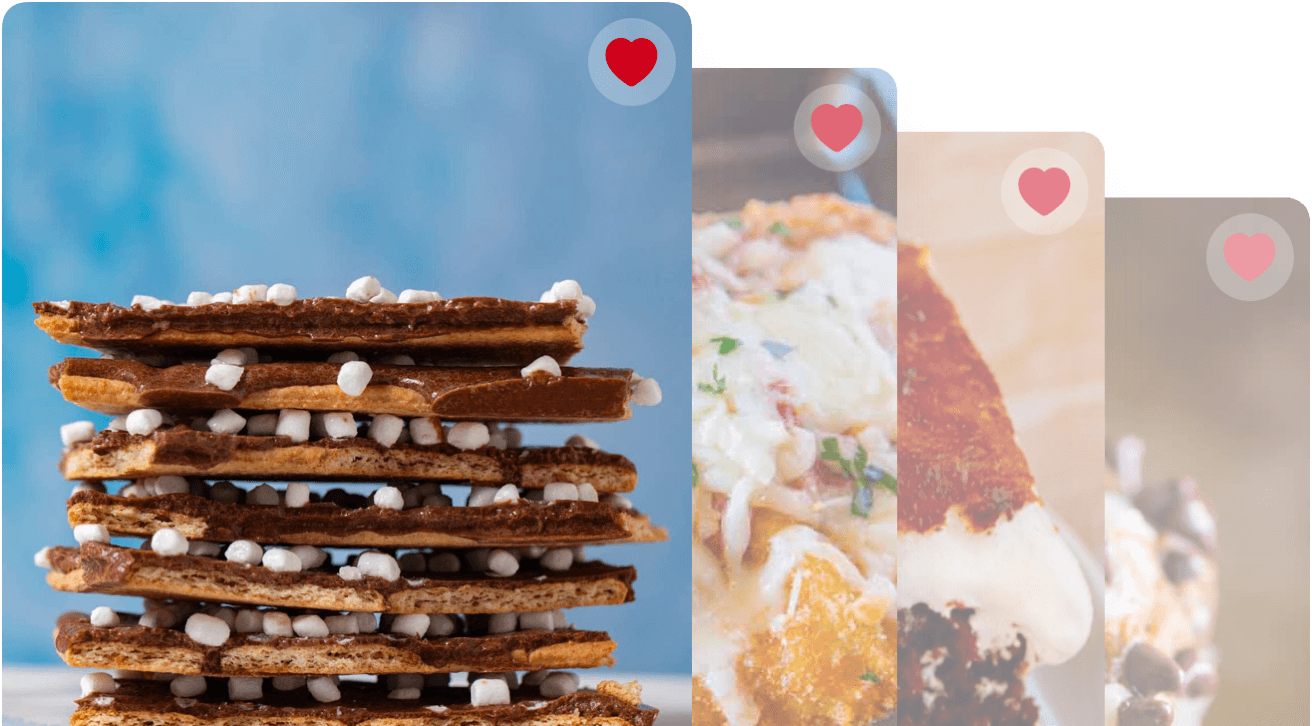 Key Ingredients in Cream Cheese Frosting
This frosting is a blend of key ingredients that work together harmoniously to create a frosting that's luxuriously creamy, sweet yet tangy, and perfect for spreading on a wide array of desserts.
Cream Cheese: The star of the show is, of course, the cream cheese. Cream cheese imparts a delicious tang that sets this frosting apart from others. Make sure your cream cheese is softened to room temperature to ensure a smooth and lump-free frosting.
Unsalted Butter: Butter adds a rich, creamy taste and texture to the frosting. Using unsalted butter allows you to control the amount of salt in your frosting.
Sour Cream: This adds a slight tanginess to the frosting, complementing the sweetness perfectly. The addition of sour cream also contributes to the creamy texture of the frosting.
Vanilla Extract: Vanilla extract adds depth and a sweet, aromatic flavor to the frosting. It enhances the flavors of the cream cheese and butter, bringing a subtle hint of warmth.
Powdered Sugar: This is what gives the frosting its sweetness and contributes to the fluffy texture. Be sure to sift your powdered sugar to avoid any lumps.
Can Cream Cheese Frosting Be Made Ahead of Time?
Absolutely! This classic Cream Cheese Frosting can be made ahead of time and stored in the refrigerator until you're ready to use it. If the frosting becomes too firm in the refrigerator, you can let it sit at room temperature for a few minutes before spreading or piping it onto your dessert.
Cream Cheese Frosting can be stored in an airtight container in the refrigerator for up to a week. If you notice any separation or liquid forming, give the frosting a good stir before using it. It's best to frost your cakes or cupcakes on the day you plan to serve them for optimal freshness.
Substitutions in Cream Cheese Frosting
Dairy-Free Cream Cheese: For those with dairy allergies or dietary restrictions, dairy-free cream cheese can be used in place of regular cream cheese.
Coconut Cream: In place of sour cream, coconut cream can be used. It adds a creamy texture and a subtle coconut flavor.
Honey or Maple Syrup: For a natural sweetener option, you can replace powdered sugar with honey or maple syrup. Keep in mind this will change the texture and color of the frosting slightly.
Variations on Cream Cheese Frosting
Cream cheese frosting is wonderfully versatile and can be adapted in many ways to suit different tastes. The basic frosting can be enhanced with various flavors, colors, and even textures.
Chocolate Cream Cheese Frosting: Add some cocoa powder to your frosting for a chocolatey twist.
Lemon Cream Cheese Frosting: Add some lemon zest and a little lemon juice for a refreshing, citrusy frosting.
Cinnamon Cream Cheese Frosting: Sprinkle some cinnamon into your frosting for a warming, spiced flavor.
How to Serve Cream Cheese Frosting
Cheese Frosting can be used to frost a variety of baked goods. Pair it with a Classic Vanilla Cake or a Rich Chocolate Cake to balance out the sweetness of the cake. This frosting also pairs beautifully with spiced desserts such as a Zesty Carrot Cake or Pumpkin Cake. The tanginess of the frosting cuts through the sweet and spiced flavors, creating a balanced and delicious dessert.
Cream Cheese Frosting also works well as a filling for sandwich cookies or as a dip for fruit or sweet crackers. The possibilities are endless when it comes to serving cream cheese frosting.
More Yummy Desserts with Frosting
How to Store Cream Cheese Frosting
Serve: Once your dessert is frosted with cream cheese frosting, it should not be left out for more than two hours due to the dairy ingredients in the frosting.
Store: To store leftover frosting, place it in an airtight container in the refrigerator. It will keep well for up to a week. Before using refrigerated frosting, allow it to sit at room temperature for a bit to soften. This makes it easier to spread or pipe onto your dessert.
Freeze: Cream cheese frosting can be frozen for up to three months. To freeze, place the frosting in a freezer-safe container or bag. When you're ready to use it, let it thaw in the refrigerator overnight, then whip it briefly to restore its creamy texture before using.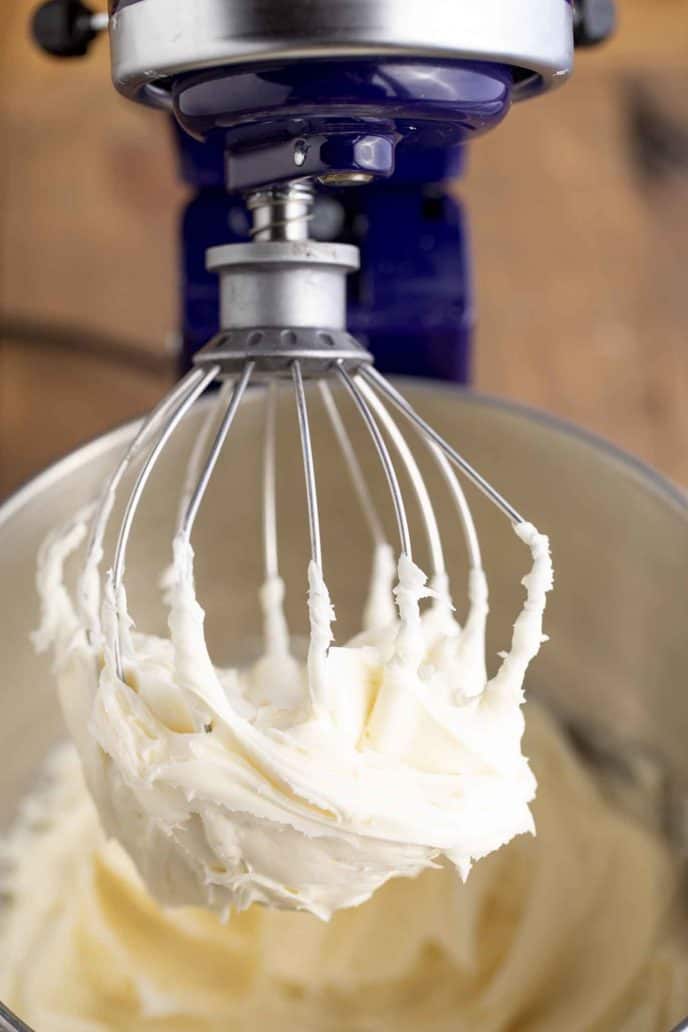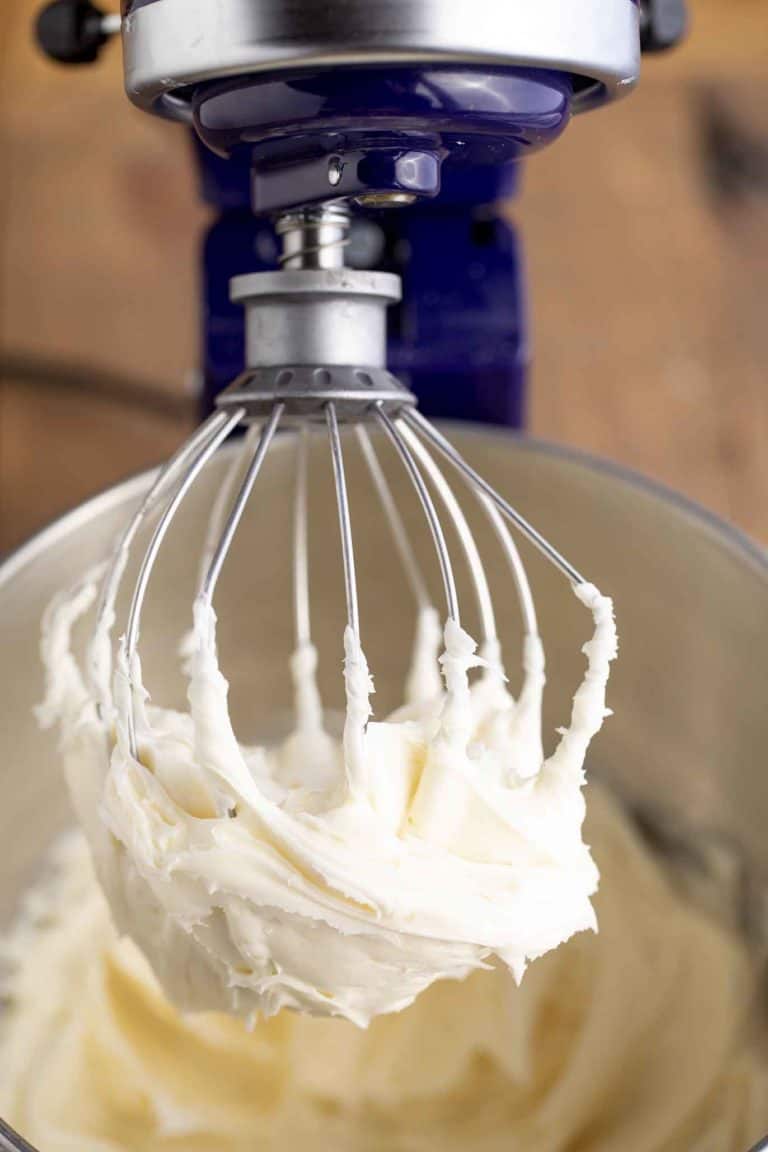 Ingredients
8

ounces

cream cheese

, softened

1/4

cup

unsalted butter

, softened

2

tablespoons

sour cream

1

tablespoon

vanilla extract

4

cups

powdered sugar
Instructions
Add the cream cheese, butter, sour cream and vanilla to a stand mixer and beat until light and fluffy.

Add in the powdered sugar one cup at a time until smooth and incorporated.
Nutrition
Calories:
130
kcal
|
Carbohydrates:
20
g
|
Fat:
5
g
|
Saturated Fat:
3
g
|
Cholesterol:
15
mg
|
Sodium:
31
mg
|
Potassium:
13
mg
|
Sugar:
19
g
|
Vitamin A:
190
IU
|
Calcium:
11
mg
|
Iron:
0.1
mg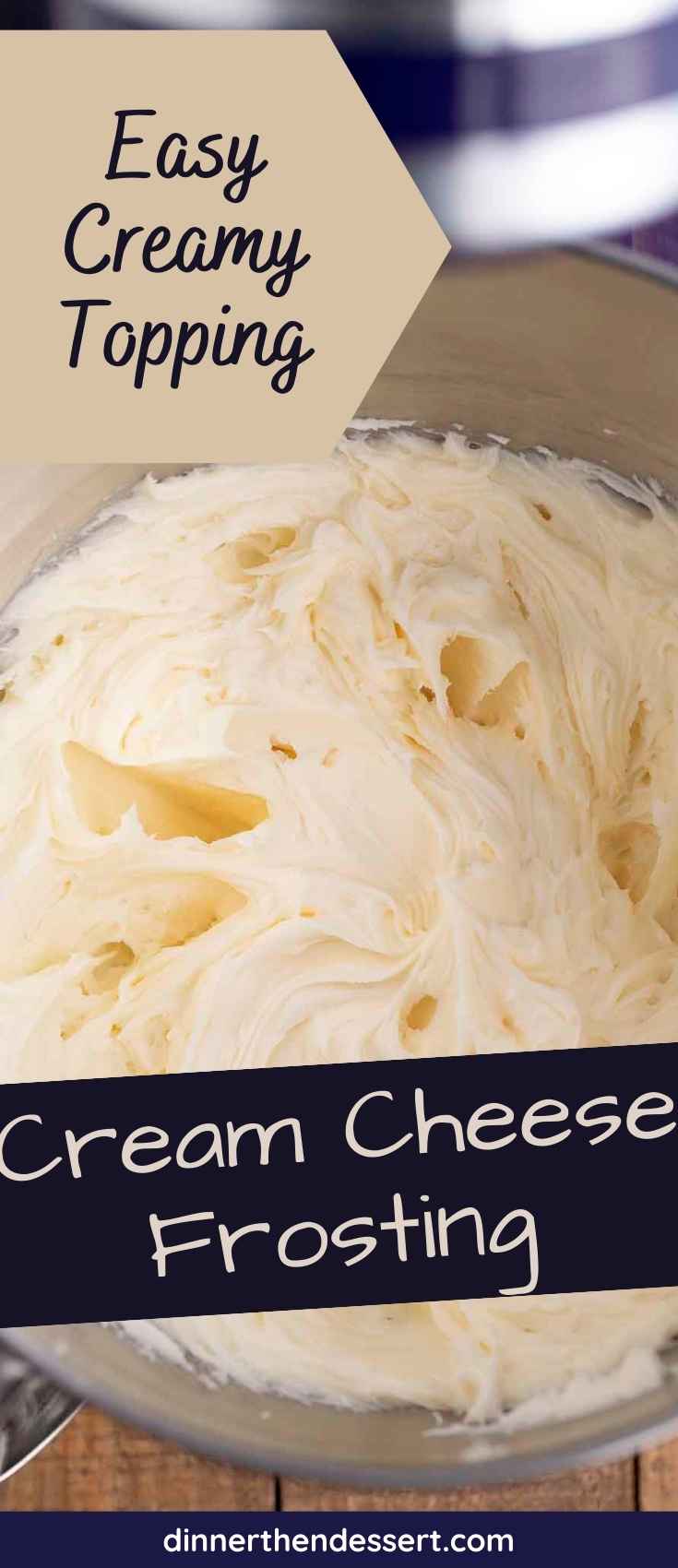 Photos used in a previous version of this post.