Cinnamon Roll Bites are a delicious fun breakfast treat of homemade cinnamon roll dough balls coated in cinnamon sugar and cream cheese icing.
Classic Cinnamon Rolls are a go-to Breakfast treat for the holidays and special occasions when you want to serve a crowd. This tasty sweet recipe has all the crowd-pleasing flavors of the classic Bakery bun in one tiny, fun bite, perfect for dipping and sharing.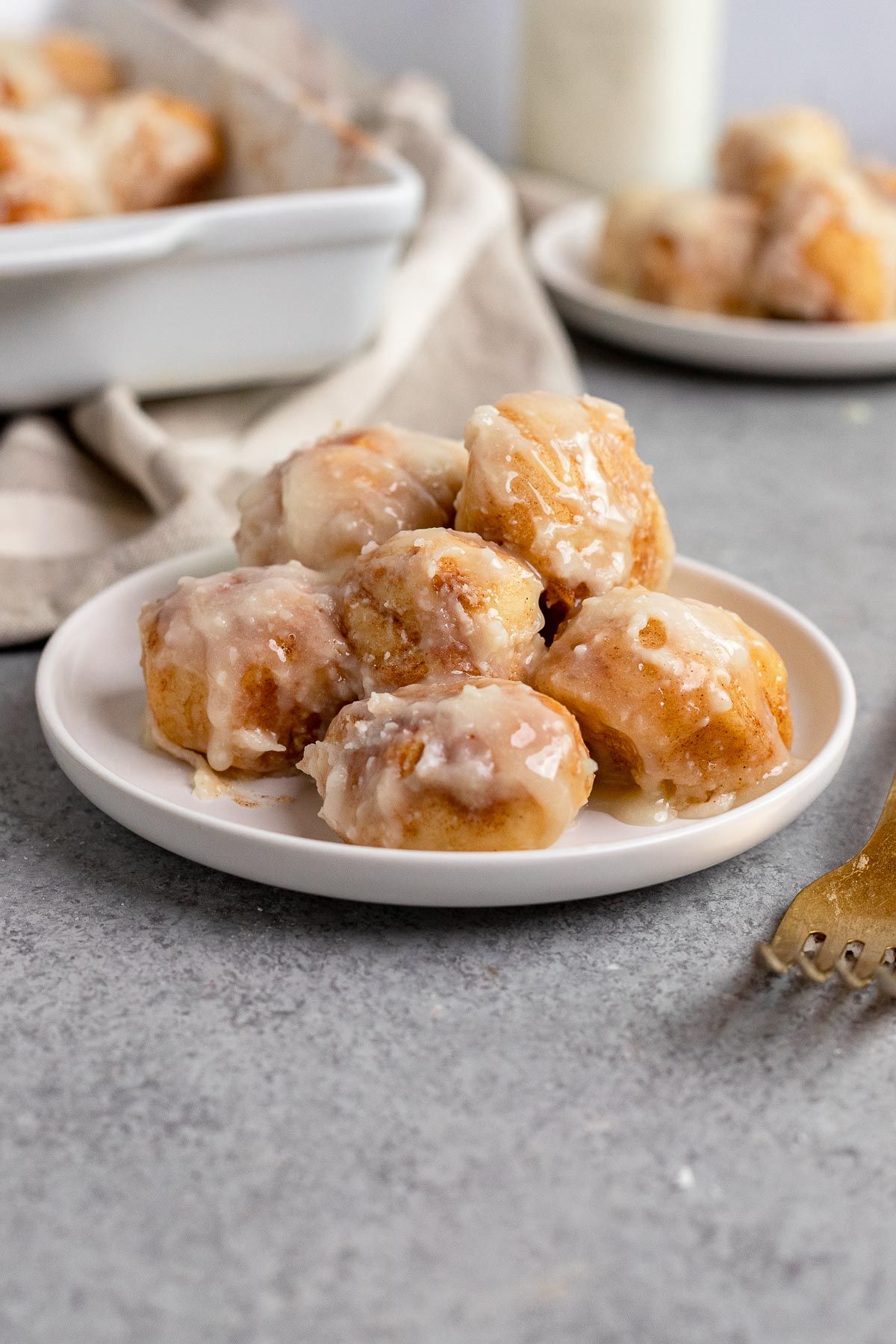 Who doesn't love fresh baked, gooey cinnamon rolls? There's nothing like a big bite of buttery dough, cinnamon goodness, and cream cheese icing, but a cinnamon roll isn't always the most convenient breakfast treat to make. With these easy bite-sized dough balls, you get all the delicious flavors of a warm cinnamon roll with a fraction of the prep work!
These amazing Cinnamon Roll Bites make the perfect party snack, holiday breakfast treat, or even a sweet dessert. The warm vanilla cream cheese icing can be drizzled over for a sticky sweet glaze or you can serve it on the side as a dipping sauce for less mess. For an easy and fun treat, give your guests a variety of dipping sauces like Hot Fudge, Strawberry Topping, and Whipped Cream along with the vanilla icing,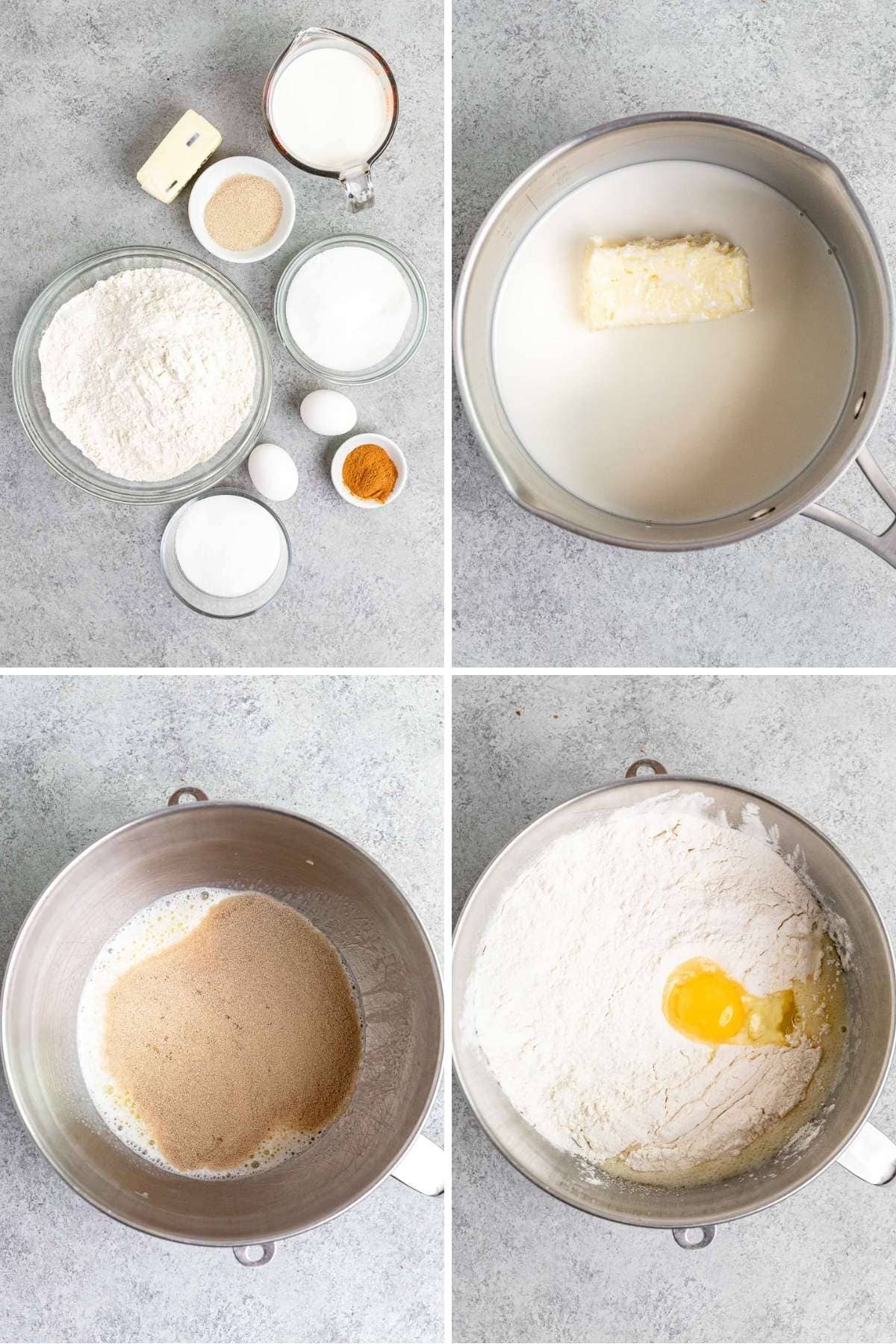 How to Make Cinnamon Roll Bites
Yeast Mixture: Heat the milk on the stovetop to 110 degrees. It should be warm to the touch. Then add the warm milk to a stand mixer with the dry yeast. Whisk the two ingredients together, and leave it to develop for a minute.
Dough: Add the all-purpose flour, sugar, salt, and eggs to the yeast mixture. Then use the dough hook attachment to stir the homemade dough at low speed for 6-8 minutes. Cover the mixing bowl and let the dough rise for 15-20 minutes.
Baking Prep: Towards the end of the rising time, preheat the oven to 350 degrees. Grease a 9×13 baking dish. You can also line the dish in aluminum foil for easy cleanup.
Shape: Prepare the sugar and cinnamon mixture in a medium bowl. Take the dough out and form it into 1-inch dough balls, using your hands. Roll each Cinnamon Roll Bite in the bowl of sugar and cinnamon to coat in cinnamon sugar. Place the cinnamon roll pieces in the prepared baking dish without touching.
Baking Time: Let the dough sit for another 20 minutes in a warm spot. Bake for 25-30 minutes, or until they are a light golden brown and not doughy in the center.
Icing: While baking, add the cream cheese, vanilla, unsalted butter, powdered sugar, and milk to a saucepan. Whisk to combine while the ingredients melt at medium-low heat. Once the bites are done, drizzle the cream cheese glaze over the cinnamon-sugar coating.
Classic Cinnamon Roll Recipes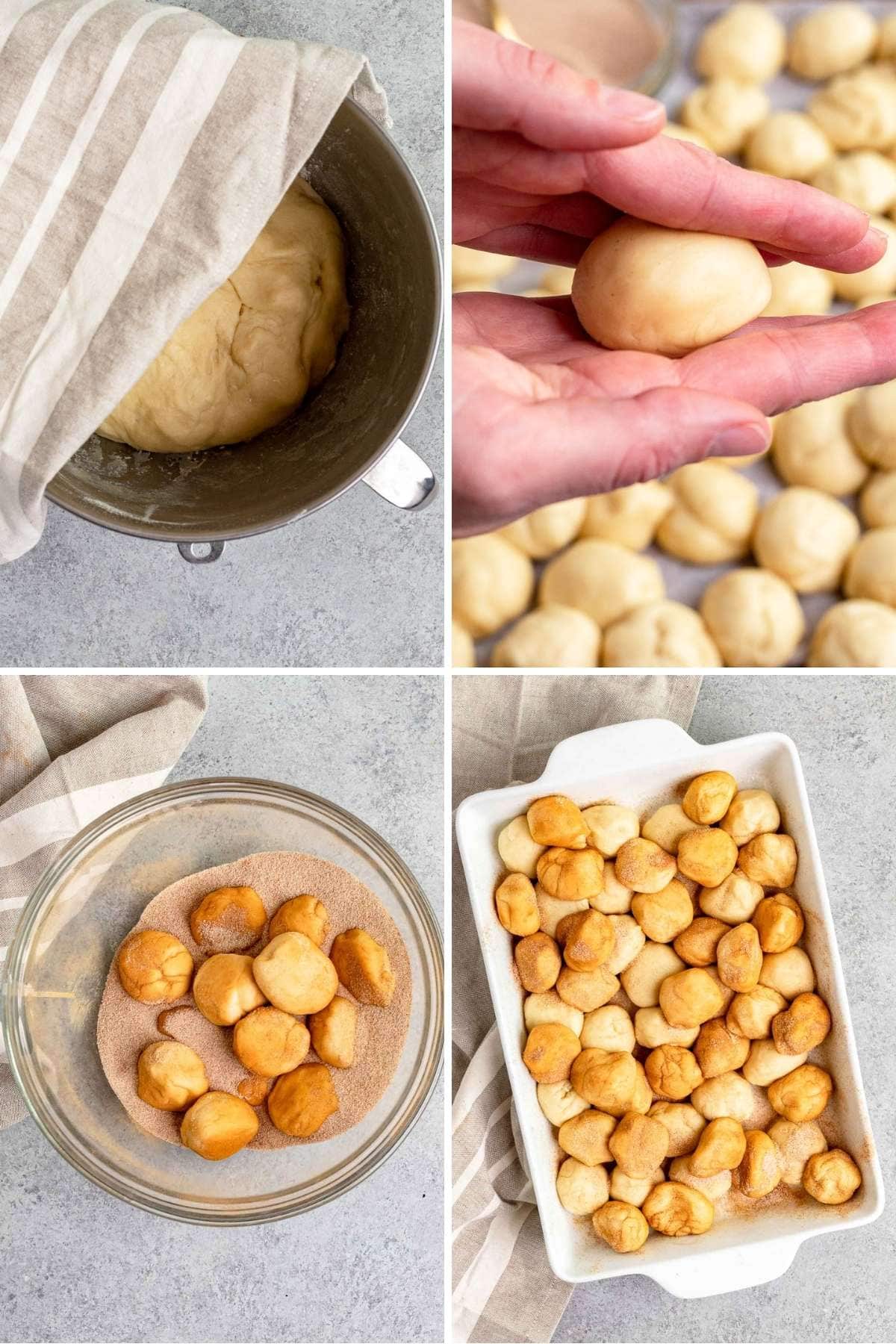 FAQs for Cinnamon Roll Bites
Where did cinnamon rolls come from?
Cinnamon rolls originated in Sweden, where they are known as "kanelbulle." These traditional cinnamon buns start the same, but instead of rolling into one log, the dough is folded over the filling, cut into strips that are split halfway, twisted and then connected at the ends to make the round bun shape. They are also usually topped with a sugar syrup glaze instead of thick, creamy vanilla icing,
What is cinnamon roll filling made of?
Cinnamon roll filling is typically made of a mixture of softened butter, brown sugar, and ground cinnamon. These ingredients are spread onto the dough before rolling it up and slicing it into individual rolls. For Cinnamon Roll Bites, the dough is rolled in the cinnamon sugar mixture so the filling is baked on the outside.
What is the difference between cinnamon buns and cinnamon rolls?
The terms "cinnamon buns" and "cinnamon rolls" are often used interchangeably, but there are slight differences in the two recipes. Cinnamon buns may sometimes include fillings like nuts or raisins, and usually have a sticky syrup topping, often baked on the bottom then inverted from the pan. Cinnamon rolls tend to have just a cinnamon-sugar filling and are topped with a thick sweet and creamy frosting.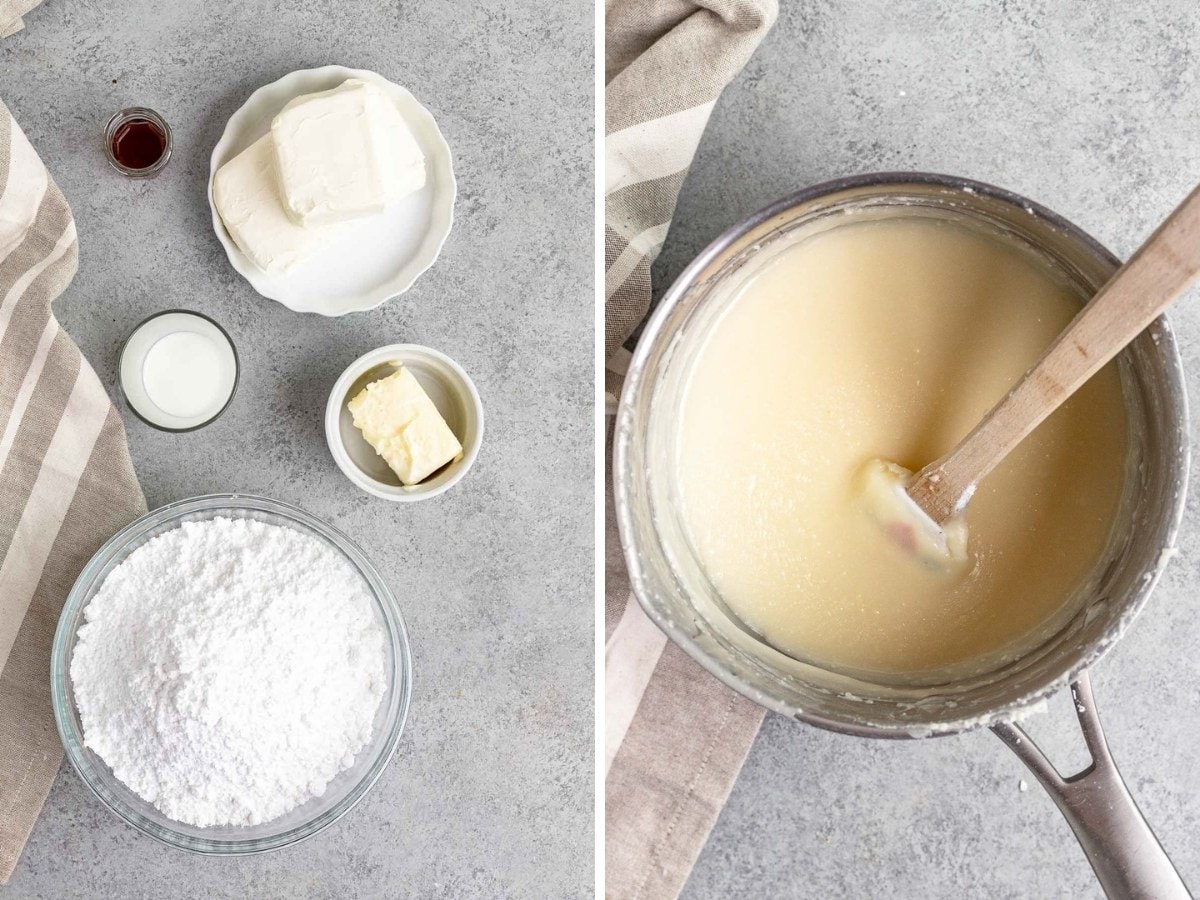 Create a free account to

Save Recipes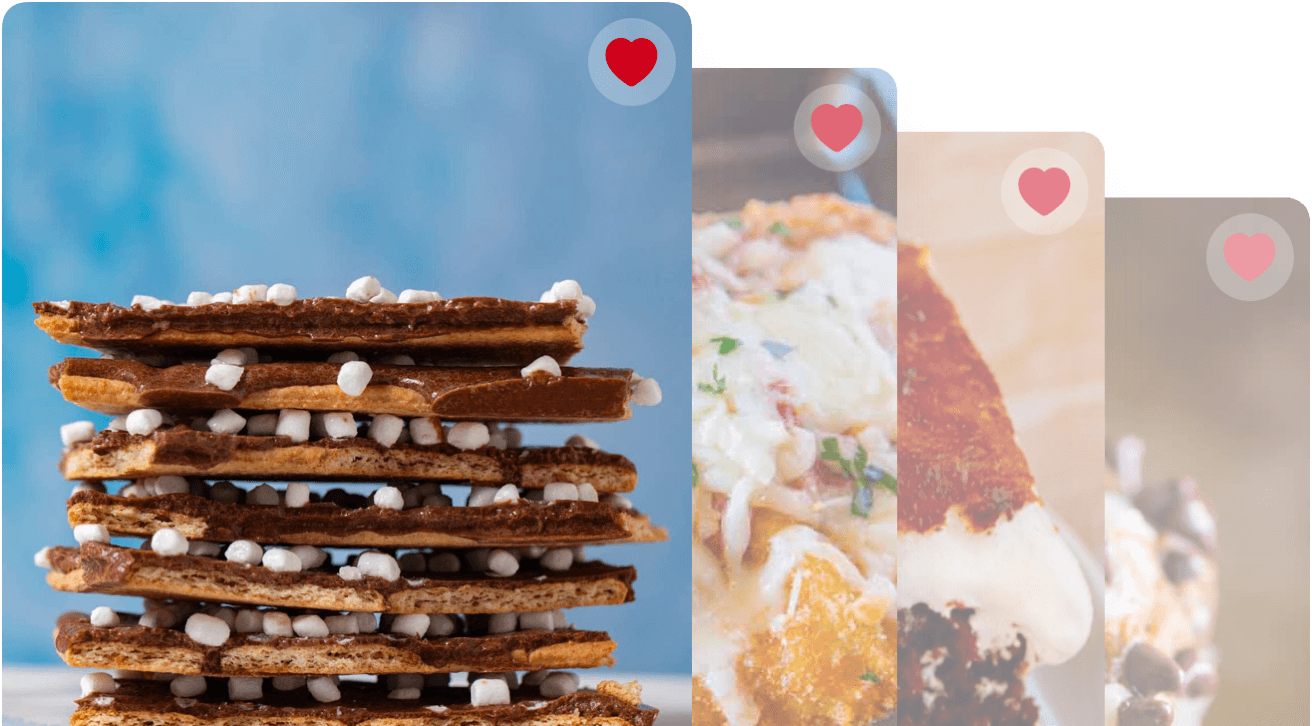 Key Ingredients
Instant Rapid Rise Yeast: This type of yeast is fast-acting and helps the dough rise, more quickly than traditional yeast, with about 40 minutes total of proofing time for the dough. It's great for recipes where you don't need large pieces of dough to double in size or create tons of air.
Warm Milk: Warm whole milk provides moisture and richness to the cinnamon roll dough as well as works best to activate rapid rise yeast. The yeast "activates" in warm liquid that's 110-115 degrees, but the sugars in the milk "feed" the yeast so you get a better rise than activating in warm water.
Butter: Unsalted butter is a key ingredient for both the dough and icing, adding flavor, moisture, and tenderness. Using unsalted butter also allows for better control of the overall salt content in the recipe.
Flour: All-purpose flour works best with this yeast dough because it has a right amount of gluten for these lighter dough bites. Since you don't knead the dough past the initial mixing, gluten-heavy bread flour could make these balls dense.
Cinnamon Sugar Coating: Cinnamon rolls are generally filled with softened butter, white sugar or brown sugar, and ground cinnamon. For these bites, the dough balls are rolled in a cinnamon-sugar mixture before baking so it's like an inside out cinnamon roll. The sugar slightly caramelizes around the bites for a sweet, cinnamon crust.
Cream Cheese Icing: Most cinnamon rolls are topped with a thick white frosting, either a standard cream cheese or vanilla frosting. These tasty little bites get glazed with a warm vanilla cream cheese icing as soon as they come out of the oven and you can serve extra icing on the side as a dip!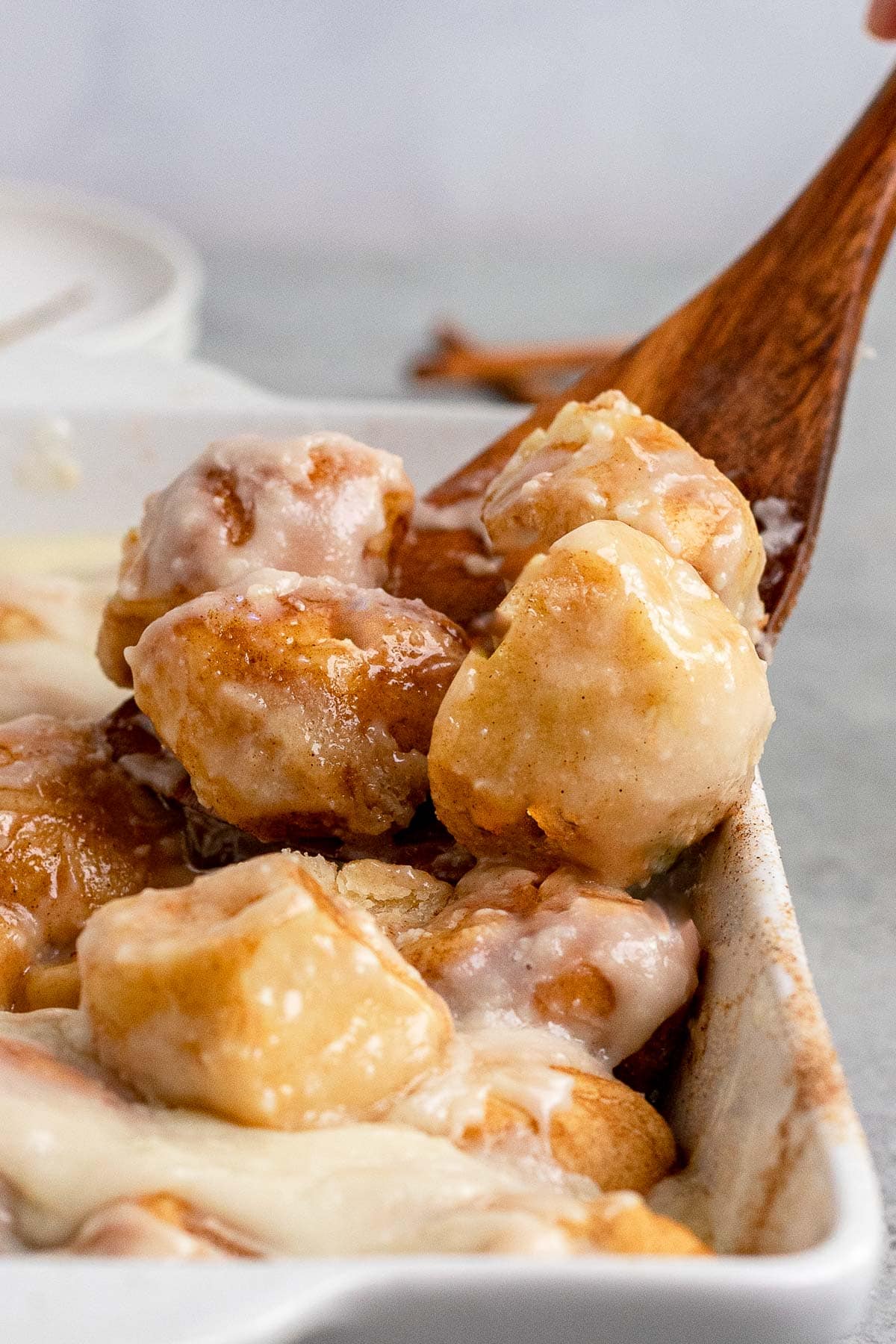 Variations
Vanilla Glaze: If you'd prefer to leave out the cream cheese, you can make a more simple glaze. Start by sifting 2 cups of powdered sugar into a bowl. Add ¼ cup melted butter, 2 tablespoons milk, and 1 ½ teaspoons vanilla extract, and stir until smooth. If it's too thick, you can add more milk to get the right consistency.
Canned Biscuit Dough: To make a quicker version of this recipe, you can replace the homemade dough with store-bought canned biscuit dough. Simply chop the biscuit dough into pieces and roll like usual in the cinnamon sugar.
Brown Sugar: For a rich, darker caramel coating, you can mix the cinnamon with brown sugar instead of white sugar. Bump up the caramel flavors by swapping the original icing with Salted Caramel Sauce.
Air Fryer Cinnamon Roll Bites
Follow the original recipe for preparing the dough, all the way through coating in cinnamon sugar and allowing to proof for 20 minutes.
After the dough balls have rested for 20 minutes, preheat your Air Fryer to 330 degrees.
Line the Air Fryer basket with parchment paper to prevent the bites from sticking. Ensure there is enough space between each dough ball for proper air circulation. You may need to cook the bites in batches depending on the size of your Air Fryer.
Place the sugar coated dough balls into the lined Air Fryer basket, ensuring they don't touch each other.
Cook for 8-10 minutes, or until the bites are golden brown and cooked through.
While the bites are cooking, prepare the cream cheese icing according to the original recipe.
Remove the cooked bites from the Air Fryer and allow them to cool slightly on a wire rack.
Drizzle the bites with the prepared cream cheese icing and serve warm.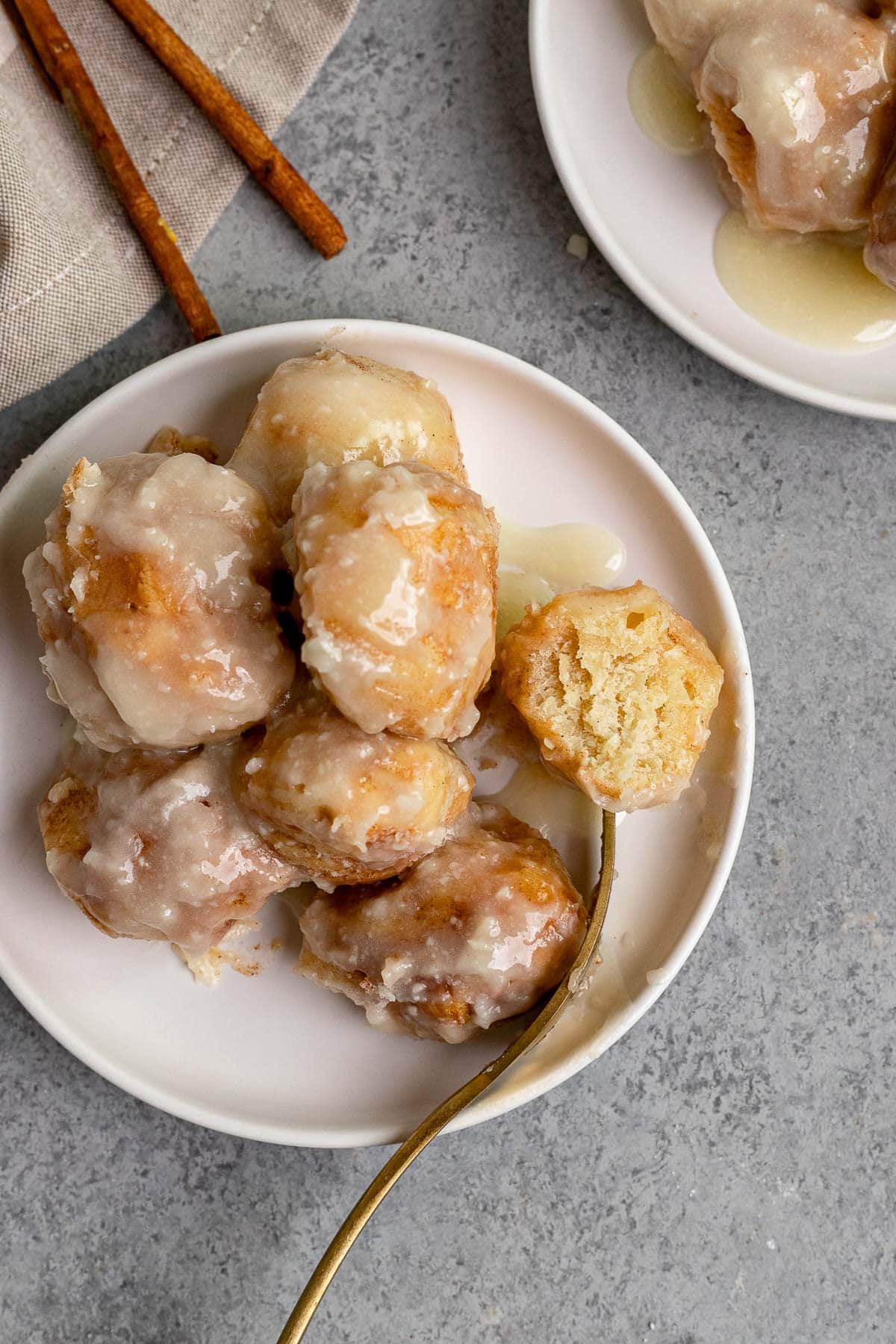 More Fun Bite-Sized Treats
How to Store
Serve: These Cinnamon Roll Bites will stay good for about 2-3 days at room temperature in an airtight container. If you are making them ahead, store them before glazing so they aren't soggy.
Store: Let the bites cool before storing in an airtight container for 1 week in the refrigerator. It's best to store the icing and cinnamon bites separately, then reheat them and top them with icing.
Freeze: If you want to make the Mini Cinnamon Roll Bites in advance, you can freeze them before glazing. Start by freezing baked and cooled bites on a tray then transferring to a sealed container. Freeze for up to 3 months, thawing to room temperature before reheating and making the glaze.


Ingredients
Cinnamon Roll Bites:
2

cups

whole milk

1/2

cup

unsalted butter

, softened

6

cups

flour

1/2

cup

granulated sugar

1

teaspoon

salt

2

packets

instant rapid rise yeast

2

large

eggs

1

cup

sugar

3

tablespoons

ground cinnamon
Icing:
12

ounces

cream cheese

, softened

1/3

cup

butter room temperature

1

tablespoon

vanilla extract

5

cups

powdered sugar

3

tablespoons

milk
Instructions
In a small saucepan heat the milk and butter to 110 degrees (warm to touch).

Into your stand mixer, add the yeast and milk. Whisk and let sit for

1 minute

.

Add flour, sugar, salt, and eggs to the stand mixer, and mix on low speed for

6-8 minutes

with a dough hook.

Let sit for

15-20 minutes

, covered in the bowl.

Preheat the oven to 350 degrees and grease a 9×13 baking pan.

Mix the cinnamon and sugar together in a small bowl.

Take the dough out, roll pieces into 1" balls, and place onto a baking sheet.

Once the balls are all formed, roll in the cinnamon-sugar mixture and add to the pan.

Let sit for

20 minutes

in a warm spot.

While they are baking, add the icing ingredients to a saucepan and whisk well over medium-low heat until combined.

When the bites come out of the oven, drizzle with icing.
Nutrition
Calories:
367
kcal
|
Carbohydrates:
64
g
|
Protein:
6
g
|
Fat:
10
g
|
Saturated Fat:
6
g
|
Polyunsaturated Fat:
1
g
|
Monounsaturated Fat:
3
g
|
Trans Fat:
1
g
|
Cholesterol:
43
mg
|
Sodium:
184
mg
|
Potassium:
116
mg
|
Fiber:
1
g
|
Sugar:
39
g
|
Vitamin A:
337
IU
|
Vitamin C:
1
mg
|
Calcium:
68
mg
|
Iron:
2
mg