Pancake Muffin Bites are easy to throw together using simple pantry ingredients. Just combine the batter, bake, and enjoy bite-sized portable pancakes.
Pancake Muffins are an ingenious Breakfast Recipe that make rushed mornings so much easier! Instead of cooking a stack of Classic Pancakes, you can rush out the door with this muffin version.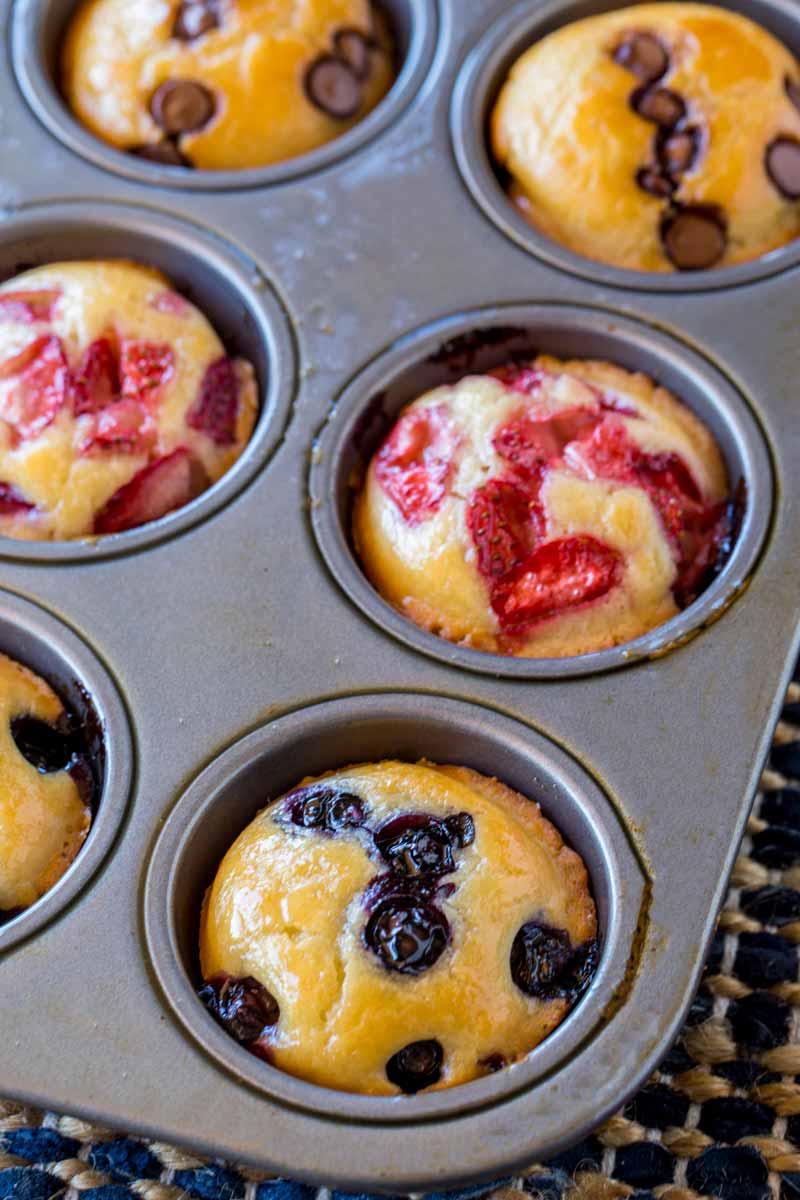 PANCAKE MUFFIN BITES
These Pancake Muffins are a fun twist on old-fashioned pancakes that your whole family is sure to love. The easy pancake batter is topped with blueberries and strawberries for some extra sweet and tart flavor. The fruit also gives the muffins wonderful colors that will brighten up any morning!
Just like French Toast Muffins, this is a great spin on a classic breakfast! It's fun, cute, and delicious. Perfect for your kids to grab on the way to school, or serve at a brunch!
We love making these Pancake Muffins ahead of time and storing them in the freezer. If you know you're going to have a busy morning, you can put them in the fridge to thaw the night before, and they'll be waiting for you in the morning. They're especially convenient for road-trips. Take a ziplock bag of these muffins in the car and enjoy a pancake breakfast while on the road!
TOPPINGS FOR PANCAKE MUFFIN BITES
These Pancake Muffins are moist and flavorful on their own just with the simple batter and berries, but you can add more toppings if you want. Serving Pancake Bites with sweet toppings is especially great if you're enjoying the muffins at home and don't have to worry about making a mess.
Maple Syrup
Powdered Sugar
Cinnamon Sugar
MORE BREAKFAST RECIPES
HOW TO MAKE PANCAKE MUFFIN BITES
Prep: Start by preheating your oven to 375 degrees F. Spray a 12-cup muffin tin with non-stick spray. If you're planning to take your Pancake Muffins on the road, you can also line the tin with paper cupcake liners so they're more portable.
Batter: In a large mixing bowl sift in the flour, baking powder, and salt. Whisk in the milk eggs and brown sugar. Be careful not to overmix. It's perfectly normal for there to be some lumps.
Bake: Scoop about ¼ cup of batter into each muffin cup. Top each muffin with a tablespoon of fruit. You can decide if you want to combine the blueberries and strawberries or alternate which fruit you put on each muffin. Pop in the oven and bake for 20-22 minutes until golden brown. Stick a toothpick in the center of one muffin to test if there's any wet batter left.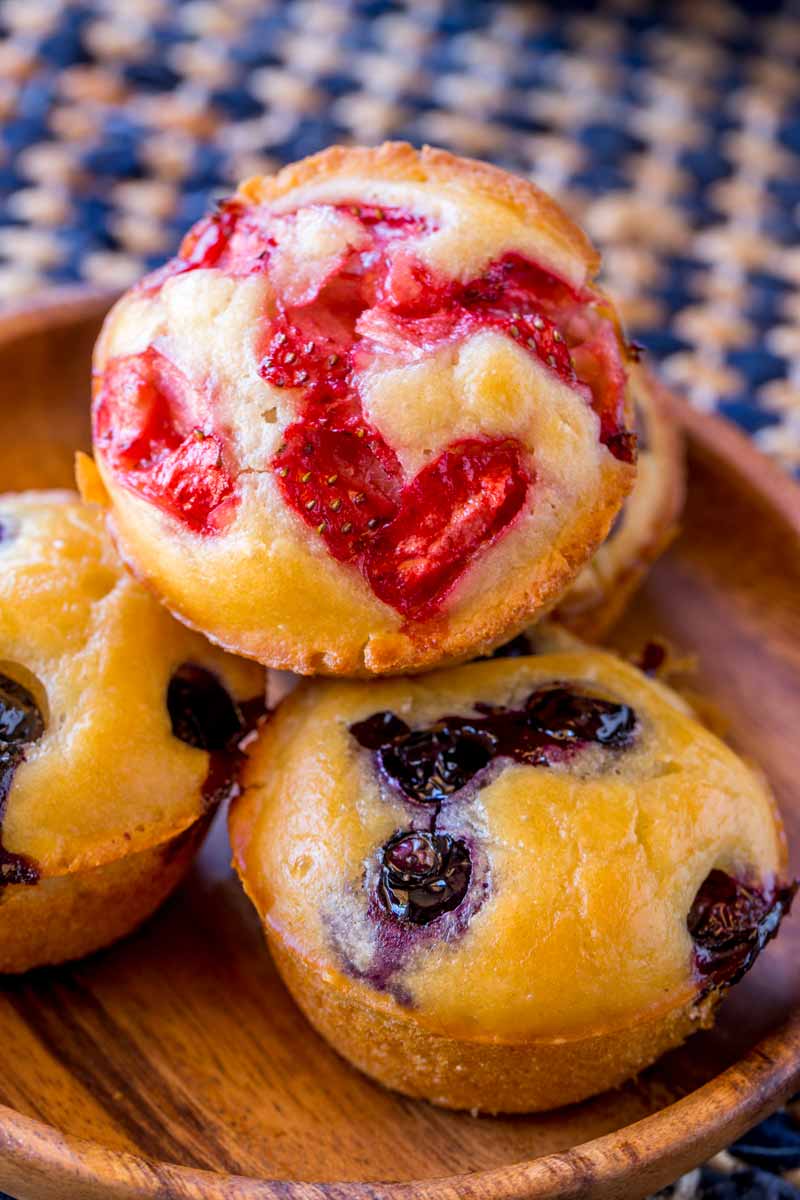 Create a free account to

Save Recipes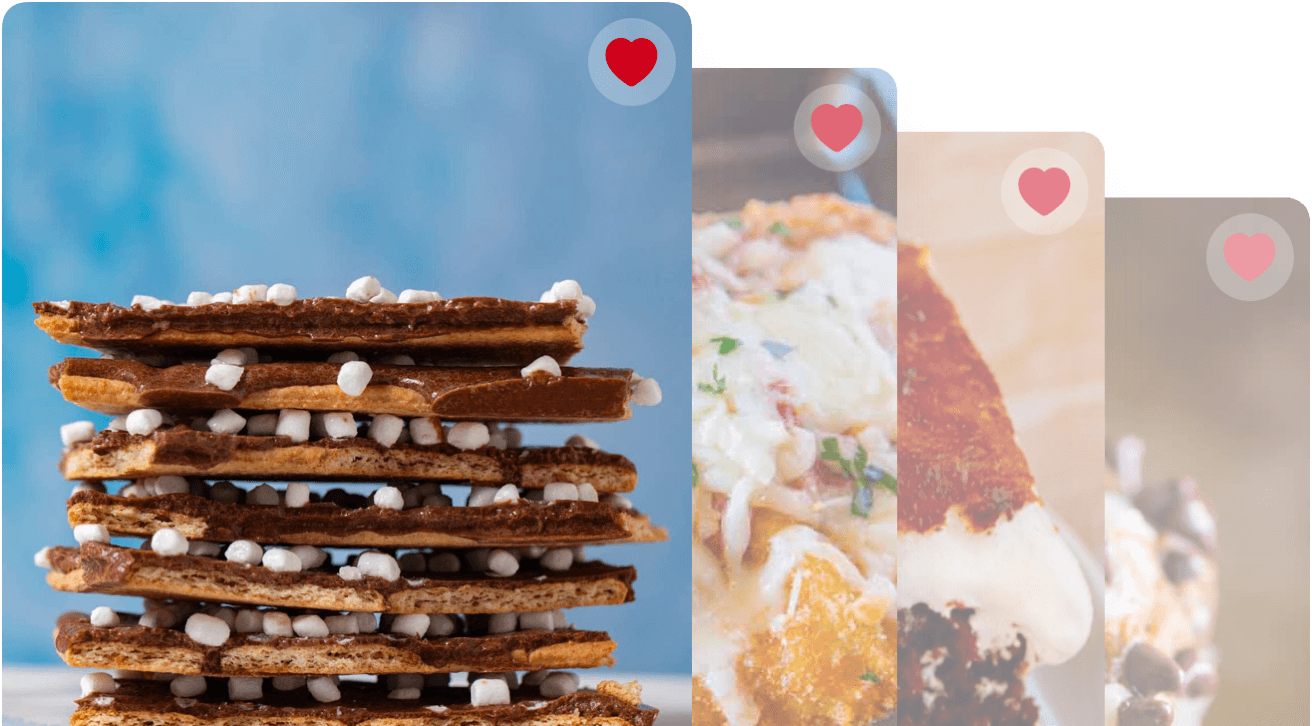 VARIATIONS ON PANCAKE MUFFIN BITES
Vegan: To make this pancake recipe vegan-friendly you'll just have to replace the eggs and the milk. For the eggs, you can use 1 mashed banana or ½ cup applesauce to replace the 2 eggs. For the milk try using soy milk, almond milk, or coconut milk as a replacement. You'll use the same amount of dairy-free milk as you would regular milk in the recipe.
Gluten-free: Another way to adjust this recipe for dietary requirements is by making it gluten-free. To make gluten-free pancakes replace the all-purpose flour with almond flour, buckwheat flour, or coconut flour.
Mini Muffins: If you want even smaller bite-sized pancakes, use a mini muffin tin. You can use the same batter and just fill up the mini muffin cups ¾ of the way. The Mini Pancake Muffins will bake faster, so keep an eye on them in the oven.
Toppings: The great thing about putting the toppings on top, instead of mixing them into the batter is you can put lots of different toppings on different muffins. Some other toppings to try sprinkling on the batter are chocolate chips, chopped walnuts, sliced bananas, apple chunks, white chocolate, or cranberries.
MORE PANCAKE RECIPES
HOW TO STORE PANCAKE MUFFIN BITES
Serve: To make sure the pancakes don't go stale, don't keep them at room temperature for more than a few hours.
Store: Let the Pancake Muffin Bites cool to room temperature, then store them in a ziplock bag or other airtight container. They'll stay good in the fridge for a week.
Freeze: For make-ahead Pancake Muffins, store them in the freezer for up to 3 months. For best results store the muffins in a freezer bag with the layers separated by parchment paper so they don't freeze together. Put them in the fridge to defrost. You can eat them cold or put them in the microwave or oven to reheat.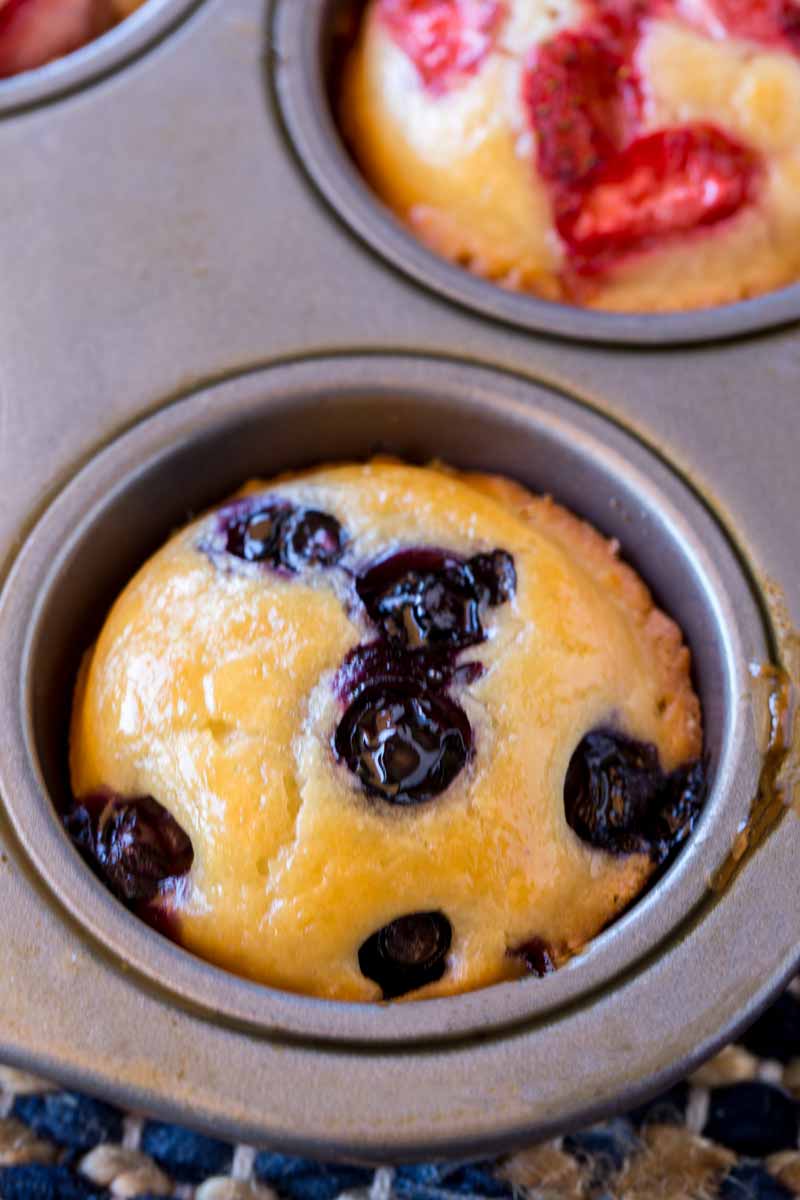 Ingredients
2

cups

flour

2

teaspoons

baking powder

1/4

teaspoon

salt

1 1/2

cups

whole milk

2

large

eggs

2

tablespoons

brown sugar

1/2

cup

strawberries

, chopped

1/2

cup

blueberries
Instructions
Preheat oven to 375 degrees and spray a 12-cup muffin tin with baking spray.

Sift together flour, baking powder, and salt in a large mixing bowl.

Whisk in the milk, eggs, and brown sugar.

Scoop ¼ cup of batter into each well, then top with just over 1 tablespoon of fruit.
Nutrition
Calories:
120
kcal
|
Carbohydrates:
21
g
|
Protein:
4
g
|
Fat:
2
g
|
Saturated Fat:
1
g
|
Cholesterol:
34
mg
|
Sodium:
75
mg
|
Potassium:
155
mg
|
Fiber:
1
g
|
Sugar:
4
g
|
Vitamin A:
94
IU
|
Vitamin C:
4
mg
|
Calcium:
74
mg
|
Iron:
1
mg