Easy Classic Waffle recipe for perfect homemade waffles! Crispy, light, and fluffy waffles made with butter, eggs, whole milk, sugar, and vanilla extract.
Belgian Style Waffles and Classic Pancakes are delicious and well-loved weekend Breakfast favorites that never go out of style.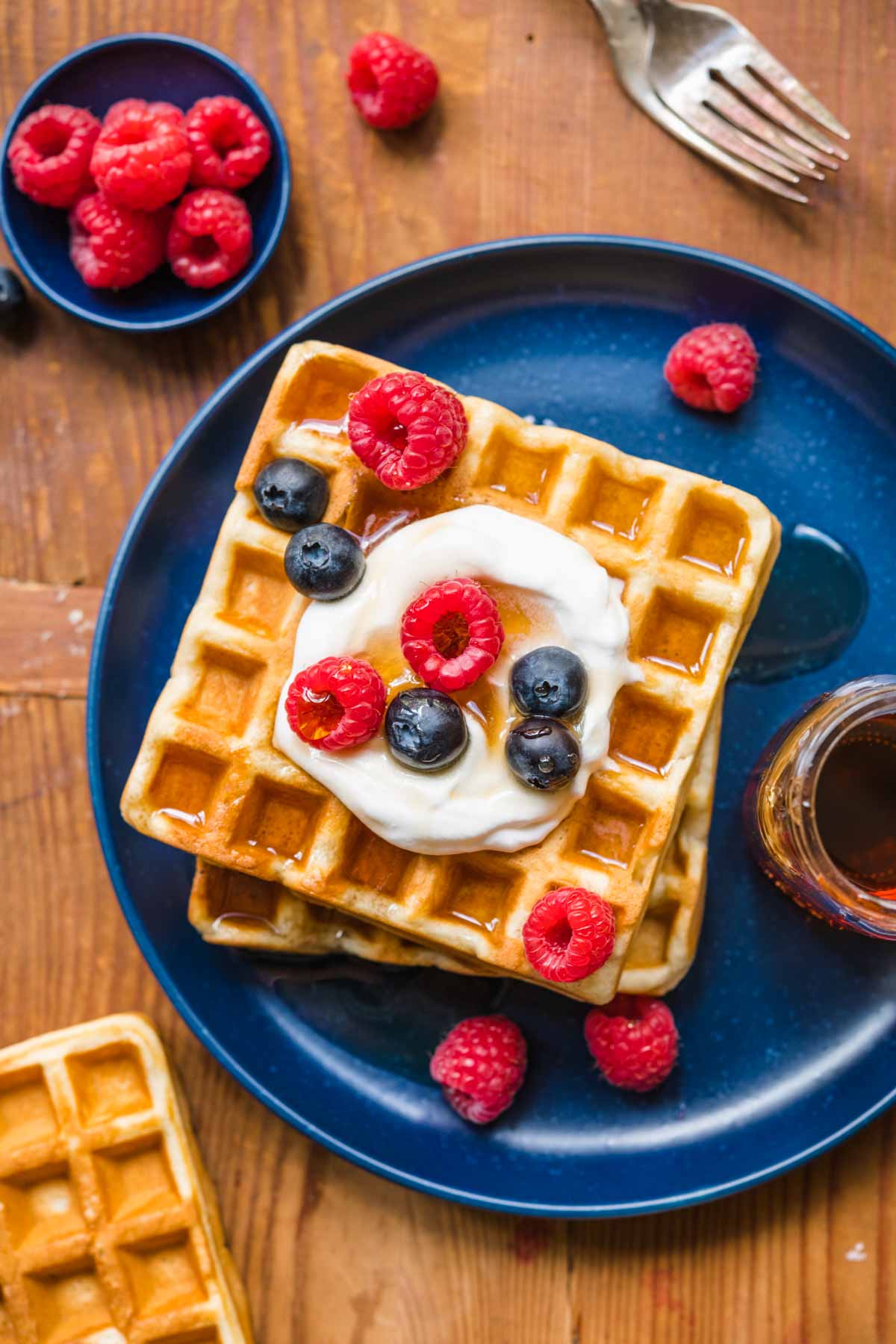 CLASSIC WAFFLE
These Classic Waffles are light and buttery on the inside, crispy on the outside, and so easy to make! This simple recipe is made in just minutes in one bowl, with no need to whip egg whites or let the batter rest for a long time. Make a double batch and freeze these Waffles for later and reheat in the toaster like your favorite freezer brand.
This crispy Waffle recipe has a sweet vanilla flavor that everyone will love and is made with ingredients you definitely have in your pantry. You'll love having this simple, easy recipe on hand for whenever you get a craving or need to make breakfast for a crowd. You can mix a big batch of dry ingredients ahead to time and keep for months in an airtight container, then simply scoop out 2 ¼ cups with the wet ingredients and prepare as usual.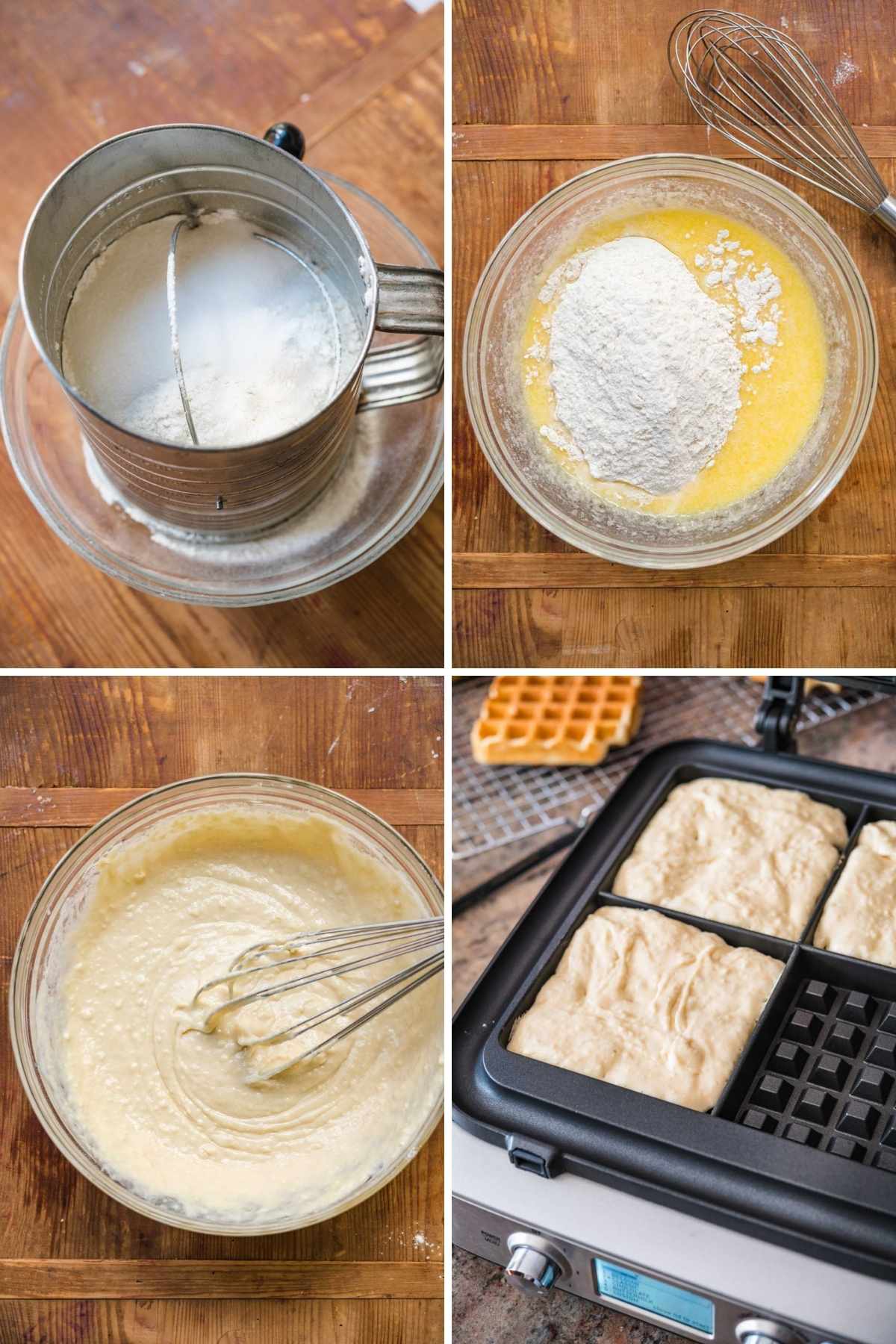 This recipe is made for a regular waffle maker, not a Belgian waffle iron. The difference between a classic waffle maker and Belgian waffle maker is there are deeper wells or divots, which allows the Belgian style waffle batter to rise. Since these classic light and fluffy Waffles don't rise as much, you want to use a regular waffle maker so they cook evenly on both sides. The size of your waffle maker doesn't matter, just make sure you add enough batter to cover the entire plate without overfilling.
There are so many ways to make a Classic Waffle into something special! You can serve Waffles with the traditional maple syrup and butter, load them up with sweet toppings like Chocolate Sauce, or serve them with savory sides. Waffles make a great substitute for English muffins or toast on breakfast sandwiches too. Check out the variations section for delicious mix-in ideas or below for some topping ideas to get you started!
SOME DELICIOUS TOPPING IDEAS:
Toppings for Classic Waffles
Berries and Cream: Top with sliced fresh berries or fruit and a dollop of Whipped Cream.
Ice Cream Sundae: A scoop of Vanilla Ice Cream, drizzle of Salted Caramel Sauce, and crushed toasted pecans.
Apple Pie: Warmed up Apple Pie Filling and a cinnamon powdered sugar icing glaze.
Breakfast Sandwich: Top one Waffle with a fried egg, cooked bacon or sausage patty, and American cheese slice, then a second Waffle.
Grilled Cheese: Use two Waffles to make grilled cheese, either in a skillet or a toaster oven, and serve with Tomato Soup.
Tips for Making Perfect Homemade Waffles
Use warm milk and room temperature eggs to keep the butter melted in the batter so it spreads evenly. This will make your waffles light, fluffy, and perfectly crispy.
Wait to mix wet ingredients with dry ingredients while waffle iron heats up and don't let the Waffle batter sit for too long.
Turn oven on warm, about 200 degrees F, while you are heating your waffle maker. Place a wire cooling rack on a baking sheet. Transfer cooked Waffles to baking sheet on rack in single layer to keep waffles crisp as you make them.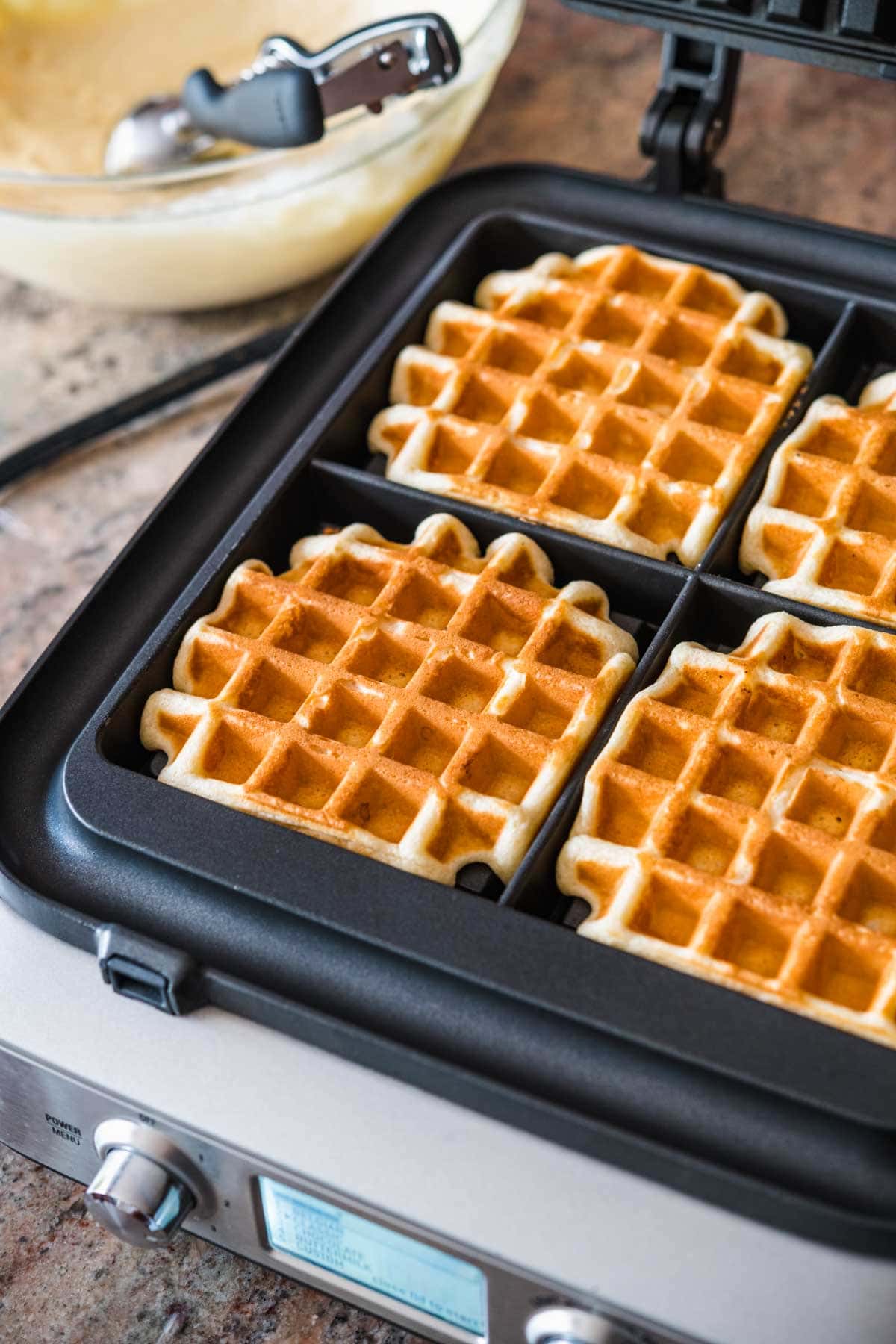 Create a free account to Save Recipes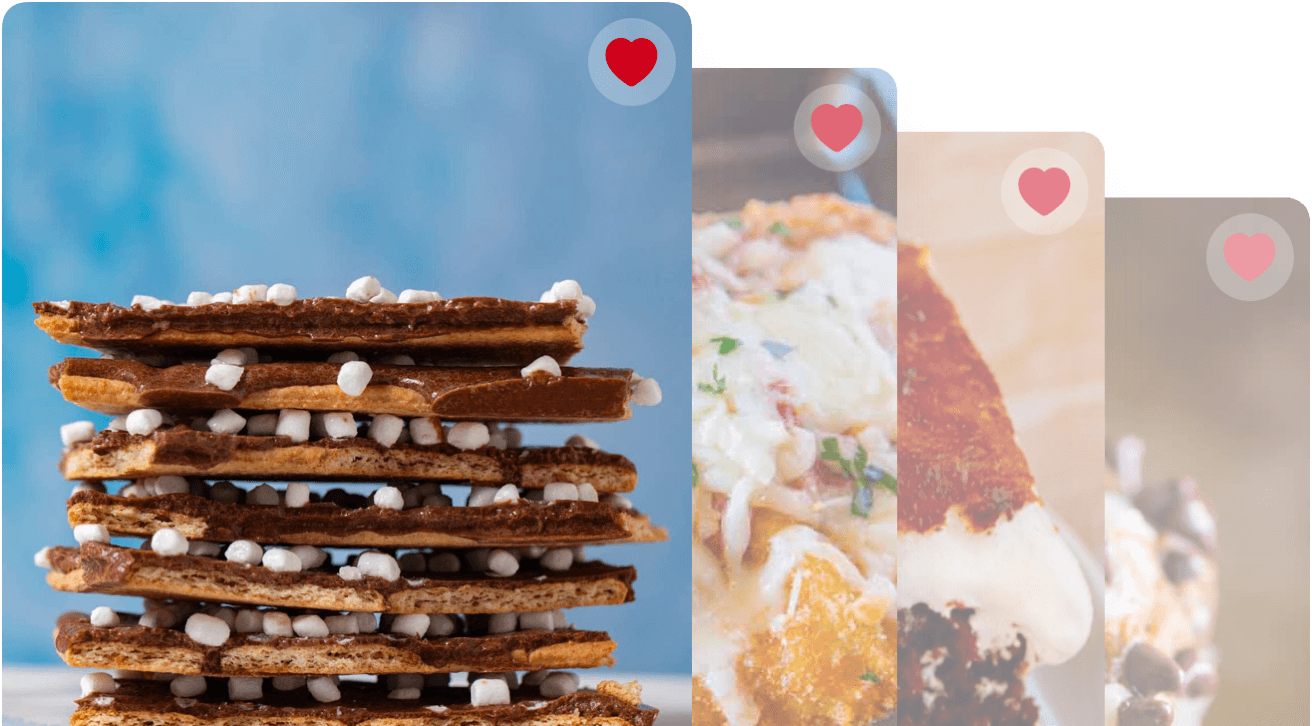 VARIATIONS ON CLASSIC WAFFLES
Buttermilk: Swap out the whole milk with buttermilk to make Buttermilk Waffles that are rich and tangy. If you don't have buttermilk, make some from scratch by substituting 1 ½ tablespoons milk with white vinegar or lemon juice.
Blueberry Waffles: You can use fresh or frozen blueberries for your Waffles. Once you spoon batter into waffle maker, sprinkle fresh berries and close lid. Try this with other fresh berries, diced small so they will spread evenly.
Chocolate Chip Waffles: Use mini chocolate chips and fold into waffle batter right before scooping batter into waffle iron so they don't sink to the bottom. Make birthday Funfetti Waffles with mini rainbow chips or colored sprinkles.
Other Mix-Ins: Sprinkle in chopped nuts, butterscotch chips, peanut butter chips, mini M&Ms, cinnamon chips, crushed peppermint candies, cooked bacon crumbles, ground cinnamon, cocoa powder, or instant espresso powder.
MORE EASY CLASSIC BREAKFAST RECIPES
HOW TO STORE CLASSIC WAFFLES
Serve: Fresh Waffles are best served warm and can be kept at room temperature for 2 hours. The dry ingredients can be kept at room temperature in an airtight container for up to 3 months.
Store: Cool prepared Waffles completely and keep in an airtight container for up to 1 week in the refrigerator. Reheat in the toaster or in the oven on a baking sheet until warmed through so they stay crispy.
Freeze: Once cooled, wrap Waffles in a plastic wrap tightly and store in a freezer safe plastic bag. Freeze Waffles for up to 3 months and reheat from frozen in the toaster or oven.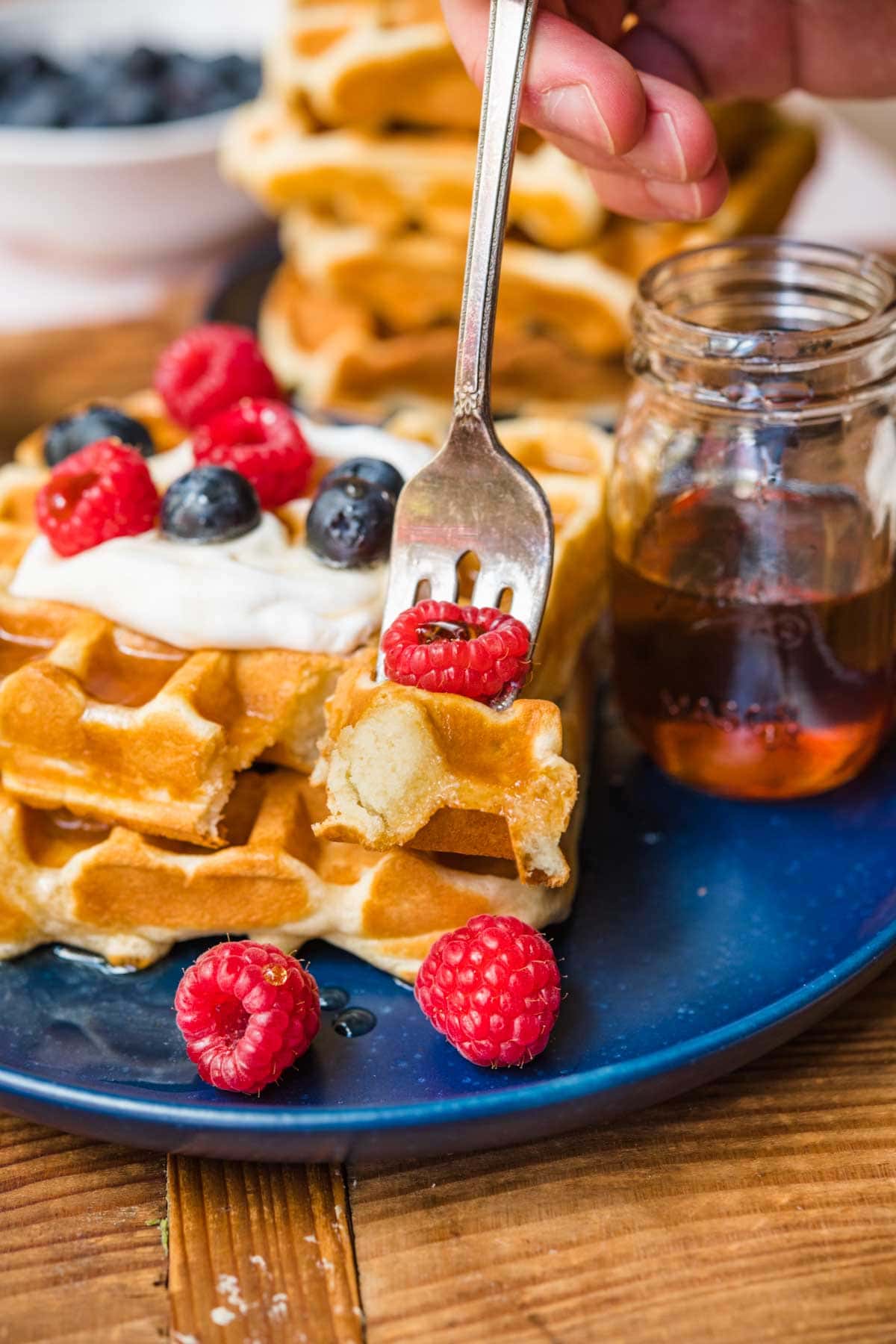 Ingredients
2

cups

flour

4

teaspoons

baking powder

1/2

teaspoon

salt

1/4

cup

white sugar

1/2

cup

butter

, melted

1 1/2

cups

whole milk

2

large

eggs

2

teaspoons

vanilla extract
Instructions
Preheat waffle iron to medium heat.

Sift the flour, baking powder, salt and sugar twice into a large bowl.

In a medium bowl whisk together butter, milk, eggs and vanilla extract until smooth.

Add in flour mixture and whisk until just combined.

Scoop batter onto lightly buttered waffle iron on medium heat and cook until ready light goes off and waffles are browned and crispy.
Nutrition
Calories:
192
kcal
|
Carbohydrates:
22
g
|
Protein:
4
g
|
Fat:
10
g
|
Saturated Fat:
6
g
|
Cholesterol:
51
mg
|
Sodium:
190
mg
|
Potassium:
207
mg
|
Fiber:
1
g
|
Sugar:
6
g
|
Vitamin A:
325
IU
|
Calcium:
102
mg
|
Iron:
1
mg