Belgian Waffles are crispy on the outside and fluffy on the inside and EASY to make; ready in only a few minutes with pantry ingredients!
We're big fans of Breakfast Recipes and this recipe is among our readers' favorites from our kitchen along with Easy French Toast and Cinnamon Rolls!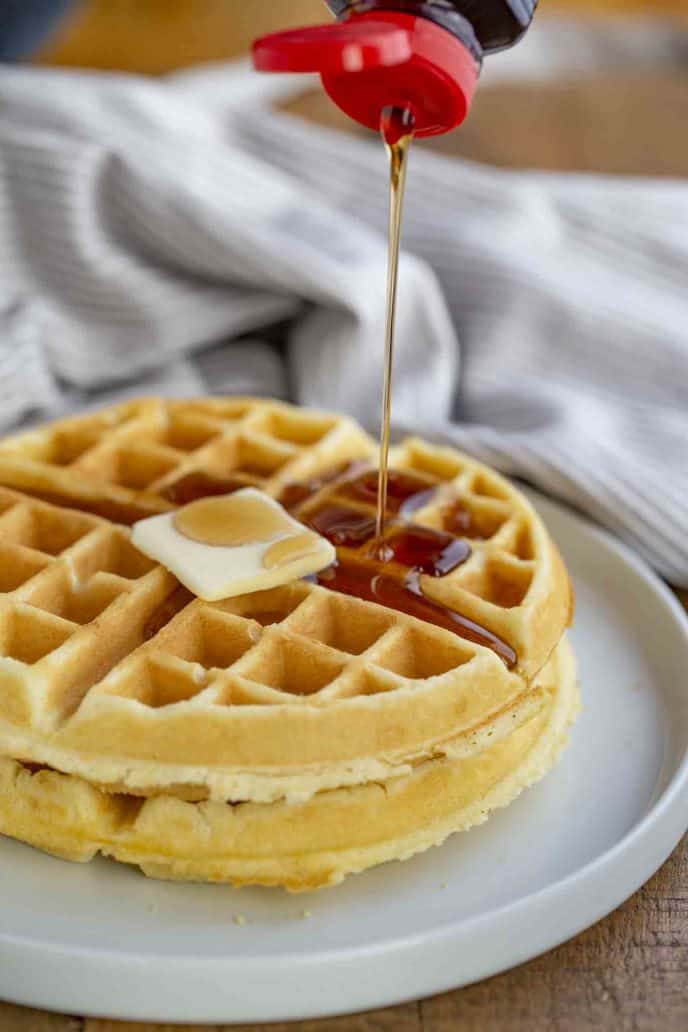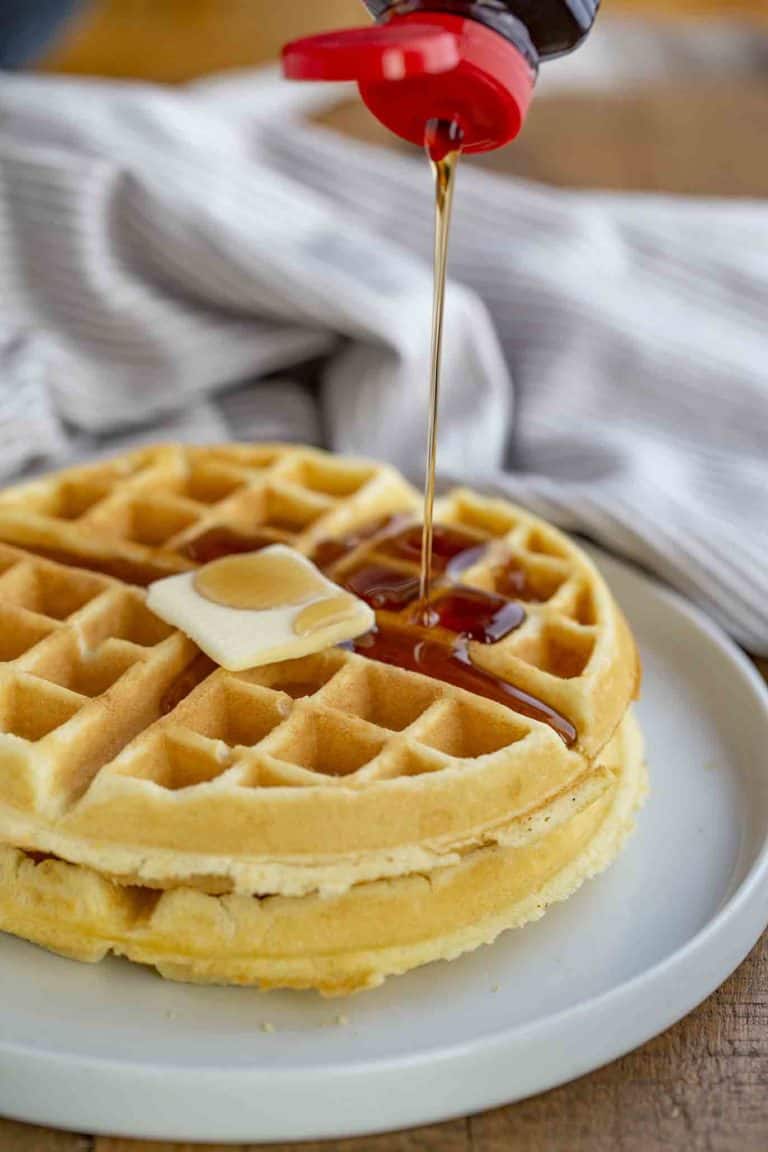 Belgian Waffles are the PERFECT Sunday morning breakfast. They're incredibly light and fluffy in texture, while having a sweet flavor and loaded with all of your favorite toppings. You can throw in a handful of chocolate chips or blueberries, and top with real maple syrup, Whipped Cream or Easy Strawberry Topping for the full effect.
There's nothing that even comes close to homemade waffles. Once you try this incredibly easy fluffy waffle recipe, they will become your go-to when you have a free morning. It's also great to make a batch for breakfast, then keep a few frozen for another day.
You can make these with brown sugar for a deeper flavor, or a dash of cinnamon. This Belgian Waffle recipe is better than any pancake mix version you've had before, I promise! Serve these alongside Breakfast Pork Sausage, Oven Bacon Cheddar Scrambled Eggs, and some fresh fruit for an amazing homemade breakfast.
How to Make Belgian Waffles
Prepare Belgian waffle iron by spraying with oil.

Sift the flour and baking powder into a large bowl then add the salt and sugar, mixing well.

Using a hand mixer with the egg whites in a small bowl, beat them until stiff peaks form.

In a second bowl whisk the egg yolks, butter, milk and vanilla together.

Whisk the butter mixture into the flour mixture until just combined then very very gently, fold in egg whites (do not stir). Be careful not to over-mix the batter, especially at the very end where you might flatten the air out of the egg whites. Fold until just combined, then leave it alone.

Pour ⅓ cup servings into your Belgian waffle maker and cook as directed.
More Breakfast Recipes
Frequently Asked Questions
What is the difference between a Belgian Waffle and a regular waffle?
A Belgian waffle has larger square pockets than regular waffles, making it more ideal for toppings! These waffles were traditionally made using yeast, but now the more modern method is to use leavening agents.
What is the difference between pancake batter and waffle batter?
Waffle batter is typically higher in fat and sugar, which helps the waffle achieve the slightly crispy texture on the outside. You'll often find people using the batters interchangeably, though. The batter is also had egg whites folded into it, making it lighter and giving the waffle a slightly crispier texture.
Can you make Belgian Waffles in a regular waffle iron?
For this waffle recipe you need an iron specific to Belgian waffles, with deeper squares, allowing the dough to properly rise to the fluffy texture and crispy outside. If you make them in a regular waffle iron, you risk losing some of the airy texture, and of course the traditional shape. Some waffle makers have removable plates, so you can switch back and forth between regular and Belgian waffles using one one iron.
How do I make dairy free Belgian Waffles?
To make this recipe friendly for dairy free diets, substitute the whole milk for almond milk. Instead of unsalted butter, use melted coconut oil, but let it cool close to room temperature before mixing in. 

Create a free account to Save Recipes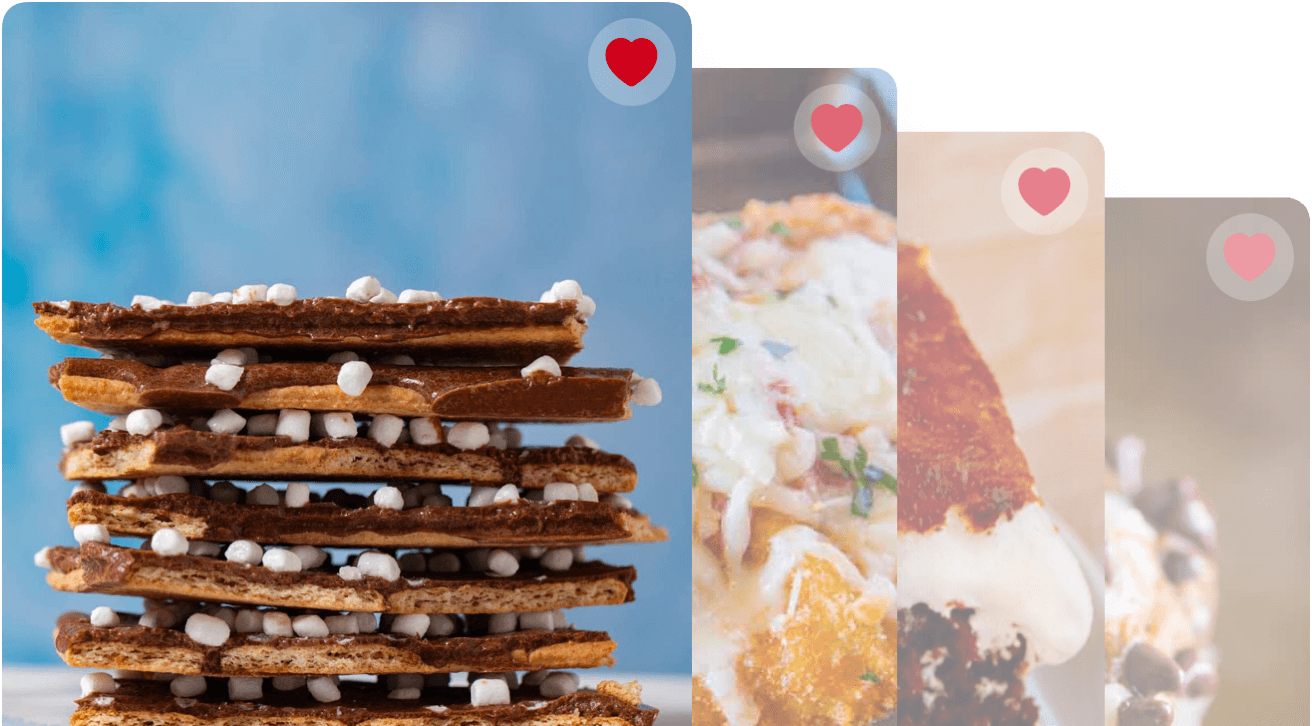 Key Ingredients in Belgian Waffles
Flour: All purpose flour works best for Belgian Waffles, and make sure to sift it to keep the texture light and fluffy.
Sugar: White granulate sugar helps to sweeten the waffle batter and adds to the crispy crust. If you are watching your sugar intake, you can also use a granulated sugar substitute option.
Eggs: By separating the eggs and whipping the whites, you will create airy Belgian waffles that still have a yummy richness and golden brown color thanks to the yolks.
Milk: Whole milk is always best to use when baking or cooking. The extra fat helps with the texture of the dish and keeps it moist.
Butter: Make sure to use unsalted butter for recipes, that way you can control how much salt is added. This is especially important for sweet recipes such as this where you do not want any salt at all.
Baking Powder: This leavening agent works by combining sodium bicarbonate with a powdered acid that creates gas in the batter when it combines with wet ingredients. Baking soda is fast acting, which eliminates the need for yeast in quick breads and these Belgian Waffles.
Vanilla: A small amount of vanilla adds a warm and sweet flavor to the waffles that tastes even more amazing when they're topped with fruit and maple syrup.
Can Belgian Waffles be Made Ahead?
Fresh waffles are always the best. If you're going to make waffles more than 24 hours in advance, I would recommend freezing them to keep the quality as fresh as possible. Place a piece of parchment paper between each waffle and freeze in an airtight container.
Otherwise, you can refrigerate them temporarily, then reheat these in the oven at 300 degrees for a total time of 10-15 minutes on a baking sheet. Depending on the size of your waffle, you can also put them in the toaster oven for a few minutes until warmed through to maintain the crispy texture.
Variations on Belgian Waffles
Toppings: The pockets are PERFECT for holding whatever toppings you go with, so I always serve these with extra syrup, honey, and whipped cream. You can also top them with butter, berries, bananas, Nutella, chocolate chips, peanut butter, sliced banana, or powdered sugar.
Flavorings: Add extracts to play with the flavor of these waffles. This recipe uses vanilla, try almond, lemon, or strawberry!
Chocolate Belgian Waffles: Replace ½ cup flour with ½ cup unsweetened cocoa powder for a chocolately waffle mix. Add a dash of cinnamon for Mexican Hot Chocolate Waffles.
Mix ins: Stir in mini chocolate chips for chocolatey waffles, or rainbow sprinkles for a birthday funfetti waffle. You can also swirl in your favorite sauce like strawberry or caramel sauce.
Homemade Waffle Mix: Make a big batch of the dry ingredients and store in an airtight container on the counter to mix up easy Belgian waffle batter any time.
Buttermilk Waffles: You can substitute the milk with buttermilk for added flavor in this recipe. If you're using gluten free all purpose flour, the buttermilk will provide necessary acidity for that type of flour, which makes a big difference in texture.
Ice Cream Waffles: Who says you can't have dessert for breakfast? The crispy, sweet texture of Belgian Waffles makes them the perfect base to top with creamy cold ice cream. Don't forget the whipped cream and chocolate sauce!
More Delicious Breakfast Classics
How To Store Belgian Waffles
Serve: Don't leave at room temperature for more than 2 hours.
Store: Store in an airtight container to keep in the fridge for up to 1 week. Re-heat in toaster oven.
Freeze: You can also freeze for up to 3 months. Re-heat in toaster oven or in a skillet with a bit of butter.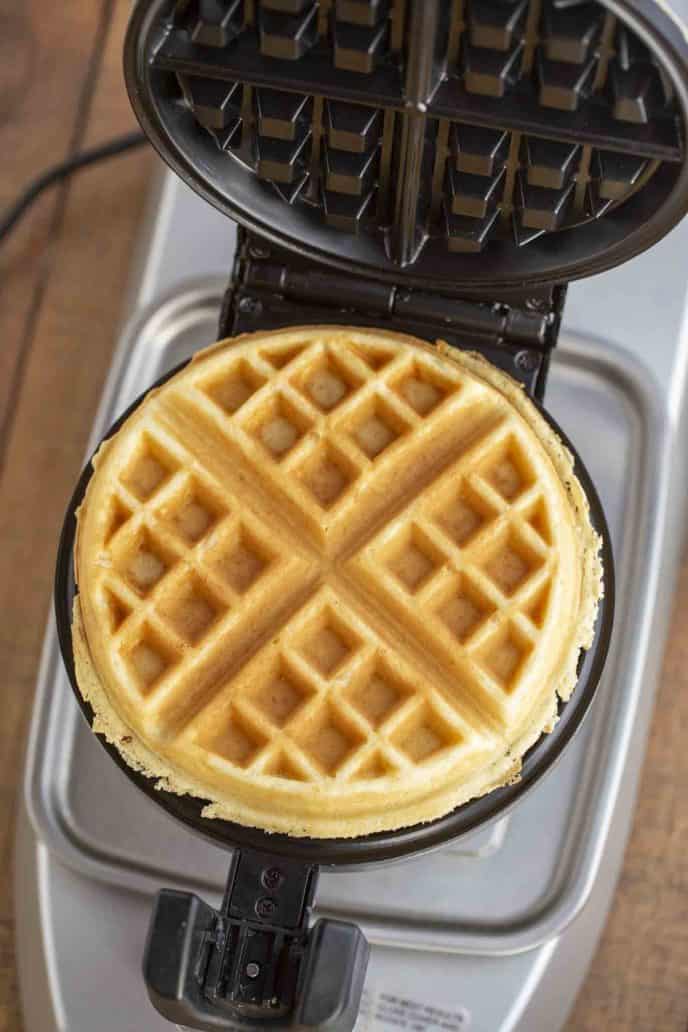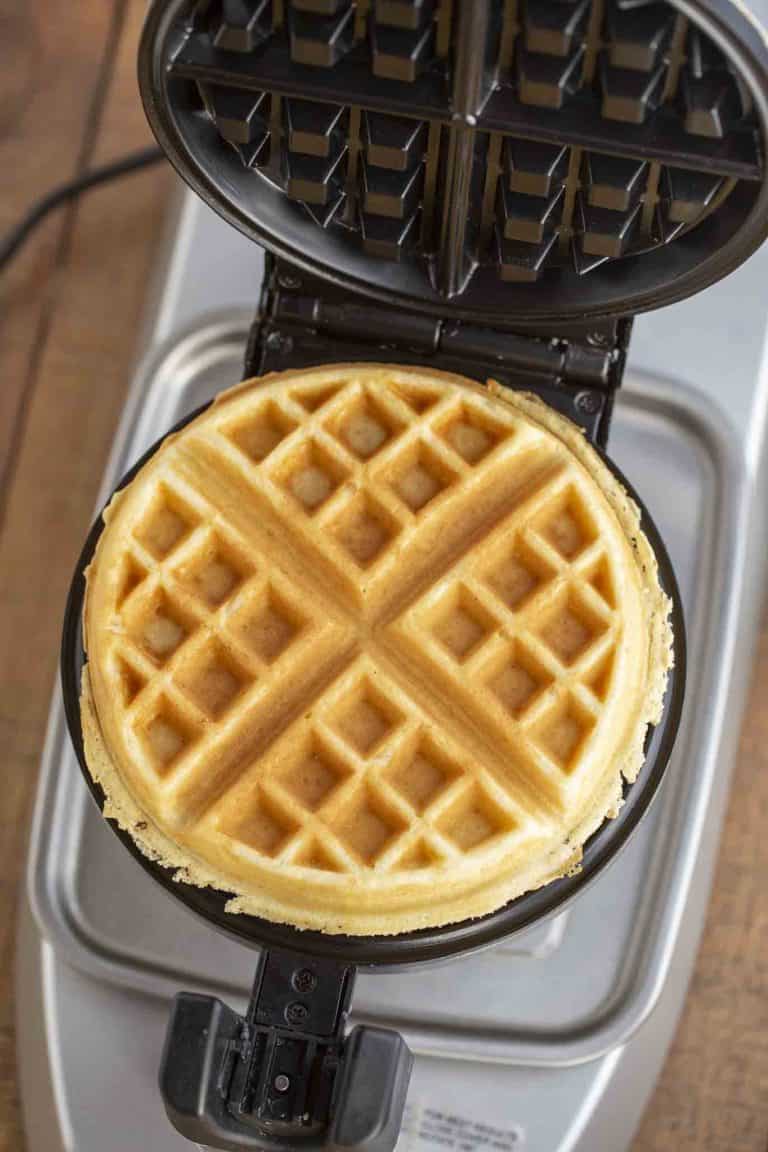 Ingredients
2

cups

flour

4

teaspoons

baking powder

1/2

teaspoon

kosher salt

1/3

cup

sugar

2

large

eggs

, separated

1/2

cup

unsalted butter

, melted

2

cups

whole milk

1

tablespoon

vanilla extract
Instructions
Spray the waffle maker with a bit of oil.

Into a large bowl sift the flour and baking powder then add the salt and sugar, mixing well.

Using a hand mixer with the egg whites in a small bowl, beat them to stiff peaks which stand straight up.

To a second bowl whisk the egg yolks, butter, milk and vanilla together.

Whisk the butter mixture into the flour mixture until just combined then very very gently, fold in egg whites (do not stir)

Pour ⅓ cup servings into your Belgian waffle maker to cook as directed.
Nutrition
Calories:
309
kcal
|
Carbohydrates:
36
g
|
Protein:
6
g
|
Fat:
14
g
|
Saturated Fat:
8
g
|
Cholesterol:
83
mg
|
Sodium:
193
mg
|
Potassium:
333
mg
|
Sugar:
11
g
|
Vitamin A:
520
IU
|
Calcium:
171
mg
|
Iron:
1.8
mg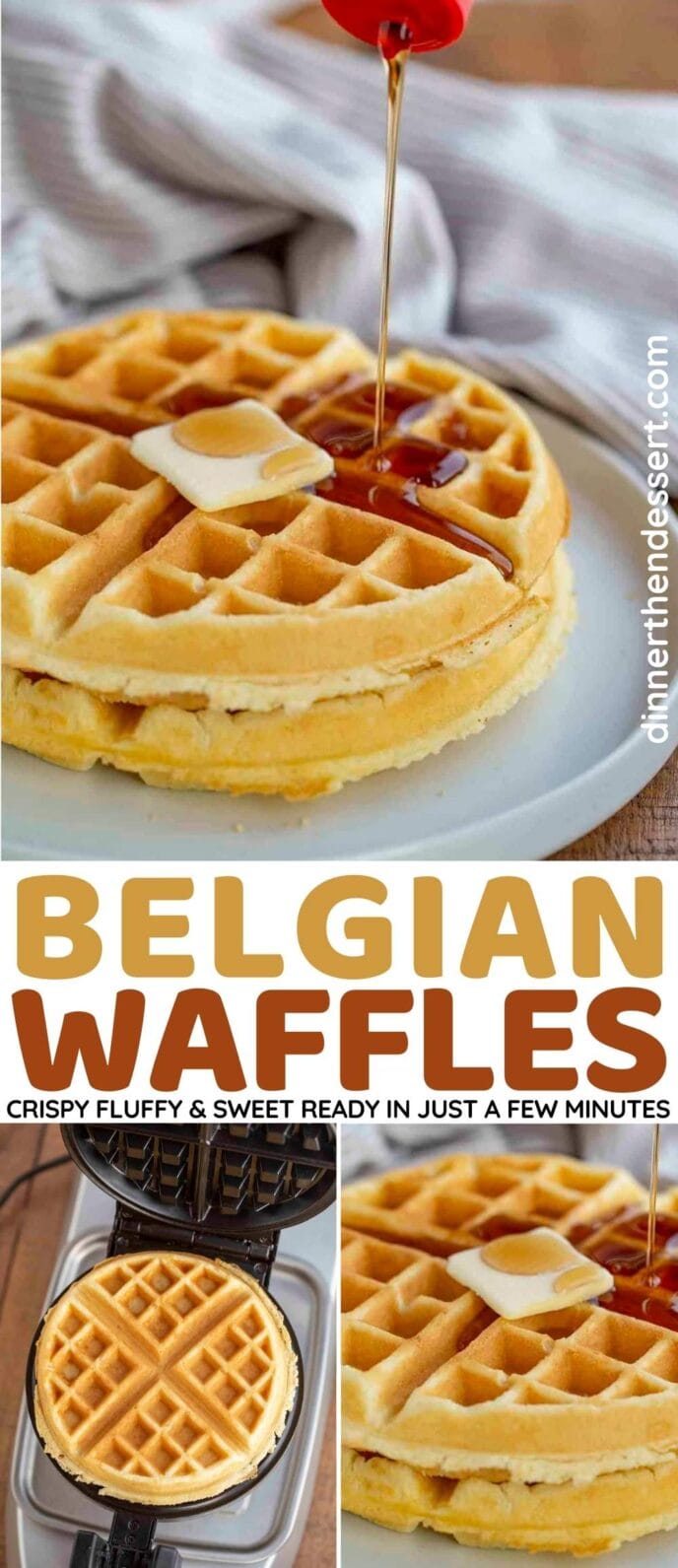 Photo used in a previous version of this post.