Belgian Rainbow Waffles will make your St. Patrick's Day Breakfast a hit with homemade Belgian waffles turned into beautiful rainbows with a pot o' gold.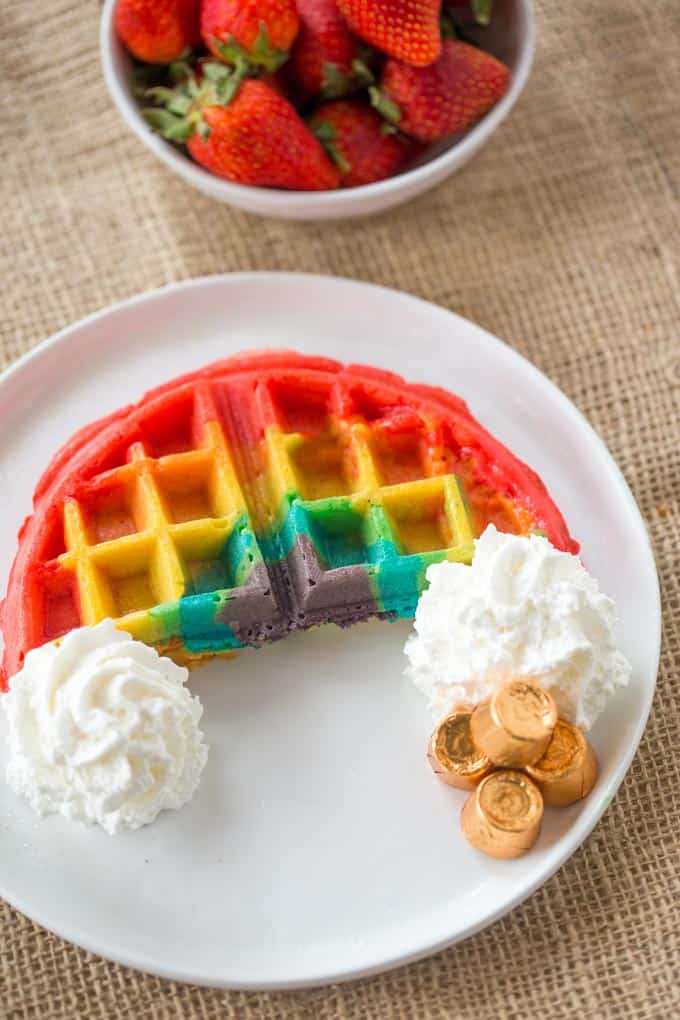 Belgian Rainbow Waffles may be a St. Patrick's Day celebration for you all, but for us these waffles have been a birthday tradition for our oldest who is completely rainbow obsessed. And our youngest was thrilled to practice naming colors and poking fingers in all the salmonella fun causing us to wash hands over and over again.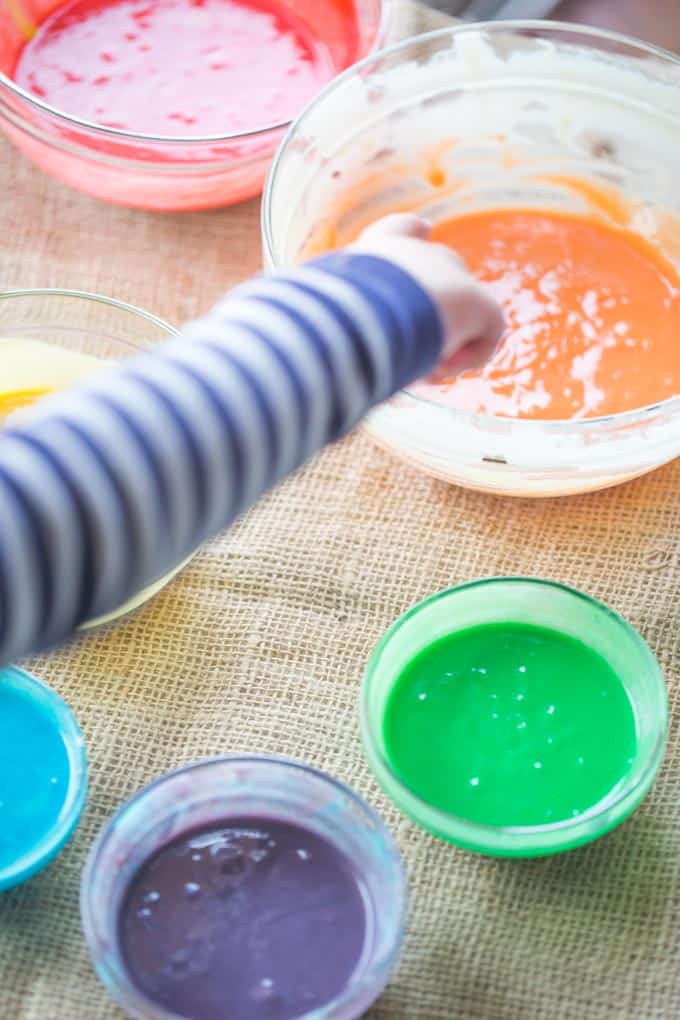 This recipe, like the Rainbow Poke Cake and Rainbow Cupcakes with Cloud Frosting may not win you Healthy Mom of the year awards but in moderation and used sparingly the food coloring in this waffles is not something I stress over. Plus, it's St. Patrick's day, you don't have to apologize for going all rainbow all over the place.
And if you're looking for a rainbow pancake recipe, look no further than my friend Allyson's site, she posted Rainbow Pancakes this morning!
The base recipe for these Belgian Rainbow Waffles is my basic Belgian Waffle Recipe. I avoid using yeast in the recipe by whipping egg whites. This recipe goes back to culinary school for me, so if it is a big overly complicated for you, you can always use a box Belgian Waffle Mix and tint it with the food coloring.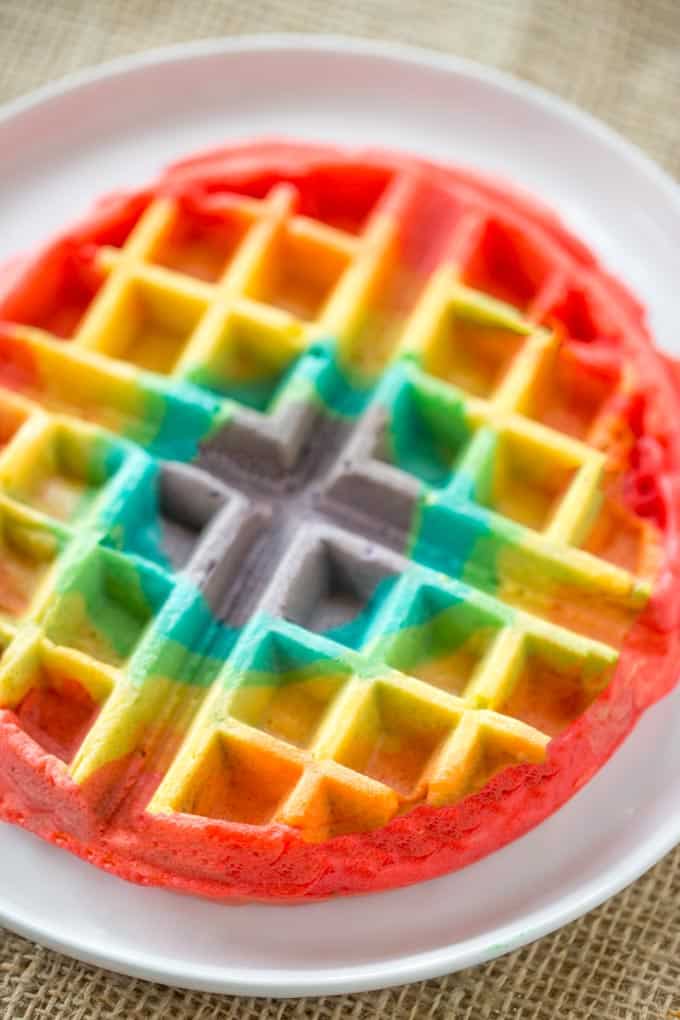 For serving I add a bit of whipped cream to the bottom of the waffles as clouds and I added a few Rolos for the pot o' gold. Then I served salad the rest of the day and Rainbow Roasted Vegetables on the side of Grilled Chicken Breasts for dinner. Made me feel better about basically serving dessert for breakfast! 😉
I will caution you, you're not looking to cook these Belgian Rainbow Waffles as long as your normal Belgian Waffles. The outside of them will brown and cover the beautiful colors if you do.
So about 60-70% of how long you would normally cook for take a peek and see if your waffles will pull away from the Belgian waffle maker cleanly, then just give it a bit longer to crisp the edges a touch and snag them out immediately.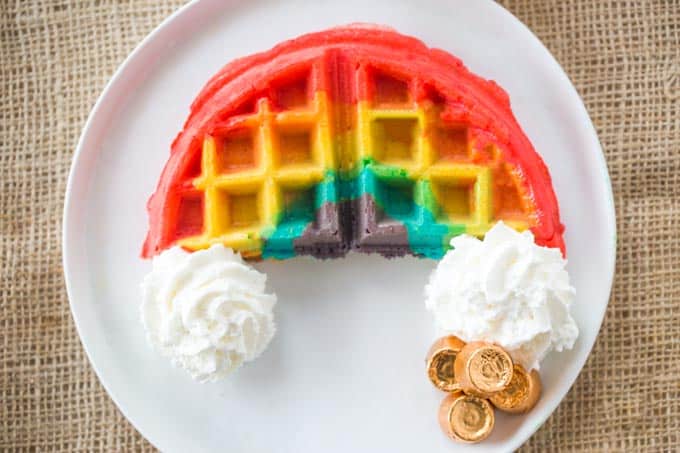 Tools Used in the Making of this Belgian Rainbow Waffles:
Clear Vanilla: This will ensure your whipped cream stays as white as a fluffy cloud.
Gel Food Colors: Doesn't add as much moisture as the drops do and the colors are significantly more bright and vibrant.
Belgian Waffle Maker: I have this double waffle maker for quick weekend breakfasts for a crowd. For this recipe DO NOT use the double side at the same time. Your "assembly" of all the colors in the waffle maker will take longer than the other side takes to cook. Take your time with these, you're only making three round waffles.
Stand Mixer: My love, this gorgeous stand mixer is part of team Dinner, then Dessert thanks to an awesome Bob's Red Mill contest and the color makes me smile!
Ziploc Bags: I use this when piping different colored batter instead of piping bags because they cost so much less and I don't end up washing pastry tips. Win win.
Recipe
Save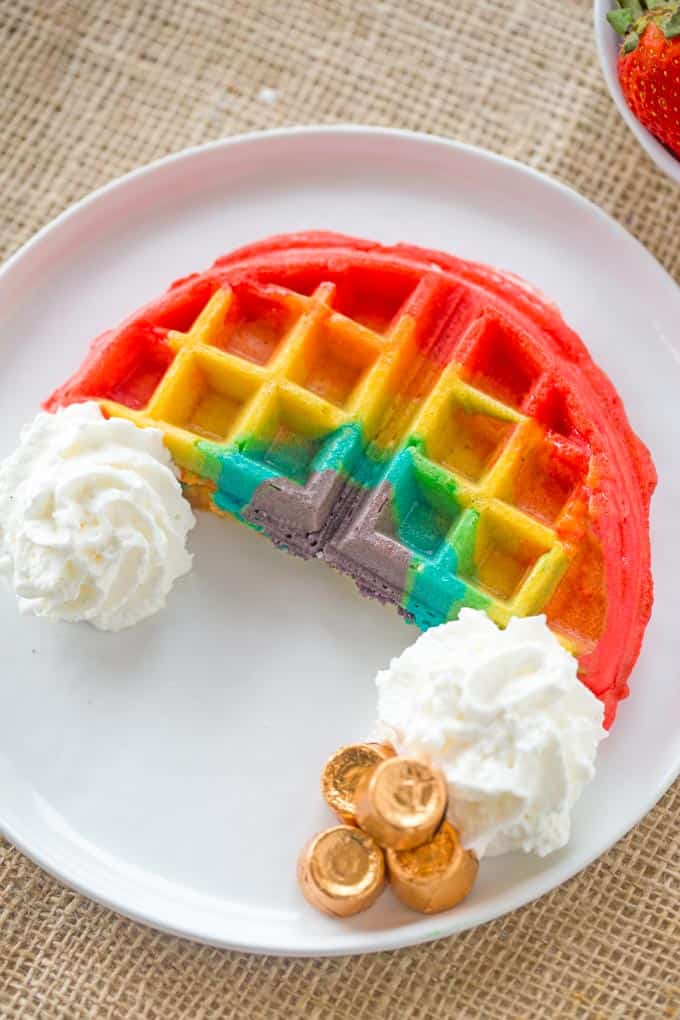 Belgian Rainbow Waffles
Yield:

6

servings

Prep Time:

20

minutes

Cook Time:

10

minutes

Total Time:

30

minutes

Course: Breakfast
Cuisine: American
Author: Sabrina Snyder
Belgian Rainbow Waffles will make your St. Patrick's Day Breakfast a hit with homemade Belgian waffles turned into beautiful rainbows with a pot o' gold.
Ingredients
2

eggs

whites and yolks divided

2

teaspoons

vanilla extract

1

cup

buttermilk

1/4

cup

butter

melted

1

cup

all-purpose flour

1 1/2

teaspoons

baking powder

1/2

teaspoon

baking soda

1/2

tablespoon

white sugar

1/4

teaspoon

salt

Gel Food Coloring

Rolo Candies for your gold
Instructions
Note: click on times in the instructions to start a kitchen timer while cooking.
Preheat your waffle iron, make sure you're using a round Belgian waffle maker for these rainbows.

In your stand mixer add the two egg whites and beat to stiff peaks on high.

Remove egg whites carefully to another bowl.

In the stand mixer add the eggs, vanilla, buttermilk and butter until well blended.

Add in the flour, baking powder, baking soda, sugar and salt and combine.

Add batter to six different bowls, the 1/3 of the batter in red, then in decreasing amounts for each color (don't drive yourself crazy here, the colors will merge a bit.

I ended up with about half as much orange as red, half as much yellow as orange, etc etc.

The purple was only about 3 tablespoons of batter by the end.

Fold about the same ratios of the egg white into the batter very carefully.

Add to ziploc piping bags.

Pipe in circles around the waffle iron.

Red on the outside working inward to purple in the order of: Red, orange, yellow, green, blue, purple.

Keep the colors thinner than you would think you should they'll spread as you're adding them.

Cook them about 75-80% of the time you normally would a waffle, you don't want to lose that gorgeous color by browning them too much.

They'll still be cooked but not be SUPER crispy.

Garnish with whipped cream clouds and rolos as treasure.

Eat salad the rest of the day. 😉
Nutrition Information
Yield: 6 servings, Amount per serving: 198 calories, Calories: 198g, Carbohydrates: 19g, Protein: 5g, Fat: 10g, Saturated Fat: 6g, Cholesterol: 79mg, Sodium: 319mg, Potassium: 197mg, Sugar: 3g, Vitamin A: 380g, Calcium: 103g, Iron: 1.3g
All images and text © for Dinner, then Dessert.
Keyword:
Belgian Rainbow Waffles
Save