Rainbow Poke Cake With Whipped Cream made with no cake mix. Condensed milk makes this poke cake super moist and fluffy stabilized whipped cream won't melt!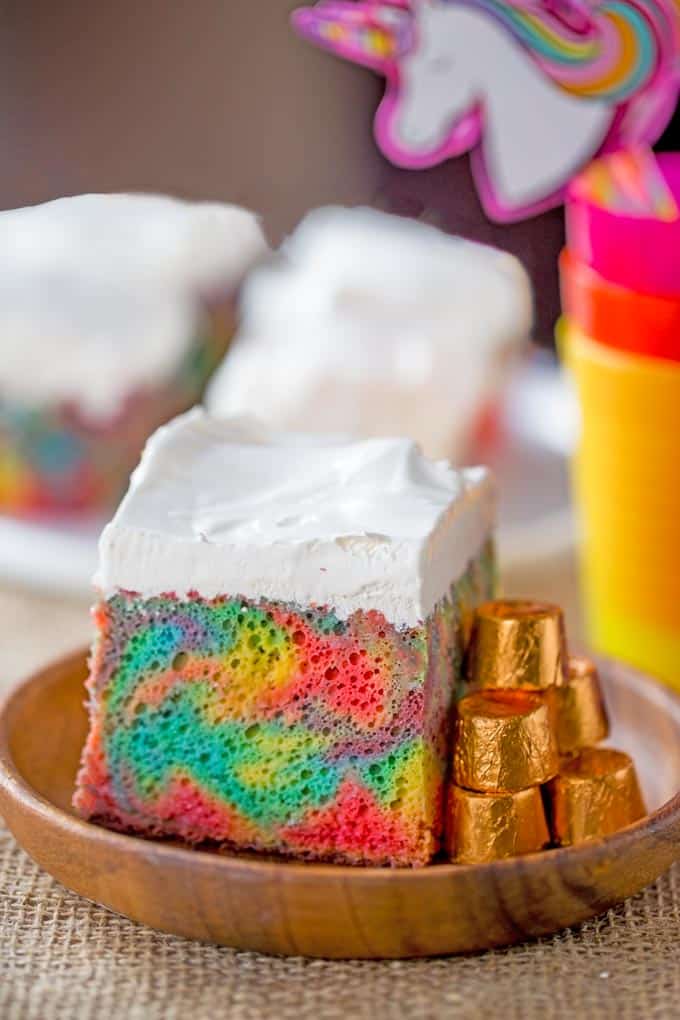 Rainbow Poke Cake With Whipped Cream is just about the happiest sheet cake you'll ever make in your life. And with a deliciously fluffy whipped cream topping and super moist cake (I'm looking at you delicious sweetened condensed milk) you're going to be the hit of your St. Patrick's Day party.
Rainbow Poke Cake With Whipped Cream combines all the delightful parts of the epic 6 layer rainbow cake we have all seen on Pinterest (Follow me on Pinterest, I always pin a lot of delicious recipes) with the delightfully lazy demeanor of a sheet cake.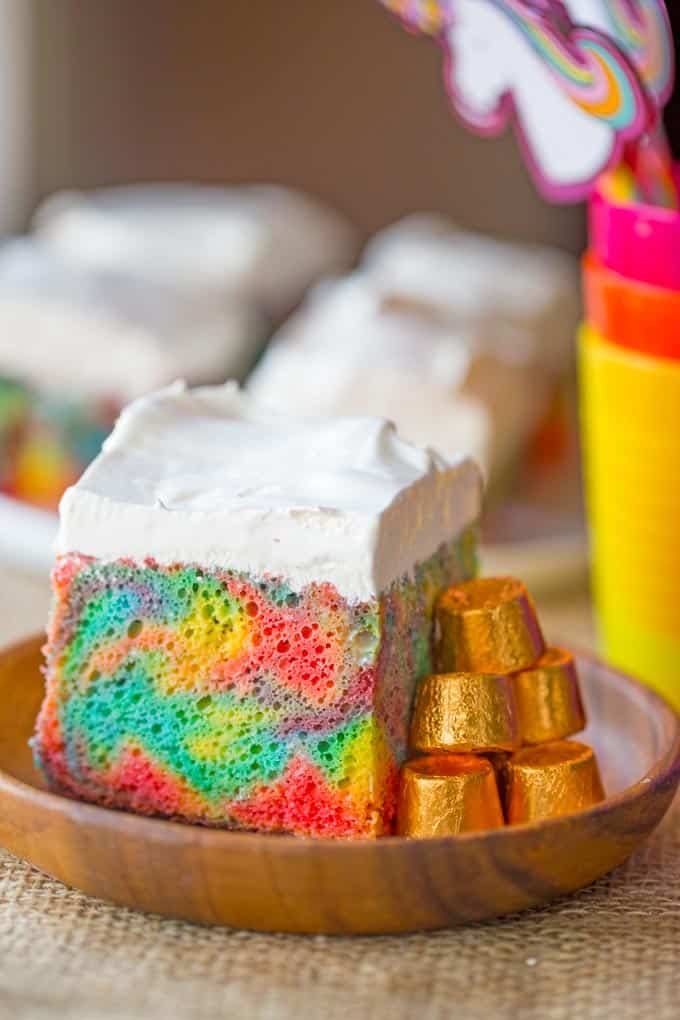 Yes, the colors are going to be a bit mixed up a bit, there is really no way to prevent the layers from baking into each other, but the results are still gorgeous!
The stabilized whipped cream on top is also a total delight. With all the light fluffy flavors of whipped cream and none of the immediate melting you get with standard whipped cream you'll enjoy the light topping on the super moist cake with that condensed milk soaked in it.
Oh yes, the condensed milk. It's like a secret you want to share with everybody when they say "WOW this is so moist! HOW?!" It kicks the cake up a notch with just a couple minutes of effort.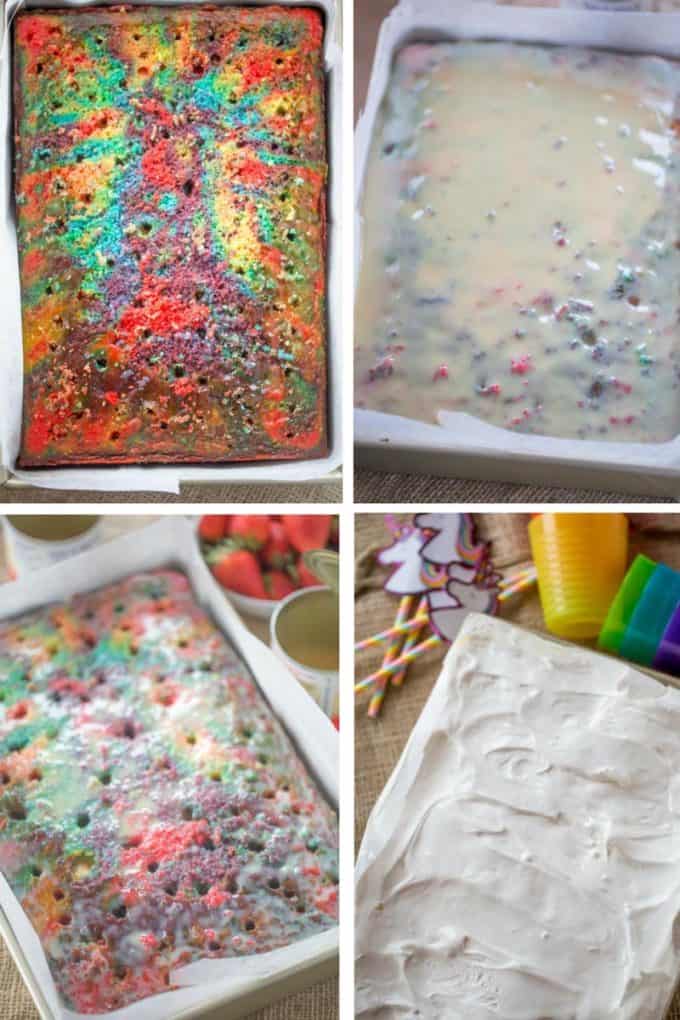 The other part of this recipe that I adore is how easy it is in spite of the lack of cake mix (the cake recipe is the same as my popular Rainbow Cupcakes). The batter is a delicious white vanilla cake base with gel food coloring to brighten things up and the cloud-like whipped cream topping is easy to make.
A few tips/tricks for this awesome Rainbow Poke Cake:
Don't bother weighing out the batter to ensure it is evenly dispersed. Use a 1 cup measure and any little bit left over can be extra of your favorite color. This isn't a cake, so if one layer is a bit more prominent in some, no big deal. 🙂
Ziploc bags! I pipe them into the cake pan with ziploc bags to make life SO much easier than spooning and spreading each layer.
Clear vanilla keeps your stabilized whipped a bright white.
Don't overbake, you don't want the top of the cake to turn brown.
Use Gel food colors, this helps ensure really bright, playful colors.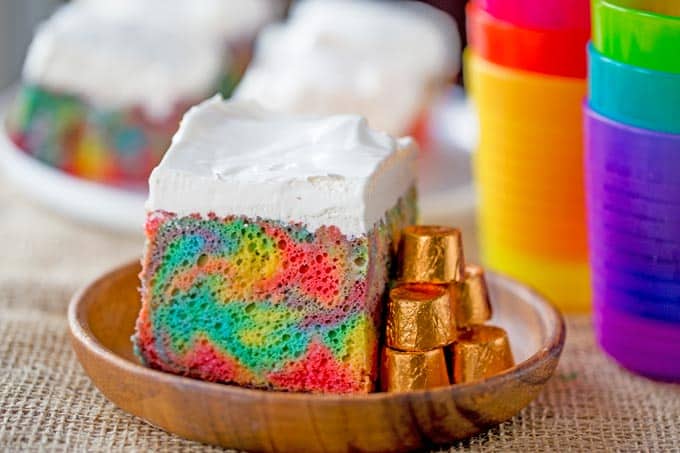 Tools Used in the Making of this Rainbow Poke Cake with Whipped Cream:
Clear Vanilla: This will ensure your whipped cream stays as white as a fluffy cloud.
Knox Gelatin: This will stabilize your whipped cream so it doesn't melt into a puddle in minutes after you take it out of the fridge.
Gel Food Colors: Doesn't add as much moisture as the drops do and the colors are significantly more bright and vibrant.
Baking Pan: This pan helps ensure straight, tall edges for every piece to come out equally beautiful.
Stand Mixer: My love, this gorgeous stand mixer is part of team Dinner, then Dessert thanks to an awesome Bob's Red Mill contest and the color makes me smile!
Ziploc Bags: I use this when piping different colored batter instead of piping bags because they cost so much less and I don't end up washing pastry tips. Win win.


Ingredients
Rainbow Poke Cake
1

cup

butter

softened

2 1/3

cups

sugar

5

egg whites

1

tablespoon

vanilla

3

cups

flour

4

teaspoons

baking powder

1/2

teaspoon

salt

1 1/2

cups

milk

warmed for 30 sec in microwave to bring to room temp

[url:1]Rainbow colors of Gel food coloring[/url]

1

can sweetened condensed milk
Stabilized Whipped Cream Frosting
2

teaspoons

unflavored Knox gelatin

2

tablespoons

cold water

2

cups

heavy cream

1

cup

powdered sugar

1

teaspoon

clear vanilla extract
Instructions
To make the cake:
Preheat the oven to 350 degrees.

In your stand mixer cream the butter and sugar together until much lighter in color, like a easter-y spring yellow (

2-3 minutes

)

Add in the egg whites and vanilla until totally combined

Add the salt and baking powder to the flour

Add in the dry ingredients and the milk alternating 1 cup of flour and ½ cup of milk at a time

Add one cup of the batter to 6 different bowls. Color each bowl with your gel food coloring in red, orange, yellow, green, blue and purple.

Mix until the colors are fully combined.

Your choice here: Spoon or ziploc bags. Either add the batter to 6 sandwich size ziploc bags and pipe just enough to make a thin layer of each color OR with a small spoon, spoon a layer.

Start with purple, then blue, then green, then yellow, then orange and finally red.

Bake for

30-35

minutes or until the middle of the cake is fully baked and let cool on a rack.

Poke holes on the top of the cake, I do about 25 of them.

Pour the condensed milk over the holes.
To make the frosting:
Add the gelatin to your cold water in a small bowl and mix. Let it sit, to bloom, for five minutes.

In your stand mixer add the heavy cream, powdered sugar and clear vanilla.

After the gelatin has set, put it in your microwave for

5-10 seconds

to melt the gelatin.

With your paddle attachment(I LOVE LOVE LOVE this one with a built in scrapefor a minute to start building the peaks of the whipped cream and giving the gelatin time to cool a bit.

Add in the gelatin and continue beating until you have soft-stiff peaks (where the tip of the peak will still fall but it otherwise holds the same shape).

Pour onto your cake and spread.

Your frosting should be SUPER light and fluffy, just like a delicious bright white vanilla cloud if you used clear vanilla.
Nutrition
Calories:
456
kcal
|
Carbohydrates:
57
g
|
Protein:
5
g
|
Fat:
23
g
|
Saturated Fat:
14
g
|
Cholesterol:
73
mg
|
Sodium:
213
mg
|
Potassium:
197
mg
|
Sugar:
37
g
|
Vitamin A:
830
IU
|
Vitamin C:
0.2
mg
|
Calcium:
96
mg
|
Iron:
1.2
mg