Slow Cooker Leg of Lamb is an easy lamb recipe perfect for Easter dinner! Juicy, tender bone-in leg of lamb with seasoned with garlic, rosemary, and lemon.
Roast Leg of Lamb is a surprisingly simple yet delicious dish perfect for special occasions. For more ideas on what to serve for Easter or Passover, check out all these Main Dish Recipes that you can make in the oven or slow cooker.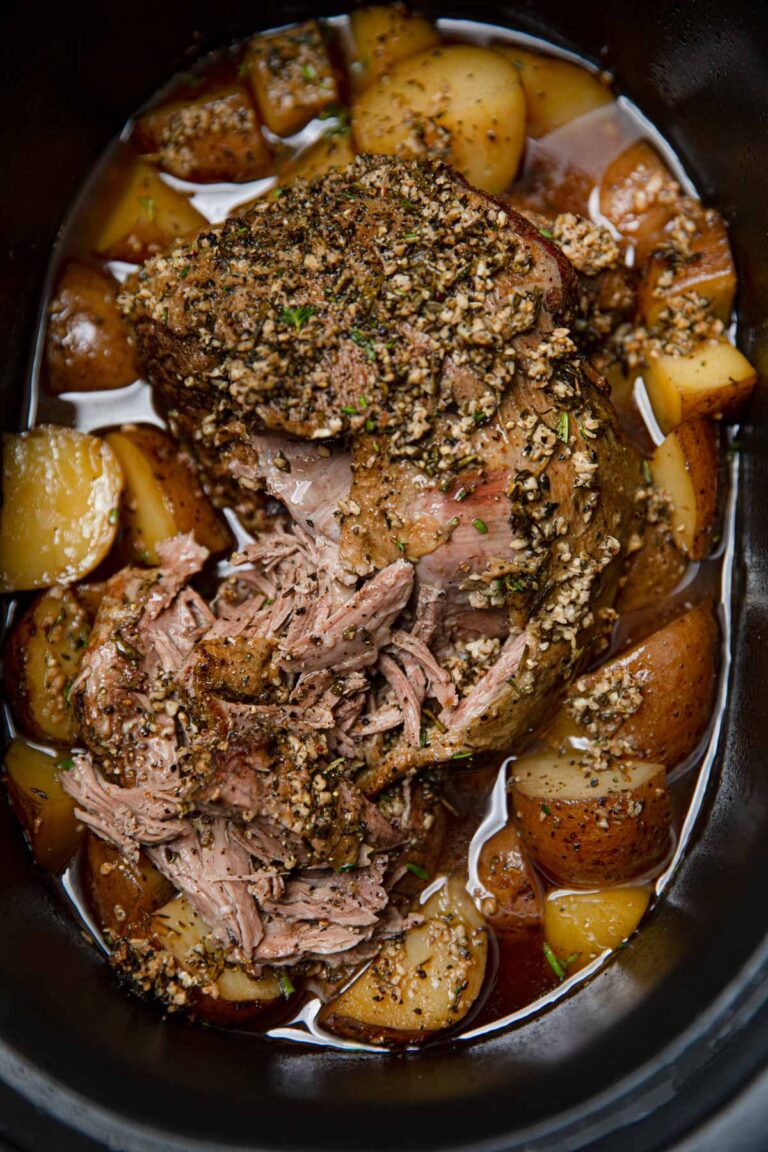 SLOW COOKER LEG OF LAMB
Preparing Leg of Lamb for a special Easter or Passover dinner just got a whole lot easier! Roasting a Leg of Lamb is pretty easy, but you do have to keep an eye on it so it doesn't overcook. Slow cooking a Leg of Lamb takes away that worry and frees you up to spend time with family or make more delicious dishes.
This Slow Cooker Leg of Lamb recipe is so delicious using only a few ingredients and boneless (or bone-in) cut of lamb. Simple seasonings like garlic cloves and fresh herbs, with just a hint of lemon, allow the juicy tender lamb flavor to shine. A cup of red wine (or beef stock) keeps the lamb moist and adds a subtle earthiness.
You can use a bone-in leg of lamb for this Slow Cooker Leg of Lamb without any adjustments. If you want to be sure your boneless lamb stays in a uniform shape you can wrap your boneless Leg of Lamb with kitchen twine so it stays together while cooking. Sometimes a butcher will wrap it for you to make it even easier.
Leg of Lamb is a slightly expensive cut of meat and 4 pounds can be a lot depending on how many people you are feeding. You can use a smaller leg but you don't want to go below 2 ½ pounds. For delicious ideas on how to use leftover Leg of Lamb, check out the bottom of this post!
For your special dinner, serve Slow Cooker Leg of Lamb with easy, simple spring sides like Roasted Red Potatoes and Sautéed Green Beans. Instead of serving traditional currant jellies or mint sauces, you can use the lamb stock to make an easy gravy, just like you do with Roasted Turkey. Try this quick recipe if you haven't made gravy before.
Easy Lamb Gravy for Leg of Lamb
Easily make gravy with the lamb stock (the juices left in the slow cooker – make sure you spoon off the excess fat first) after the lamb has cooked. Melt ¼ cup butter in a skillet on medium high heat. Whisk in ¼ cup flour and cook roux for 2-3 minutes. Adding a cup of lamb stock to flour and whisk until thick and smooth. Continue adding lamb stock 1 cup at a time (about 4 cups total) until desired thickness. Season with salt and pepper.
HOLIDAY MAIN DISH RECIPES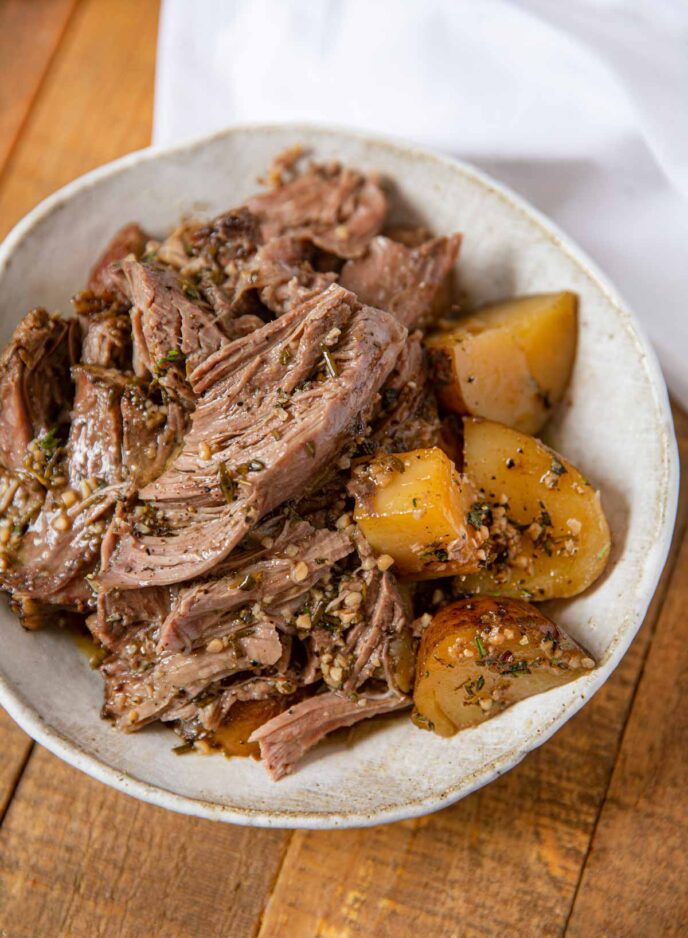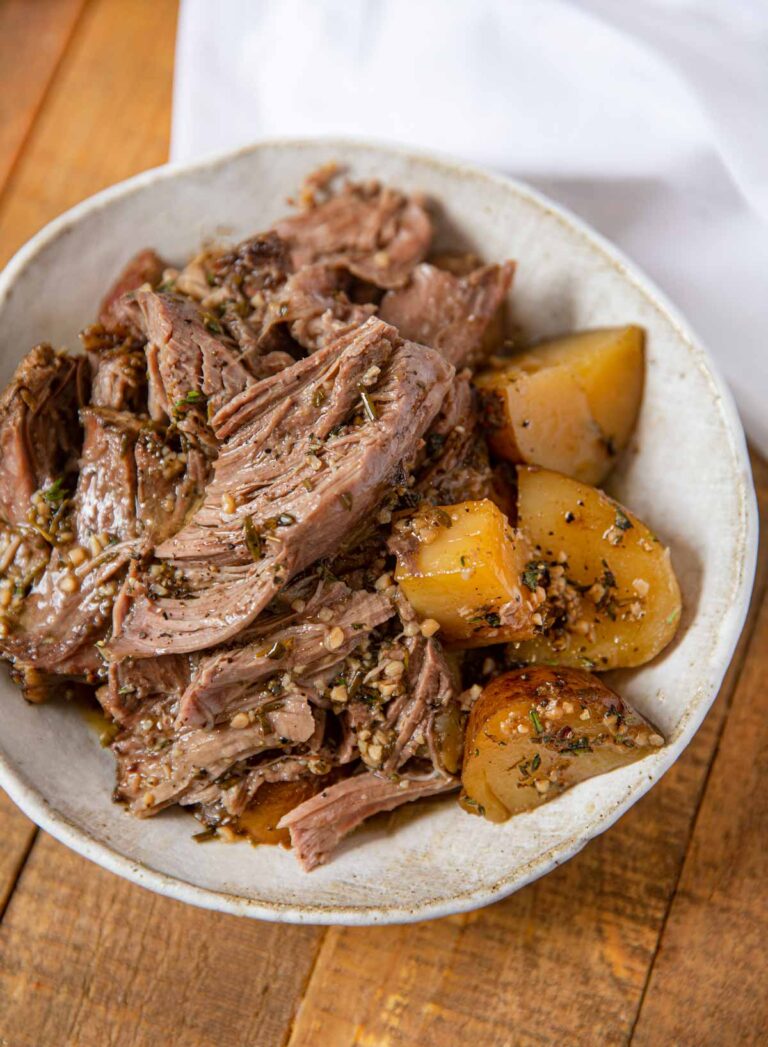 Create a free account to

Save Recipes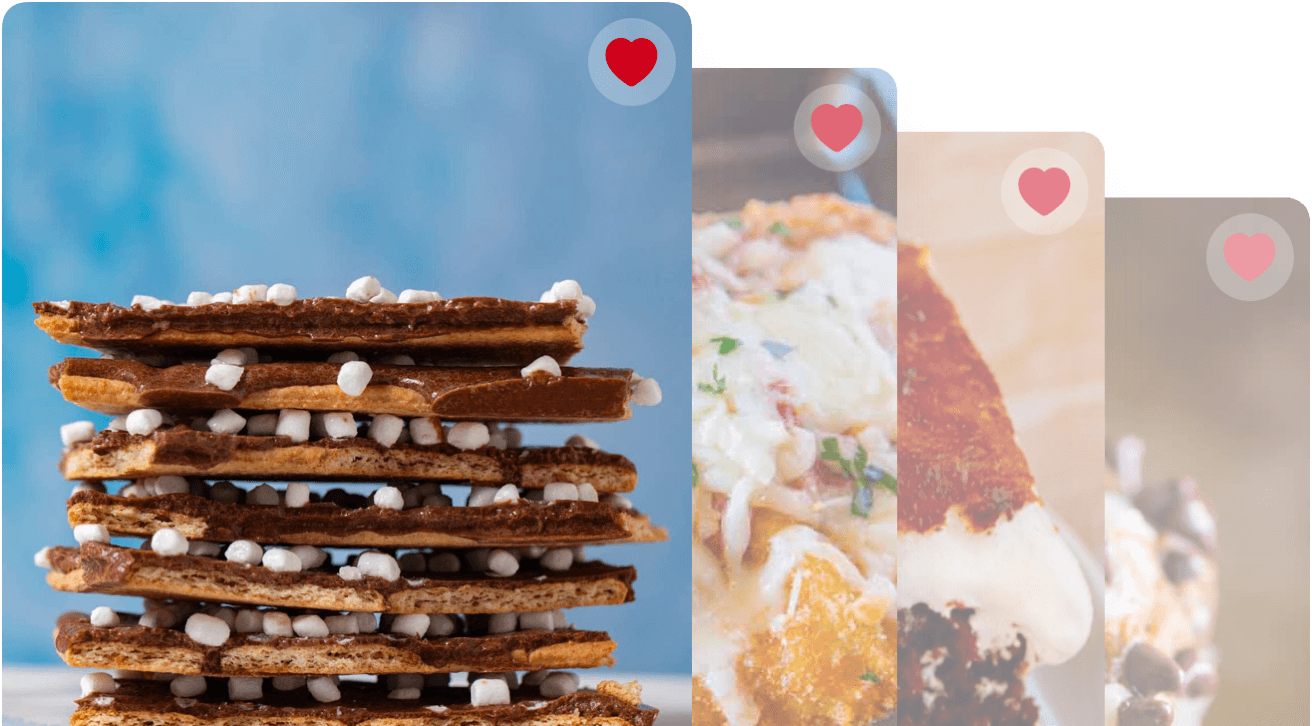 VARIATIONS ON SLOW COOKER LEG OF LAMB
Herbs: So many fresh herbs taste delicious with lamb like thyme, oregano, sage, and mint. If you use dried herbs, use at least half the amount you would for fresh herbs.
Spices: Add dried ground spices to your garlic paste or just sprinkle directly on the lamb. Try paprika, coriander, or cumin for subtle savory flavors.
Wine: You can use different cooking liquids like chicken stock, tomato juice, or beef broth instead of wine. The best wine to use is a white wine with a high acidity. Sauvignon Blanc, Pinot Grigio or Pinot Gris. Stay away from cooking wines (the kind sold near vinegar), they are far too salty for this dish.
IDEAS FOR LEFTOVER LAMB
INSTANT POT LEG OF LAMB
This is an easy recipe to adapt to the Instant Pot and is done in just over an hour! To pressure cook Leg of Lamb:
Set Instant Pot to sauté setting and add 1 tablespoon of olive oil once it is hot.
Season Leg of Lamb with salt and pepper, brown for a few minutes on each side in the Instant Pot. Remove and set aside.
Make the lemon garlic herb paste as usual. Rub all over Leg of Lamb.
Insert rack in Instant Pot and pour wine (or cooking liquid) into pot. Place Leg of Lamb on top of rack.
Cover and turn valve to sealing.
Set pressure cooker to "meat/stew" and cook for 30-35 minutes.
Let pressure release naturally. Remove lamb and let rest for 10 minutes before serving.
Broil for 2-3 minutes if you want the top browned.
DELICIOUS EASTER SIDE DISH RECIPES:
HOW TO STORE SLOW COOKER LEG OF LAMB
Serve: This Leg of Lamb can be at room temperature for up to 2 hours. Allow to cool before storing.
Store: Place leftovers in a sealed container after they are cooled. Keep in the refrigerator for up to 4 days.
Freeze: Freeze lamb in an airtight container or freezer safe bag for up to 2 months. Flash freeze 30 minutes before storing to prevent freezer burn or sliced lamb sticking together.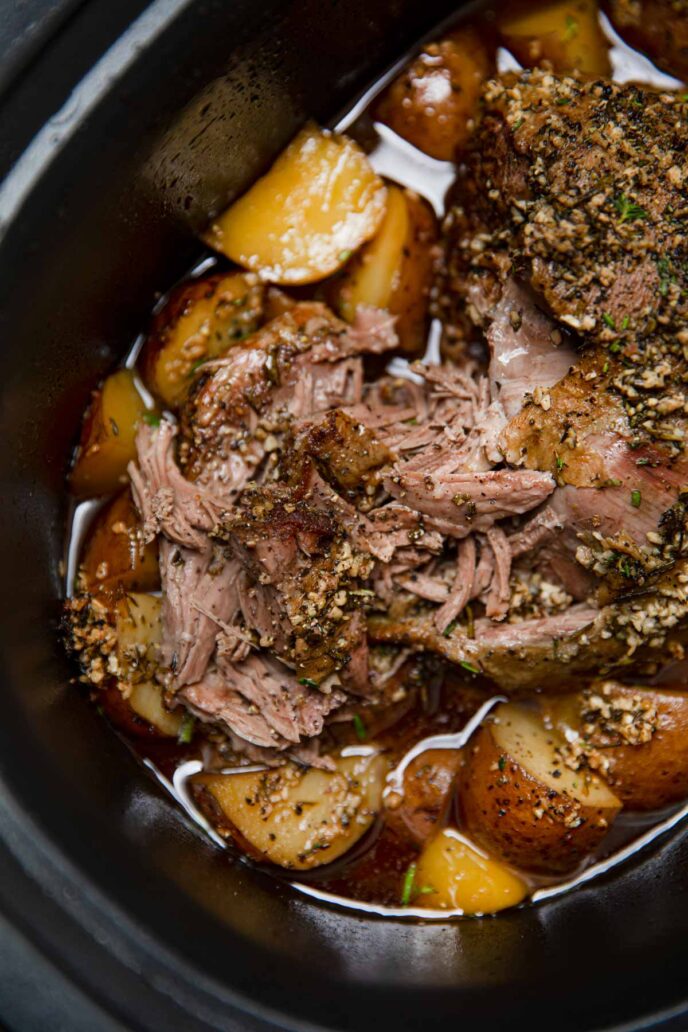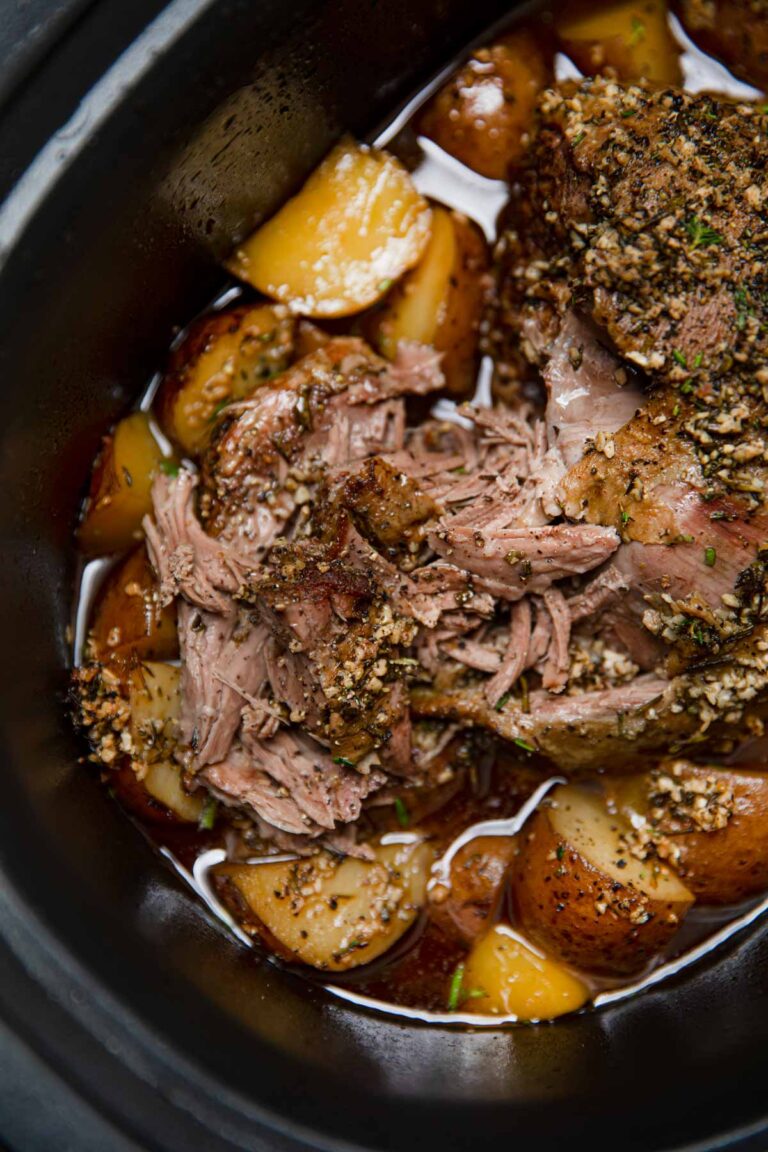 Ingredients
1

lemon

2

tablespoons

olive oil

4

pounds

leg of lamb

, boneless

2

pounds

red potatoes

quartered

2

teaspoons

Kosher salt

1/2

teaspoon

coarse ground black pepper

5

cloves

garlic

, minced

1

tablespoon

fresh rosemary

, chopped

1

cup

chicken broth

1

cup

white wine
Instructions
Juice the lemon and keep your lemon zest in a small pouch to keep it fresh in the refrigerator while your lamb cooks.

Add olive oil to a large pot or in a slow cooker with an aluminum insert.

On high heat sear the lamb on all sides, 4-5 minutes per side until browned.

Add the potatoes to the slow cooker (season with half the salt and pepper), top with the lamb (and season with remaining salt and pepper).

Season the lamb with garlic, rosemary and lemon juice, then pour in the chicken broth and wine on the side of the slow cooker (careful not to wash the seasoning off the lamb).

Cover and cook on low for

6-8 hours

.

Garnish with fresh lemon zest.
Nutrition
Calories:
215
kcal
|
Carbohydrates:
1
g
|
Protein:
30
g
|
Fat:
8
g
|
Saturated Fat:
3
g
|
Cholesterol:
91
mg
|
Sodium:
381
mg
|
Potassium:
435
mg
|
Fiber:
1
g
|
Sugar:
1
g
|
Vitamin A:
7
IU
|
Vitamin C:
2
mg
|
Calcium:
12
mg
|
Iron:
3
mg