Oven Roasted Red Potatoes are an easy side dish that takes just a few minutes of prep and makes the perfect side dish for your favorite meal.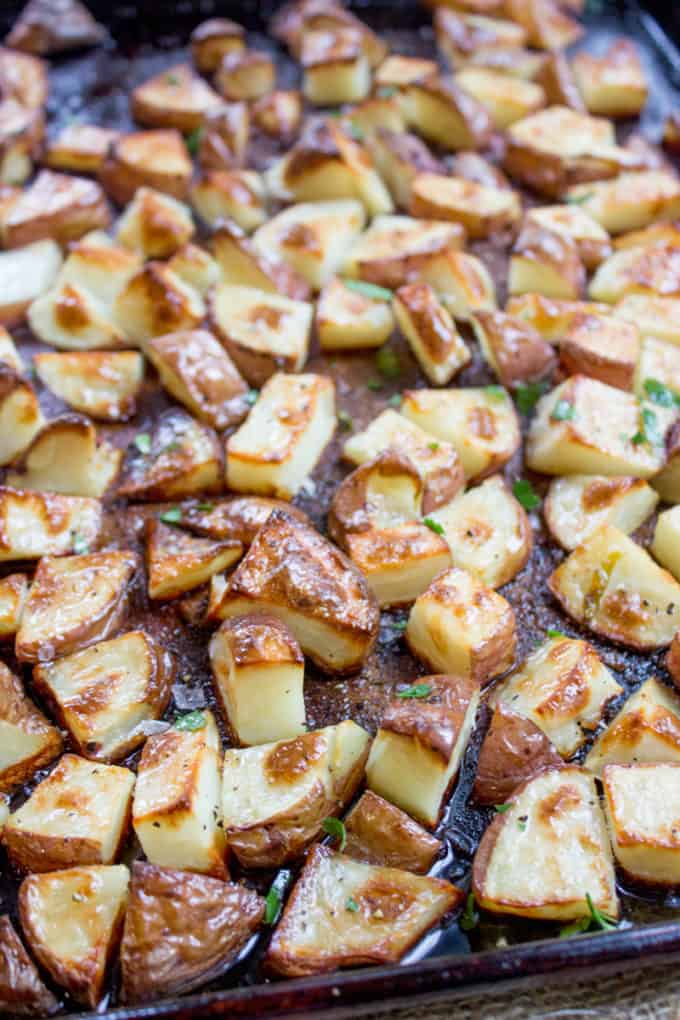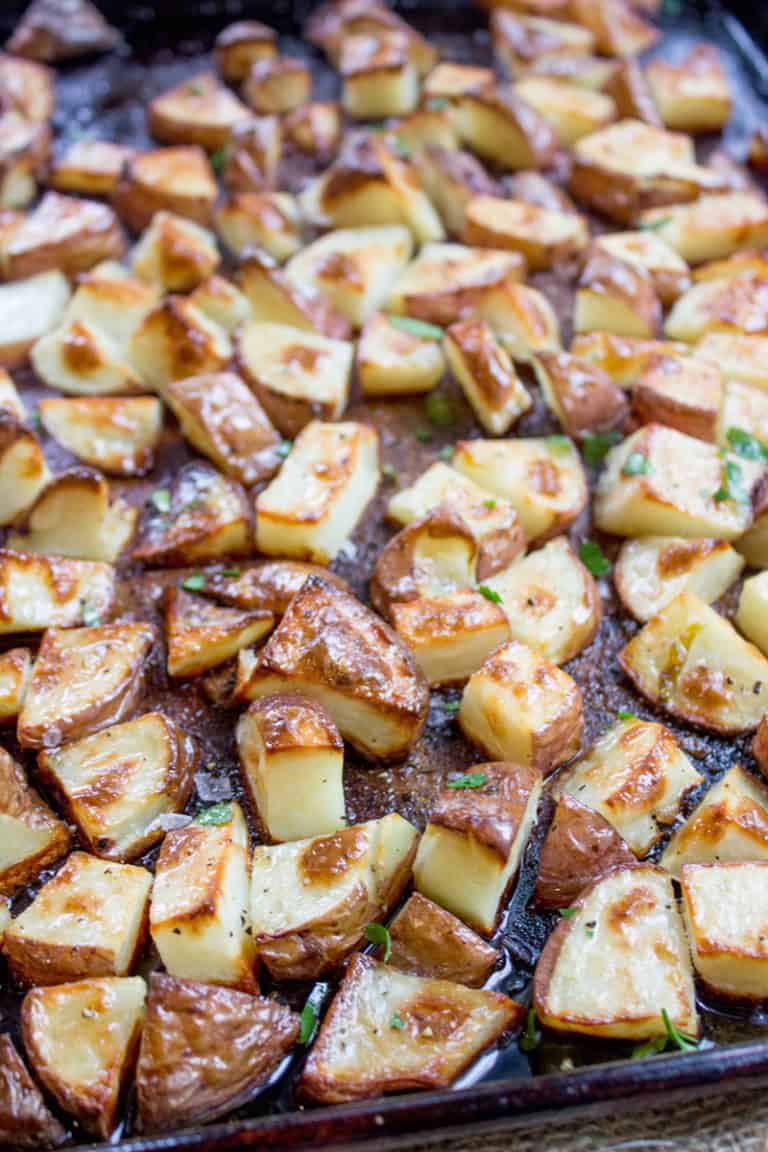 Oven Roasted Red Potatoes have been a favorite of ours for many years because cooking with red potatoes is such a breeze. They slice easily, don't need to be peeled and they crisp up wonderfully.
Most people use russet potatoes when making roasted potatoes but mixing it up and using red potatoes can cut down on prep time significantly. Using russet potatoes means you either have to scrub the potatoes really well if you're keeping the peels on or you have to peel the potatoes. We personally love keeping the peel on, so I'm usually the one standing over the sink scrubbing them to within an inch of their lives.
With these Oven Roasted Red Potatoes I rub the peels with my hands while washing them and I'm done. They also slice easier than russet potatoes do which is a huge help in the kitchen, especially if your attention is divided by kids (behind the scenes note: I am typing this up three hours later than I normally do because…well…kids).
Just like yesterday's Shoestring French Fries, you can add a bunch of awesome flavors to these potatoes as well:
A few other flavoring/topping ideas:
Covered with caramelized onions, secret sauce and cheese like with my In-N-Out Animal Style Fries.
Cheddar powder and powdered milk with a bit of salt for Cheddar and Sour Cream Fries!
My Loaded Garlic French Fries which are SO good you'll be totally addicted to them.
Blue Cheese Powder (this is my new addiction since I discovered it at the Fancy Food Show in January) and chopped bacon.
Taco Seasoning packet with a dipping sauce of sour cream and a bit of hot sauce mixed in.
Creole Fries the Bold Creole seasoning from Tony Chachere's (another Fancy Food Show find I've loved!)
Ground or fresh (super finely minced) ginger, a touch of sesame oil mixed with canola oil, minced garlic and salt dipped in teriyaki sauce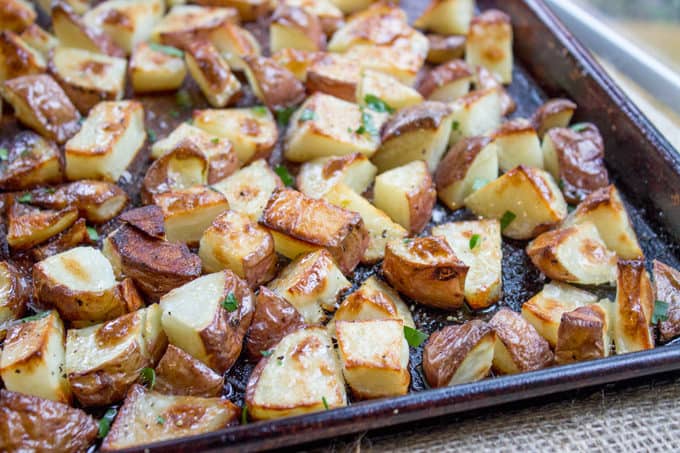 When you put Oven Roasted Red Potatoes on the tray before they go into the oven, I highly recommend flipping them until a straight edge is on the pan. Look at the photo below, see the browned edges? Don't waste it on a rounded edge where you'll get only the tinies bit of browning where the rounded edge is touching the pan.
MY OTHER RECIPES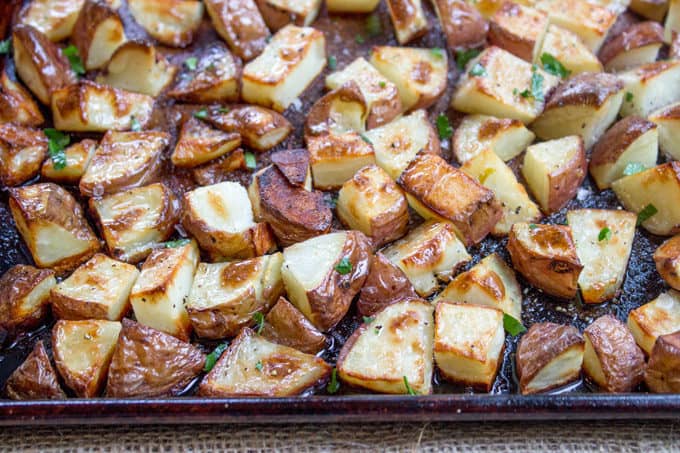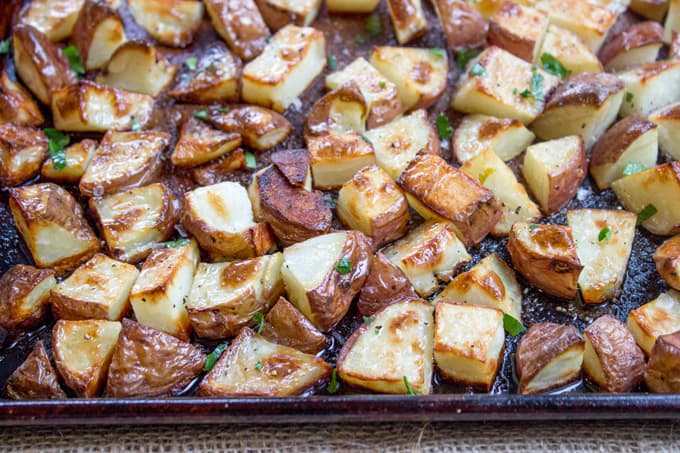 Recipe
Save

Recipe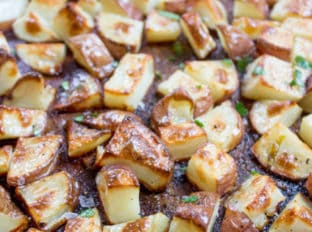 Oven Roasted Red Potatoes
Yield:

6

Prep Time:

10

minutes

Cook Time:

30

minutes

Total Time:

40

minutes

Course: Side Dish
Cuisine: American
Oven Roasted Red Potatoes are an easy side dish that takes just a few minutes of prep and makes the perfect side dish for your favorite meal.
Ingredients
2

pounds

Red potatoes

, scrubbed clean and cut into 2" chunks

3

tablespoons

olive oil

3/4

teaspoon

kosher salt

1/2

teaspoon

freshly ground black pepper

chopped parsley for garnish

, optional
Instructions
Note: click on times in the instructions to start a kitchen timer while cooking.
Preheat the oven to 400 degrees.

Combine potatoes, oil, salt and black pepper in a large bowl and stir to coat.

Pour out onto a large baking sheet.

Bake 20 minutes or until browned on the bottoms, then with a spatula, flip them to get a second side browned.

Bake for an additional 10 minutes.

Add chopped parsley if you would like.
Nutrition Information
Yield: 6 , Amount per serving: calories
All images and text © for Dinner, then Dessert, Inc.
Save

Recipe