Shoestring Fries are the perfect remedy for when you're craving a pile of crispy-crunchy fries! They're crispy and lighter-than-air!
If you love this yummy Side Dish, you'll also love the incredible Super Creamy Mac & Cheese, the healthy Seven Layer Salad, and the appetizing Garlic Shrimp Dip. So good!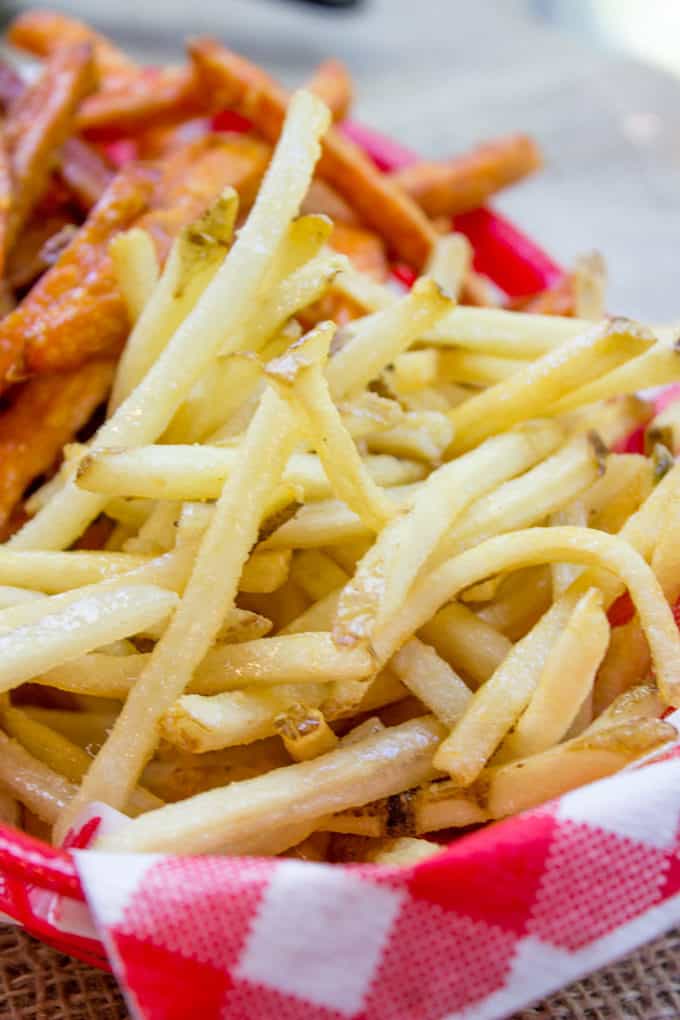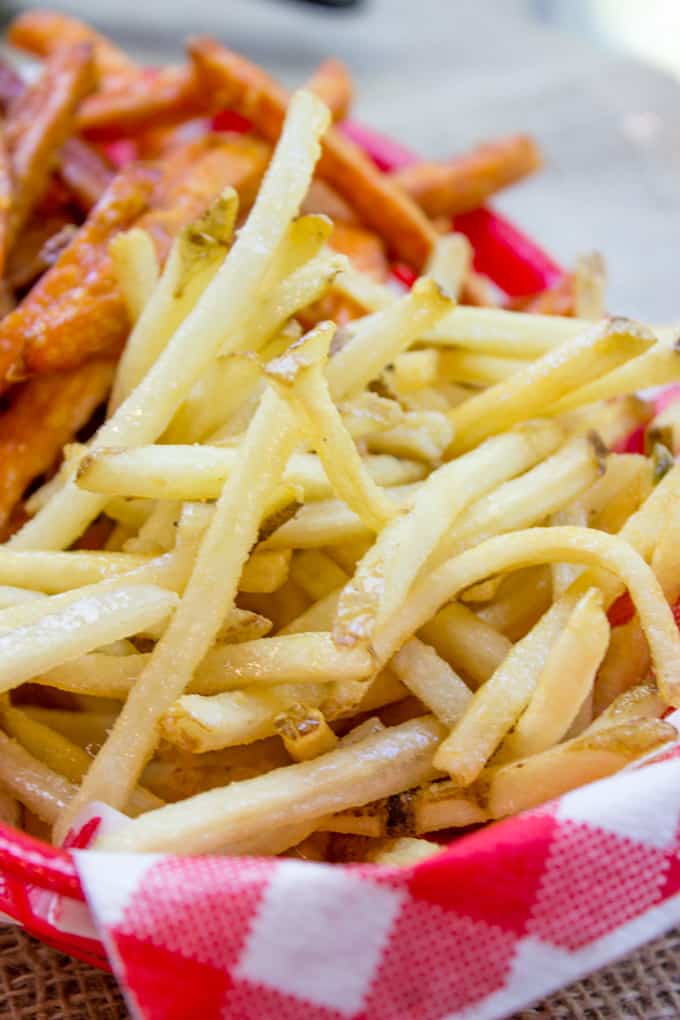 Shoestring French Fries are the best kind of fries when your looking for a giant pile of crispy crunchy french fries that won't go soggy. The other great thing about Shoestring Fries is they don't fill you up with all that warm fluffy starchy goodness of thicker french fries. In this recipe, they are twice cooked which gives them the crispiness so necessary in a good fry. 
Shoestring French Fries are a great appetizer for a meal and a perfect side dish to accompany any summertime meal! After a long day, sometimes you crave a good plate of fries. These easy fries will satisfy any appetite and are incredibly easy to make. Your family will want you to make these again and again. 
As a side note, it is highly recommended that you get an Oil Thermometer so that you never have to guess your temps and accidentally end up with greasy or burned fries. Also, in the photos, we're plating the fries in an adorable French Fry Basket lined with Checkered Liners because they catch grease, are disposable, and pretty cheap.
How to Make Shoestring French Fries
The process for making Shoestring French Fries is really easy. We're just cooking the fries in batches twice for the perfect consistency. Check it out! 
Step One: Cut the potatoes into fries. Use a paper towel to soak up any excess water to help them cook better. 
Step Two: Fry them in your Cast Iron Dutch Oven in small batches for about two minutes. Remove from fryer and let the oil drain. We're using about two cups of oil in the Dutch oven. 
Step Three: Once they've all been cooked, fry them again for an additional 2 minutes until ready. 
Step Four: Season with salt while they're hot and eat them while they're fresh! 
More Yummy Potato Recipes
Frequently Asked Questions 
Why are they called Shoestring French Fries? 
Because they are super thin, like shoestrings!
What's the difference between regular fries and Shoestring Fries? 
Shoestring Fries are so much lower maintenance than normal fries.

The soft center of regular thicker cut fries maintains a level of moisture inside. As they cool or sit, that moisture escapes from the fries and makes them soft. With the Shoestring Fries, the opposite is true since they are so thinly cut the whole bite is crispy and crunchy. The middles are minimal, if at all present, meaning it is all crunch!
What is the best vegetable oil to use for frying? 
Canola oil, safflower oil, or peanut oil are really great to cook your fries in. They have a high smoke point helping you get a nice crispiness. If you prefer avocado oil, grapeseed oil, or coconut oil, those work fine as well.
What is the best way to drain the oil?
The go-to for fried foods is the Spider Strainer because it removes/drains almost the whole batch at once.
What is the best way to cut my fries? 
Use a dedicated French Fry Cutter. They have different plates for different size fries and save a TON of prep time. In fact, you can prep several bags of fries to keep in the freezer until ready to cook! Just be sure to use them within 6 months for best taste! 

If you have a mandolin, use the julienne setting.

Create a free account to

Save Recipes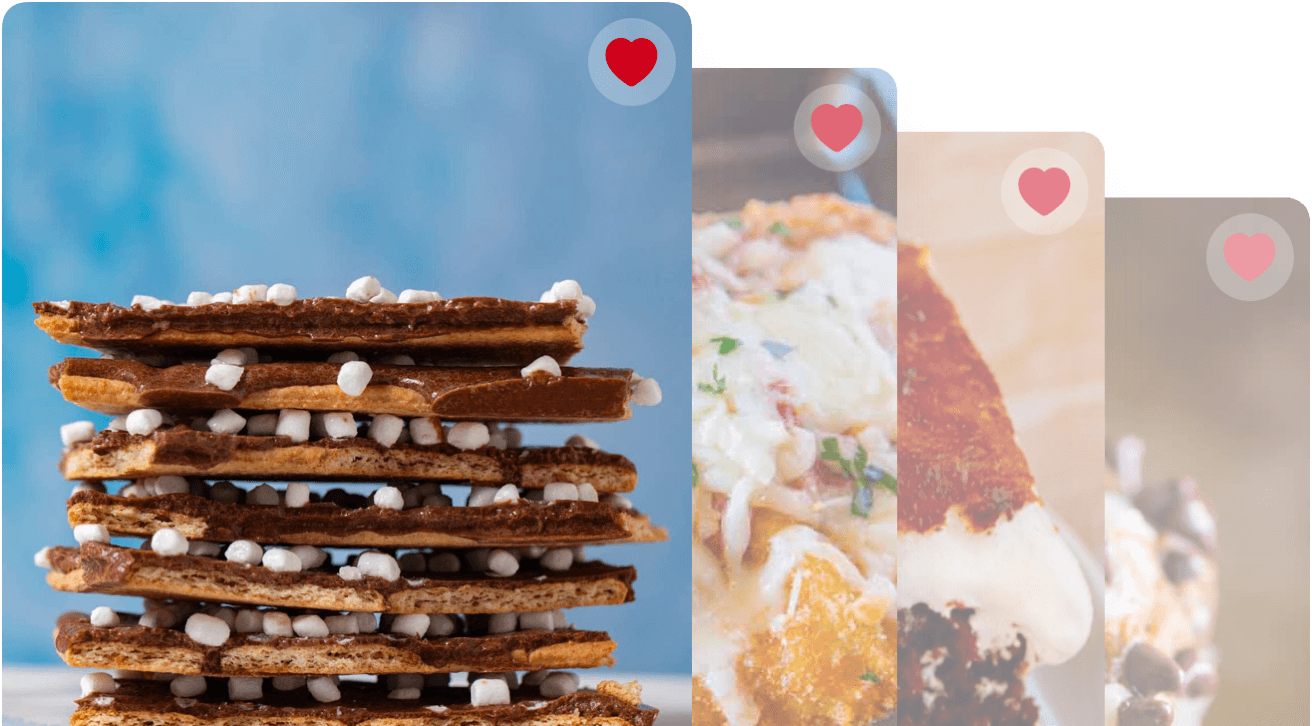 Key Ingredients in Shoestring French Fries 
Everyone has these ingredients at home. They are very common and can easily be found in any grocery store.
Potato: We're using the Idaho Russet potato which are dark brown and perfect for frying. Medium russet potatoes are great, but the large ones are easer to prepare. 
Oil: We're using regular canola oil for frying. You can also use safflower or peanut oil with great success. 
Alternative Cooking Methods for Shoestring French Fries 
While the deep fryer is a great option to use for the yummiest, crispiest fries, you can also cook them in an over or an air fryer. Cooking time will be about the same at about 18 minutes. These are great options because they use significantly less oil. 
Oven: Preheat the oven on bake to 400 degrees. Coat the fries in a few tablespoons of your preferred oil and bake in a single layer on a rimmed baking sheet for 10 minutes. Take them out, turn the fries, put them back in for an additional 7 minutes, or until done. 
Air Fryer: Mix the cut potatoes with your seasonings and two tablespoons of oil of your choice. Air fry them for 18 minutes at 400 degrees. Give the batch a good stir every 5 minutes or so to ensure everything gets thoroughly cooked.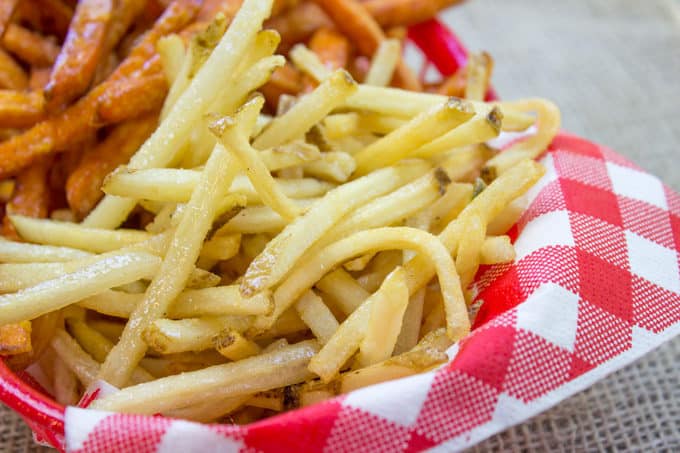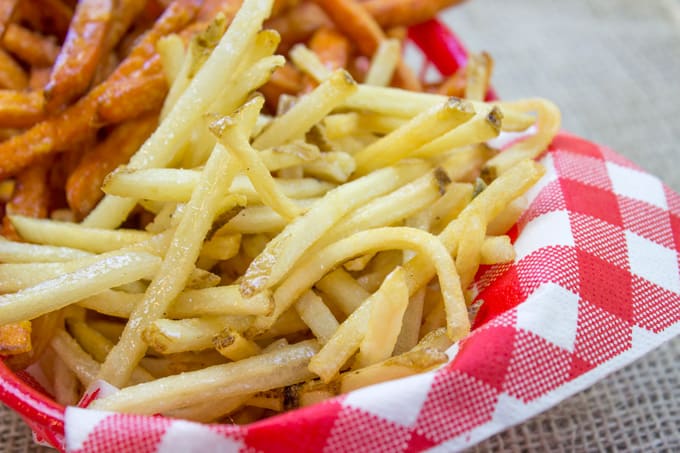 Variations on Shoestring French Fries
Here's a few other flavoring/topping ideas for these crispy little shoestring fries. 
Sweet Potato Fries: Julienne sweet potatoes and cook in coconut oil. So good
Animal Style: Cover the fries with caramelized onions, secret sauce, and cheese. You'll have your own In-N-Out Animal Style Fries.
Sour Cream & Cheddar Fries: Sprinkle some Cheddar powder and powdered milk with a bit of salt for Cheddar and Sour Cream Fries. 
Loaded Fries: Loaded Garlic French Fries are so good you'll be eating them every week.
Blue Cheese Powder and chopped bacon are an amazing combination you'll just love. 
MexiFries: Sprinkle taco seasoning packet with a dipping sauce of sour cream and a bit of hot sauce mixed in. Bonus points if you make your own Homemade Taco Seasoning. 
Creole Fries: The Bold Creole Seasoning is an incredibly delicious way to add the flavor and kick to fries that will make your mouth water. 
Teriyaki Fries: Add ground or fresh (super finely minced) ginger, a touch of sesame oil mixed with vegetable oil, minced garlic, and salt dipped in teriyaki sauce for an unforgettable fry experience!
How to Store Shoestring French Fries 
Serve: Serve your fries nice and hot (but not too hot!) as soon as they're done! Keep them covered when not being served.  
Store: Store your fries in the refrigerator for up to 5 days. You can reheat them easily on the stovetop or in your air fryer.
Freeze: To store extra fries in the freezer for up to 6 months, wrap in an airtight container. Thaw overnight in the fridge and reheat in the air fryer or on the stove.


Ingredients
2

pounds

russet potatoes

, about 6 medium potatoes

2

cups

vegetable oil

, divided

1

tablespoon

kosher salt

, or to taste
Instructions
Wash and peel your sweet potatoes. Cut into ⅛ – ¼ inch thick fries. The easiest way to do this is using a

french fry cutter

or a small mandoline.

In a large colander, rinse the potatoes for about

10-15 seconds

under cold water.

Dry with paper towels or a clean dish cloth.

Heat your oil in your pot to 325 degrees using an oil thermometer.

Add the fries but make sure you don't overcrowd your pan.

Fry for

1-2 minutes

(no browning yet) and drain on a brown paper bag.

Once all the fries are done with their first dip in the oil, start the second round of frying.

Fry them the second time for an additional

1-2 minutes

, until they're browned and crispy.

Season while hot with kosher salt and any other flavorings you want. Old bay seasoning is popular or even a cajun blend.

If you're making ahead for a crowd, you can heat them in the oven at 325 degrees for

5-7 minutes

to crisp them back up.
Nutrition
Calories:
762
kcal
|
Carbohydrates:
27
g
|
Protein:
3
g
|
Fat:
73
g
|
Saturated Fat:
11
g
|
Polyunsaturated Fat:
42
g
|
Monounsaturated Fat:
17
g
|
Trans Fat:
0.5
g
|
Sodium:
1170
mg
|
Potassium:
631
mg
|
Fiber:
2
g
|
Sugar:
1
g
|
Vitamin A:
2
IU
|
Vitamin C:
9
mg
|
Calcium:
20
mg
|
Iron:
1
mg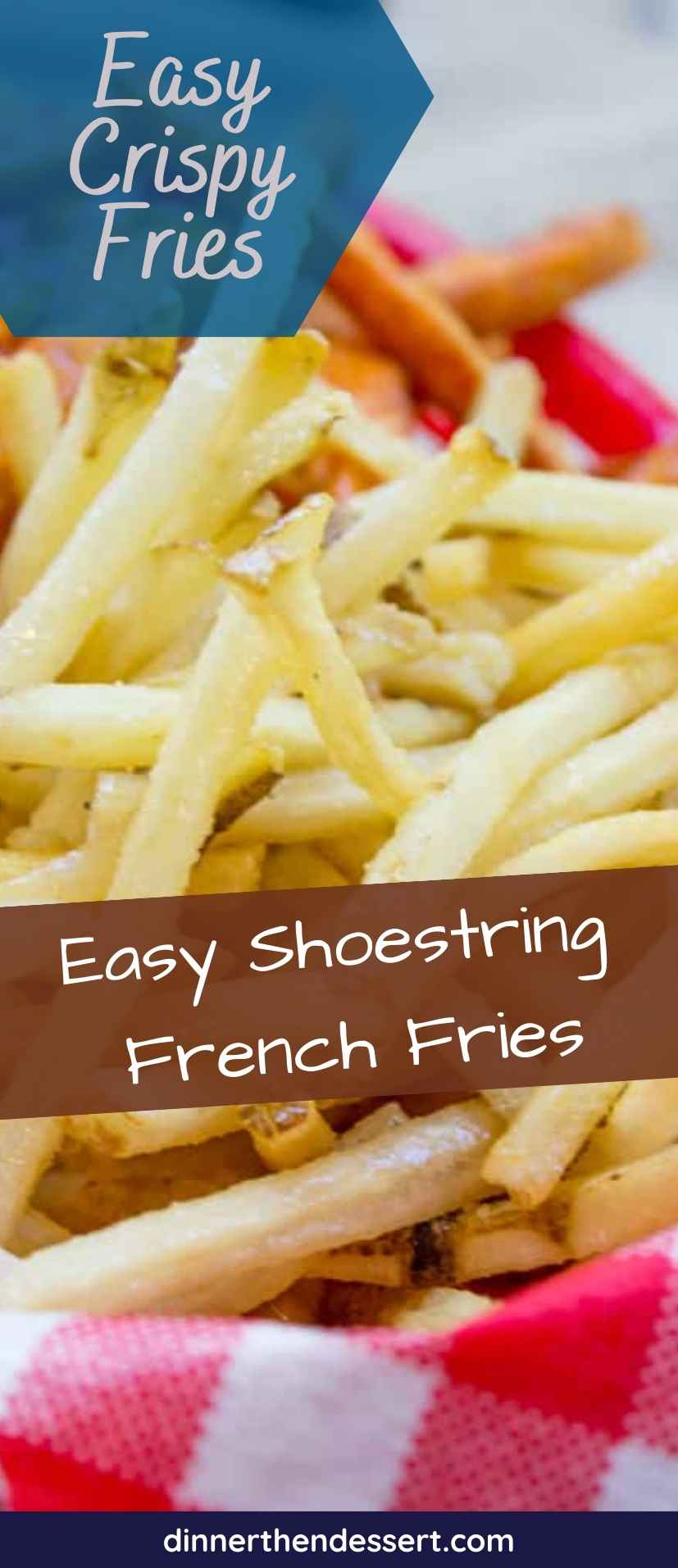 Photos used in a previous version of this post: