Shoestring French Fries
Shoestring French Fries are the perfect French Fries to make anytime you're craving a pile of crispy-crunchy fries and they stay crispy longer than thicker fries.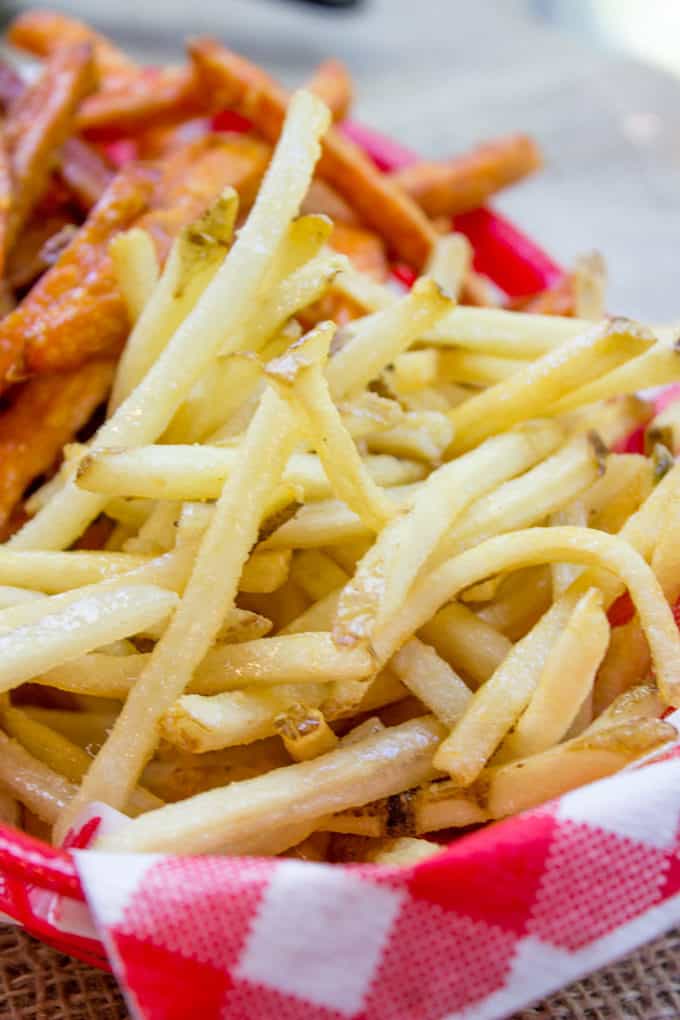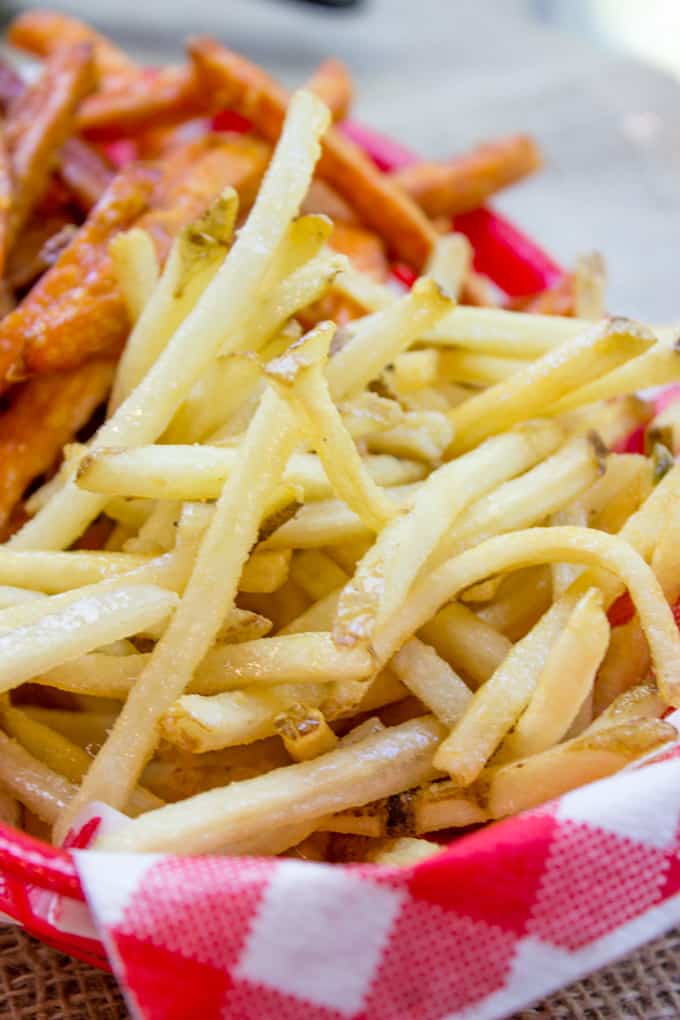 Shoestring French Fries are my favorite kind of fries when I'm looking for a giant pile of crispy crunchy french fries that won't go soft. Theres a good reason why Shoestring French Fries are so much lower maintenance than normal fries, the size of the cut means that there is less potato in the middle of the fry. The soft center of thicker cut fries maintains a level of moisture inside. As they cool or sit, that moisture escapes from the fries and makes them soft.
With the Shoestring French Fries the opposite is true, since they are so thinly cut the whole bite is crispy and crunchy. The middles are minimal if at all present meaning it is all crunch!
The other great thing about Shoestring French Fries is they don't fill you up with all that warm fluffy starchy goodness of thicker french fries. Yep, in my scientific French fry eating research I have found that I can eat a ton more of these than a normal plate of fries.
MY OTHER RECIPES
A few other flavoring/topping ideas:
Covered with caramelized onions, secret sauce and cheese like with my In-N-Out Animal Style Fries.
Cheddar powder and powdered milk with a bit of salt for Cheddar and Sour Cream Fries!
My Loaded Garlic French Fries which are SO good you'll be totally addicted to them.
Blue Cheese Powder (this is my new addiction since I discovered it at the Fancy Food Show in January) and chopped bacon.
Taco Seasoning packet with a dipping sauce of sour cream and a bit of hot sauce mixed in.
Creole Fries the Bold Creole seasoning from Tony Chachere's (another Fancy Food Show find I've loved!)
Ground or fresh (super finely minced) ginger, a touch of sesame oil mixed with canola oil, minced garlic and salt dipped in teriyaki sauce
Tools I used in this recipe:
French Fry Cutter – Has different plates for different size fries and saves a TON of prep time.
Cast Iron Dutch Oven – For Frying, keeps even heat well and not expensive!
Oil Thermometer – NEVER guess your temps, you'll end up with greasy or burned fries.
Spider Strainer – My go to for frying, removes/drains almost whole batch at once.
French Fry Basket – Because they are adorable for serving!
Checkered Liners – Catches grease, disposable and cheap.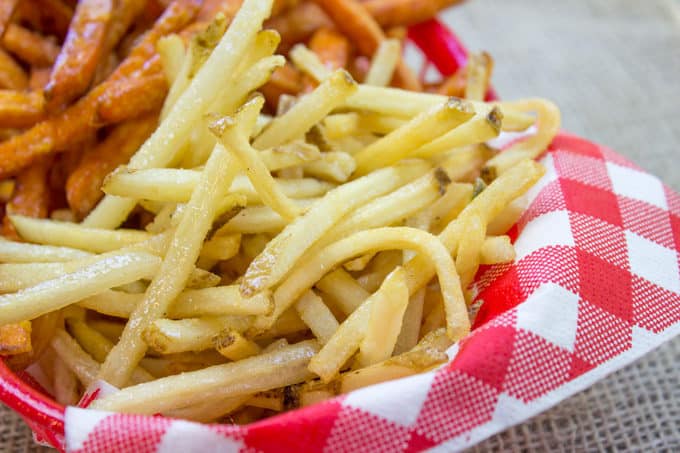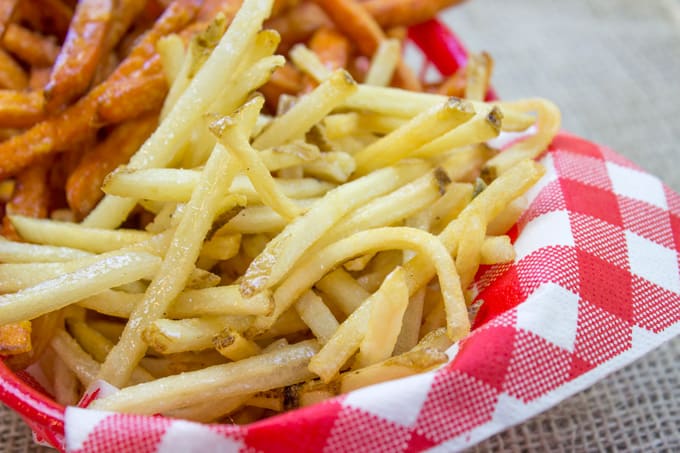 Shoestring French Fries
Shoestring French Fries are the perfect French Fries to make anytime you're craving a pile of crispy-crunchy fries and they stay crispy longer than thicker fries.
Prep Time 20 minutes
Cook Time 15 minutes
Total Time 35 minutes
Ingredients
2 pounds russett potatoes
canola or vegetable oil for frying
Kosher salt to taste
Instructions
Wash and peel your sweet potatoes. Cut into 1/8 - 1/4 inch thick fries. The easiest way to do this is using a

french fry cutter

or a small mandoline.

In a large colander, rinse the potatoes for about 10-15 seconds under cold water.

Dry with paper towels or a clean dish cloth.

Heat your oil in your pot to 315-330 degrees using an oil thermometer.

Add the fries but make sure you don't overcrowd your pan.

Fry for 1-2 minutes (no browning yet) and drain on a brown paper bag.

Once all the fries are done with their first dip in the oil, start the second round of frying.

Fry them the second time for an additional 1-2 minutes, until they're browned and crispy.

Season while hot with kosher salt and any other flavorings you want. Old bay seasoning is popular or even a cajun blend.

If you're making ahead for a crowd, you can heat them in the oven at 325 degrees for 5-7 minutes to crisp them back up.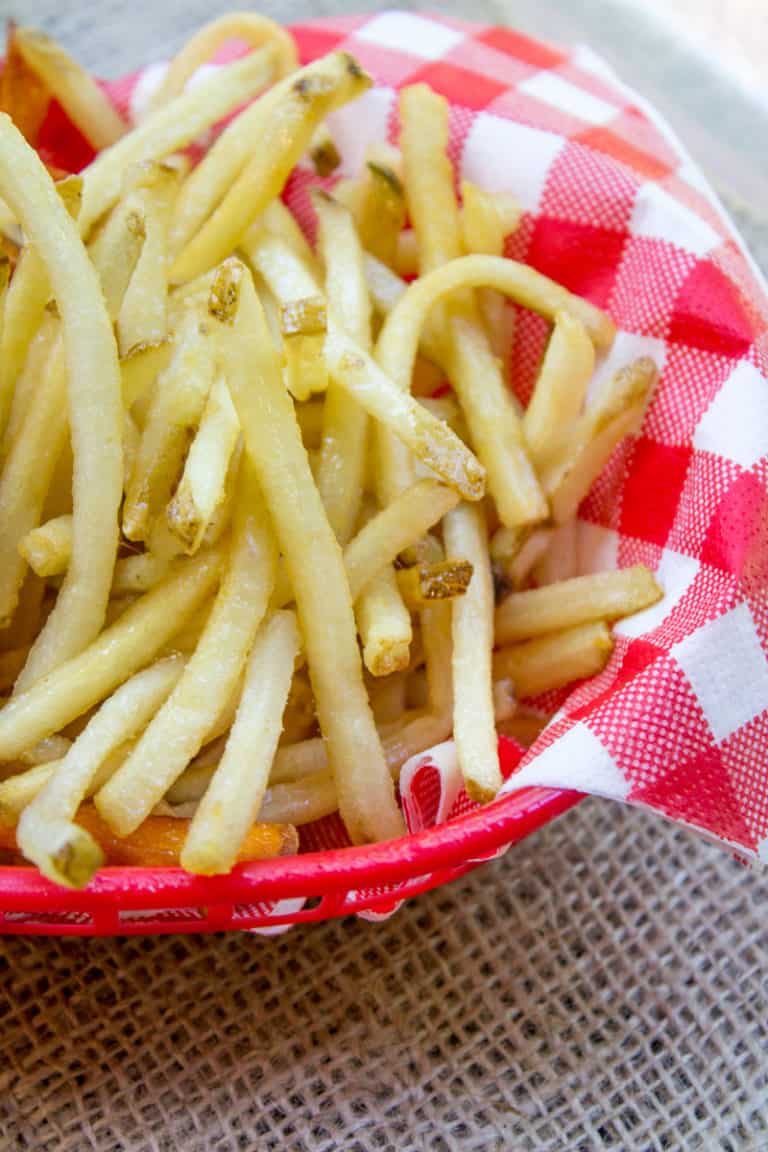 Dinner, then Dessert, Inc. owns the copyright on all images and text and does not allow for its original recipes and pictures to be reproduced anywhere other than at this site unless authorization is given. If you enjoyed the recipe and would like to publish it on your own site, please re-write it in your own words, and link back to my site and recipe page. Read my disclosure and copyright policy. This post may contain affiliate links.