Easy Roasted Vegetables are the perfect healthy side with mixed veggies tossed in butter, garlic, and parsley, and made on a baking sheet.
This is such a delicious Side Dish that you can serve with any number of your favorite dinners. Enjoy the Colorful Vegetables along with classic meals like Beef Meatloaf, Buttery Lemon Garlic Chicken, or Cube Steak for a simple and complete dinner.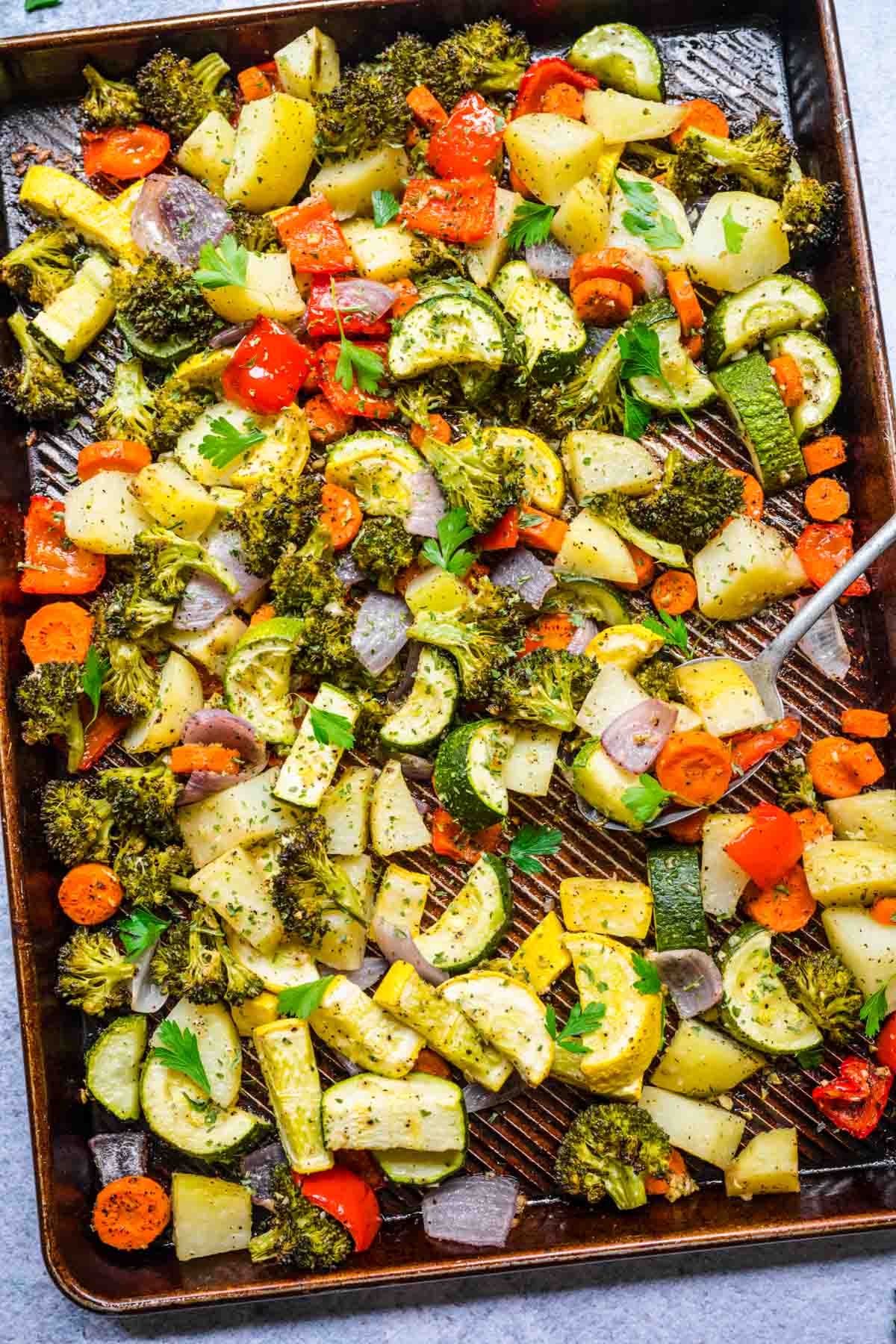 Making Oven Roasted Veggies on a sheet pan is such a good way to get the perfect crisp and tender vegetables. We've already made Roasted Green Beans and Roasted Broccoli in the same style, but for this healthy side dish, you get a whole medley of vegetables instead of just one.
The colorful veggies are tossed in olive oil, butter, salt, pepper, garlic, and a little parsley for delicious flavor. The seasonings help make the delicious combination of veggies appealing even to picky eaters. But there isn't so much garlic or spice that it overwhelms the natural flavors of the Oven Roasted Vegetables.
Enjoy potatoes, zucchini, squash, carrots, bell pepper, onion, and broccoli all cooked into one easy recipe. All the different kinds of healthy and delicious vegetables are roasted together on the same pan and ready in the same cooking time. Just remember to stir them partway through the roasting time. That way you can make sure it's evenly cooked without softer or crispier pieces. Simple as that you'll be enjoying the dish in minutes perfect to go with an easy dinner.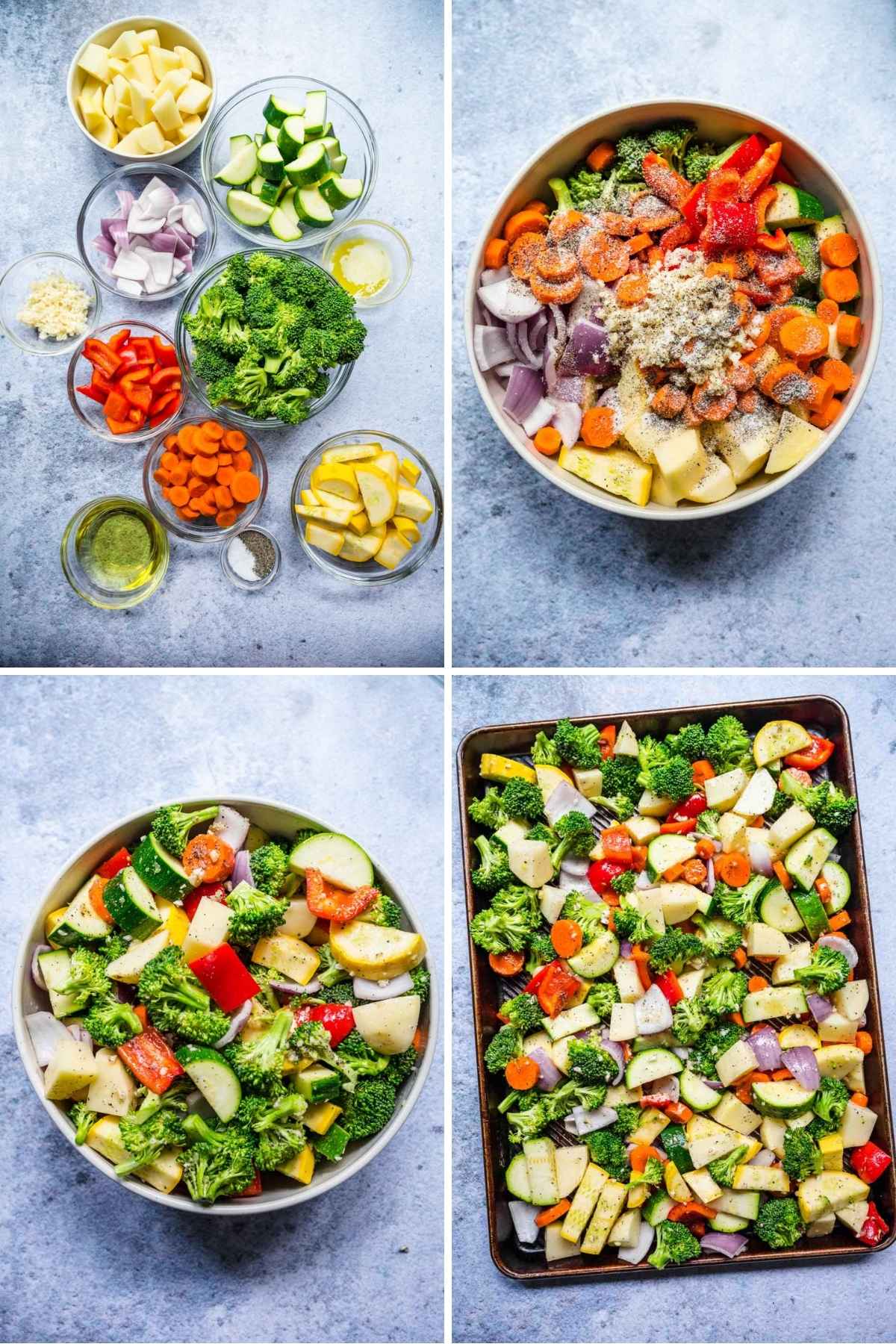 How to Make Roasted Vegetables
Prep time: To start your Oven Roasted Veggies recipe, preheat the oven temperature to 400 degrees. Then slice all the vegetables into bite-size pieces. If you want to make the cooking sheets easier to clean, you can line each sheet with parchment paper or aluminum foil. If you have a large rimmed baking sheet, you'll probably only need one, but if the baking sheets are smaller, you'll want two.
Season: Add the sliced potatoes, zucchini, squash, carrots, bell pepper, red onion, and broccoli florets to a large mixing bowl. Next, pour the olive oil and melted butter over the top. Then season with salt, pepper, and minced garlic. Mix the ingredients until the veggies are well coated.
Cook time: Place the vegetables on the prepared baking sheet. You want to make sure there is plenty of space for them to all lay flat in a single layer. Put the dish in the hot oven, and roast the vegetables for 20 minutes. After 20 minutes, open the oven and use a metal spatula to stir and flip the vegetables. Cook for another 10 minutes, or until the oven Roasted Veggies are fork-tender.
Serve: Take the dish from the oven, and top the Oven Roasted Vegetables off with extra olive oil and parsley before serving
More Vegetable Side Dishes
Frequently Asked Questions
What types of vegetables are good for roasting?
The ones you enjoy eating! The most important part of this Oven Roasted Veggies recipe are the vegetables themselves. Purchase fresh, in season produce and you can't go wrong. This dish brings together a wide range of colorful and flavorful veggies like potatoes, zucchini, squash, carrots, bell peppers, onions, and broccoli, which provides different textures and tastes. Once they're prepped in oil they all roast and crisp up nicely for the perfect side dish.
Should you use oil or butter for roasting vegetables?
For this recipe, we used a combination of melted butter and oil to toss the vegetables in before cooking. The oil serves a few purposes. Firstly, it helps the seasonings to stick to the Oven Roasted Vegetables. Secondly, the oil encourages slight browning, which makes crisper and more richly flavored vegetables.
What seasonings are good for Roasted Vegetables?
The recipe only needs a handful of seasonings to enhance the natural flavor of the veggies. Salt and pepper are sprinkled over the top along with fresh garlic for some more bold taste. Then once the recipe is done you can sprinkle on some parsley or other fresh herbs if you'd like. It adds to the presentation and brings some more fresh flavor.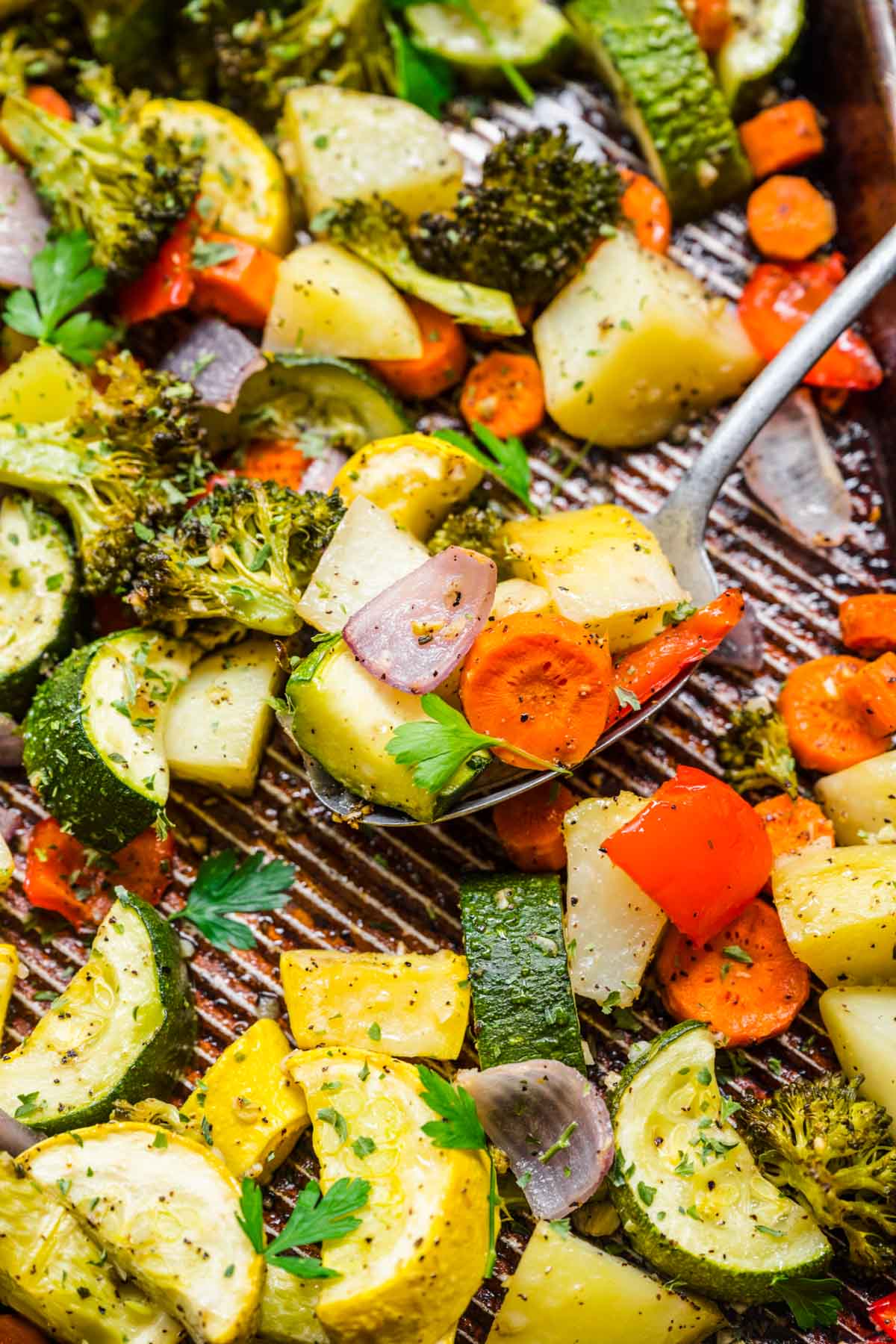 Create a free account to

Save Recipes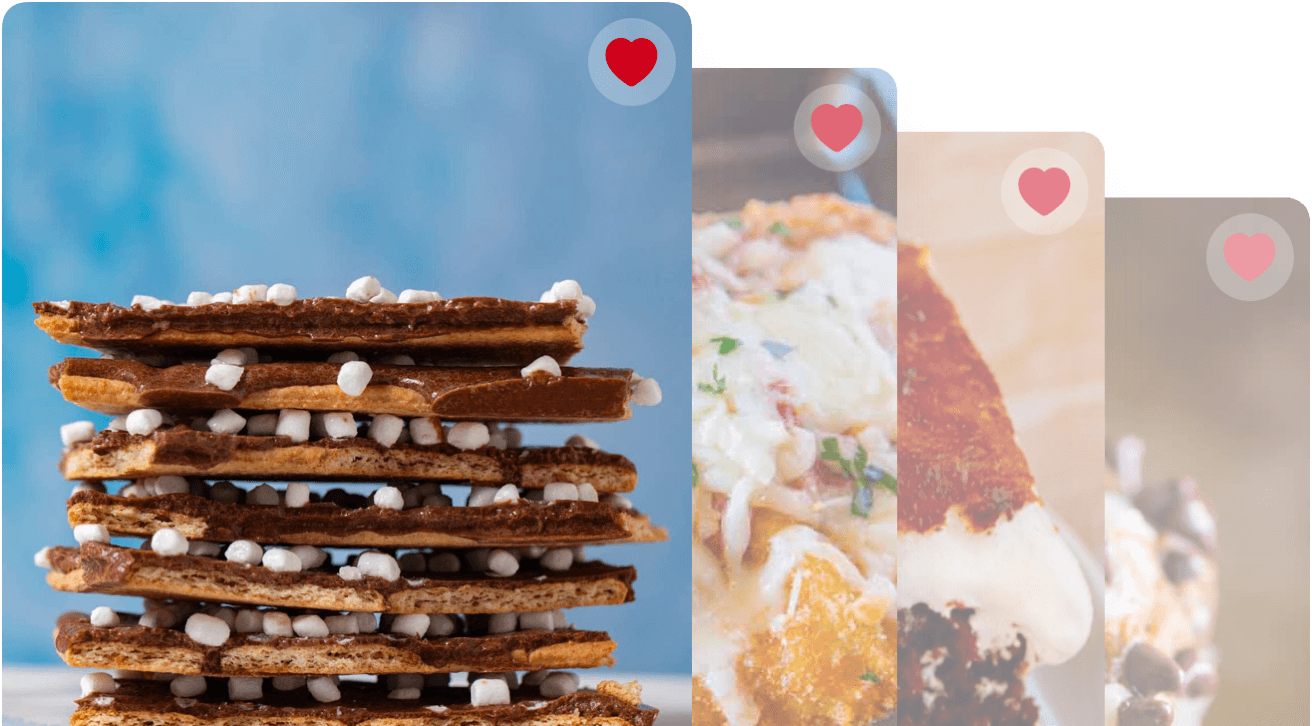 Key Ingredients in Easy Roasted Vegetables
Fresh Vegetables: You'll start with Yukon gold potatoes, zucchini, yellow squash, bell peppers, carrots, onion, and broccoli. The colorful combination of veggies is also gives you a delicious variety of flavors and textures.
Olive Oil: Use a good quality extra virgin olive oil. This will add a light flavor to the veggies along with heart healthy fats and antioxidants.
Butter: A small amount of melted butter is also used to provide extra flavor as well as help the vegetables roast evenly. We always recommend using unsalted butter so that you can control how much sodium you wish to add to your taste.
Seasonings: Simple seasonings of salt, pepper, minced garlic cloves, and fresh parsley round out the flavorful Roast Vegetables. You can also add Italian seasoning or other herbs of your choice. 
Air Fryer Easy Roasted Vegetables
To make this yummy Roasted Vegetables recipe in the air fryer, simply mix all the ingredients according to the instructions while you preheat your air fryer to 380 degrees. Add the veggies in a single layer, working in batches if needed. Air fry them for 10-15 minutes, tossing halfway through, until the potatoes and carrots are tender enough for a paring knife to easily pierce.
Variations on Easy Roasted Vegetables
Vegetables: You can try a different variety of vegetables in this recipe. Sweet potatoes, butternut squash, sweet onion, cauliflower, or cremini mushrooms could all taste amazing in this Roasted Vegetables recipe.
Vegetable seasoning: Feel free to try this recipe with any of your favorite seasonings. Try a combination of herbs like basil, rosemary, and thyme. Along with fresh herbs, you can also add a delicious spice mixture with ingredients like garlic powder, paprika, cumin, onion powder, or red pepper flakes. Or, you could add seasonings that match whatever meal you are making the vegetables to go with, like an Italian seasoning blend to give the veggies Italian flavors.
Balsamic Oven Roasted Veggies: To add some depth of flavor to the vegetables, mix the olive oil with 1 or 2 tablespoons balsamic vinegar. Then you can toss the veggies in the mixture, add the seasonings, and roast as usual.
Cheese: To add an additional layer of flavor, sprinkle grated Parmesan cheese on the vegetables in the last 5 minutes of roasting. You can also toss the hot roasted vegetables with your favorite grated cheese such as mozzarella, goat cheese crumbles, blue cheese crumbles, or gouda for extra flavor.
Lemon Zest: Grate fresh lemon zest onto the finished vegetables for a light and fresh finish. You can also squeeze the fresh lemon juice from a lemon onto the prepared vegetables before baking. Or impress your guests by making a classic Italian gremolata to serve on top of the Roasted Vegetables. A Gremolata is a mixture of finely chopped parsley mixed with freshly grated garlic and lemon zest. Use a microplane to finely grate the garlic and lemon so that the oils coat the parsley like a dressing.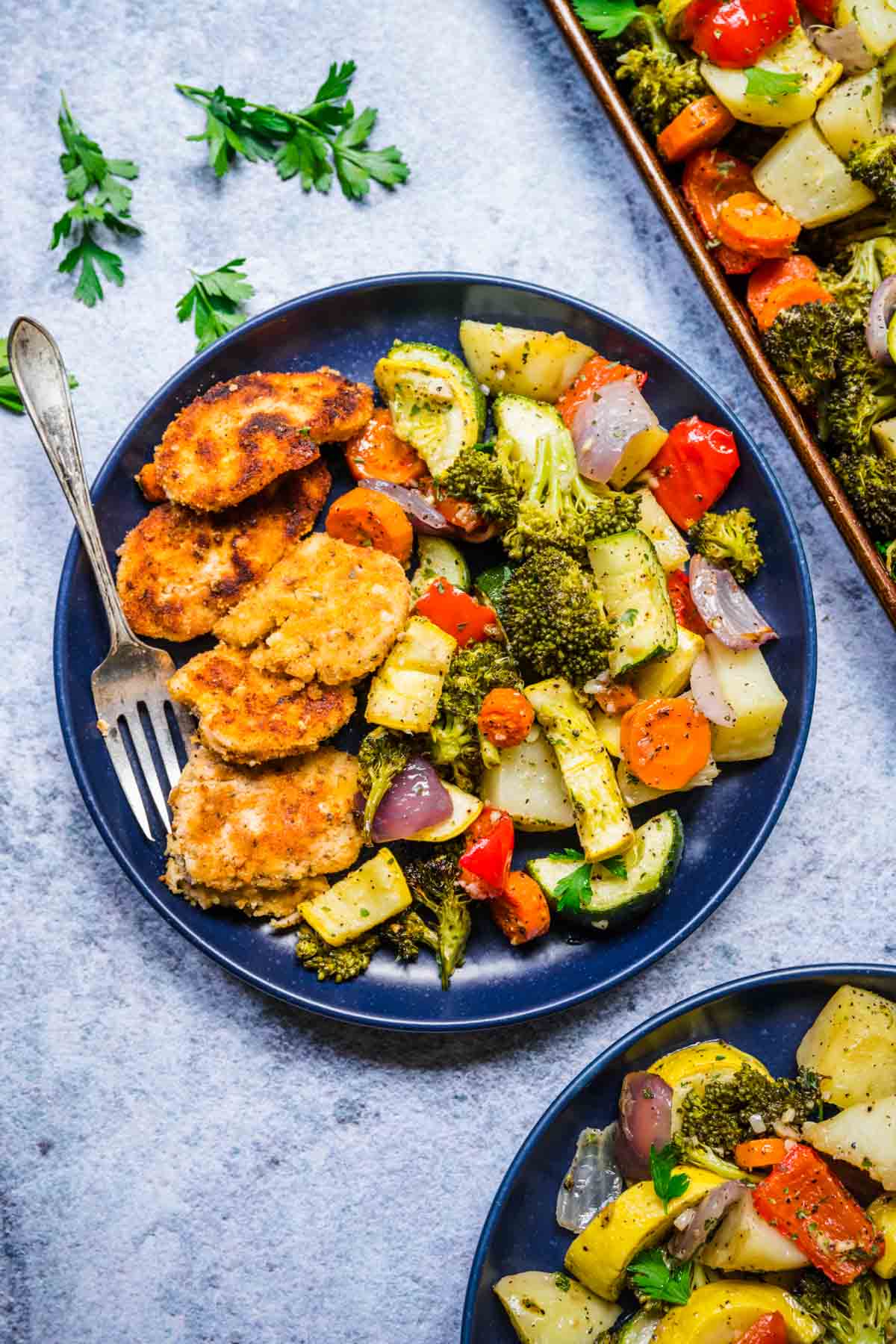 Dishes to Serve with Roasted Vegetables
How to Store Roasted Vegetables
Serve: You don't want to leave Easy Roasted Vegetables at room temperature for more than 2 hours.
Store: Once the Oven Roasted Vegetables have cooled, you can package them in an airtight container. Then store them in the fridge for 3-4 days.
Freeze: You can also keep Roast veggies sealed and frozen for up to 6 months. Then reheat them in the oven before serving.


Ingredients
1

pound

yukon potatoes

, peeled and cut into ½ inch chunks

1

zucchini

, cut into 1 inch half circles

1

yellow squash

, cut into 1 inch half circles

2

carrots

, cut into ½ inch thick coins

1

red bell pepper

, cut into 1 inch chunks

1/2

red onion

, cut into 1 inch chunks

1

pound

broccoli

, trimmed and cut into bite-sized pieces

1/4

cup

olive oil

2

tablespoons

unsalted butter

, melted

2

teaspoons

kosher salt

1

teaspoon

coarse ground black pepper

8

cloves

garlic

, minced

fresh parsley

, optional
Instructions
Preheat oven to 400 degrees.

Add the potatoes, zucchini, squash, carrots, bell pepper, red onion, broccoli, olive oil, butter, salt, pepper, and garlic to the bowl, mixing well.

Place the vegetables on a large sheet pan in a single layer. If your sheet pan is too small, use two.

Cook for

20 minutes

, stir and cook for up to an additional

10 minutes

until vegetables are fork-tender.

Remove from the oven and garnish with fresh parsley and a drizzle of extra olive oil if desired.
Nutrition
Calories:
174
kcal
|
Carbohydrates:
19
g
|
Protein:
4
g
|
Fat:
10
g
|
Saturated Fat:
3
g
|
Polyunsaturated Fat:
1
g
|
Monounsaturated Fat:
6
g
|
Trans Fat:
1
g
|
Cholesterol:
8
mg
|
Sodium:
618
mg
|
Potassium:
653
mg
|
Fiber:
4
g
|
Sugar:
4
g
|
Vitamin A:
3555
IU
|
Vitamin C:
92
mg
|
Calcium:
57
mg
|
Iron:
1
mg