Braised Cabbage is a simple and flavorful, tender dish made with red cabbage, onions, and just a little salt and pepper. Easily made in one pot.
This easy cabbage recipe makes a great Side Dish to serve with your favorite dinners. Just like Coleslaw, it's the perfect dish to make with just about any meal.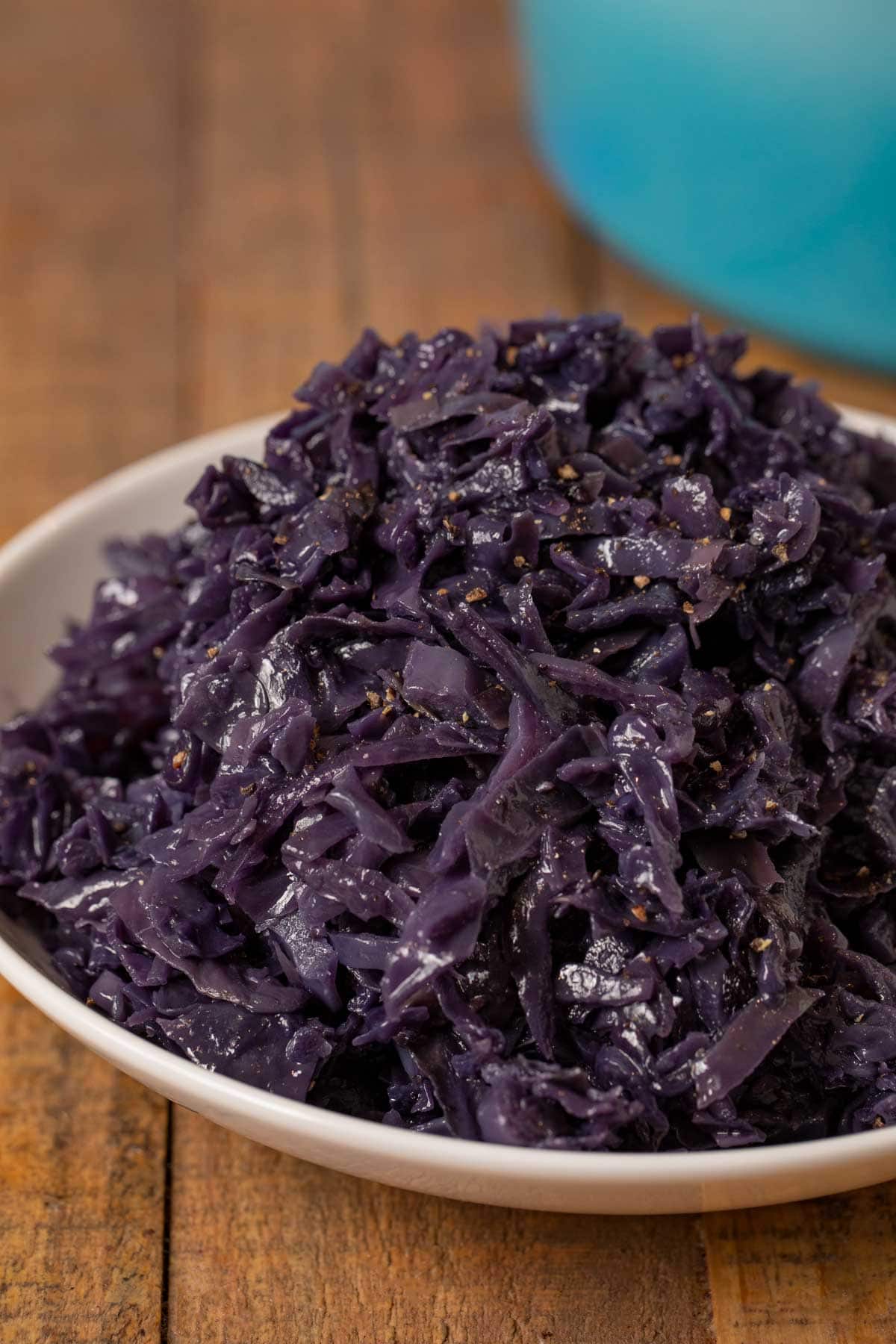 BRAISED CABBAGE
This cabbage recipe is great to serve with your favorite weeknight dinners or as a savory holiday side dish. Make it your go-to side for simple recipes like Baked Rosemary Chicken on any day of the week. Or make it to go with Corned Beef for a classic St. Patrick's Day feast.
This recipe is a great way to bring a healthy dish to any meal. Cabbage is low-carb and is rich in Vitamin C and K. Cabbage has also been found to contain cancer-fighting agents so it's great to work into your diet.
Along with being healthy and versatile, this recipe is also delicious. So, you shouldn't have a problem getting your family to enjoy this nutritous recipe. After braising the cabbage it has a distinct sweet and tart taste that highlights the flavors of your main dish. It's a simple recipe that will take your whole dinner up a notch. Plus the vibrant purple and red of the cabbage brings a nice color to any meal.
BRAISED CABBAGE SALAD
If there's any leftover braised cabbage after dinner, I like to store it in the fridge and use it for a simple salad for lunch. Here are some ingredients you can add in for an easy salad recipe.
1 apple cored and sliced
1 clove garlic
goat cheese, to taste
toasted walnuts
2 tablespoons olive oil
2 tablespoons apple cider vinegar
How to make Braised Cabbage Salad:
Toss the cabbage in a pan with oil to reheat it.
Add in the garlic and walnuts and sauté until warmed.
Put the mixture in a serving bowl and add goat cheese, and apple slices to the top.
Whisk together the olive oil and vinegar and pour over the top.
MORE DELICIOUS, SAVORY CABBAGE RECIPES
HOW TO CUT CABBAGE TO PREPARE BRAISED CABBAGE
To cut your medium red cabbage into ribbons perfect for braising, start by discarding the other leaves.
Cut the root from the end of the cabbage.
Cut the cabbage in half, going through the stem so you can see the layers in circles.
Put the cabbage cut-side down and cut it into quarters.
If there are any tough bits or pieces of the root remaining in the cabbage cut them out.
Slice the cabbage into small ribbon pieces, to prepare Braised Red Cabbage.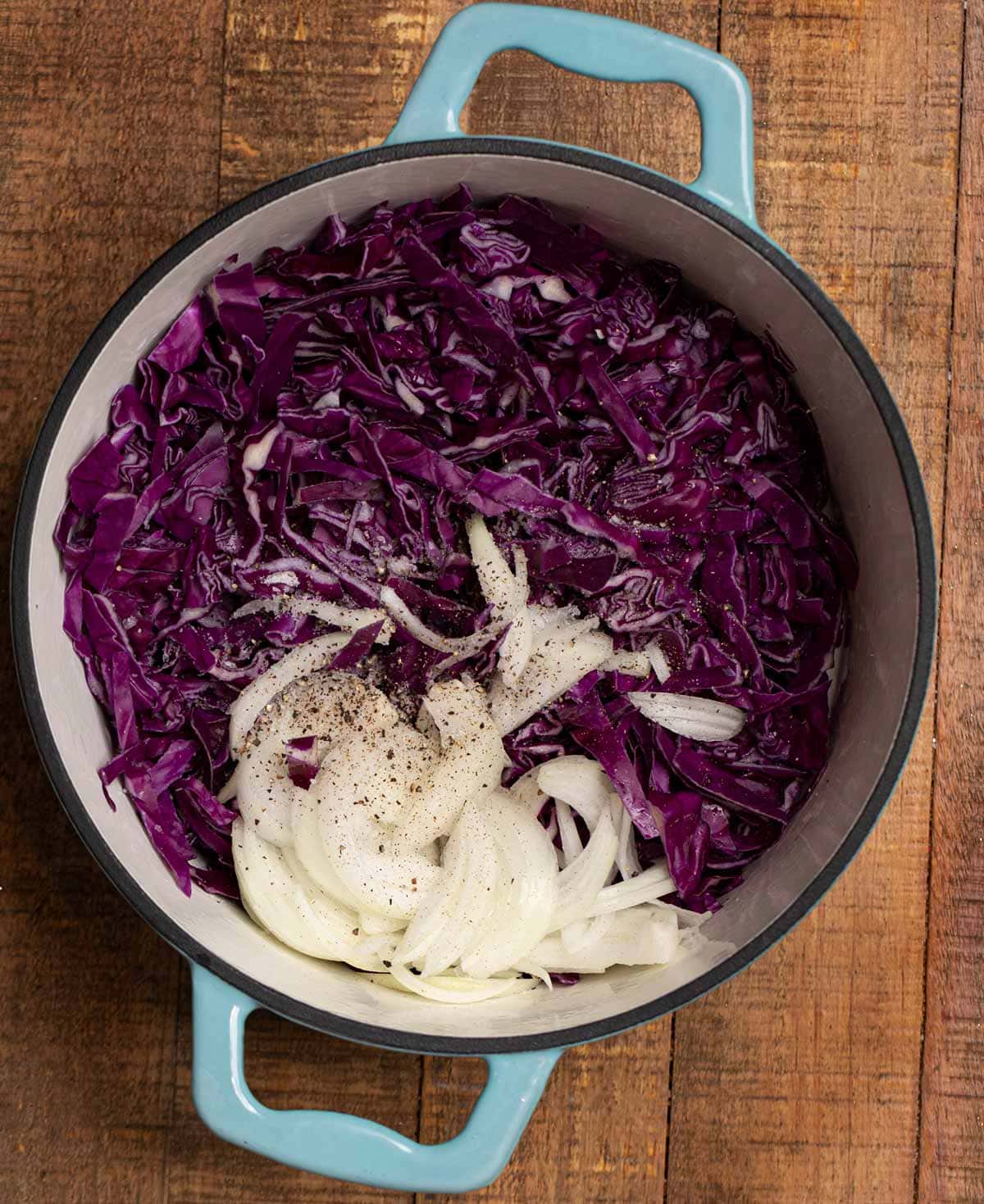 Create a free account to

Save Recipes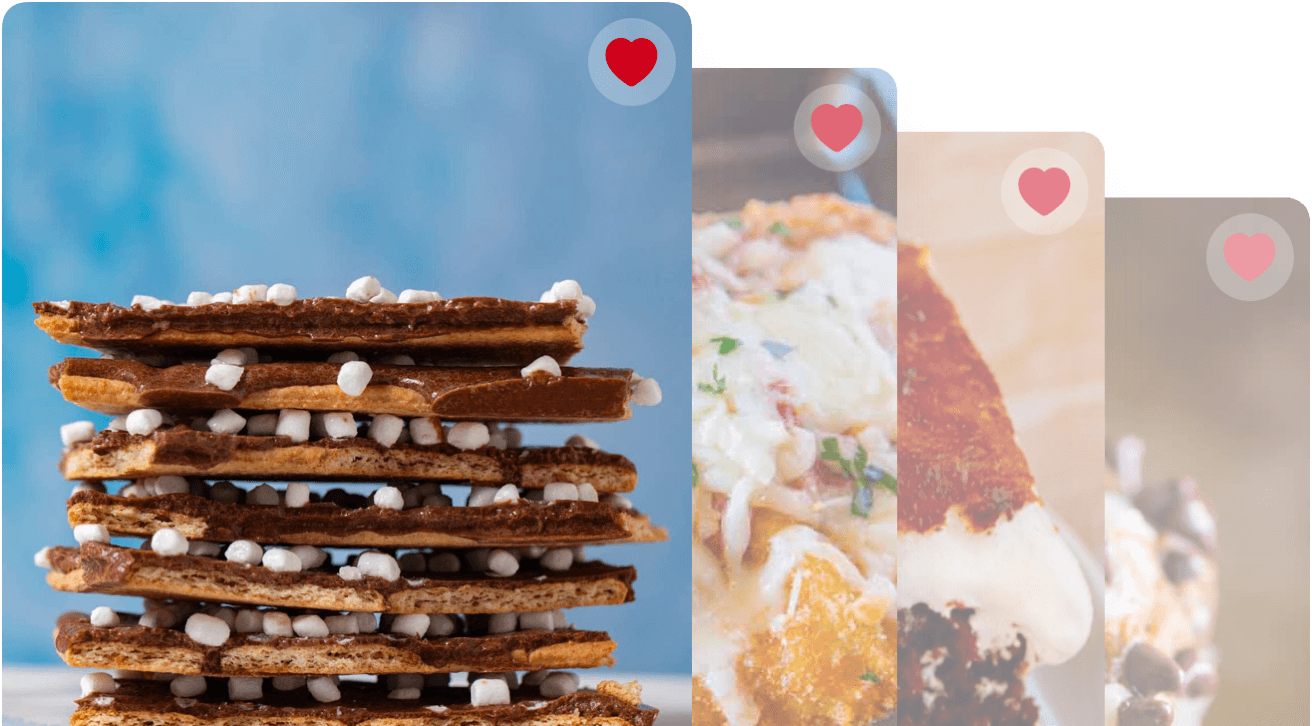 VARIATIONS ON BRAISED CABBAGE
Cooking liquid: There are so many different cooking liquids you can add into the water to put some different flavors in your Braised Cabbage recipe. Try adding vinegar like apple cider vinegar, and balsamic vinegar. You can also mix in some other liquids like chicken broth, beef broth, vegetable broth, or soy sauce. Another option is using sesame oil or extra virgin olive oil in place of the vegetable oil in the recipe.
Cabbage Varieties: There are lots of different cabbage varieties you can use to make Braised Cabbage. Try using white cabbage or green cabbage instead of purple cabbage. You could also do a combination of green cabbage and red cabbage.
More vegetables: You can chop up plenty of other vegetables and add them in while they're braising. Mix in some carrots, kale, cauliflower, or red onion.
Other Add-ins: Apart from carrots and other veggies, there are plenty of other ingredients you can add in for extra flavor in the cabbage dish. Try mixing in crushed red pepper flakes, bacon bits, minced garlic, coarse salt, or even some brown sugar.
Sauteed Cabbage: Instead of braising the cabbage you can try making a Cabbage Stir-fry. Melt some butter in the base of a skillet or dutch oven. Add in the cabbage, carrots, broccoli, and any stir-fry add-ins you want. Cook it up in one-skillet until browned and enjoy. You can also mix in soy sauce and ginger to make some Chinese cabbage.
MORE SIDE DISH RECIPES
HOW TO STORE BRAISED CABBAGE
Serve: To make sure your Cabbage recipe stays nice and fresh and doesn't become wilted, don't leave it out at room temperature for much longer than 2 hours.
Store: You can also keep Sauteed Cabbage in the fridge for up to 5 days. Let the cabbage cool down then put it in a ziplock bag or other airtight container.
Freeze: Unfortunately, cooked cabbage won't freeze well. After 5 days it's best to throw it out and make a new batch.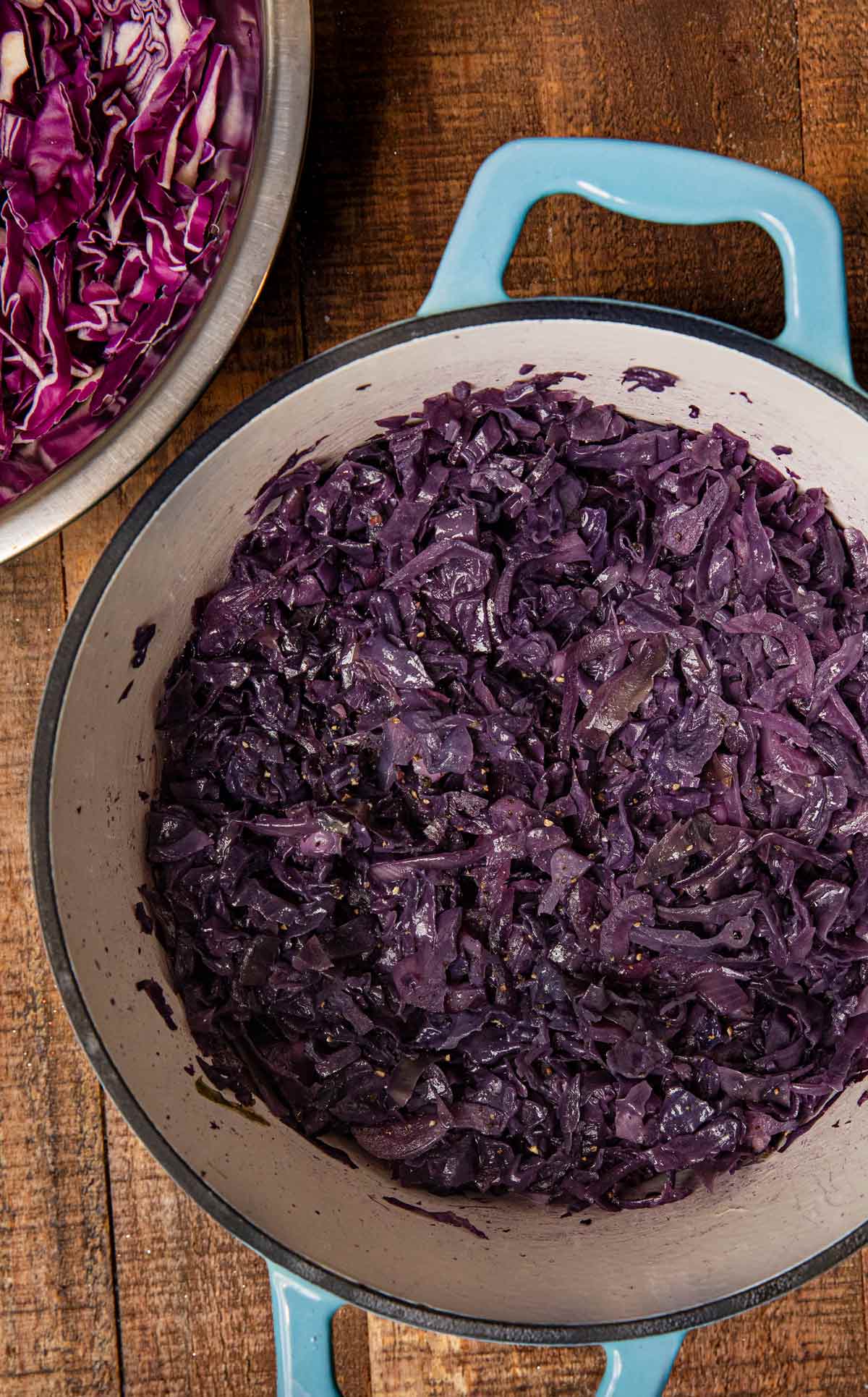 Ingredients
2

tablespoons

olive oil

1/4

cup

water

1

head

red cabbage

, thinly sliced (about 6 cups)

1/2

yellow onion

, sliced

1

teaspoon

kosher salt

1/4

teaspoon

coarse ground black pepper
Instructions
Add the olive oil, water, red cabbage, onion, salt, and pepper to a large pot on medium-high heat.

Stir well, bring liquid in the pot to a boil.

Reduce heat to medium-low and cover.

Cook for

90 minutes

, stirring occasionally until cabbage is soft and tender.
Nutrition
Calories:
66
kcal
|
Carbohydrates:
8
g
|
Protein:
2
g
|
Fat:
4
g
|
Saturated Fat:
1
g
|
Sodium:
320
mg
|
Potassium:
265
mg
|
Fiber:
2
g
|
Sugar:
4
g
|
Vitamin A:
1170
IU
|
Vitamin C:
60
mg
|
Calcium:
49
mg
|
Iron:
1
mg