Crispy Slow Cooker Corned Beef with perfectly juicy slices of beef and crispy crust this is the only corned beef recipe you'll ever use!
We're getting all of our St. Patrick's Day recipe ready to go, and this year we're serving Roasted Cabbage Steaks (these are AMAZING as leftovers in my Cabbage Soup), Roasted Carrots, and Scalloped Potatoes and we're using leftovers in our Corned Beef Hash!
CRISPY SLOW COOKER CORNED BEEF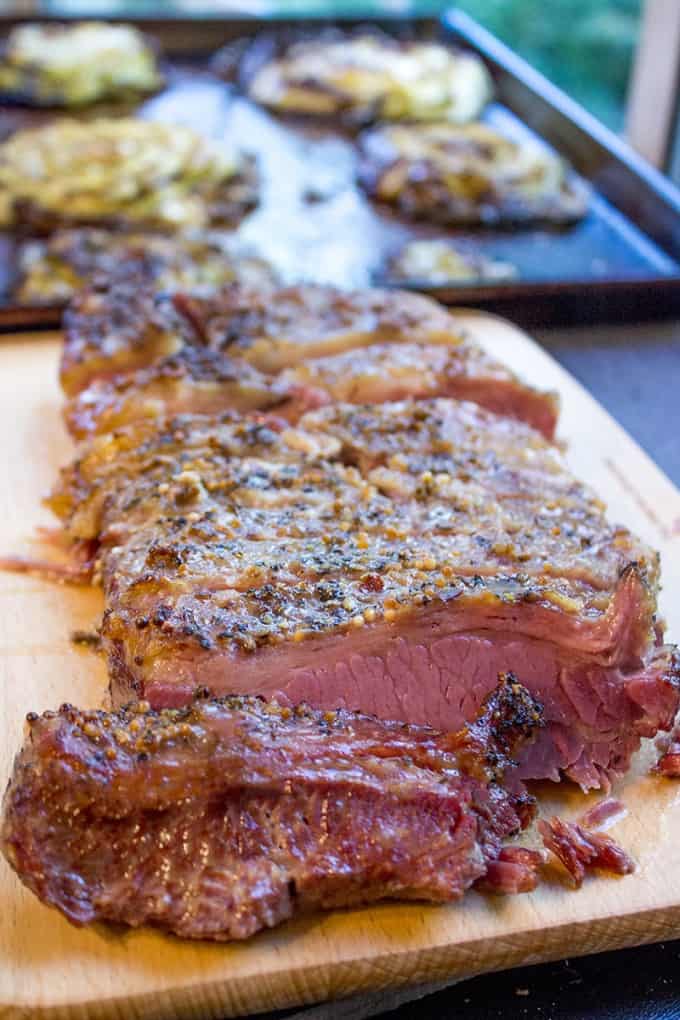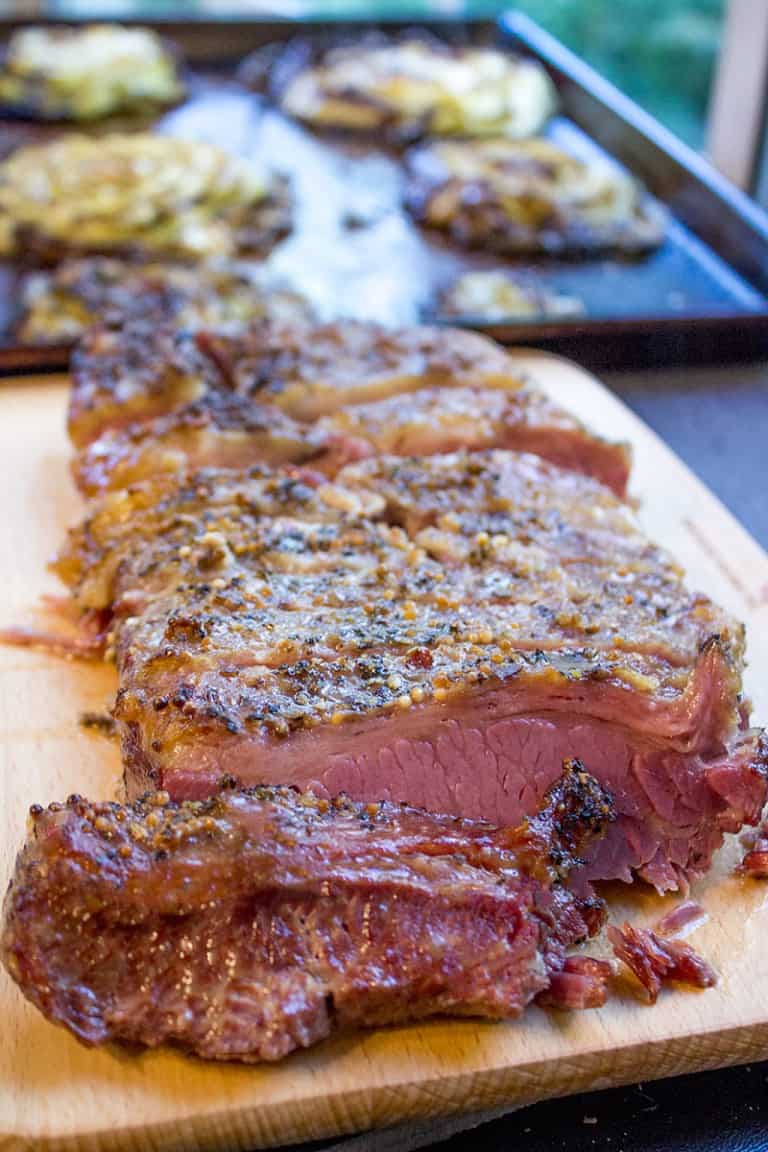 Crispy Slow Cooker Corned Beef has been a dish we make year round since we bought our deep freezer. Why you ask? Because since I had the ability to stock up during the "season" we now enjoy corned beef dinners and sandwiches all year long. You can serve this slow cooker version of this Irish-American classic with carrots, cabbage, or potatoes for St. Patrick's Day.
The magic of the Crispy Slow Cooker Corned Beef is in the liquids. I normally say don't add any liquid, but in this case the vinegar and the bay leaf need a helping hand. The little bit of water you're using is a vehicle for your bay leaf and vinegar to help flavor the meat. This recipe needs a total time of 9-10 hours, so I recommend setting this up in the crock pot in the morning if you're having it for dinner that night.
CAN YOU OVERCOOK CORNED BEEF IN A CROCK POT?
It is definitely possible to overcook any beef in the crock pot, resulting in a cut of beef that is bordering too soft. This recipe calls for cooking on low for 9-10 hours. I would try to stick with this cooking time. I also like to keep the slow cooker on low so the brisket has more time to cook, making it tender and juicy. You could try cooking this for a shorter time on high if you're pressed for time.
DO YOU HAVE TO RINSE OFF CORNED BEEF BEFORE COOKING?
You can rinse corned beef, but it's not a requirement. Rinsing the brisket removes any excess salt from the meat, resulting in a more mild flavor. Or you can put the beef in the crock pot without rinsing at all.
WHICH CUT OF CORNED BEEF IS MORE TENDER?
You can buy pre-brined corned beef, or get a brisket and add the seasoning to the corned beef yourself. I like to go with a round cut of brisket in the slow cooker, because it holds its shape better than a point cut and shrinks less in the pot, which is better if you have people over for St. Patricks day. But due to the point cut having more fat, it can turn out more tender than round cut. It's a personal choice, because in the end both are used for this dish.
HOW DO YOU KNOW WHEN CORNED BEEF IS DONE?
For food safety, you want to make sure your beef is cooked to at least 145 degrees F. Use a meat thermometer to check the temperature. There shouldn't be an issue if you cook the beef for the entire time.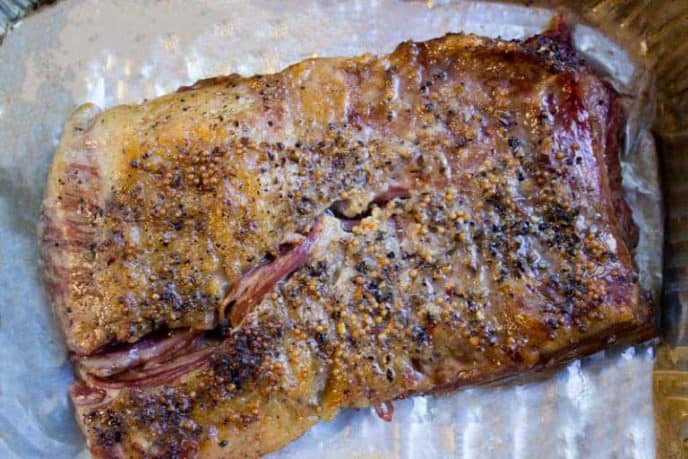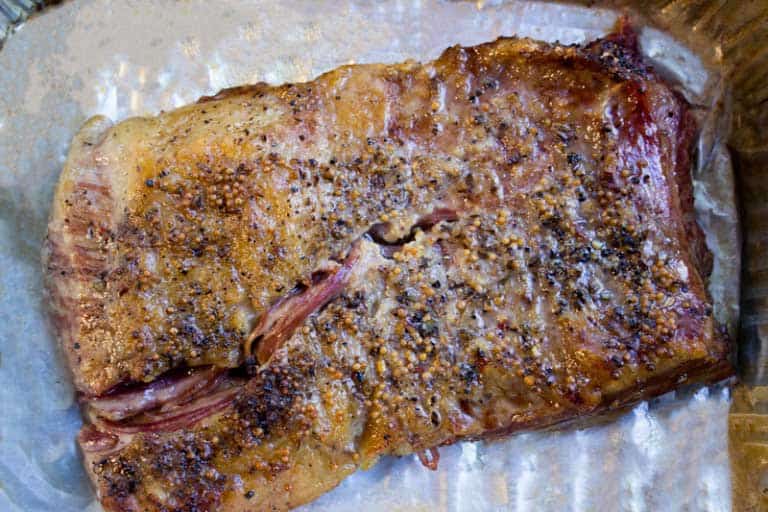 Create a free account to Save Recipes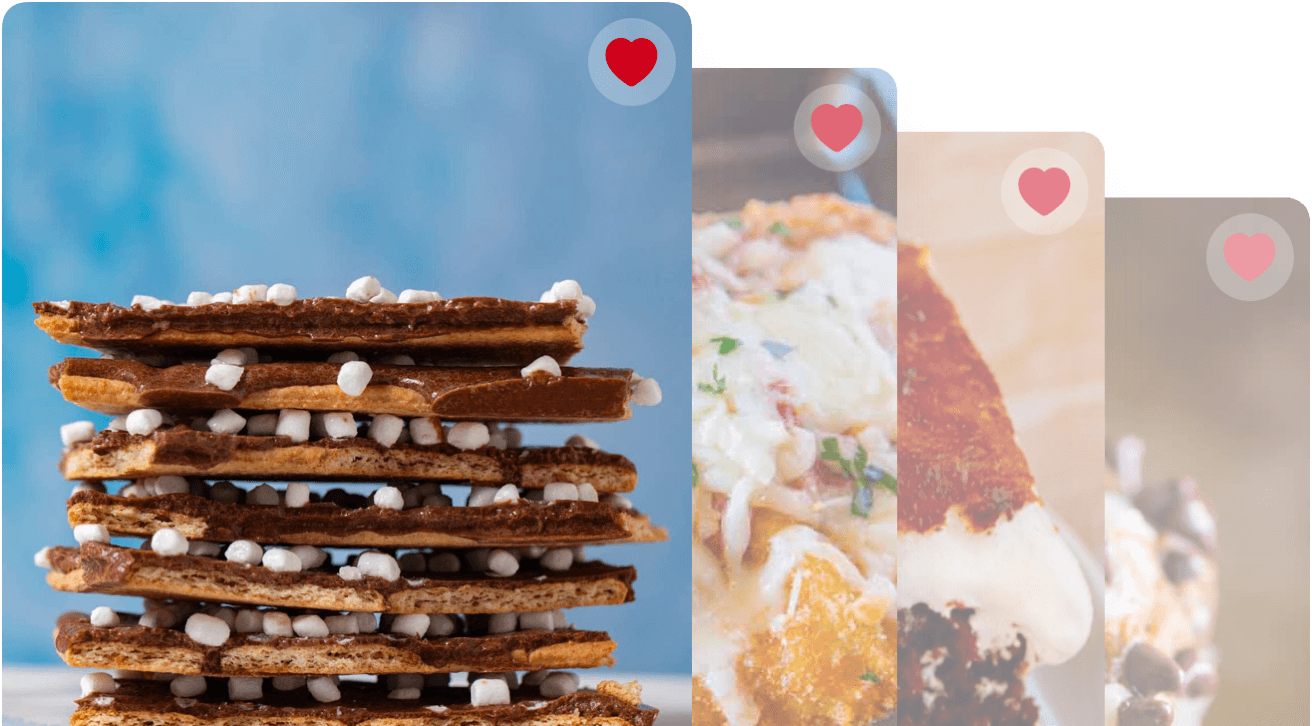 MORE ST. PATRICK'S DAY CABBAGE, CARROT, AND POTATO RECIPES
HOW DO YOU STORE CORNED BEEF?
You can store leftover crock pot corned beef in the refrigerator in an airtight container for 2-3 days. Honestly, this usually doesn't last past the second day at my house. You can also freeze your beef brisket with your favorite cabbage recipe for several months.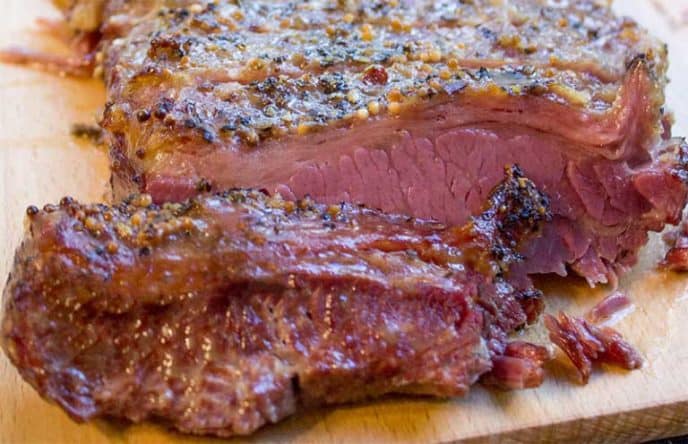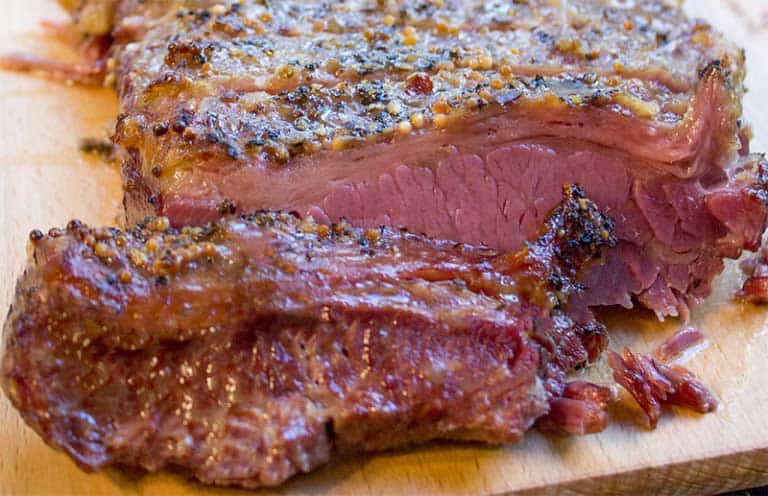 TIPS FOR MAKING CRISPY CORNED BEEF
You can fill the slow cooker up with water for a more traditional corned beef, but keep in mine that the texture of the dish will not get crispy if it's completely covered in liquid.
You can add cabbage, sliced carrots, onions, and potatoes to the slow cooker when there's about 2 hours left in the cooking time. The liquid from the corned beef will add a ton of flavor to the vegetables.
This may look like a lot of spices, but crock pot corned beef gets its signature flavor from this so don't worry, go ahead and use the seasoning packet as direction on your beef brisket.
If your corned beef or beef brisket is too fatty, you can cut some of it off before placing in the crock pot. But leave a little bit, as this adds a lot of flavor to the dish.
If you need more cabbage recipes try my Stuffed Cabbage Casserole, or Stuffed Cabbage Sloppy Joes! Or mix shredded cabbage together with mashed potatoes for a basic colcannon.
In the morning shred leftover beef together with cabbage and potatoes to make Corned Beef Hash.
I don't recommend using the leftover drippings from the beef brisket in the slow cooker for any kind of gravy, because it will be really salty. Cooking bland vegetables, like potatoes, carrots, and cabbage, work well with this water because it will season them. Add some more flavor with allspice or celery.
Serve your slow cooker corned beef recipe with horseradish or dijon mustard (you can also roast potatoes with dijon like these Dijon Roasted Potatoes) on St. Patrick's Day!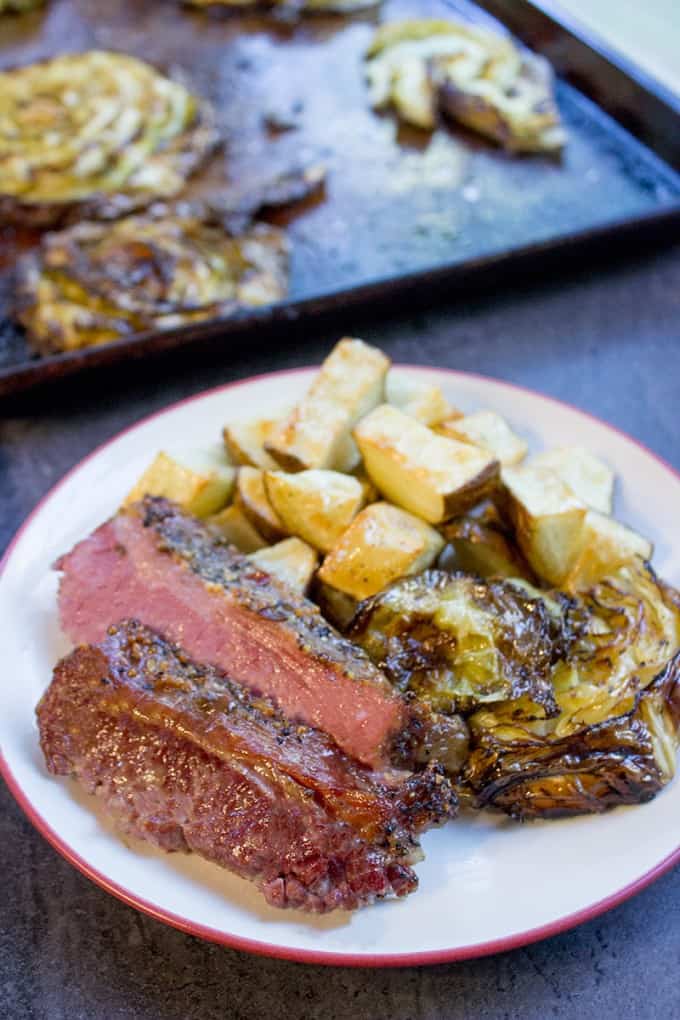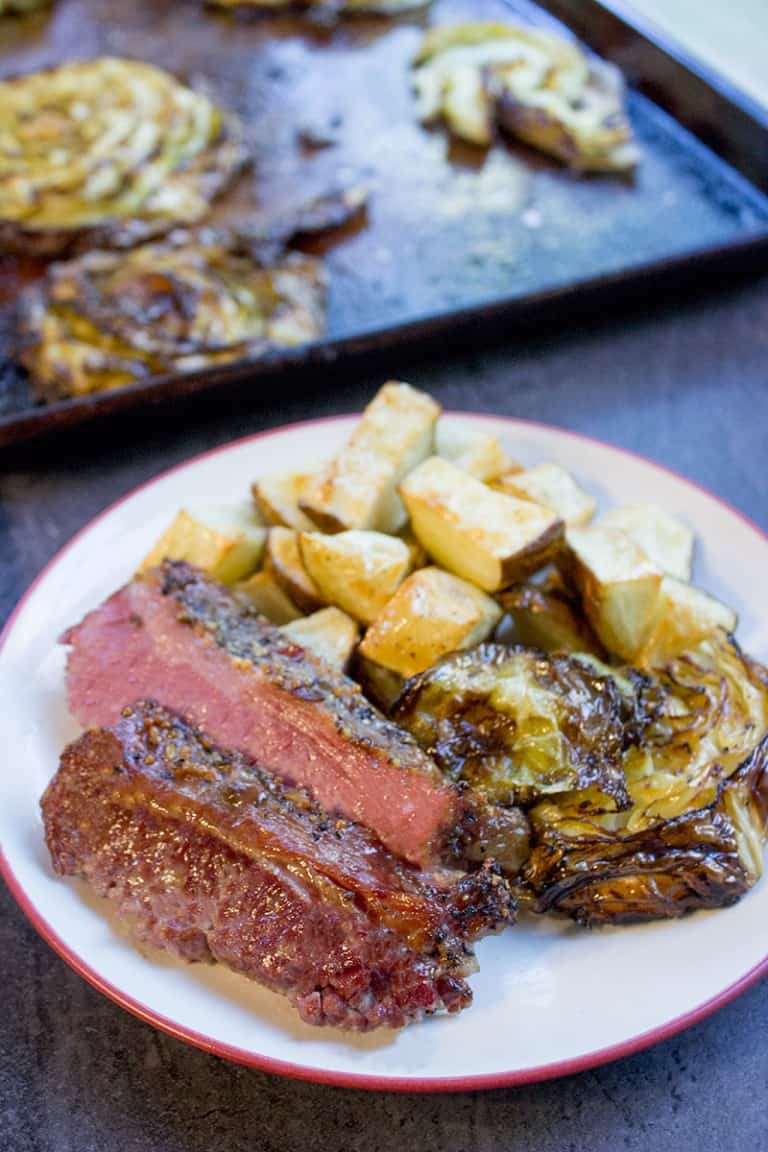 Tools Used in making this Slow Cooker Corned Beef:
Slow Cooker: Love this slow cooker and how programmable it is, it has been a workhorse for me… until…
My New Slow Cooker: For larger roasts I also brown the meat in the insert and not lose a bunch of the flavor by transferring the meat and leaving the browned bits behind. If you're thinking of a new slow cooker, consider it if your budget is more open.


Ingredients
3

pounds

corned beef

, with packet

1

cups

water

, maybe less depending on size of slow cooker

3

cloves

garlic

, minced

1

bay leaf

2

tablespoons

sugar

2

tablespoons

cider vinegar

1/2

teaspoon

ground black pepper
Instructions
Add corned beef, fat side up, to the slow cooker.

Add the minced garlic, spice packet, sugar and pepper to the top of the meat and rub on.

Add the vinegar and bay leaf to the side of the corned beef and add just enough water to come up about 25% of the way to the top of the meat.

Cook on low for

8-9 hours

.

If for some reason the corned beef is not browned on top, or enough to your liking, put under a broiler (6-7 inches away) for

1-2 minutes

.

Leave the oven door open a bit so you can look in, this isn't something you can leave unattended.
Nutrition
Calories:
351
kcal
|
Carbohydrates:
3
g
|
Protein:
25
g
|
Fat:
25
g
|
Saturated Fat:
8
g
|
Cholesterol:
91
mg
|
Sodium:
2072
mg
|
Potassium:
509
mg
|
Sugar:
3
g
|
Vitamin C:
46.3
mg
|
Calcium:
14
mg
|
Iron:
2.9
mg