Stuffed Cabbage Casserole is an easy dinner made with cabbage, beef, onions, rice, and a chunky tomato sauce in just 30 minutes!
For those nights when you're craving something comforting and filling, a casserole is the way to go. Looking for some more Dinner ideas? Dive into a world of flavors with recipes like the family favorite Peanut Butter and Jelly Pork Roast, the Hawaiian Loco Moco, and another family favorite the Sloppy Joe Pasta.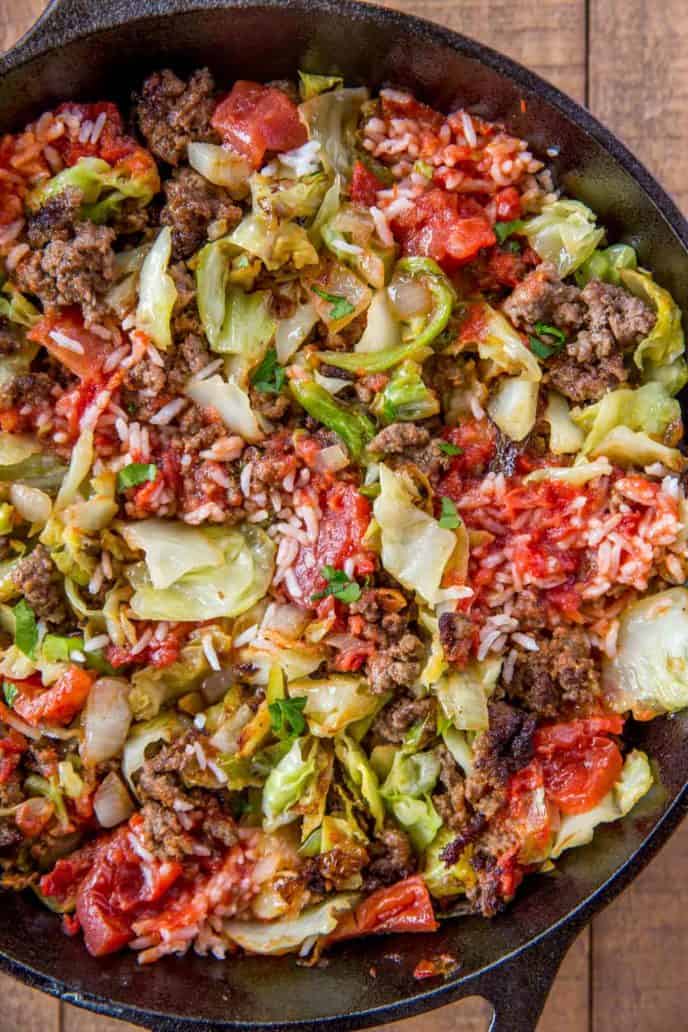 The essence of a hearty meal, the Stuffed Cabbage Casserole combines the robust flavors of ground beef, fresh cabbage, and tomatoes, all harmoniously melded with cooked rice. It is reminiscent of traditional stuffed cabbage but without the fuss of rolling, providing a simplified version that promises the same delectable taste. With its origins in Eastern European cuisine, this dish is similar to cabbage roll casserole and has become a staple in households worldwide, especially during cold winter months. Its allure lies in its simplicity – the merging of everyday ingredients to create a dish full of flavor and tradition.
Why is this casserole a home cook's dream? This Stuffed Cabbage Casserole is the epitome of comfort food, bringing together basic pantry ingredients in an elegant and delicious manner. It saves on prep time compared to the classic stuffed cabbage and yet doesn't compromise on the flavor profile. Whether you're familiar with the flavors of traditional stuffed cabbage or are new to this dish, the Stuffed Cabbage Casserole is bound to impress. With its straightforward preparation and robust taste, it's a recipe that you'll find yourself returning to, time and time again. Pair it with Creamy Garlic Mashed Potatoes to elevate your dining experience.
How to Make Stuffed Cabbage Casserole
With just a single skillet, you can whip up a meal that is both satisfying and heartwarming. As a side note: cooking with the pan covered allows the cabbage to steam a little bit as well too, making the texture similar to that of the stuffed cabbage rolls. Check it out!
Step One: Using a Cast Iron Skillet or Dutch oven over high heat, sear the seasoned ground beef until browned, then set aside. Proceed to sauté the onions with half the butter until they take on a light brown hue. Don't forget to season with salt and pepper. 
Step Two: Introduce the remaining butter and add the cabbage, cooking on medium heat until it softens and acquires a golden color. To ensure the cabbage pieces are the right size make sure you cut the cabbage into wedges before slicing.
Step Three: Combine the beef and onions back into the skillet, blending in the rice and tomatoes. Mix gently, cover, and simmer for 5-7 minutes on medium heat to ensure everything is heated evenly. Serve hot and ready! 
More Easy Casserole Dinners
Frequently Asked Questions
What type of beef works best for this casserole?
Any ground beef will do, but for a leaner option, consider using ground beef with a lower fat percentage.
Can I add other vegetables to this dish?
Absolutely! Bell peppers, zucchini, or even mushrooms would complement the casserole well.
How does this differ from traditional stuffed cabbage?
This casserole offers the same flavors as stuffed cabbage but without the need to roll the cabbage leaves. It's a more relaxed, deconstructed version.
Can I use a different type of rice?
Yes, you can! Brown rice, basmati, or even quinoa can be used as alternatives.
Which side dishes go well with this casserole?
A crisp green salad, garlic bread, or a creamy potato dish would pair beautifully.

Create a free account to

Save Recipes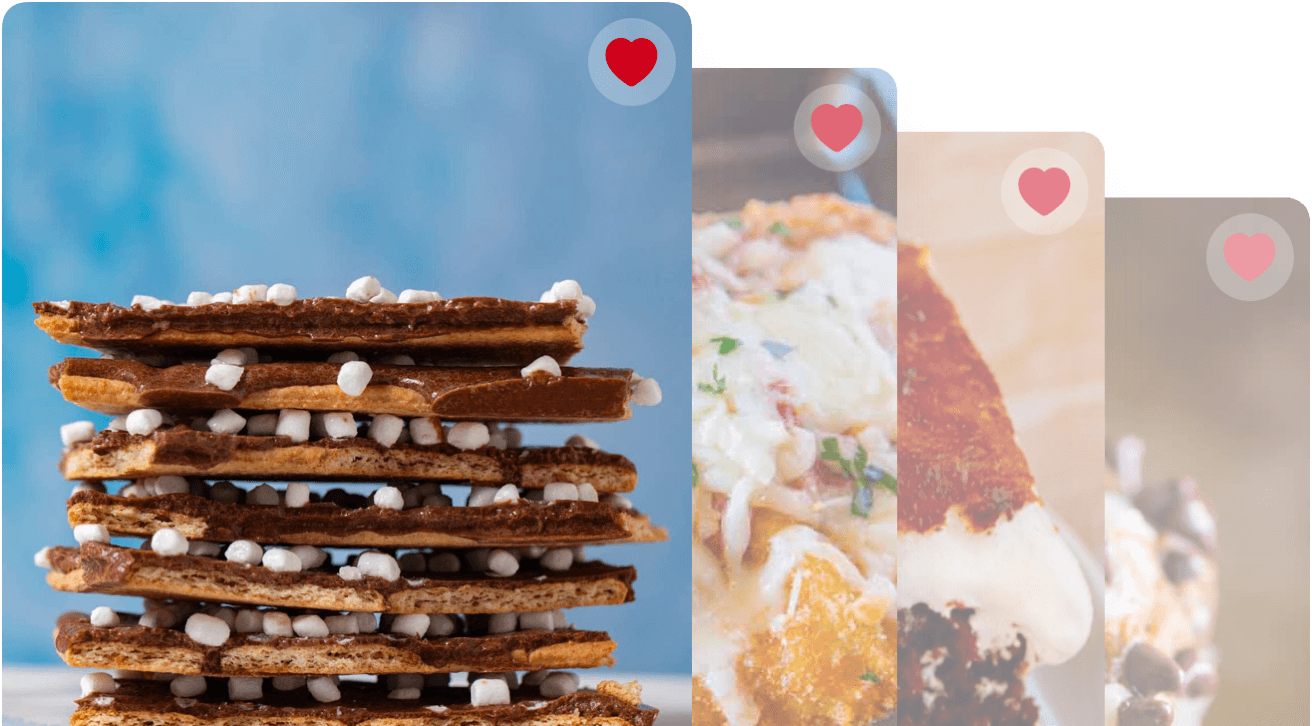 Key Ingredients in Stuffed Cabbage Casserole
This easy recipe has simple ingredients that can easily be sourced from your local grocery store or farmer's market. With these core ingredients, the Stuffed Cabbage Casserole transforms from a simple dish into a culinary masterpiece, perfect for family dinners or gatherings. Check it out!
Lean Ground Beef: This serves as the primary protein source in the casserole. It's meaty, and hearty, and holds the dish together.
Green Cabbage: A staple in many European dishes, cabbage adds volume and a slight crunch, balancing out the richness of the beef. We're using an entire head of cabbage for this recipe.
Rice: Acting as a filler, rice absorbs the flavors from the beef, tomatoes, and seasonings, making every bite a treat.
Tomatoes: The chunky tomatoes add a depth of heartiness and flavor to the dish. Want more tomatoes? Go for it! You can easily double the amount of tomatoes if you prefer.
Baked Stuffed Cabbage Casserole
Brown the beef and onions and layer the chopped cabbage, tomato sauce, onions and beef in a large baking pan. Cover and bake at 350 degrees for 45-50 minutes.
Slow Cooker Stuffed Cabbage Casserole
Brown the beef, then add all the ingredients together into the slow cooker to cook on low for 4-5 hours or on high for 3 hours. Use uncooked rice instead of cooked or add in the rice just before serving.
Can Stuffed Cabbage Casserole Be Made Ahead of Time? 
Wondering if you can prep the Stuffed Cabbage Casserole in advance? Certainly! Here's how to do it: If you're planning to serve it later or the next day, follow the recipe until you've mixed in the rice and tomatoes. At this point, allow the mixture to cool down before transferring it to an ovenproof casserole dish. Cover it with aluminum foil or an ovenproof lid and refrigerate.
When you're ready to serve, heat it up on the stovetop or, if you prefer, preheat the oven to 350°F (175°C) and bake the casserole, covered, for about 20-25 minutes, or until it's heated through. If you wish, sprinkle some freshly chopped parsley or grated cheese on top during the last 10 minutes of baking for an added touch.
Remember, the flavors meld and intensify when left overnight, making the dish even more delectable the next day!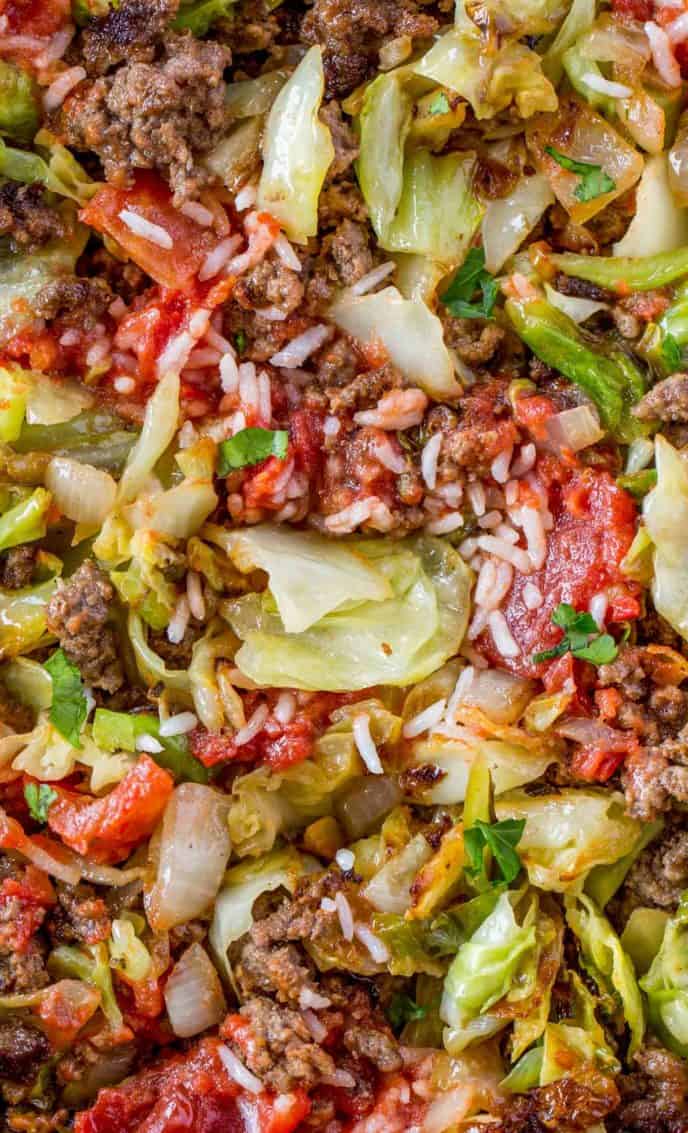 Variations on Stuffed Cabbage Casserole
While the classic Stuffed Cabbage Casserole is delightful as is, don't hesitate to make it your own. If you prefer a spicier kick, consider adding some red pepper flakes. For a cheesy touch, a sprinkle of mozzarella or parmesan just before serving can work wonders. Here are some delightful variations to try out:
Vegan Delight: Skip the ground beef and replace it with a mix of hearty vegetables like mushrooms, zucchini, and bell peppers, or go for a grain like quinoa or bulgur for a protein-packed alternative.
Spicy Kick: If you enjoy your food with a bit of heat, consider adding a diced jalapeño or a pinch of cayenne pepper to the mix.
Cheesy Layers: Layer in some mozzarella cheese or cheddar between the cabbage and beef mixture before the final cooking step for a gooey, cheesy touch.
Paprika: To make a deeper flavor to this delicious recipe, add a teaspoon paprika (sweet paprika, not spicy) to the cabbage while cooking.
Substitutions in Stuffed Cabbage Casserole
Don't have all the ingredients on hand or looking to adapt the dish for dietary reasons? Here are some handy swaps:
Meat: Ground turkey or ground chicken can be a leaner alternative to beef. For a vegetarian option, consider lentils or chickpeas.
Rice: Quinoa, bulgur, or even cauliflower rice can stand in for white rice, adding unique flavors and textures.
Butter: If you're looking to cut back on dairy or prefer a different fat source, olive oil or coconut oil can be used in place of butter.
Tomatoes: Fresh diced tomatoes or tomato puree can be used instead of canned tomatoes.
How to Serve Stuffed Cabbage Casserole
The beauty of the Stuffed Cabbage Casserole lies not just in its rich flavors but also in its versatility when it comes to serving. Here are a few recommendations:
Crusty Bread: There's nothing like a piece of warm, crusty bread to soak up the flavorsome juices at the bottom of your casserole dish. Check out this recipe: Crusty French Bread Rolls
Green Salad: A light, refreshing salad can balance out the richness of the casserole. Think of greens tossed in a light vinaigrette with some sliced cucumbers, cherry tomatoes, and perhaps a sprinkle of feta cheese. Check out this salad: Avocado Tomato Corn Salad
Dessert: Finish the meal with a delicious dessert that is guaranteed to please the whole family. Our Fried Ice Cream Dessert Casserole is making the rounds at our place!
More Great Cabbage Recipes
How to Store Stuffed Cabbage Casserole
Serve: Don't keep out for longer than two hours. Keep the baking dish covered when not serving.
Store: Transfer the cooled casserole to an airtight container or cover the original dish with plastic wrap. It will stay fresh in the refrigerator for 3-4 days.
Freeze: If you're hoping to save it for a later date, place the cooled casserole in freezer-safe containers. Label with the date and contents, and it can be stored for up to 3 months. When ready to enjoy, defrost in the refrigerator overnight and reheat in the oven or stovetop.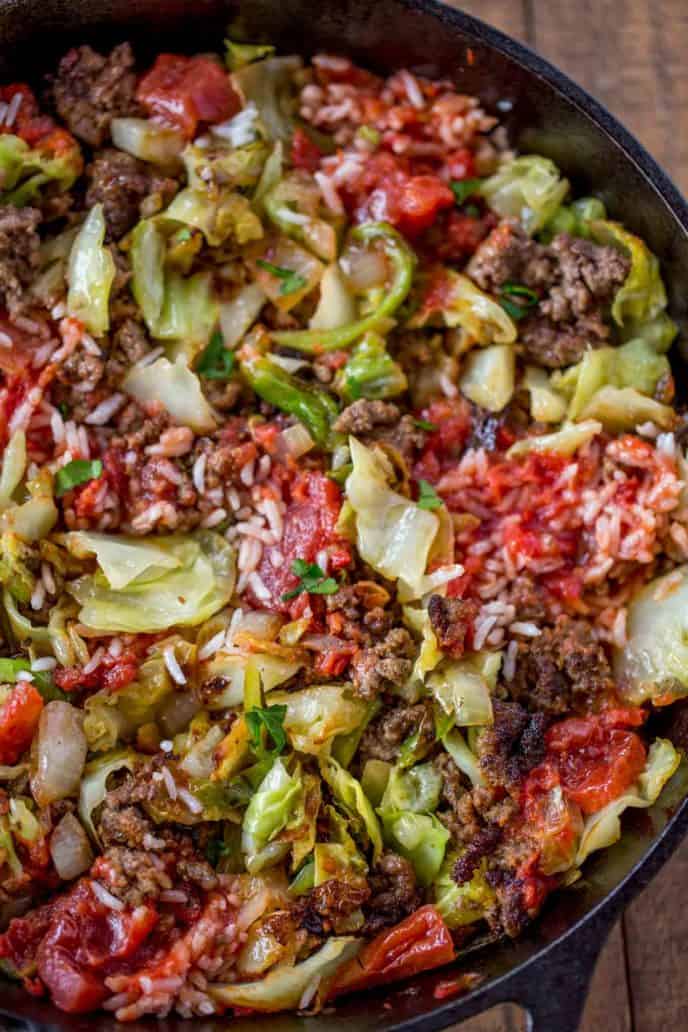 Ingredients
1

pound

ground beef

1/2

teaspoon

kosher salt

1/4

teaspoon

coarse ground black pepper

1

yellow onion

, chopped

4

tablespoons

butter

, divided

1

head cabbage

, cut into 8 wedges and sliced thickly

1

can (8 oz)

chopped tomatoes

, not drained

2

cups

rice

, cooked
Instructions
Season the beef with kosher salt and black pepper.

Brown the beef well and crumble it into large crumbles.

Remove from the pan, then add in the onion and half the butter.

Cook for

3-4 minutes

or until just browning.

Remove onions to the same dish as the beef.

Add in the remaining butter and cabbage and cook on high heat until cabbage is wilted and browned.

Add the beef and onion mixture into the pan, mix slightly.

Add in the rice and tomato and stir gently, then cook for

5-7 minutes

, covered, to cook and warm through.
Nutrition
Calories:
470
kcal
|
Carbohydrates:
60
g
|
Protein:
22
g
|
Fat:
16
g
|
Saturated Fat:
8
g
|
Cholesterol:
69
mg
|
Sodium:
342
mg
|
Potassium:
598
mg
|
Fiber:
5
g
|
Sugar:
6
g
|
Vitamin A:
380
IU
|
Vitamin C:
56.8
mg
|
Calcium:
93
mg
|
Iron:
2.9
mg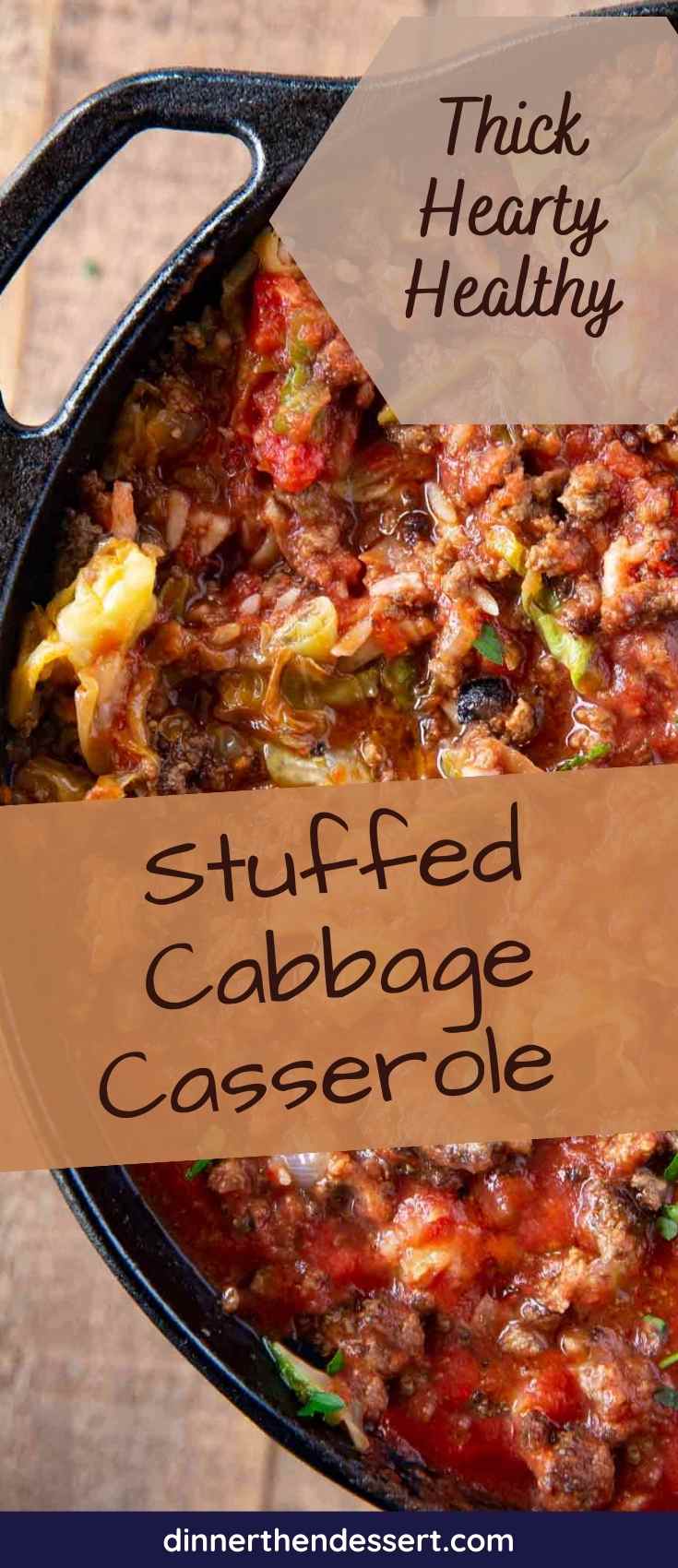 Photos used in a previous version of this post.