Peanut Butter and Jelly Pork Roast is a delicious weeknight meal with juicy pork baked in peanut butter and pineapple passionfruit preserve sauce.
This delicious pork roast is the ultimate Dinner Recipe that you can serve for anything from a weeknight meal to a special occasion. The flavors of fruit and peanut butter are completely unexpected, but pair wonderfully with the juicy and sweet pork. For more pork loin recipes try Boneless Pork Loin Roast or Garlic Pork Loin.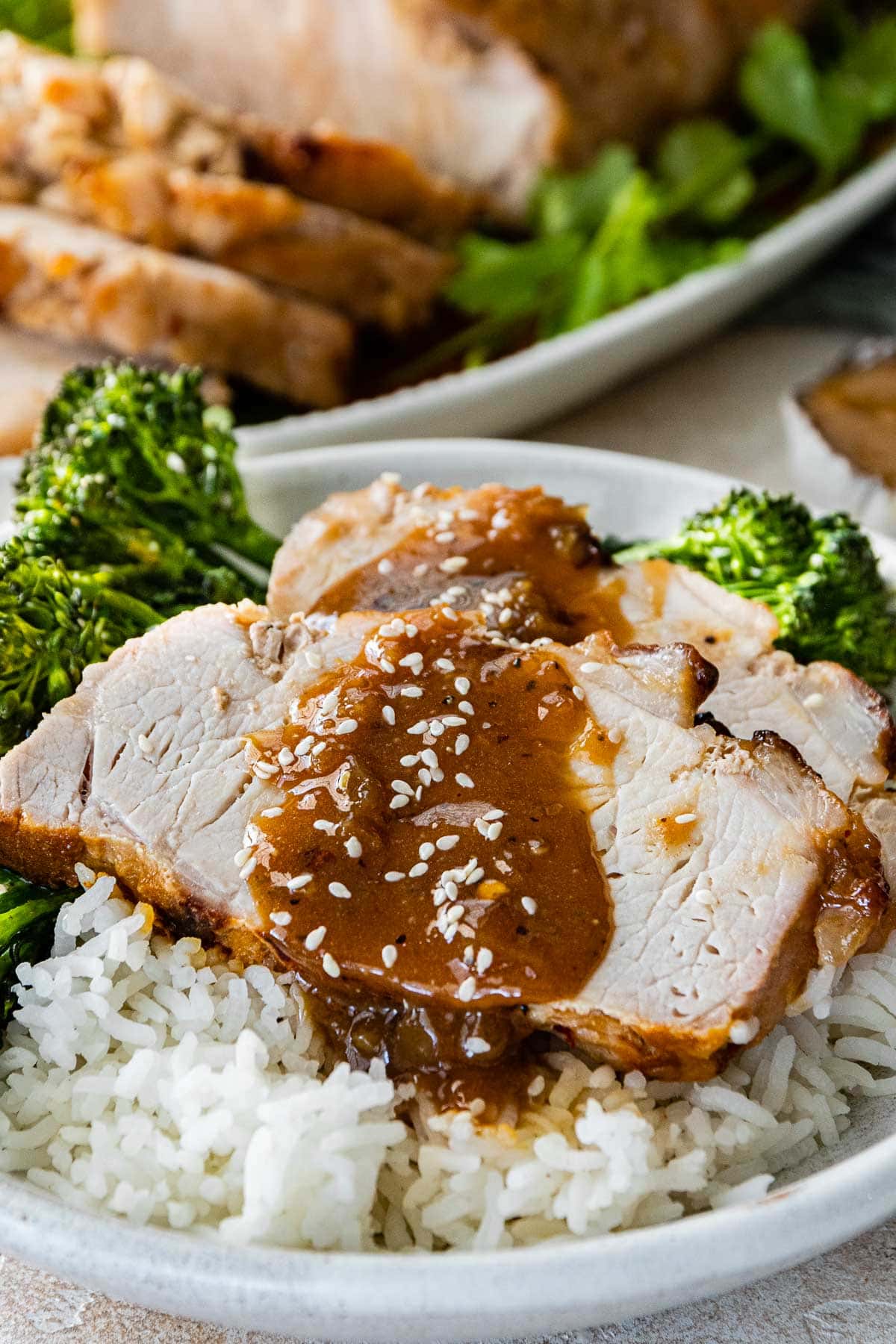 This amazingly flavored Pork Roast is inspired by the classic peanut butter and jelly sandwich, but with pineapple preserves for the jelly. The pork is given a sweet and savory glaze made with creamy peanut butter, soy sauce, and fruit preserves. The tangy, salty, and sweet sauce gives the meat an unexpected but absolutely wonderful flavor. 
This new twist on a classic pork roast is also so easy to make. The peanut butter and jelly sauce add tons of flavor and moisture to the meat so you don't have to do a lot of work. Just whisk together the sauce, pour it over the meat, and bake. You'll have a perfectly sweet and juicy pork dinner ready in just over an hour with hardly any hands-on work.
To round out the dinner table, you can serve up the pork recipe with easy and filling side dishes. The meat and sauce would taste great over something basic like Brown Rice, white rice, or even cauliflower rice. You could also put the dish out with Mashed Potatoes, Scalloped Corn, or Sweet Potatoes. Any of your favorite simple recipes for classic sides would make a great addition to this dinner.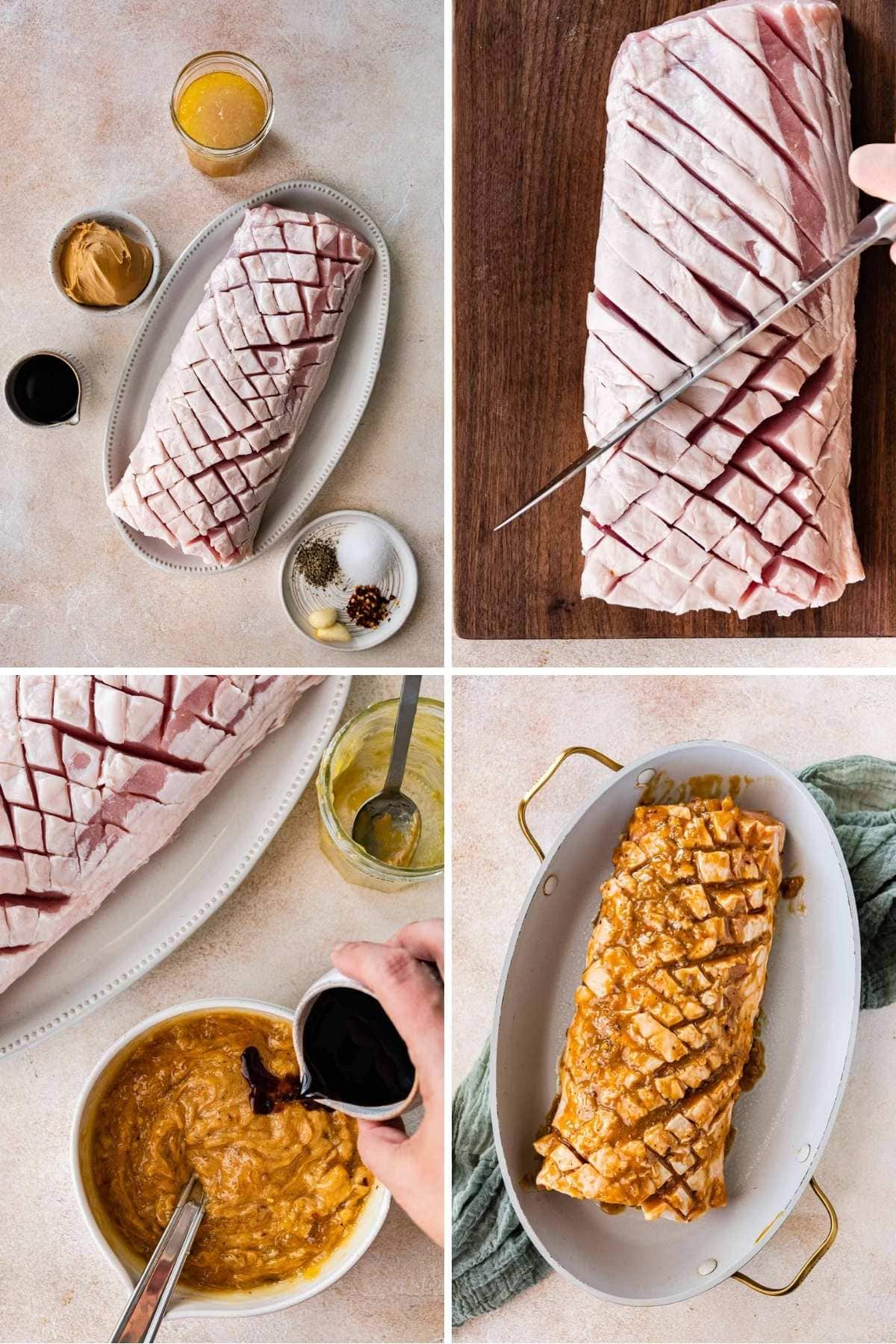 Frequently Asked Questions About Peanut Butter and Jelly Pork Roast
Why does the Pork Roast get scored in an x shape?
Cutting x-shapes, or scoring, your pork loin will help the roast become nice and tender as it cooks. The fat will render down evenly on the top of the pork loin and will create a tender, juicy finished roast.
Should I cover Peanut Butter and Jelly Pork Roast when I cook it?
You should leave your Pork Loin Roast uncovered while cooking it, with the fat side up. This will help the fat render down, and become a crunchy crust on the top of the roast for added flavor and texture.
How can I keep Pork Loin Roast from drying out while it cooks?
Follow the recipe carefully, as there are several key steps here that will prevent your Pork Roast from drying out. First, scoring the fat on top will help that turn into moisture for your Roast. Second, cooking the Pork with the fat on top allows that moisture to baste the Roast the entire time in the oven. Finally, watching the temperature and taking it out no higher than 160 degrees will make sure it doesn't get overcooked and dry.
More Pork Recipes
Key Ingredients
Pork Loin Roast: Be sure you get the right cut of Pork Roast at the store. Pork shoulder, and pork tenderloin are also popular cuts of meat, but will provide a different outcome and should be handled differently than Pork Loin Roast.
Peanut Butter and Jelly: This is a classic, famous combo for a sandwich that you might already be familiar with. However it pairs so nicely as a sauce! You might also be familiar with the deliciousness of peanut sauce. That touch of jelly just adds to the wonderful flavors. Try other jellies if you like, or even other variations that are mentioned below in this post.
Garlic: You will enjoy some savory flavor with the sweet and salty flavors of the Peanut Butter and Jelly. Garlic is an excellent choice for this. Mince your garlic up nicely so that it spreads throughout the sauce, and into each bite of your Roast.
Crushed Red Pepper Flakes: Go ahead and add an element of spice, and complexity of flavor to this sauce. Crushed red pepper is just the right ingredient for the job and the recipe only calls for a little bit so it won't be too spicy for those who don't do well with spice.
How to Make Peanut Butter and Jelly Pork Roast
Prep: Preheat the oven to 375 degrees and spray your baking dish with nonstick vegetable oil spray. Then use a sharp knife to score the top of the pork loin roast with x shapes. Place the meat on the baking dish with the scored part facing up.
Fruit and Peanut Sauce: Add the pineapple-passionfruit preserves, peanut butter, soy sauce, garlic, and red pepper flakes to a medium bowl. Whisk the ingredients together until smooth. Then pour the peanut butter and jelly coating over the meat. 
Cooking Time: Put the pork in the preheated oven to bake. After 60 minutes of cooking, use a meat thermometer in the center of the roast. If the temperature has reached 150-160 degrees, you can take it from the oven. If the temperature is still beneath that, roast the pork for another 5-15 minutes. Once the meat browns and cooks through take it from the oven and let the pork rest for 5 minutes before slicing and serving.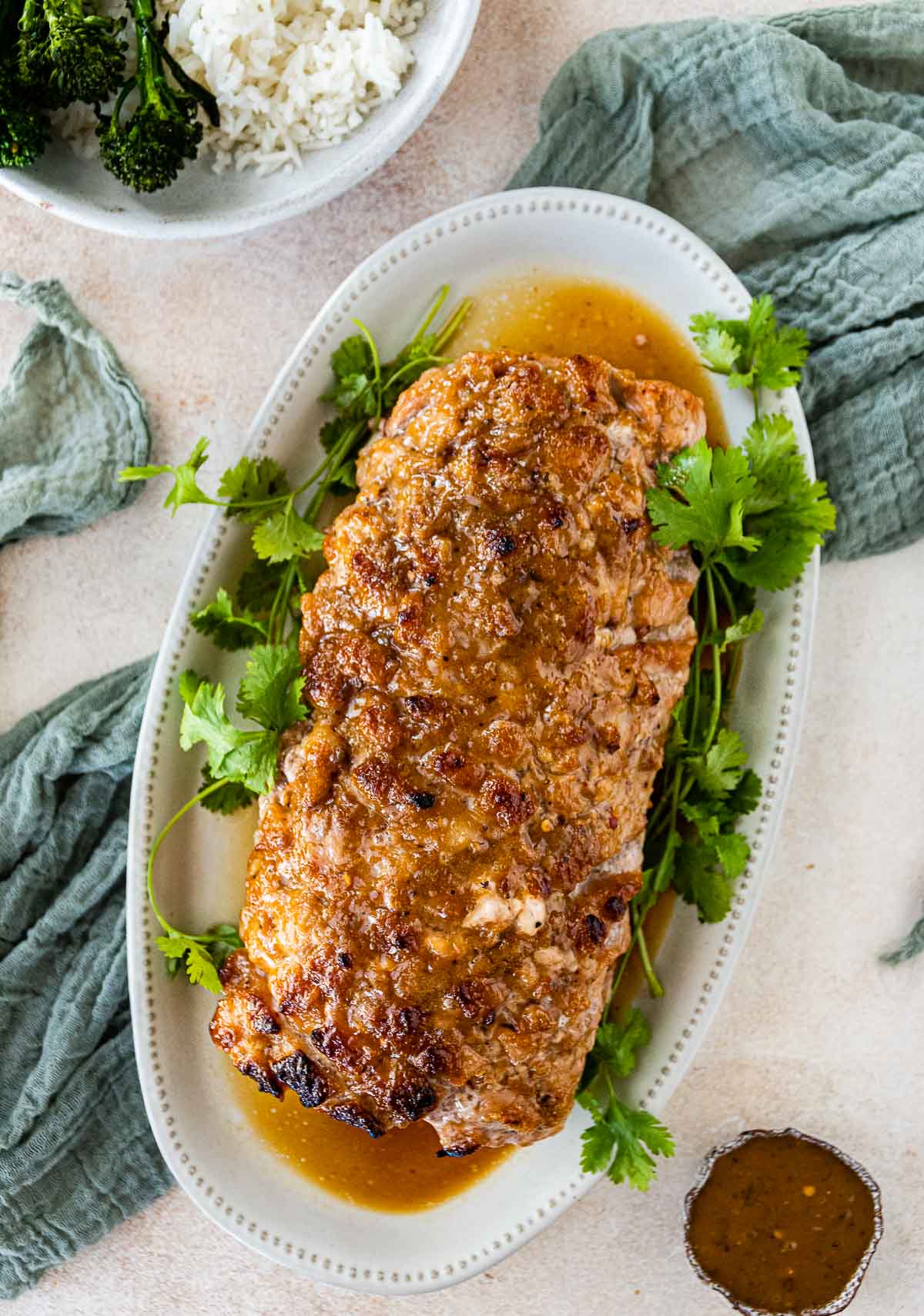 Create a free account to

Save Recipes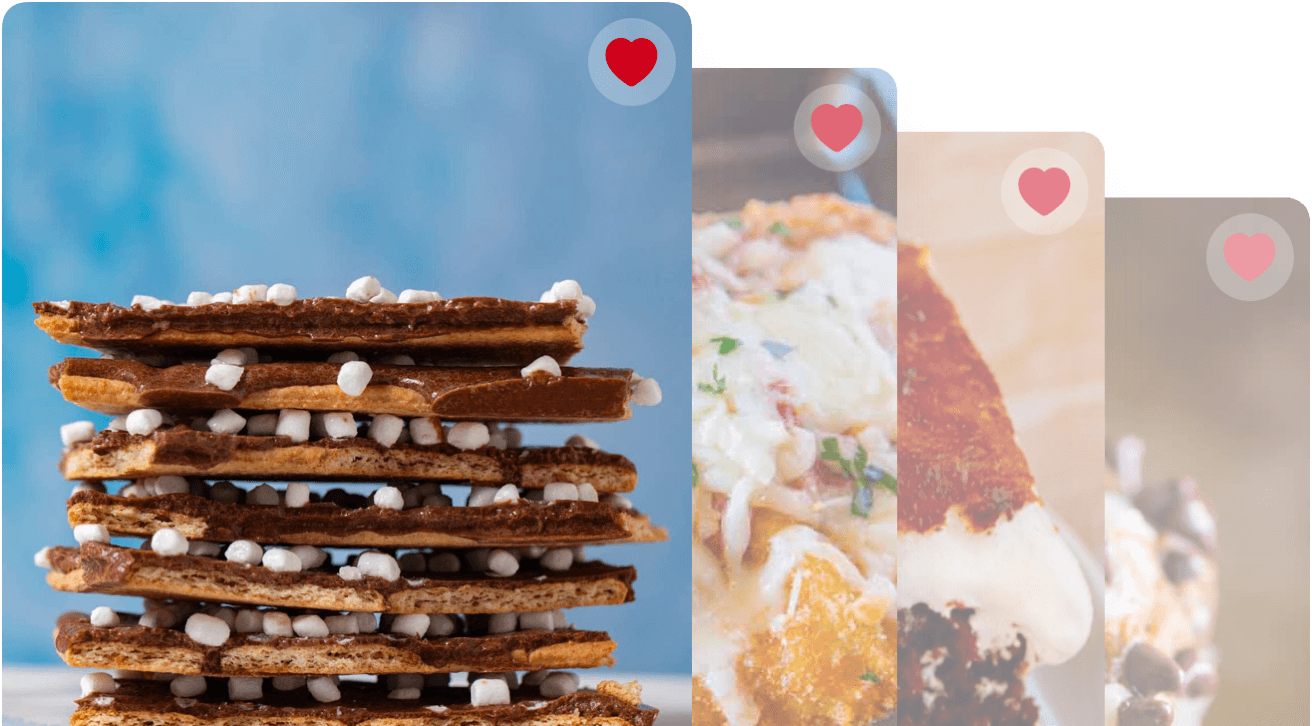 Variations on Peanut Butter and Jelly Pork Roast
Peanut-Lime Sauce: For a tangy and slightly sour sauce, you can take the jelly out of the mixture and add in 2 tablespoons of fresh lime juice. 
Orange Sauce: Another delicious sauce that you can try is using orange juice to replace the jelly. Considering the orange juice is liquid, you'll have a thinner sauce than the original jelly sauce recipe would make. However, it should still bake nicely into the pork roast. 
Jelly: You can try so many different flavors of jelly, depending on your taste. Try out strawberry, raspberry, grape, or cherry preserves instead of pineapple preserves.
Seasonings: To experiment with the flavor, try adding seasonings like onion powder, garlic powder, paprika, rosemary, red pepper flakes, or cilantro for garnish. 
Chicken: You can try the peanut butter and jelly sauce from this recipe over different kinds of meat like turkey or chicken skewers.
What to Serve with Pork Roast
How to Store Peanut Butter and Jelly Pork Roast
Serve: After baking, you don't want to leave pork at room temperature for more than 2 hours.
Store: Let the meat cool down before you put it in an airtight container to store in the fridge. The Pork Roast will stay good for 3-4 days.
Freeze: You can also freeze them for up to 6 months. Make sure it's tightly sealed, and thaw it out in the fridge before reheating.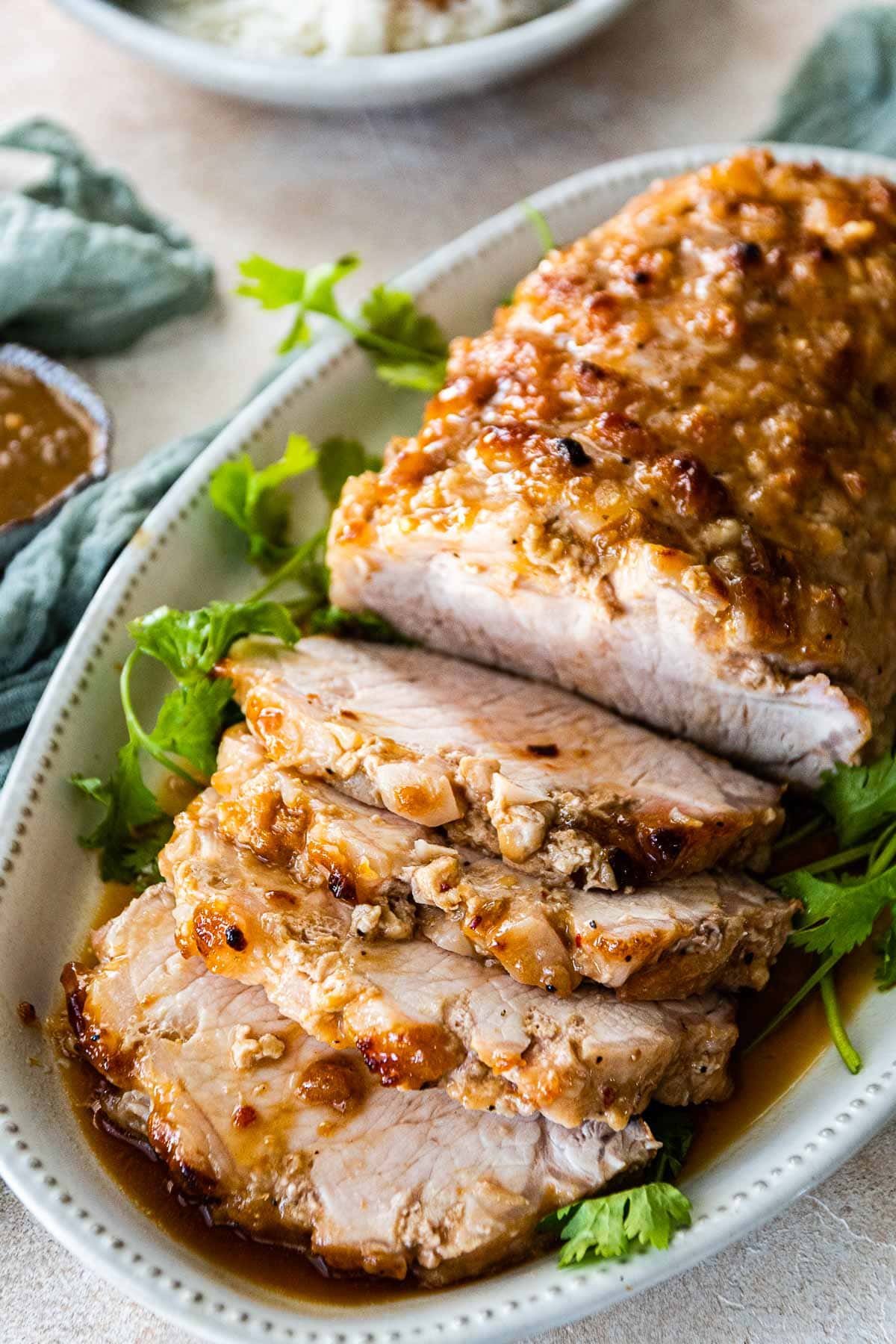 Ingredients
3

pounds

pork loin

1

teaspoon

kosher salt

1/2

teaspoon

coarse ground black pepper

1

cup

pineapple passionfruit preserves

1/4

cup

peanut butter

2

tablespoons

low-sodium soy sauce

2

cloves

garlic

, minced

1/2

teaspoon

crushed red pepper flakes

sesame seeds for garnish

, optional
Instructions
Preheat oven to 375 degrees and spray a baking dish with vegetable oil spray.

Score the top of the pork loin in x's.

Place pork in a baking dish.

In a small bowl whisk together pineapple-passionfruit preserves, peanut butter, soy sauce, garlic, and red pepper flakes.

Evenly spread sauce over pork loin.

Cook the pork for

60-75 minutes

or until it has reached a temperature of 150-160 degrees.

Remove from the oven and let rest for five minutes before serving.

Top with sesame seeds for garnish, if desired.
Nutrition
Calories:
356
kcal
|
Carbohydrates:
32
g
|
Protein:
38
g
|
Fat:
8
g
|
Saturated Fat:
2
g
|
Polyunsaturated Fat:
2
g
|
Monounsaturated Fat:
3
g
|
Trans Fat:
0.04
g
|
Cholesterol:
111
mg
|
Sodium:
575
mg
|
Potassium:
778
mg
|
Fiber:
1
g
|
Sugar:
21
g
|
Vitamin A:
38
IU
|
Vitamin C:
4
mg
|
Calcium:
25
mg
|
Iron:
2
mg