Boneless Pork Loin Roast is an easy dinner of flavorful herb crusted pork loin seasoned with garlic, rosemary, thyme and butter. Made in about an hour!
If you have tried my Ultimate Garlic Pork Loin Roast, you know that delicious recipes can come together quickly with just a few common ingredients. Most of our Pork Recipes are easily made with herbs and spices you probably have on hand.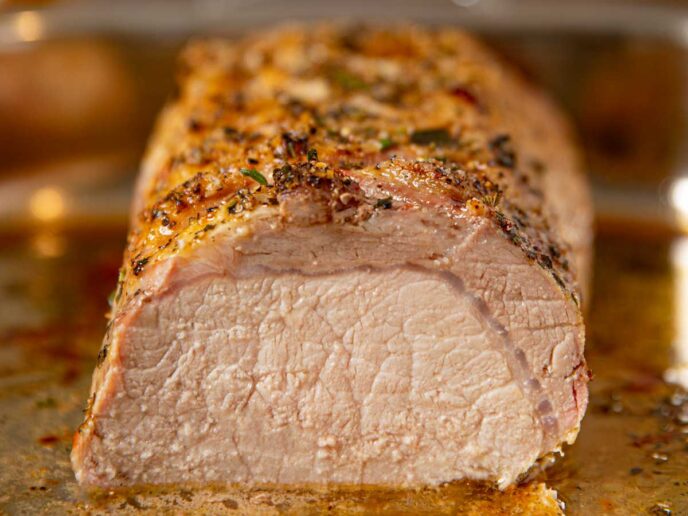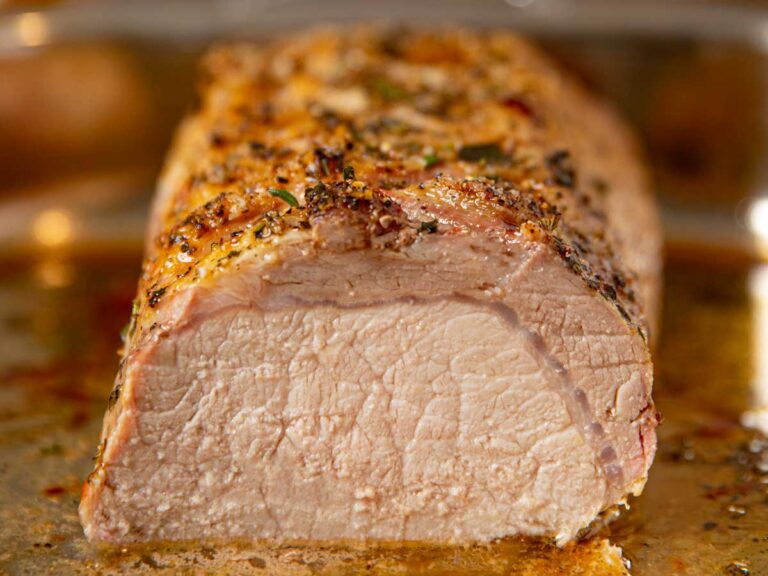 Herb Butter Boneless Pork Loin Roast
When I'm looking for a simple, yet elegant dinner recipe, pork loin is hands down one of my favorite things to prepare. It takes on flavor easily and no marinades are required to get a tender, juicy slice of meat.
Traditional New Years Day Recipe: Pork!
With New Years coming up this pork loin is the perfect recipe for a traditional New Years Day.
Eating pork on New Years Day is considered good luck by many because the pig symbolize moving forward as a they push forward with their snouts while foraging. In the south people celebrate New Years Day eating Black Eyed Peas, Collard Greens and Cornbread to symbolize "peas for pennies, greens for dollars and cornbread for gold."
It's a quick Roast:
You will be blown away how flavorful this herb crusted pork loin gets in such a small amount of time. The total time of making it is just over an hour, and even quicker if you use a smaller cut of meat.
Now, when I say smaller cut I mean smaller pork loin roast, not a tenderloin. You should never substitute pork tenderloin in pork loin recipes, since they have different cooking times. Plus roasted pork tenderloins usually require a marinade to keep them from drying out.
That's why I love making this Boneless Pork Loin Roast on a busy weeknight, it comes together in minutes with fresh herbs and a good amount of butter. The natural fat from this cut of pork adds so much juicy, melt in your mouth flavor in every bite.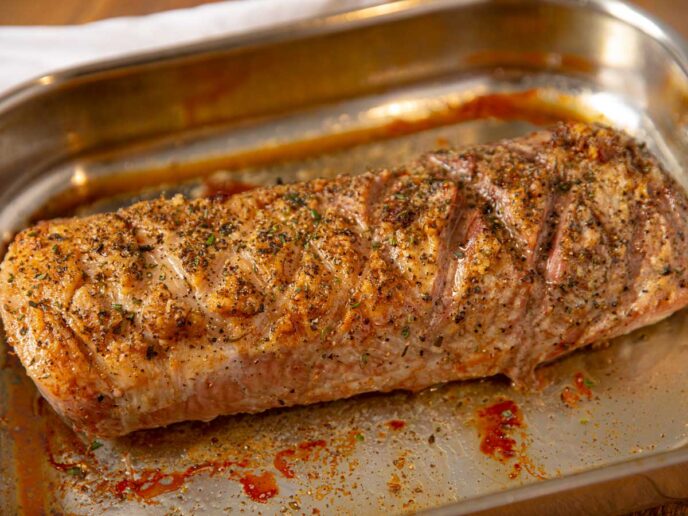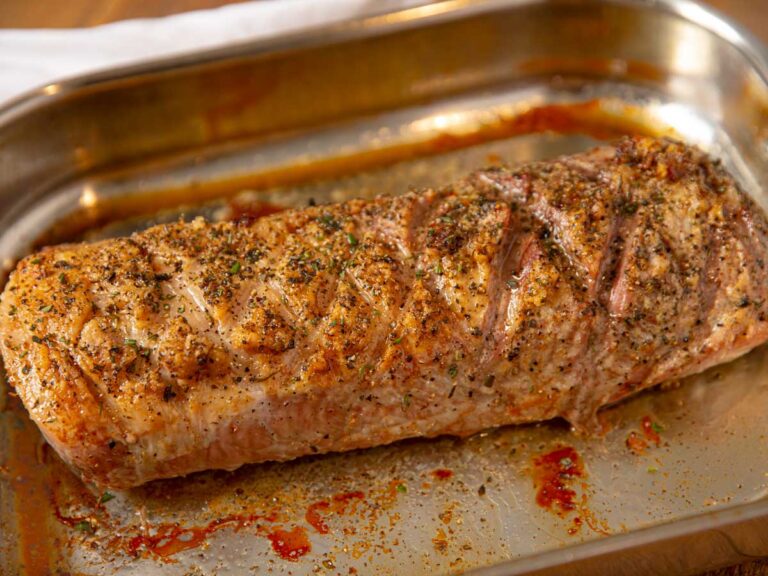 This is also a great recipe for dinner parties during the holidays or when we have guests over. This pork loin looks so gorgeous with it's golden brown, caramelized fat cap covered with fresh herbs. The simple, rustic flavors go perfectly with sides like Mashed Potatoes and Green Beans.
If you need a fast weeknight dinner, prepare a pan of Roast Root Vegetables to cook at the same time as your Boneless Pork Loin. You can serve this juicy pork roast the old-fashioned way with some apple sauce, or take the pan juices to make a delicious herbed pork gravy.
For more easy to make delicious main dishes, check out our other Dinner Recipes.
To make Pork Gravy:
Use 1 ½ cups of pan drippings, 2 tablespoons butter, and 2 tablespoons cornstarch or flour. Melt the butter in a pan and whisk in the cornstarch to make a roux, brown for about a minute. Slowly add the pan drippings, whisking to a smooth consistency. Cook for about 3-4 minutes. Season with salt and black pepper as needed.
MORE TASTY PORK RECIPES
HOW TO MAKE BONELESS PORK LOIN ROAST
Score the top of the pork in large x shapes (This will give the herb butter a nice place to stay put).
Make a compound butter with herbs, spices, garlic or citrus.
Smear on the butter mixture.
Roast for 20 minutes per pound.
Let sit for a few minutes before carving.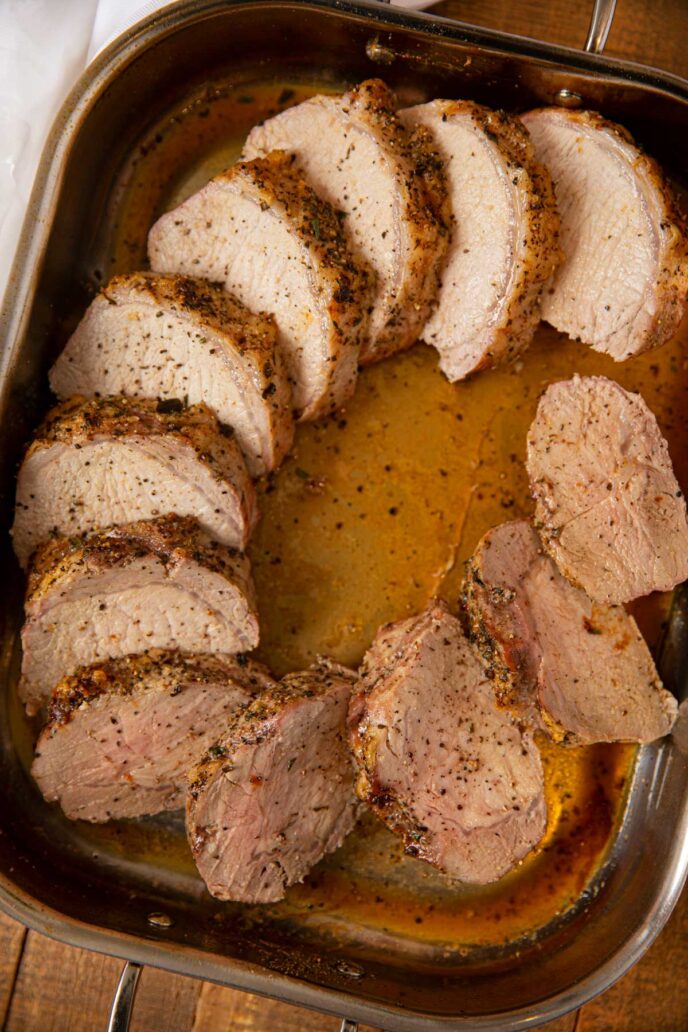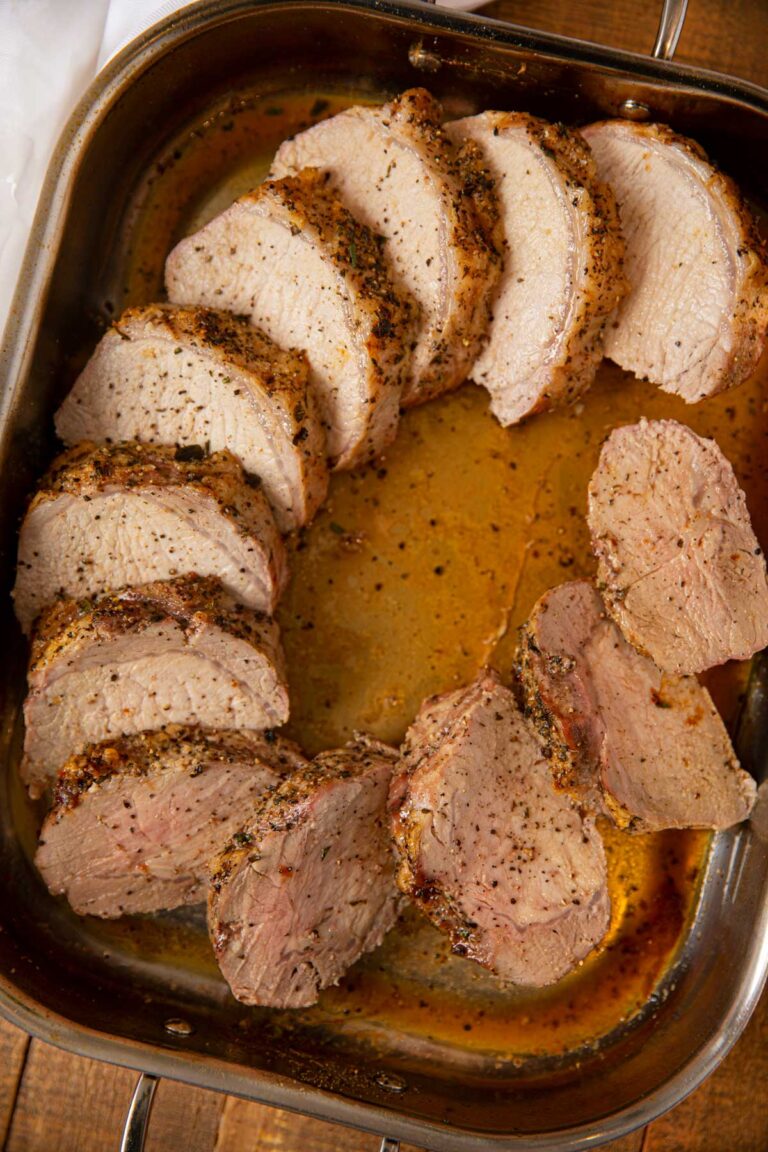 Create a free account to

Save Recipes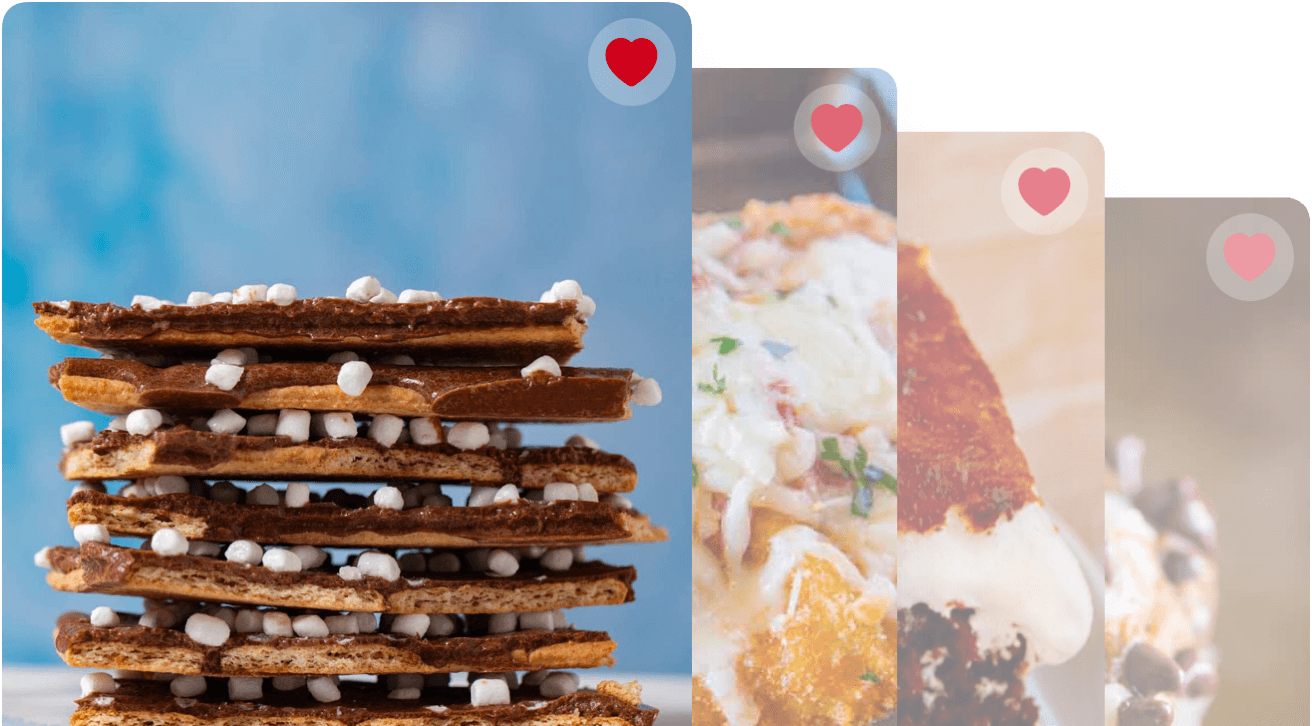 VARIATIONS ON BONELESS PORK LOIN ROAST
Ranch: Try using a packet of dry ranch dressing or 2 tablespoons of my Homemade Ranch Mix instead of the herbs in this recipe.
Olive Oil: Instead of butter, try using a cold pressed extra virgin Olive Oil. Be sure to use a robust Greek or Italian version for the most flavor to come through.
Slow Cooker: Prepare your pork loin as usual and cook in the slow cooker on low for 4-5 hours. If your pork roast doesn't have a fat cap, wrap in bacon.
Brown Sugar: It's no secret that roast pork and brown sugar taste absolutely amazing. Rub a little brown sugar into your pork loin before adding the butter and herbs.
Fresh Herbs vs. Dried Herbs
In this recipe I used fresh herbs, but you can always substitute dried herbs if that is what you have on hand. Dried herbs are more potent in their flavor so you want to use a 1 to 3 ratio when it comes to swapping. For example, in this recipe, use 1 teaspoon dried rosemary instead of 1 tablespoon of fresh rosemary.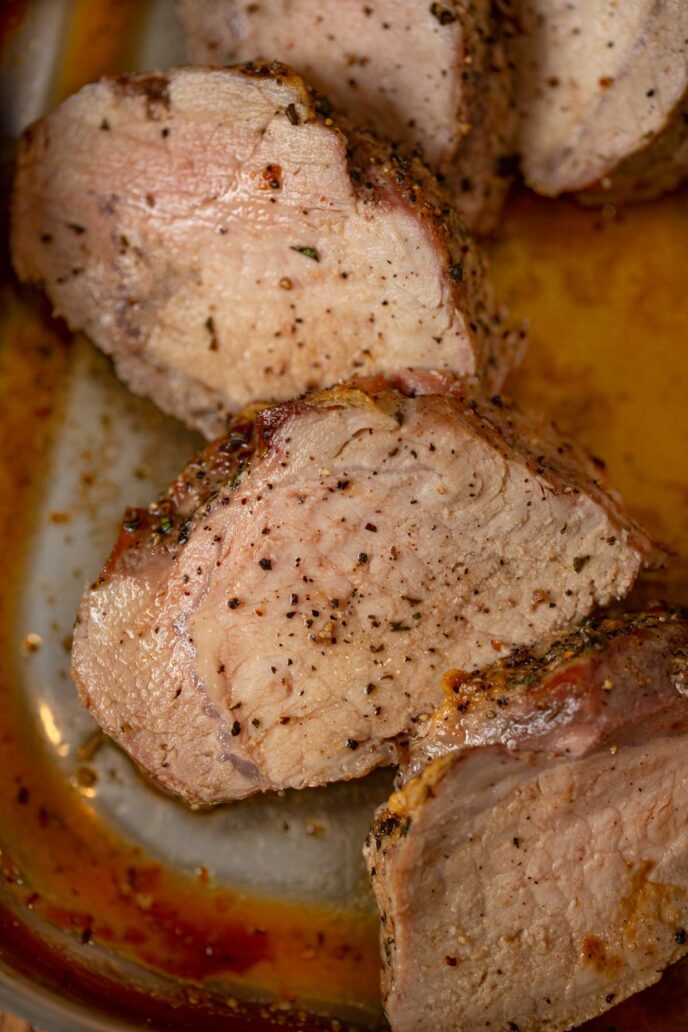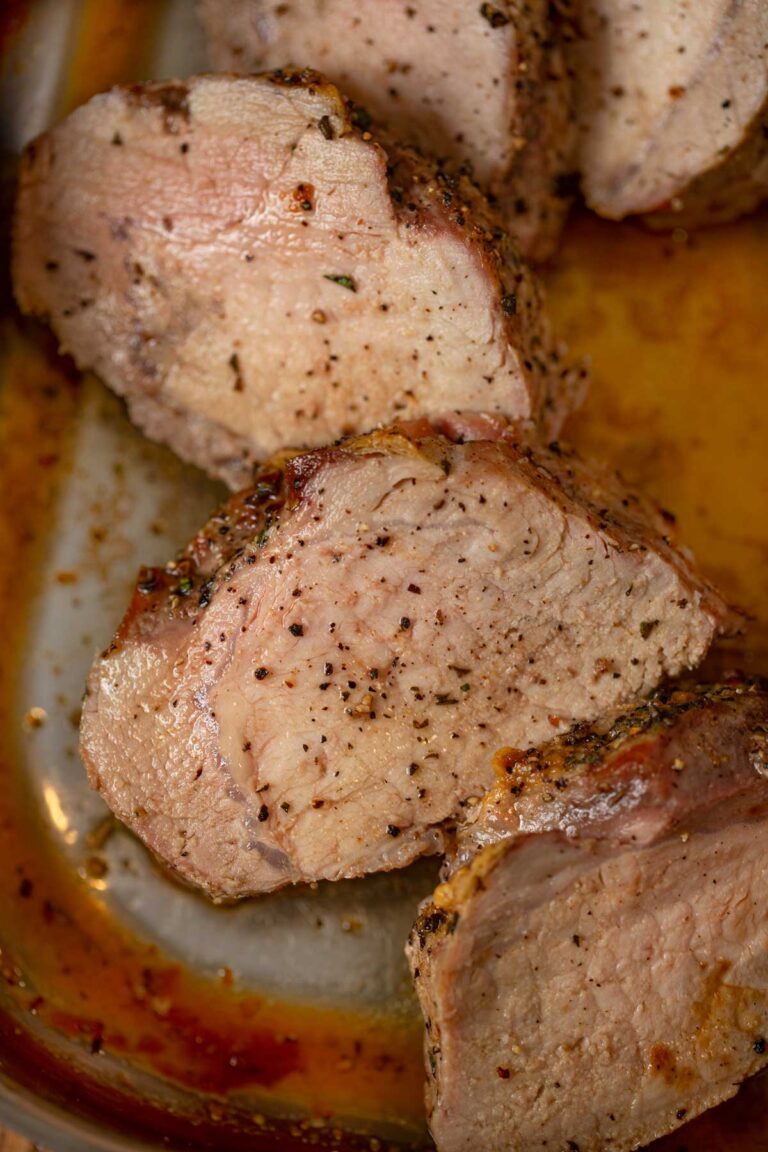 FAQs FOR BONELESS PORK LOIN ROAST
How long do you cook pork loin roast per pound? According to the USDA, cook pork loin roast for 20 minutes per pound. It should reach an internal temperature of 145 degrees and be allowed to rest at least 3 minutes. Always use a meat thermometer to get the internal temperature.
Is it okay that my pork is pink in the middle? Gone are the days of dry pork roasts. The USDA changed their safe cooking temps and it is okay to cook your pork medium rare (145 degrees) which is slightly pink in the middle. Medium-rare to to well-done internal temperature range is 145-160 degrees.
What is the difference between pork loin and pork tenderloin? A pork loin is a fattier, larger cut of pork that will stay juicer thanks to the thin fat layer covering it. While tenderloin is going to be leaner and more tender, it is smaller and can overcook easily.
Do you cook a pork loin roast fat side up or down? Roast pork with the fat cap side up. As it cooks, the fat will drip down the pork loin giving it extra flavor and juiciness.
EASY SIDE DISH RECIPES:
HOW TO STORE BONELESS PORK LOIN ROAST
Serve: Boneless Pork Loin Roast is safe at room temperature for up to 2 hours.
Store: Allow the roast to cool completely before storing in an airtight container for up to 3 days in the fridge.
Freeze: This roast can be kept in the freezer for up to 3 months, in a sealed container. Thaw in the refrigerator overnight before reheating.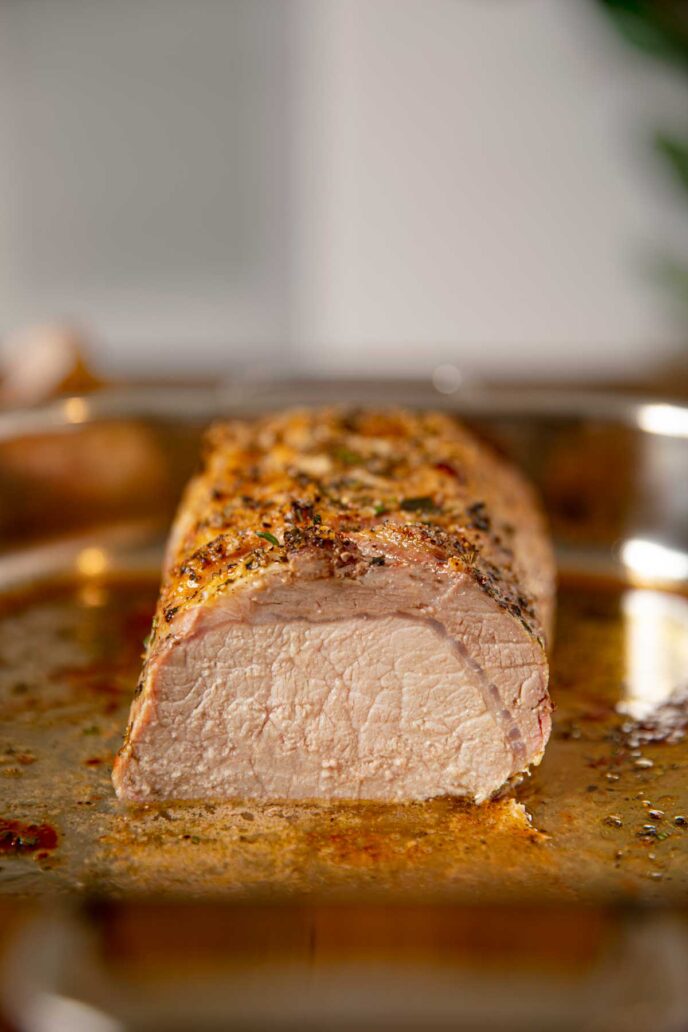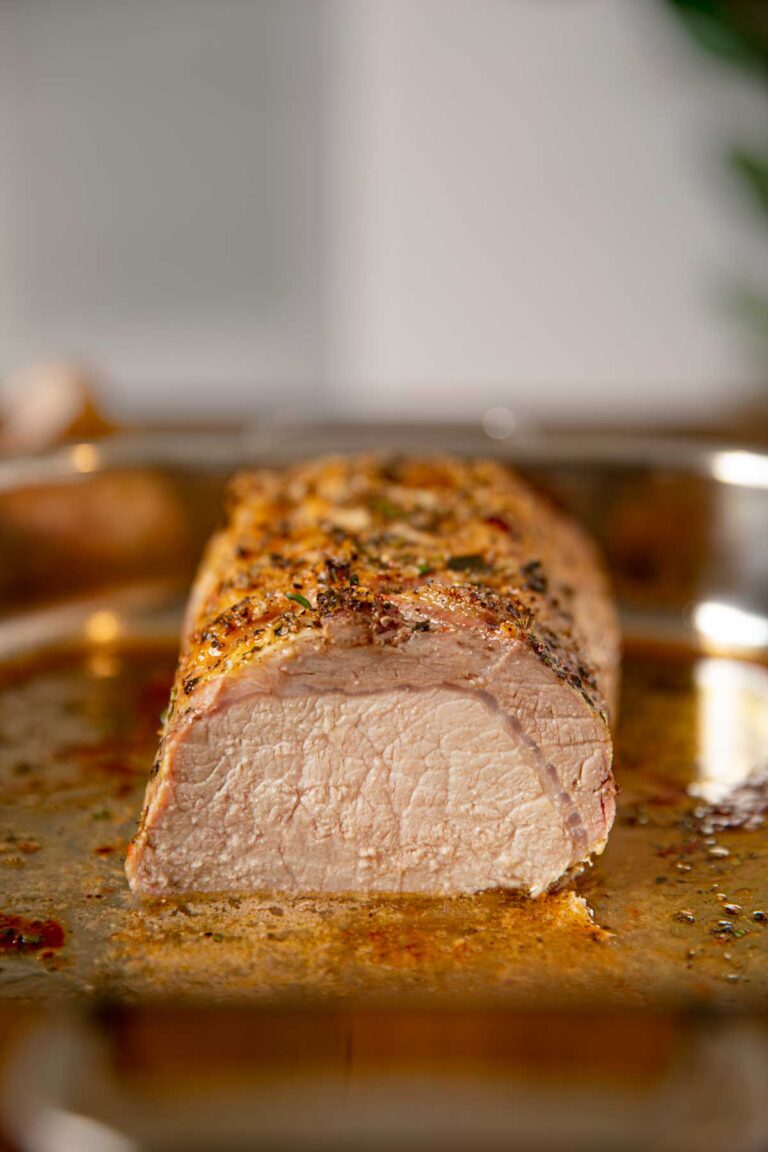 Ingredients
3

pounds

boneless pork loin

4

tablespoons

unsalted butter

1

teaspoon

Kosher salt

1/2

teaspoon

coarse ground black pepper

1

tablespoon

fresh rosemary

, chopped

1

tablespoon

fresh thyme

, chopped

1

tablespoon

fresh parsley

, chopped

2

cloves

garlic

, minced
Instructions
Preheat oven to 375 degrees.

Place the pork loin in a baking dish.

Mix the butter with the Kosher salt, black pepper, rosemary, thyme, parsley, and garlic in a small bowl.

Smear the butter-herb mixture over the top of the pork loin.

Roast uncovered in the oven for

60 minutes

, until it has reached an internal temperature of 145-160 degrees.

Remove from the oven and allow to rest

3 minutes

before serving.
Nutrition
Calories:
247
kcal
|
Carbohydrates:
1
g
|
Protein:
34
g
|
Fat:
11
g
|
Saturated Fat:
5
g
|
Cholesterol:
109
mg
|
Sodium:
334
mg
|
Potassium:
570
mg
|
Fiber:
1
g
|
Sugar:
1
g
|
Vitamin A:
236
IU
|
Vitamin C:
2
mg
|
Calcium:
13
mg
|
Iron:
1
mg