Collard Greens are a traditional Southern side dish cooked low and slow until tender with garlic, onions and bacon, perfect for the holidays!
We love classic Side Dishes for southern favorites like Shrimp and Grits, Easy Pulled Pork and my personal favorite Shrimp Etouffee. Toss in an appetizer like Southern Fried Okra and it's a party!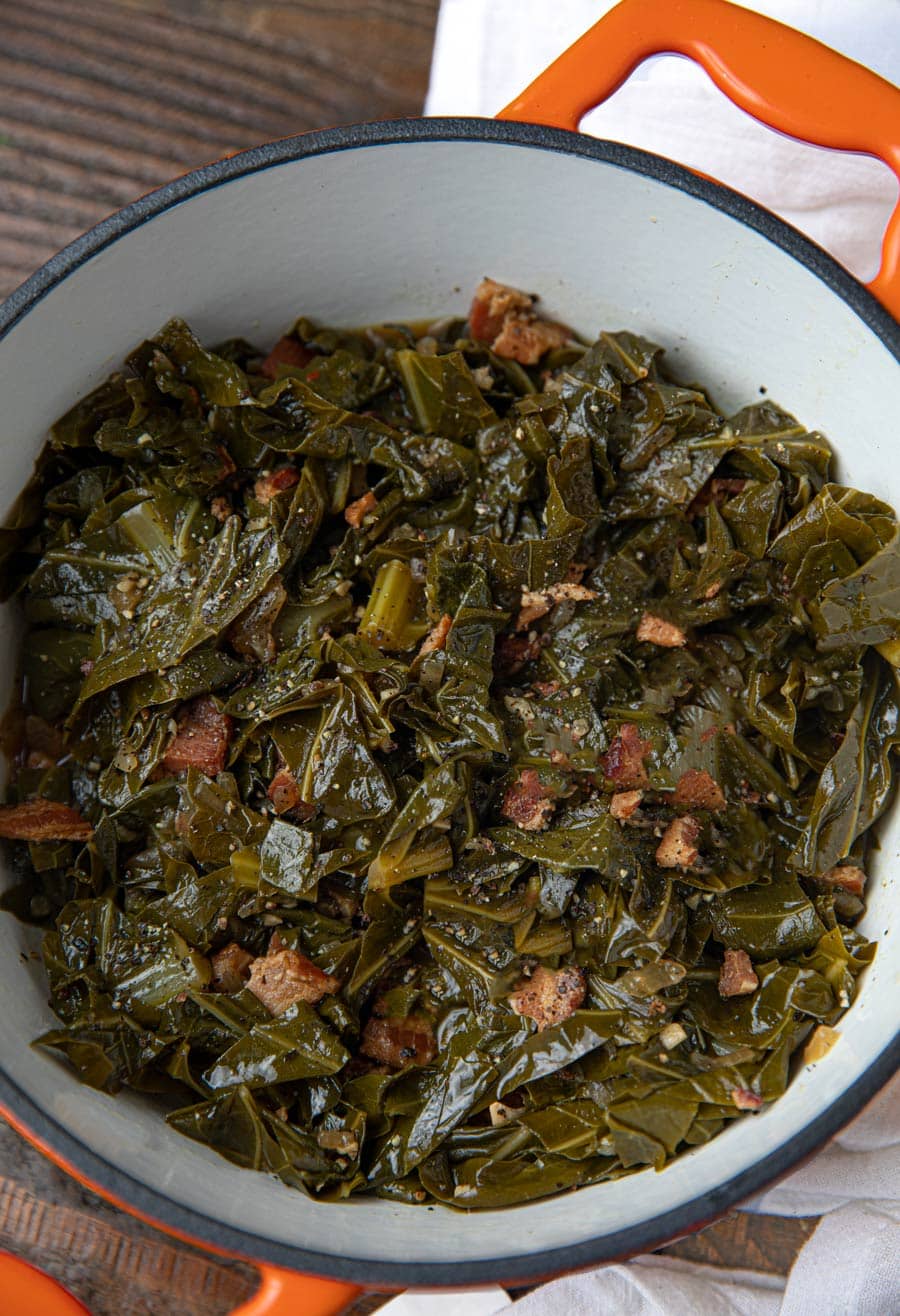 Collard Greens can feel like an intimidating dish to a home cook since they're such a tough and fibrous green when you buy them at your grocery store. This doesn't mean you are in for a difficult cooking process. The hardest part about the recipe is waiting for the delicious end result.
These Fresh Collard Greens are flavored with onions and garlic that are sautéed in bacon fat. Then they simmer low and slow in seasoned chicken broth with a touch of brown sugar. When you're making this recipe, one of the most important things to remember is to time your dishes properly. Short of making a Cajun Roasted Turkey or BBQ Pulled Chicken this recipe is going to take longer than the rest of your meal.
Cooked Collard Greens have a variety of health benefits. They are a great source of Vitamin K, Vitamin A, and Vitamin C. They also are an excellent source of calcium, potassium, folate, and antioxidants. Because this cruciferous vegetable can be tough to chew and digest, it's commonly served cooked. However, nobody ever said you can't eat Collard Greens raw, so if you want a wide variety of greens in your salad next time, go for it! I recommend cutting the collard greens thinly to make them easier to chew through.
Of course, if you really want to make a statement at your next family dinner, cook Collard Greens with Mashed Potatoes and a whole Roast Turkey! Anything is possible with this leafy green vegetable, so let's begin by going over some of the basics.
How to Make Collard Greens
Cook the bacon on medium heat until it begins to crisp up. Once it does, remove it from the skillet and chop into bite-sized pieces.
Add olive oil and onion, frying it for 5-7 minutes, stirring frequently, until softened. Afterwards add the garlic and cook an additional 30 seconds before adding in the collard greens.
After you stir the greens together with the onions and garlic, add in the chicken broth, brown sugar, salt, pepper and red pepper flakes. Stir well, reduce heat to low and simmer for 90 minutes until the collard greens are tender.
More Southern Recipes to Enjoy
Frequently Asked Questions
Is eating Collard Greens good luck on New Year's Day?
Any denizen of the South would tell you that if you're simply steaming these leafy greens plain, then you're doing it wrong. This recipe is actually part of a New Year's Day tradition (enjoy it with a traditional Ultimate Garlic Pork Loin Roast!) where eating collard greens with blacked eyed peas for the first time in the new year is supposed to give you good luck for the 364 days ahead. All you really need to do to make Collard Greens more than just a glorified bowl of steamed spinach is to add onion, bacon, and a little bit of brown sugar to tie everything together. You can alter some of the flavor notes to this dish by using apple cider vinegar, or you could throw in some black-eyed peas to complete the dish with a legume-based protein!
Are Collard Greens Poisonous?
They are not. People are justified in asking this question, seeing as how some of the lesser common leafy greens are known to have poisonous qualities. That said, no single study has conclusively proven that Collard Greens are dangerous to consume, either cooked or raw.
How can I obtain the most health benefits from Collard Greens?
Sometimes, it's best to eat vegetables raw instead of cooked. In this case, the opposite is true. Cooking Collard Greens to the point where they wilt makes them much easier to digest. Better digestion leads to better absorption of essential vitamins and minerals, so even if you sacrifice a small amount of nutrients cooking everything down, your body makes better use of what's still there!
How can I tell the difference between Collard Greens and other varieties?
Collard Greens are quite similar to other fibrous greens, like spinach, Swiss chard, and kale. Kale tends to have greater amount of nutrients within it per serving, but collard greens may be a better option if you have health restrictions on how much you can absorb – vitamin K being a perfect example. Spinach tells the same story, in that it has more nutrient content per serving, but spinach has less fiber. It shouldn't surprise you that Swiss chard is also similar to both kale and spinach, but Swiss chard has considerably more sodium in it per serving, so collard greens will be your best bet if you're looking to cut back on your salt intake. Whatever you decide to do is entirely up to you. This recipe we have for you below keeps things simple – that way you have the power to use it as a side if you have a much bigger meal in mind.

Create a free account to

Save Recipes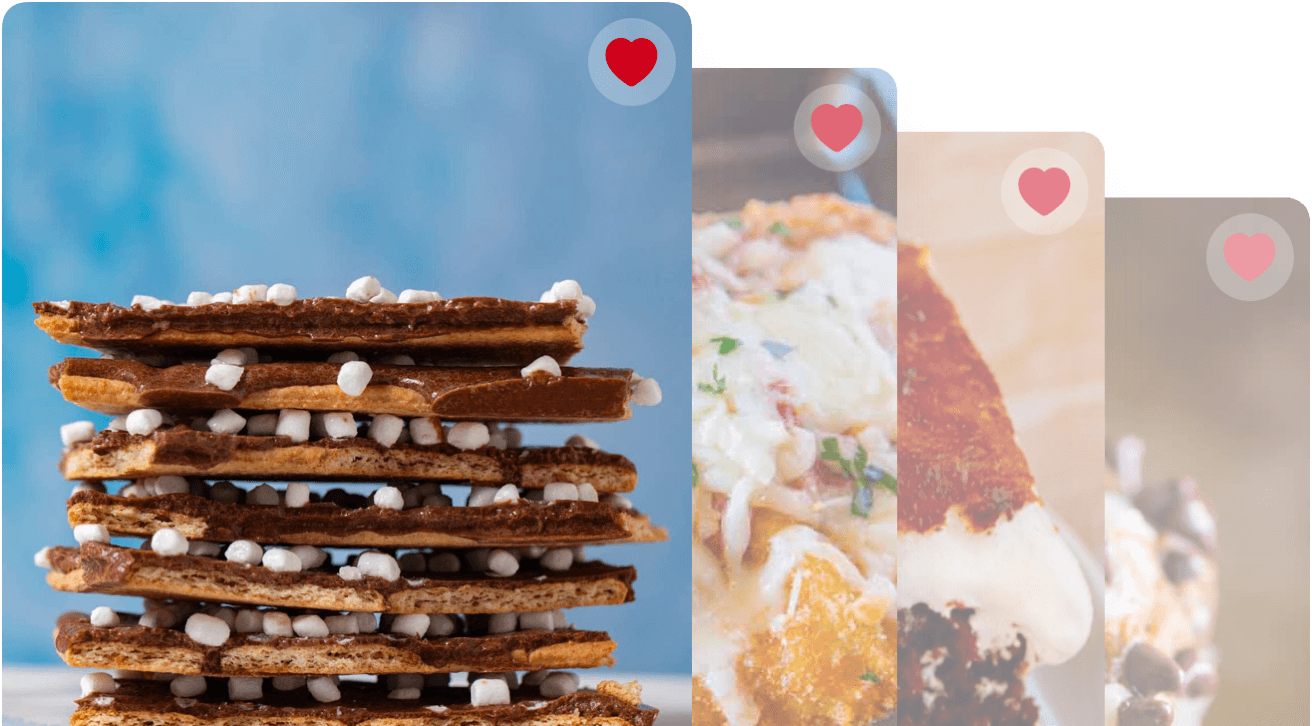 Key Ingredients in Collard Greens
Greens: You can find bunches of Collard Greens near the kale and chard in the produce section. Look for fresh greens that have firm, dark green leaves and light stems. They should not look wilted or bend easily, and avoid fresh greens that look yellow or brown, or have spots.
Pork: You can use any kind of bacon for this Southern Collard Greens recipe. We recommend a thicker cut bacon for a nice chewy texture. Use applewood smoked or your favorite variety. If you substitute the bacon for diced ham or turkey bacon, sauté it in a few tablespoons of oil, and use the same oil for cooking the onions and garlic.
Broth: Use your favorite brand of boxed chicken broth or keep good quality bullion in the pantry to make it quick and easy to have as much flavorful broth on hand as you need for any recipe.
Seasonings: Onions and garlic give a delicious aromatic taste and depth of flavor to the cooked greens. The flavor from the broth and bacon will also infuse the greens with lots of flavor. Add salt and pepper slowly and taste as you go to make sure you don't use more than needed. The bacon will already lend some salt to the dish.
Slow Cooker Collard Greens
The low and slow cooking method is perfect to make tender, delicious Southern-style Collard Greens. Let them simmer away in the crock pot while you prepare the rest of your holiday meal. If you have a leftover ham hock, swap it out for the bacon for even more flavor.
Add the bacon to a heavy skillet on medium heat and cook it until crisp and the fat has rendered before removing it from your pan and chopping.
Remove half the bacon fat, add in the vegetable oil, onions, and garlic on low heat, cooking for 5-7 minutes, stirring frequently, until softened.
Add the raw collard greens to your slow cooker, along with the sautéed garlic and onions, stirring them well to coat them in the oil and onion mixture.
Add the chicken broth, brown sugar, salt and pepper to the crock pot, stir well and cover.
Cook on high for 2.5 hours, or on low for 5.5 hours until the collard greens are tender to chew when tasted. Add 1-2 cups chicken broth during cooking time if needed to stay moist.
Add the bacon into the slow cooker and continue cooking an additional 30 minutes.
More Easy Sides
Variations on Collard Greens
Cheese: Sprinkle grated Parmesan, cheddar, or Gruyere cheese on your Collard Greens before serving to add a delicious cheesy flavor to your greens.
Casserole: After braising until tender, transfer your Collard Greens and bacon to a casserole dish and top with a mixture of 1 cup breadcrumbs and 3 tablespoons melted butter. Bake at 400 degrees for 8-10 minutes until golden brown.
Cajun: Add a dash of cajun seasoning to kick the flavor up a notch. Purchase your favorite cajun spice blend or make your own using 1 teaspoon kosher salt, 1 teaspoon garlic powder, 1 teaspoon paprika, ½ teaspoon ground black pepper, 1 teaspoon onion powder, ½ teaspoon cayenne pepper, ½ teaspoons dried oregano, and ½ teaspoons dried thyme.
How to Store Collard Greens
Serve: Do not leave your Collard Greens with bacon at room temperature longer than 2 hours.
Store: Cooked Collard Greens will last in the refrigerator for up to 3 days.
Freeze: Once completely cooled, seal Collard Greens in an airtight container or plastic bag and freeze up to 6 months. Thaw in the refrigerator before reheating on the stovetop.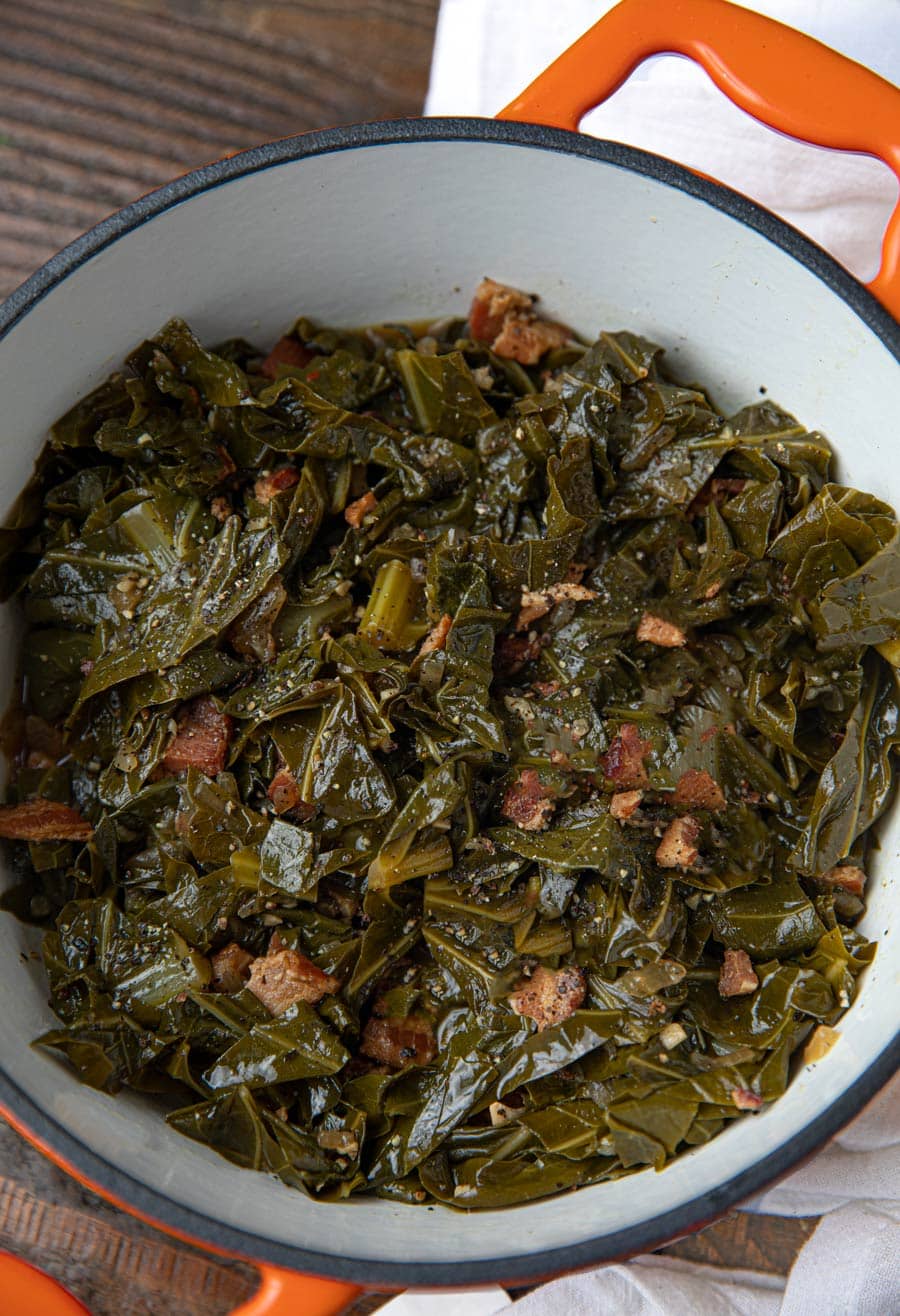 Ingredients
8

slices

bacon

2

tablespoons

vegetable oil

1

yellow onion

, chopped

2

garlic cloves

, minced

1

pound

collard greens

, cut into 2 inch chunks

4

cups

chicken broth

2

tablespoons

brown sugar

1

teaspoon

kosher salt

1

teaspoon

coarse ground black pepper
Instructions
Add the bacon to your dutch oven on medium heat and cook it until crisp and the fat has rendered before removing it from your pan and chopping.

Remove half the bacon fat, add in the vegetable oil, onions, and garlic on low heat, cooking for

5-7 minutes

, stirring frequently, until softened.

Add the collard greens to the pan, stirring them well to coat them in the oil and onion mixture.

Add the chicken broth, brown sugar, salt and pepper to the dutch oven, stir well and cover.

Reduce heat to a simmer and cook for

90 minutes

until the collard greens are tender to chew when tasted

Add the bacon back into the dutch oven and stir through.
Nutrition
Calories:
146
kcal
|
Carbohydrates:
5
g
|
Protein:
4
g
|
Fat:
13
g
|
Saturated Fat:
6
g
|
Cholesterol:
15
mg
|
Sodium:
868
mg
|
Potassium:
158
mg
|
Fiber:
1
g
|
Sugar:
4
g
|
Vitamin A:
8
IU
|
Vitamin C:
9
mg
|
Calcium:
14
mg
|
Iron:
1
mg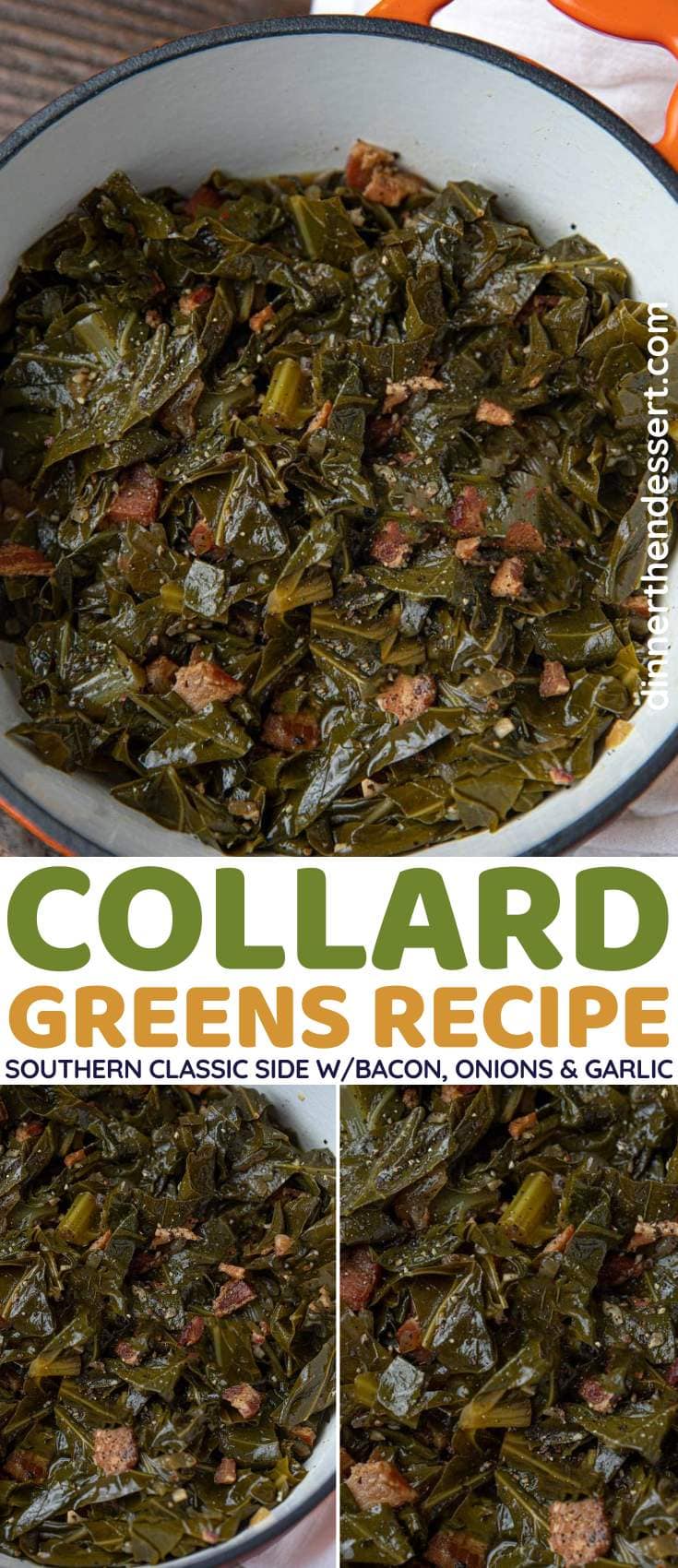 Photo used in a previous version of this post.