Southern Fried Apples are the perfect Southern comfort food, easy dessert or dessert topping, and with just a few ingredients you can make them in 15 minutes.
We love serving these easy fried apples on top of Buttermilk Biscuits topped with Vanilla Ice Cream, Easy Whipped Cream and even an easy Salted Caramel Sauce.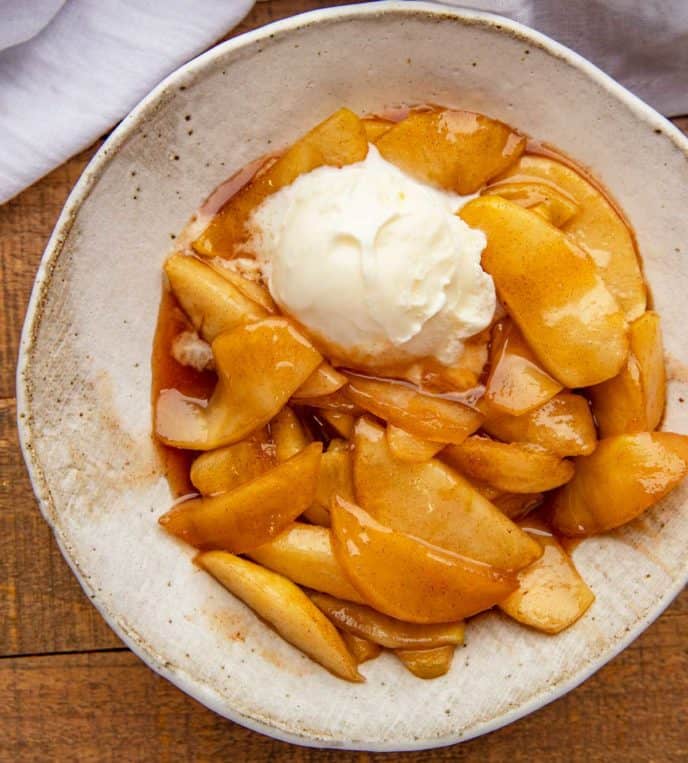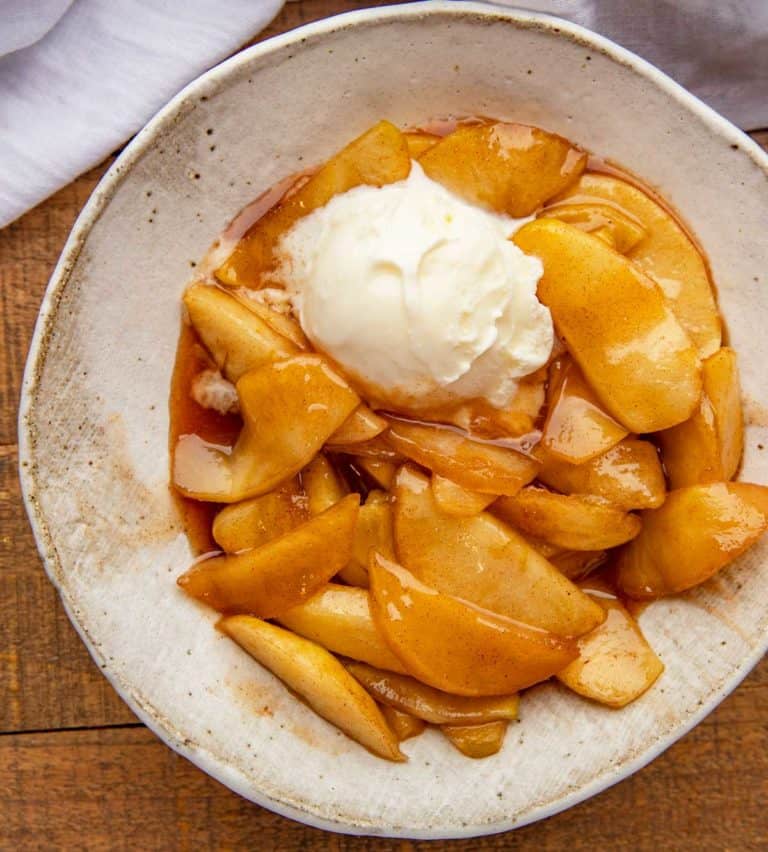 SOUTHERN FRIED APPLES
Southern Fried Apples are a southern favorite that's ready in fifteen minutes, a classic comfort food that's delicious on its own or as part of a pie. Made famous by everyone from Cracker Barrel to Paula Deen, this fried apples recipe is an American favorite that can be enjoyed on its own or used as a filling for apple pie.
These apples are one of those easy recipes that will quickly become a tradition. For some apple pie inspiration, also check out our Apple Slab Pie and our Legendary Apple Crisp Pie.
WHY FRIED APPLES?
Fried apples are a blend of sweet and savory, which makes them perfect as a filling for desserts. As far as apple recipes go, fried apples are very straightforward and good for beginners.
I suggest using white sugar, but you can also use a blend of white and brown sugar, or even white sugar and honey, but keep in mind that honey burns very easily at a relatively low heat.
WHAT PAN SHOULD I USE?
If you have one, always use your cast iron skillet. There's nothing better to melt butter and cook apples in, and they give you a lot of control over the temperature of the pan. Since no one likes the taste of burnt sugar, more control is always better, but keep in mind that cast iron gets hotter faster. Be sure to clean and season your cast iron thoroughly after each use (never with soap!)
WHAT ARE THE BEST APPLES TO FRY?
I always suggest using Granny Smith Apples, but there are a variety available and each have their own unique flavor.
Golden Delicious Apples: Cracker Barrel's recipe suggests using Golden Delicious Apples, but despite their sweet flavor they tend to bruise very easily so handle with care.
Fuji Apples: this sweeter variety brings something different to the recipe. Fuji apples naturally have a more sugary flavor, and so you should adjust the levels of the sugar to taste.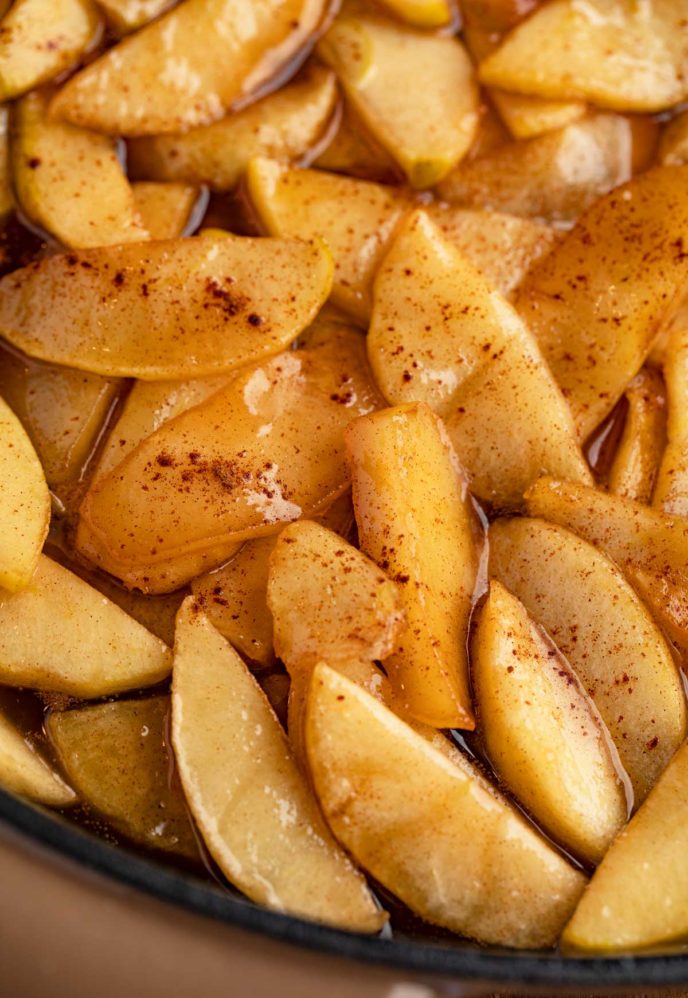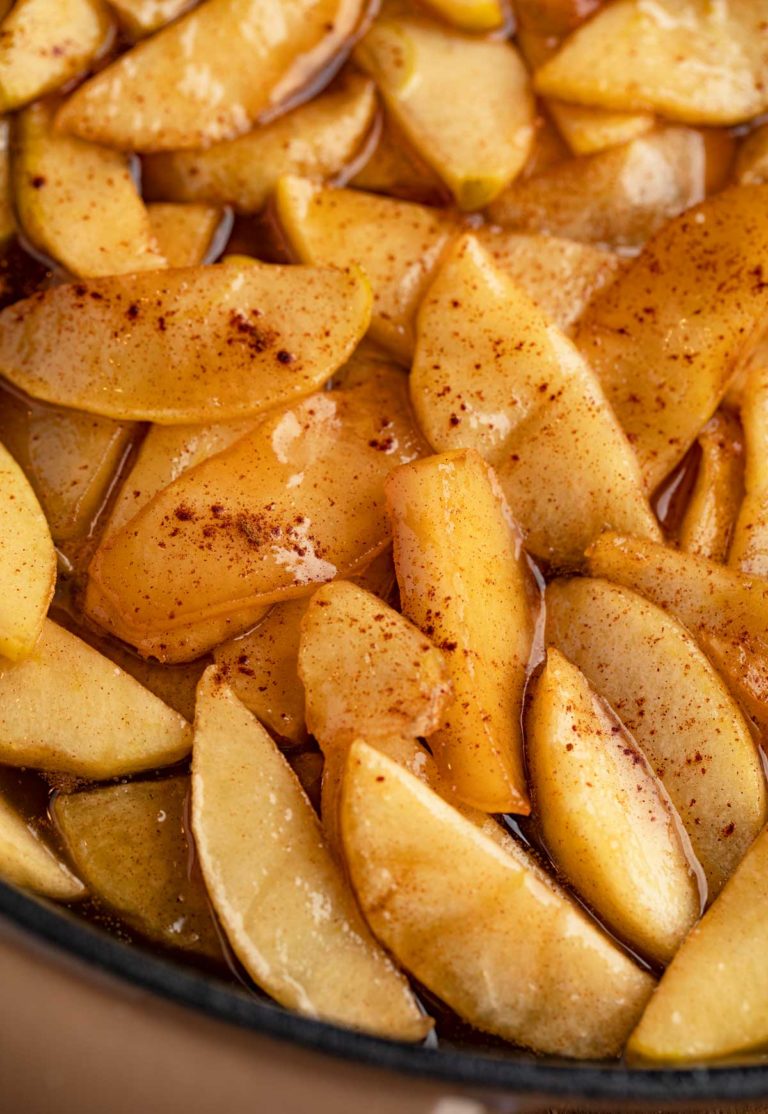 Create a free account to

Save Recipes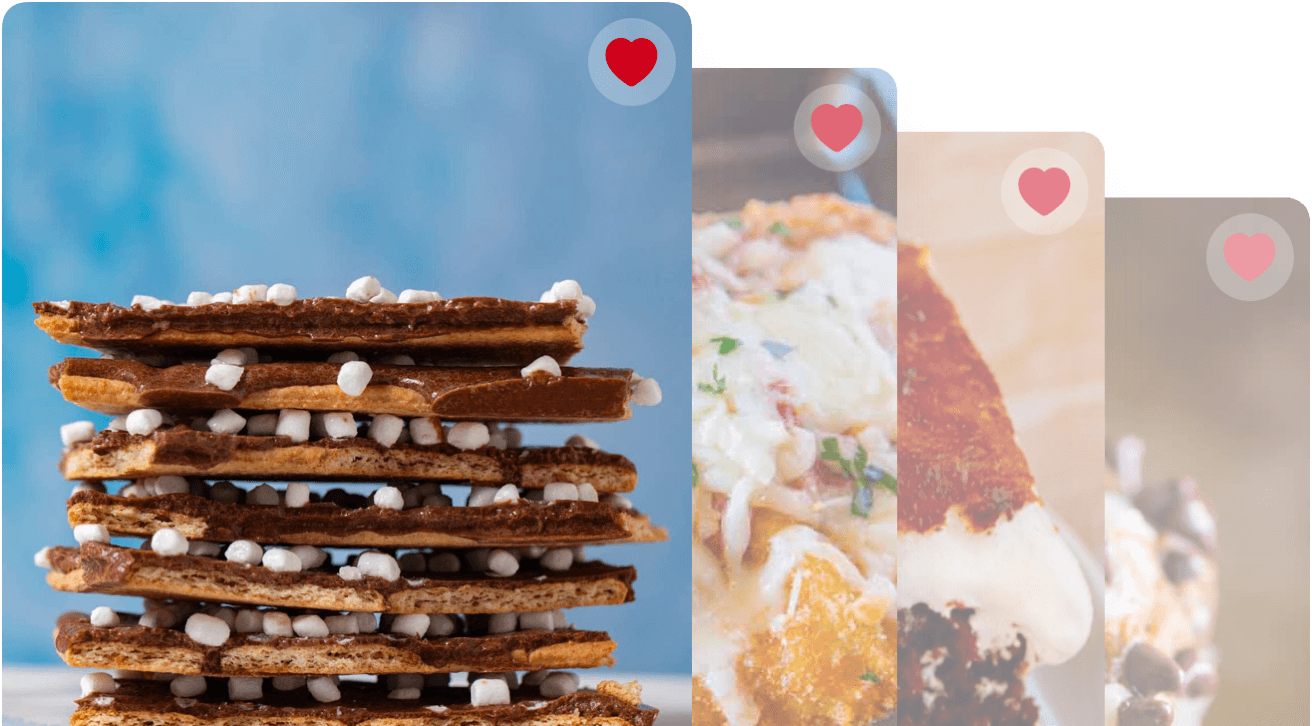 WHAT ABOUT THE LEFTOVERS?
If you have left-over apples, why not make an apple crostada?
Preheat the oven to 450 degrees.
Use a pre-made pie crust and fill with apple mixture, leaving room around the edges.
Fold the edges over, brush an egg wash onto the edges and sprinkle on some sanding sugar.
Bake for 20-25 minutes, or until crust is golden brown.
If you're looking for a more savory use for your fried apple leftovers, try them on pork.
Butterfly a pork chop and fill with fried apple mixture.
Pan fry pork chop in butter or olive oil until internal temperature reaches 145 degrees (according to pork.org) and outside is golden brown (cook time can vary based on the thickness of the pork.)
Let sit for four minutes and enjoy.
For another fun apple-pork combination, check out our Honey Apple Pork Loin.
Cutting your Apples
Try to cut your fresh apples right before using them so that the fruit doesn't turn brown. If you cut them and you can't get to them right away, toss the apple slices in lemon juice.
The citric acid in the lemon prevents the apple from oxidizing and keeps them fresh longer.
How to Store Southern Fried Apples
You can freeze your fried apples to keep them around longer, but be aware that the freezing process can effect the texture. Store your fried apples in an airtight container in the fridge for no longer than five days.
What to Serve with Fried Apples?
Fried apples are the perfect end to a Southern-style dinner. One their own or in a pie, they are excellent after a dinner of Smothered Pork Chops and a side dish of Southern Fried Okra, or Shrimp and Grits.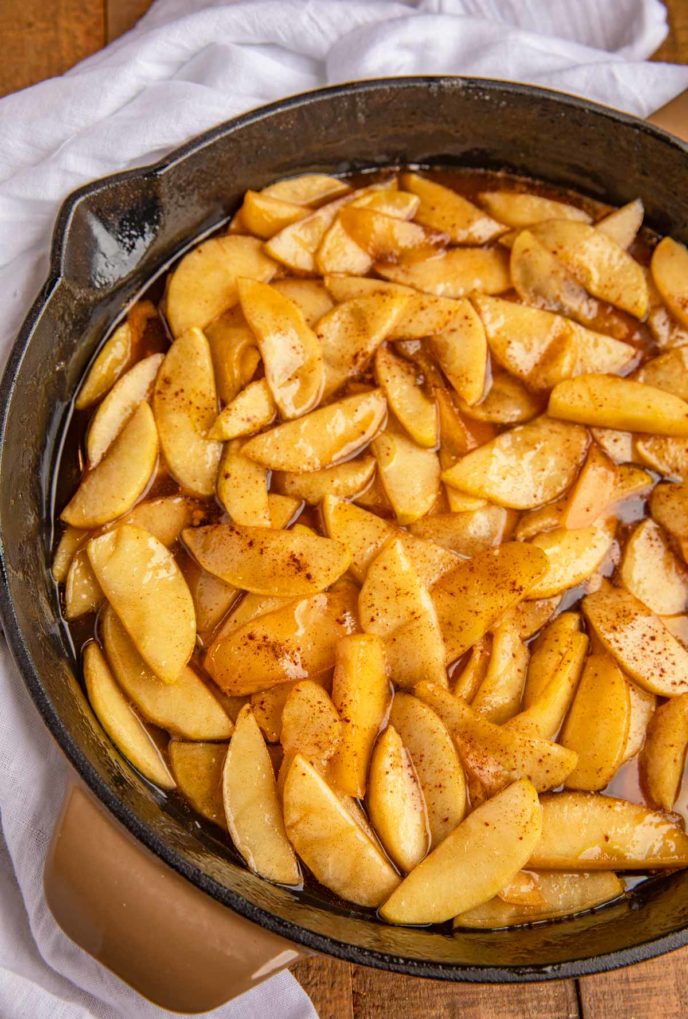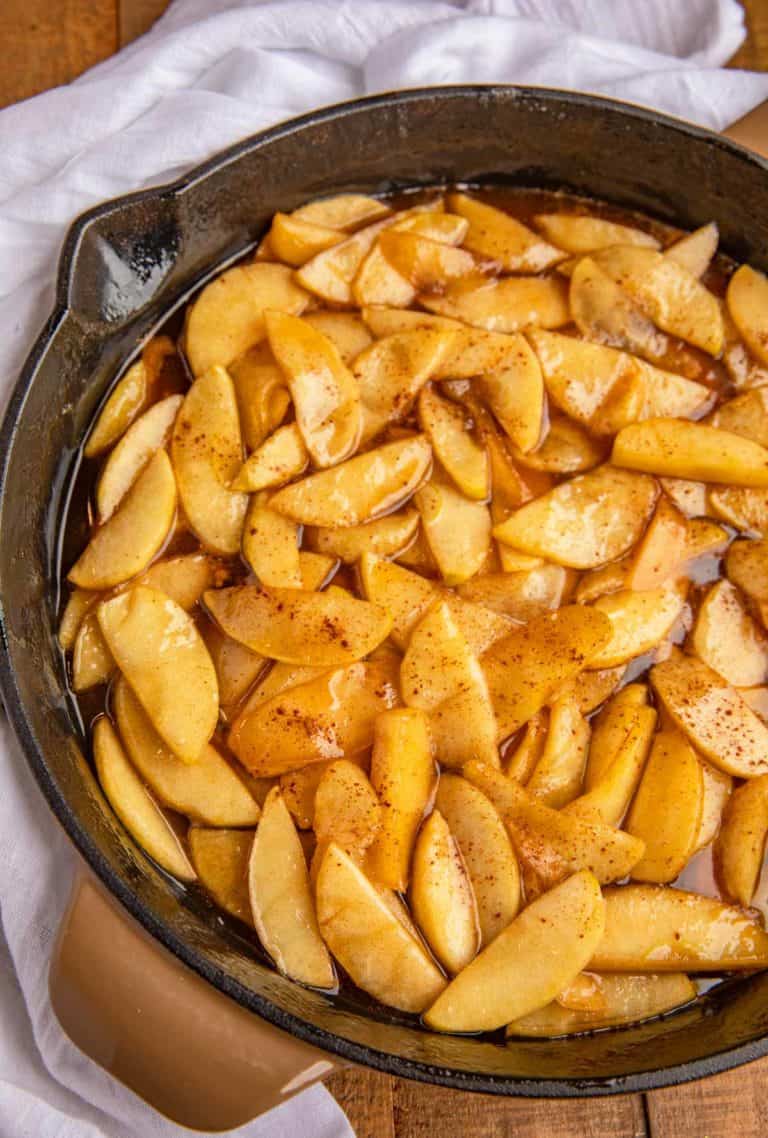 Ingredients
1/2

cup

unsalted butter

1/2

cup

sugar

2

teaspoons

ground cinnamon

4

granny smith apples

(peeled, cored and sliced)
Instructions
Add the butter to a large skillet on medium heat.

Once melted whisk in the sugar and cinnamon.

Add in the apples, stir and cook until softened, for

6 to 8 minutes

.
Nutrition
Calories:
265
kcal
|
Carbohydrates:
34
g
|
Protein:
1
g
|
Fat:
16
g
|
Saturated Fat:
10
g
|
Cholesterol:
41
mg
|
Sodium:
4
mg
|
Potassium:
130
mg
|
Fiber:
3
g
|
Sugar:
29
g
|
Vitamin A:
540
IU
|
Vitamin C:
5.6
mg
|
Calcium:
19
mg
|
Iron:
0.2
mg