Slow Cooker Honey Apple Pork Loin with just seven ingredients is a showstopping meal with none of the effort! Perfect for holiday dinners!
Slow Cooker Honey Apple Pork Loin
Slow Cooker Honey Apple Pork Loin seems like it should take a long time to make, but this meal comes together so quickly and with hardly any effort at all!
Having a lot of holiday dinners? Family in town and you're stressed how you're going to survive work, kids, family and the holidays while playing hostess? THIS is the dinner you'll love serving. It takes 10 minutes to prep and five hours later you have a delicious meal ready and waiting for people to compliment you on.
This post, along with many others throughout the year is sponsored by Mountain Rose Herbs whose Cinnamon, Flake Salt and Black Pepper were used in this meal.
Ten minutes. Most of that is spent slicing apples too. Look at the before and after!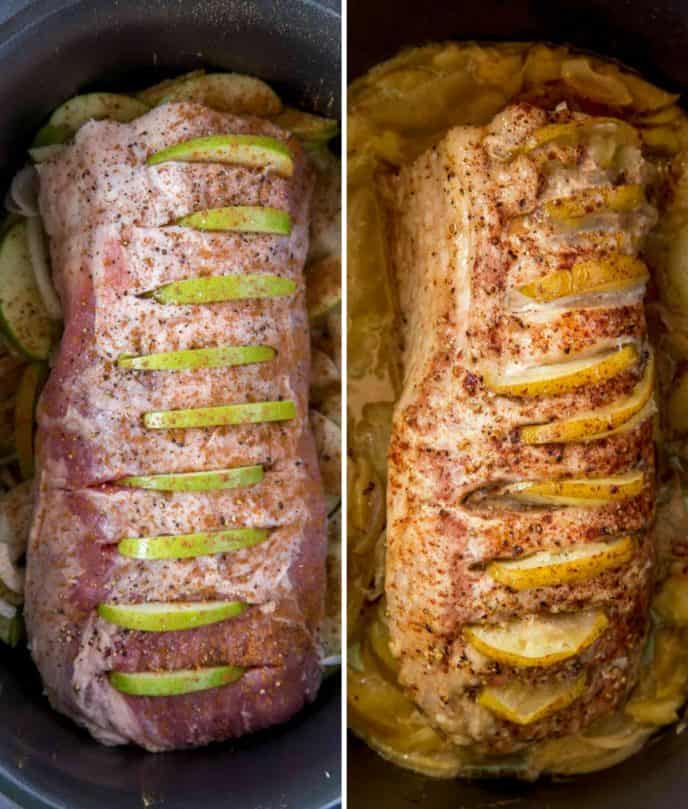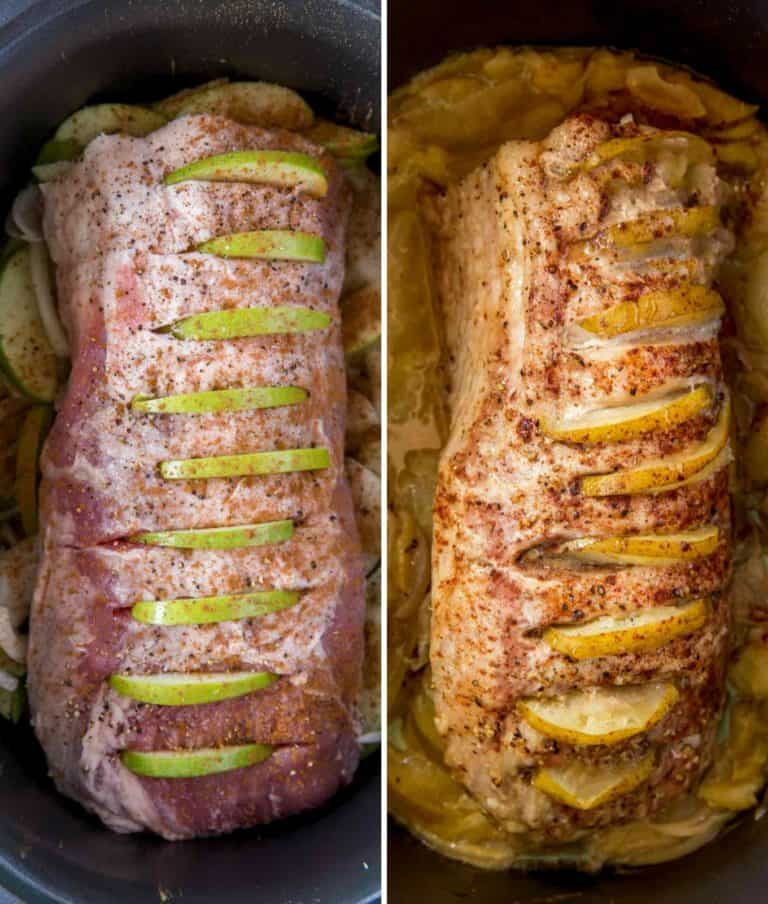 This recipe was based on seeing a stuffed pork loin in a Food Network magazine in the doctor's office waiting room. Then I did a quick look on Google and this stuffing the top of the loin idea is huge with both apples and peaches (this is happening next summer for SURE). So we've been playing with flavors.
This dish is definitely based on my Lemon Salt Pork Loin recipe and Honeyed Apples (both Michael Chiarello recipes).
I tested all different kinds of onions from white to yellow and red. I settled on sweet onions so the flavors didn't fight each other.  I tested browning the loin vs leaving it raw. But I found with the fat cap on the top of the pork loin it wasn't really necessary to brown it because the fat was going to render out over time and there was no skin to crisp.
Tips for your Slow Cooker Honey Apple Pork Loin:
I used Granny Smith apples because the tartness cuts through the sweetness of the honey. For a milder flavor use fuji.
Build a good base of apples and onions (you can also use baby Yukon potatoes instead of onions). This will keep the pork out of the liquids.
Don't overcook this dish. All you need is five hours on LOW, if you cook for any longer you may end up with dry pork.
If you want you can also add the honey to the pork after the cooking is finished.
You can make a gravy with the liquid in the slow cooker. Add the strained liquid to a saucepan to a cornstarch slurry (2 teaspoons room temperature water mixed with 2 teaspoons cornstarch) and cook on medium heat until thickened (3-4 minutes).
Want to make this in your oven? Totally doable and easy!
Roasted Honey Apple Pork Loin:
Season the pork with cinnamon, salt and black pepper.
Add the apples and onions to a large dutch pan or baking dish.
Top with the pork loin.
Add in the sliced apples.
Cook at 400 degrees for 55-65 minutes.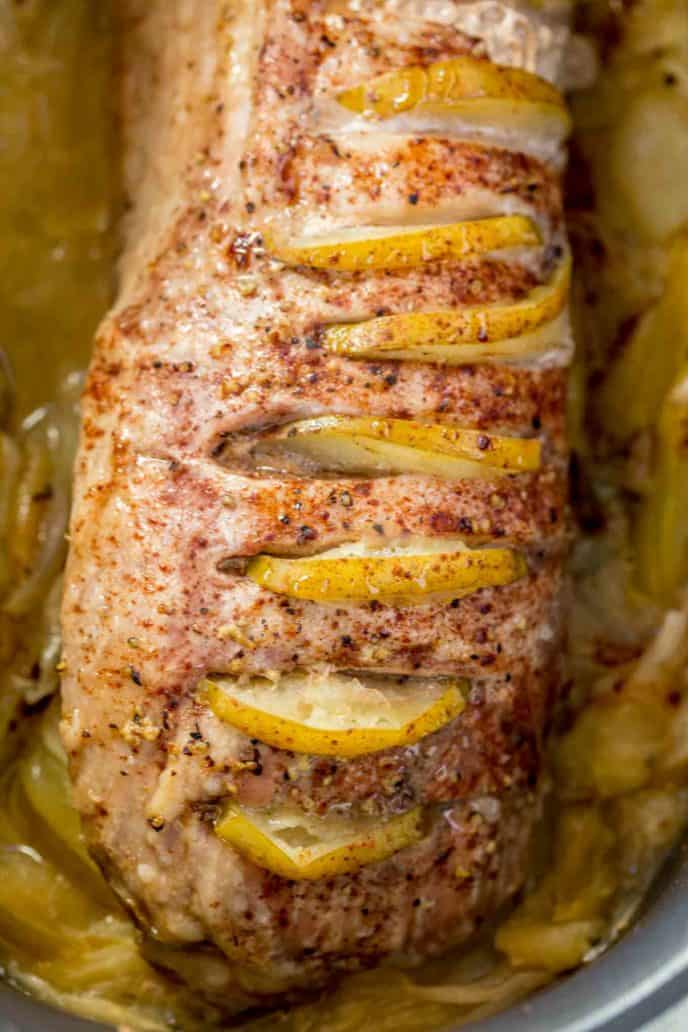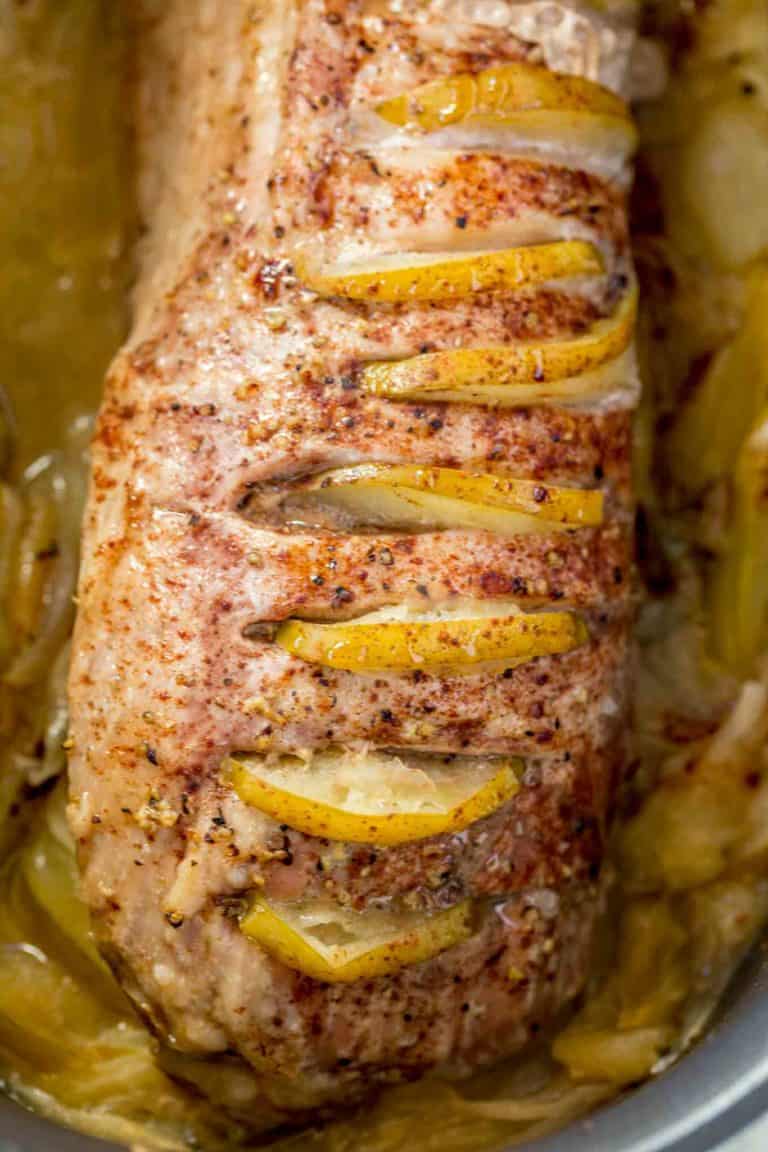 Looking for more Pork Dishes?


Ingredients
4

pound

pork loin

not tenderloin

1/2

teaspoon

Flake Salt

1/4

teaspoon

Coarse Ground Black Pepper

1

teaspoon

Ground Cinnamon

4

Granny Smith apples

sliced in ¼ - ½ inch thick slices

2

sweet onions

sliced

1/4

cup

honey
Instructions
Using a small paring knife cut about a dozen apple length slits about three inches deep into the pork.

Rub the pork loin with the salt, black pepper and cinnamon.

Reserve just enough apple slices to place into the pork.

Put the remaining apples and the onion slices into the bottom of the slow cooker.

Place the reserved apple slices into the pork, one slice per opening.

Place the pork loin over the apples and onions.

Cover the pork in honey.

To serve carve the pork into slices, serve with the apples and onions and a couple spoonfuls of the liquid (once you've rendered off the fat).
Nutrition
Serving:
1
g
|
Calories:
235
kcal
|
Carbohydrates:
18
g
|
Protein:
32
g
|
Fat:
3
g
|
Saturated Fat:
1
g
|
Cholesterol:
98
mg
|
Sodium:
182
mg
|
Potassium:
737
mg
|
Fiber:
2
g
|
Sugar:
14
g
|
Vitamin A:
35
IU
|
Vitamin C:
5.4
mg
|
Calcium:
24
mg
|
Iron:
1.7
mg