BBQ Pulled Chicken with baked tender chunks of chicken breast, so easy and convenient you'll skip the slow cooker for this quick meal.
Serve up this summertime favorite with more Sumer Side Dishes like the incredibly easy KFC Coleslaw (Copycat), the flavorful Three Bean Salad, and the delicious Slow Cooker Mac and Cheese for the easiest and most delicious summer cookout meal made indoors!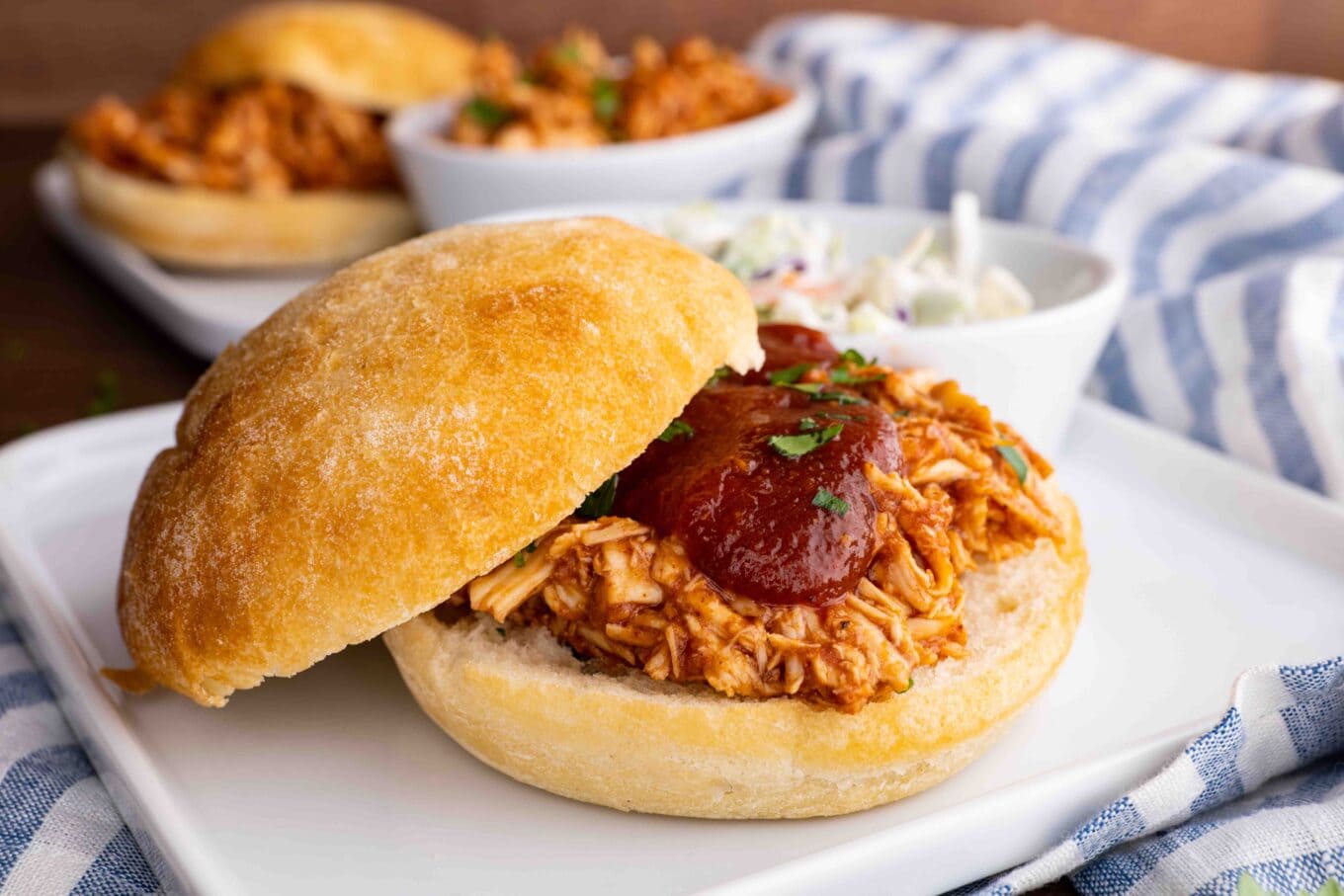 BBQ Pulled Chicken is a summer favorite, and it's much easier and less messy to eat than classic BBQ chicken. This dish can absolutely be made on your grill, but making this in the oven is one of the easiest recipes to keep in your year round arsenal.
This recipe is a two for one deal. You get oven healthy oven baked chicken breasts, smothered in a homemade BBQ sauce without any processed ingredients. It may take a few more minutes to mix together but the flavors are out of this world.
Pulled chicken is generally made one of three ways, cooked on a grill, cooked in an oven or cooked in a slow cooker. They all have their merits but making a pulled chicken recipe in an oven is the easiest option that keeps the chunks firm and flavorful (the slow cooker is the easiest option but the meat will fall apart when served).
You'll love to use this recipe to make pulled bbq chicken burgers, easy enough to just pile on the chicken and the sauce. You can also brown the buns on a griddle in some butter when you feel fancy or indulgent, but the sauce is delicious on an un-toasted bun as well.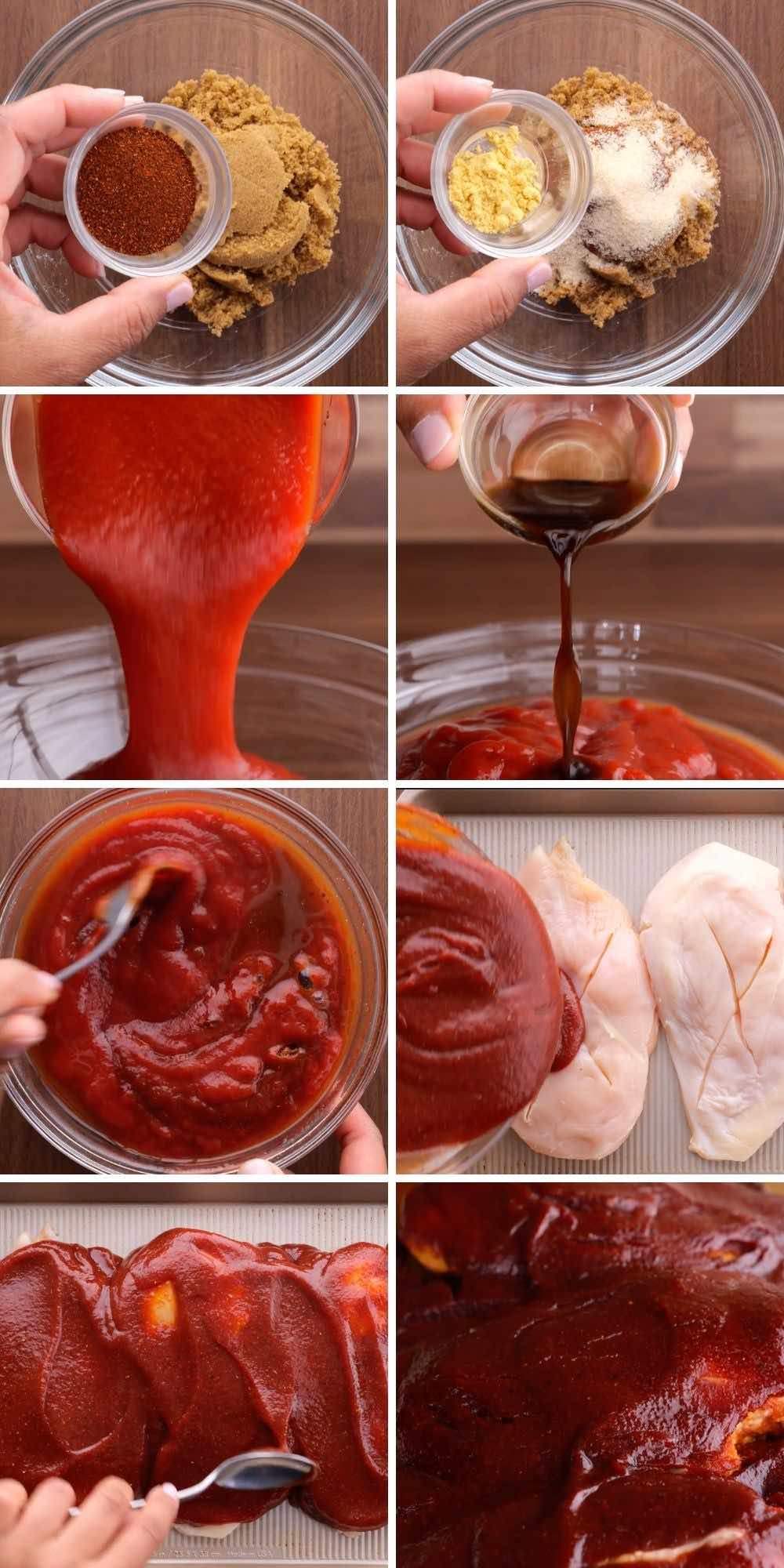 How to Make BBQ Pulled Chicken
This recipe is so easy to make during busy weeknights with only a few simple steps and a cooking time that's under an hour! Plus, the incredible flavor will make this easily become one of your family favorites! Check it out! 
Step One: Preheat oven to 350 degrees then make the sauce. 
Step Two: Pour the BBQ sauce on top of the boneless, skinless chicken breasts and let them cook uncovered for about 25 minutes, or a bit more if needed. 
Step Three: Shred the chicken with a fork or two, mix in extra BBQ sauce from the pan, and enjoy! 
More Great BBQ Chicken Recipes
Frequently Asked Questions
Can I use frozen chicken breasts? 
If you're in a pinch and only have frozen chicken, it will be okay. The secret to great tasting chicken is to get the sauce into the chicken when it's room temperature. Try to thaw quickly over running hot water if you can. The frozen chicken will also have more water in it which might make the sauce a little less thick. Simply cook the sauce and stir to let off water by steam. This will help thicken the sauce. 
Do I have to make the sauce, or can I use pre-made BBQ sauce? 
There's nothing like freshly made barbecue sauce! But, if you know what you like and/or you're in a time crunch, then using store-bought BBQ will work great. 
Is pulled chicken the same as shredded chicken?
Yes! Pulled chicken and shredded chicken are the same. It's just different words used to describe the same thing. 
Is this recipe spicy?
No, it's not spicy. But, if you'd like some heat, try adding some Tabasco sauce or cayenne pepper to the mix for that extra kick! 
How much liquid smoke should I add to give it a smoky flavor?
Try adding a tablespoon of liquid smoke to the BBQ sauce for that extra smoky flavor you love! You can also try adding a teaspoon smoked paprika or chipotle powder (from smoked jalapeños) to the sauce as well.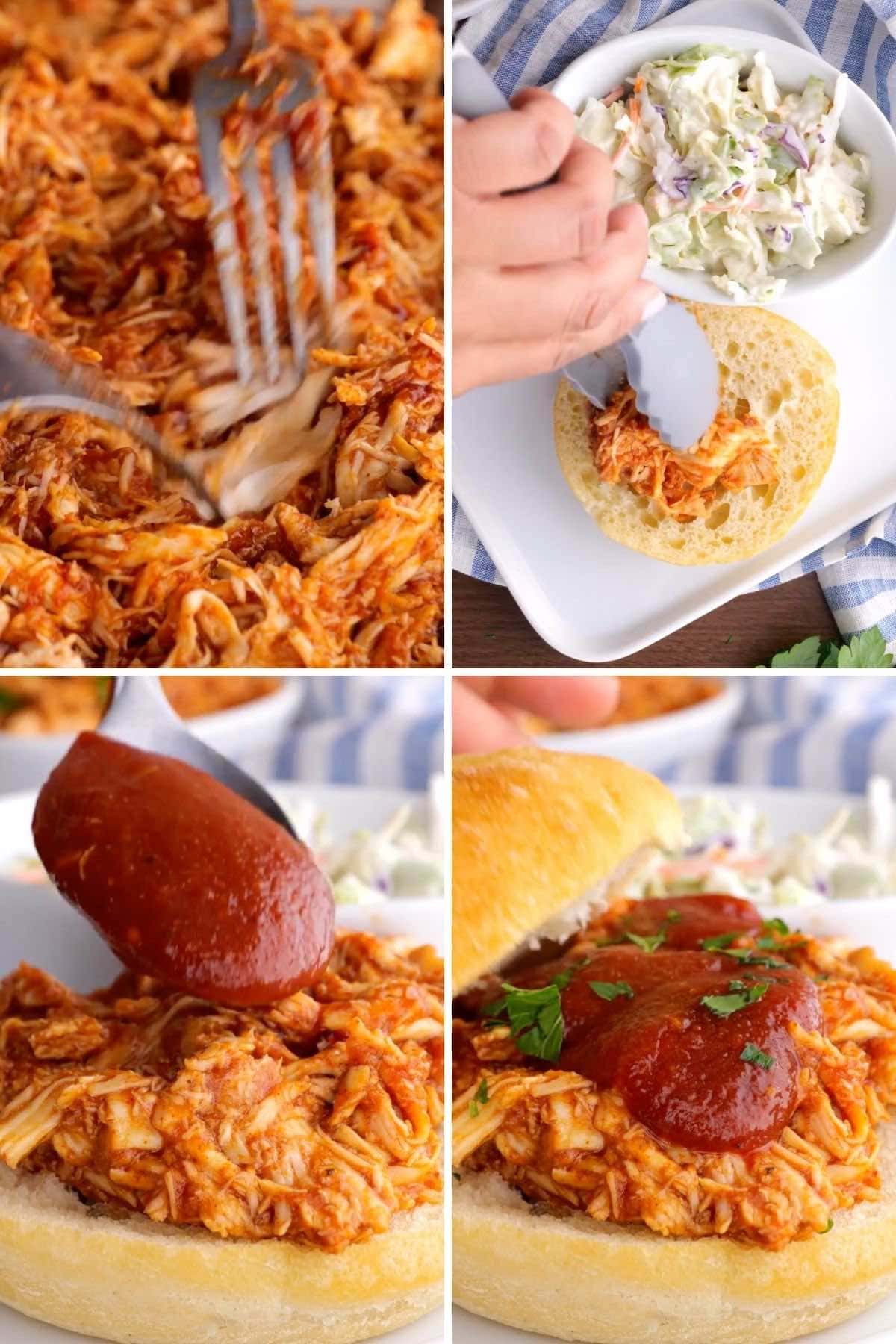 Create a free account to

Save Recipes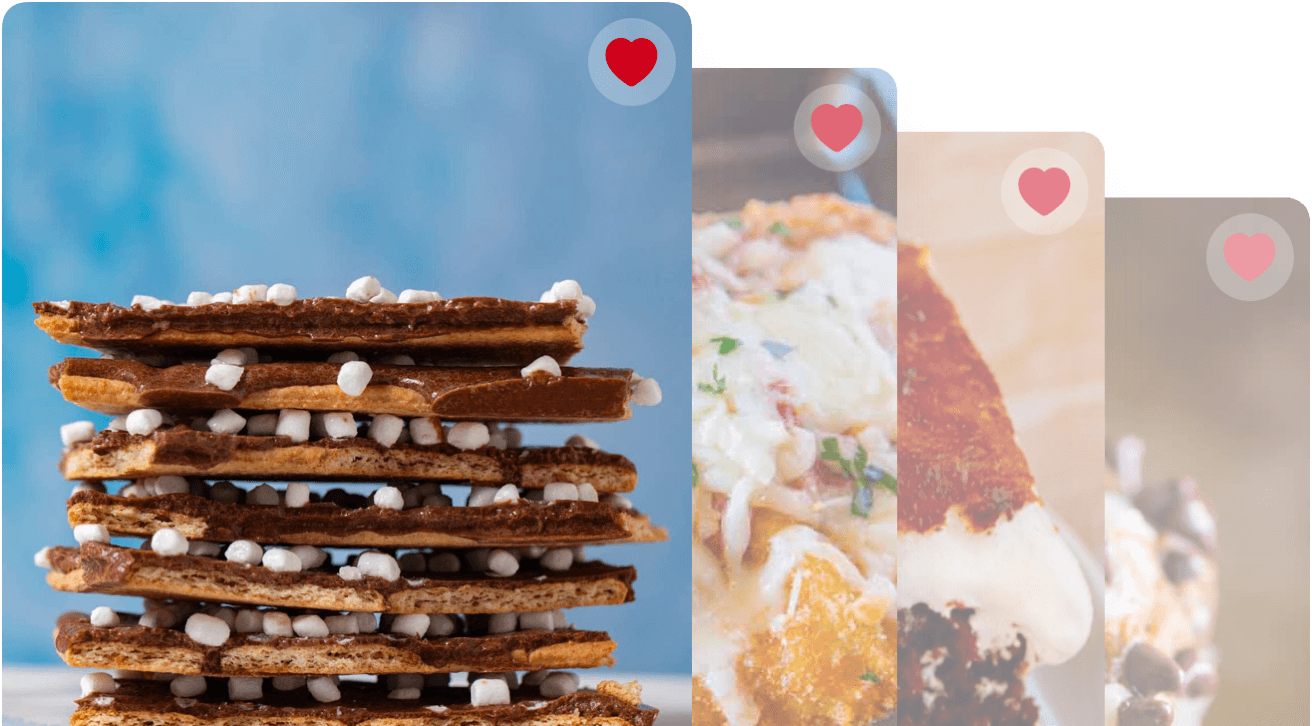 Key Ingredients in BBQ Pulled Chicken
Simple ingredients and cook time under an hour make this one of the best weeknight meals ever! If you've got a good barbecue sauce already, that's okay. But we highly recommend making your own! All the ingredients can be found in or near the spice section at your local grocery store. Check out the ingredients!
Chicken: We're using boneless, skinless chicken breasts in this recipe. We took them out of the freezer and let them thaw in the fridge overnight until we were ready to start cooking. 
BBQ Sauce: The homemade BBQ sauce is worth it! With a few dry ingredients like dark brown sugar, chili powder, garlic powder, onion powder, and dry mustard, you'll mix them with ketchup, some vinegar (apple cider vinegar is best, and a couple of teaspoons of Worcestershire sauce. So good! 
Ingredient Substitutions for BBQ Pulled Chicken
Chicken: You can also use boneless, skinless chicken thighs too! Pork is also a great substitute for this recipe. 
Dark Brown Sugar: 
Chili Powder: If you don't have chili powder, you can substitute it with paprika. 
Garlic Powder: If you don't have garlic powder, you can substitute it with 2-4 cloves of garlic, crushed or minced, or a tablespoon of premade garlic paste.
Onion Powder: Onion powder is incredibly concentrated. Substitute one teaspoon of onion powder fo 3 tablespoons of freshly grated onion. 
Dry Mustard: Mustard powder is a critical ingredients to this recipe. You can crush mustard seeds if you don't have the powdered version. Since it is not a super common ingredient for most homes, you can also use regular mustard in a pinch. Just double the amount to a full teaspoon.
Ketchup: You can use equal parts canned tomato sauce instead. Add an extra tablespoon of sugar to make up for the sweetness loss from the ketchup. 
Vinegar: ACV (apple cider vinegar) is best for this recipe, however, you can use equal parts distilled or white vinegar too. 
Worcestershire Sauce: The unique flavors of this special sauce cannot be taken for granted and shouldn't be replaced. It's the secret ingredient in our recipe! 
Can I Make BBQ Pulled Chicken Ahead of Time?
Yes, absolutely! This easy recipe will last in the fridge for 3 or 4 days. Plus, by letting the chicken marinade for a few days will let the flavors really get into the meat. The result will be a tender and mouthwateringly delicious meal so good that everyone will come back for a second helping! Be sure to reheat the chicken in the oven or on the grill until the internal temperature reaches 165 degrees F. Reheat the sauce in a stovetop pan separately and then add it over top the reheated chicken.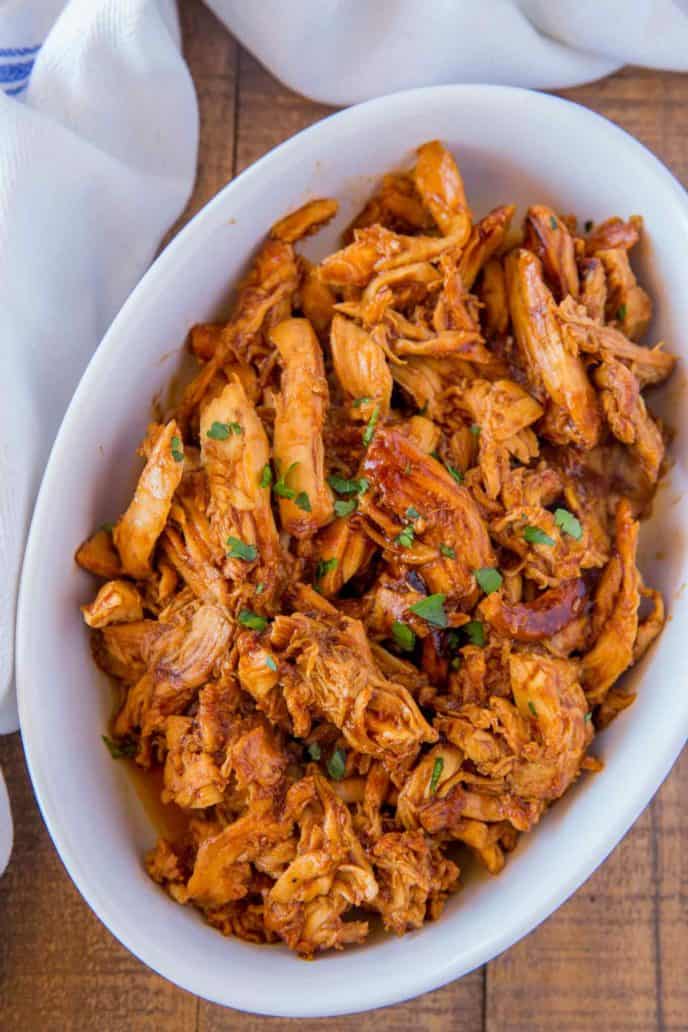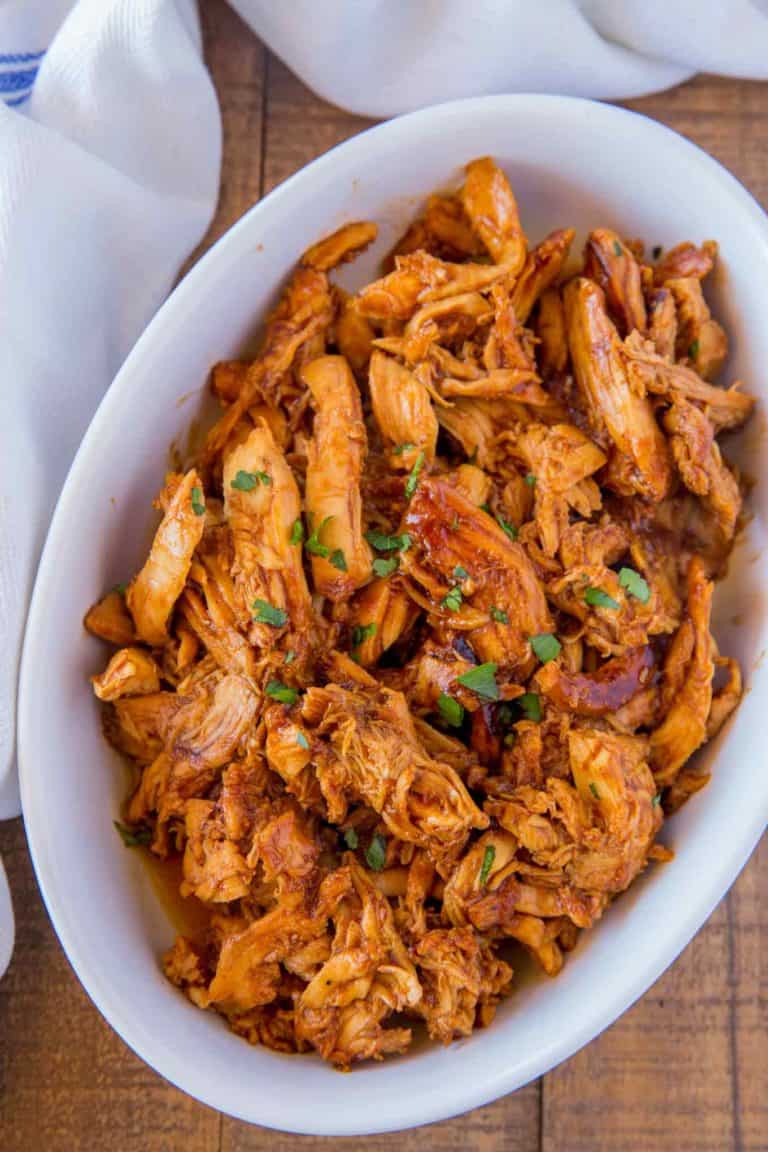 Grilled BBQ Pulled Chicken
Score the chicken as instructed, then season with salt and pepper and coat in a bit of canola oil. Add to the grill on medium heat and cook for 12-15 minutes or until cooked through and browned on both sides. While the chicken is cooking, add the rest of the ingredients to a grill safe sauce pan and cook the bbq sauce next to the chicken on the grill. When the chicken is done cooking, shred with with forks and coat in the bbq sauce.
Slow Cooker (Crockpot) BBQ Pulled Chicken
In the slow cooker, we recommend using chicken thighs in place of chicken breast. While you can use chicken breasts for this recipe, the thighs as will maintain more moisture and flavor than slow cooking chicken breasts will. Add the ingredients to the slow cooker and cook on high for 3-4 hours or on low for 6-7 hours before shredding with a fork.
If you find that the sauce is too watery (remember there is nowhere for the steam to escape in the slow cooker, you could cut the sauce ingredients (everything but the chicken) in half. Remember no matter what you do, the sauce will be more watery in a slow cooker.
Pressure Cooker BBQ Pulled Chicken
First put the chicken into the bottom of the pressure cooker. Add a cup of water. Then layer the ingredients on top of the chicken. Don't stir yet because the water needs to be used for steaming and to avoid burning. Cook on HIGH for 15 minutes. The the natural pressure release to do what it does for 10 minutes. After the 10 minutes is up you can release the remaining pressure at the quick release valve. Now give it a good stir. 
Note: If it's too watery, you can put the pressure cooker on to sauté and cook down the sauce a bit.
Ways to use Leftover Pulled Chicken
Add it to a salad (leave it cold) with corn, black beans, cucumbers, tomatoes and lettuce and top with honey mustard and bbq sauce.
Add it to a baked potato with some sharp cheddar cheese.
Make it into a bbq chicken quesadilla with some thinly sliced red onion and cheddar cheese.
Add it onto pizza dough with red onions, cilantro and cheddar like the famous CPK recipe.
Make it into tacos with finely shredded cabbage, pico de gallo and ranch dressing.
You can also use it a the filling for some amazing chicken sandwiches. Add some cheese and onion for incredible flavor!
More Fun, Easy Summer BBQ Recipes
How to Store BBQ Pulled Chicken
Serve: Don't leave cooked chicken at room temperature longer than 2 hours.
Store: Sealed in an airtight container, BBQ Pulled Chicken will be good in the refrigerator for 3-4 days.
Freeze: This recipe is great for freezing! After cooling to room temperature, seal portions in freezer bags for 1-2 months. Defrost in the refrigerator before reheating on the stove, adding more sauce if needed.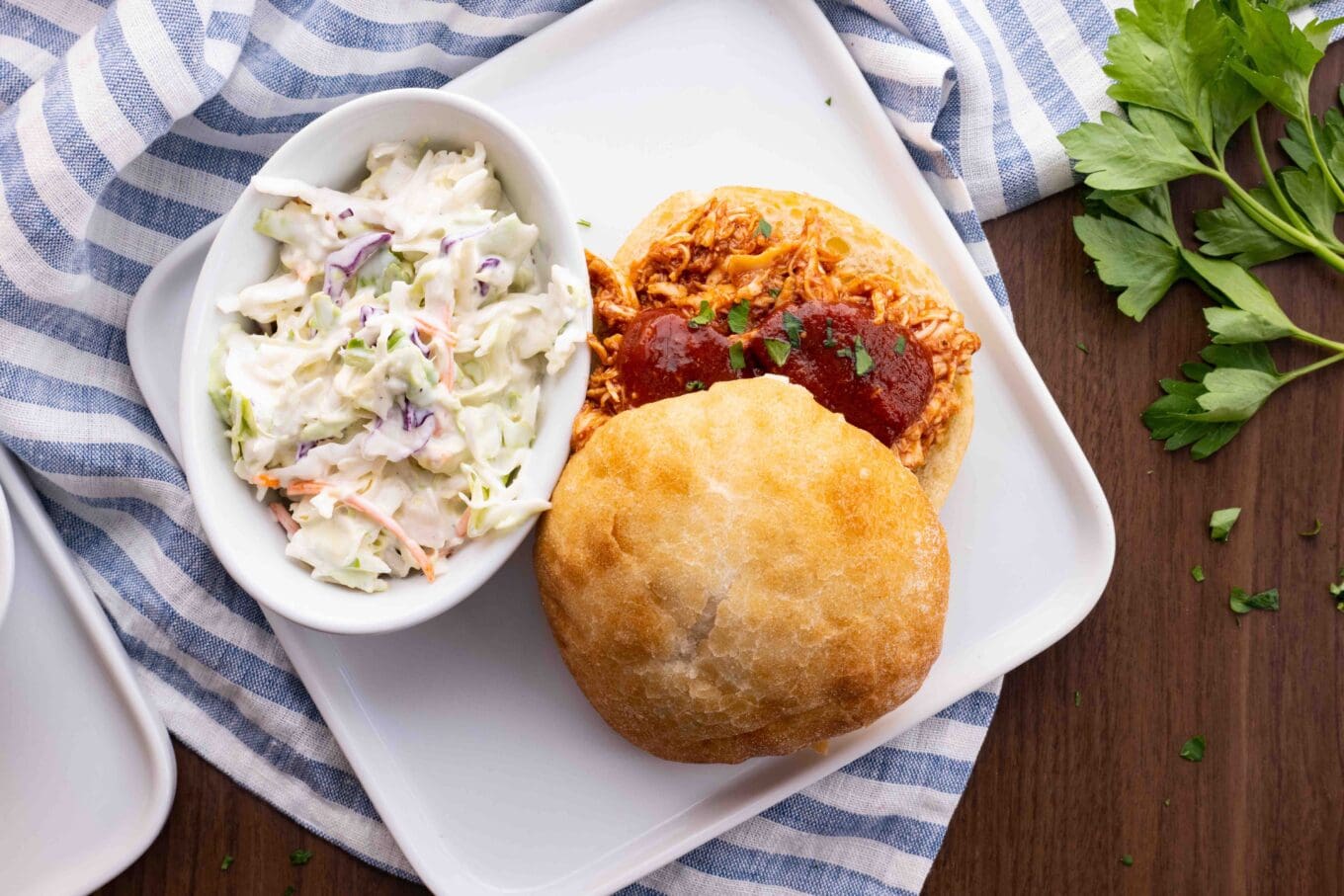 Ingredients
2

pounds

chicken breast

, boneless, skinless

1/2

teaspoon

kosher salt

1/4

teaspoon

coarse ground black pepper

1/4

cup

dark brown sugar

2

teaspoons

chili powder

1

teaspoon

garlic powder

1

teaspoon

onion powder

1/2

teaspoon

dry mustard

1 1/2

cups

ketchup

2

tablespoons

apple cider vinegar

2

teaspoons

Worcestershire sauce
Instructions
Preheat the oven to 350 degrees.

Cut diagonally into the chicken breasts about ¼ inch deep in an x shape to allow the bbq sauce to flavor more of the chicken (like how a holiday ham has the top cut into an x shape).

Add all the ingredients together in a large bowl and toss well together until mixed.

Add the chicken to a sheet pan, then pour the sauce over the chicken breasts.

Cook for

25 -30 minutes

or until caramelized, browned and cooked through.

Shred the chicken with the forks and serve in your favorite bun, spooning the sauce over the chicken.

If the sauce didn't cook down enough (if you use a pan that's too small it may not), then add the sauce to a saucepan and cook on medium heat until thickened (likely

15-20 minutes

).
Nutrition
Calories:
282
kcal
|
Carbohydrates:
26
g
|
Protein:
33
g
|
Fat:
4
g
|
Cholesterol:
96
mg
|
Sodium:
947
mg
|
Potassium:
795
mg
|
Sugar:
22
g
|
Vitamin A:
550
IU
|
Vitamin C:
4.5
mg
|
Calcium:
29
mg
|
Iron:
1.1
mg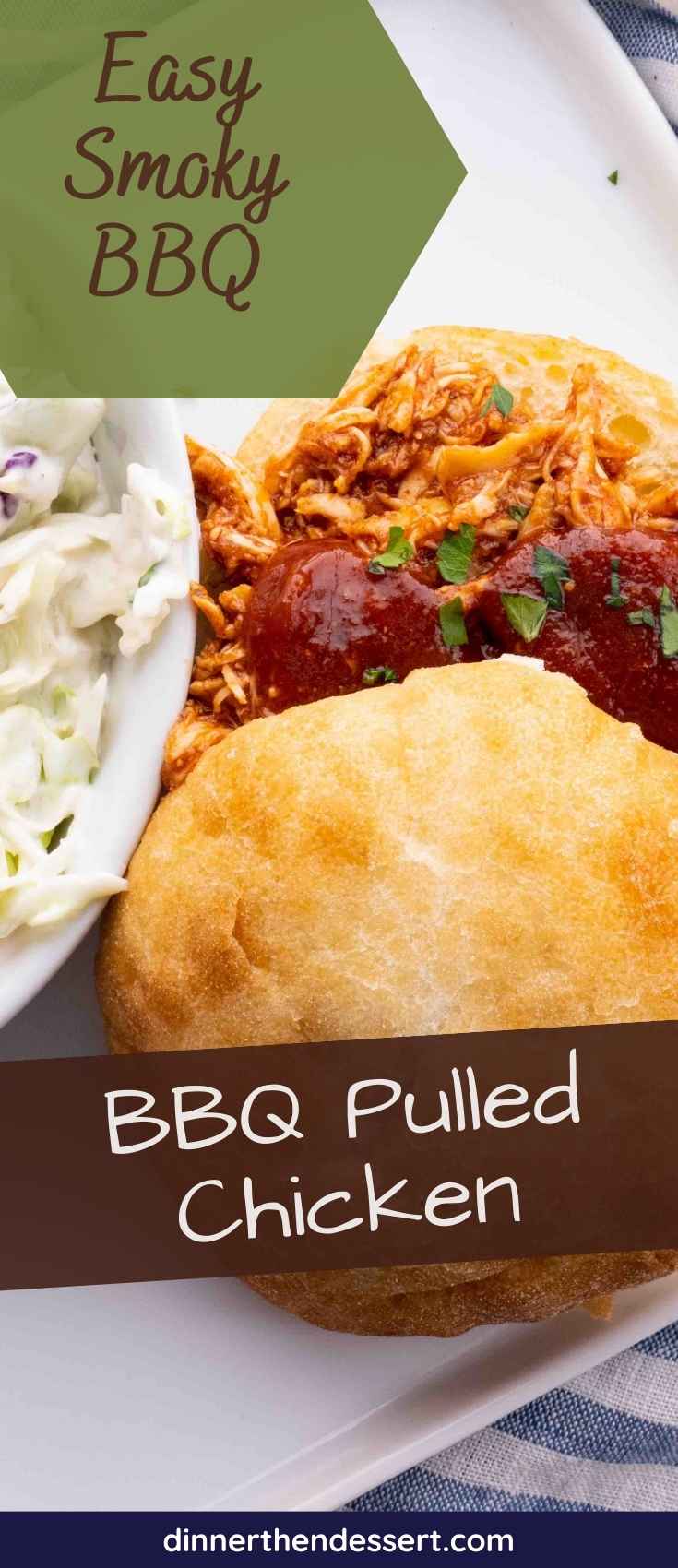 Photo used in a previous version of this post.