Avocado Salsa is perfectly flavorful and creamy with corn, bell pepper, onion, cilantro, and avocado tossed in a zesty lemon dressing.
This amazing salsa recipe is the perfect Appetizer to serve at a party or before enjoying your favorite Mexican dinner. It's a refreshing alternative to Regular Tomato Salsa with a more creamy consistency and zesty flavor.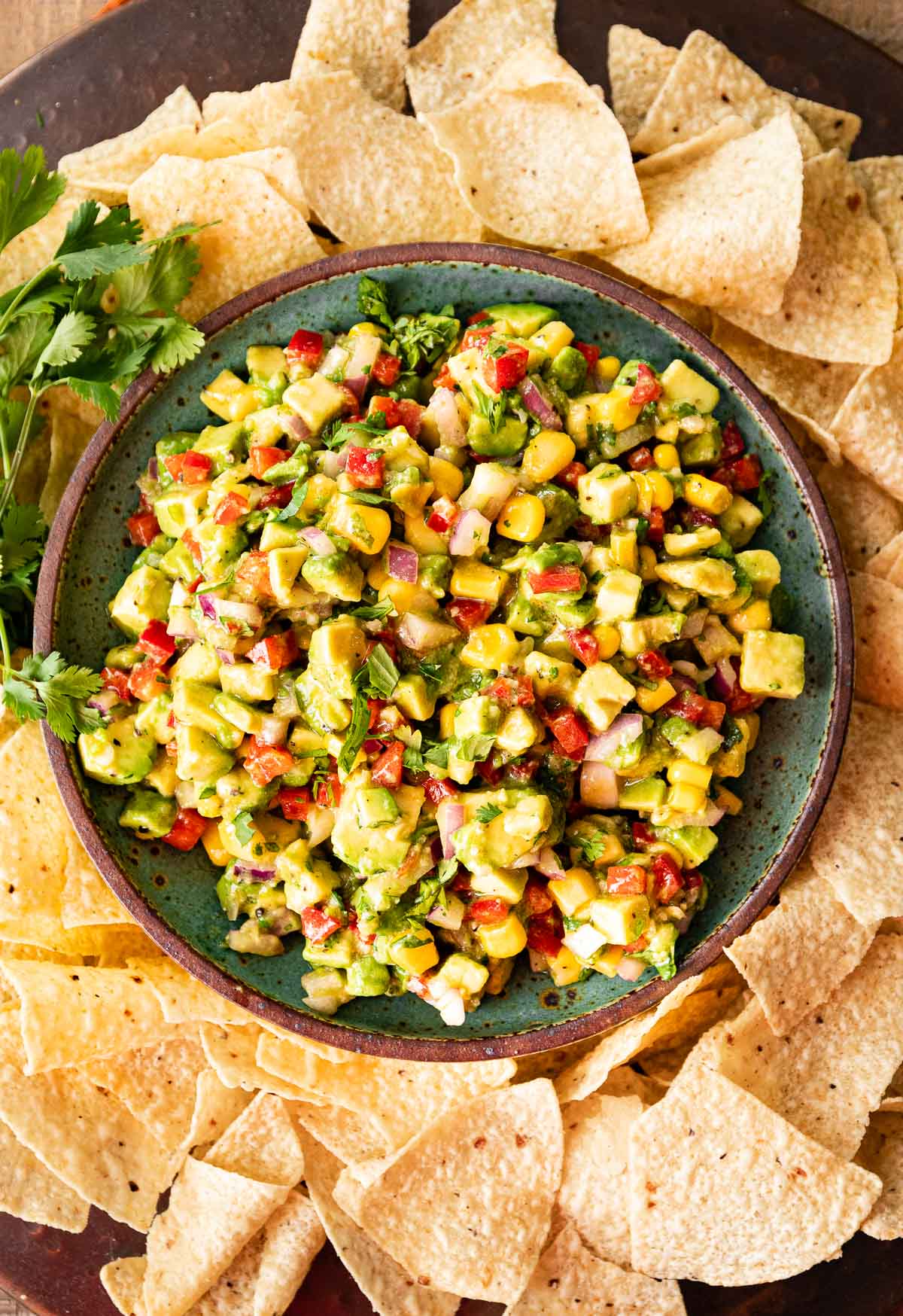 AVOCADO SALSA
Tangy Avocado Salsa is a little bit like a cross between classic salsa and guacamole. You get the creamy avocado, but with some added fresh ingredients and a more chunky texture than typical guacamole. It's the perfect refreshing dip to make with just-ripe avocados. Enjoy it with your favorite chips or as a topping for meat recipes.
The salsa mix is also perfect to serve at your next party. It's so delicious that it is sure to be eaten fast, though! You can double up the recipe to make it last longer when you're serving a large group. Then put it out in a large bowl with crunchy lime tortilla chips for dipping.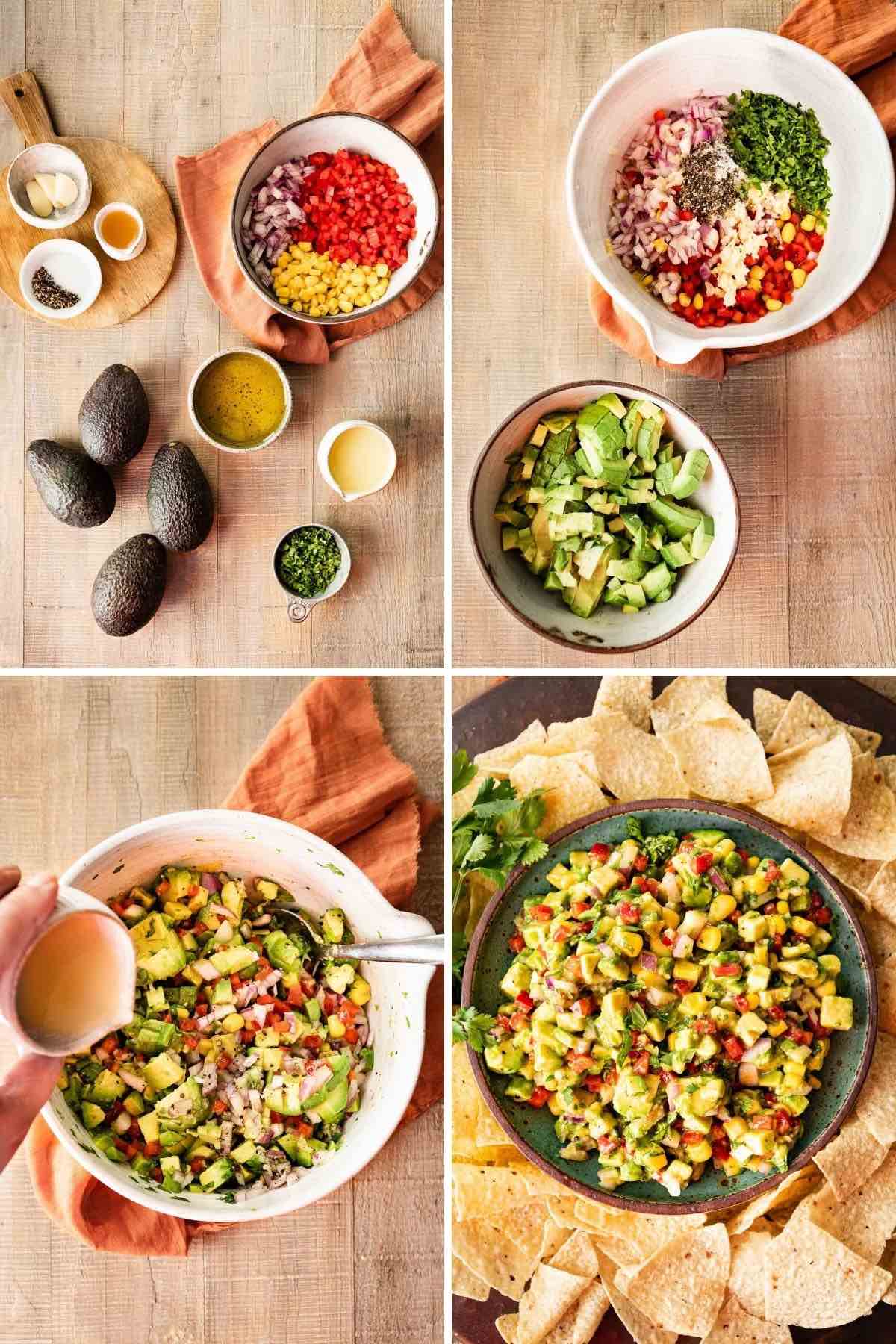 DISHES TO SERVE WITH AVOCADO SALSA
The other great thing about this creamy Avocado Salsa recipe is how versatile it is. You can serve it up with chips for a snack or appetizer, but you can also incorporate it into lots of other delicious recipes. The next time you're serving tacos, this dish is a must-have. Serve it on the side, or even spoon it into your tortilla as part of the taco filling. The fresh taste from avocado and lemon makes a great contrast with classic hearty taco ingredients. We love it served with our Baked Chicken Tacos or Classic Ground Beef Tacos.
Similarly, you can serve the salsa over the top of a Taco Salad or burrito bowls. The simple ingredients taste great with any of your typical taco and burrito mix-ins.
Once you've tried this easy salsa, you'll want to make it all the time! If you're looking for even more ways to enjoy this dish, serve it over the top of grilled meat like Cilantro Lime Chicken, salmon, or Grilled Pork Chops.
MORE AMAZING SALSAS AND DIPS
TIPS
Prep: To get the avocado salsa ingredients ready for the recipe, start by peeling and dicing the avocados. The easiest way to do that is to slice the medium avocado in half lengthwise, open it, remove the pit, and then slice it, and turn the peels inside out to remove the diced avocados. Next, mince the bell peppers and onions into small pieces.
Dressing: Whisk together the olive oil, lemon juice, garlic, cider vinegar, salt, and pepper in a small bowl. The lemon juice in the dressing will add a lovely flavor, and stop the avocado from getting brown too soon.
Combine: Add the avocado chunks, chopped cilantro, corn, red pepper, and onions to a medium bowl. Drizzle the dressing over the top and toss gently. Serve immediately with tortilla chips.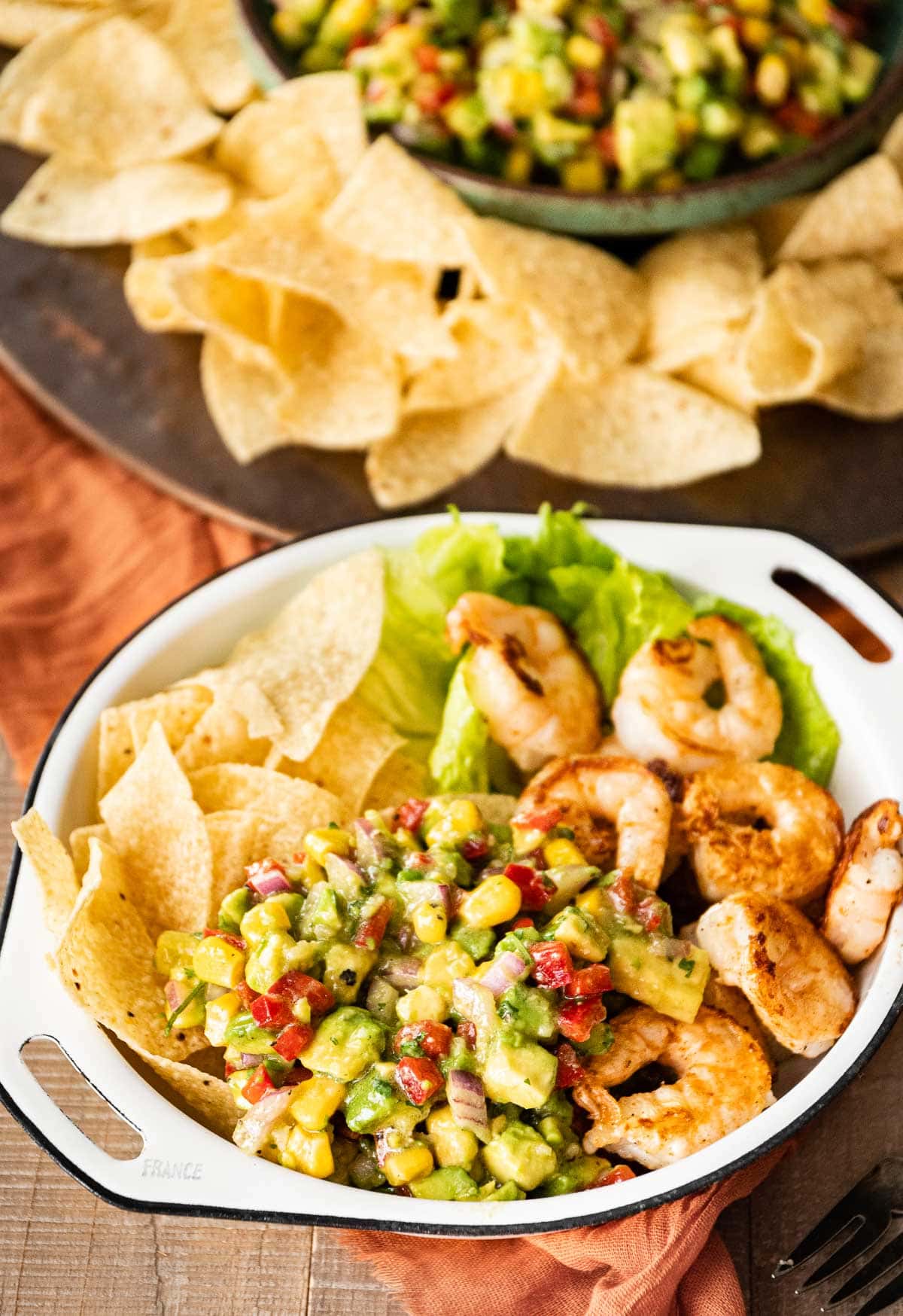 Create a free account to

Save Recipes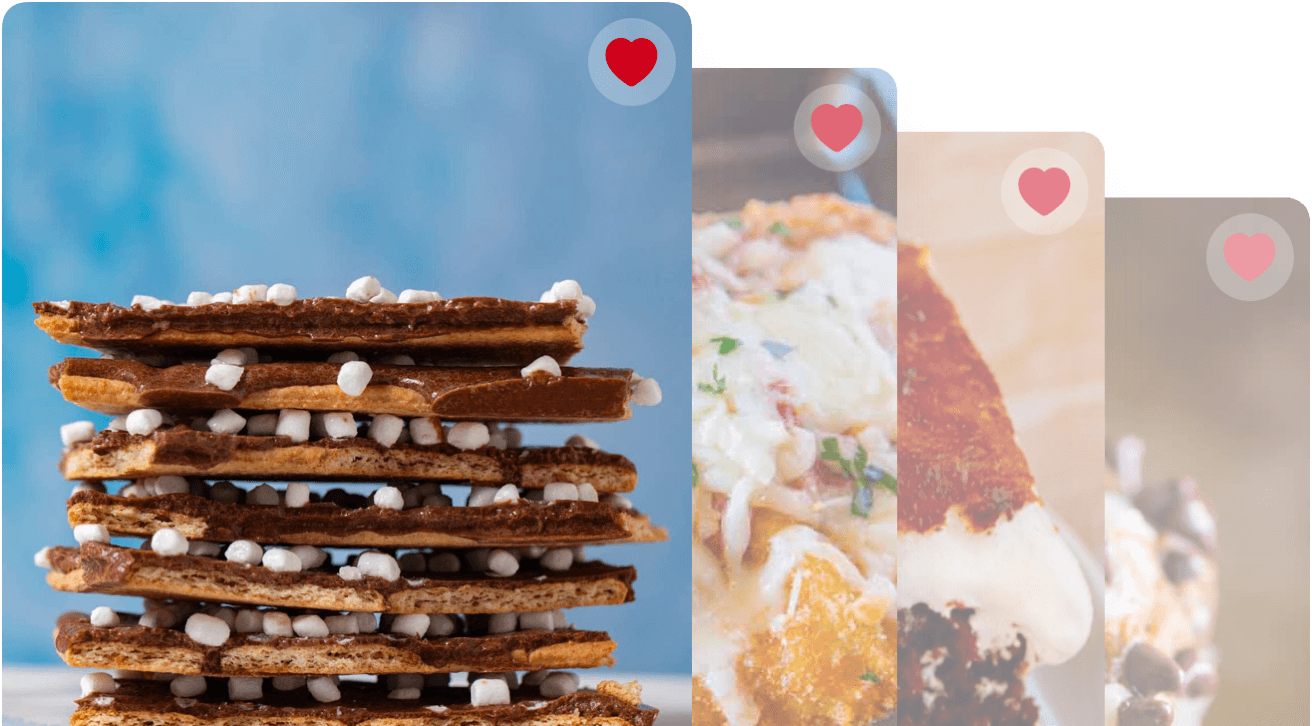 VARIATIONS
Lime salsa: For a delicious and zesty flavor, you can add some fresh lime juice to the dressing. Of course, there's already lemon juice giving amazing flavor to the recipe. You can use lime juice to replace the lemon juice if you prefer it or use both tart flavors in the same dish.
Spicy Avocado Salsa: If you want a kick of heat in the salsa recipe, try adding pepper flakes or sliced peppers. For peppers, minced jalapeño or serrano chilies would be amazing.
Tomatoes: If you want a more traditional salsa flavor, you can add tomatoes to the salsa to go along with the avocado. Chop up regular red tomatoes or green tomatoes and toss them with the other vegetables in the salsa.
MEXICAN APPETIZERS
HOW TO STORE
Serve: You don't want to leave sliced avocados at room temperature for more than 2 hours.
Store: Transfer the salsa to an airtight container or cover it in plastic wrap to store in the fridge. It will stay good for up to 3 days.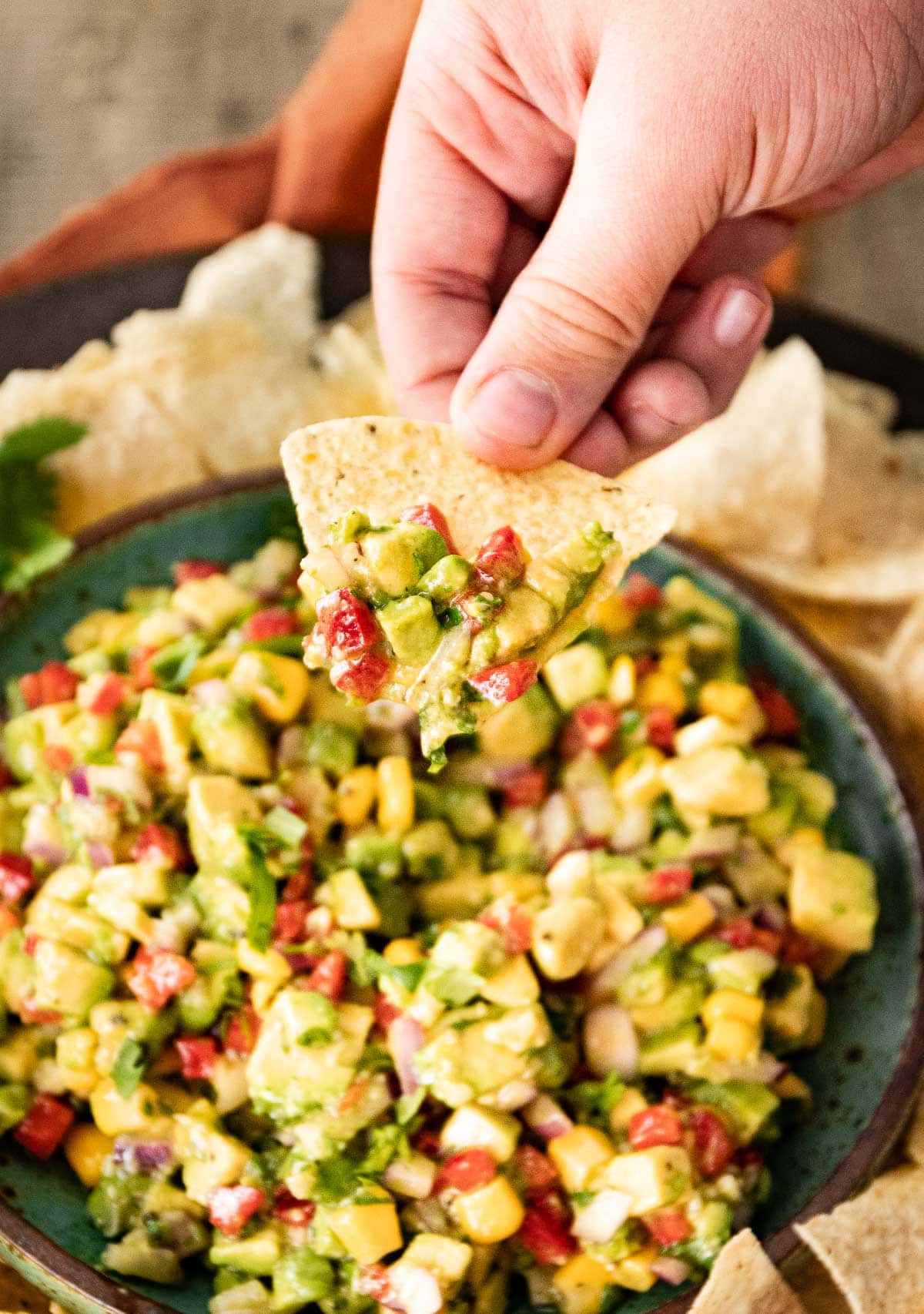 Ingredients
1/3

cup

olive oil

1/4

cup

lemon juice

3

garlic cloves

, minced

3

tablespoons

cider vinegar

1/2

teaspoon

kosher salt

1/2

teaspoon

coarse ground black pepper

4

medium

ripe avocados

, peeled and chopped

1/2

cup

fresh cilantro

, finely chopped

1

cup

sweet corn

1

red bell pepper

, finely chopped

1

red onion

, minced
Instructions
Whisk together olive oil, lemon juice, garlic, cider vinegar, salt, and pepper.

In a large bowl add together the avocados, cilantro, corn, red bell pepper, and red onions.

Toss together with the dressing, let sit

10 minutes

, toss again gently and serve.
Nutrition
Calories:
219
kcal
|
Carbohydrates:
13
g
|
Protein:
2
g
|
Fat:
19
g
|
Saturated Fat:
3
g
|
Sodium:
124
mg
|
Potassium:
483
mg
|
Fiber:
6
g
|
Sugar:
2
g
|
Vitamin A:
586
IU
|
Vitamin C:
28
mg
|
Calcium:
17
mg
|
Iron:
1
mg