Mexican Corn Salad is an easy no-cook side dish with corn, mayo, lime, chili powder, cilantro & cotija cheese that gives you elote flavors without the cob!
If you've tried out my recipes for Corn Salsa, Corn Succotash and Easy Taco Salad, you know that you don't need a long cook time to make a delicious, veggie filled meal. This corn salad recipe in particular is so fast and easy that you'll want to make it every weeknight.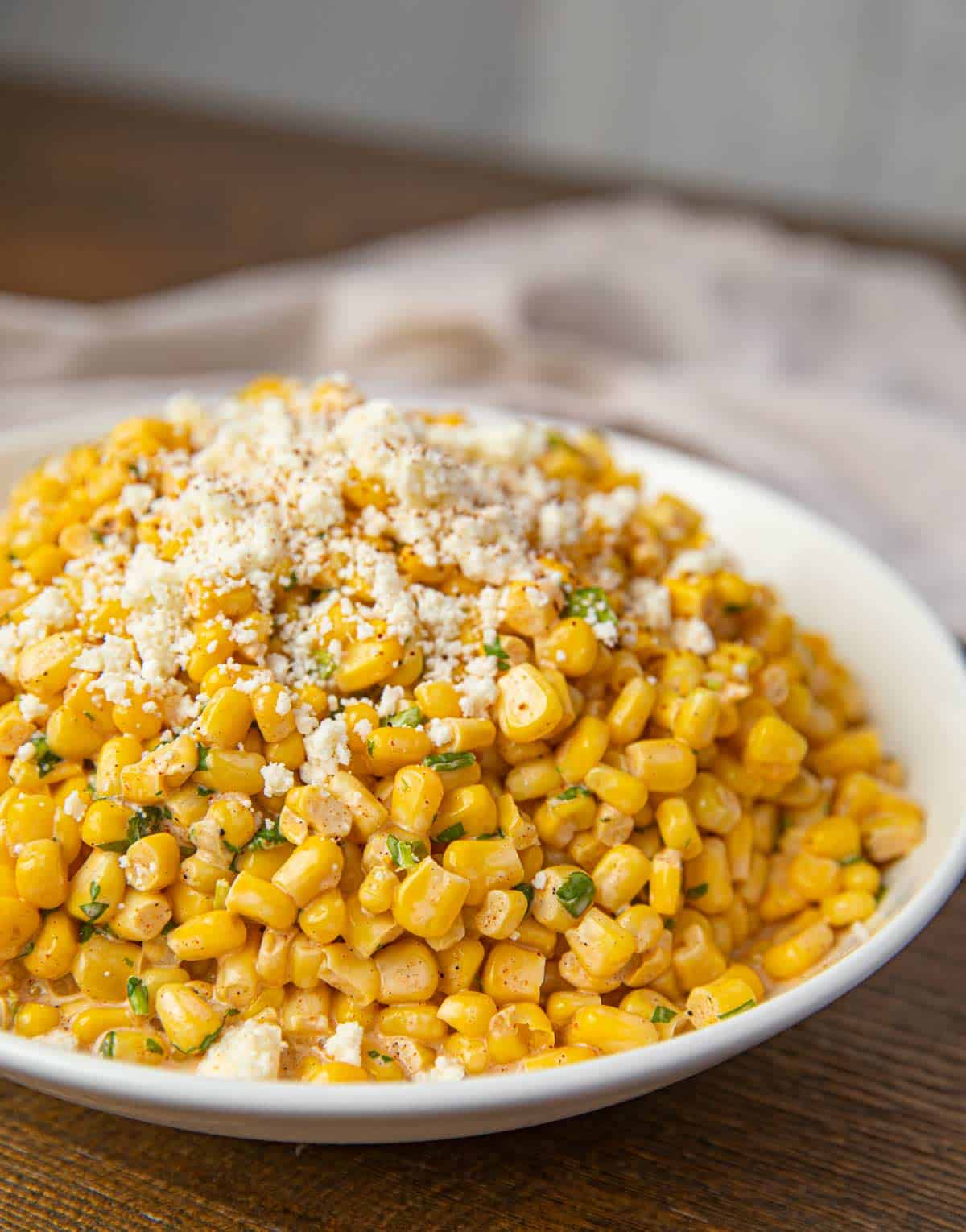 MEXICAN CORN SALAD
Do you want to add some flavor to your next BBQ or potluck dinner?
Mexican corn salad is great side dish that you can also serve over corn chips as a fancy dip. This Mexican street corn salad uses the natural flavors from fresh corn, cotija, lime juice, cilantro, mayo and chili powder to make a tasty, vibrant salad that's delicious and super quick to make.
Want to serve this dish next to one of the most popular recipes on the site? Make it and serve it with my Cheesy Taco Pasta and I promise your whole family will LOVE YOU.
HOW TO MAKE MEXICAN CORN SALAD
Mix together the cooked corn with the mayonnaise, cotija, lime juice, cilantro, and chili powder in a large mixing bowl.
Refrigerate until you're ready to serve.
Sprinkle more cotija and top with some chopped cilantro and a dash of chili powder.
VARIATIONS
Jalapeño: are you looking for a bit of a thrill with your food, chop up a jalapeño pepper and mix it into the salad for a slow-burning, flavorful zing.
Tacos: Mexican corn salad is great when rolled up in a soft tortilla or served up in a crunchy taco with Pico de Gallo. This is one of those easy recipes that you can use as a base for a variety of other dishes.
Veggies: you can add as many vegetables to this recipe as you would like. Some to definitely try out are red onion, scallions and bell peppers.
Cumin: sprinkle a little cumin onto the salad to give it some extra flavor.
Avocado: you can slice up an avocado and serve it up alongside the corn salad or chop it fine and mash it for a variation of guacamole.
Crema: crema is also called crema espesa and crema fresca, and is made from heavy cream and buttermilk, along with salt and lime. It's delicious and is great served as a garnish on top of this salad.

Create a free account to Save Recipes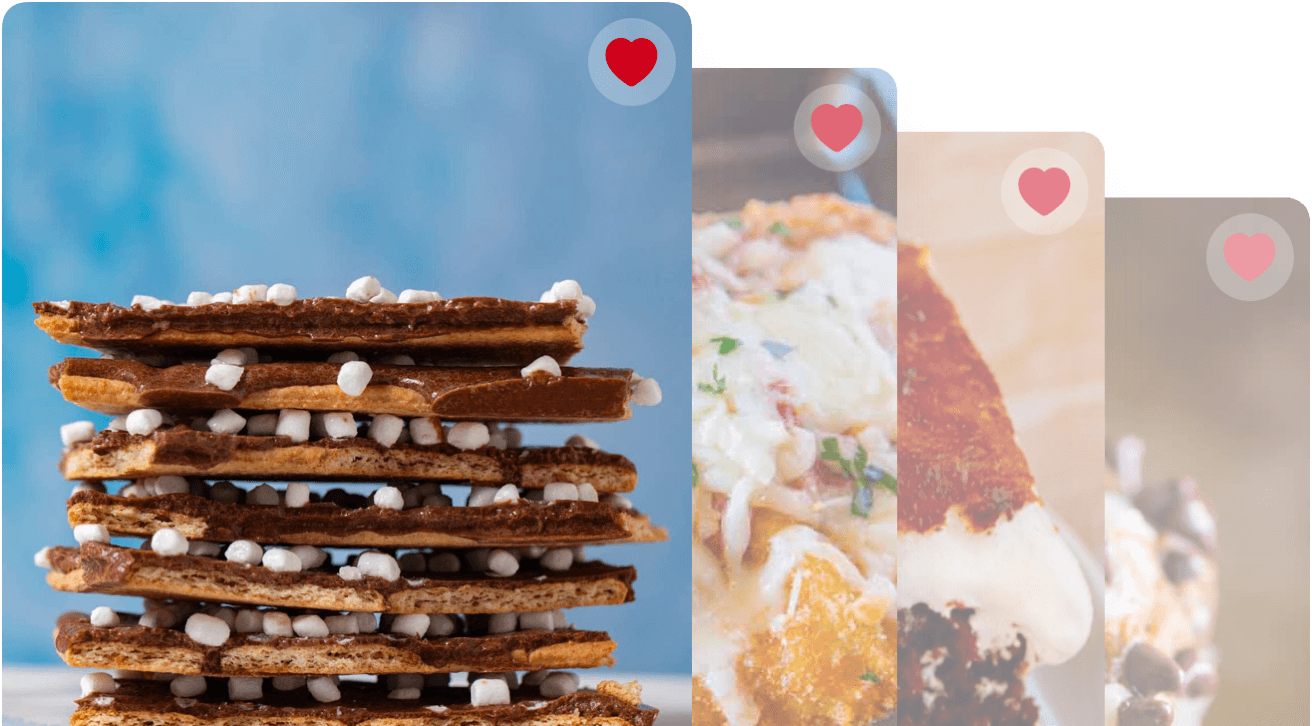 What to Serve with Mexican Corn Salad:
Black Beans: you can't argue with an absolute classic, and black beans with corn salad is for sure a classic. Black beans are great for you and are a delicious side dish that compliments the natural sweetness of the corn salad.
Spanish Rice: another classic, Spanish rice is rich, delicious and goes with pretty much anything. You'll also love how easy it is to make.
Mexican Stuffed Peppers: stuffed peppers are a main course that is filling, hearty and flavorful. They are also easily dressed up or down depending on what the occasion is.
If you want to try a delicious traditional dessert, check out my recipe for Mexican Wedding Cookies.
More Easy Summer Side Dishes:
Coleslaw – The classic staple! Or make the KFC Coleslaw (Copycat) version!
Macaroni Salad – Never buy this again, this is the best version ever.
Potato Salad – No eggs in this one, this is your perfect classic recipe.
Pasta Salad – 10 minutes with bottled Italian dressing (or use the homemade recipe I include in the post!)
Baked Beans – These are award winning! Like bbq competition award winning!
Baked Mac and Cheese – These may not be the easiest recipe on this list, but the fan favorite for sure!
What is Cotija Cheese?
A hard cow cheese from the town of Cotija, in Michoacán, Mexico. When it's first made, it crumbles just like Feta but after it's been aged it closely resembles Parmesan Cheese (it's even sometimes nicknamed "Mexican Parmesan.") It has a salty flavor, is very hard and doesn't melt easily, so it's perfect for grating over a meal to give it both flavor and texture.
How to Store Mexican Corn Salad:
Serve: because of the mayo in this recipe, you should refrigerate corn salad fairly quickly after serving it up.
Store: you can keep Mexican corn salad in the fridge for about 3 days. After that point you should cut your losses and whip up a new batch.
Freeze: don't. The fresh veggies in this dish don't thaw out very well.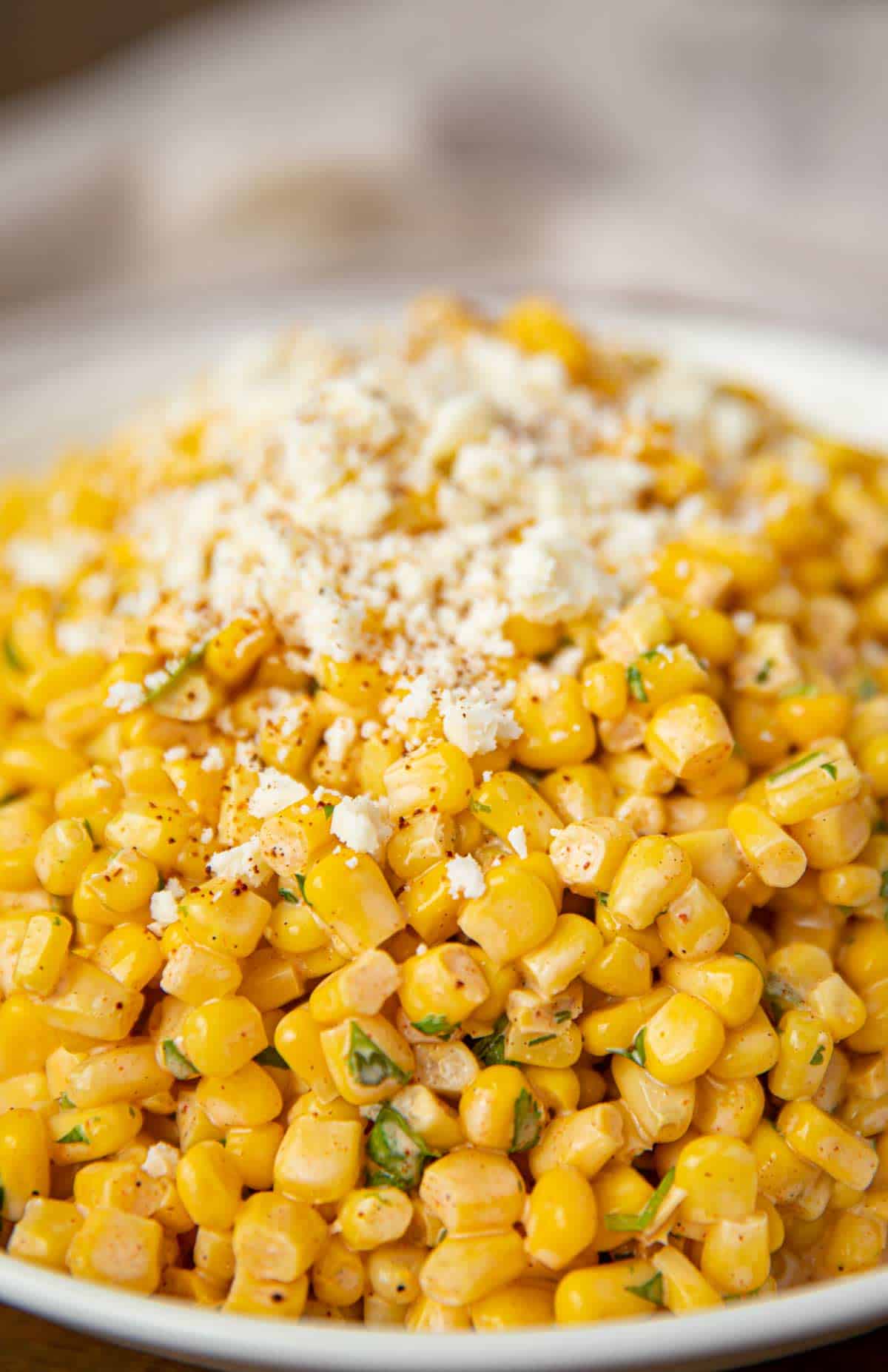 Ingredients
6

cups

corn

1

teaspoon

kosher salt

2

teaspoons

chili powder

1/3

cup

mayonnaise

1/2

cup

cotija cheese

crumbled

1

lime

juiced and zested

1/4

cup

cilantro

chopped

2

teaspoons

chili powder
Instructions
Add the corn, salt, chili powder, mayonnaise, lime juice and zest and cilantro to a large bowl and mix well.

Top with cotija cheese and additional chili powder for garnish (if desired).
Nutrition
Calories:
205
kcal
|
Carbohydrates:
26
g
|
Protein:
6
g
|
Fat:
11
g
|
Saturated Fat:
3
g
|
Cholesterol:
12
mg
|
Sodium:
473
mg
|
Potassium:
286
mg
|
Fiber:
3
g
|
Sugar:
6
g
|
Vitamin A:
675
IU
|
Vitamin C:
8.9
mg
|
Calcium:
56
mg
|
Iron:
0.8
mg