Shrimp Étouffée is a Cajun dish loaded with bold flavors, cooked in butter and the holy trinity vegetables over rice that's ready in just 30 minutes!
Pair this hearty stew with some Southern Fried Okra and Cornbread and you can almost imagine that you're down in New Orleans for Mardi Gras.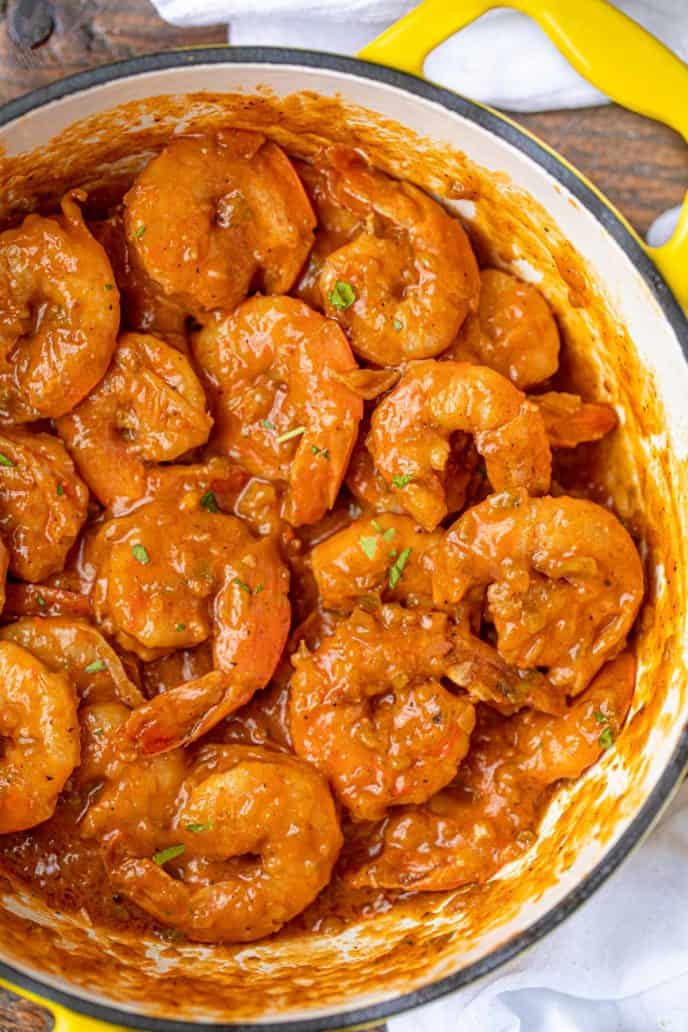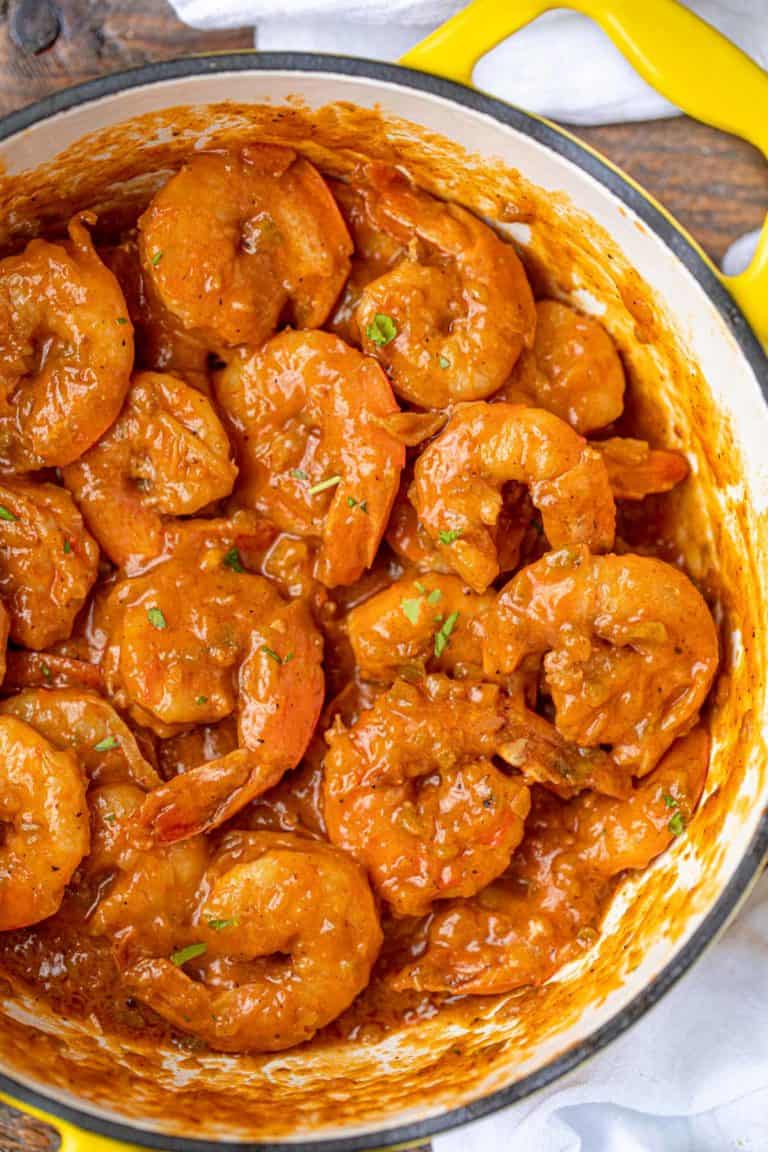 SHRIMP ÉTOUFFÉE
I've heard Shrimp Étouffée described as "edible jazz," and that description is pretty apt. Just like jazz, Étouffée combines a little bit of style from multiple genres and blends them together to make a tasty, vibrant medley.
Shrimp Étouffée is a blend of vegetables cooked in a thick tomato sauce. A great dish for weeknights, it keeps really well in the fridge for leftovers and tastes even better the next day (don't ask us how since shrimp is notoriously bad as leftovers, but it does.)
HOW TO MAKE SHRIMP ÉTOUFFÉE
Trust us on this, if you chop all of your veggies at once ahead of time, this recipe is so much easier to make (you don't want to be trying to cut a green pepper while sautéing butter.) Dice them into medium small pieces and set them aside while you get everything else ready. You should also start your rice first so it will be finished by the time your shrimp is cooked.
Get out a large dutch oven and melt some butter on medium-low heat.
Add the olive oil, chopped onion, bell pepper, celery and garlic and saute them for about 5 to 7 minutes until the onions are translucent.
Pour in the flour and stir until it has completely dissolved into the vegetable mixture.
Add in the tomato paste, Tabasco sauce, water, salt, black pepper, cajun seasoning and shrimp. Stir well and let it all simmer on medium heat until the shrimp is cooked through.
Scoop it out onto a bed of rice and, if you're feeling really adventurous, add a healthy dab of hot sauce.
VARIATIONS
Crawfish: if you want to be really authentic, substitute the shrimp and make crawfish étouffée. I promise, you have never tasted anything like it.
Green onions: if you want a slightly different texture, chop up some green onions instead of a yellow onion.
Diced tomatoes: to make more sauce without thickening it up too much, add in a can of diced tomatoes and stir well.
Hot: if you want your étouffée to cook your taste buds on high heat, chop up your choice of hot pepper and add it in to the pot. Remember, the later you add the peppers the hotter they will be, since heat destroys capsaicin, the chemical in peppers that makes it feel like your face is melting. You can also hit it with a dash of paprika for a rush of flavor.
WHAT DOES ÉTOUFFÉE MEAN?
"Étouffée" is a French word that means "smothered." The term actually refers more to the style of cooking than the food itself, sort of like the word "barbecue."
IS ÉTOUFFÉE THE SAME AS GUMBO OR JAMBALAYA?
This recipe is similar to two other Creole dishes, gumbo and jambalaya, but has a few distinct differences.
Gumbo: gumbo, which means "okra" in various West African dialects, has a thinner broth and multiple kinds of meat rather than just one. It also can be made with okra, the gelatinous plant pod that is common in both West African and Creole dishes. Gumbo can also use a different variety of Creole seasoning than étouffée.
Jambalaya: there are two different opinions on the origin of the word "jambalaya." The first one is that it's a Provençal word that means "mixup," since the word first appeared in a poem from Provence, France in the 1800s. The other thought is that it's a blend of the Spanish word jamón ("ham") and paella (a popular rice dish.) Just like the second theory about the name implies, jambalaya is closer to paella than étouffée.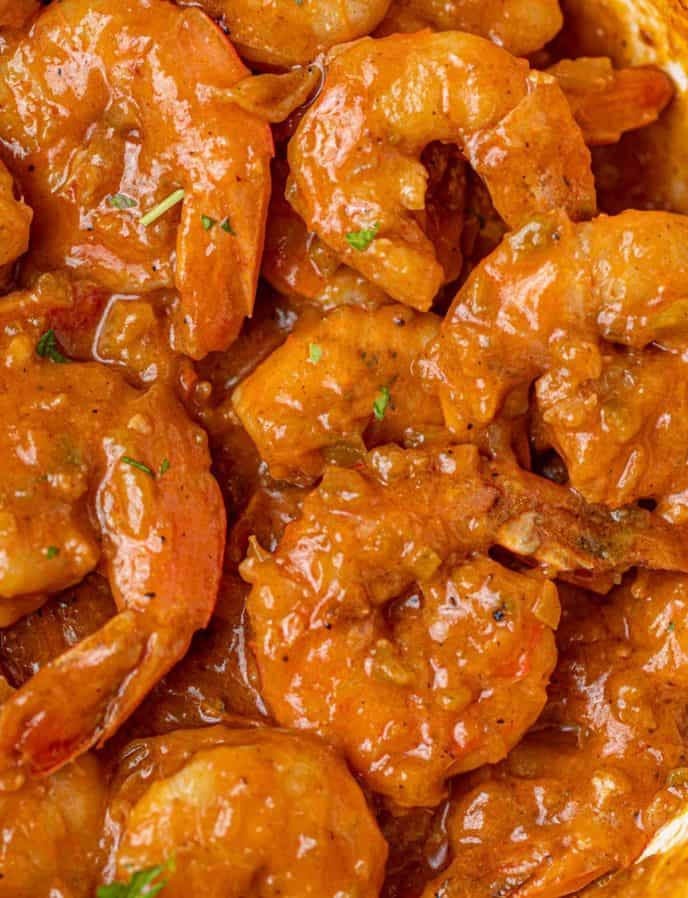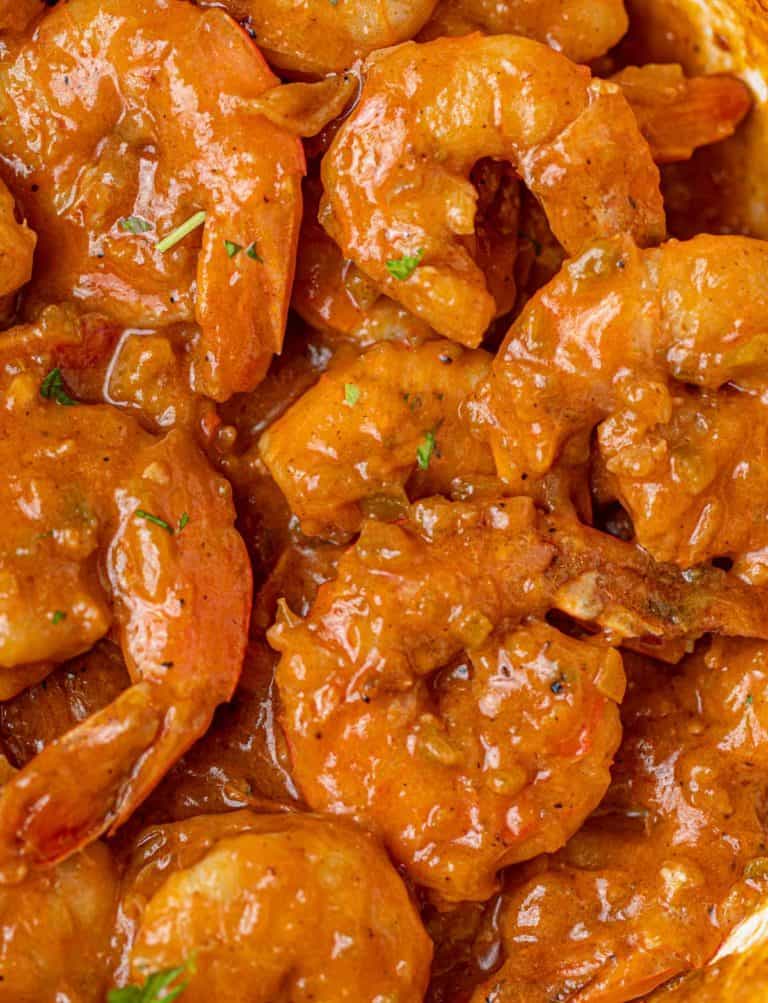 Create a free account to Save Recipes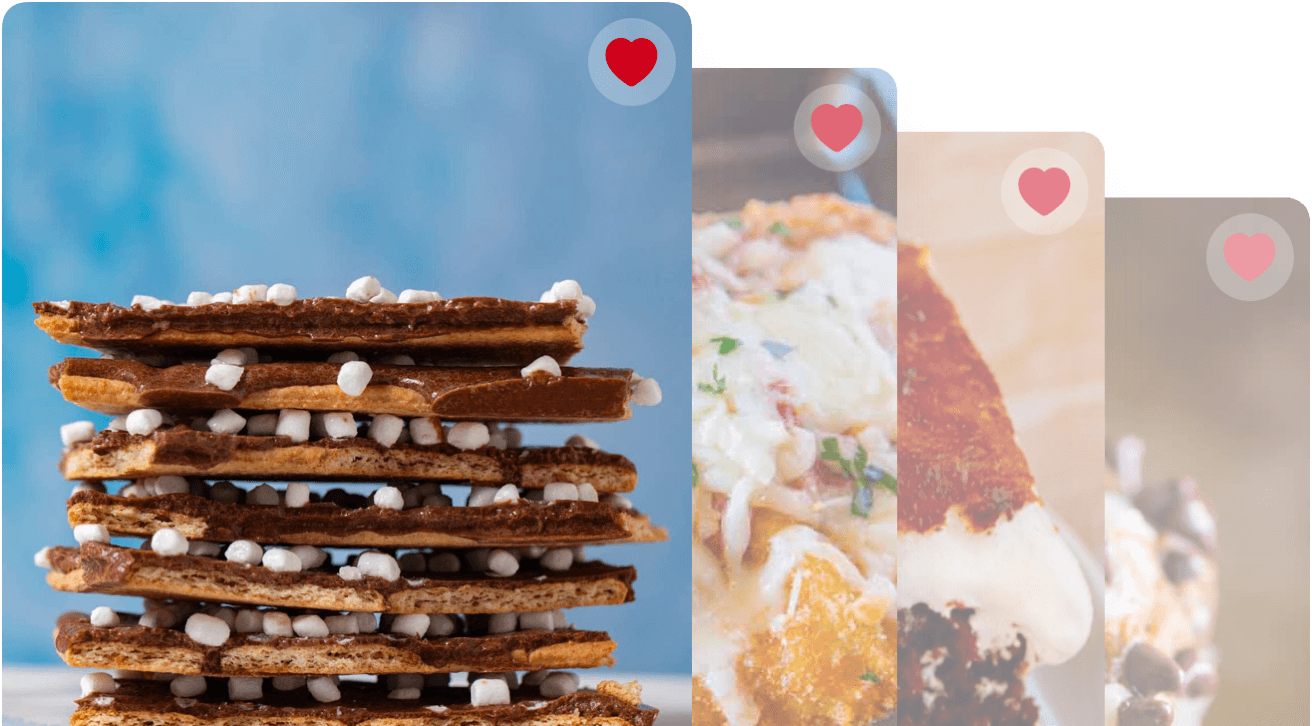 WHERE DOES ÉTOUFFÉE COME FROM?
This delicious stew was first introduced to restaurant goers in the 1950s in Breaux Bridge, Louisiana, but it's thought to be older than that, possibly from the 1920s. Étouffée is both a Creole and Cajun dish and originally used crawfish instead of shrimp because of how popular crawfish were in the bayous (mostly because of how regularly people caught them.)
THE "HOLY TRINITY"
The holy trinity of Cajun food consists of bell pepper, onion and celery. These three ingredients are called the trinity because of how often they show up in recipes and how varied those recipes are. Jambalaya, gumbo and étouffée are just three examples of different dishes that, although similar, are distinct from each other and use the holy trinity. Trying to make a Cajun meal without the trinity is something that is just not done.
HOW LONG IS IT GOOD?
Serve: don't leave this dish out for more than 2 hours or you will be regretting that shrimp.
Store: étouffée will last in the fridge up to 3 days.
Freeze: don't. The shrimp will get really nasty.
WHEN IS IT FULLY COOKED?
According to the USDA's website, shrimp is considered fully cooked when the internal temperature reaches 145 degrees F (62.8 degrees C). In order to keep your dinner from being memorable for all the wrong reasons, make sure to check the étouffée with a probe thermometer before you dig in.
This Shrimp Étouffée Recipe is simple and fast, and if you're a big fan of food from the American South it may just be a new favorite in your house.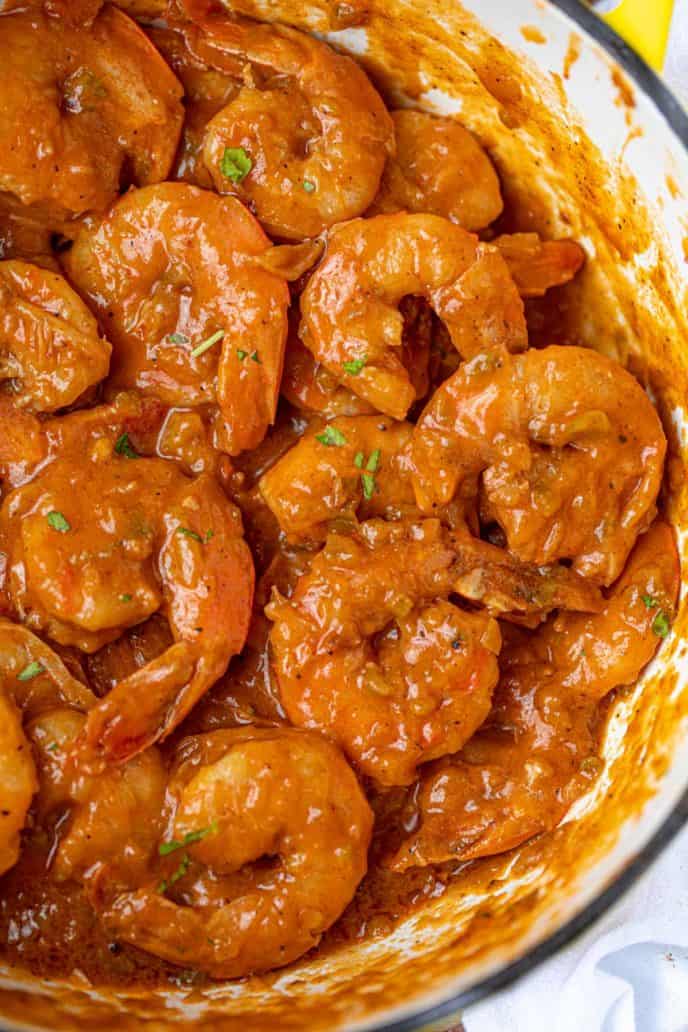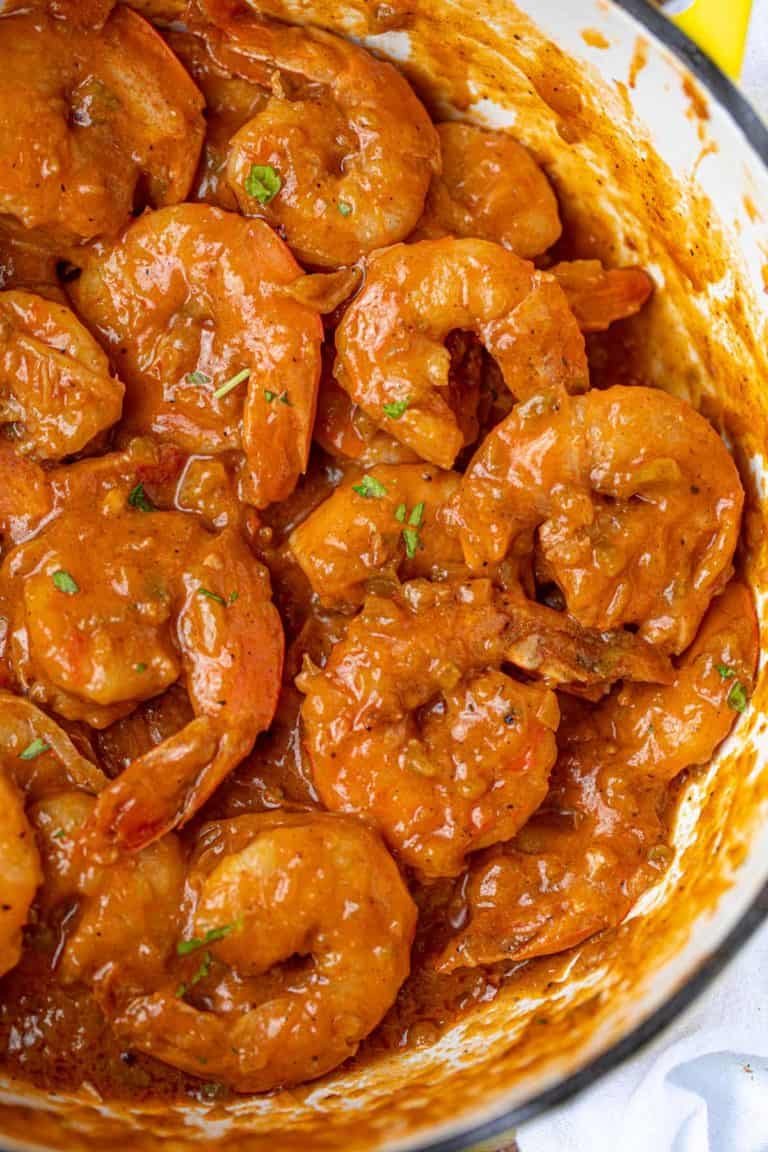 Ingredients
8

tablespoons

unsalted butter

4

tablespoons

olive oil

1

yellow onion

, chopped finely

1

green bell pepper

, chopped finely

4

stalks celery

. chopped finely

3

cloves

garlic

. chopped finely

1/4

cup

flour

1/4

cup

tomato paste

2

teaspoons

hot sauce

2

cups

water

1

teaspoon

kosher salt

1/4

teaspoon

coarse ground black pepper

2

tablespoons

Cajun seasoning

2

pounds

shrimp

, peeled and deveined (13-15 count)
Instructions
To a large dutch oven add the butter, olive oil, chopped onion, bell pepper, celery and garlic on medium-low heat for 5-7 minutes stirring occasionally until the onions are translucent.

Add in the flour and stir until it is completely absorbed then add in the tomato paste, hot sauce, water, salt, black pepper, cajun seasoning and shrimp and simmer for 15 minutes over medium heat until the shrimp is cooked through then serve over scoops of cooked rice.
Nutrition
Calories:
411
kcal
|
Carbohydrates:
9
g
|
Protein:
33
g
|
Fat:
27
g
|
Saturated Fat:
11
g
|
Cholesterol:
421
mg
|
Sodium:
1629
mg
|
Potassium:
311
mg
|
Fiber:
2
g
|
Sugar:
2
g
|
Vitamin A:
1810
IU
|
Vitamin C:
25.8
mg
|
Calcium:
251
mg
|
Iron:
4.2
mg