Easy Pulled Pork made in the oven (no smoker needed!) with a delicious homemade rub that tastes like it came from your favorite bbq restaurant. This'll be the hit of the summer season!
Just like with the immediately popular BBQ Pulled Chicken, you can serve this summer favorite with KFC Coleslaw (Copycat), Three Bean Salad and Slow Cooker Mac and Cheese for the easiest and most delicious summer cookout meal made indoors!
 Pulled Pork Recipe
Pulled pork doesn't have to be a daunting recipe or something you go to your local bbq stop for. This pulled pork recipe is made IN THE OVEN and it tastes like it sat outside in the smoker all day.
There's just two catches to this recipe (there has to be a catch with such big promises right?). I need you to let this seasoned pork sit in your fridge overnight. Let all the flavors come together in a way that will leave you with the most seasoned pork ever.
Second, please, please, please sear off the pork. The added crispness to the crust you'll get is worth the tiny bit of smokiness you'll end up with int he kitchen when you're searing all the sides. Keep the ventilation on above the stovetop, there is cayenne in this recipe so the air may be a bit spicy.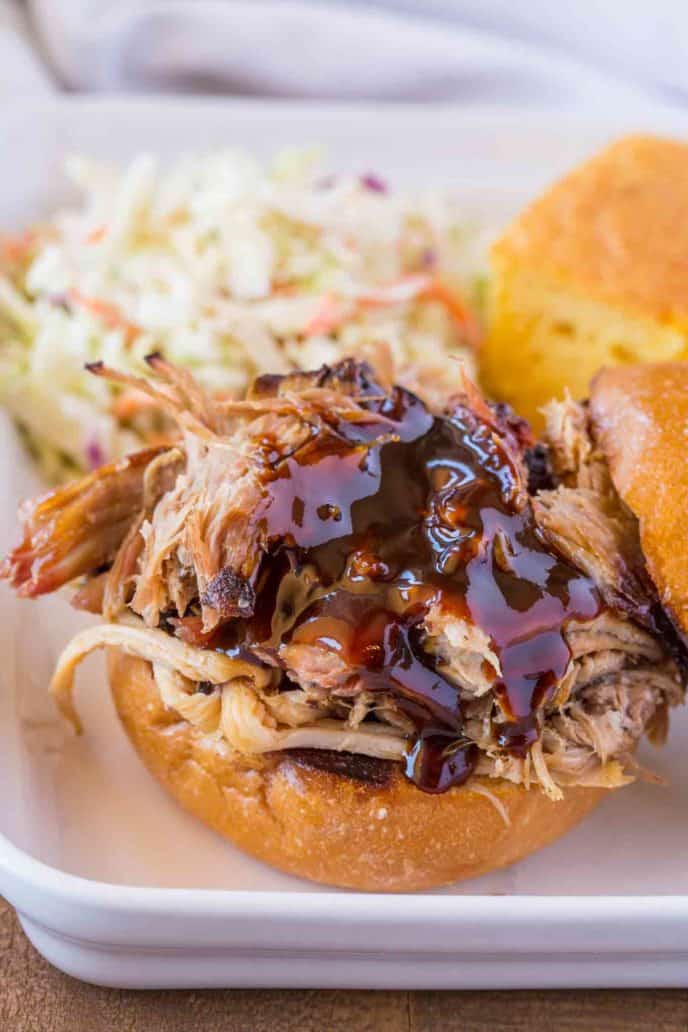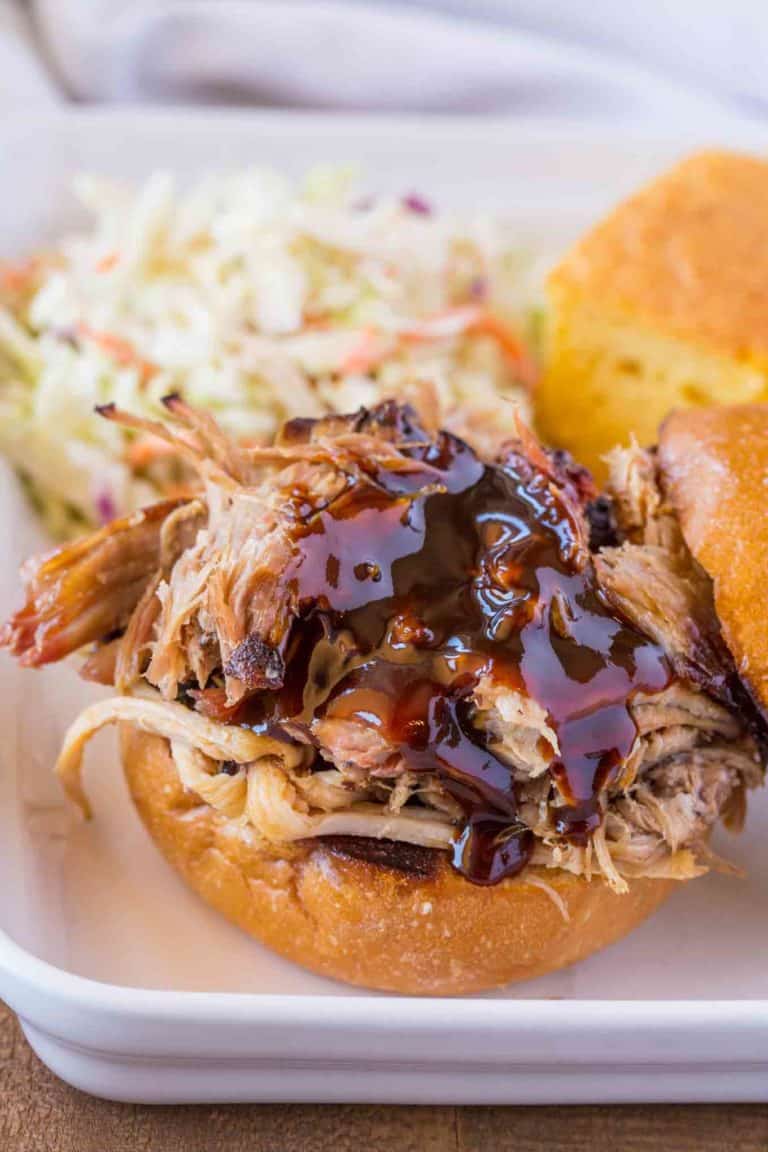 Crock Pot Pulled Pork Recipe:
This recipe can be easily made in the slow cooker as well. Follow the recipe instructions completely through the searing stage. Once you've seared the pork add the foil to the bottom of your slow cooker and lay the pork on top of that. Cook the pork on low for 10-12 hours with no additional liquid added. Sometimes if I find the cut of pork is too big for the slow cooker and too much liquid is being released into the slow cooker I will drain some of the liquid about 6-7 hours into the cook time.
Want to top your sandwich with barbecue sauce? I highly recommend the sauce in this Tony Roma's Original BBQ Sauce because it's the best bbq ever.
The Perfect Pulled Pork Sandwich Recipe:
Start with a brioche bun (extra points if you butter it and toast it.
Top with a healthy amount of pulled pork.
Add a bit of bbq sauce over the pork (optional)
Put about ¼ cup of Easy Cole Slaw on top of the pork.
If skipping slaw you can also top with pickled red onions.
Want spice? Add some jalapenos. My FAVORITE are these candied jalapenos or spicy bread and butter pickles.
What kind of meat do you use for pulled pork?
Classically bbq experts will use a whole shoulder which is made up of both the boston butt cut of meat and the pork shoulder cut. You're looking for either one, about five pounds or so. Bone in will always provide better flavor and cost significantly less.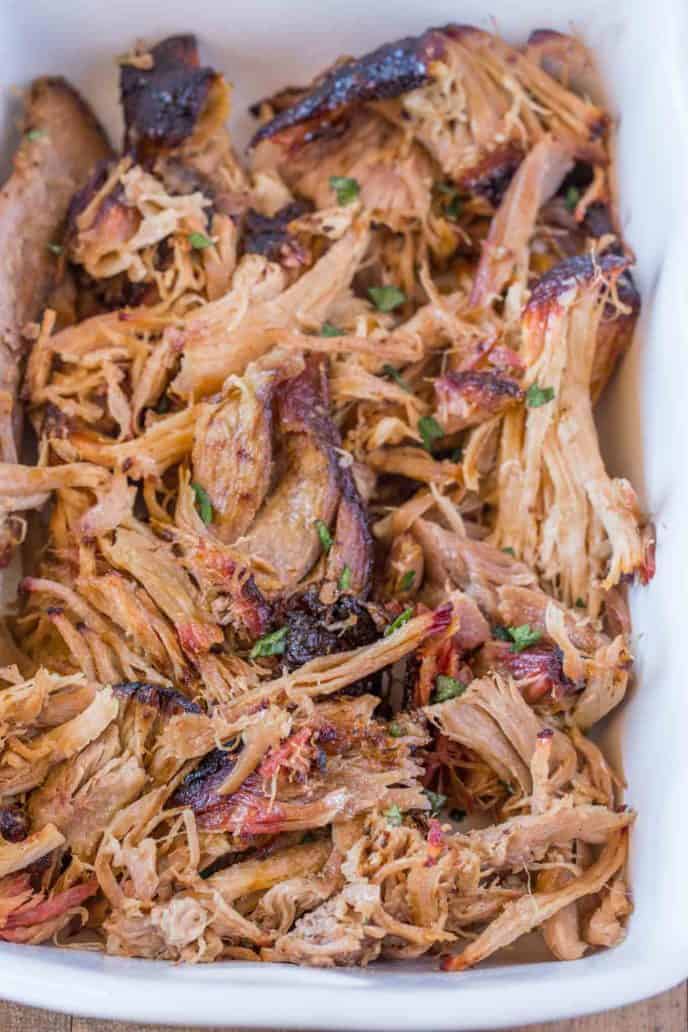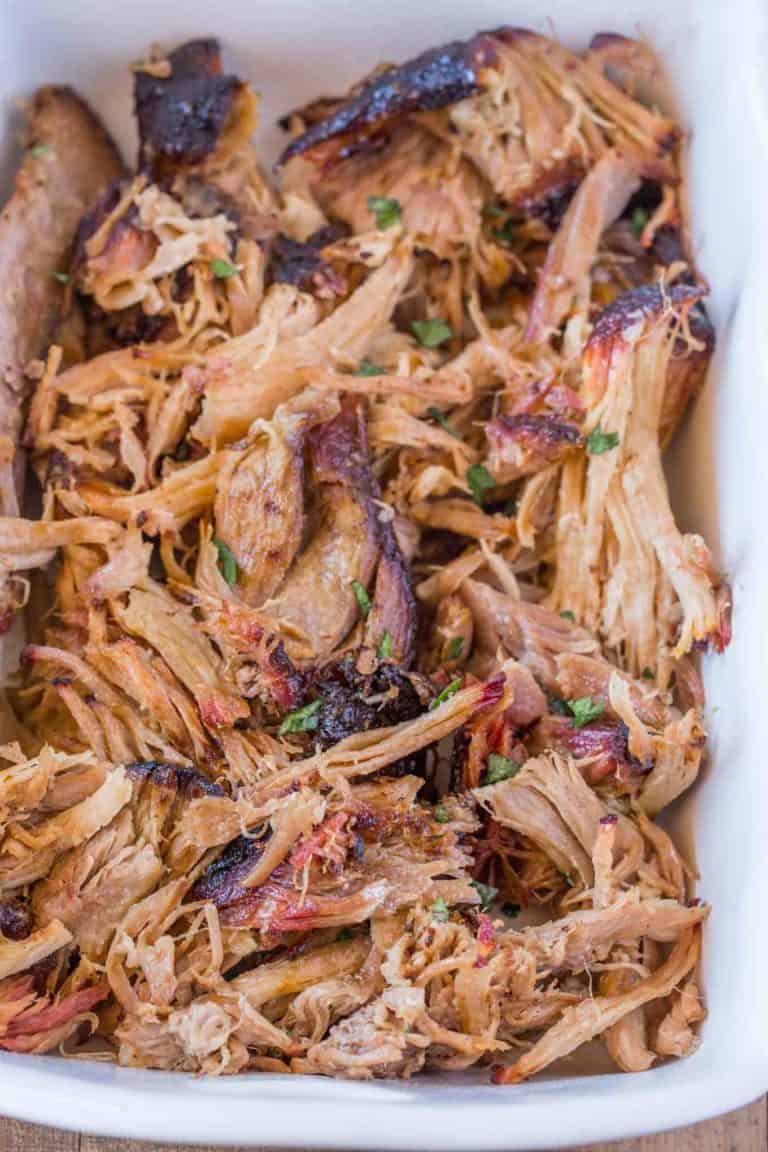 Can you use a pork loin to make pulled pork?
Using pork loin is certainly a healthier choice, one that's also quite delicious. Pork loins are better suited for recipes where the pork is sliced and tender such as Ultimate Garlic Pork Loin Roast, Slow Cooker Honey Apple Pork Loin, Slow Cooker Bacon Garlic Pork Loin and Brown Sugar Garlic Pork with Carrots & Potatoes,
What can you make with pulled pork?
Add it to a salad (leave it cold) with corn, black beans, cucumbers, tomatoes and lettuce and top with honey mustard and bbq sauce.
Add it to a baked potato and top with Crispy Thin Onion Rings, bbq sauce and cheddar cheese
Make it into a bbq pork quesadilla with some thinly sliced red onion and cheddar cheese.
Top it on nachos with cheddar cheese sauce, ranch, jalapeno rings, and chopped tomatoes.
Make it into tacos with finely shredded cabbage, pico de gallo and ranch dressing.
More fun Easy Summer BBQ Recipes:


Ingredients
1/2

cup

packed brown sugar

1

teaspoon

ground nutmeg

1/4

cup

salt

*

1/4

cup

coarse ground black pepper

1/4

cup

sweet paprika

1/3

cup

smoked paprika

1

tablespoon

cayenne red pepper

2

tablespoons

ground cumin

5

pounds

pork shoulder

2

tablespoons

canola oil
Instructions
Mix everything but the pork shoulder and the oil together in a large metal bowl.

Add in the pork shoulder and roll it in the seasoning well, packing on all the seasoning as best as you can.

Wrap the top with saran wrap and refrigerate overnight (optional but very highly recommended).

Preheat the oven to 325 degrees.

Using a large dutch oven add the canola oil over medium high heat.

Brown the pork on all sides then turn off the stovetop.

Add in a small rack under the pork into the dutch oven (in the absence of this use foil).

Place the pork on top then cover.

Cook for

3-3 ½ hours

(if the meat is longer rather than thicker 3 should be long enough).

Shred before serving.

If you want to keep the juices, skim the fat off then pour over the pork before serving.
Notes
*?I use?smoked salt?and it?s inexpensive and DELICIOUS!
Nutrition
Serving:
4
g
|
Calories:
196
kcal
|
Carbohydrates:
9
g
|
Protein:
18
g
|
Fat:
9
g
|
Saturated Fat:
2
g
|
Cholesterol:
61
mg
|
Sodium:
1962
mg
|
Potassium:
434
mg
|
Fiber:
1
g
|
Sugar:
7
g
|
Vitamin A:
2085
IU
|
Vitamin C:
0.8
mg
|
Calcium:
37
mg
|
Iron:
2.6
mg