Slow Cooker Barbecue Ribs
This post may contain affiliate links. Read my disclosure policy here.
Slow Cooker Barbecue Ribs that are fall off the bone tender made with a homemade rub and easy tangy bbq sauce. These are perfect for your summer barbecues!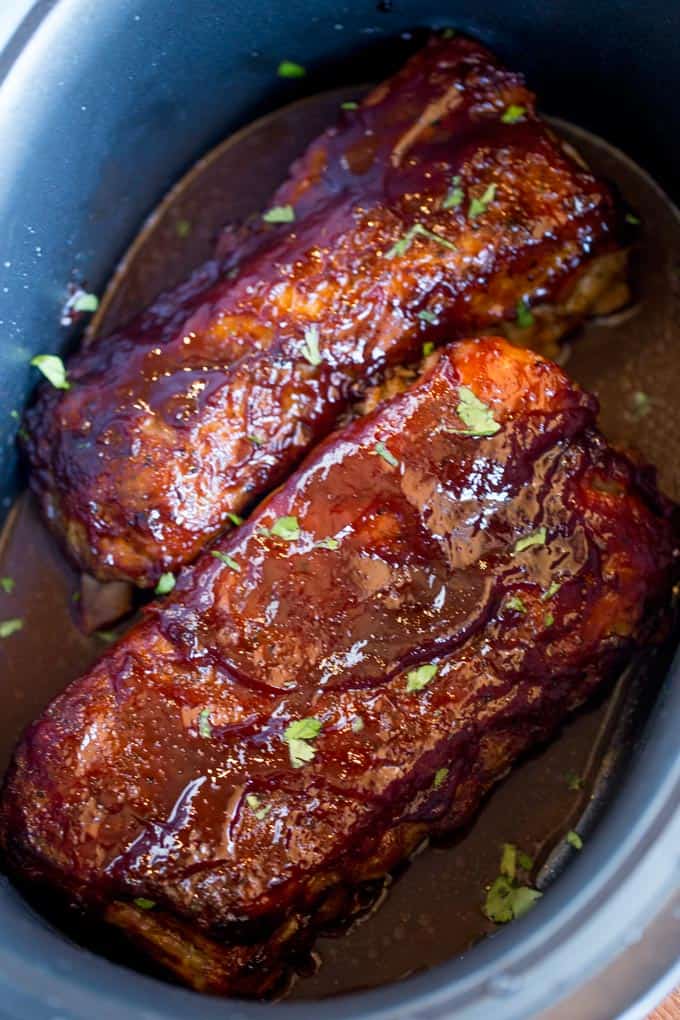 Slow Cooker Barbecue Ribs are an easy way to bring a bit of summer into the house without keeping the oven on for three hours.
The thing I love about Slow Cooker Barbecue Ribs is that they're perfect for every season. In the winter when you're missing the warmth and fun of summer you can enjoy a summer meal with no effort and in the summer when it is so hot outside you can't bear to turn the oven on you can just plug in your slow cooker and have a delicious meal without heating up the whole house!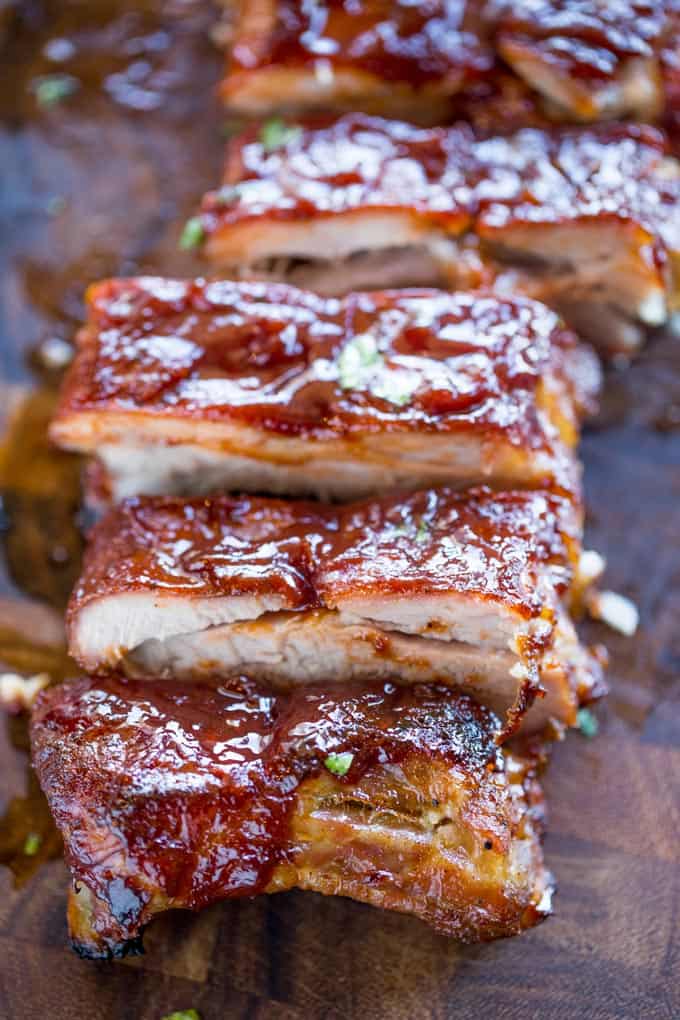 Cooking ribs in the slow cooker isn't a novel idea, I've been doing it since I got my first slow cooker in college. Even then the site I found the method on (allrecipes) had thousands of reviews on it. So my spin on it is the rub and the sauce.
Plus, later this week I'll share my version of the McRib, but made with actual ribs and not a formed patty.
Here's the rub on these Slow Cooker Barbecue Ribs (yeah…I'm not even sorry for that lame joke).
I use a homemade rub, it helps control how much sodium is in your dry rub. If you are looking for something delicious you can buy, I can't recommend Charlie Rendezvous highly enough.
Make sure if your rubs have the silverskin/membrane along the bone side of the rack you remove it before adding the rub or cooking. Here's a good link about how to do that at Fine Cooking.
I cook them in the slow cooker without the bbq sauce. I add the sauce just before broiling. Broiling is 100% not necessary but I like the taste of bbq sauce when it has some of the sugars in it caramelized. If you choose to skip the oven stage you can add the bbq sauce in the last hour. If you add it before then the ribs will lose the coverage as they cook. 
Looking for more BBQ Recipes?
MY OTHER RECIPES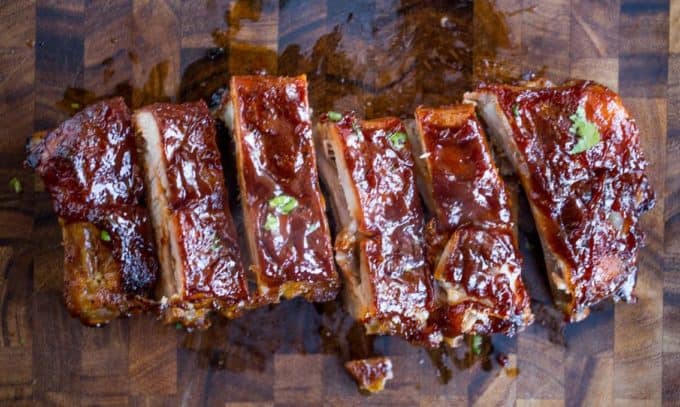 Tools used in the making of these Slow Cooker Barbecue Ribs:
Charlie Rendezvous Dry Rub: In case you don't want homemade.
Tony Roma's BBQ Sauce: In case you don't want homemade.
Slow Cooker: Love this slow cooker and how programmable it is, it has been a workhorse for me… until…
My New Slow Cooker: This recipe was made in this slow cooker. For larger roasts I also brown the meat in the insert and not lose a bunch of the flavor by transferring the meat and leaving the browned bits behind. If you're thinking of a new slow cooker, consider it if your budget is open.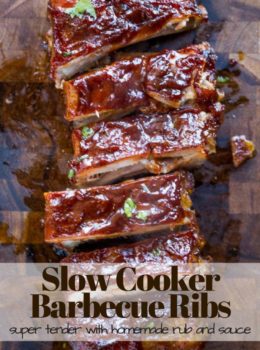 Slow Cooker Barbecue Ribs
Slow Cooker Barbecue Ribs that are fall off the bone tender made with a homemade rub and easy tangy bbq sauce. These are perfect for your summer barbecues!
Prep Time 15 minutes
Cook Time 1 hour
Total Time 1 hour 15 minutes
Ingredients
Dry Rub:
1 tablespoon cumin
1 tablespoon paprika
1 tablespoon granulated garlic
1 tablespoon granulated onion
1 tablespoon chili powder
1 tablespoon brown sugar
2 tablespoons kosher salt
1 teaspoon cayenne pepper
1 teaspoon black pepper
1 teaspoon white pepper
Ribs:
2 whole racks of baby back ribs
BBQ Sauce:
1 cup ketchup
1 cup vinegar
1/2 cup corn syrup
2 teaspoons sugar
1/2 teaspoon salt
1/4 teaspoon garlic powder
1/4 teaspoon onion powder
1/4 teaspoon Tabasco sauce
Instructions
To make the dry rub:
Combine all the ingredients into a bowl and whisk together.
To make the BBQ Sauce:
Add all the bbq sauce ingredients into a saucepan and whisk until combined.

Bring to a boil, then simmer on low for 45 minutes.
To make the ribs:
Rub the dry rub all over the front and back of the ribs.

Cook on low for 7-8 hours (I do 7) or high for 4 hours.

While the ribs are cooking make your bbq sauce.

Remove from the slow cooker and broil in your oven for 2-3 minutes on the rack closest to the top of the oven.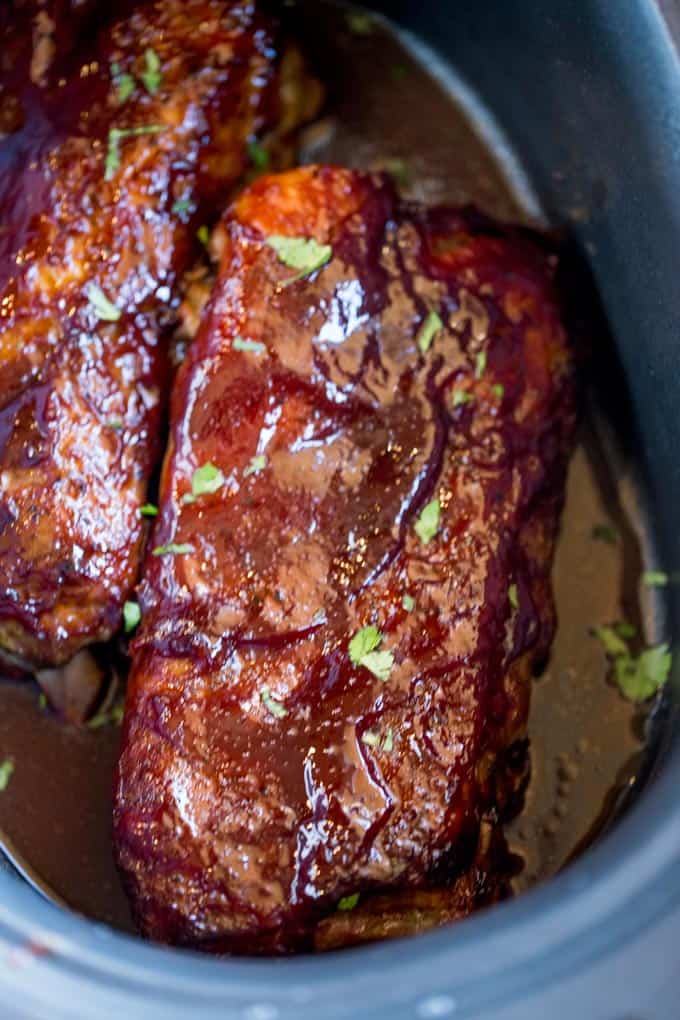 Dinner, then Dessert, Inc. owns the copyright on all images and text and does not allow for its original recipes and pictures to be reproduced anywhere other than at this site unless authorization is given. If you enjoyed the recipe and would like to publish it on your own site, please re-write it in your own words, and link back to my site and recipe page. Read my disclosure and copyright policy. This post may contain affiliate links.