Soft and fluffy Texas Roadhouse Rolls made from scratch brushed with cinnamon honey butter. It's pure dinner roll perfection!
If you're craving a dinner out but just don't feel like leaving the house, recreate one of your favorite meals by serving these golden brown Texas Roadhouse Rolls with this Perfect, Easy Ribeye Steak or any other of these Main Dish Recipes. Great for a date night in or celebratory dinner.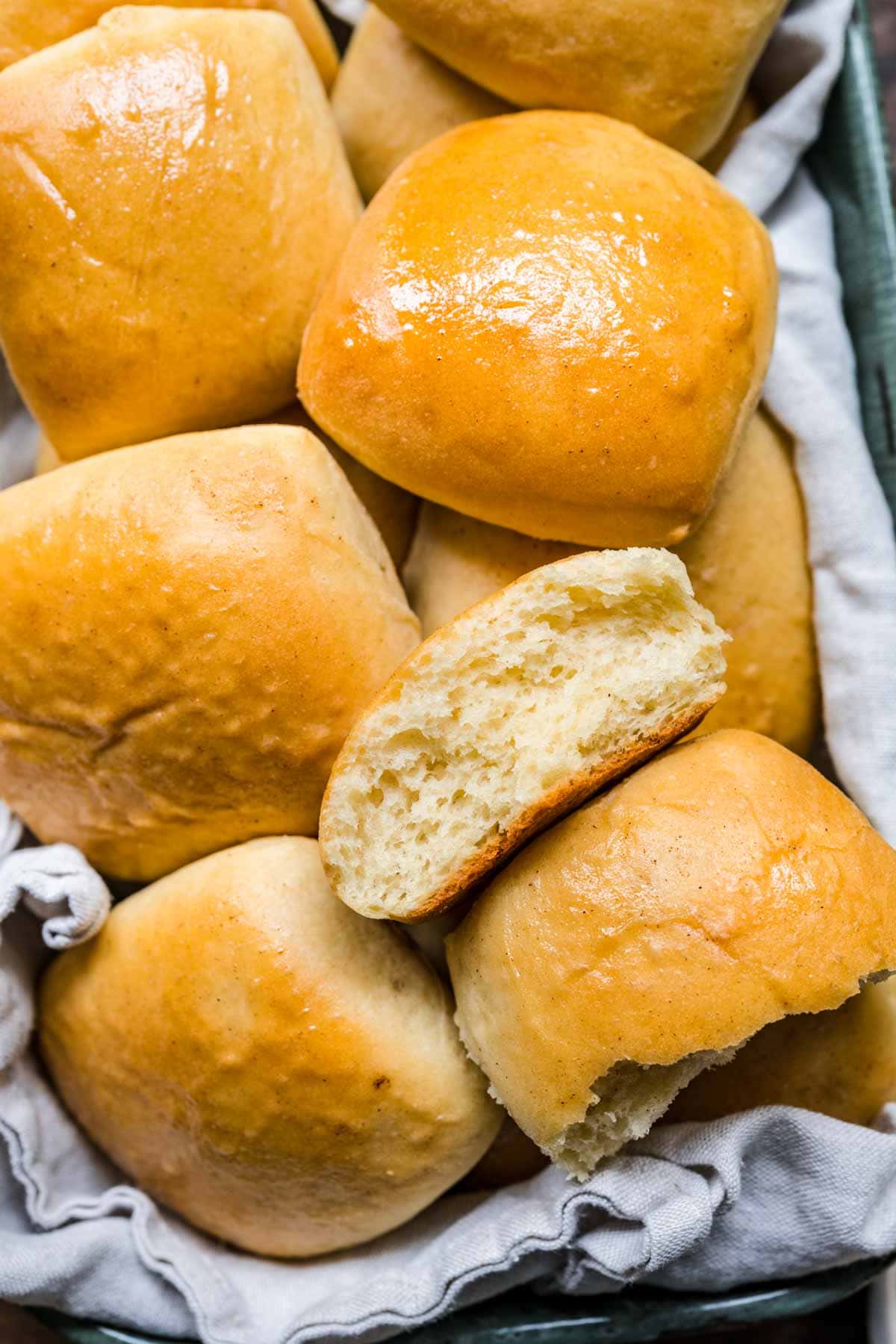 Can you even say you went to Texas Roadhouse without having at least one of their warm and buttery rolls? It's difficult to not getting excited when you see that basket being dropped off at your table. Everyone is quick to reach into the basket to claim their very own roll.
With a little bit of patience and effort, you can make these sweet and cinnamon-y rolls right at home. You can even make the dough ahead of time and let it rise in the refrigerator overnight. A real big help when you're preparing other dishes for the evening. Allow it to come to room temperature, cut into squares, allow them to rise again, and bake. You can also freeze the dough to make at a later time.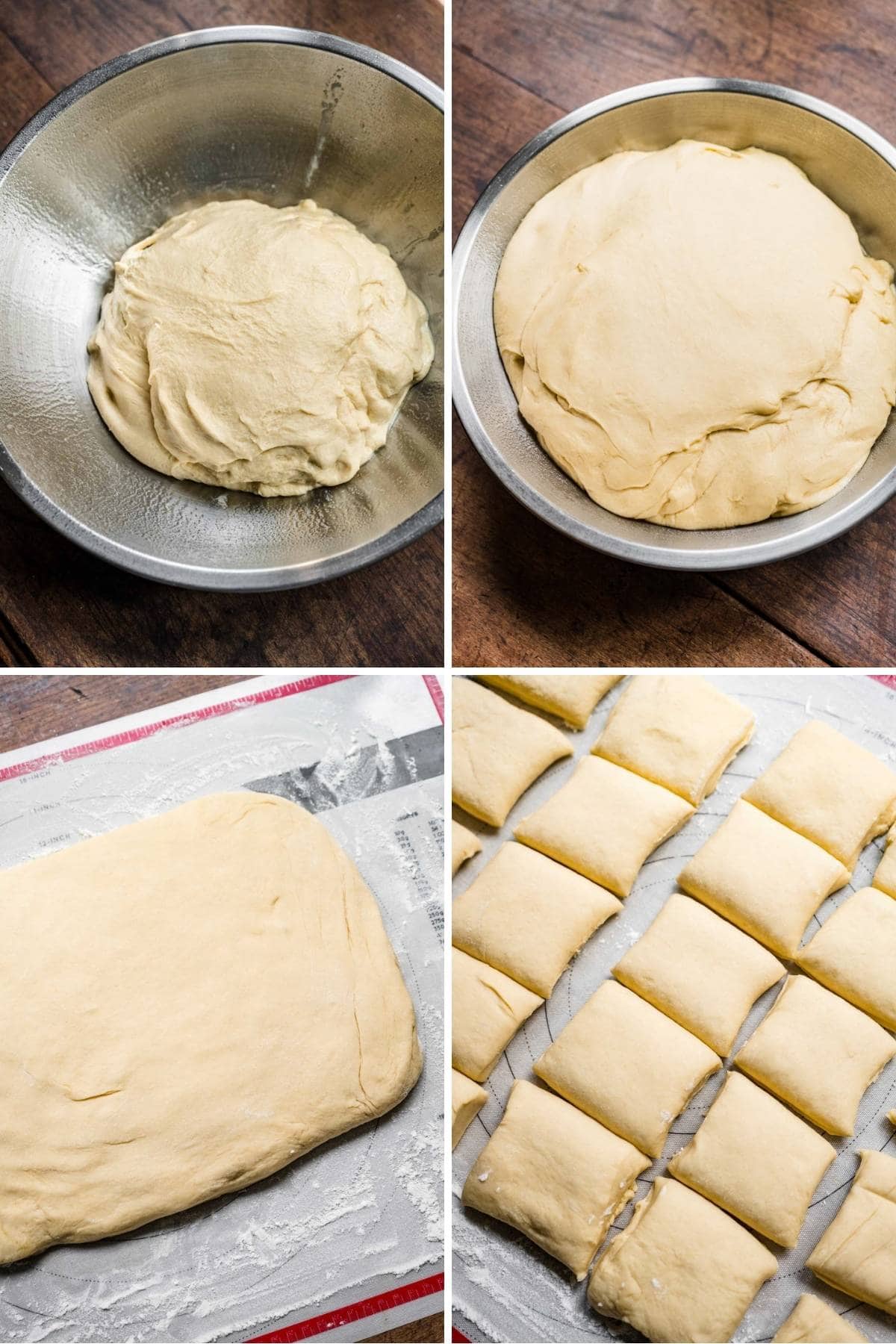 If this is your first time making rolls, don't worry. One amazing thing about this copycat Texas Roadhouse Rolls recipe is you do not have to knead the dough by hand. Yes, you heard that right. All the work will be done in your stand mixer using a dough hook. See, this recipe just got a whole lot easier.
As much as everyone loves these rolls though, we NEED to talk about the honey cinnamon butter. It's so creamy and buttery and so very simple to make. For the butter recipe, all you need is butter, honey, sugar, cinnamon, and salt. Once made, it can be stored in an airtight container in the refrigerator, but try leaving it out a bit before dinner so it softens for easy spreading.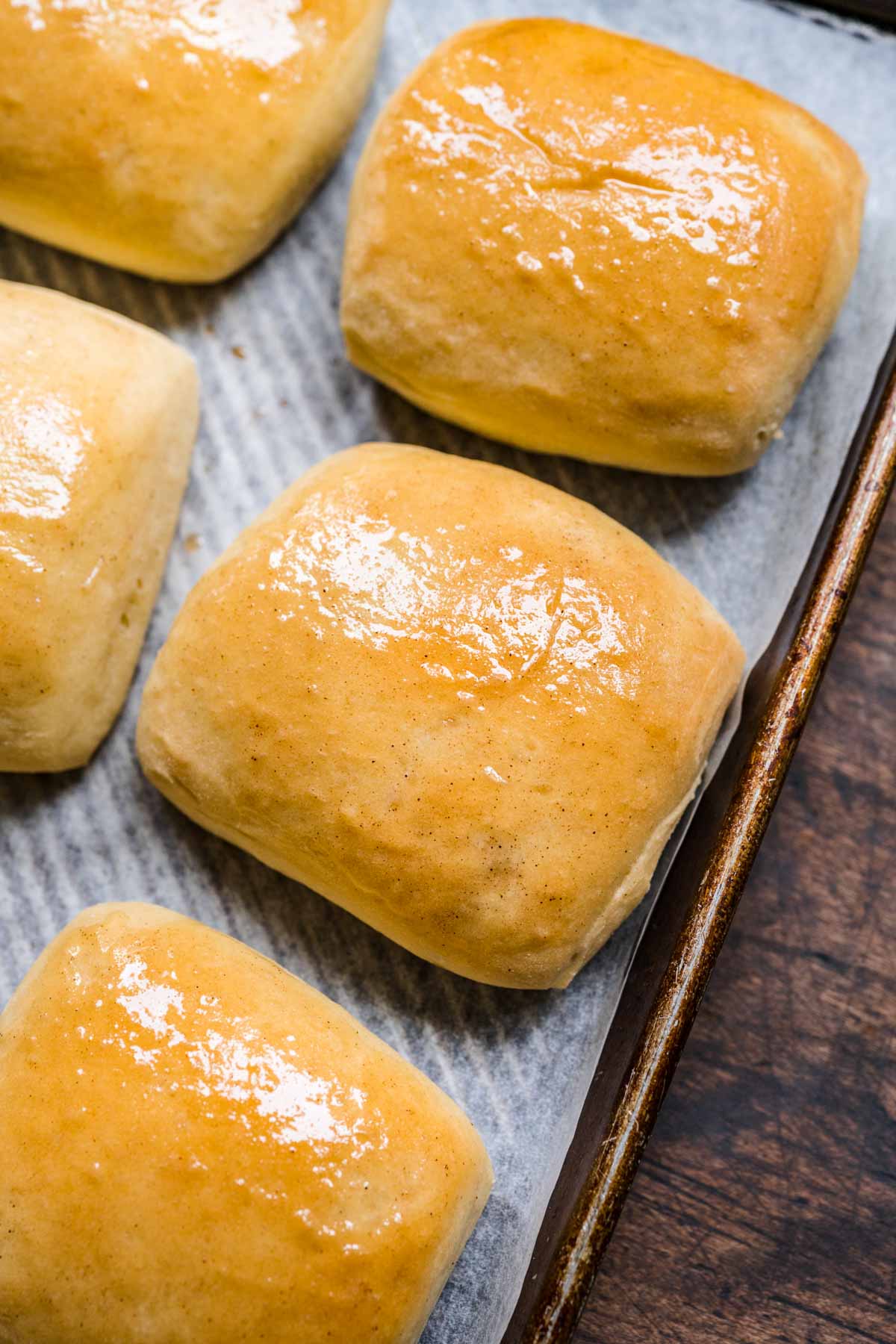 Why are Texas Roadhouse Rolls SO Popular?
Texas Roadhouse is already a very popular American Steakhouse all around the country, with a huge and loyal following. However, it is safe to say that these rolls are a part of what makes the restaurant memorable. One really unique thing about these rolls, aside from their perfect puffiness and unique square shape, is that they're a little bit sweet, even on their own without the Cinnamon Honey Butter. This makes them stand out from the salty and savory varieties of rolls found at other restaurants.
Easy Side Dish Recipes
More easy side dishes for your dinner table!
How to Make Texas Roadhouse Rolls
Stir together water, yeast, and 1 teaspoon of the sugar in a small bowl; let stand until foamy, about 5 minutes. Place ¼ cup of the butter in a small microwavable bowl. Microwave on HIGH until melted, about 25 seconds.
Combine melted butter, yeast mixture, milk, eggs, salt, and remaining ¼ cup sugar in the bowl of an electric mixer fitted with a dough hook. Beat on medium-low until well combined, about 10 seconds.
With the mixer running on medium-low, gradually add flour, beating until all flour is incorporated. Continue kneading until the dough is smooth and elastic, about 4 minutes. (Dough will be sticky.)
Transfer to a large lightly greased bowl; cover with plastic wrap; let rise in a warm place (80° to 85°) until doubled in volume, about 1 ½ hours.
Preheat oven to 375°F with racks in top and lower thirds. Line 2 baking sheets with parchment paper, and lightly coat parchment with cooking spray.
Turn dough out onto a lightly floured work surface. Lightly sprinkle the top of the dough with flour, and gently pat into a 14- x 8-inch rectangle (about 1/2-inch thick).
Using a pizza cutter, cut into 15 (about 2 ½ -inch) squares; arrange on prepared baking sheets, leaving 1 1/2-inches in between each square. Cover loosely with plastic wrap; let rise in a warm place (80° to 85°) until increased in volume, about 30 minutes.
Meanwhile, beat together honey, cinnamon, and remaining ½ cup butter with an electric mixer on medium-high until well combined and fluffy, about 2 minutes. Set aside.
Bake rolls in preheated oven until golden brown, 15 to 18 minutes, rotating pans after 10 minutes. Brush hot rolls lightly with honey butter. Serve warm with remaining honey butter.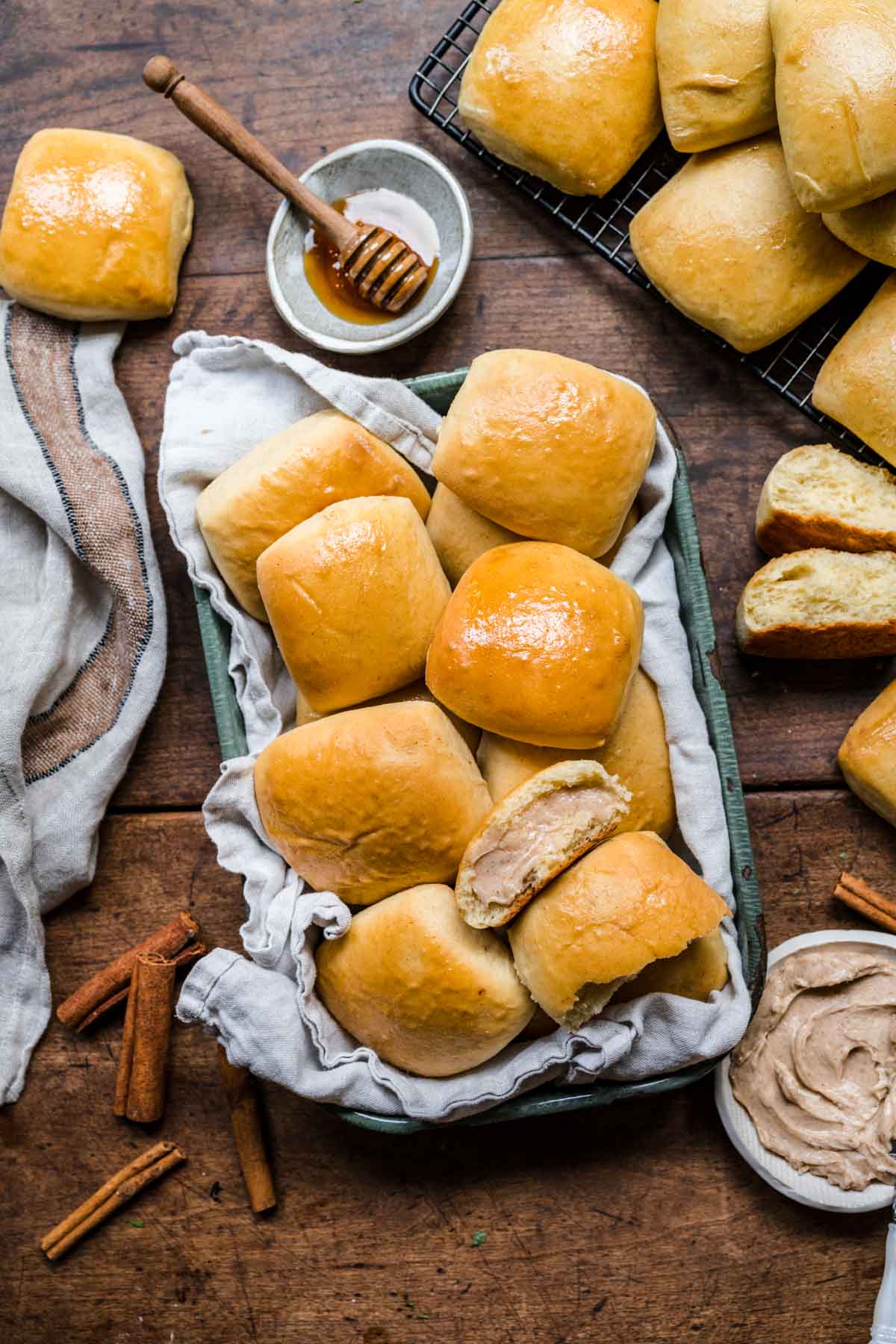 Create a free account to

Save Recipes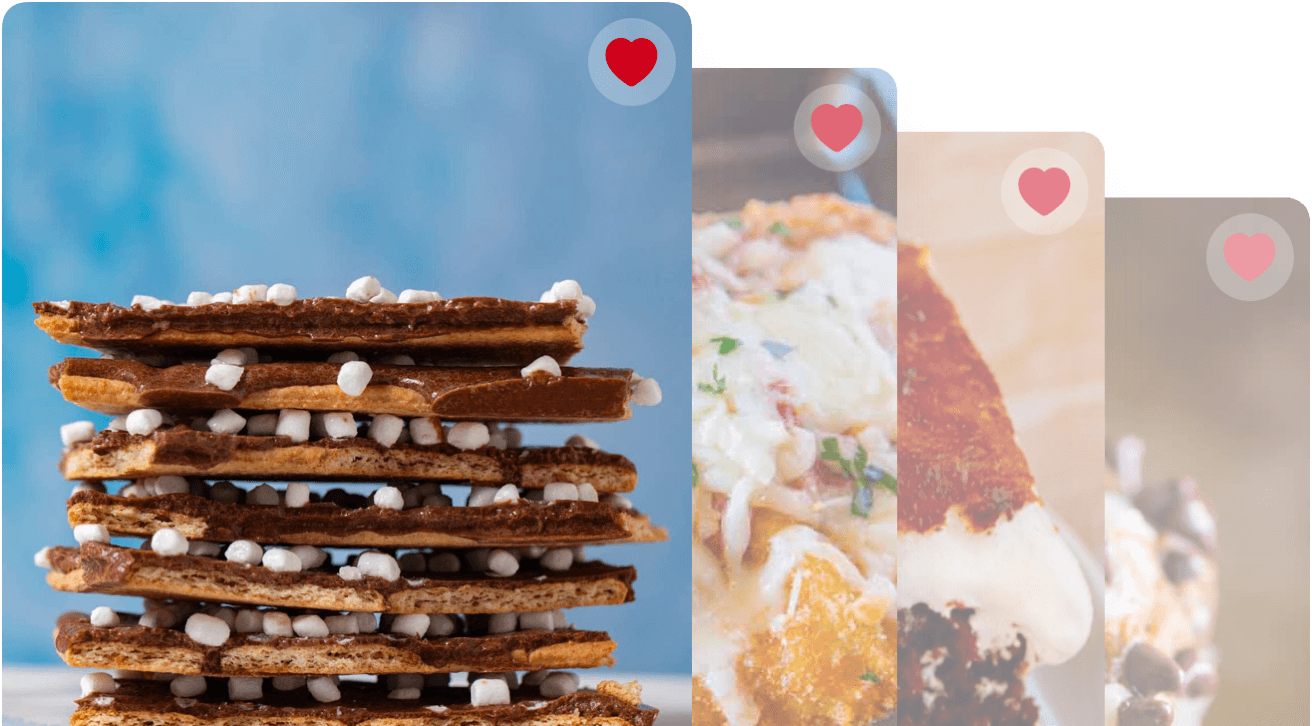 Frequently Asked Questions About Texas Roadhouse Rolls
What is the difference between bread flour and all-purpose flour?
Bread flour has a higher protein content than all-purpose flour which helps to produce lots of gluten. The gluten is what gives the bread its stretch and elasticity. This recipe calls for bread flour.
Can I make these rolls in a bread machine?
Yes, you'll want to add the ingredients to the bread machine in the order that your specific bread machine tells you to and select the dough cycle. Once the dough is done, continue following the copycat recipe below.
What if I don't have a stand mixer?
This recipe can still be made even if you don't have a stand mixer with a dough hook attachment. You'll just need to knead the dough by hand for about 10 minutes. You cannot use a hand mixer as a substitute for this roll recipe.
What if my dough doesn't rise?
If you're having issues with your dough not rising properly, your kitchen might be too cold. Dough needs a warm environment (80-85 degrees f) so allow it to rest on a warmed oven top (in between the two front burners). 
Can I use an Instant Yeast packet for this recipe?
Yes, you can skip step 1 and include the instant yeast packet directly into step 2 in place of the "yeast mixture".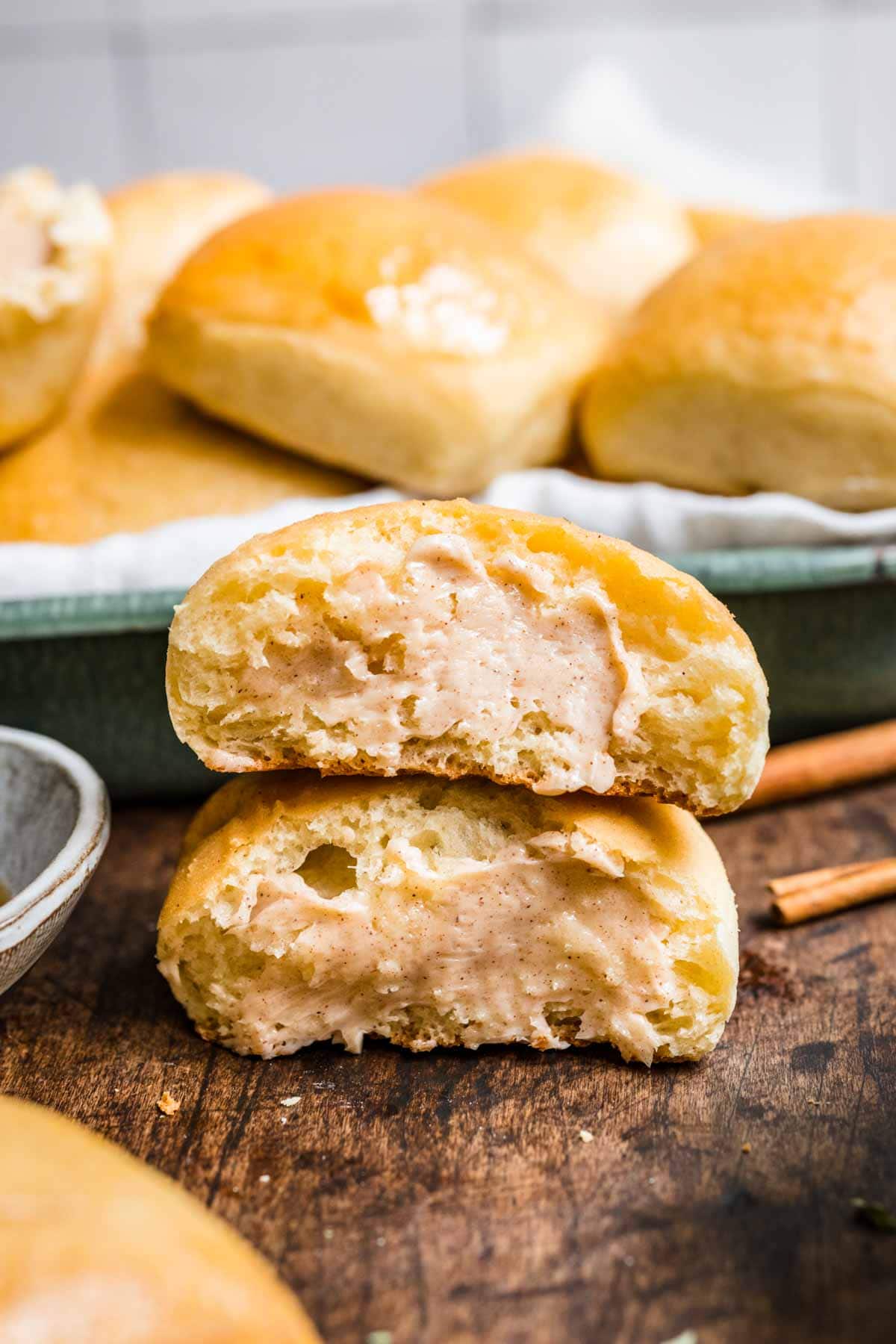 Variations
Shape: You can choose to cut your rolls using a round cookie or biscuit cutter if you want a different look. Choose any shape you like, but if your cutter is small, be sure to watch them for being over-done and adjust to a shorter cooking time.
Cinnamon Butter: Add more flavors to your cinnamon butter and play with your own unique version of this recipe, if you like. Some additions to try: nutmeg, ginger, or brown sugar.
Savory Butter: Another option would be to totally change up the flavor of your rolls by making a savory butter instead of a sweet one. Some garlic powder, onion powder, coarse ground black pepper, salt, or even some cayenne pepper for spice will do the trick! You could even brush your rolls with plain butter straight out of the oven, and then offer both a savory and a sweet butter for your dinner guests to choose from.
More Popular Restaurant Copycat Side Dishes
How to Serve and Store
Serve: Serve fresh from the oven to enjoy these rolls at their absolute best!
Store: Make sure rolls are completely cooled before storing. Either wrap in foil or place in a storage bag with the air completely removed. If air is left in the bag, it will dry out the rolls quicker. Store the leftovers at room temperature.
Freeze: Wrap the rolls tightly in aluminum foil or plastic freezer wrap and place in a freezer-safe storage bag. They'll last up to 6 months in the freezer.


Ingredients
1/2

cup

warm water

, 110 – 115 degrees

1/4

ounce

active dry yeast

, 1 packet

1/4

cup

sugar

, divided

1/4

cup

unsalted butter

, melted

1

cup

whole milk

, warmed

2

large

eggs

, beaten

1

teaspoon

kosher salt

5

cups

bread flour

, plus more for rolling
Cinnamon Honey Butter
1

cup

unsalted butter

, softened

2

tablespoons

honey

2

teaspoons

cinnamon
Instructions
Add water, yeast, and 1 teaspoon sugar to your stand mixer, let sit for 5 minutes.

Note: If the yeast does not become foamy, you need to start over with different yeast.

To the stand mixer add the melted butter, milk, eggs, salt, and remaining sugar and mix on low speed until combined, about

20 seconds

.

On medium speed add the flour in ½ cup increments until it is all combined.

Switch to a dough hook and knead until the dough is smooth and elastic, about

5 minutes

.

Cover bowl with clean kitchen towel and let rise for

1 ½ hours

in a warm part of your kitchen.

Preheat oven to 375 degrees and line two baking sheets with parchment paper.

Add flour to a clean kitchen surface and roll the dough into an 8"x14" rectangle, about 1/2" thick,.

Cut into 2" – 3" squares and place 2" apart on your baking sheets.

Cover bowl with clean kitchen towel and let rise for

30 minutes

in a warm part of your kitchen.

Bake for

15 to 18 minutes

, then brush with honey butter.
Cinnamon Honey Butter:
Mix together softened butter, honey and cinnamon and set aside.
Nutrition
Calories:
168
kcal
|
Carbohydrates:
22
g
|
Protein:
4
g
|
Fat:
7
g
|
Saturated Fat:
4
g
|
Polyunsaturated Fat:
1
g
|
Monounsaturated Fat:
2
g
|
Trans Fat:
1
g
|
Cholesterol:
32
mg
|
Sodium:
153
mg
|
Potassium:
50
mg
|
Fiber:
1
g
|
Sugar:
3
g
|
Vitamin A:
217
IU
|
Vitamin C:
1
mg
|
Calcium:
21
mg
|
Iron:
1
mg