Easy Sauteed Mushrooms recipe for how to cook the perfect buttery garlic mushrooms for steak, pork chops, and other savory dinner recipes.
Just like tasty Sauteed Green Beans and Sauteed Carrots, these flavorful and easy mushrooms are simple enough to pair with a light Dinner yet elegant enough to serve as a holiday Side Dish.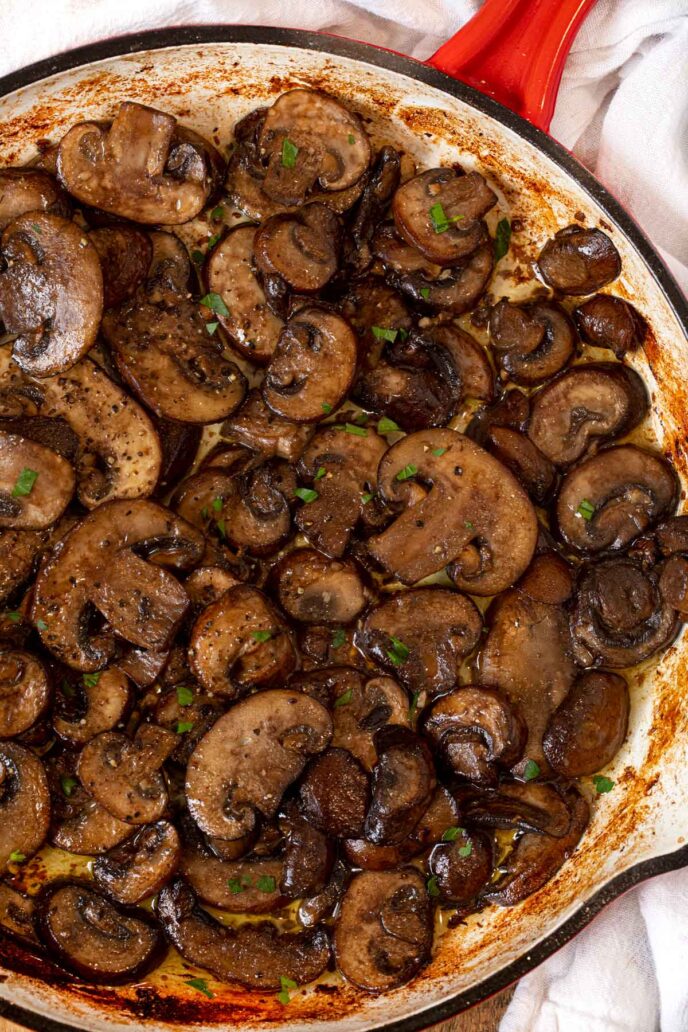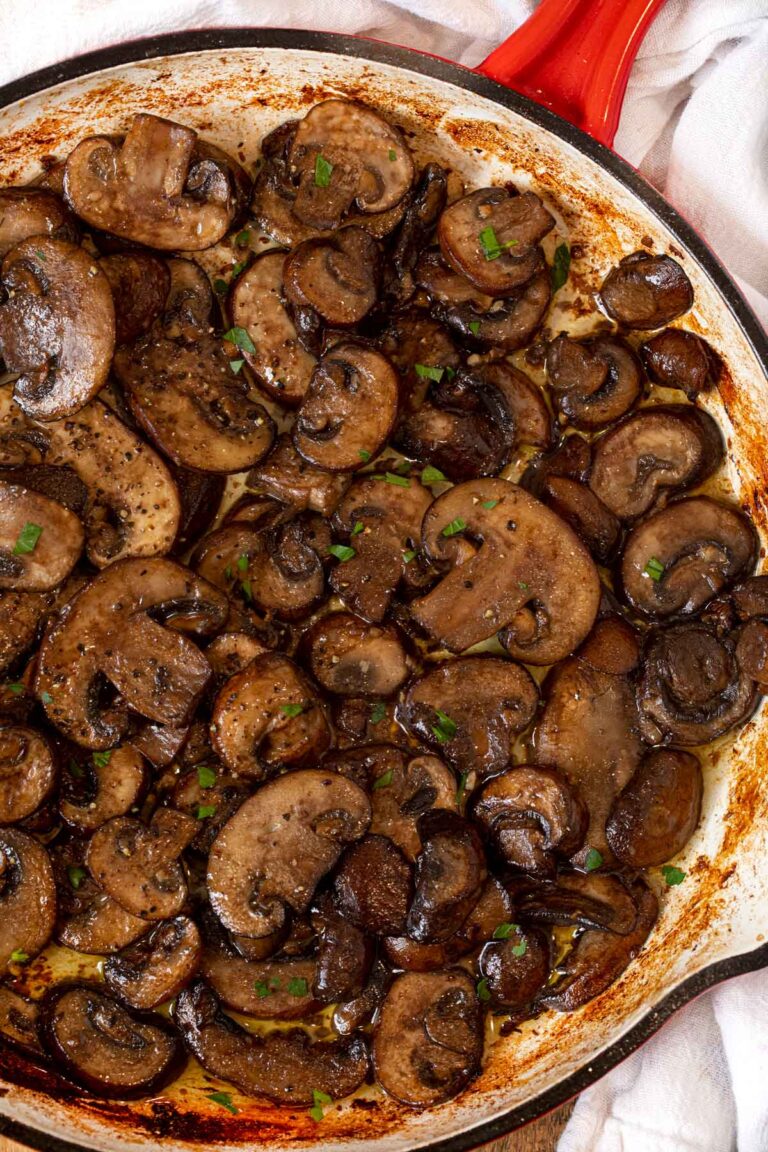 When it comes to cooking basics, one of the easiest and most useful skills a home cook should master is how to cook sauteed mushrooms. They are a simple and versatile dish that can elevate any meal with just a handful of ingredients, a skillet and barely any time. Whether you serve them as a steak topping or as a side dish for all your favorite savory dinners, you'll be making these garlicky veggies all the time.
This Sauteed Mushrooms recipe is an easy go-to way to make mushrooms that will have you feeling like a kitchen pro. With only a few ingredients you get tender, buttery mushrooms full of flavor, and in about 15 minutes start to finish. The prep work is just wiping your mushrooms clean and slicing them. Then they go into a hot pan with melted butter, salt, and pepper. Once they are nice and browned, they get a little garlic and then they are ready. That's all it takes to get delicious, fancy Sauteed Mushrooms!
Once you get this Sauteed Mushroom recipe down, try some of the variations later in this post to switch up the flavors. Simple swaps like olive oil or adding white wine or a sprinkle of herbs will transform them without losing that amazing mushroom flavor. They don't just have to be a side or steak topping either, there are many ways you use Sauteed Mushrooms, so there are some ideas for serving at the bottom of this post too.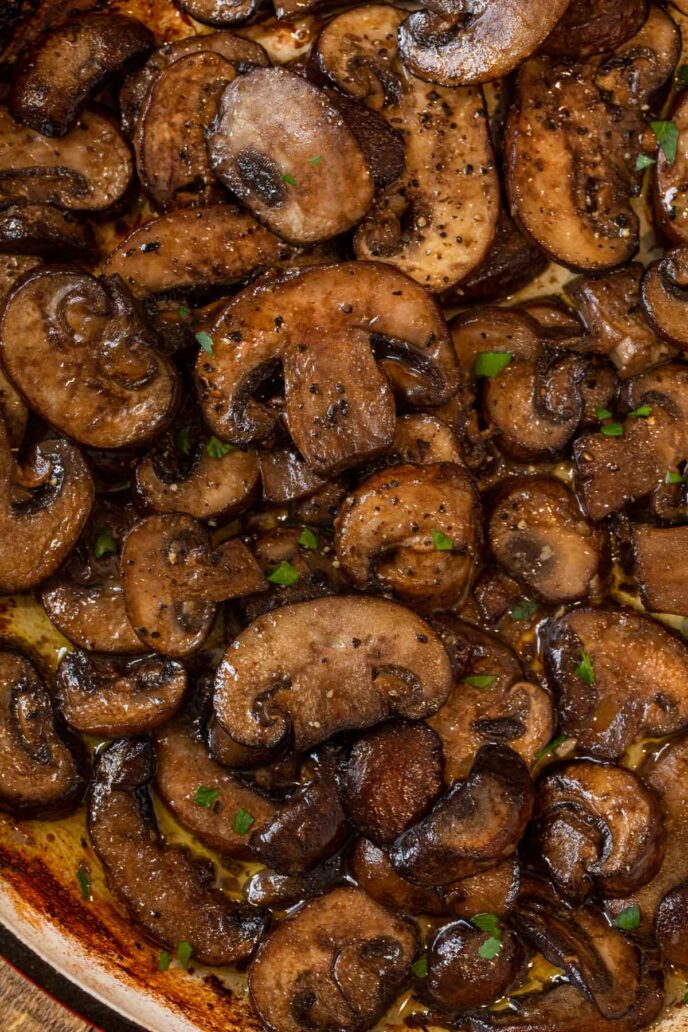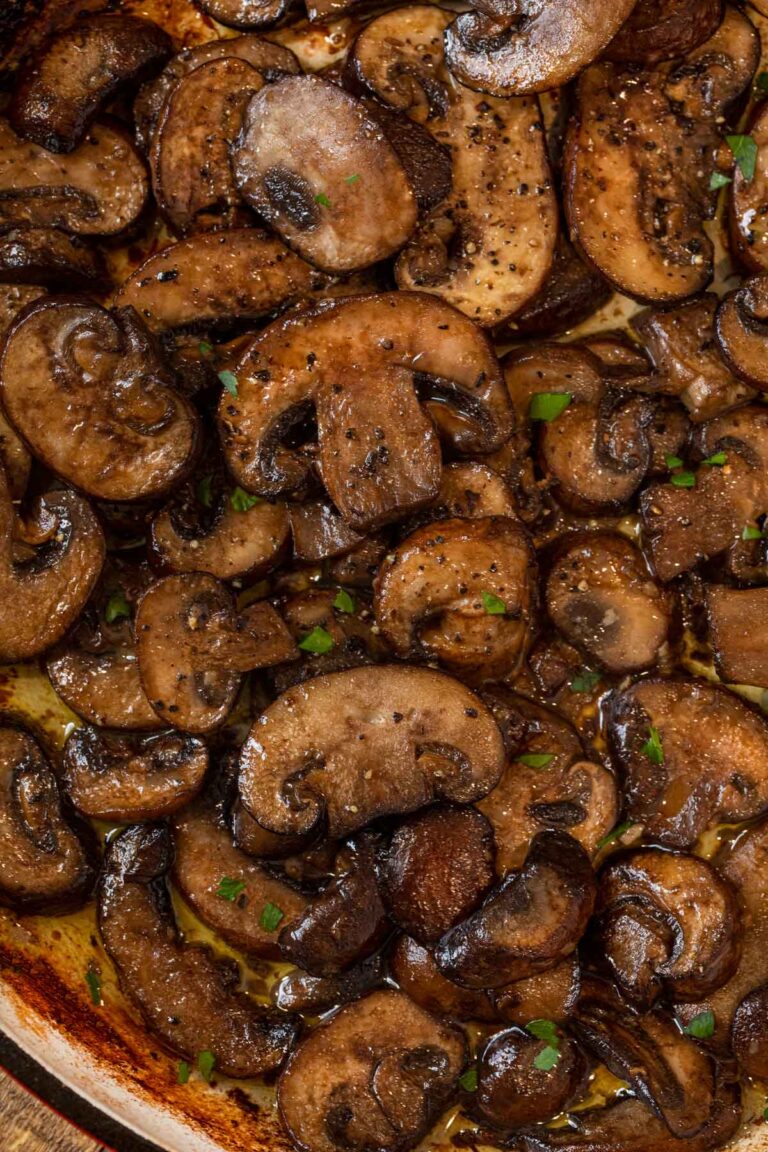 Why should you make Sauteed Mushrooms?
Sauteed Mushrooms are an incredibly easy, delicious way to elevate a variety of dishes. Whether you're serving them alongside a juicy steak, pork chops, or even incorporating them into pasta or risotto, their earthy and rich flavors make them a fantastic addition to many savory recipes. They are simple enough for casual dinners or even burger toppings, but they also go great with special holiday dinners too. Plus they only need 3 ingredients besides salt and pepper, so they are budget friendly way to garnish all your favorite meals.
How to Make Sauteed Mushrooms
Prep: Clean and slice the mushrooms. Pat them dry if you used any water to clean them. In a large deep skillet over medium high heat, melt the butter.
Cook: Once the butter is hot and melted, add the mushrooms, salt and pepper. Cook the mushrooms, stirring often, until they caramelize and turn dark brown.
Season: Once the mushrooms have browned, stir in the garlic and cook for another minute. Serve hot as a pasta garnish, steak topping, or veggie side.
Fancy Dinner Recipes for Sauteed Mushrooms
FAQs for Sauteed Mushrooms
How do you clean mushrooms? 
To clean mushrooms, start by gently wiping off any visible dirt or debris with a damp paper towel or a soft brush. Avoid washing them under running water as mushrooms are porous and can absorb excess moisture, which can affect their texture and flavor. If necessary, you can quickly rinse them and pat them dry immediately before using.
Does it matter what kind of mushrooms I use?
Different kinds of mushrooms have different flavors and cook times. Some have bolder flavors like Shitake, some are more delicate like Oyster mushrooms. The most common are crimini, or baby portobellos, and white button mushrooms.
How do you saute mushrooms without them getting watery?
Always cook mushrooms on medium or medium-high heat so that the moisture cooks out. Cooking on low heat releases too much moisture and you won't get that beautiful caramelization. Make sure you use a large skillet and don't overcrowd the pan, or your mushrooms will steam and not get browned.
Can I use pre-sliced mushrooms?
Use whole mushrooms and slice them yourself for this recipe. Pre-sliced mushrooms will break down because they are usually sliced too thin.
Is it better to saute mushrooms in butter or olive oil?
Both butter and olive oil can be used to saute mushrooms, and the choice ultimately depends on personal preference. Butter adds richness and a creamy flavor, while olive oil lends a lighter and more delicate taste. Butter has a lower smoke point than olive oil, so if cooking at high heat, olive oil may be a better option to prevent burning. 

Create a free account to Save Recipes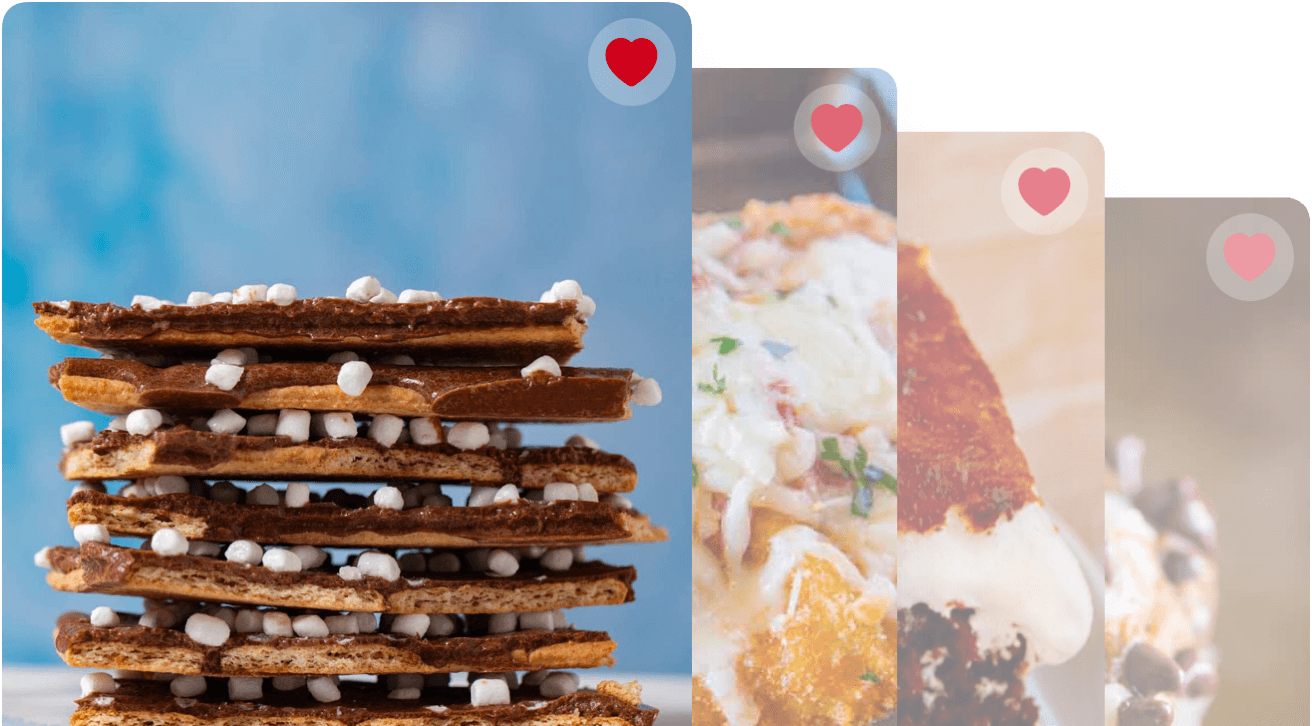 Key Ingredients
Butter: Butter gives these mushrooms a rich, creamy flavor, adds moisture and helps to enhance the overall taste of the dish. You want to use unsalted to control the saltiness of the dish.
Mushrooms: Crimini mushrooms, also known as baby bella mushrooms, are included in this recipe for their robust and earthy flavor. They have a meaty texture that holds up well during cooking, making them an excellent choice for sauteing. Do not use pre-sliced mushrooms, cut them yourself.
Garlic: Garlic is added at the end and cooked briefly to release its pungent, aromatic flavor and infuse the mushrooms with its distinctive taste. You want to use fresh garlic for maximum flavor, although you can adjust the amount depending on how garlicky you like your food.
Seasonings: These delicious, easy mushrooms don't need much for seasoning because they are so flavorful on their own. Salt enhances the natural earthy flavor and helps to draw out moisture from the mushrooms, allowing them to brown and caramelize properly. Black pepper adds a mild heat and a hint of spiciness to the Sauteed Mushrooms.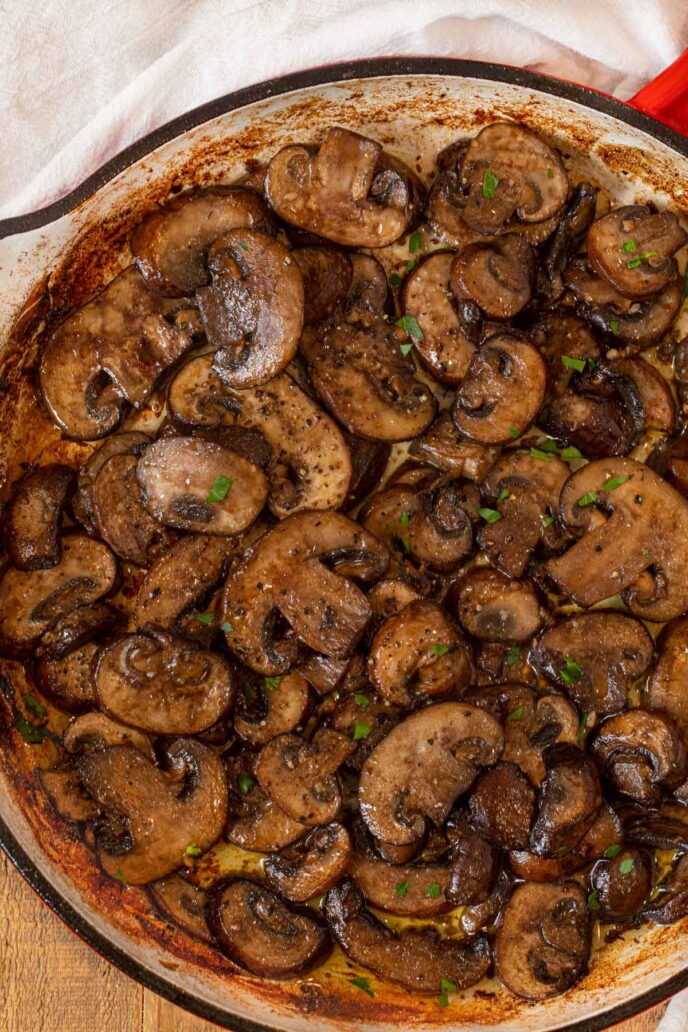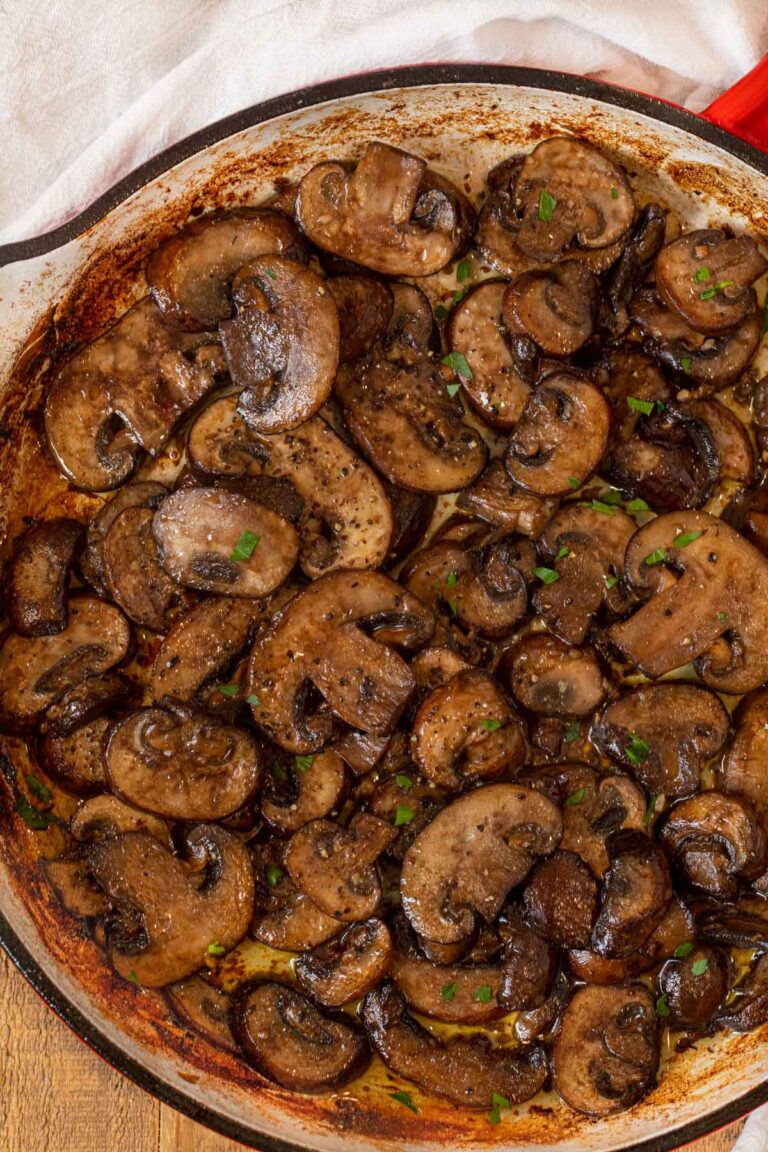 Can you make Sauteed Mushrooms ahead of time?
Yes, Sauteed Mushrooms are a great dish to make ahead. Cool the mushrooms completely in the container you want to store them in and then seal with the lid. You can place a piece of plastic wrap into the top of the mushrooms to prevent freezer burn. They will keep for up to 3 months. You can also refrigerate the cooked mushrooms for up to 2 days and reheat them on the stove top. If they are too dry, add a splash of broth or wine, when reheating them for a little extra moisture without being oily or greasy.
Variations
Mushrooms: Try meatier portobellos in this recipe, in large slices, for a tasty steak or chicken substitute in salads. Button mushrooms have a slightly less earthy taste but they are also the least expensive mushrooms. You can also use more exotic varieties like oyster and shitake.
Olive Oil: Easily make these Vegan Sauteed Mushrooms by swapping out olive oil for the butter. You can also use half olive oil and half butter.
Wine: Bring out the earthy flavor of mushrooms by adding a tablespoon of a dry red wine like Pinot Noir, or a dry white wine like Sauvignon Blanc.
Sauces: To give your mushrooms an Asian stir fry flavor, try adding a tablespoon of soy sauce or Teriyaki sauce when you add the mushrooms.
Spices: Add fresh herbs like fresh thyme, rosemary, or oregano when you stir in the garlic cloves for more flavor. You can also add dry ground herbs like Italian seasoning mix, or spice blends to match the recipes you're serving with these mushrooms.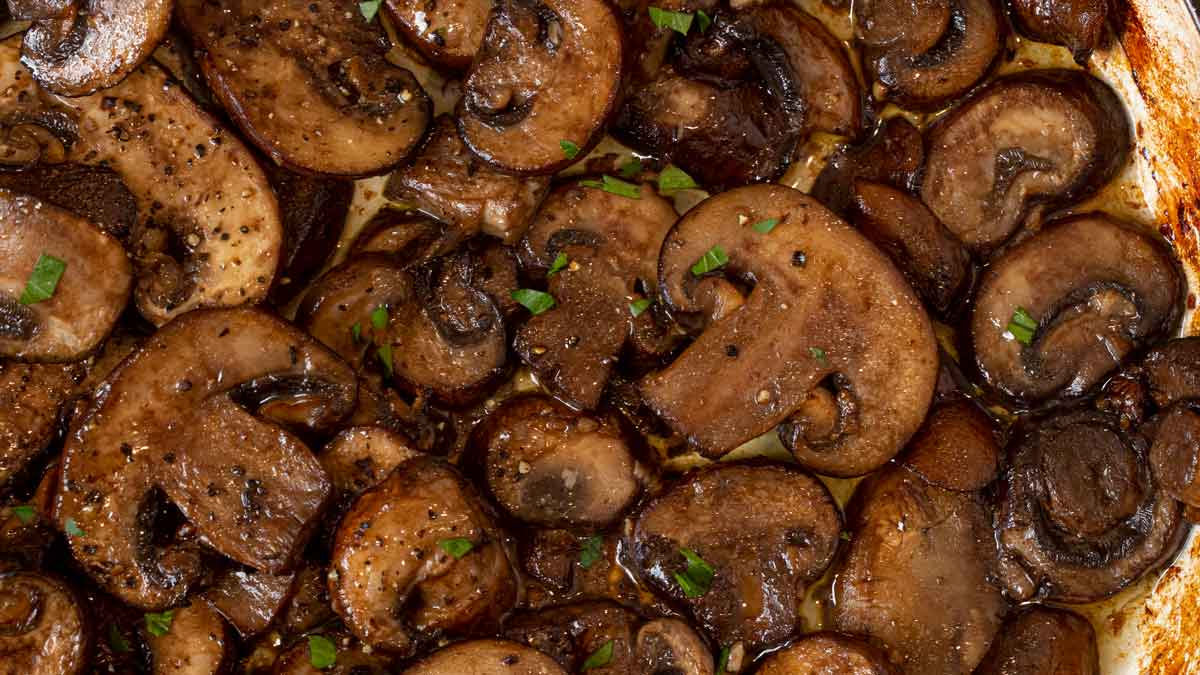 More Delicious Easy Veggie Recipes
How to Serve Sauteed Mushrooms
How to Store
Serve: Sautéed Mushrooms are best served warm and can be at room temperature for up to 2 hours. Cool them in the container with the sauce before storing.
Store: Refrigerate the cooked mushrooms in an airtight container for up to 4 days. Reheat in a skillet, adding a little broth or water versus more butter if the sauce is dry to keep them from being greasy.
Freeze: You can freeze these mushrooms for up to 3 months in a sealed container. Cool mushrooms completely before freezing. Thaw overnight or reheat from frozen in a skillet.


Ingredients
4

tablespoons

unsalted butter

1

pound

crimini mushrooms

, sliced

3

cloves

garlic

, minced

1

teaspoon

kosher salt

1/2

teaspoon

coarse ground black pepper
Instructions
Melt butter in a large skillet over medium high heat.

Add the mushrooms to the pan and season to taste with salt and pepper.

Cook for

6-7 minutes

, stirring occasionally, until mushrooms start to brown and caramelize.

Add garlic and cook for

1 minute

, stirring once.
Nutrition
Calories:
128
kcal
|
Carbohydrates:
4
g
|
Protein:
4
g
|
Fat:
12
g
|
Saturated Fat:
7
g
|
Cholesterol:
30
mg
|
Sodium:
107
mg
|
Potassium:
372
mg
|
Fiber:
1
g
|
Sugar:
2
g
|
Vitamin A:
518
IU
|
Vitamin C:
6
mg
|
Calcium:
12
mg
|
Iron:
1
mg