Coq Au Vin is an easy, classic French recipe of slowly braised chicken pieces in a rich red wine sauce seasoned with bacon, mushrooms, shallots, and thyme.
Slow Cooker Coq Au Vin is an impressive and delicious Chicken dinner recipe that lets you master the art of French cooking with ease.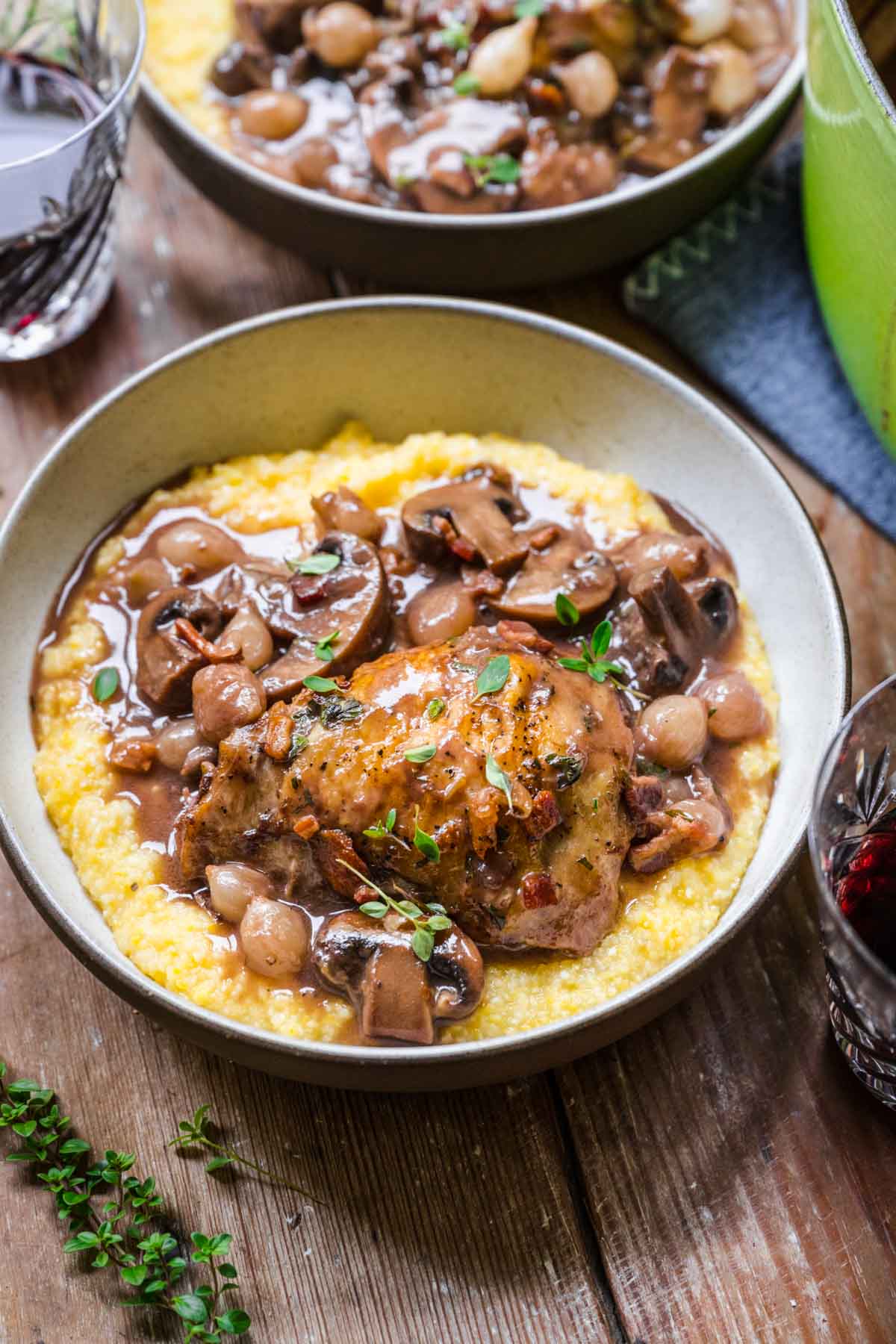 Coq Au Vin is an easy French dish recipe that sounds elegant and complicated but, as Julia Child taught us, any home cook can make it. What started as a rustic dish from the French countryside, became an epitome of fancy French cuisine to impress guests in 1960s America until now.
The decadent, flavorful red wine sauce is really what makes this dish special. It's thick and rich, full of buttery rendered chicken and bacon fat, balanced with dark burgundy red wine and earthy seasonings. Part of the magic of French cuisine is turning everyday ingredients like mushrooms, chicken thighs, and red wine into something amazing and special.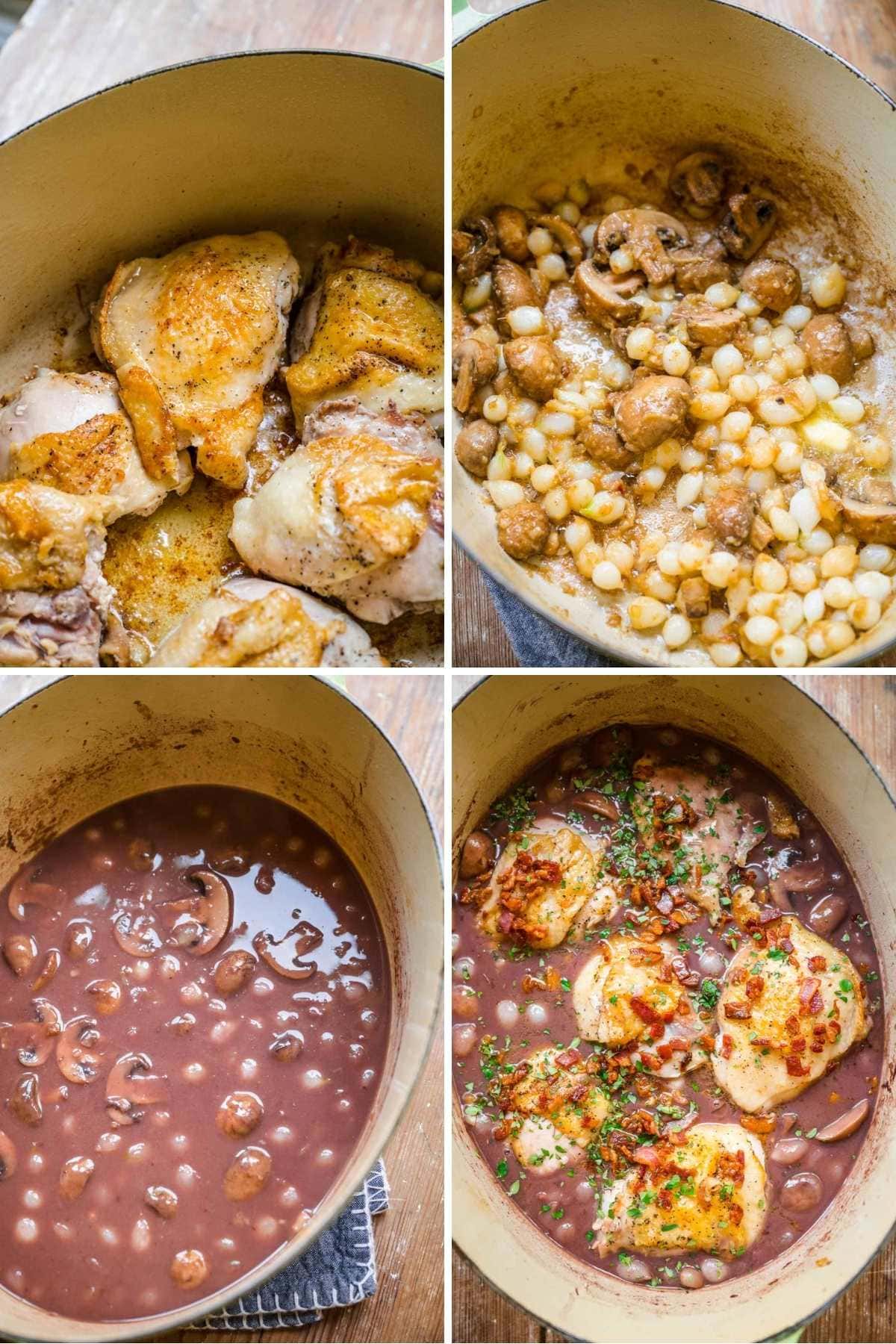 For a simple hearty dinner, serve Coq Au Vin with Mashed Potatoes and Sautéed Green Beans. Use the wine sauce as a gravy for the potatoes and if you are feeling extra fancy, try swapping in thin French green beans. A side of French Bread Rolls and a bowl of French Onion Soup will make this meal complete.
Easy Side Dish Recipes for Coq Au Vin
Frequently Asked Questions About Coq Au Vin
What does "Coq Au Vin" mean?
"Coq Au Van" is French and literally translates in English to "rooster in wine".
What kind of wine should be used in the Coq Au Vin sauce?
Coq Au Vin is traditionally made using wine from the Burgundy region of France where the dish originated. For that reason, it is typically made with wines from the region, such as pinot noir. However you can make the dish with any type of red wine you might like.
What if my sauce isn't reducing?
If your sauce isn't reducing after cooking for 10 minutes, turn up the heat just a little bit and give it a few more minutes. Check it and keep going for a few minutes longer if it still needs more time. Keep an eye on it to make sure it doesn't burn.
Tips for Making Coq Au Vin
You can use any full-bodied red wine instead of burgundy wine. A merlot or pinot noir is a great substitute. A little cognac or brandy gives extra authentic flavor, so you can add up to ¼ cup cognac or brandy.
For even more flavor, you can marinate the chicken in wine while you prep all the ingredients. A red wine marinade is especially good if you are swapping in chicken breasts to make them more tender and juicy.
Reserve some of the cooked bacon, or cook a couple of extra pieces, so you don't miss out on the crispy deliciousness of rendered bacon. Another crunchy garnish to use is seasoned croutons!
If you want to use a traditional French cooking technique, mix the butter and flour together in a small bowl until a paste forms. This paste is called a beurre manié, and you add it to the sauce once it has reduced a little instead of with the sautéed mushroom mixture.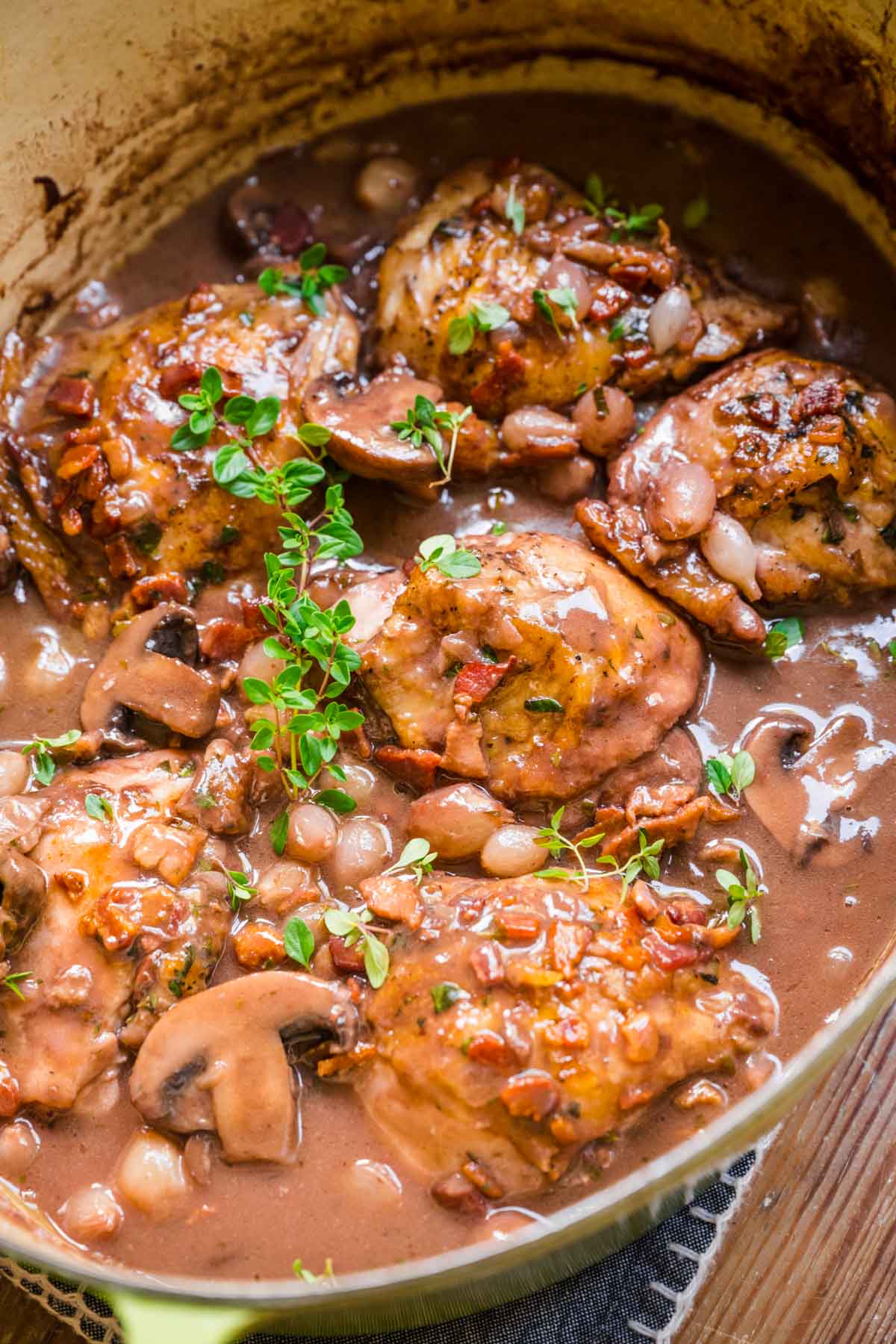 Create a free account to

Save Recipes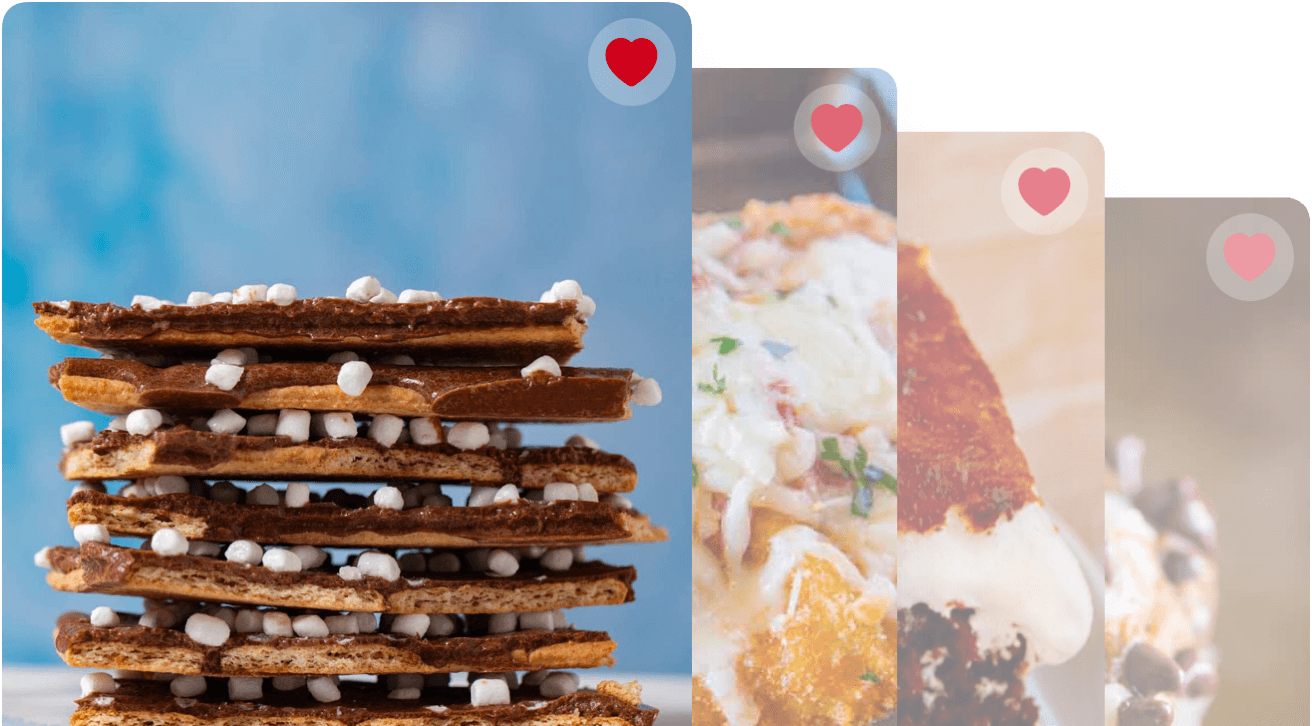 Can Coq Au Vin be Made Ahead of Time?
You can make Coq Au Vin ahead of time and it will taste amazing the next day. Let it cool completely before storing it in the refrigerator, right in the pot. The flavors will come together even more over night. When you're ready to eat it, put the pot on the stove and warm everything up until the rich, delicious sauce bubbles.
Variations on Coq Au Vin
Whole Chicken: You can use a whole chicken, butterflied or cut into pieces, instead of chicken thighs. Brown chicken on both sides for 5-6 minutes on each side and cook for at least an hour in braising liquid, until the thickest parts reach an internal temp of 165 degrees. For the holidays, use small whole Cornish game hens!
Tomato: A traditional ingredient in Coq Au Vin is tomatoes, which adds an extra layer of acidity for a perfect sauce. Add 1-2 tablespoons tomato paste and diced tomatoes to the sautéed mushroom mixture.
Seasonings: Fresh thyme sprigs are best but you can use ground thyme too, just reduce to ½ teaspoon thyme. Other seasonings found in French cooking are marjoram, rosemary, herbes de Provence, tarragon, sage, and fennel.
Mushrooms: The classic mushroom to use is a brown mushroom like cremini mushrooms or baby bella mushrooms. You could also use portobello mushrooms, Shitake mushrooms, or button mushrooms.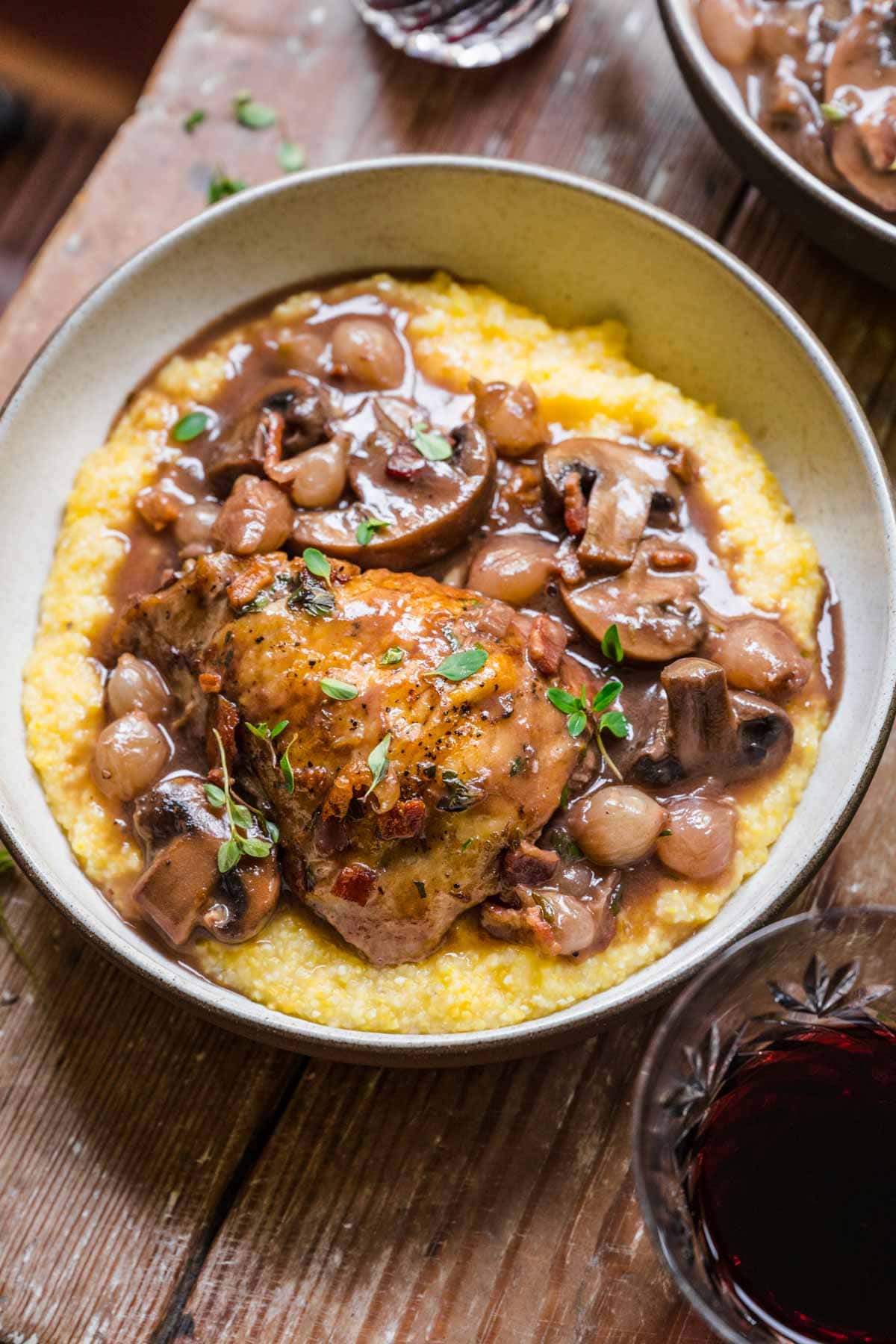 Instant Pot Coq Au Vin
Turn the Instant Pot to Sauté function and add 1-2 tablespoons oil.
Heat oil until shimmering and cook chicken on both sides for 3-4 minutes, until skin is golden brown. Remove chicken and set aside.
Add bacon to the pot and render bacon until crisp. Remove bacon and all but 1 tablespoon oil-bacon fat mixture.
Add mushrooms, onions, and shallots and sauté for 2-3 minutes, until slightly softened. This step is optional, it just adds more flavor. Turn off the pressure cooker.
Melt butter with veggie mixture and whisk in flour before adding remaining sauce ingredients, scraping any browned bits from the sides.
Stir in chicken pieces and bacon, then secure lid and set pressure valve to seal.
Cook on Manual High Pressure for 10 minutes and natural release pressure 15 minutes before quick release.
Optional: Remove chicken and stir in a cornstarch slurry of 1 tablespoon cornstarch and 2 tablespoons water. Turn on Sauté Function and cook for 5 minutes until the sauce is thickened then turn off and return the chicken to the pot until ready to serve.
Easy, Classic French Recipes
How to Store Coq Au Vin
Serve: Keep Coq Au Vin at room temperature for up to 2 hours before cooling and storing. To serve for parties, transfer to a slow cooker or chafing dish and keep covered on low heat for up to 4 hours.
Store: Place Coq Au Vin and sauce in an airtight container and refrigerate for up to 3 days. To keep the chicken from drying out while reheating, warm on the stovetop in the sauce over medium-low heat.
Freeze: Cool Coq Au Vin completely and store in a sealed container in the freezer for up to 3 months. Thaw overnight before reheating chicken and sauce over medium heat on the stovetop.


Ingredients
6

chicken thighs

, bone in

1/2

teaspoon

kosher salt

1/4

teaspoon

coarse ground black pepper

4

slices

bacon

, chopped

8

ounces

brown mushrooms

, halved

12

ounces

pearl onions

, frozen

2

shallots

, diced

3

tablespoons

butter

3

tablespoons

flour

2

cups

burgundy red wine

1

cup

chicken broth

2

teaspoons

fresh thyme leaves
Instructions
Season the chicken with salt and pepper and add to a large dutch oven on medium heat, skin side down. Cook until browned, about

3-4 minutes

on each side. Remove chicken and set aside.

Add in the bacon, cooking until crisp. Remove and set aside.

Add the mushrooms, onions and shallots, cooking for

3-4 minutes

or until lightly caramelized.

Add in the butter and flour, whisking everything together until the flour is cooked, about

1 minute

.

Add in the red wine and cook for

10 minutes

until the wine is reduced by about half.

Add in the broth, stir until smooth.

Add in the thyme, chicken, and bacon, and bring to a simmer. Cook on low for

30 minutes

.
Nutrition
Calories:
523
kcal
|
Carbohydrates:
14
g
|
Protein:
29
g
|
Fat:
33
g
|
Saturated Fat:
11
g
|
Polyunsaturated Fat:
6
g
|
Monounsaturated Fat:
12
g
|
Trans Fat:
1
g
|
Cholesterol:
167
mg
|
Sodium:
714
mg
|
Potassium:
631
mg
|
Fiber:
2
g
|
Sugar:
4
g
|
Vitamin A:
322
IU
|
Vitamin C:
6
mg
|
Calcium:
42
mg
|
Iron:
2
mg