Potato Gratin Dauphinois is a simple dish of sliced potatoes baked in heavy cream and topped with gruyere cheese and chives. Try it tonight!
This easy yet decadent dish is an even more creamy take on ordinary Gratin Potatoes. Serve them for your next big family dinner, over the holidays, or on a regular weeknight when you want to make a Side Dish that's a little special.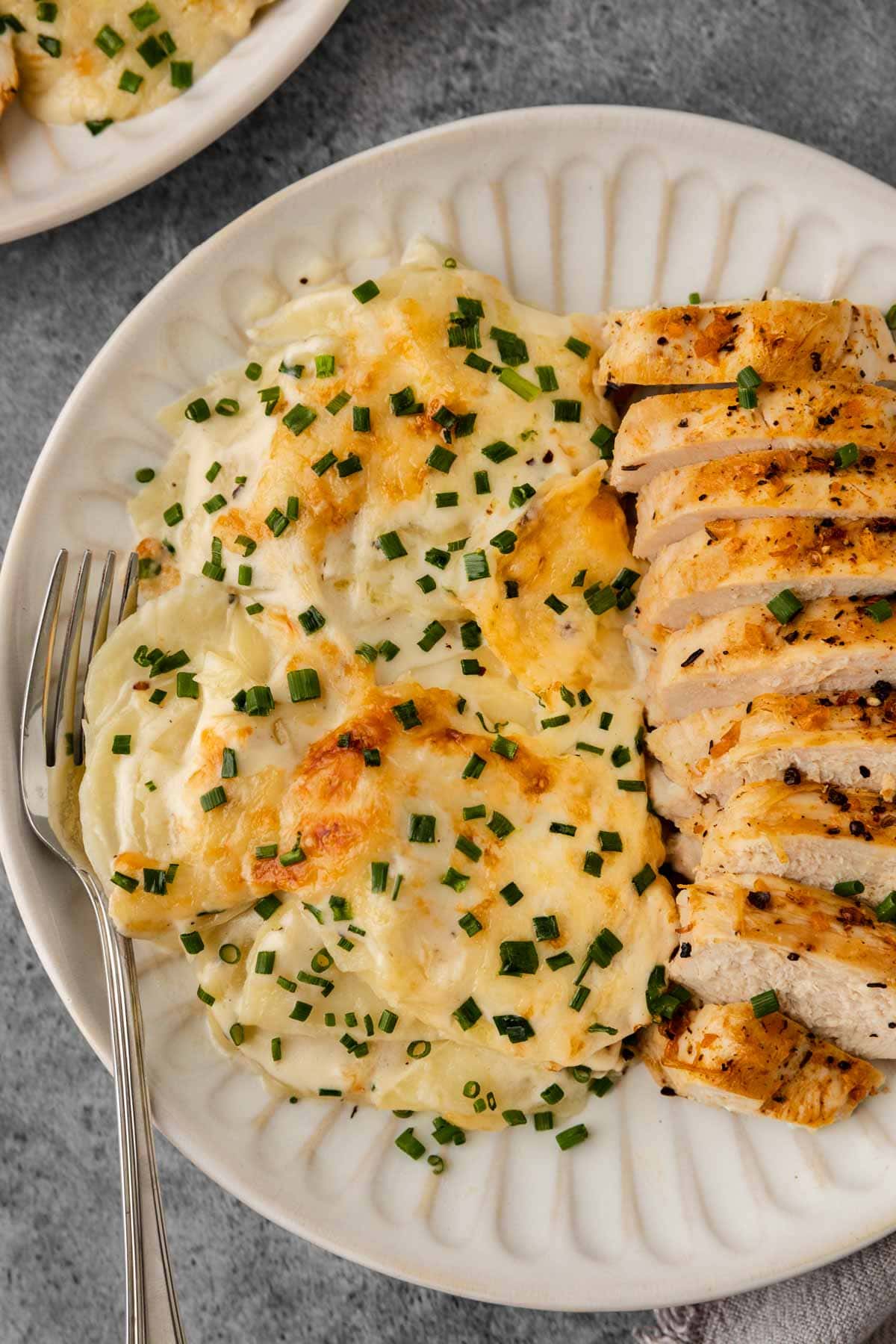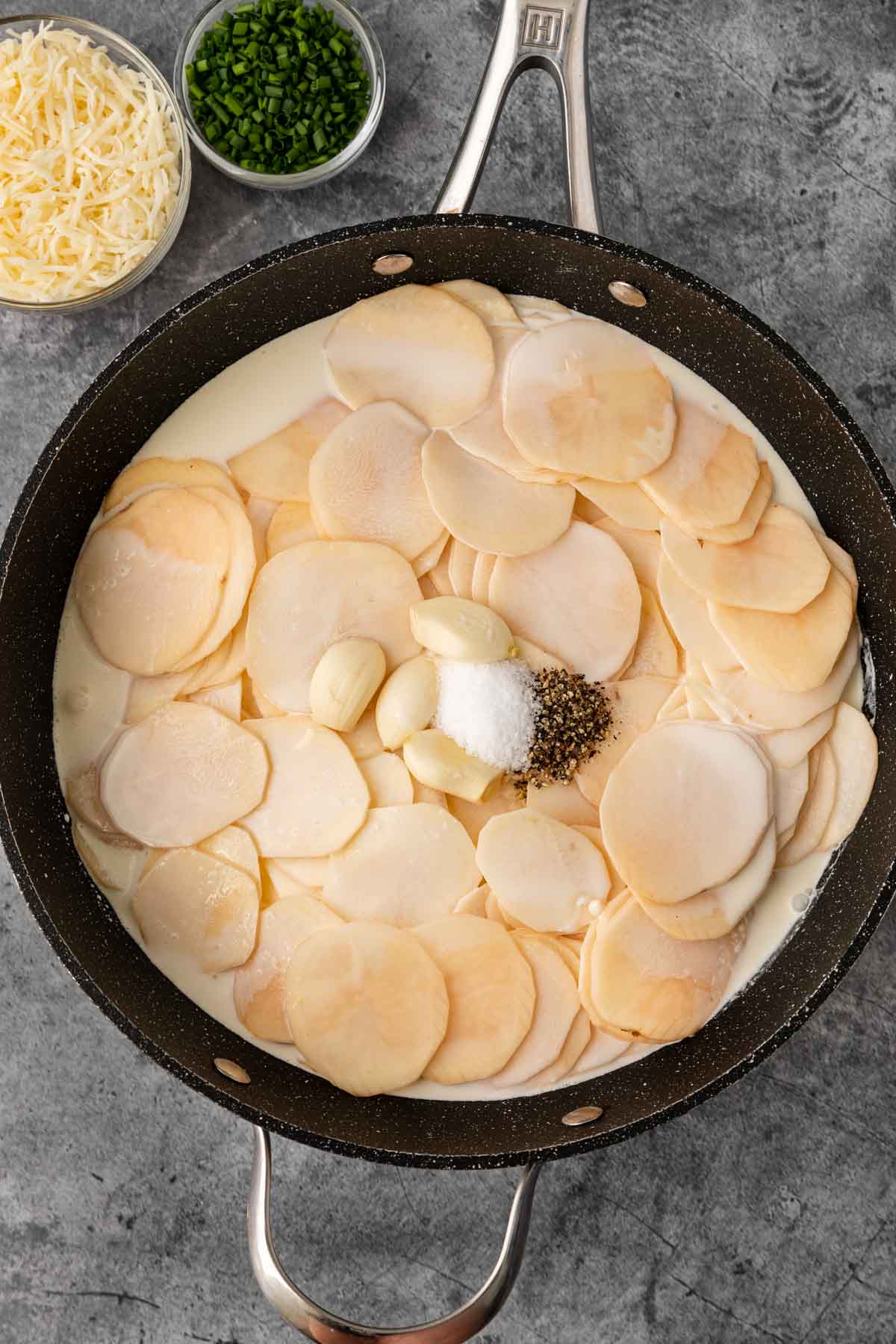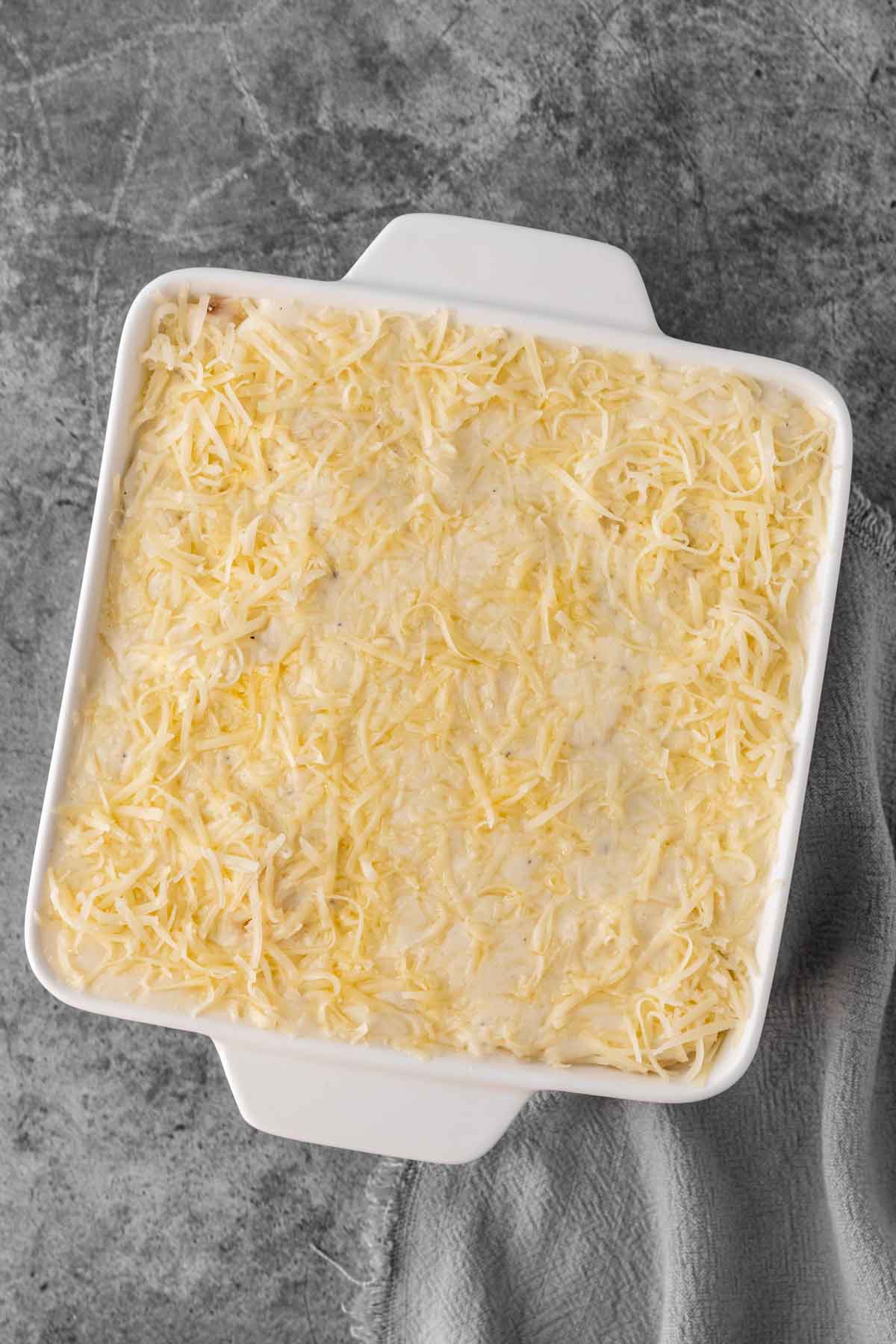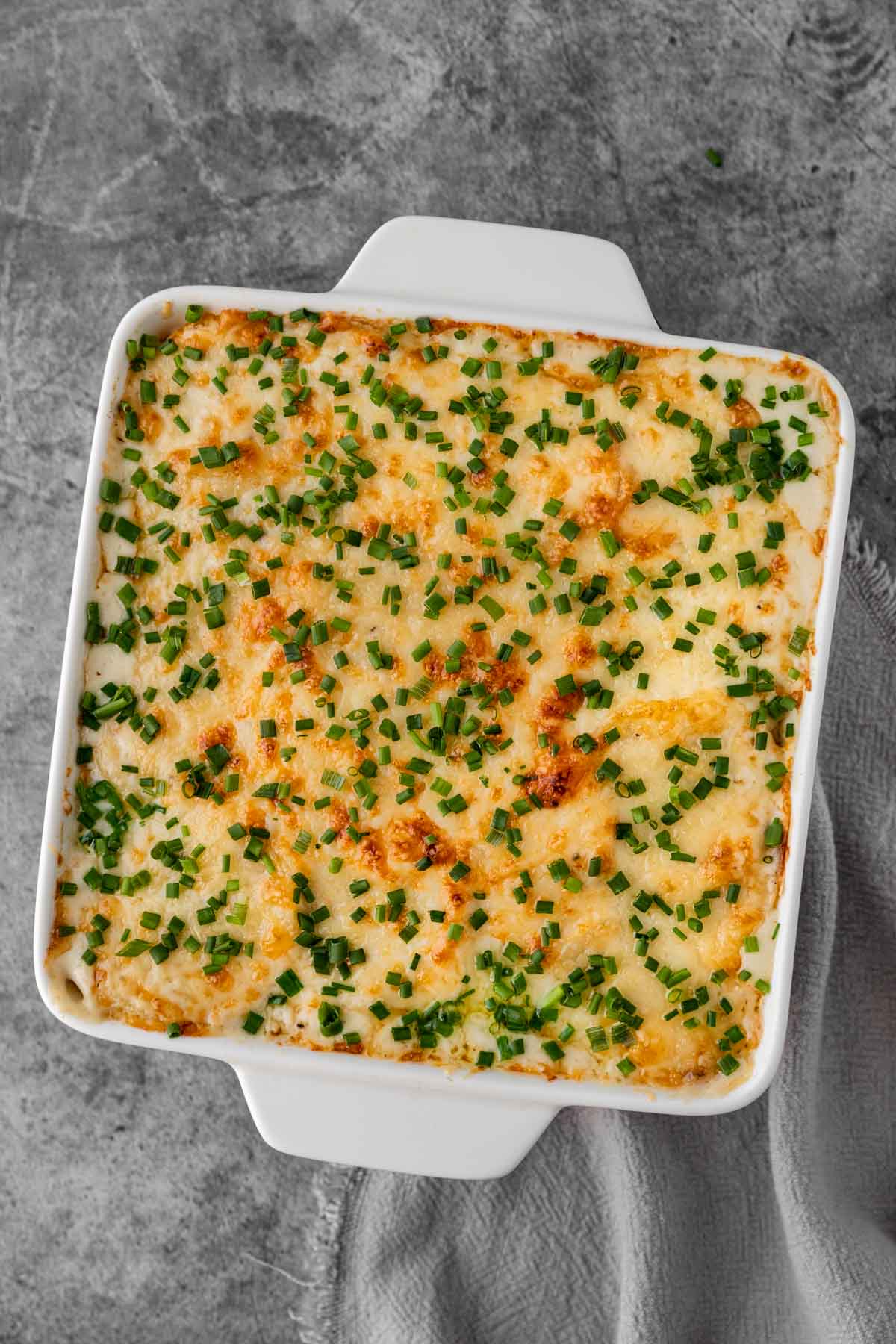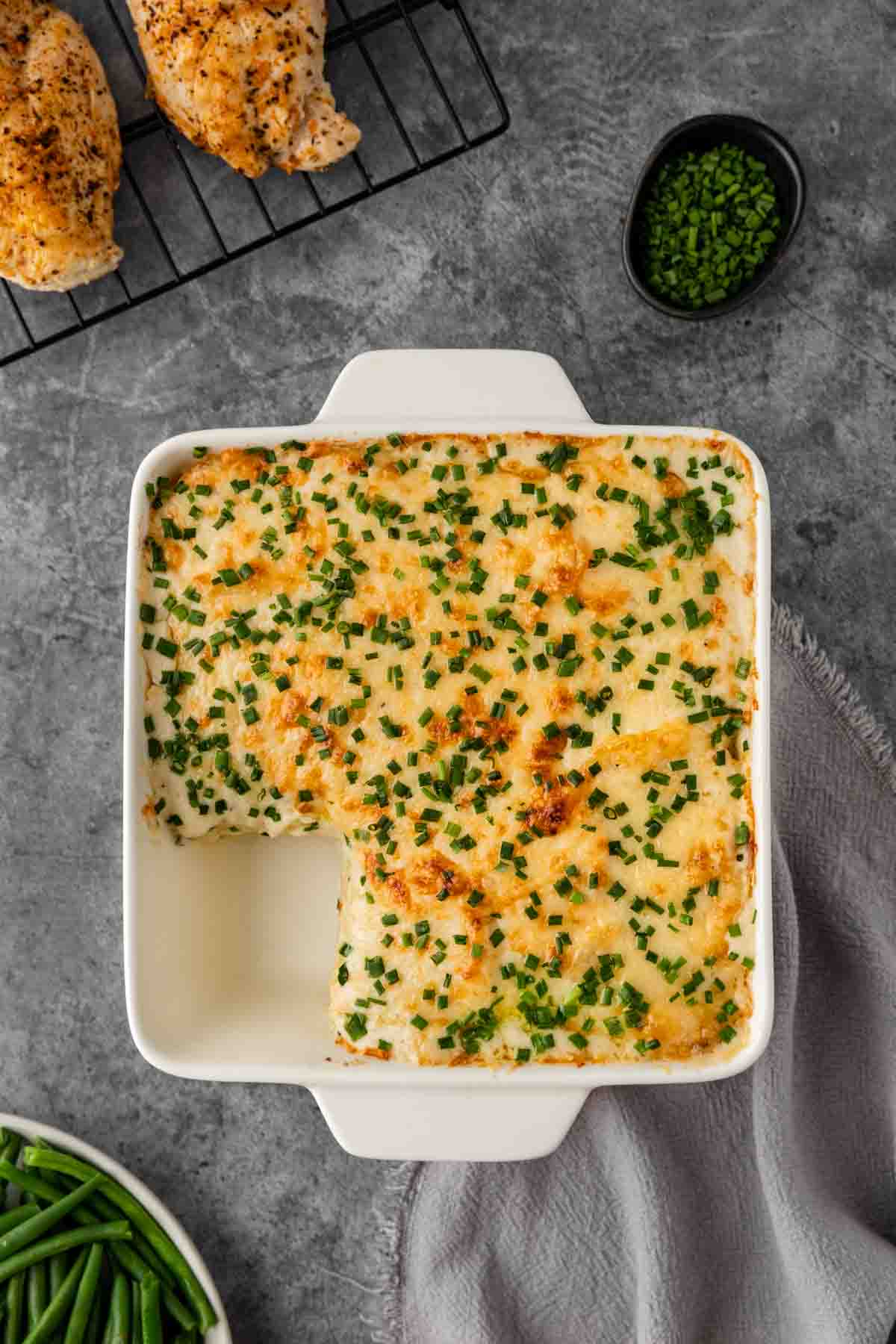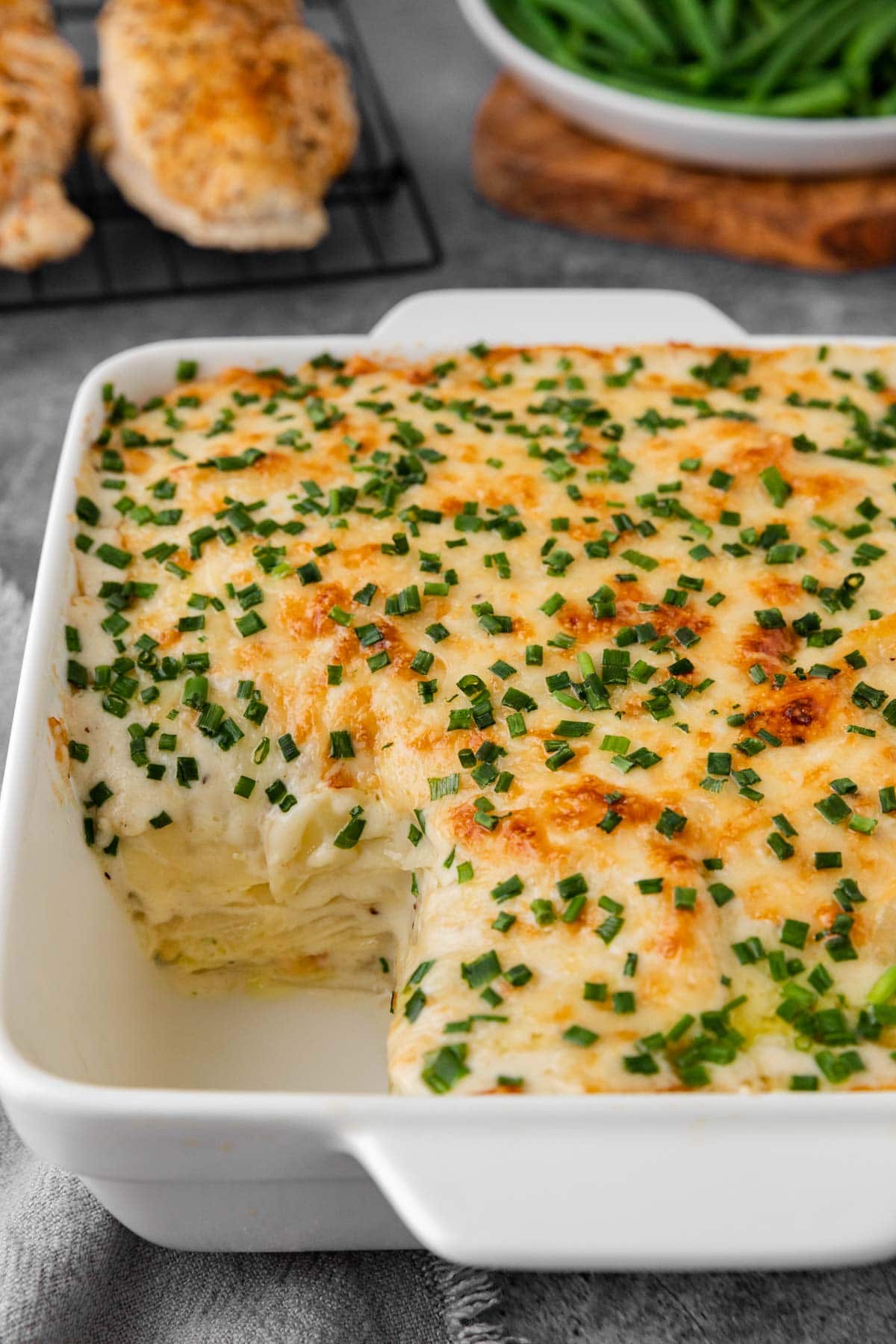 About our Potato Gratin Dauphinois Recipe
Dauphinoise Potatoes is a French dish, also known as Scalloped Potatoes, that has been simple yet indulgent comfort food for many years. The classic recipe consists of potato slices cooked in a milk or cream in a dish that's been rubbed with garlic. Now, for this Potato Gratin Dauphinois recipe, we made them more luxurious by covering them with melty Gruyere cheese. The crispy topping is what makes this a gratin dish versus the traditional Dauphinois that isn't made with cheese. Gratin technique is a French cooking method where a dish is topped with crispy breadcrumbs or cheese, just like Spinach Gratin or Brussels Sprouts Gratin.
The creamy sauce in this Potato Gratin Dauphinoise recipe makes it even more of a comfort food than our other cheesy gratin dishes. Cooking the potatoes in extra heavy cream makes a rich, bubbly, creamy potato dish that's unbelievably delicious. And the best part is that this rich, cheesy, savory, potato recipe is so easy to make with just four ingredients, plus salt and pepper, and only 45 minutes!
Potato Gratin Dauphinois Ingredients
Potatoes: Classic russet potatoes are perfect for this recipe. Because they're more starchy they make better baking potatoes than waxy potatoes would. They're fluffy, soft, and do a great job absorbing the creamy sauce while keeping some texture.
Heavy cream: Heavy cream is what makes this recipe Dauphinoise Potatoes. Cook the potato slices in the heavy cream for a few minutes on the stovetop before you bake it all together.
Gruyere cheese: The grated cheese is added to the top and bakes to crispy perfect for the most incredible Potato Gratin Dauphinois ever.
Kitchen Tools & Equipment
Mandoline: A mandoline is a handy kitchen tool that makes prep work for Potato Gratin Dauphinois a breeze. Not only does it let you cut even, thin potato slices in minutes, you can also use it to grate your cheese if you have the grater blade. This way you are only cleaning one prepping tool! The thin, even slices are key to getting tender, perfectly cooked potatoes in every bite.
Baking Dish: The smaller 8×8 square baking pan lets you make a thick stack of the thinly sliced potatoes so you get layers and layers of this decadent potato dish. If you use a bigger baking pan, you should check your potatoes around the 20-25 minute mark so you don't cover cook the dish.
How to Make Potato Gratin Dauphinois
Time needed: 45 minutes.
Slice the Potatoes

Use a mandoline if you have one, or a sharp knife, to slice the potatoes into thin slices no bigger than ⅛ inch. Place the slices in a bowl of cold water as you go to keep them from browning as you slice the rest of the potatoes.

Prep the Baking Dish

Preheat your oven and grease your baking dish generously with butter. You can also rub the dish with the cut side of a garlic clove before buttering for more flavor.

Heat the Cream Mixture

In a saucepan, add the heavy cream, potato slices, salt, pepper, and garlic. Bring the mixture to a simmer for 3 minutes, but do not boil or cook the potatoes. Use a slotted spoon to remove the garlic cloves.

Assemble the Dish

Begin layering the potato slices in the prepared baking dish, slightly overlapping and spreading them so it isn't solid stacks with gaps. Pour the cream mixture over the potatoes, and sprinkle Gruyere cheese on top.

Bake the Potatoes

Bake Potato Gratin Dauphinois for 30 minutes until it's golden brown and bubbly with a crispy surface. Take it from the oven, garnish with chives, and let it cool for 5-10 minutes before serving.
Nutritional Facts
Nutrition Facts
Potato Gratin Dauphinois
Amount Per Serving
Calories 666
Calories from Fat 450
% Daily Value*
Fat 50g77%
Cholesterol 159mg53%
Sodium 588mg26%
Potassium 1030mg29%
Carbohydrates 42g14%
Protein 15g30%
Vitamin A 2034IU41%
Vitamin C 14mg17%
Calcium 333mg33%
Iron 2mg11%
* Percent Daily Values are based on a 2000 calorie diet.
Cooking Potato Gratin Dauphinois Tips & Tricks
Make a decadent dish with perfectly cooked, tender potatoes every time with these cooking hacks.
Thinly Slice the Potatoes

Since you aren't pre-boiling your potatoes before cooking them, it's important to slice them very thinly so they are able to cook all the way and become deliciously tender in just 30 minutes. Aim for 1/8-inch thickness and use a potato slicer or mandoline to get even slices.

Don't Serve Right Away

Letting the potatoes cool for 5-10 minutes before serving is key not only because they will be super hot but it gives the hot milk mixture a chance to come together. This prevents a runny filling and you won't burn your tongue!

Simmer the Potatoes in Milk

Part of the reason you simmer the potatoes for a few minutes in the cream is so they release a lot of starch into the liquid. This extra starch upfront helps your cream thicken while the potatoes bake and binds everything so your Potato Gratin Dauphinois isn't watery.
What to Pair With Potato Gratin Dauphinois
Drinks: Serve this French potato side with French wines. If you like white wine, go with Sauvignon Blanc and if you like red, serve Cabernet Franc or Merlot.
Meat Dishes: This indulgent potato gratin goes perfectly with hearty, rustic main dishes like Roast Chicken and Pot Roast. For a simple yet rustic French main dish, try it with Coq au Vin, or "chicken in wine".
How to Store Potato Gratin Dauphinois
Store: You shouldn't leave Dauphinoise Potatoes at room temperature for more than 2 hours. Let the Potato Gratin Dauphinois cool down to room temperature before you store the leftovers. Cover the dish in plastic wrap or transfer to an airtight container, to keep in the fridge for 3-5 days.
Reheat: It's best to reheat Potato Gratin in the oven covered with foil so the cheese doesn't burn while it's reheated. Reheat at 350 degrees until its heated through then remove the foil and let the cheese get melty again before serving.
Freeze: You could also freeze the potato recipe for 6 months. Let the potatoes cool completely before storing in a sealed container. Let it defrost in the fridge before you reheat it in the oven.
Alternative Potato Gratin Dauphinois Cooking Techniques
Slow Cooker Potato Gratin Dauphinois
Grease your slow cooker insert with butter. Thinly slice the potatoes and layer them inside your slow cooker with the garlic cloves dispersed evenly in the layers. Pour the heavy cream over everything and season with salt and pepper. Add the cheese on top and cover with the lid. Cook on low for 5-6 hours, or high for 2-3 hours, until the potatoes are tender and cheese is bubbly. Serve garnished with chives.
FAQ for Potato Gratin Dauphinois
Why is it called gratin dauphinois?
The "Dauphinois" in Potato Dauphinois refers to the title of rulers in the Dauphin region of France and the actual region. The Dauphin region is where this dish is said to have originated and where it is still a local favorite.
What is the difference between potato au gratin and dauphinoise?
While Potato Dauphinoise and Potatoes au Gratin are both dishes of potato slices baked in cream, the main difference is how the potatoes are prepared. The potatoes in Potato Dauphinoise are not boiled before baking, instead they are added raw or just slightly simmered in cream first but never partially cooked.
Why is my dauphinoise watery?
The reason comes down to lack of starch from the potatoes which is what is necessary to thicken this dish. If your potatoes are cut too thick or you use a waxy potato (like gold potatoes), your dish could be watery. Another reason is not letting it rest for about 10 minutes before serving because the cream will thicken and set as it cools.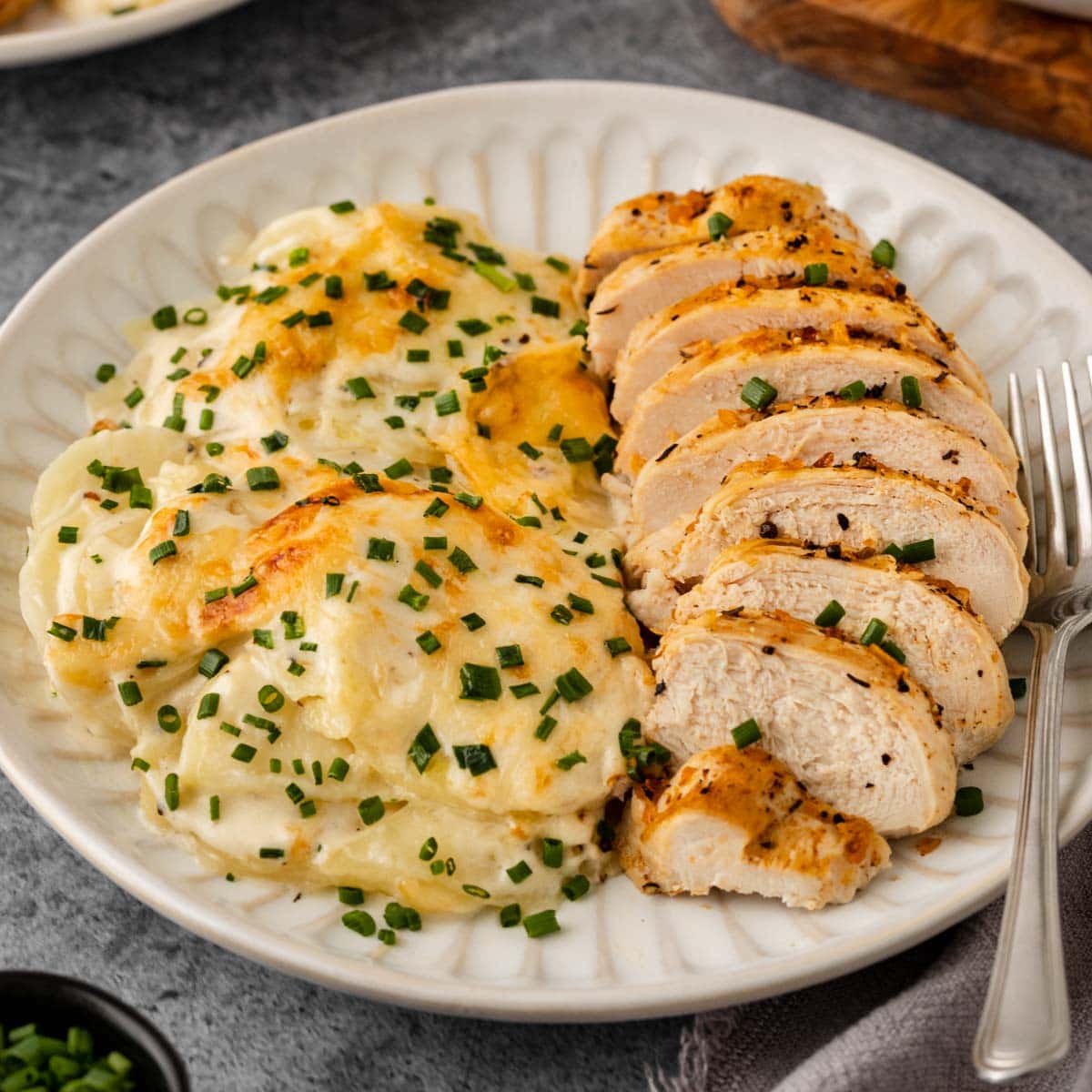 Recipe Card


Ingredients
6

russet potatoes

, peeled

3

cups

heavy cream

1

teaspoon

kosher salt

1/2

teaspoon

coarse ground black pepper

2

cloves

garlic

, halved

1

cup

Gruyere cheese

, grated

1/4

cup

chopped chives
Instructions
Slice the russet potatoes into 1/8″ thick slices (a mandoline is best for this).

Preheat oven to 375 degrees and grease an 8×8 baking dish.

Add the heavy cream, potatoes salt, pepper and garlic cloves to a saucepan.

Bring to a simmer and cook for

3 minutes

.

Remove the garlic from the pan.

Layer the potatoes in the baking dish and cover with the hot heavy cream.

Top with shredded Gruyere cheese and additional cracked black pepper if desired.

Bake for

30 minutes

until golden brown and bubbly.

Garnish with chives, let rest for

5 minutes

and serve.
Nutrition
Calories:
666
kcal
|
Carbohydrates:
42
g
|
Protein:
15
g
|
Fat:
50
g
|
Saturated Fat:
32
g
|
Polyunsaturated Fat:
2
g
|
Monounsaturated Fat:
13
g
|
Cholesterol:
159
mg
|
Sodium:
588
mg
|
Potassium:
1030
mg
|
Fiber:
3
g
|
Sugar:
5
g
|
Vitamin A:
2034
IU
|
Vitamin C:
14
mg
|
Calcium:
333
mg
|
Iron:
2
mg
Potato Gratin Dauphinois Variations
Cheese: You can use different kinds of cheeses in Potato Gratin Dauphinois. Try topping the dish off with provolone, Parmesan, feta, or Swiss cheese.
Seasonings: Add your favorite herbs or spices to change up the flavor of the dish. You can mix fresh thyme leaves, bay leaf, freshly ground nutmeg, paprika, or onion powder with the cream sauce for seasoned potato slices.
Breadcrumbs: Gratin recipes can also be made with breadcrumbs. So, if you prefer you can replace the cheese with breadcrumbs, or sprinkle both of them over the potatoes.
Related Recipes
More Decadent Potato Side Dishes