Lyonnaise Potatoes are the perfect side dish with layers of sliced, buttery potatoes and garlicky caramelized onions.
This buttery potato dish is the perfect Side Dish to serve for any occasion whether it's a weeknight meal or a more special occasion. The cooking process is easy to make, and their versatile flavor pairs beautifully with a variety of dishes. For more classic potato recipes try Potatoes Au Gratin or Garlic Roasted Red Potatoes.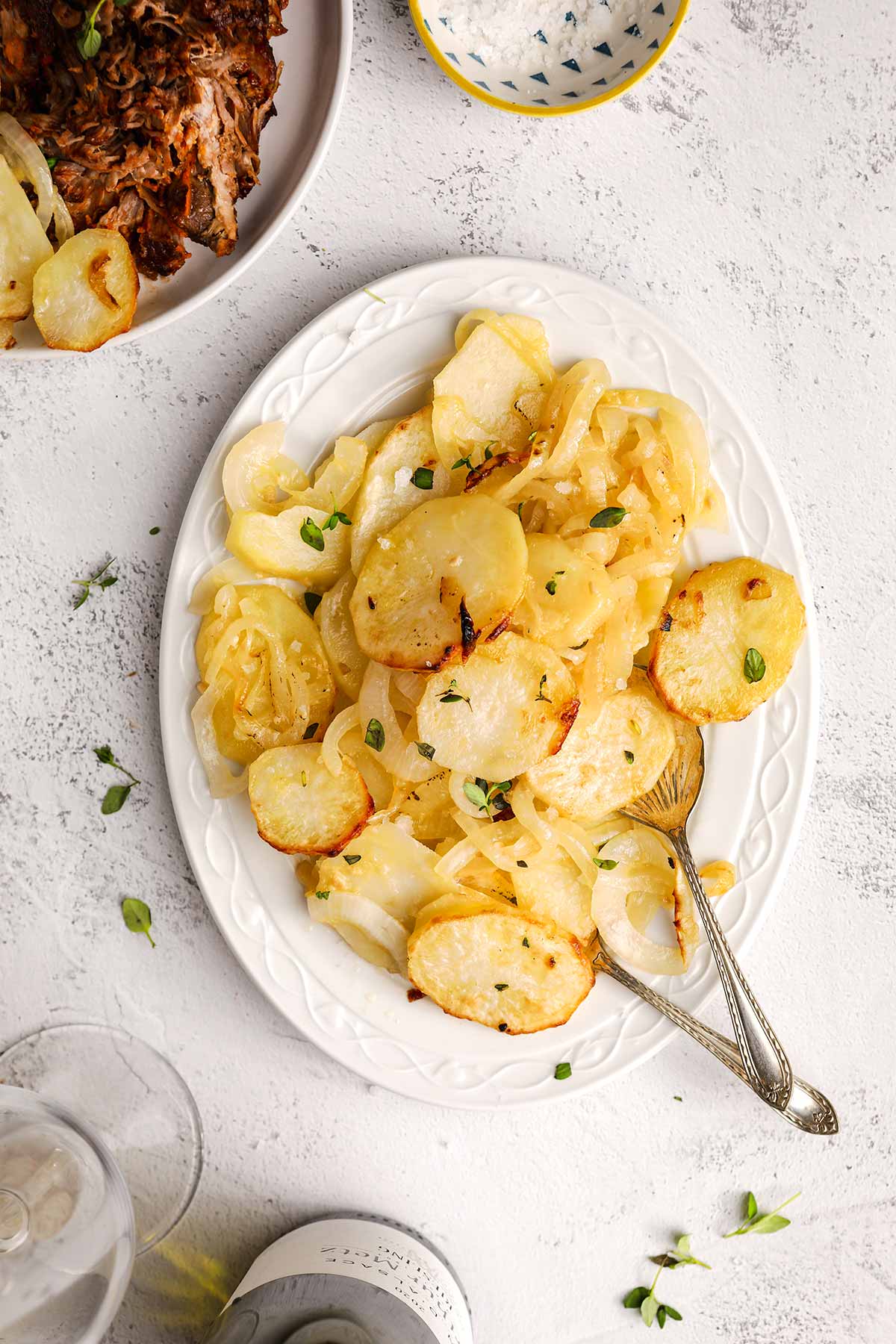 The next time you host friends and family for dinner, serve this Lyonnaise Potato recipe to wow your guests! They will think you spent a ton of time making a fancy, classic French recipe, when in fact it comes together quite easily. The aromatic, savory caramelized onion makes these buttery potatoes extra flavorful.
This French side dish is fairly easy to make. Though there are a few steps to the process none of them are complicated. Start by parboiling the potato slices, then caramelizing the onions and garlic in butter. After that, you're ready to toss the potatoes in melted butter, and layer up the potatoes and onions to bake. Once it's finished, each bite will be full of rich, buttery flavor from perfectly crisp and tender potatoes and onions. Sprinkle some fresh herbs on top for a beautiful finish that complements any special holiday meal.
Lyonnaise Potatoes is a great dish to have in your back pocket to throw together for a dinner party, holiday, or anytime you're craving comforting potatoes. The name alone makes it sound impressive, and it only gets better once you taste how amazing they actually are. On top of that, you can serve the batch of potatoes with practically any of your favorite dinner recipes. Bring them out to liven up a simple meal like Instant Pot Chicken. Or, serve them with an equally impressive main dish like Chicken Cordon Bleu.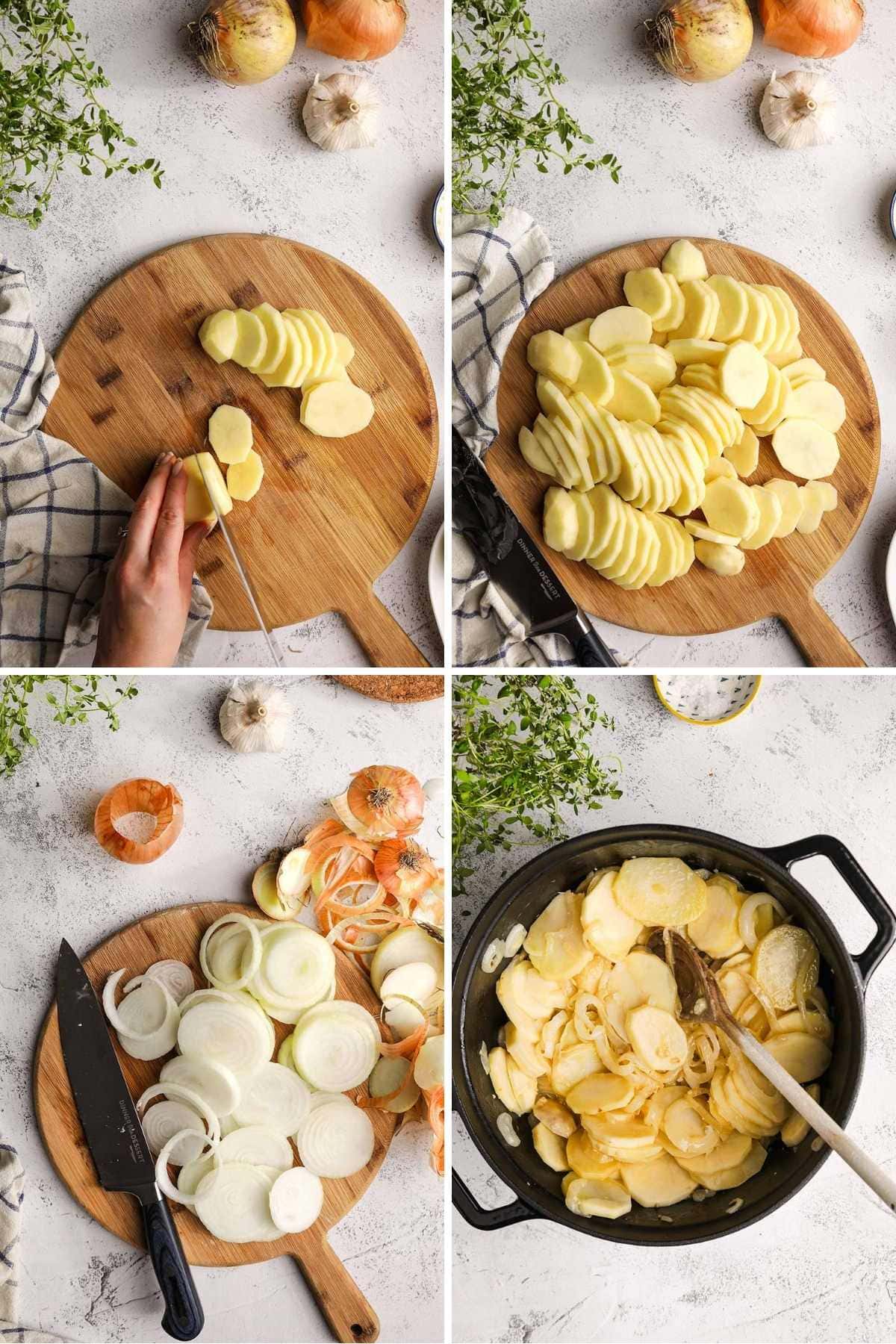 What are Lyonnaise Potatoes?
Lyonnaise Potatoes are actually a traditional French potato recipe. The flavorful potatoes were originally made in the French city of Lyon. In French cooking, the term a la Lyonnaise means that the dish is prepared with onions. So, the buttery onions layered into this recipe are what give the crisp potatoes their name.
How to Make Lyonnaise Potatoes
Prep time: Start by preheating the oven to 400 degrees. Then peel and slice the potatoes into potato rounds about ½ inch thick.
Parboil: Add the potato slices to a pot full of cold water. Bring the water to a gentle boil, and cook for 5 minutes. Remove the potatoes from the pan and let them cool and dry.
Onions: While the potatoes are still cooking, add ¼ cup butter and onion slices to a large Dutch oven over medium-high heat. Stir the onions and butter every 5 minutes until they're browned and caramelized. It should only take about 20 minutes. Then add the garlic and stir for another minute.
Assemble: Melt the remaining butter, and toss it over the cooled potatoes. Then grease a 9×13 baking sheet. Add a single layer of potatoes to the prepared baking sheet. Then layer on the onions, followed by another layer of potatoes, then onions, and potatoes again.
Bake: Put the dish in the preheated oven and bake for 15 minutes or until the Lyonnaise Potatoes are golden brown and crispy.
More Potato Side Dishes
Frequently Asked Questions
Can I make Lyonnaise Potatoes Vegan?
Absolutely! This vegetarian side dish is easily made vegan with just a simple swap of the butter with your favorite dairy-free margarine. You can also use a mix of vegan butter with olive oil for different flavors.
Why do I need to boil the potatoes prior to baking them?
By taking the extra step to parboil the potatoes, you will ensure that the inside is tender and cooked all the way through. This leaves you with perfectly crispy edges and makes sure the potatoes are finished cooking at the same time as the onions.
How do I caramelize onions?
Use a heavy bottomed pan over medium heat, and lots of melted butter for a delicious flavor. You must be patient and keep stirring the onions while they cook for about 20 minutes. If the heat is too high, they will scorch before the sugars and moisture from the onions are released, which is what helps the onions to become super soft. Some recipes for caramelized onions call for adding a touch of brown sugar, but you don't want to make the onions too sweet for your Lyonnaise Potatoes. Once the onions are tender and browned, you know they are ready.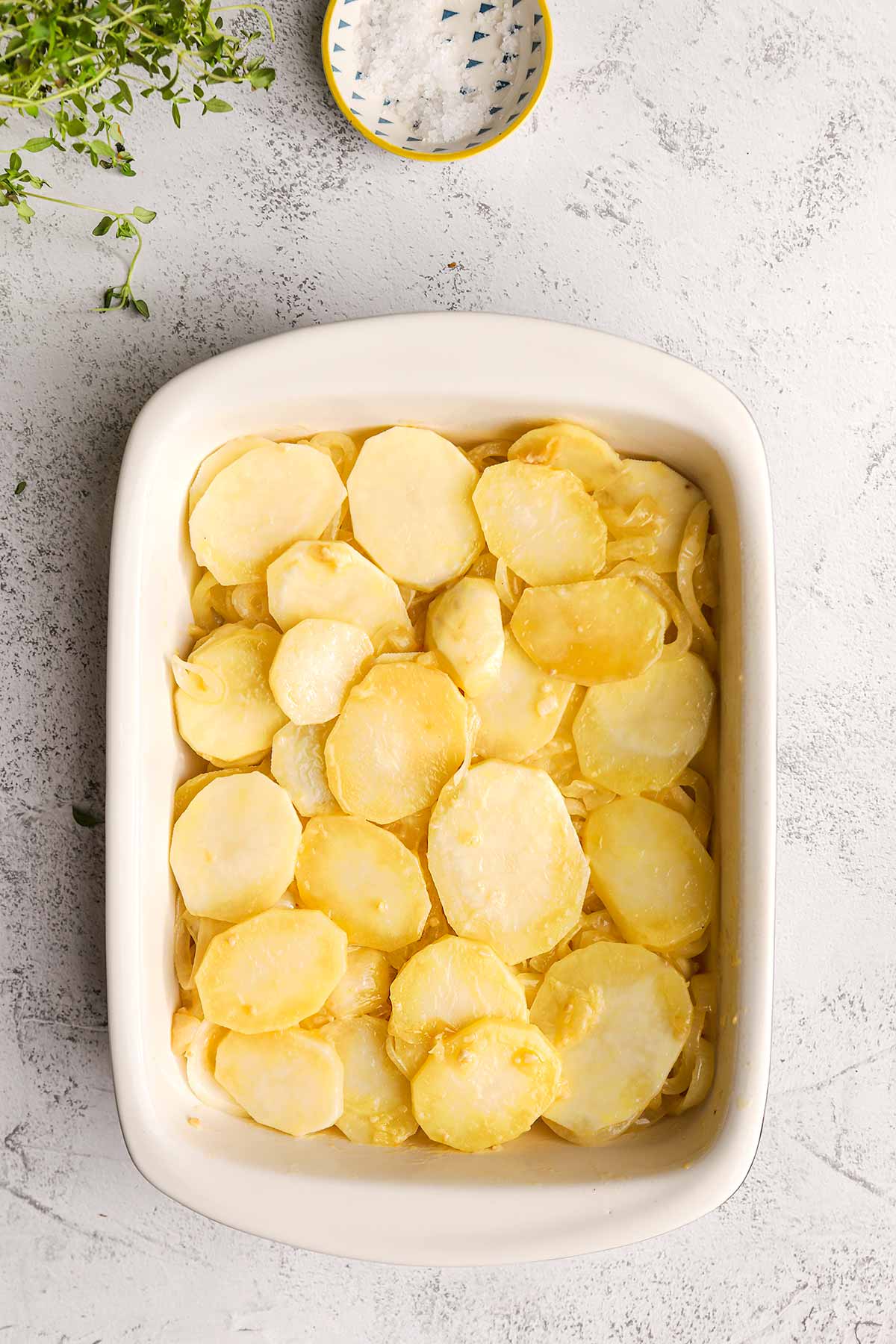 Create a free account to

Save Recipes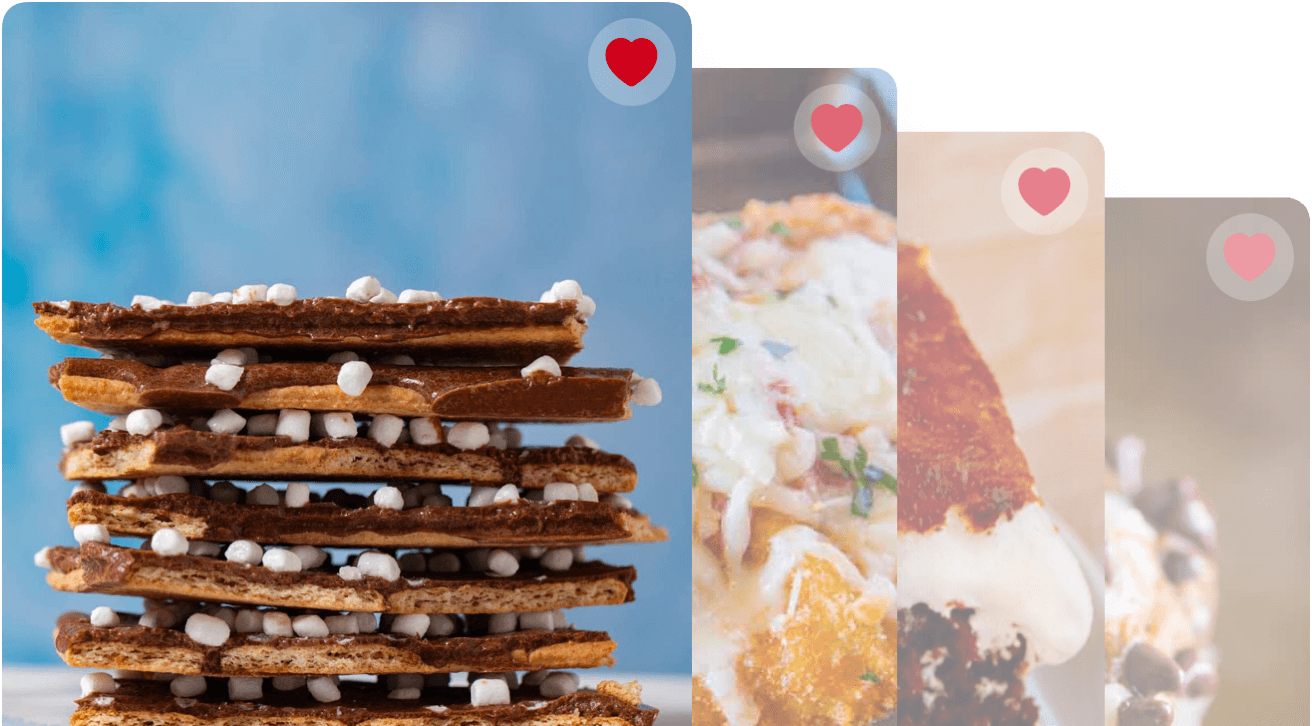 Key Ingredients in Lyonnaise Potatoes
Potatoes: We used russet potatoes for this recipe because they're a good size, and they crisp up nicely in the oven for the perfect dish.
Onion: Other than the potatoes, the key ingredient to Lyonnaise Potatoes is the onions. Sliced up and caramelized, they add tons of flavor and texture to the rich and buttery side.
Butter: Other than those two main ingredients, you only need a handful of simple ingredients to finish the recipe. The butter is divided to cook the onion and get tossed over the parboiled potatoes. That way, the entire dish has a rich, buttery taste.
Flavorings: For a little extra savory flavor minced garlic is cooked with the onions. Then you can add salt and pepper to the potatoes before baking.
Can Lyonnaise Potatoes be Made Ahead?
You can prepare the Lyonnaise Potatoes a day in advance and bake them just before serving. Follow all the steps of the recipe to parboil the potatoes and caramelize the onions. Arrange the layers in your baking dish and cover it tightly with aluminum foil. Store in the refrigerator overnight, and remove the dish and foil about 30 minutes prior to baking so that it can come back to room temperature. This will help it to bake evenly, and prevent any damage to your baking dish.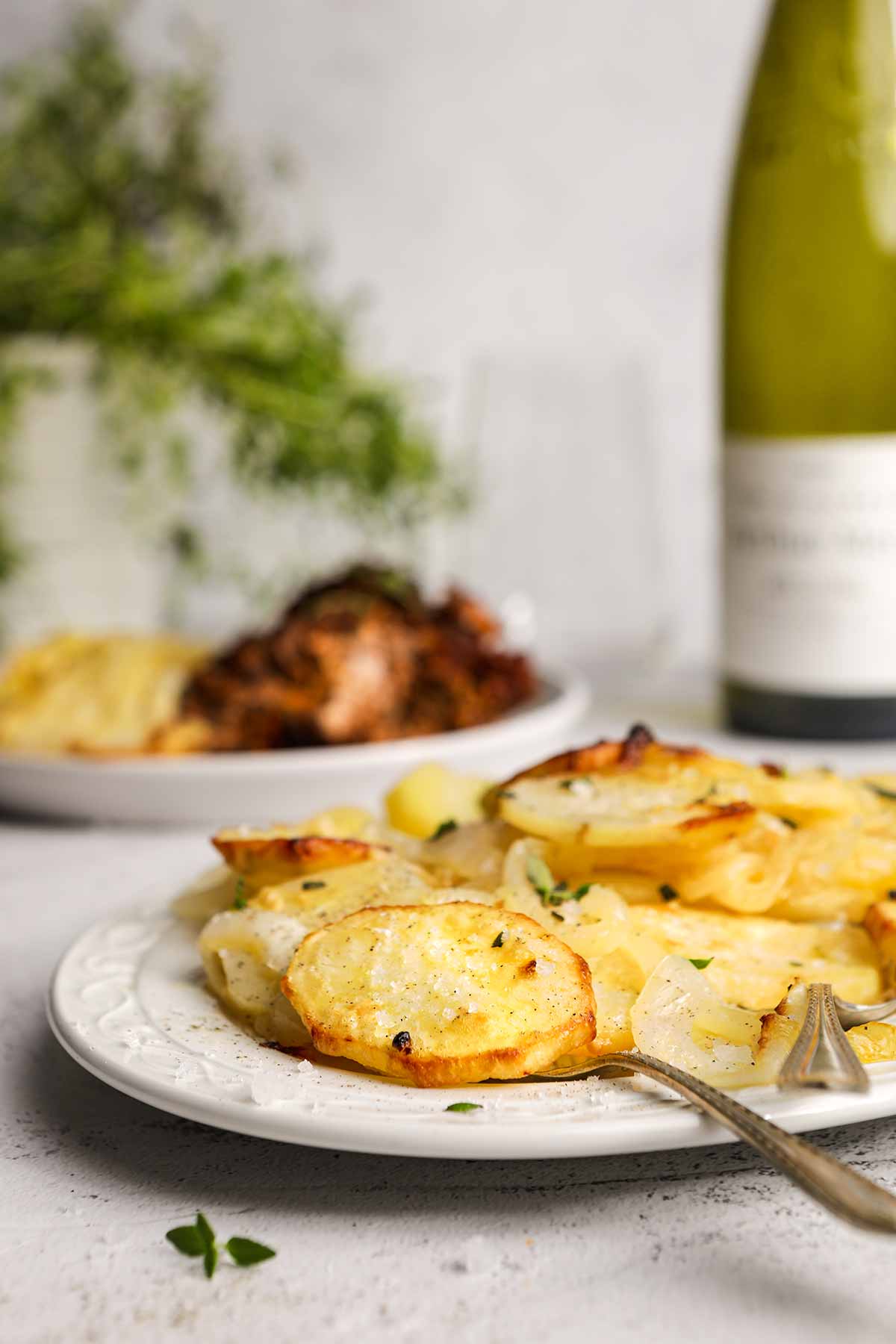 Variations on Lyonnaise Potatoes
Vegetables: Try cooking up different veggies with the yellow onions. Sauté sweet onions, green onions, or mushrooms. Then layer them in with the crispy potatoes.
Parsnips: Parsnips taste delicious combined with potatoes. Replace up to half of the sliced potatoes with sliced parsnips, and parboil them for about 5 minutes longer than the potatoes. Then mix both together to layer with the caramelized onions.
Seasonings: You can also add a variety of seasonings to the potatoes. Fresh parsley leaves, thyme, rosemary, white pepper, paprika, or red pepper flakes could all taste amazing. Just mix your choice of seasonings into the melted butter, and then toss it over the potatoes.
Potatoes: Instead of russet potatoes, you can try different waxy potato varieties like Yukon Gold, Carola Potatoes, red bliss potatoes, or even sweet potatoes.
Cheese: Once the Lyonnaise Potatoes have gotten crispy, grate a handful of Gruyère cheese in the last few minutes of baking time to enjoy delicious cheesy potatoes.
Truffle: Drizzle a small amount of truffle oil onto the finished Lyonnaise Potatoes to elevate this decadent side dish. The truffle oil will add a wonderfully fragrant touch and savory flavor to the potatoes.
More Comforting Side Dishes
How to Store Lyonnaise Potatoes
Serve: You don't want to leave this Lyonnaise Potato recipe at room temperature for more than a few hours.
Store: If you have leftover potatoes make sure they cool down before you store them. Then cover potatoes in aluminum foil and store them in the fridge for 3-4 days.
Freeze: For longer storage, you can carefully seal the potatoes in an airtight container and put them in the freezer for up to 6 months.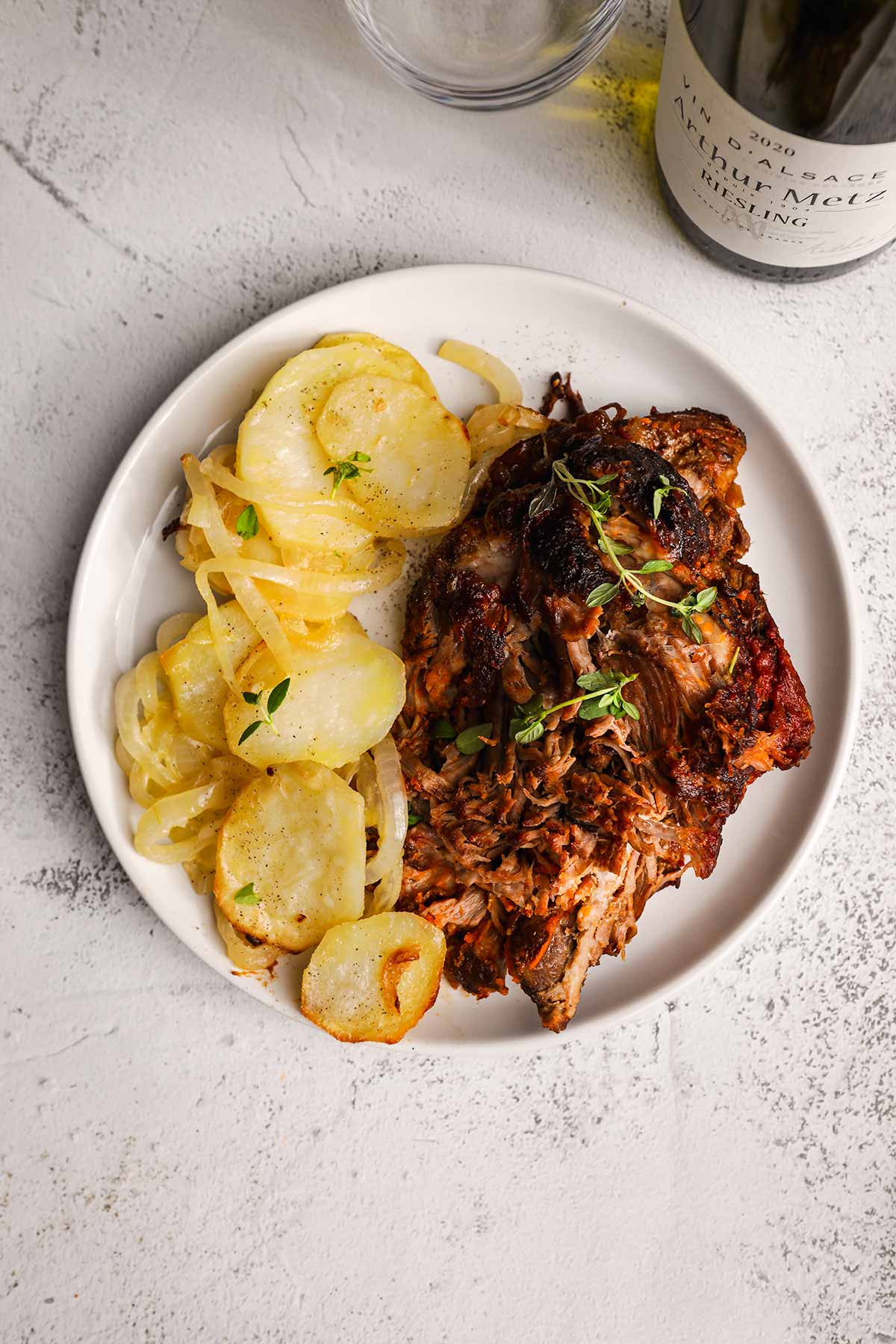 Ingredients
2

pounds

russet potatoes

1/2

cup

unsalted butter

, divided

4

yellow onions

, thinly sliced

3

cloves

garlic

, minced

1

teaspoon

kosher salt

1/2

teaspoon

coarse ground black pepper
Instructions
Preheat your oven to 400 degrees.

Peel and slice potatoes to ½ inch thickness.

Add to a pot with cold water, bring it to a gentle boil and cook for

5 minutes

.

Remove from the pan and let cool and dry.

Add ¼ cup butter and the onions to a large Dutch oven on medium heat while the potatoes are cooking.

Cook, stirring every five minutes, until the onions are browned and caramelized, about

20 minutes

total.

Add in the garlic and stir, cooking for

1 minute

.

Melt the remaining ¼ cup butter and gently toss the potatoes in it.

Layer a greased 9×13 baking dish with the onions and potatoes.

Start with a layer of potatoes then half the onions, then potatoes and onions again finally ending with a potato layer.

Bake in the oven for

15 minutes

until the potatoes are crisp on top before serving.
Nutrition
Calories:
215
kcal
|
Carbohydrates:
26
g
|
Protein:
3
g
|
Fat:
12
g
|
Saturated Fat:
7
g
|
Polyunsaturated Fat:
1
g
|
Monounsaturated Fat:
3
g
|
Trans Fat:
1
g
|
Cholesterol:
31
mg
|
Sodium:
300
mg
|
Potassium:
563
mg
|
Fiber:
2
g
|
Sugar:
3
g
|
Vitamin A:
358
IU
|
Vitamin C:
11
mg
|
Calcium:
34
mg
|
Iron:
1
mg