Easy Loco Moco is a classic Hawaiian comfort food dish with juicy hamburger steak patties, rich gravy, and a fried egg over a bed of rice.
This iconic dish is a filling and flavorful Dinner Recipe. For another favorite Hawaiian cuisine option, try our Hawaiian Shoyu Chicken next.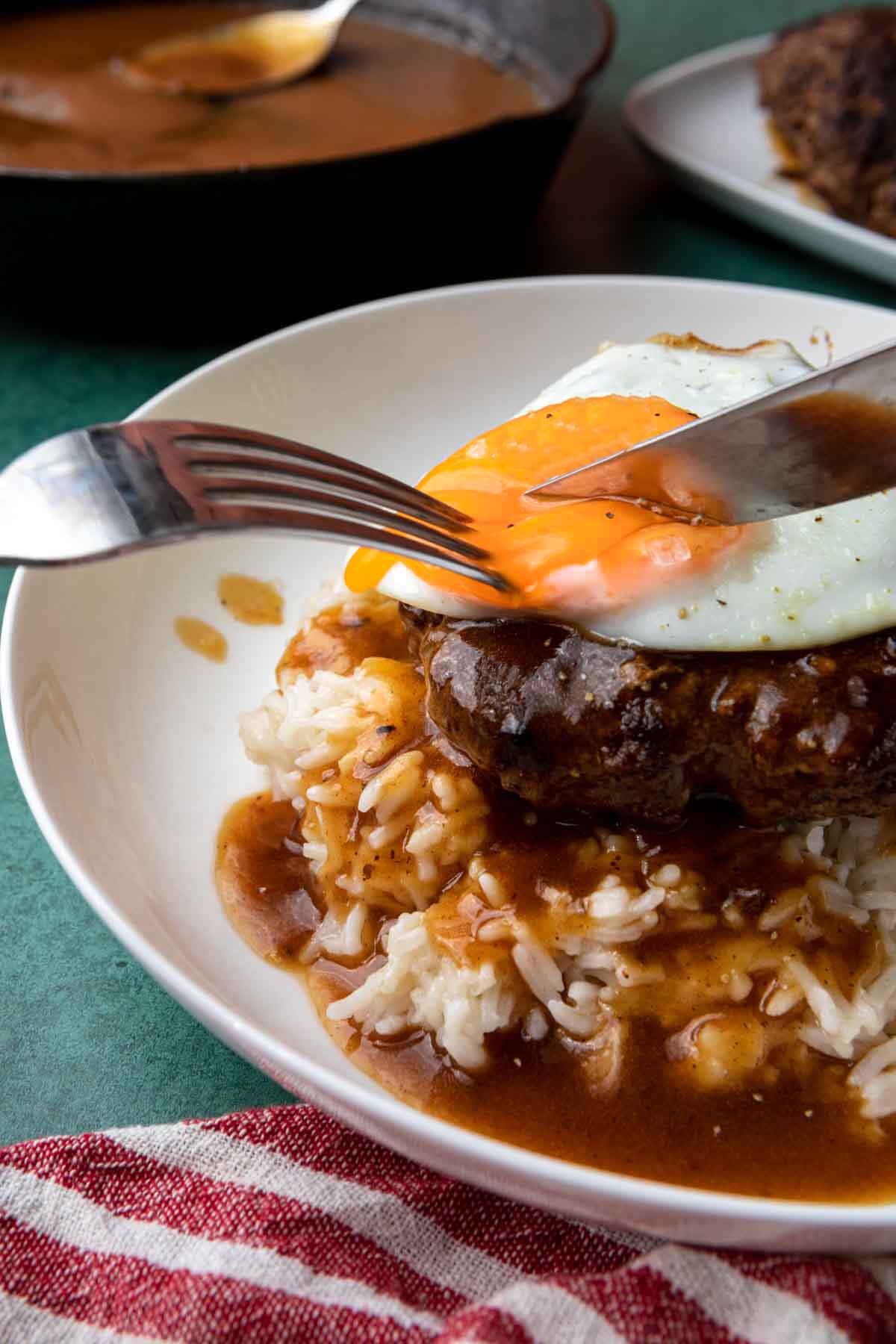 Although there are plenty of variations on this traditional dish, a basic Loco Moco recipe has the same key components. It's made by layering White Rice, a juicy hamburger patty, rich brown gravy, and an fried egg. The thick gravy adds even more delicious beef flavor to the juicy patties, and the white rice is the perfect simple base for all the flavorful ingredients.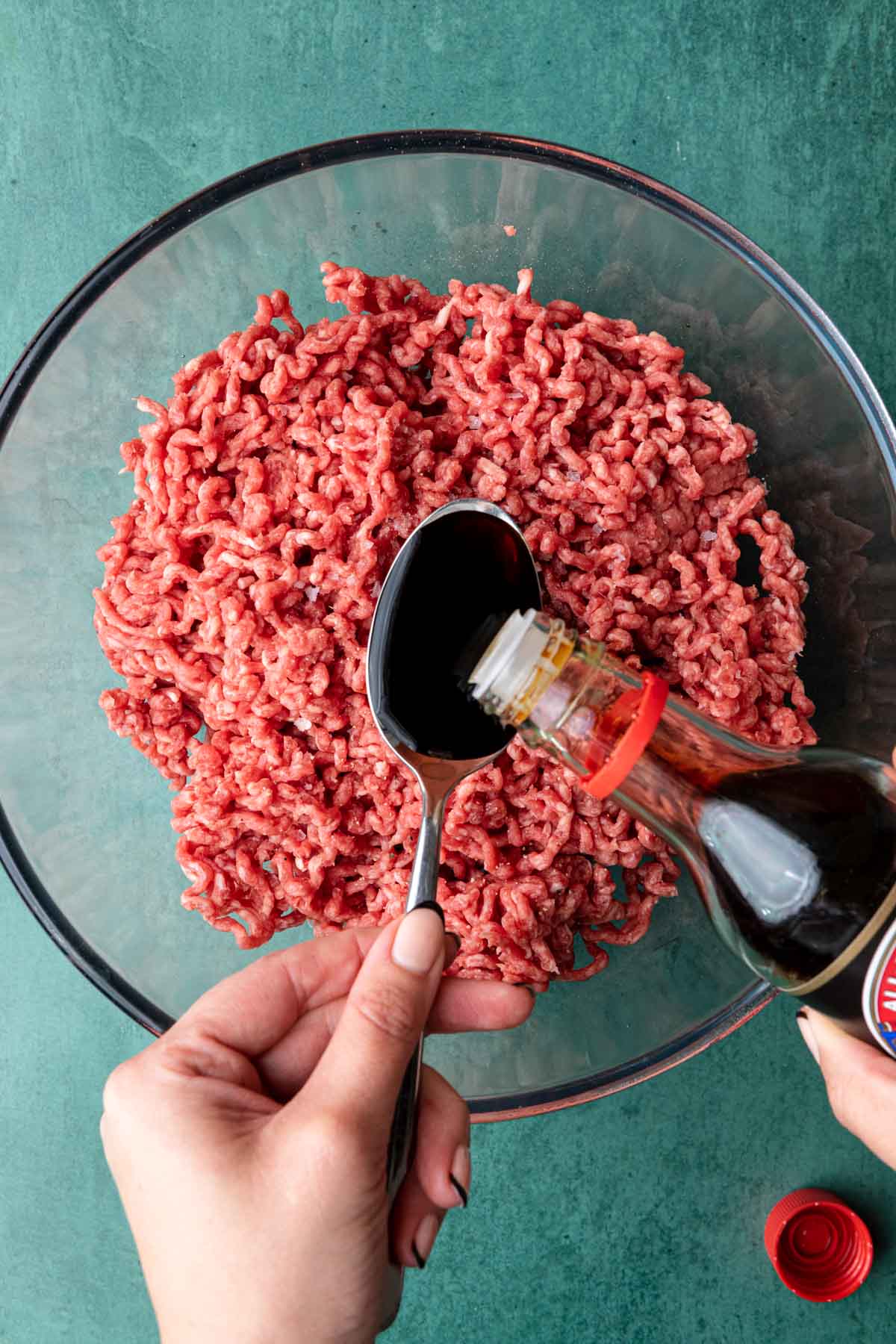 One of the great things about Hawaiian Loco Moco is that it's quite easy to make, assemble and serve. The only prep work you need to do ahead is to have cooked rice ready to go, which you can easily do in a rice cooker, on the stove top, or even use up leftover rice. However you make your rice, it gets topped with a savory burger patty, a ladle of gravy made with beef drippings and a buttery, rich egg that are made in minutes.
Loco Moco is a classic Hawaiian recipe and a hearty, satisfying meal to have on hand when you need a delicious dinner you know everyone will love. Once everything is assembled over the bed of rice, it's a complete meal ready to serve. You could also make it more of an authentic Hawaiian plate lunch with a side of Hawaiian Mac Salad or a simple salad of mixed greens with your favorite dressing. 
What is Loco Moco?
Loco Moco is a popular Hawaiian meal and the ultimate comfort food! It's a layered plate lunch with a ground beef patty and rich gravy served over a bed of rice, and everything is topped with a fried egg. It is a quick meal with tons of flavor, especially from that buttery egg yolk that combines beef gravy. 
How to Make Loco Moco
Hamburger Patty: Start this recipe by preparing the beef patties. Season ground beef with kosher salt, black pepper, and soy sauce. Then gently mix until the seasoning is worked into the ground meat. Form the meat mixture into 4 patties. Press your thumb into the center of the burger patty. The indentation stops it from shrinking into a ball while cooking.
Gravy: Add beef broth, 2 tablespoons soy sauce, Worcestershire sauce, ketchup, and cornstarch to a mixing bowl. Then whisk the traditional gravy ingredients together.
Cook Patties: Add butter to a large, heavy skillet over high heat. Then cook the steaks for 4-5 minutes on each side until cooked through. Depending on the size of your pan, you may need to cook the burger patty recipe in batches. Remove the cooked burgers.
Cook Gravy: Add the flavorful gravy mixture to the pan and bring to a simmer. Whisk as you cook the brown gravy for 3-4 minutes or until it's thickened.
Serve: Serve the cooked patty over a scoop of rice and cover it in gravy. Then top it all off with a fried egg and season with salt and pepper to taste. Break the egg to release the yolk while enjoying Loco Moco.
More Favorite Hawaiian Recipes
FAQs for Loco Moco
Where did Loco Moco come from?
The classic Loco Moco recipe is now one of the most popular Hawaiian food options. You can get the Hawaiian diner meal at plenty of island restaurants and even at Hawaiian restaurants on the mainland. A Hawaiian restaurant created it in 1949 when a group of teenage boys wanted an inexpensive alternative to a sandwich.
How do I know when the burgers are done?
The best way to test your burgers is with a meat thermometer and you want them to reach at least 145 degrees in the middle. It takes about 7-10 minutes total to cook burgers in a skillet, and keep in mind that they will continue to cook a little while you make the gravy with the leftover beef drippings.
Do I have to top Loco Moco with an egg?
While you don't have to add a fried egg to your Loco Moco burger patties, you should definitely try it at least once! The runny egg yolk mixes in with the rich gravy and beef hamburger for the most savory, delicious flavors you can't get any other way.
What does Loco Moco mean in Hawaiian?
The "loco" part of Loco Moco comes from the Spanish word for crazy and "moco" refers to burgers in Hawaiian cuisine. So this Hawaiian dish means "Crazy Burger" and it's definitely unique, if not kind of crazy, way to serve a beef hamburger!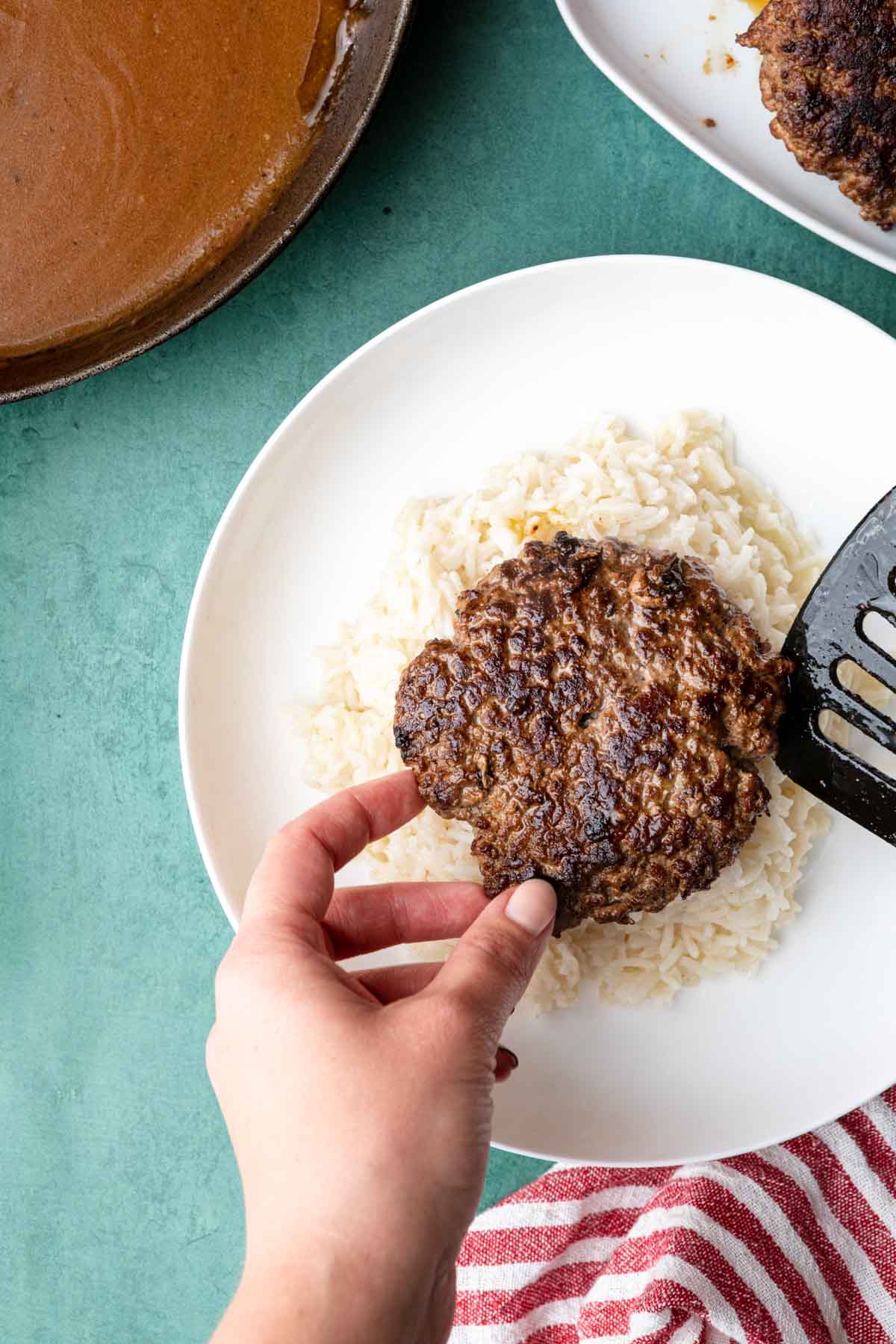 Create a free account to

Save Recipes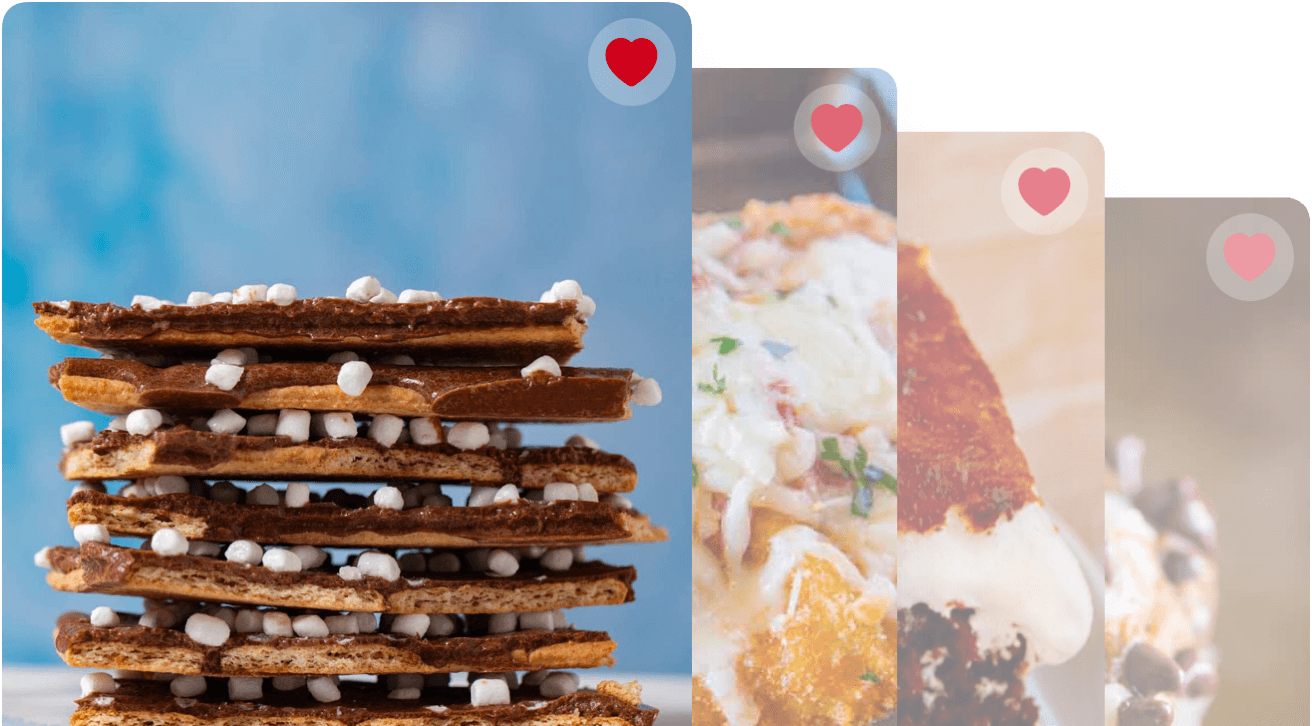 Key Ingredients
Ground Beef: The juicy hamburger steak patties are super easy to make with just a few flavoring ingredients. Mix salt, pepper, and soy sauce with a high-quality ground beef base for the most savory, delicious flavor. The bits of meat leftover in the pan also give the gravy a beefy, caramelized flavor.
Gravy: The warm gravy adds amazing savory flavor to both the rice and the hamburger patty. Beef stock, soy sauce, Worcestershire sauce, leftover beef drippings, and ketchup all come together for a robust, beefy, brown gravy flavor.
White Rice: Steamed, sticky rice is the perfect base for this recipe. You can use long-grain, medium-grain and short-grain rice, whichever you have on hand. Basmati rice is a great choice because it cooks up into a fluffy rice that is just mildly fragrant.
Eggs: For the most traditional Loco Moco, cook the eggs over-easy. The yellow buttery egg yolk looks amazing and adds incredible flavor when you break it over the hamburger patty recipe.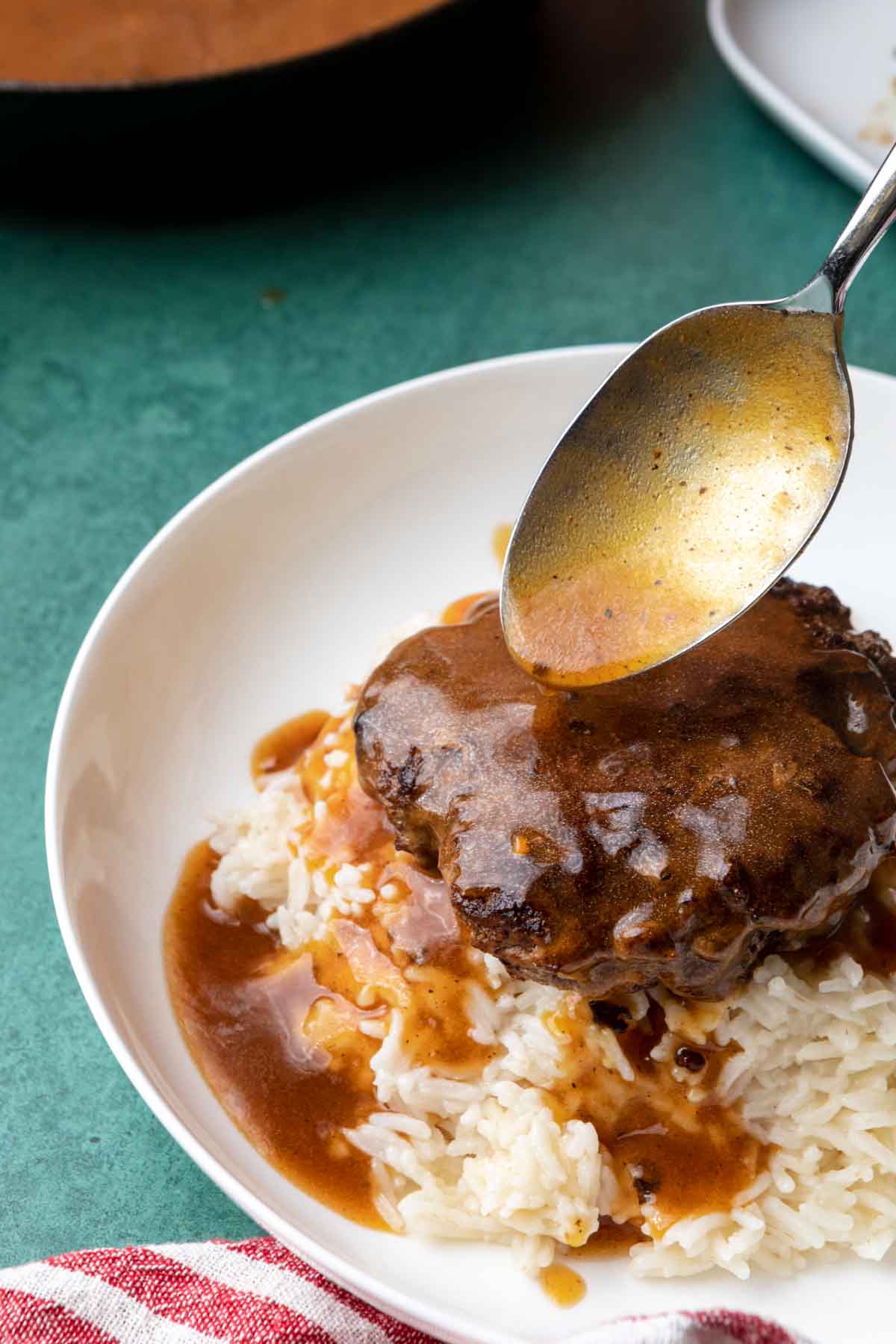 Can you make Loco Moco ahead of time?
You definitely want to make your rice ahead of time! As far as the gravy, it's made with the leftover beef drippings from the Loco Moco burger patties, and those you want fresh and hot so the meat is juicy. However, you can form the ground beef base into patties the night before, then bring them to room temperature before frying them up in your skillet.
Variations
Meat: To make this traditional Hawaiian dish healthier, you can use lean ground beef or ground turkey instead of regular ground beef. For extra meat, you can cook up some Portuguese sausage or Teriyaki Chicken to go with your Hawaiian plate.
Rice: You can swap out the white rice for brown rice, wild rice, other rice varieties, or make this dish gluten free and low carb by using cauliflower rice. Although it's not a traditional plate, you can serve your juicy hamburger steak patties and Loco Moco gravy over a bed of Mashed Potatoes too!
Onion Topping: Loco Moco also tastes amazing topped off with Caramelized Onion. Yellow onion and sweet onion are good options for this. Saute the onions in the pan until softened and save for the topping or use the sauteed onion to make a delicious caramelized onion gravy. Sprinkle freshly sliced green onions over the egg as a garnish.
Mushroom Gravy: Another easy change you can make is to swap the Loco Moco gravy recipe with flavorful mushroom gravy. To make the mushroom gravy, you'll need 4 tablespoons butter, 2 minced garlic cloves, 4 ounces of thinly sliced cremini mushrooms, 1 2/3 cups chicken stock, 3 tablespoons all-purpose flour, and salt and pepper to taste. Saute the mushrooms in a skillet with the leftover beef drippings then make the gravy as usual.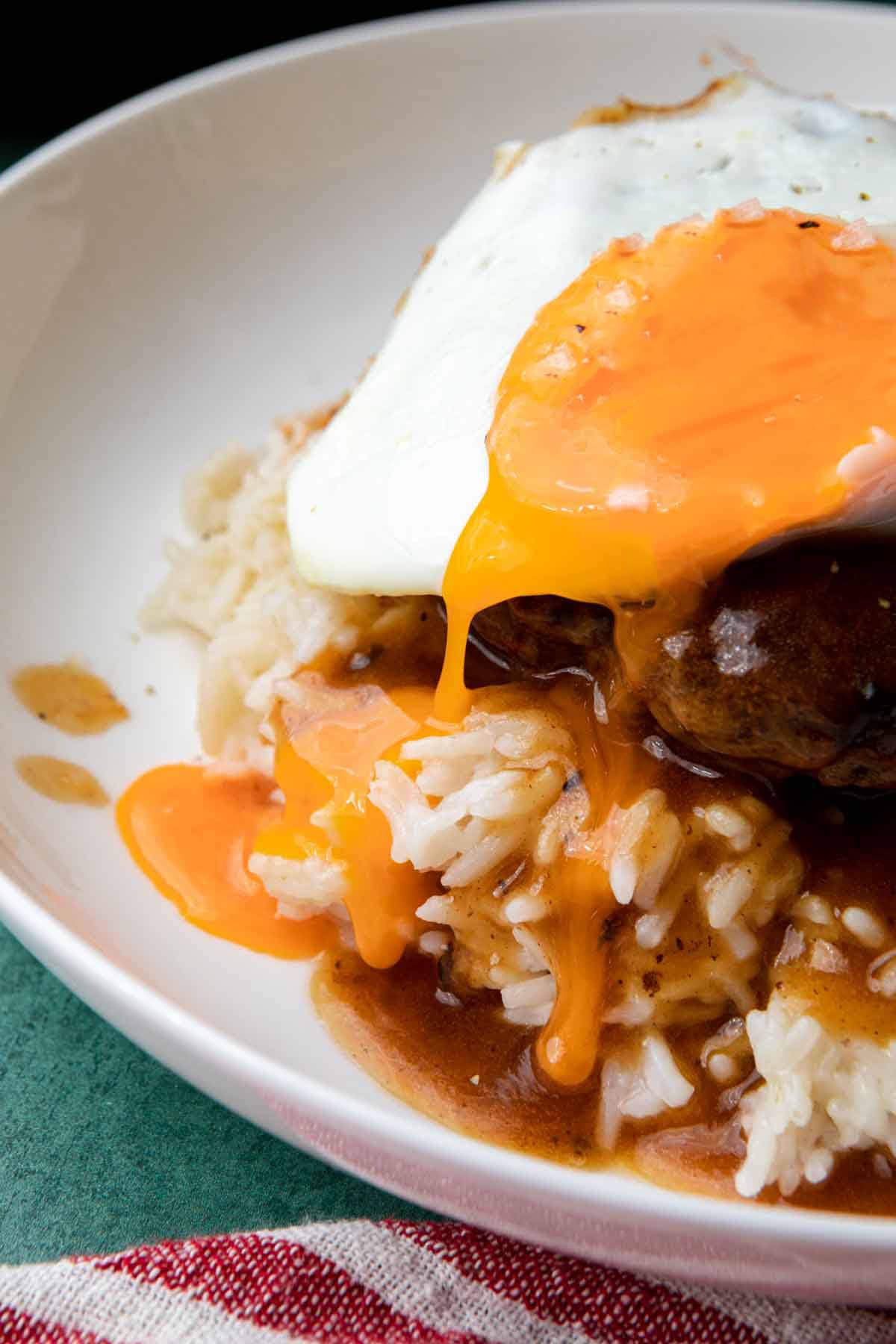 More Delicious Hamburger Recipes
How to Store
Store: This dish is best served hot and If you have leftovers, you can store the gravy and hamburger patty separately from the rice. They can stay good in the fridge for 3-4 days.
Reheat: Reheat the gravy and hamburger patty in a covered skillet over medium-high heat until warmed through. Serve over hot rice and a freshly cooked fried egg.
Freeze: If you want to freeze Loco Moco, you can layer it in individual servings or store everything separately. The only thing that won't freeze well is the egg.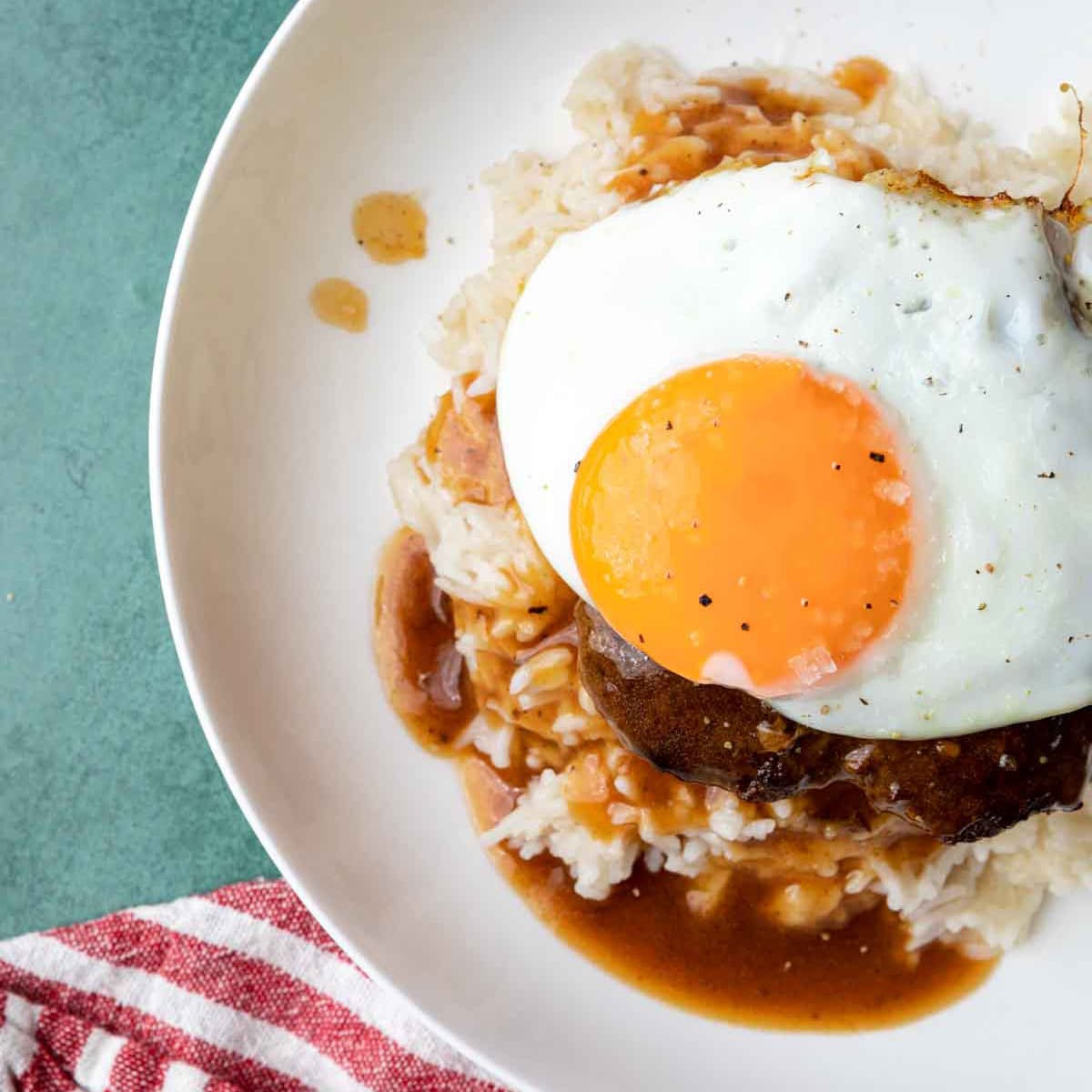 Ingredients
Hamburgers:
2

tablespoons

unsalted butter

1

pound

ground beef

, (85/15)

1

teaspoon

kosher salt

1/2

teaspoon

coarse ground black pepper

1

tablespoon

low sodium soy sauce
To Finish:
4

cups

steamed rice

4

large eggs

, cooked over easy

1/2

teaspoon

kosher salt

1/4

teaspoon

coarse ground black pepper
Instructions
Season the ground beef with salt, pepper and soy sauce gently until just mixed in.

Form into 4 patties, press your thumb into the center of the patty to make an indentation so the beef doesn't shrink into a ball.

In a mixing bowl whisk together the beef broth, soy sauce, Worcestershire sauce, ketchup and cornstarch.

To a large heavy skillet on high heat add the butter.

Cook the steaks for

4-5 minutes

on each side until cooked through.

Remove the hamburgers.

Add the gravy mixture to the pan, bring to a simmer and whisk often while it cooks.

Continue to cook until the gravy thickens, about

3-4 minutes.

Serve in a bowl with rice.

Top the patty over the rice, cover with gravy and top with fried egg seasoned with salt and pepper.

Break egg to release runny yolk when eating.
Nutrition
Calories:
1007
kcal
|
Carbohydrates:
150
g
|
Protein:
35
g
|
Fat:
27
g
|
Saturated Fat:
12
g
|
Polyunsaturated Fat:
1
g
|
Monounsaturated Fat:
10
g
|
Trans Fat:
1
g
|
Cholesterol:
100
mg
|
Sodium:
753
mg
|
Potassium:
628
mg
|
Fiber:
3
g
|
Sugar:
1
g
|
Vitamin A:
287
IU
|
Vitamin C:
1
mg
|
Calcium:
81
mg
|
Iron:
4
mg