Hawaiian Shoyu Chicken is an easy chicken dish you'd get at a Hawaiian BBQ restaurant on the island that's spicy, sweet, salty and sticky in just 30 minutes!
Hawaiian Shoyu Chicken has Japanese roots and we have more classic Japanese recipes on the site if you'd like to round out your meal including Chicken Katsu, Baked Teriyaki Chicken and Shrimp Tempura.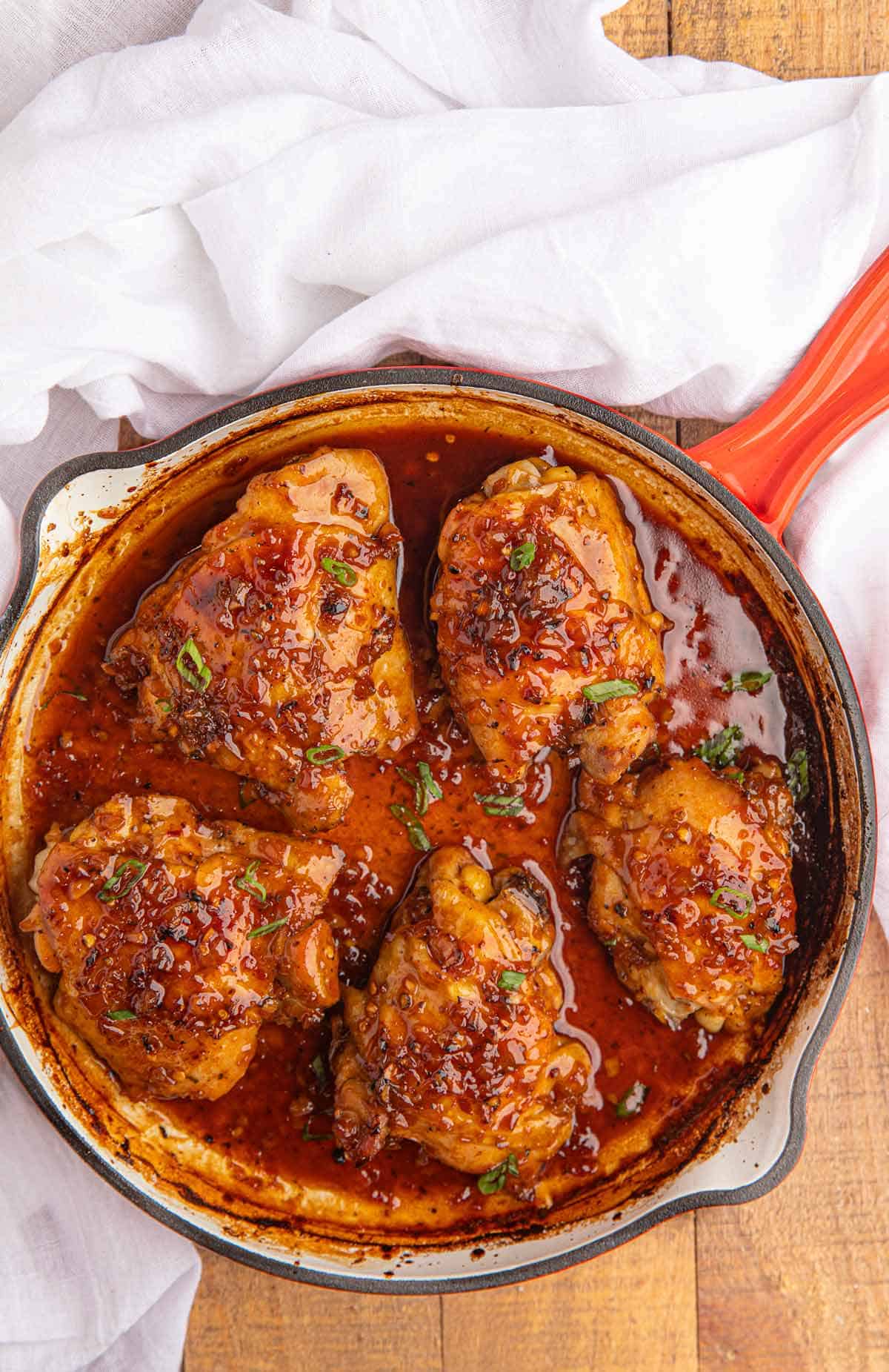 SHOYU CHICKEN
"Shoyu" is the Japanese version of soy sauce, and our version of this classic dish infuses the soy sauce marinade with a ton of flavor. This recipe calls for an overnight marinade to let the meat really soak up the flavor.
Shoyu chicken is one of those main dishes that gives you delicious leftovers, and is perfect for any thing from a black tie dinner to a paper plate lunch.
HOW TO MAKE SHOYU CHICKEN
For this recipe, don't be tempted to use boneless, skinless chicken thighs. The skin gets crispy and delicious when you bake it and you definitely want that (If you are grilling this recipe and you prefer skinless by all means go with skinless thighs).
Prepare all of the ingredients (chop, dice, ect.) and then mix them together in a ziplock bag or a small bowl. If you're using a bowl, make sure that you cover it tightly. Let the chicken marinate over night (the short cook time makes up for the long marinating time.)
Once it has marinaded overnight, preheat your oven and set your chicken in baking pan. Pour the extra sauce over the top.
Put the chicken in the oven and cook it for about 30 to 35 minutes, until it is cooked through. Make sure you check it with a probe thermometer at the thickest part before you plate it.
Dish up the shoyu chicken and chow down.
VARIATIONS AND TOPPINGS
Ground Spices: If you are grilling this recipe you can swap out the onion, ginger and garlic for ground versions to make grilling a bit easier. The chunks aren't as friendly to grilling as they are to baking.
Green onions: chop up some green unions and sprinkle them on the top to add flavor and make the chicken look fancy.
Sesame seeds: sesame seeds are a great way to add a little bit of texture to your meal. Sesame seeds are crunchy and don't have an overpowering flavor.
Mirin: you can use mirin, which is a rice wine used in a of ton of Japanese recipes. Mirin is delicious and adds a touch of traditional flavor.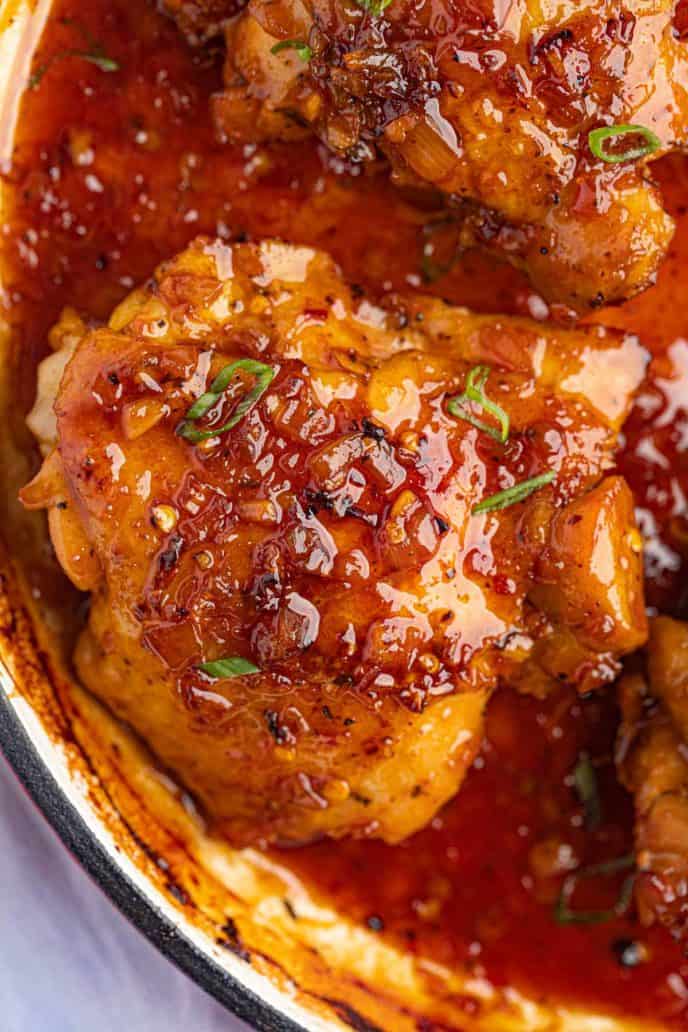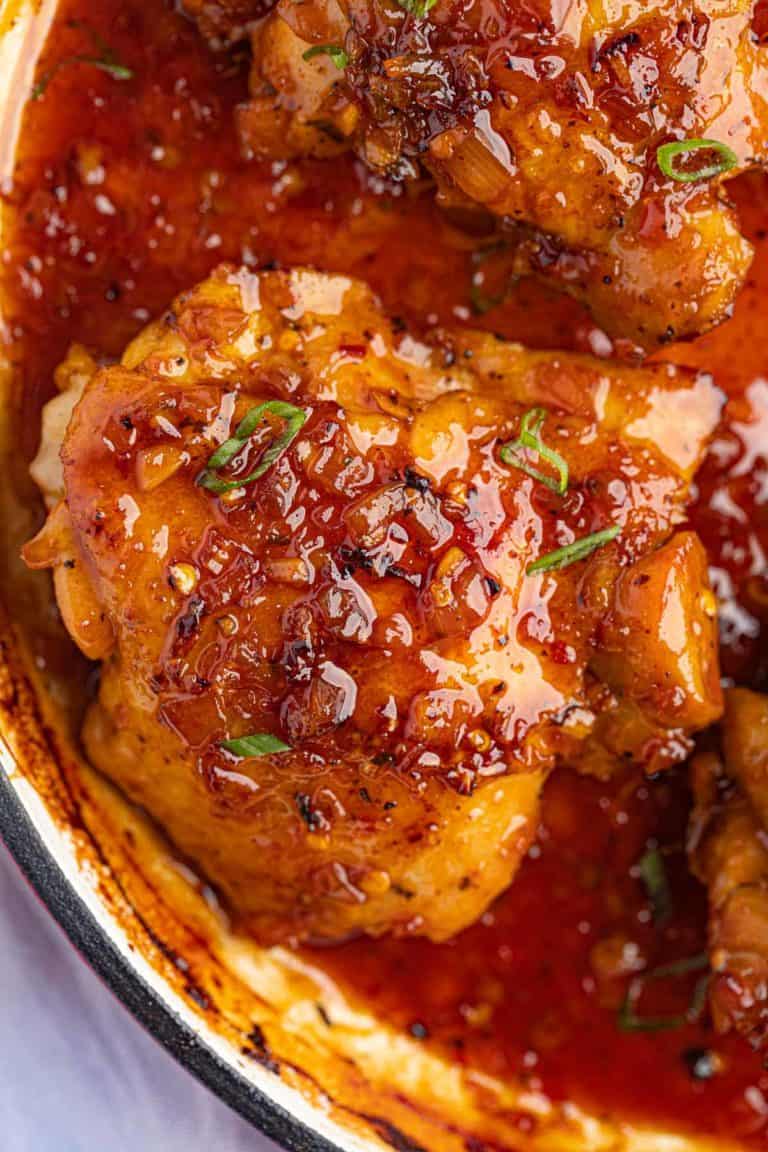 Create a free account to Save Recipes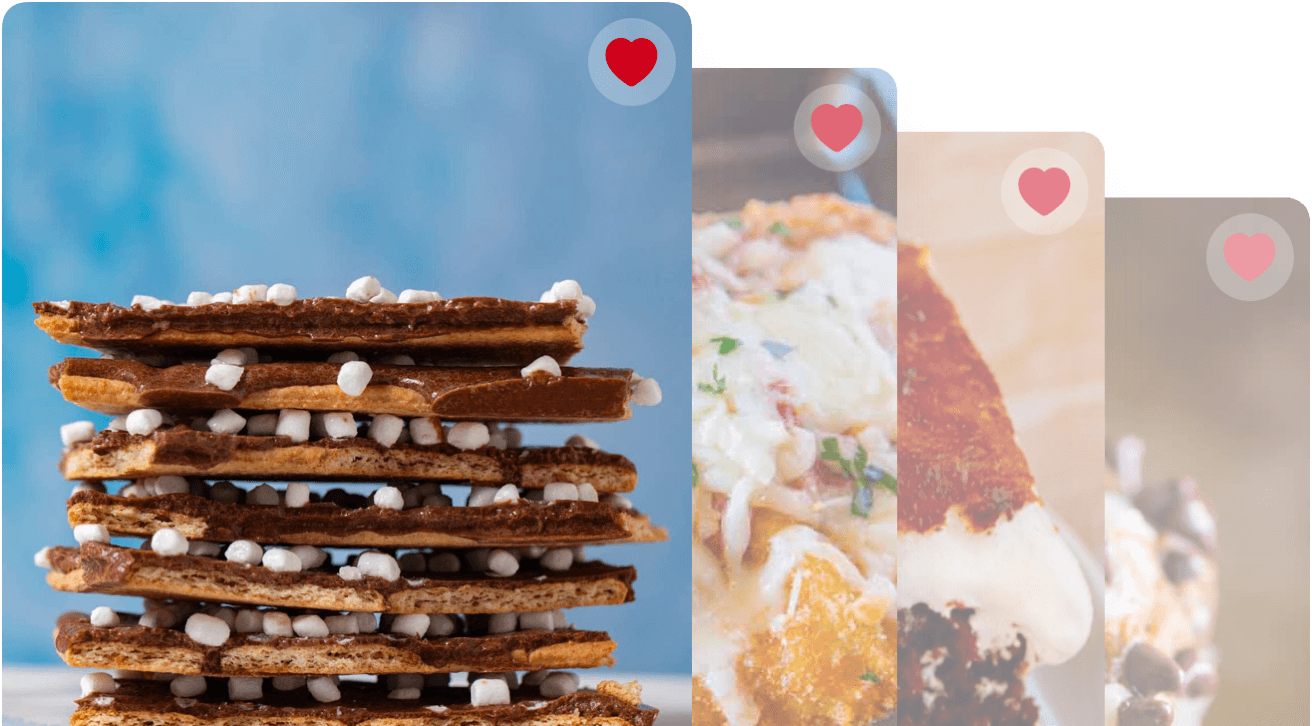 HAWAIIAN STYLE
Hawaiian shoyu chicken is a fusion of traditional Hawaiian and Japanese cooking that is delicious and fun. Also called aloha shoyu, Hawaiian shoyu chicken is often served with Easy Macaroni Salad and Grilled Pineapple, which we absolutely suggest giving a try. Hawaiian shoyu chicken is a a good way to try a favorite recipe with new flavors.
We bake this Shoyu chicken recipe because I love that the sauce cooks down around it and caramelizes around the chicken. You can also marinade the chicken in the sauce overnight then grill the chicken for a more classic BBQ flavor.
SIDES
You have a main dish, so here are some sides to try with it.
Dynamite Shrimp: this is a perfect appetizer if you're serving shoyu at a party or holiday.
Potstickers: a long time favorite Asian appetizer, potstickers are called jiaozi in China, mandu in North and South Korea, and gyoza in Japan. They go well with a whole bunch of dishes and are simple to make.
Mushroom Rice: if you want to try something a little less common than plain white rice, try this rich, nutty flavored mushroom rice mixture with your shoyu chicken.
WHAT IS SHOYU?
Soy sauce was invented in China during the Han dynasty. To give you an idea of how long ago that was, the Han dynasty lasted from 206 BCE to 220 CE, but sauces like it go back even further. That tells you how delicious this sauce is.
Soy sauce is made from soybeans, roasted grain, brine and a fungus called Aspergillus Oryzae. Shoyu is slightly different because it uses wheat as a base, but the taste is incredibly similar. Soy sauce is high in sodium, but it also has a higher antioxidant density than even red wine.
HOW LONG IS IT GOOD?
Serve: you should never leave cooked chicken out for longer than 2 hours.
Store: your leftovers will be good in the fridge for up to 3 days.
Freeze: you can keep cooked chicken frozen for 4 months if it's in an airtight container.
WHEN IS IT SAFE TO EAT?
According to the USDA's website, chicken is safe to eat when the internal temperature reaches 165 degrees F (73.8 degrees C). If it's not up to temperature you will certainly know it 6 to 24 hours later.
Hawaiian Shoyu Chicken is the ultimate in Hawaiian BBQ meets teriyaki sauce and is perfect served over a bowl of Steamed Rice with some Macaroni salad alonside some Korean Kalbi BBQ Short Ribs. Summer doesn't get much better than this!


Ingredients
5

chicken thighs

, bone in and skin on

3

tablespoons

low sodium soy sauce

2

tablespoons

water

1/4

cup

brown sugar

, packed

2

cloves

garlic

, minced

1

tablespoon

ginger

, minced

1/2

yellow onion

, minced

1/4

teaspoon

crushed red pepper flakes
Instructions
Mix together all the ingredients in a large bowl (or large ziplock baand let marinate overnight.

Preheat oven to 375 degrees.

Bake in a baking pan for

30-35

minutes or until cooked through (to 165 degrees).
Nutrition
Calories:
189
kcal
|
Carbohydrates:
13
g
|
Protein:
23
g
|
Fat:
5
g
|
Saturated Fat:
1
g
|
Cholesterol:
107
mg
|
Sodium:
426
mg
|
Potassium:
325
mg
|
Fiber:
1
g
|
Sugar:
11
g
|
Vitamin A:
55
IU
|
Vitamin C:
1.2
mg
|
Calcium:
24
mg
|
Iron:
1.2
mg