Potstickers are chewy and crispy, with ground chicken, cabbage, green onions and ginger inside a wonton shell with a homemade dipping sauce.
Potstickers are the perfect Chinese dim sum appetizer alongside Crab Rangoon, Shrimp Tempura and Spring Rolls.

It seems like any Asian restaurant you go to has amazing appetizer options, and they all seem to include their own type of dumpling! With savory chicken, crunchy green cabbage, and a zing from the ginger, these homemade Potstickers will have your family asking for more Chinese meals at home.
Chinese Potstickers are typically filled with a combination of seasoned meat and vegetables, then they are steamed AND pan fried so that the dumpling wrapper is cooked to chewy perfection while parts of it are golden brown and crispy. Part of the fear most people have about making these tends to be the folding. When it comes down to it the filling inside is really similar to a meatball. Just practice the folding process a couple times until you're comfortable, and there's no reason you can't make your own at home!
Dipping sauces are so important to potstickers, as they're great for soaking up sauces and flavors. I'm a huge fan of Sweet and Sour Sauce, just like they serve in Chinese restaurants. However, this recipe includes a more classic Potsticker sauce for you and it couldn't be any easier! If you don't have chili oil add a bit of sriracha and sub sesame oil/canola oil for the chili oil.
These are the perfect addition to your dim sum menu, but they're also great to be served alongside a full meal. We love serving Potstickers with General Tso's Chicken, Chicken Lo Mein (or Chow Mein) and Easy Mongolian Beef alongside steamed vegetables like carrots, broccoli and bok choy.
What is the Difference Between Gyoza and Potstickers?
In case you are wondering what the difference is between gyoza and potstickers the answer is mostly the size. Gyoza tend to be 1 or 2 bites, while potstickers are 2-3 bites. Potstickers are also sometimes make with a thicker handmade dough. In classic preparation in both packaged containers and restaurants I've noticed this isn't really the case in the United States, where the wrappers are similar between the two. The best potstickers have crispy bottoms and soft and are chewy on the sides like a mix of soft pasta and crispy wontons in one bite. The filling is tender and juicy without extra liquid pouring out.
How to Make Potstickers
Filling: Cook the chicken and cabbage in a large skillet, crumbling until fully cooked and all the liquid has cooked off. Then add the green onions, ginger, sugar, salt, and sesame oil to the chicken mixture and cool completely.
Folding: Add one tablespoon of the chicken mixture to the middle of the wonton wrappers and pinch closed every ½ inch into a fold and press pattern.
Cooking: To ensure the soft and crispy texture of your Chicken Potstickers, you will steam them as well as pan-frying the Potstickers. Add 2 tablespoons oil to your pan and brown the bottoms of the potstickers. Then add a few tablespoons of water (be careful, as there is still oil in the pan) and cover to steam the potstickers. Let the water cook off and let the bottoms crisp up before serving.
Potsticker Dipping Sauce
1 tablespoon chili oil
1 tablespoon soy sauce
1 teaspoon rice vinegar
In a small serving bowl, mix together the chili oil, soy sauce, and vinegar, adjusting proportions to taste.
More Asian Appetizers
Frequently Asked Questions
Why are they called Potstickers?
The legend goes that a Chinese cook was trying to steam dumplings, but he didn't pay attention and all his water cooked off. This left the dumplings stuck to the pan, which made them deliciously fried and crispy. The goal is to fry them to a golden brown without letting them stick too much though!
How do I keep Potstickers from tearing when they cook?
Add the filling AFTER it's completely cooled to prevent the wrapper from becoming soggy due to the steam. Also, squeeze out as much liquid from the filling as you can, and don' let any air inside the Potsticker when you are folding.
How do I prepare Potsticker filling?
You will definitely need to fully cook your filling before adding it to the wonton wrappers. The steaming and frying process is not enough to cook the inside. Plus, the meat and veggies will release water as it cooks, and you do not want that excess water inside your dumpling dough because it will become soggy and tear open. Be careful about the cabbage in the recipe, it will release a LOT of water. Make sure you've cooked it all off before making the filling.
How to I fold Potstickers?
Keep the wonton wrappers covered before using. If they dry out they will become brittle and break. When folding, eliminate as much air as you can, or it will burst during frying and make a mess. Do not add hot filling to the Potsticker wrapper. The wrapper is so thin it will become soggy quickly. Wrap the Potstickers tightly and add a bit of water to the edges of wrapper to seal them. If the fold is intimidating just wet the edges and fold it over into a triangle to seal.
How do I make Vegan Potstickers?
Check the label of your wonton wrappers to make sure they don't contain egg. Once you find a vegan wonton wrapper you like, simply substitute the ground chicken for additional vegetables. You can also add pressed, crumbled, and sautéed tofu, which makes a delicious Vegan Potsticker filling.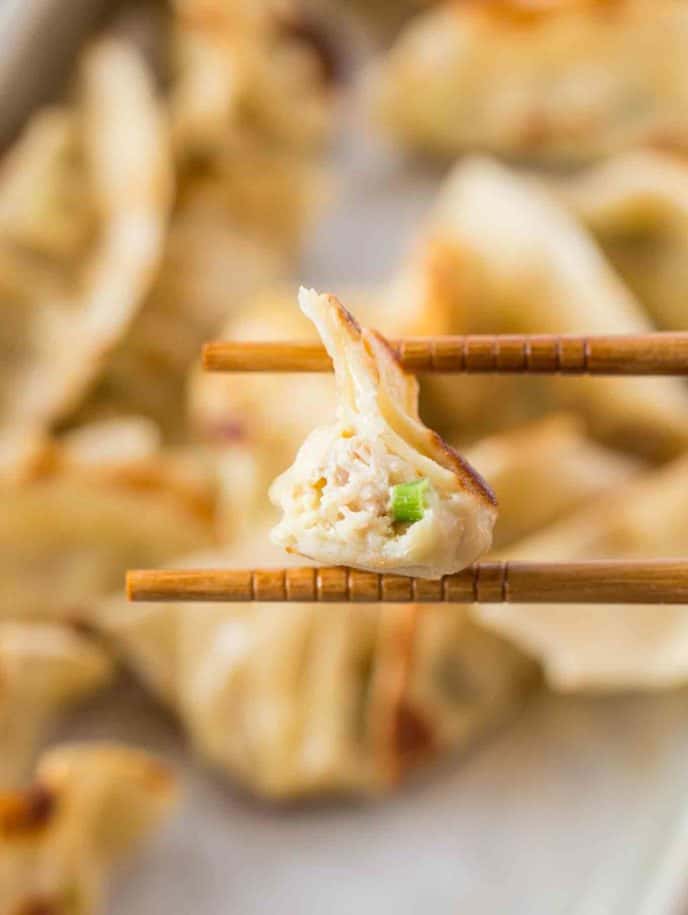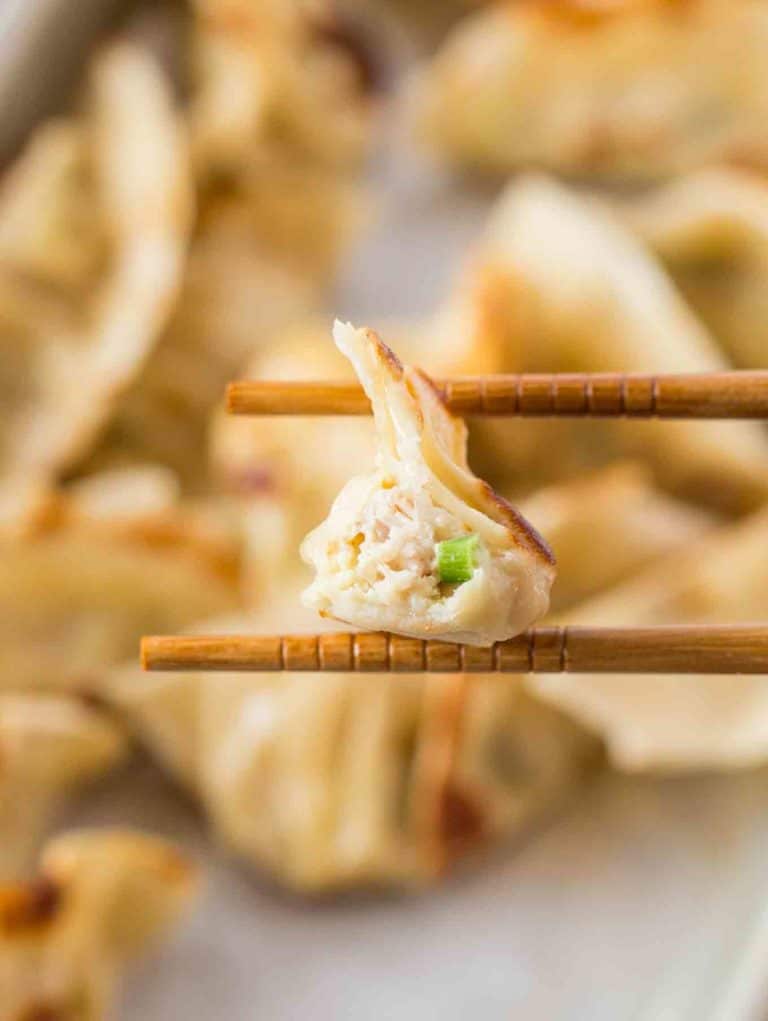 Create a free account to

Save Recipes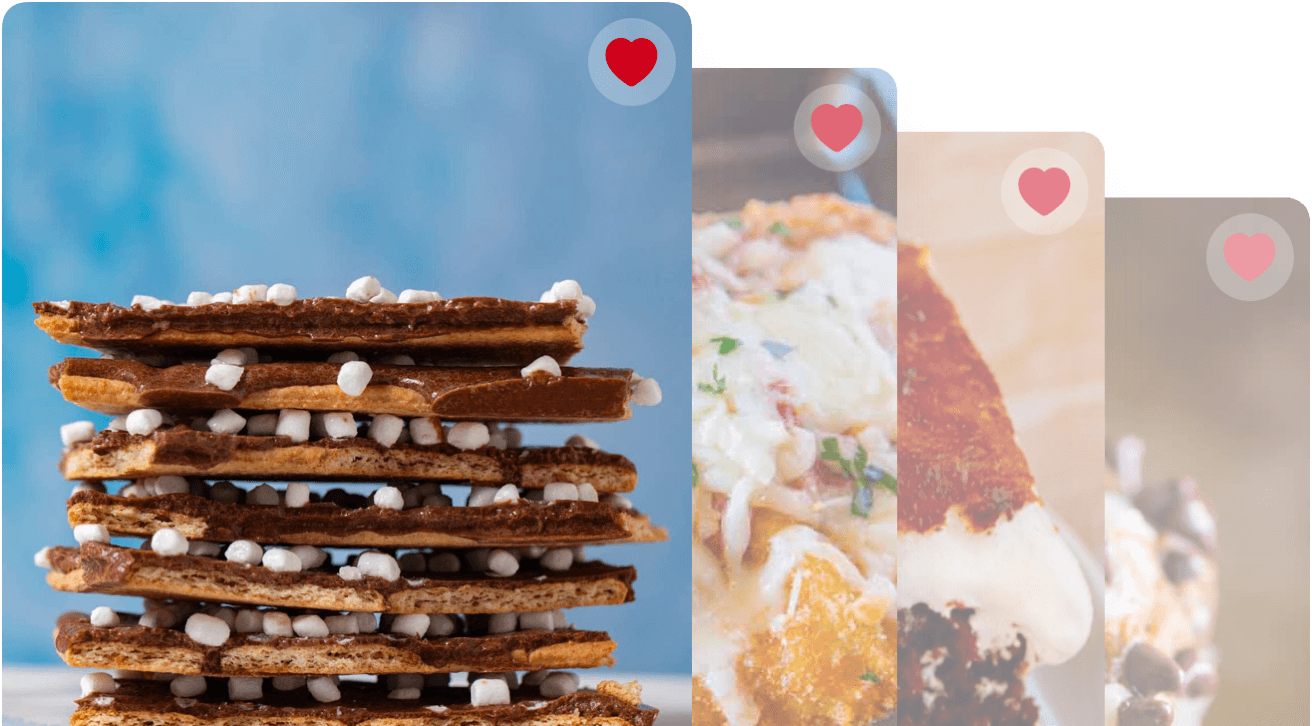 Key Ingredients in Potstickers
Filling: The ground chicken veggie filling includes cabbage, ginger, and green onions for a juicy filling that is seasoned with a bit of sugar, salt, and sesame oil. This sweet and savory combination gives these Potstickers a delicious umami flavor.
Wonton Wrappers: You can find wonton wrappers in the refrigerated section of most grocery stores. They will usually be near other doughs near the dairy section.
Dipping Sauce: Combine 1 tablespoon each of chili oil, soy sauce, and rice vinegar, adjusting proportions to taste. If you don't have chili oil, use any Asian style hot chili sauce like sriracha plus vegetable oil.
Air Fryer Potstickers
Air fried Potstickers are going to be more crispy and less chewy than steaming and pan frying the Potstickers. Unlike store bought ones, homemade Potstickers are not pre-cooked. You'll want to steam them in a steamer basket for 4-5 minutes, then transfer to your air fryer, sprayed with oil, and cook at 350 degrees for 10-12 minutes, turning halfway through, until the Potstickers have crispy edges.
Can Potstickers be Made Ahead?
One of the best things about Potstickers is they are actually amazing for prepping ahead fo time. You put down a piece of parchment paper, lay them in a single layer on a baking sheet and freeze the uncooked Potstickers solid before adding them to bags. Then when you're ready to enjoy them you just have to pull out however many you'd like for your meal. If cooking them from frozen steam them for an additional two minutes with two extra tablespoons of water.
Variations on Potstickers
Meat: Replace the chicken with a ground pork filling in this recipe, or use ground beef or chopped up shrimp.
Vegetables: Mix in your other favorite filling variations like shredded carrots, shitake mushrooms, bamboo shoots, water chestnuts, or bok choy. Make an all veggie filling by caramelizing your vegetables well and replace for the chicken in the recipe.
Extra Spicy Potstickers: Replace some of the sesame oil in the filling with a bit of chili oil for an extra spicy Potstickers recipe. You can also add red pepper flakes or use a spicy sausage instead of the ground pork for more heat.
Potsticker Sauce: This recipe includes a classic dipping sauce suggestion above, but you can dip your Potstickers in any of your favorite sauces like sweet Asian chili sauce, soy sauce, Spicy Mayo, honey mustard, or Peanut Sauce.
Chinese Food Recipes
How to Store Potstickers
Serve: Do not leave Chicken Potstickers at room temperature longer than 2 hours.
Store: Store in an airtight container for up to 4 days. Reheat on a lightly greased pan for best results.
Freeze: Freeze uncooked or cooked potstickers in a sealed plastic bag for up to 3 months. Reheat by steaming in a skillet and pan frying according to the recipe instructions.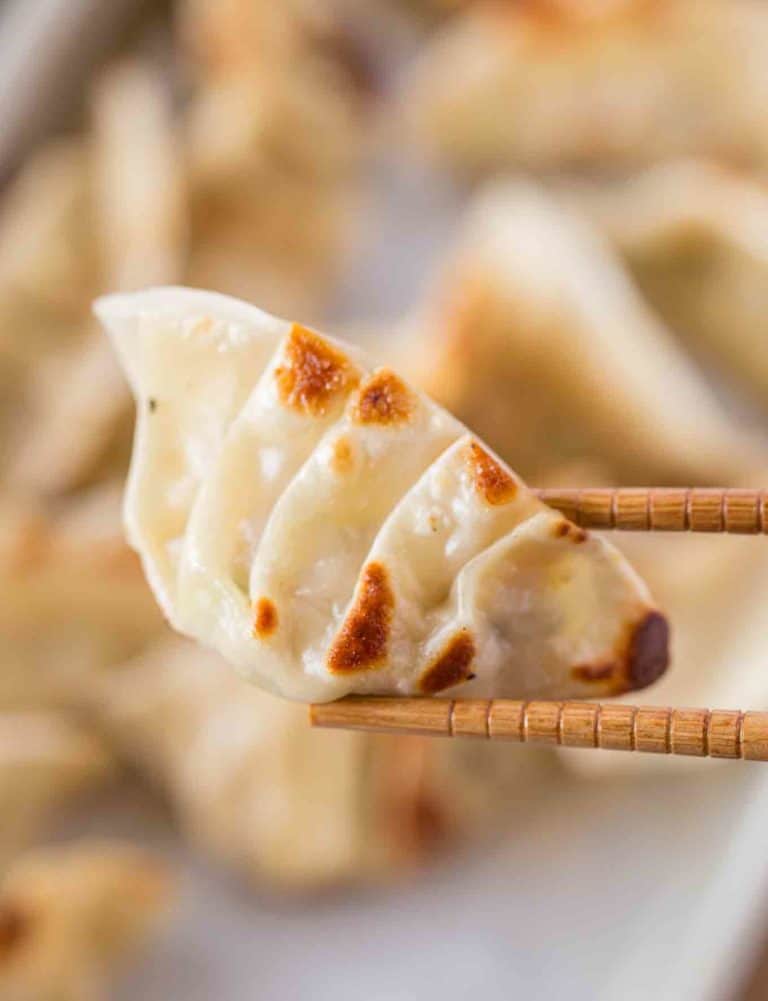 Ingredients
1

pound

ground chicken

2

cups

cabbage

, finely shredded

1/4

cup

green onions

, chopped

1

tablespoon

ginger

, finely minced

1/2

teaspoon

sugar

1/2

teaspoon

kosher salt

1

teaspoon

sesame oil

1

package

wonton wrappers

1/4

cup

vegetable oil

, divided

3/4

cup

water

, or chicken broth
Instructions
Add the chicken and cabbage to a large skillet and cook until the chicken and cabbage are fully cooked and crumbled and the cabbage liquid has cooked off (about

8-10 minutes

).

Add the green onions, ginger, sugar, salt and sesame oil to the chicken mixture and cool.

Add one tablespoon of the chicken mixture to the middle of the wonton wrappers and pinch closed every ½ inch into a fold and press pattern.

Add 2 tablespoons of oil to a pan and cook the bottoms of the potstickers on medium-high heat before adding in the water and letting the steam cook the potstickers for

6-8 minutes

.

When the water has evaporated add remaining oil and crisp up the bottoms of the potstickers again for

1 minute

.
Nutrition
Calories:
158
kcal
|
Carbohydrates:
17
g
|
Protein:
8
g
|
Fat:
6
g
|
Saturated Fat:
1
g
|
Polyunsaturated Fat:
3
g
|
Monounsaturated Fat:
2
g
|
Trans Fat:
0.04
g
|
Cholesterol:
27
mg
|
Sodium:
253
mg
|
Potassium:
192
mg
|
Fiber:
1
g
|
Sugar:
0.4
g
|
Vitamin A:
28
IU
|
Vitamin C:
4
mg
|
Calcium:
20
mg
|
Iron:
1
mg