Brown Sugar Grilled Pineapple
This post may contain affiliate links. Read my disclosure policy here.
Easy Brown Sugar Grilled Pineapple made in a grill pan is the quintessential side dish to any summer dishes you're making. When grilled the pineapple gets soft, tender and melts in your mouth!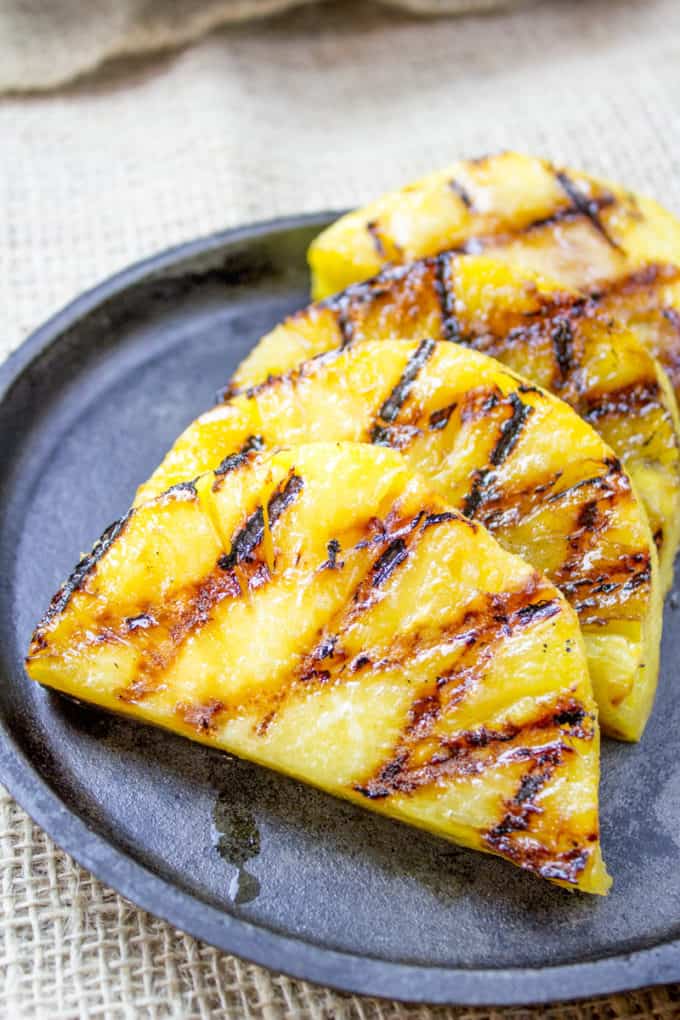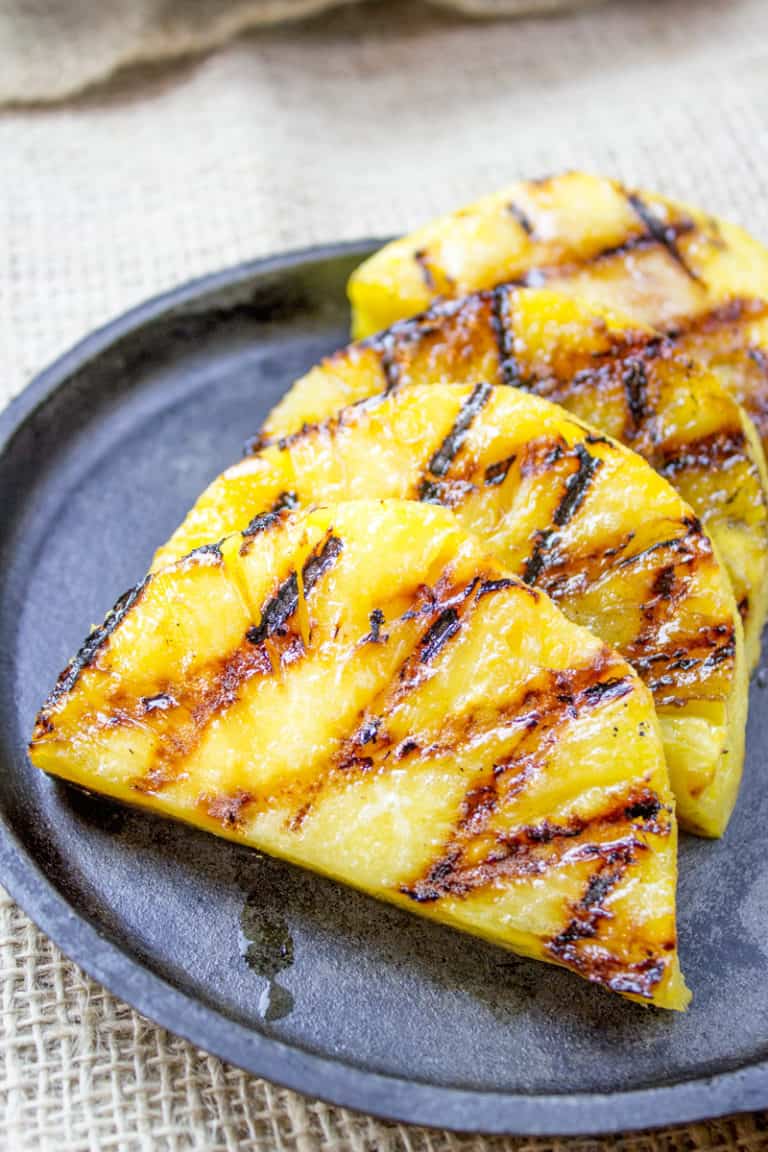 Brown Sugar Grilled Pineapple is one of our favorite side dishes to make all summer long. There are so many ways you can use pineapples to flavor your meals all summer long and it is so easy to make and adds a ton of flavor… plus it is healthy to boot and doesn't alter your tastebuds like raw pineapple does.
True story: Maybe five years ago, my husband and I were enjoying a bowl of fruit in the summer (you can picture us in an awesome backyard with a pool, shades and a fun summery drink…in reality we were living in an apartment the size of a shoebox while he was finishing his degree and we never ran the air conditioner because…well…$$$) and so there he was avoiding the pineapple pieces.
He said he liked pineapple but never liked how it made everything taste awful afterwards. So I told him why, the bromelain enzyme in raw pineapple basically kill the top layer of your taste buds on your tongue making it hard to taste for a few hours afterwards. His mouth dropped and ever since he has absolutely refused to take even a single bite of a raw pineapple. Crazy, right?
So if you've experienced the same, the way to enjoy pineapple is to cook it. You don't have to cook the poor thing to death, but just long enough to break down the enzyme. Then you can enjoy your Brown Sugar Grilled Pineapple without any fear of dreaded pineapple tongue.
Here are some alternate marinade ideas for your pineapple:
Honey! I go 50/50 on choosing brown sugar or honey, usually depending on what other flavors I have going on in the meal. Honey has a much more prominent flavor.
Coconut and lime (don't even pretend you're not imagining a delicious drink in the making here!)
Speaking of coconut and lime, it doesn't hurt to soak these slices in your favorite flavor of Malibu Rum and serve it up with some ice cream.
Adding cinnamon and brown sugar is a popular marinade if you're considering this for dessert uses.
A fun way to spice it up is to add some chili powder after you're done grilling.
This basic Brown Sugar Grilled Pineapple will be a summer favorite and it's an easy way to get your kids to fight over who gets more. I'm willing to trade off a tablespoon or so of brown sugar to get them to eat 8 slices of pineapple, especially since a good percentage of the brown sugar gets left in the bottom of the bowl it is marinated in.
MY OTHER RECIPES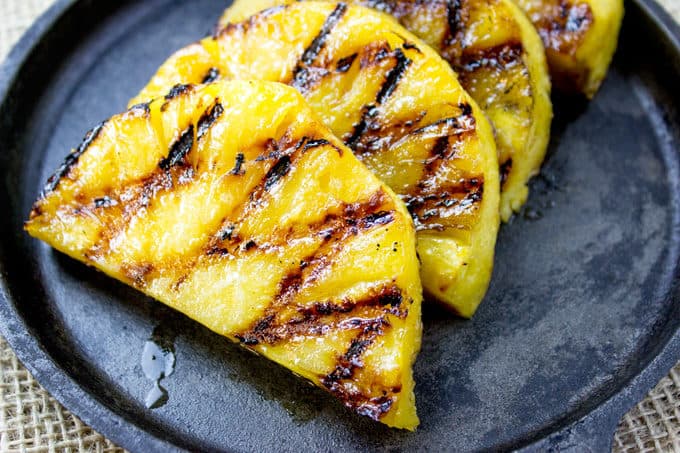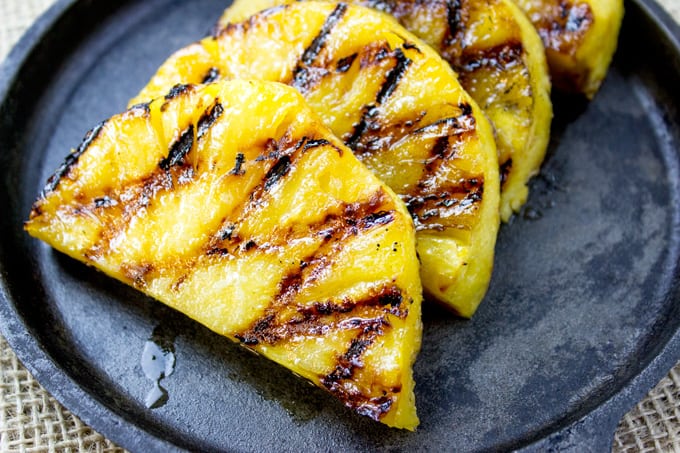 If you're going with a basic grilled pineapple, read: just some canola oil, you can also use it in a ton of different ways:
Add sliced to your favorite sandwich (maybe with a bit of teriyaki sauce?).
Chop it up into small pieces and add to your favorite salsa.
Chop it up with some jalapeno, strawberries and red onions to make a delicious grilled meat topping.
As a topping for your favorite desserts
As an ingredient for your favorite stir fry
Tools used in this recipe:
Lodge Grill Pan – I use this double sided pan for SO much, anytime I need a big flat surface for "grilling" or breakfast prep
Pig Tail Flipper – I use this *almost* more than I use tongs in the kitchen. Flipping is so quick and doesn't smash foods.
Oil Mister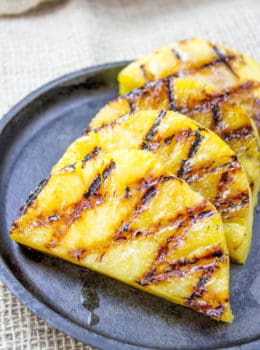 Brown Sugar Grilled Pineapple
Easy Brown Sugar Grilled Pineapple made in a grill pan is the quintessential side dish to any summer dishes you're making. When grilled the pineapple gets soft, tender and melts in your mouth!
Prep Time 10 minutes
Cook Time 10 minutes
Total Time 20 minutes
Ingredients
1 pineapple , rind cut off and sliced into 1/2 -3/4 inch slices
1/4 cup brown sugar
Canola oil spray (or canola oil with a brush)
Instructions
Toss the pineapple with the brown sugar and let sit for ten minutes.

Note: I leave the core in the slices because we pick it up and hold it by the core when eating it, feel free to remove the core if you'd like or if you'll be using it in burgers.

In a

grill pan

, either spray with canola oil or wipe some on with a paper towel.

Cook the pineapple for 2-3 minutes on medium heat, then rotate 45 degrees, to get the grill marks in a little X.

Flip over and do the same.

If you find the pineapple sticking at all use a bit more canola oil spray on your pineapple.

Second Note: I don't use bottled canola oil spray, I have a

little mister

I fill with oil to avoid all the additives.
Recipe Notes
This post contains affiliate links.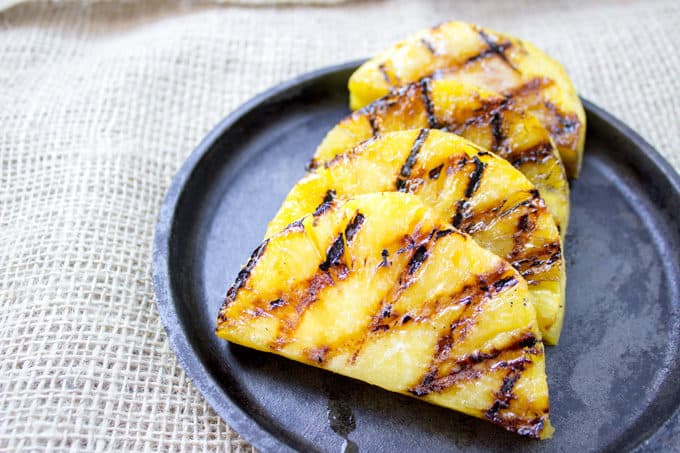 Dinner, then Dessert, Inc. owns the copyright on all images and text and does not allow for its original recipes and pictures to be reproduced anywhere other than at this site unless authorization is given. If you enjoyed the recipe and would like to publish it on your own site, please re-write it in your own words, and link back to my site and recipe page. Read my disclosure and copyright policy. This post may contain affiliate links.