Stuffed Cabbage Soup is hearty and filling. Made with ground beef, cabbage, and rice, this easy meal is ready in under 45 minutes!
Everyone loves hearty Comfort Food on cold winter days, and with cabbage in season, we're making Cabbage Soup, Crispy Roasted Cabbage Steaks, and Stuffed Cabbage Casserole.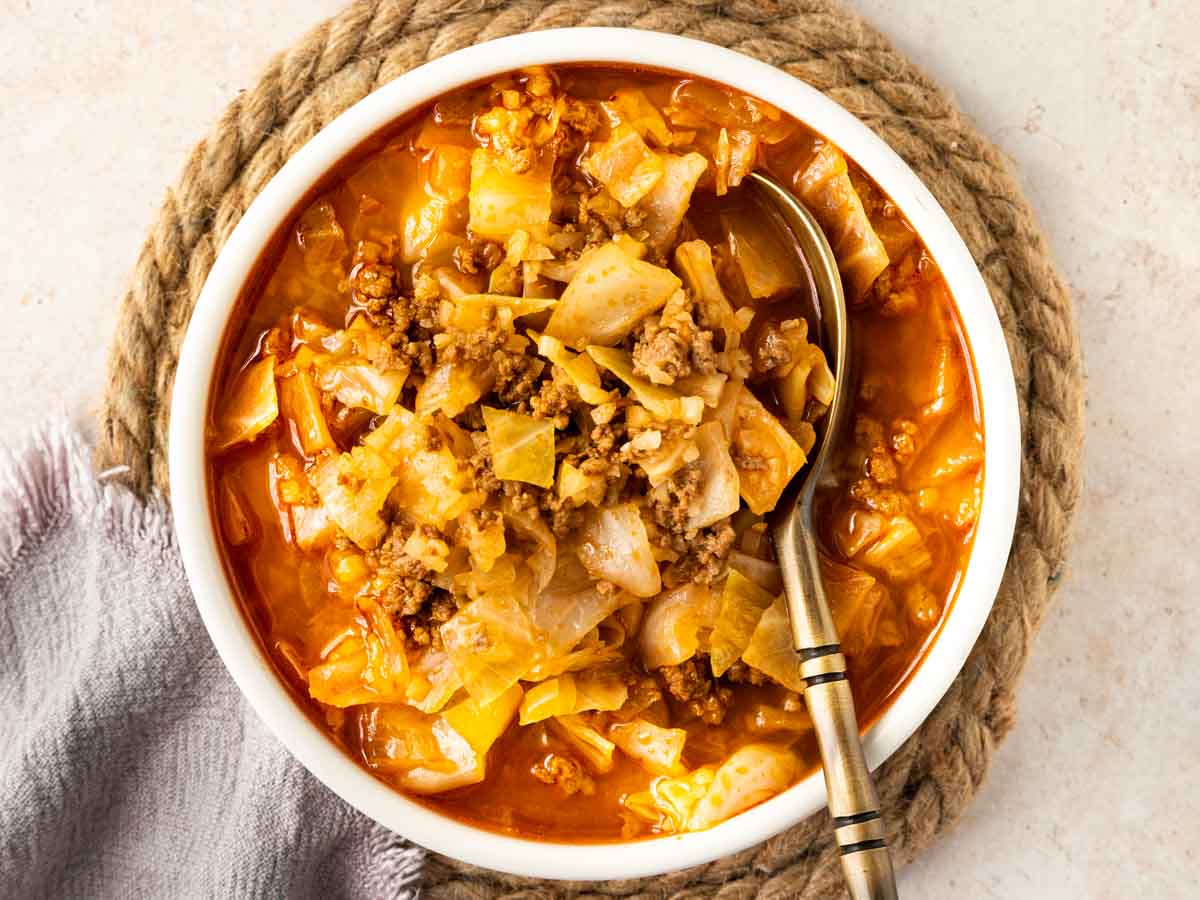 Stuffed Cabbage Soup will become one of your favorite soup recipes since it offers the same delicious flavors and textures of traditional stuffed cabbage rolls but in a more convenient and easy-to-prepare form. The soup combines tender cabbage, ground beef, and rice, resulting in a filling and nutritious dish that will keep you coming back for more.
Additionally, the process of making Stuffed Cabbage Soup is straightforward and does not require any complicated cooking techniques. This soup is perfect for those looking to make a satisfying homemade meal without spending hours in the kitchen. Because the flavors are versatile, you can easily adapt this to suit personal preferences or dietary restrictions.
This cabbage soup is made in just one pot on the stovetop and is a great weeknight recipe because it's ready in a total time of 45 minutes. It's perfect for when you don't have time to make a whole pan of regular cabbage rolls. I like to serve this dish with Garlic Bread or Dinner Rolls and butter, and some extra rice on the side.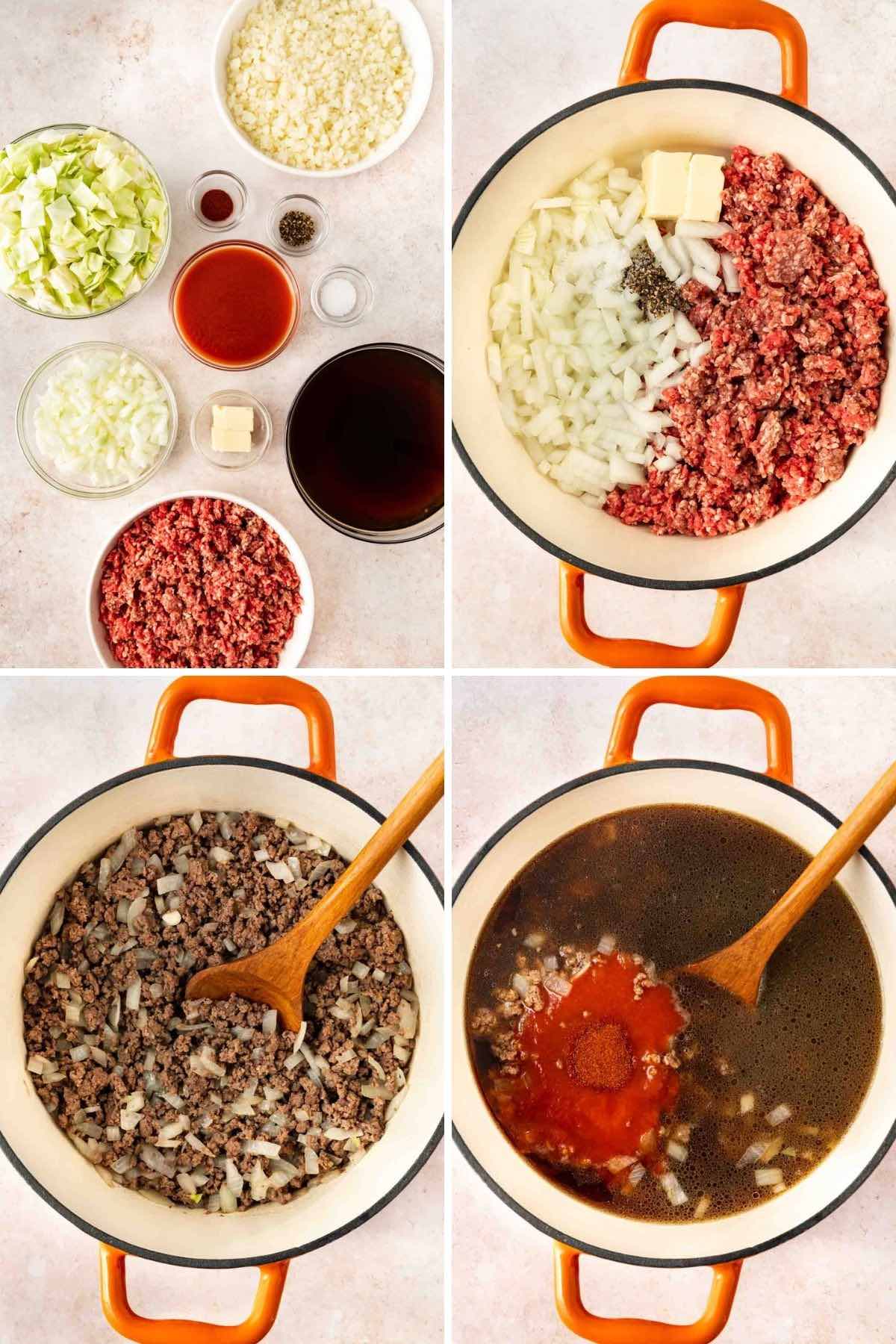 How to Make Stuffed Cabbage Soup
Stuffed Cabbage Soup is an easy-to-make dish that can be whipped up quickly with minimal fuss. Be careful not to overcook the soup, or the cabbage will get too mushy. You can also undercook it slightly if you want to leave some crunch in the cabbage. Check it out!
Preparation: Chop the cabbage and onion. In a Dutch oven or other large stock pot, season with salt and black pepper then brown ground beef on medium-high heat, breaking it into small pieces as it cooks. Set it to the side.
Cooking: Next cook the chopped onion and cabbage with the butter until softened. Gently stir in all the ingredients.
Simmering and Serving: Let it simmer on low or medium heat for 15 minutes, or until the cabbage is tender. Add the cooked rice at the end and cook for an additional few minutes before topping with some optional fresh parsley and serving. Enjoy! 
Frequently Asked Questions
Can I use a different type of meat for this recipe?
Absolutely! You can substitute ground beef with ground turkey, chicken, or even a plant-based alternative for a different flavor profile or to accommodate dietary preferences.
Can I make this recipe vegetarian or vegan?
Yes, you can replace the ground beef with a plant-based alternative and use vegetable broth instead of beef broth to make a vegetarian or vegan version of this soup. Additionally, use olive oil instead of butter.
Is it possible to make this soup in a slow cooker?
Yes! You can easily adapt this recipe for a slow cooker by browning the meat and sautéing the onion and cabbage beforehand, then combining all ingredients except for the rice in the slow cooker. Cook on low for 6-8 hours or high for 3-4 hours. Add cooked rice during the last 30 minutes of cooking.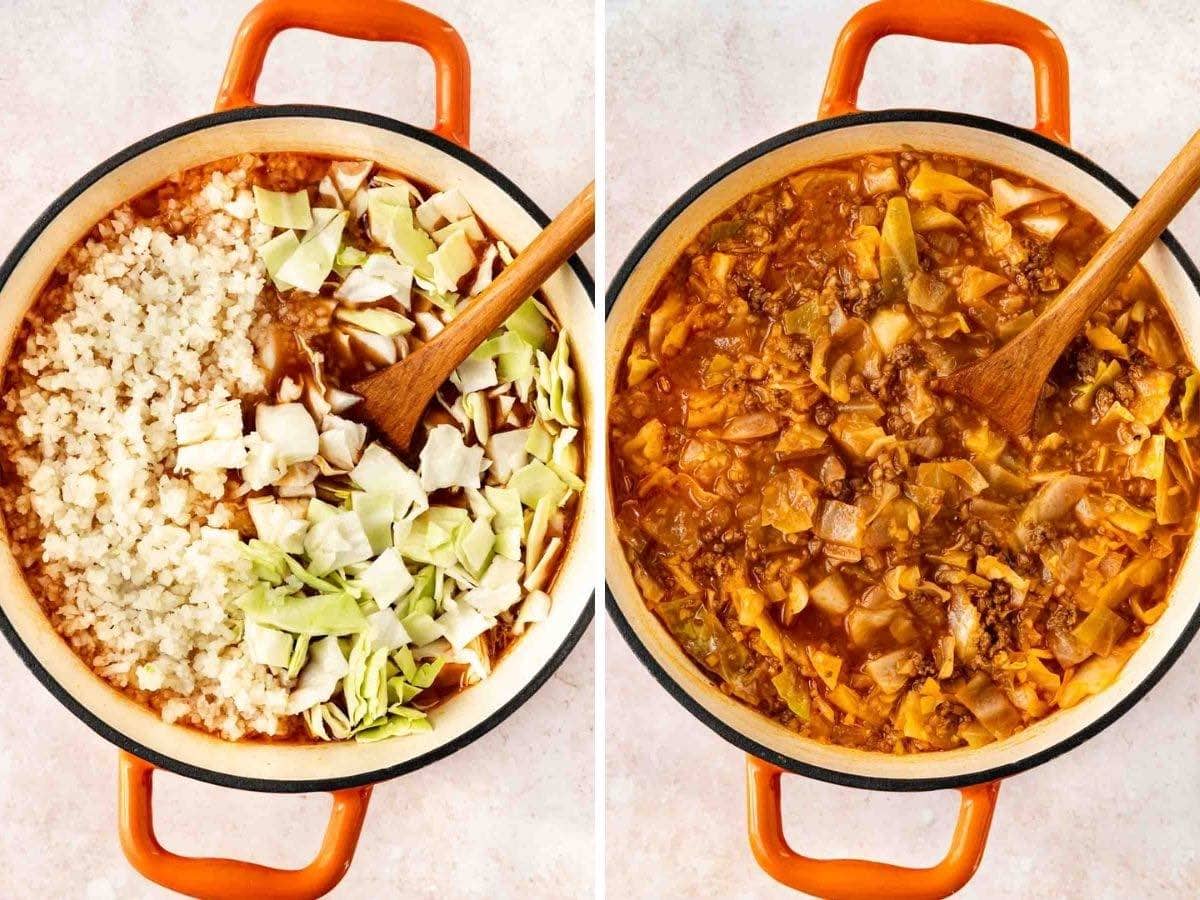 Create a free account to

Save Recipes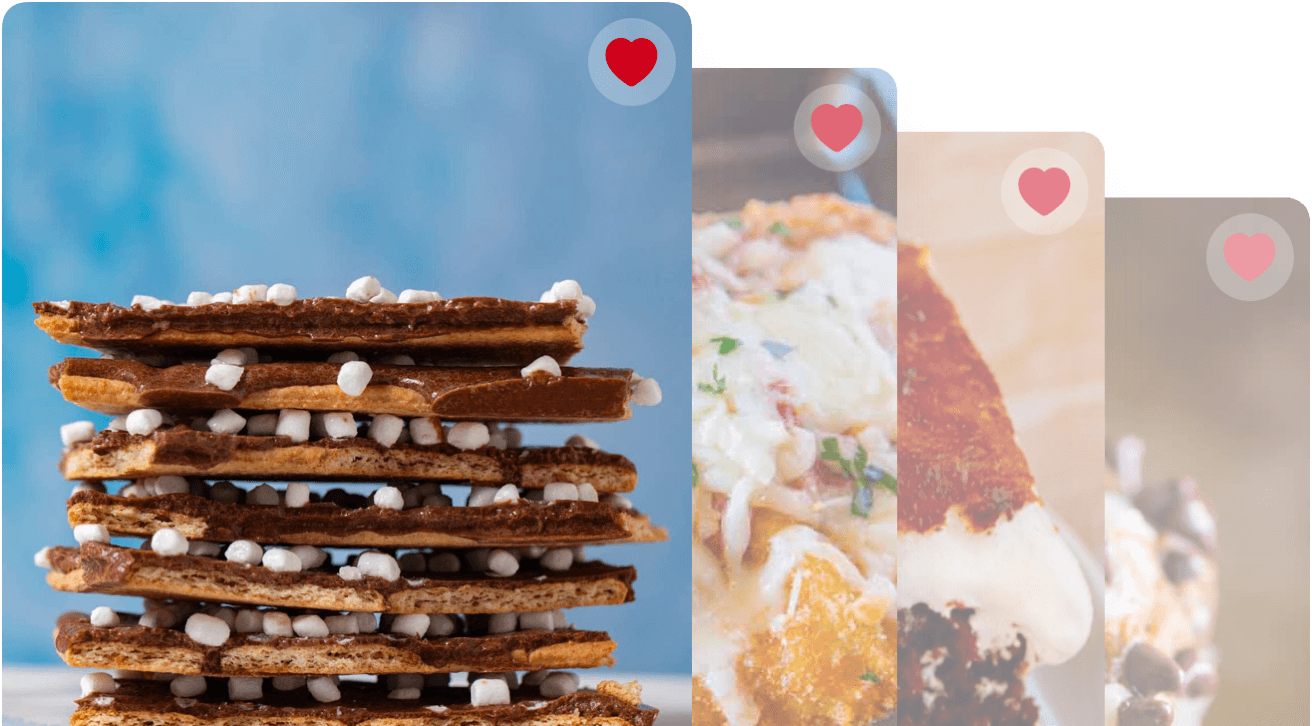 Key Ingredients in Stuffed Cabbage Soup
Stuffed Cabbage Soup is a simple and satisfying dish made from simple ingredients commonly found in most kitchens, making it budget-friendly and accessible. Check it out!
Cabbage: Using the whole head of cabbage, green cabbage is a nutritious and versatile vegetable that forms the base of this soup. Red cabbage is not recommended, but you can use it if it's in a premade mixture of cabbage. 
Ground Beef: Ground meat adds a rich, meaty flavor and plenty of protein. We are using a full pound ground beef too! 
Onion: This is an essential aromatic ingredient that enhances the overall taste. We are using yellow onion in our recipe, but you can use white or red/purple onion too! 
Tomatoes: Canned tomatoes and tomato sauce provide a tangy, savory backbone for the soup. Make sure you use a can of plain tomato sauce, not a jar of pasta sauce! And don't go overboard, or it will become too much like tomato soup.
Beef Broth: Adds depth and richness to the soup's flavor.
Rice: Cooked separately and added at the end, rice gives the soup a satisfying, hearty texture.
Substitutions in Stuffed Cabbage Soup
Ground Meat: Swap out the ground beef for ground turkey, ground chicken, or a plant-based alternative. Lamb and sausage are good too! 
Broth: Replace beef broth with vegetable or chicken broth to accommodate dietary preferences or for a different flavor profile.
Rice: You can use brown rice or quinoa instead of white rice for added nutrition or to suit personal taste.
Butter: Use olive oil if you'd prefer it to be vegetarian/vegan. 
Slow Cooker Stuffed Cabbage Soup
In a large saucepan, brown ground beef in 2 tablespoons of butter until almost cooked through. Add ground beef along with all other ingredients, except for rice, to the slow cooker.
Cook on high for 4 hours, or on low for 8 hours.
Stir cooked rice into the slow cooker just before serving. You can also add uncooked rice about an hour (on high) before the time is up. If you're cooking on low, add uncooked rice 2 hours before the slow cooker time is up.
Instant Pot Stuffed Cabbage Soup
Turn on the sauté function. Add 2 tablespoons of butter and ground beef, stirring until beef is browned. Remove and set aside.
Add remaining butter with cabbage and onions, and cook until they start to soften.
Add beef and all other ingredients (except for rice) to the instant pot and stir together. Close and seal the lid of your pot and close the pressure valve.
Cook on high for 8 minutes, then naturally release.
Stir in rice before serving.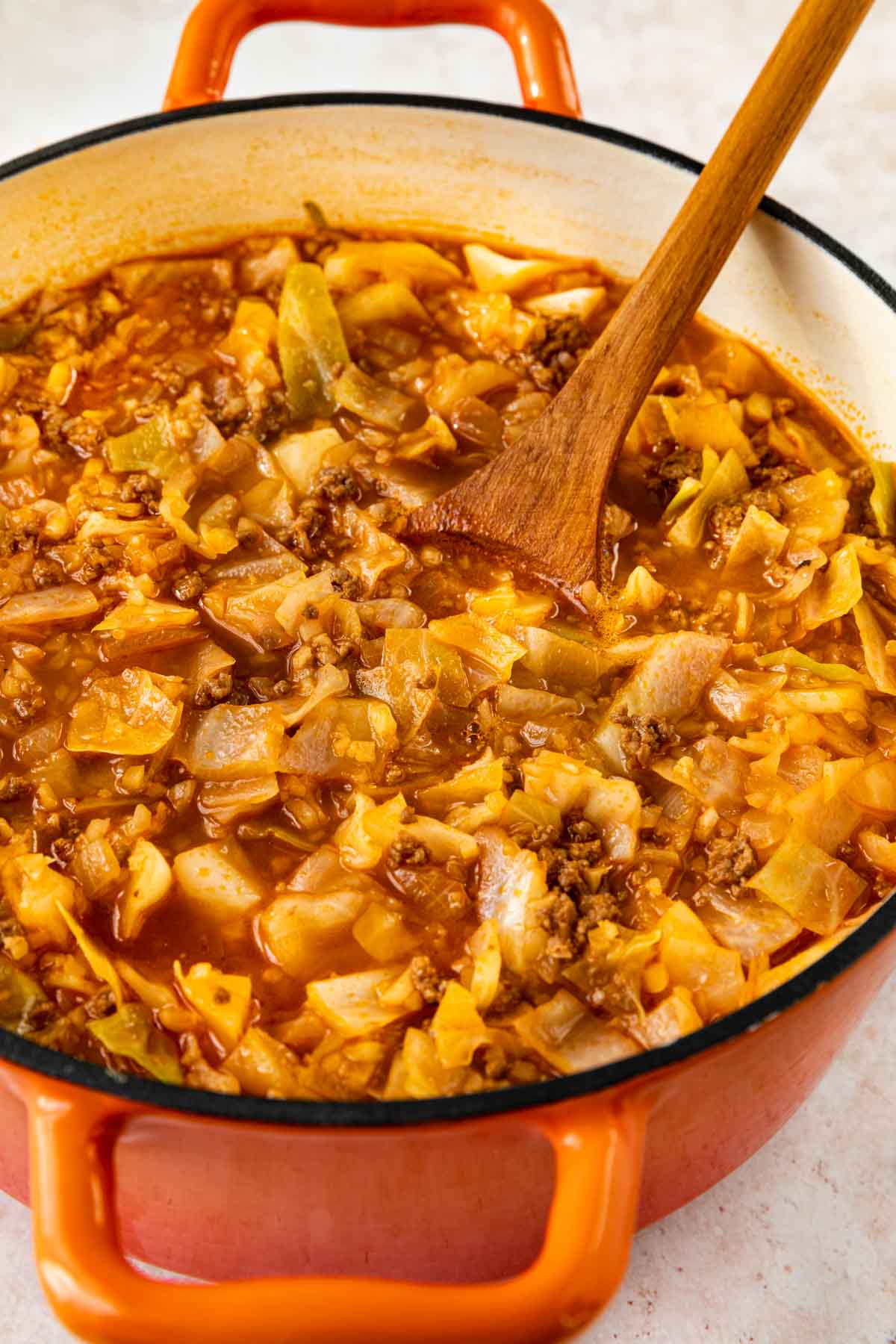 Can Stuffed Cabbage Soup be made ahead of time?
Yes, this soup can be made ahead of time, making it perfect for healthy meal planning or busy schedules. Prepare the soup as directed and allow it to cool before storing it in an airtight container in the refrigerator. When ready to serve, reheat the soup on the stovetop over low heat until warmed through, adding more broth if needed to adjust the consistency.
Variations on Stuffed Cabbage Soup
This delicious meal can be easily customized to make it just the way you like!
Lean Soup: Us lean ground beef. You can also replace it with ground turkey or chicken for a leaner option.
Vegetarian/Vegan: Use a plant-based ground meat alternative and vegetable broth instead of beef broth. 
Spicy Soup: Add a touch of heat by incorporating crushed red pepper flakes or your favorite hot sauce.
Add Flavor: You can also add a bay leaf, a tablespoon of brown sugar, and a tablespoon of Worcestershire sauce to the soup to really give it a deeper flavor. 
Heartier Soup: You can add peeled russet potatoes, or quartered Yukon gold potatoes as well as crispy chopped bacon for extra flavor, which also works great for this soup! to make it even heartier. Try adding other ingredients to this soup like white beans, green beans, peppers, or celery.
Low Sodium: Omit the salt and use low-sodium beef broth for a lower-sodium version of this soup. You can also use brown rice as a healthier alternative to white rice.
How to Serve Stuffed Cabbage Soup
This hearty soup can be enjoyed as a complete meal on its own or served with some crusty bread for dipping. You can also pair it with a light, refreshing salad or a simple vegetable side dish to create a well-rounded dinner.
How to Store Stuffed Cabbage Soup
Serve: Don't leave the soup at room temperature for more than 2 hours to ensure food safety.
Store: Properly store any leftovers in an airtight container in the refrigerator for up to 4 days. Reheat on the stovetop over low heat, adding more broth if necessary.
Freeze: Allow the soup to cool completely before transferring it to a freezer-safe container or heavy-duty freezer bag. Freeze for up to 3 months. Thaw in the refrigerator overnight, then reheat on the stovetop over low heat, adding more broth as needed.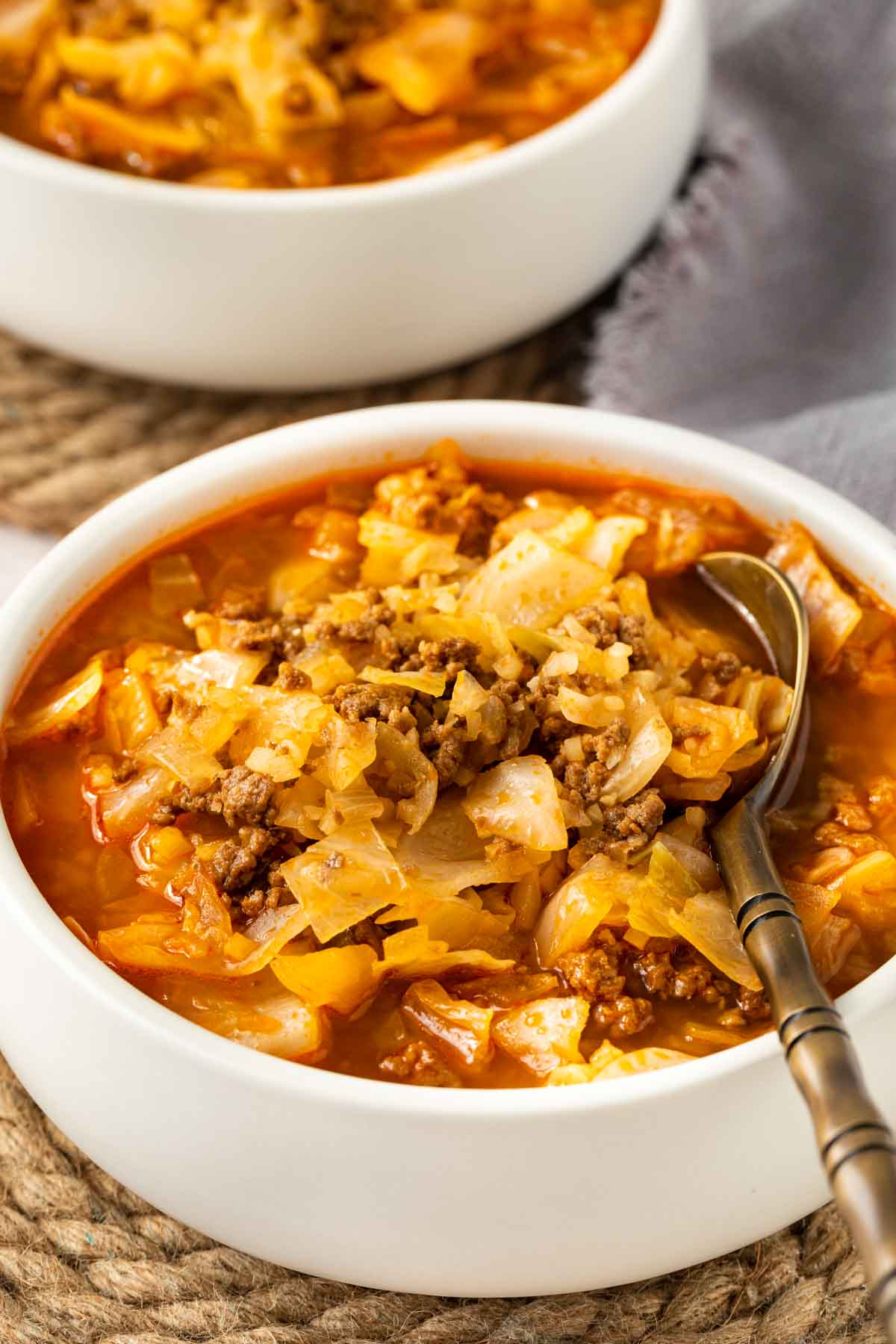 Ingredients
1

pound

ground beef

1

teaspoon

kosher salt

1/2

teaspoon

coarse ground black pepper

4

tablespoons

unsalted butter

1

yellow onion

, chopped

1

head

cabbage

chopped roughly

14

ounces

diced tomatoes

14

ounces

crushed tomatoes

3

cups

beef broth

3

cups

rice

, cooked
Instructions
Add the ground beef to a large dutch oven with the salt and pepper and brown it really well then remove it from the pot and add in 4 tablespoons of butter, onions and cabbage and cook for

5-6 minutes

until they start to caramelize.

Add in the diced tomatoes, crushed tomatoes, beef broth and the cooked beef and let simmer on low heat for

15 minutes

then stir in the cooked rice and cook until its warmed through and serve.
Notes
Note: click on times in the instructions to start a kitchen timer while cooking.
Nutrition
Calories:
537
kcal
|
Carbohydrates:
69
g
|
Protein:
18
g
|
Fat:
20
g
|
Saturated Fat:
10
g
|
Cholesterol:
62
mg
|
Sodium:
833
mg
|
Potassium:
733
mg
|
Fiber:
5
g
|
Sugar:
7
g
|
Vitamin A:
540
IU
|
Vitamin C:
51.7
mg
|
Calcium:
118
mg
|
Iron:
3.5
mg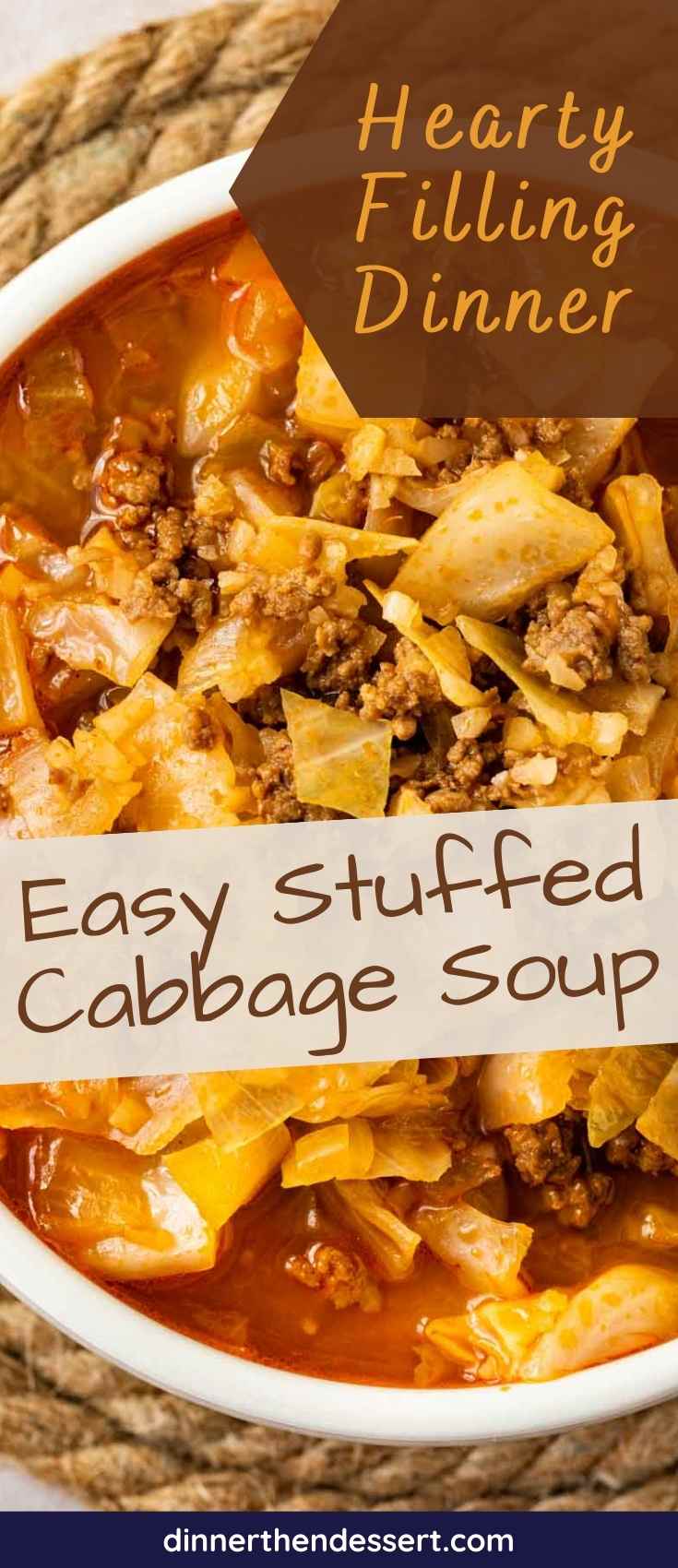 Photos used in a previous version of this post.