Easy Sloppy Joe Pasta recipe is a cheesy beefy casserole dish with homemade Sloppy Joes sauce, ground beef, cheddar cheese and large shells.
Ultimate Sloppy Joes get turned into a gooey, cheesy Pasta Dish that will have everyone begging for seconds. Just like Baked Spaghetti, this is a quick weeknight Dinner that doubles as a make ahead freezer meal.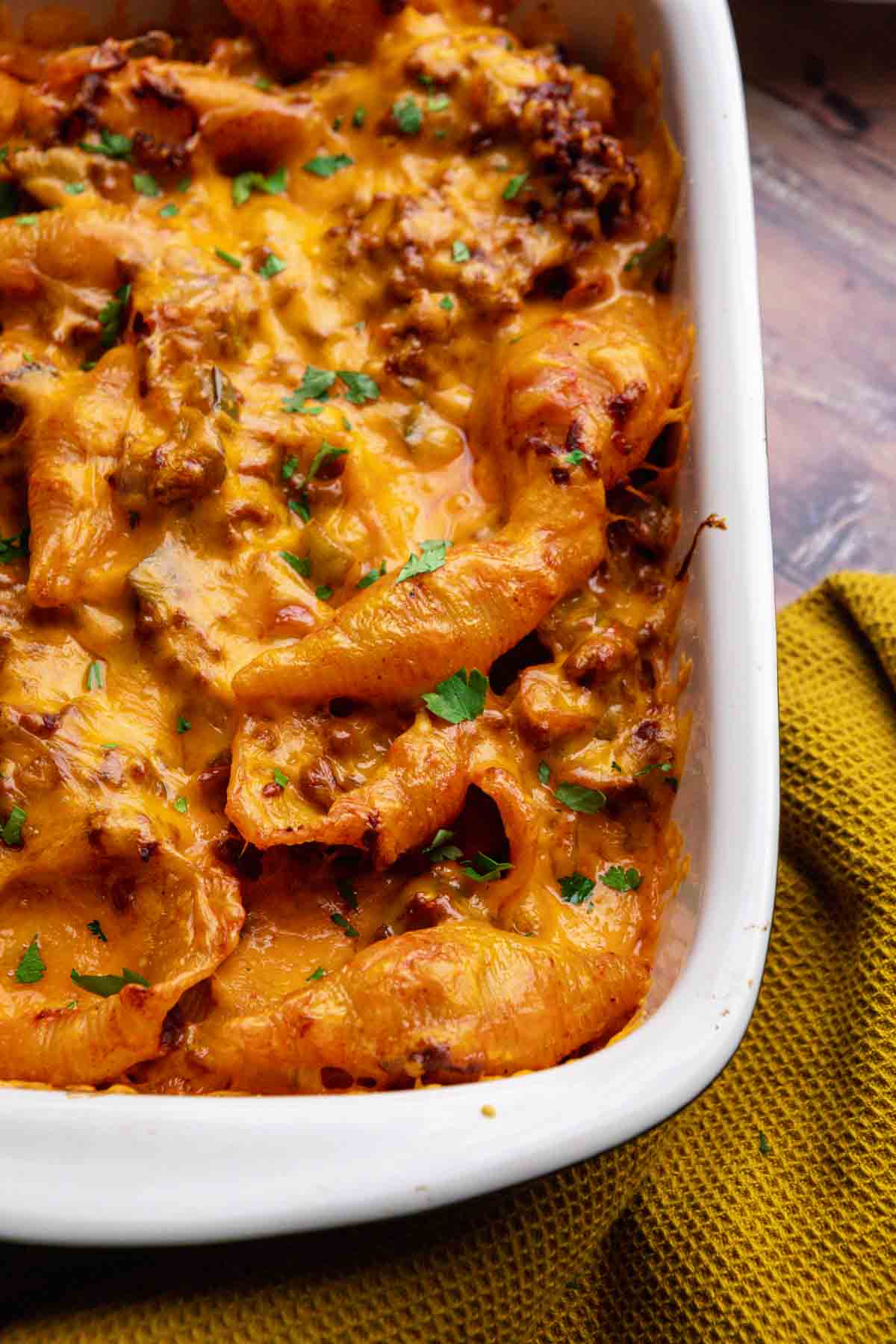 Sure you could eat Sloppy Joes Sandwiches with a fork, but where is the fun in that? As much as we love to eat messy Sloppy Joes (with over 35 recipes to prove it), sometimes you need a dinner that's delicious, easy, and mess-free. This gooey, cheesy pasta is just as delicious as any Mac and Cheese with half the work, and the bonus of beefy better-than-Manwich flavors!
Sloppy Joe Pasta has a classic homemade sloppy sauce made from pantry ingredients, ground beef, tender shell pasta, and tons of cheddar cheese. With just a little prep work to make the beef Sloppy Joes filling, you get a baked pasta dish that's better than any ready made boxed dinner. Plus you can make this dish ahead of time for an easy weeknight casserole ready in 30 minutes.
We loaded this Sloppy Joes Pasta up with beef and pasta, plus onions and bell peppers, so it's delicious and hearty. Sloppy Joes Pasta will be a hit side dish at potlucks and kid's parties, or serve it as a main dish. To round out your meal, serve Sloppy Joes Pasta with Roasted Broccoli or Green Beans. If you are missing hamburger buns, why not serve Dinner Rolls to soak up any extra Sloppy Joes sauce?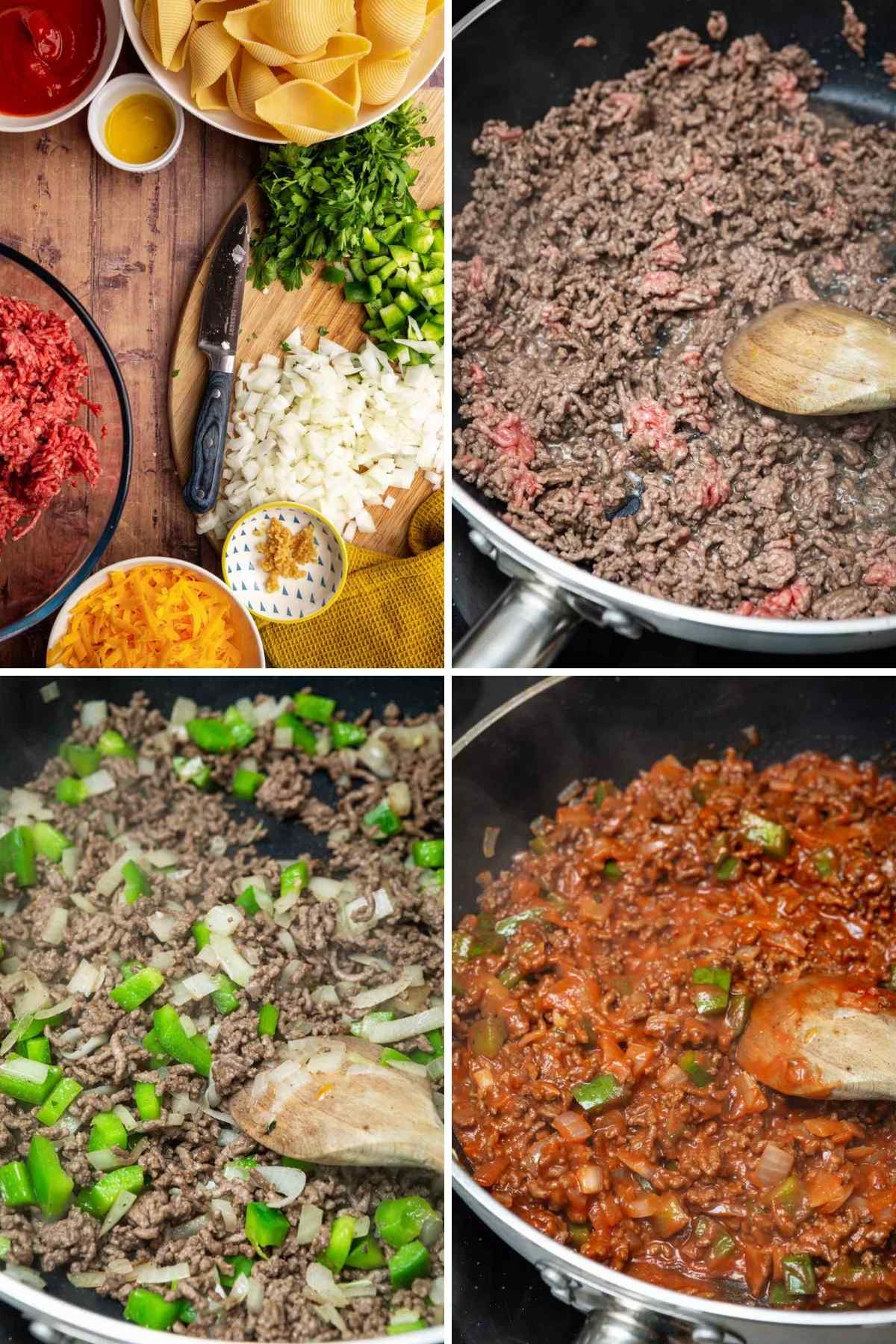 How to Make Sloppy Joe Pasta
Prep: Preheat the oven. Cook the pasta 1 minute shy of al dente, drain without rinsing and set aside.
Beef: Brown the beef in a large skillet until cooked through. Drain the fat, then lower the heat and stir in the butter, onions, and bell peppers. Cook until the veggies are soft and translucent.
Sauce: Once the veggies are soft, stir in the garlic, mustard, tomato sauce, ketchup, brown sugar, salt, black pepper and cook until slightly thickened. Add the sauce to a large bowl.
Assemble: Add the cooked pasta to the sauce mixture and gently stir until the pasta is well coated. Pour the half pasta into a baking dish and cover with half the cheese. Add the remaining pasta on top.
Bake: Cover with the remaining cheese. Bake until the sauce is bubbling and the cheese is melted. Let cool a few minutes before serving.
More Fun Twists on Classic Baked Pasta Dishes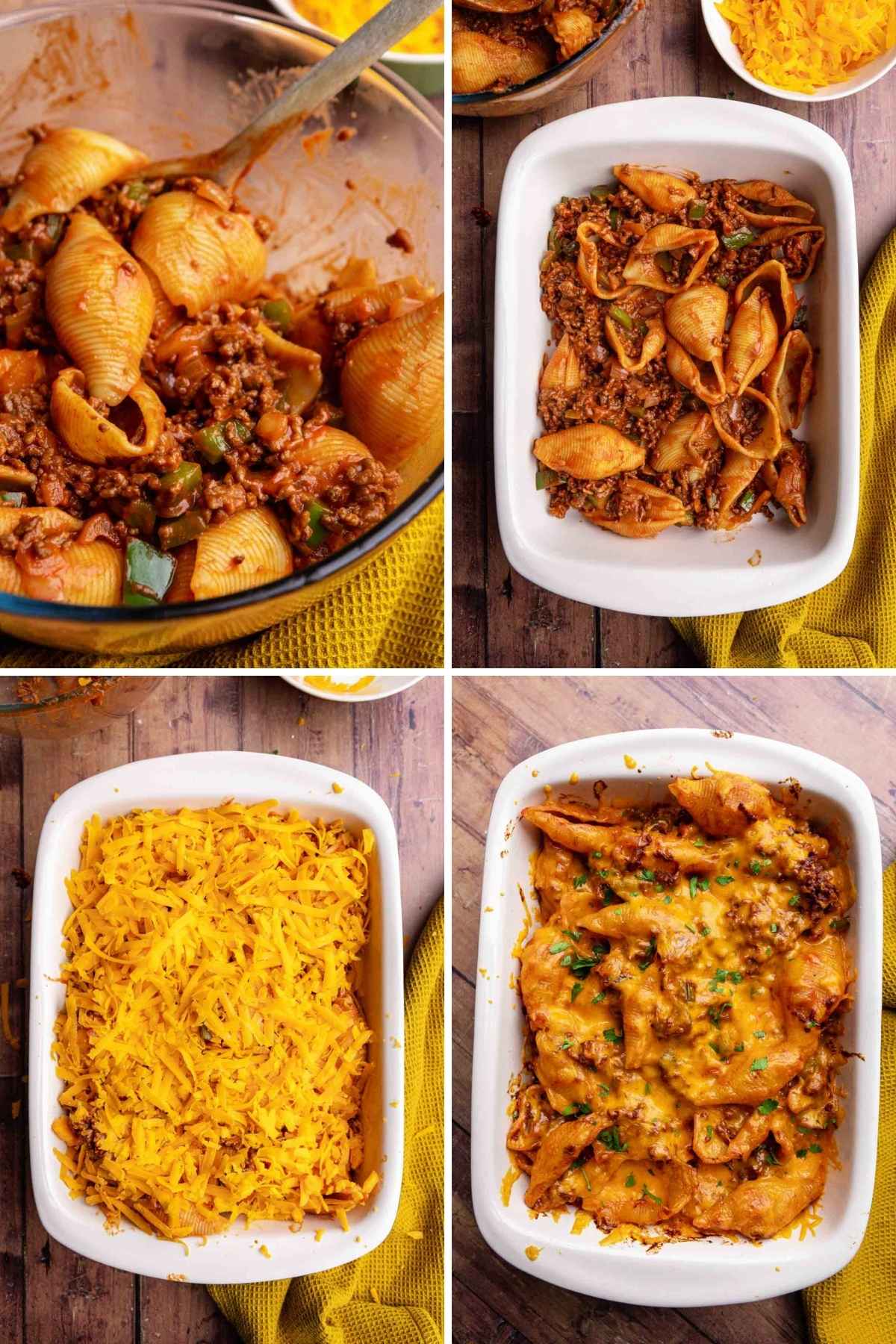 FAQs for Sloppy Joe Pasta
What is the difference between Sloppy Joe sauce and Bolognese?
Sloppy Joe sauce is a sweeter tomato based beef sauce than bolognese, with a flavor that is closer to BBQ sauce. The Sloppy sauce is also quite a bit thicker than your typical bolognese sauce, and it's often made with ingredients like ketchup and Worcestershire sauce where bolognese is more fresh veggies, herbs, and tomato sauce.
Can I leave out the onions and peppers?
One of the great things about making homemade Sloppy Joes sauce is that you can absolutely eliminate or swap ingredients you don't like. Feel free to leave out the fresh onions and peppers, or swap them with onion powder and paprika, or use other colored peppers.
Do I have to cook the pasta first?
Yes, you definitely need to cook the pasta before assembling the casserole. There isn't enough liquid in the dish to cook the pasta all the way through and it would take longer if you do add broth. If you use the slow cooker variation, you can use uncooked pasta.

Create a free account to

Save Recipes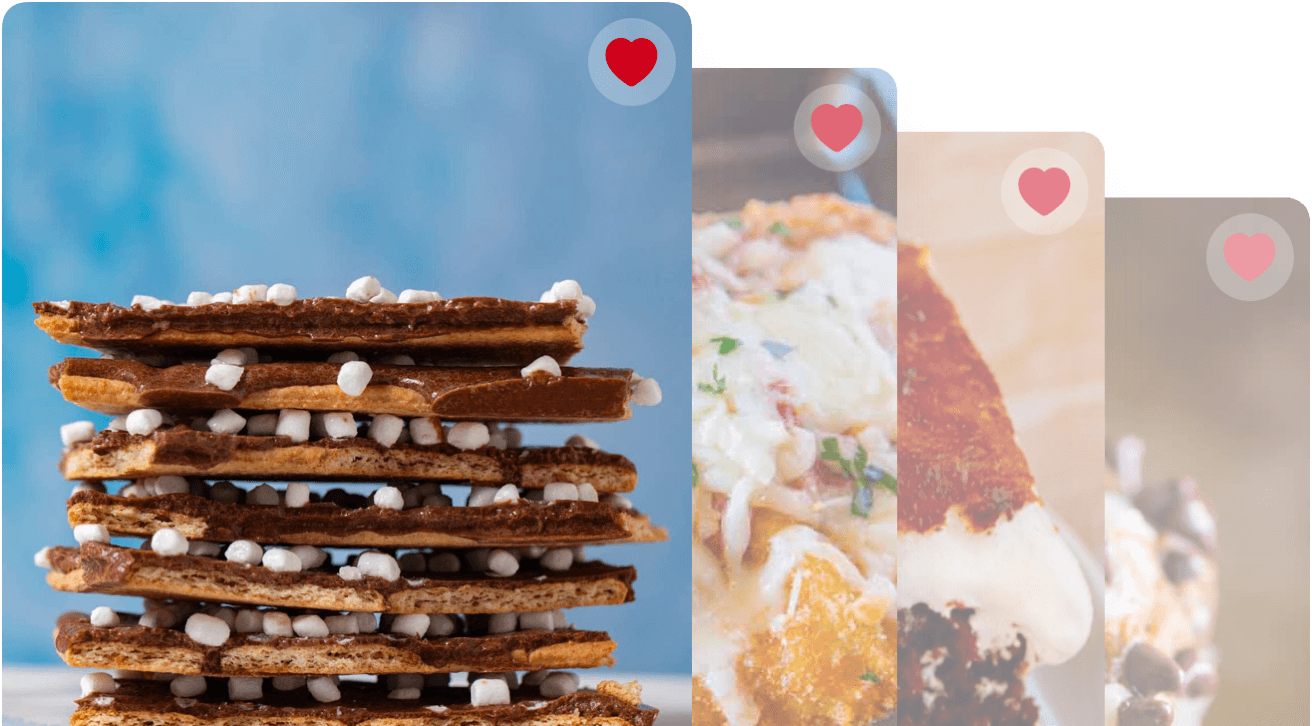 Key Ingredients
Ground Beef: Since ground beef is one of the main ingredients in Sloppy Joes, of course this beefy pasta dish is loaded with it. You want to stick with a leaner ground beef, like 85/15 or 90/10 so that it's nice and flavorful but not greasy.
Sloppy Joes Sauce: There are plenty of ways to make Sloppy Joe sauce but the classic way is tangy, savory, and sweet tomato based sauce. The tomato sauce and mustard balances out the sweetness of the ketchup and brown sugar. It all comes together for a delicious nostalgic flavor that makes these messy ground beef sandwiches so amazing.
Vegetables: This tasty cheesy comforting pasta dish is kid-friendly but parents will love that there's some hidden vegetables in the Sloppy Joe sauce. Not only does sauteing them in sauce add lots of savory flavor, it sneaks in some extra nutrients too.
Pasta: Large shells are smaller than the jumbo shells used for stuffed shells, but they are still pretty good size to fill up like big delicious beefy, cheesy pockets. You can use other pasta shapes, but it's best to use one that scoop up the yummy beef and sauce in every bite.
Cheese: This amazing pasta bake is super cheesy with half the cheddar cheese mixed into the beef filling and then smothered with the remaining cheese before baking. It's gooey, melty cheddar filled goodness.
Can you make Sloppy Joe Pasta ahead of time?
Prepare Sloppy Joes beef mixture and cook pasta just under al dente. Combine beef mixture and cooked pasta and cool down. Layer cooled pasta mixture and cheddar cheese in baking pan. Cover baking dish tightly with plastic wrap and aluminum foil. Keep in refrigerator up to 2 days or in the freezer for up to 3 months. Bake covered with foil at 350 degrees for 45-55 minutes.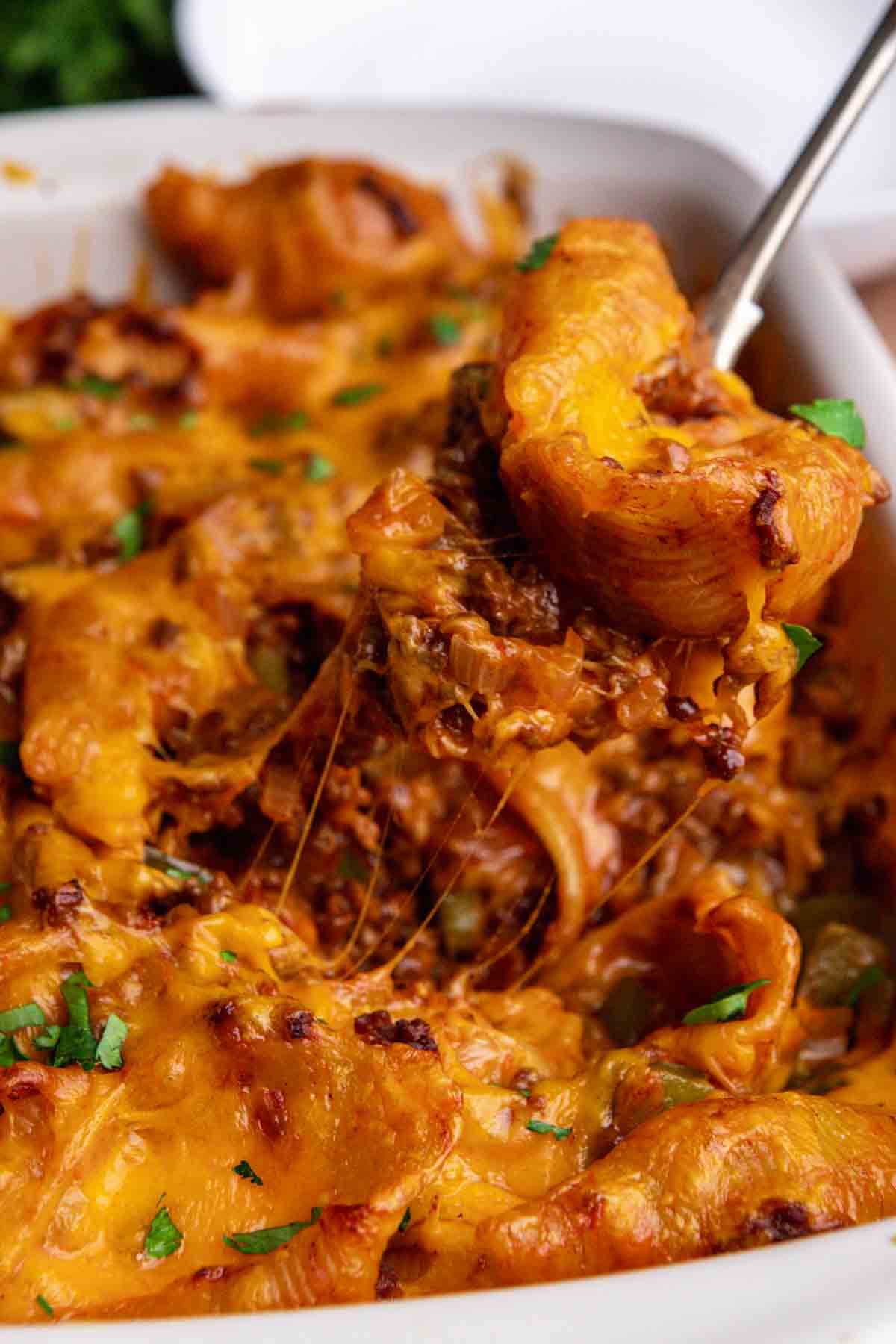 Variations
Meat: Substitute ground beef for ground pork, ground turkey, ground chicken, or Italian sausage crumbles. You can make a blend of ground meat for more flavor. Brown leaner white meat with olive oil to give it more fat and flavor.
Veggies: Adding veggies to a casserole like Sloppy Joes Pasta is a great way make this a little healthier. Sneak in veggies like corn, peas, carrots, or spinach. Thaw frozen veggies before adding and drain both frozen or canned veggies.
Pasta: Use penne pasta, elbow macaroni, or other small tubular or hollow pasta. You can stuff jumbo pasta shells with the sloppy joe filling for an easy Sloppy Joes Stuffed Shells bake. Mix half the cheese in the filling, then top stuffed shells with remaining cheese and bake as usual until cheese is melted.
Cheese: Sloppy Joe Pasta can be made with all your favorite cheese! Try Velveeta cheese, grated or cubed, or try shredded mozzarella, Monterey jack cheese, pepper jack cheese, or provolone cheese.
Potatoes: Instead of Sloppy Joes Pasta, make this a gluten free Sloppy Joes Potato Bake. Swap in a bag of frozen fried potatoes like fries or Diced Hash Browns for the pasta. No need to defrost, just bake an extra 10 minutes! You can also pour the filling into the dish and top with frozen tater tots.
Slow Cooker Sloppy Joe Pasta
Brown ground beef in a large skillet until cooked through. Drain and add to slow cooker.
Saute onions and peppers in 1 tablespoon butter for 3-4 minutes until just soft.
Add onion mixture, sauce ingredients, uncooked pasta, 1 cup cheese, 2 cups beef broth, and 1 cup evaporated milk to beef in crock pot.
Stir to combine everything and cover with lid.
Cook on low 3-4 hours, until pasta is tender. Stir in remaining cheese and cook on high until cheese is melted.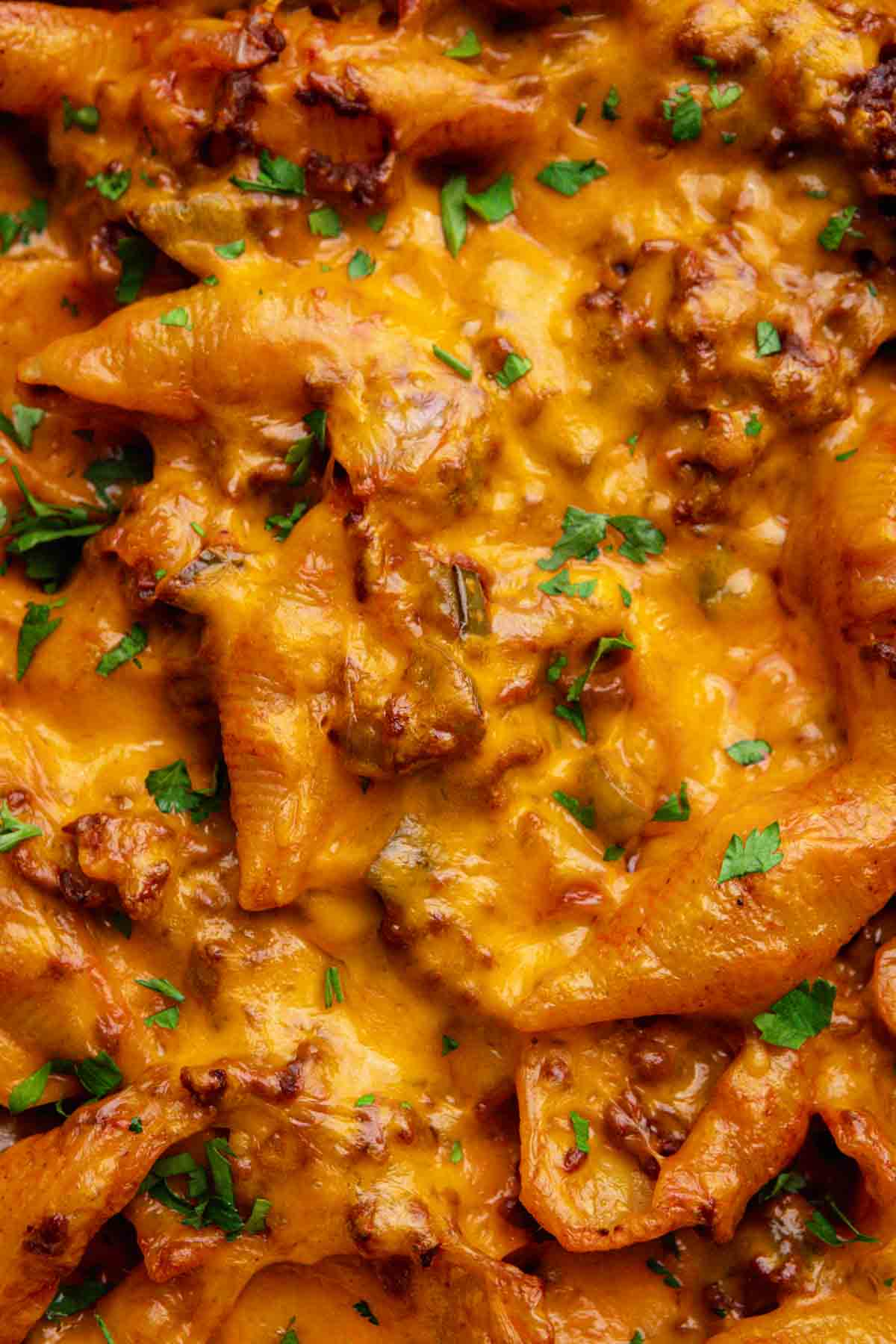 The BEST Sloppy Joes Recipes
How to Store
Serve: Sloppy Joe Pasta can be at room temperature for up to 2 hours before it should be stored in the freezer or refrigerator. Cool completely before storing.
Store: Store Sloppy Joe Pasta in the baking dish covered in foil, or in an airtight container, in the refrigerator for up to 4 days. If sauce is too thick when reheating, add beef stock 1 tablespoon at a time until desired consistency.
Freeze: Cover cooled baking dish with plastic wrap tightly and then aluminum foil, or store in a sealed container. Freeze Sloppy Joes Pasta for up to 3 months and reheat from frozen. Heat in oven covered with aluminum foil.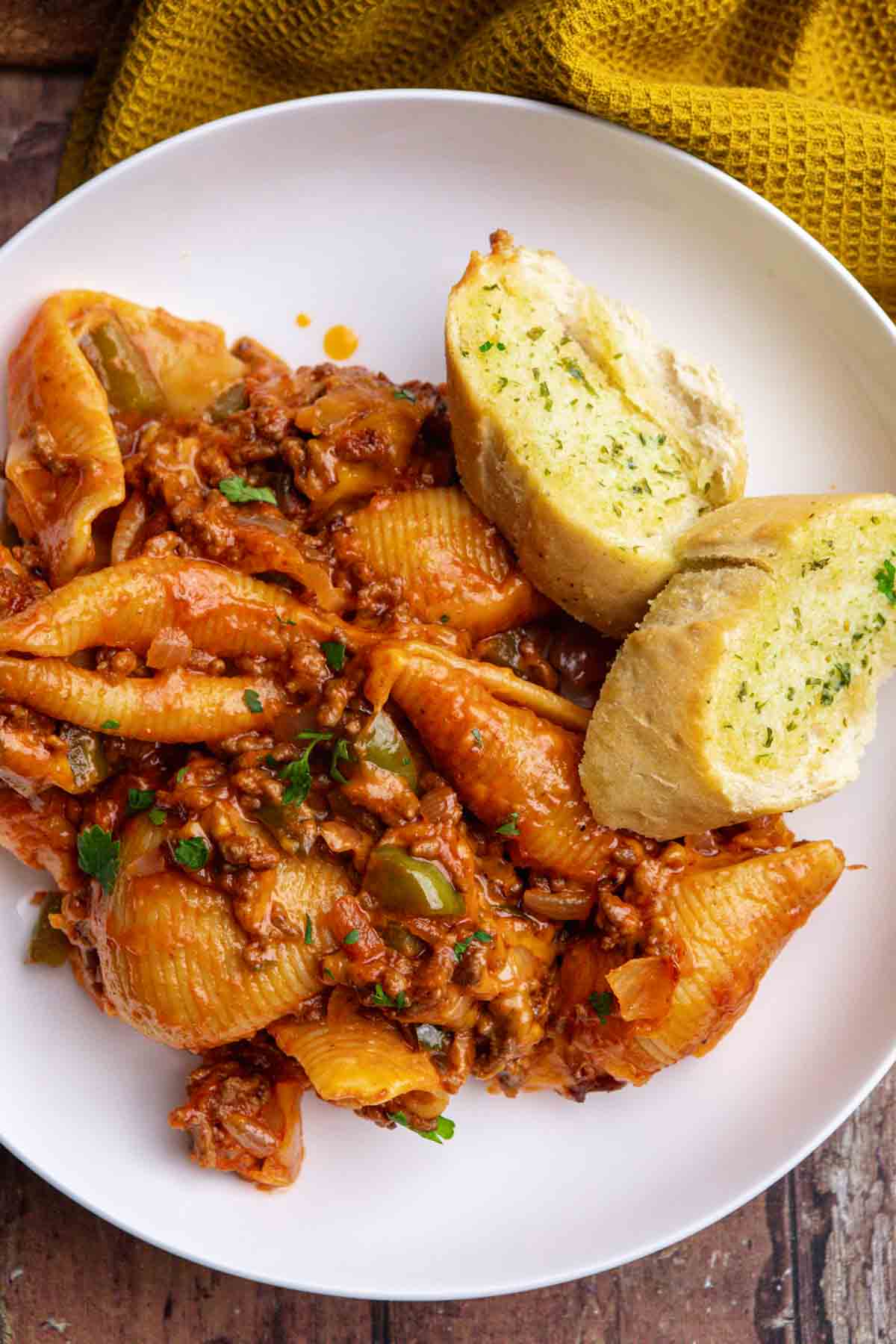 Ingredients
16

ounces

large shell pasta

1

pound

lean ground beef

1

tablespoon

unsalted butter

1

yellow onion

, chopped

1

green bell pepper

, chopped

1

clove

garlic

, minced

1

tablespoon

yellow mustard

8

ounces

tomato sauce

3/4

cup

ketchup

1/4

cup

brown sugar

1/2

teaspoon

Kosher salt

1/4

teaspoon

ground black pepper

2

cups

cheddar cheese

, shredded
Instructions
Heat oven to 350 degrees.

Cook shell pasta

1 minute

shy of directions on the box, then drain and set aside.

Add the ground beef to a large skillet on medium-high heat and brown until cooked through, about

5-6 minutes

.

Drain the fat, lower heat to medium and add the butter, onions and bell pepper to the pan.

Cook vegetables with the beef until onions and green bell peppers are translucent, about

6-8 minutes

.

Add the garlic, mustard, tomato sauce, ketchup, brown sugar, salt, black pepper, to the pan and cook

3-5 minutes

until slightly thickened.

Add the ground beef mixture to a large mixing bowl.

Stir in the cooked pasta and coat well.

Pour half the mixture into a 9×13 baking dish and top with 1 cup shredded cheddar cheese.

Add remaining pasta mixture and top with remaining cheese.
Nutrition
Calories:
422
kcal
|
Carbohydrates:
47
g
|
Protein:
21
g
|
Fat:
16
g
|
Saturated Fat:
8
g
|
Cholesterol:
58
mg
|
Sodium:
591
mg
|
Potassium:
433
mg
|
Fiber:
2
g
|
Sugar:
12
g
|
Vitamin A:
496
IU
|
Vitamin C:
13
mg
|
Calcium:
193
mg
|
Iron:
2
mg