A mix of pepperoni pizza and cheesy marinara pasta, this Easy Baked Pepperoni Pizza Spaghetti is a fun alternative to pizza night and perfect for a crowd!
As a mom of two really young kids every time I ask for ideas for dinner I hear "peppemoni pizza" which I am sure you can imagine grows a bit tiresome. While I love a good pepperoni pizza as much as the next person, I try to keep a tight rein on how often we indulge on meals. This Easy Baked Pepperoni Pizza Spaghetti is an easy way to keep everyone happy.
The best part is, it feeds a large crowd, takes just minutes to put together and into the oven. The hardest part of the recipe is taking the time to boil the pasta before baking it in the oven. Since I have kids who love plain buttered pasta noodles we tend to have precooked pasta in the fridge, so when I make a batch and they are slow in going through it I often toss this meal together and bake it into a dinner we can all enjoy.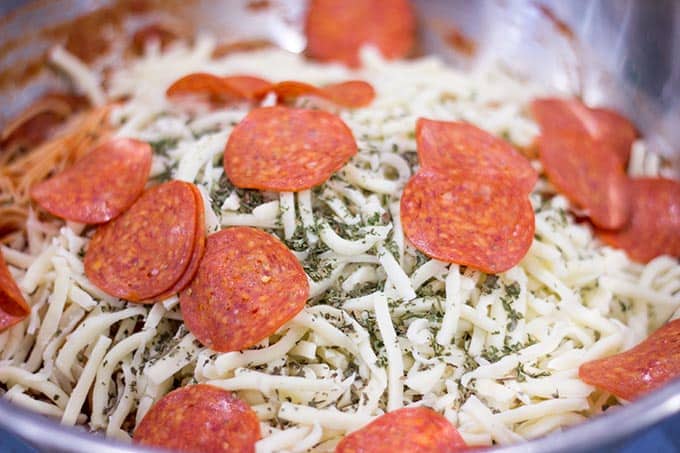 As an added bonus, you can make this baked pizza pasta in any of your favorite pizza flavors. Some quick ideas/tips about this recipe
When I make pasta sauce for this recipe, I simmer in some red bell pepper chunks and cook it on low, covered, for an hour or so to break it down. Just an easy way to sneak in some extra veggies.
If you want to make this dish a bit creamier, add milk instead of water. You can also add sour cream or cream cheese as well.
If you have garlic bread slices you can add to the top of the pan, layer the slices over the mixed pasta, sprinkle more cheese over it and bake for the same time.
Make this as a prep ahead meal! I freeze in a disposable baking pan. When I reheat I cook at 350 degrees for 30 minutes, then remove the foil and cook an additional 10 minutes at 375 degrees.
If you want to make this a bit more toddler friendly, you can also break apart the noodles. I used to break the noodles into 1-2 inch segments and slice up the pepperoni. Makes mealtime a lot easier when you have kids who are just learning to use utensils.
Recipes like this are great back pocket meals, easy to make, adapt to what you have on hand and guaranteed to get eaten without any negotiation from your kids.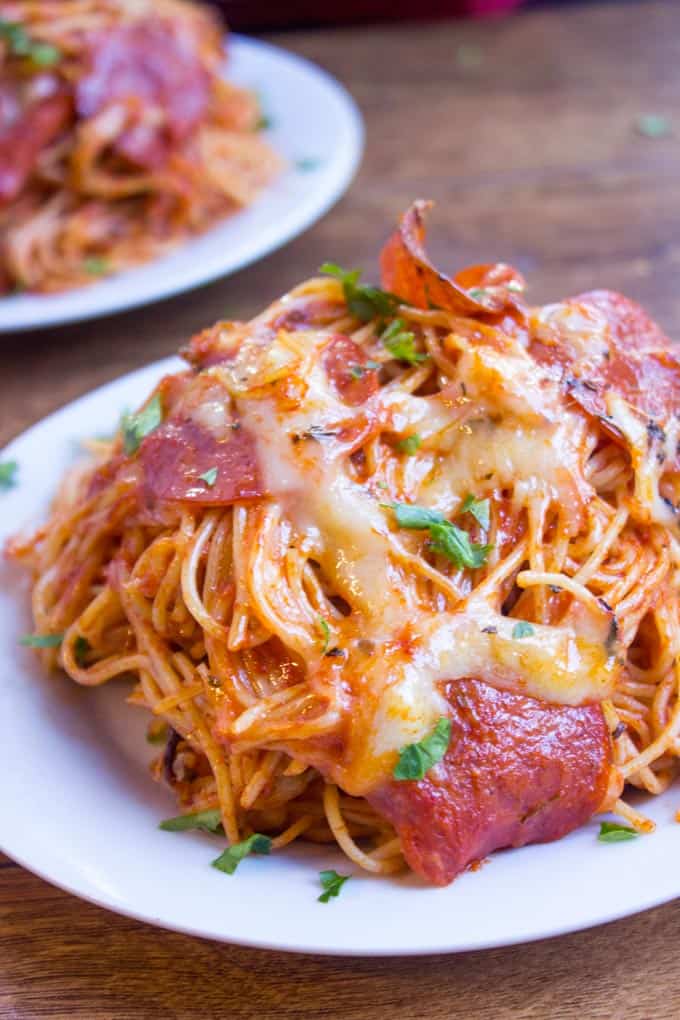 Recipe
Save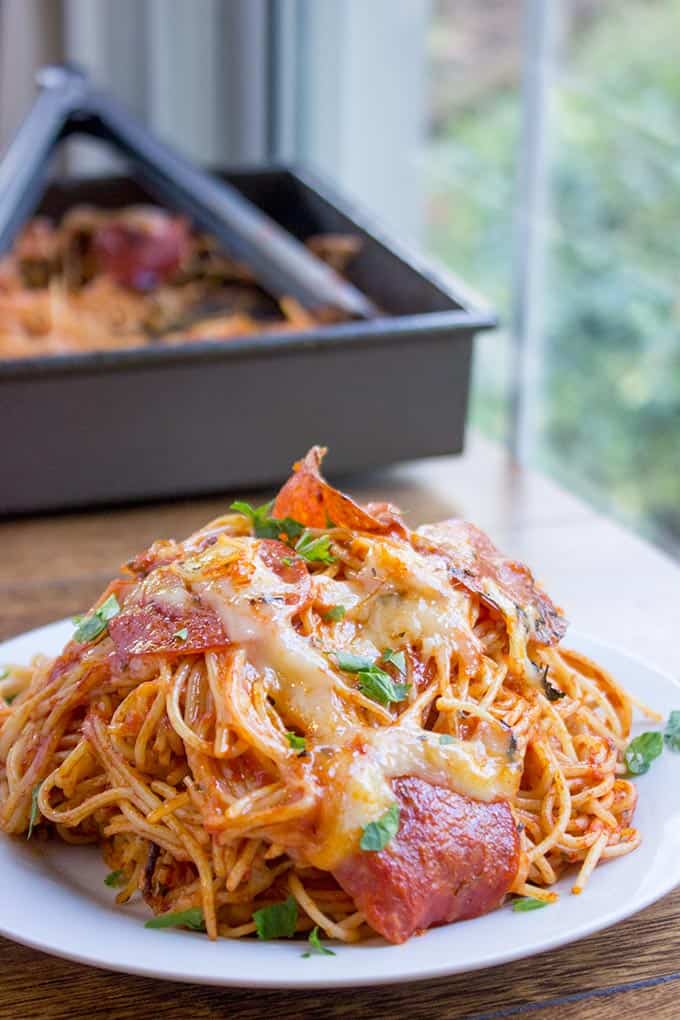 Easy Baked Pepperoni Pizza Spaghetti
Yield:

6

Prep Time:

10

minutes

Cook Time:

25

minutes

Total Time:

35

minutes

Course: Main Course
Cuisine: American
Author: Sabrina Snyder
A mix of pepperoni pizza and cheesy marinara pasta, this Easy Baked Pepperoni Pizza Spaghetti is a fun alternative to pizza night and perfect for a crowd!
Ingredients
1

pound

spaghetti

, cooked

3

cups

pasta sauce

(or one jar)

1/2

cup

water

2

cups

mozzarella cheese

40

slices

pepperoni

(or half a pouch)

2

teaspoons

Italian seasoning

fresh parsley

, for garnish
Instructions
Note: click on times in the instructions to start a kitchen timer while cooking.
Preheat the oven to 375 degrees.

Mix the spaghetti, pasta sauce, water, mozzarella cheese, pepperoni and Italian seasoning in a large bowl.

Put into a 13"x9" baking pan.

Cover with foil and bake for 20 minutes

Remove foil and bake for an additional 5-7 minutes or until slightly browned.
Nutrition Information
Yield: 6 , Amount per serving: 490 calories, Calories: 490g, Carbohydrates: 64g, Protein: 23g, Fat: 16g, Saturated Fat: 7g, Cholesterol: 43mg, Sodium: 1117mg, Potassium: 648mg, Fiber: 5g, Sugar: 8g, Vitamin A: 794g, Vitamin C: 9g, Calcium: 234g, Iron: 3g
All images and text © for Dinner, then Dessert.
Keywords:
baked pasta, Easy Baked Pepperoni Pizza Spaghetti, pasta, pepperoni pizza
Save