Classic Pepperoni Pizza with homemade pizza dough topped with tomato sauce, mozzarella, and pepperoni. Quick, easy, and better than delivery!
Homemade Pepperoni Pizza is an amazing, kid-friendly Dinner Recipe perfect for any weeknight. Layers of Pizza Dough, Pizza Sauce, cheese, and pepperoni, baked to bubbly, cheesy perfection.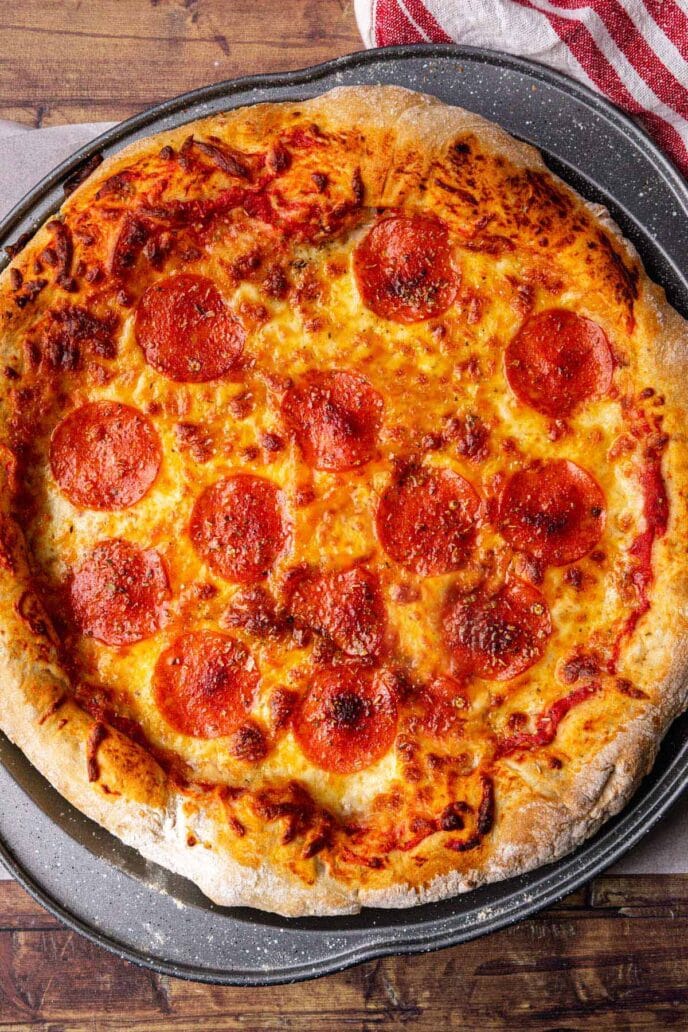 Homemade pizza is a delicious meal that's surprisingly simple to make. Once you have the dough ready, all you have to do is layer on the sauce, cheese, pepperoni, and seasonings. It bakes in just 13 minutes. You'll know it's done when it has a perfect golden brown crust and bubbly cheese topping. It's just as delicious as your favorite takeout, made even better because you can enjoy it fresh out of the oven!
Once you realize how easy it is to make homemade pizza, you won't want to stop at just Pepperoni Pizza. Enjoy experimenting with your favorite cheeses, meats, and veggies to the top. Adding the toppings to your homemade pizza is a fun step that your kids can easily help you with to get them involved. If you want the full pizzeria experience from your home, you can also make finger foods like Garlic Bread and Hot Wings to serve on the side of your homemade pizza.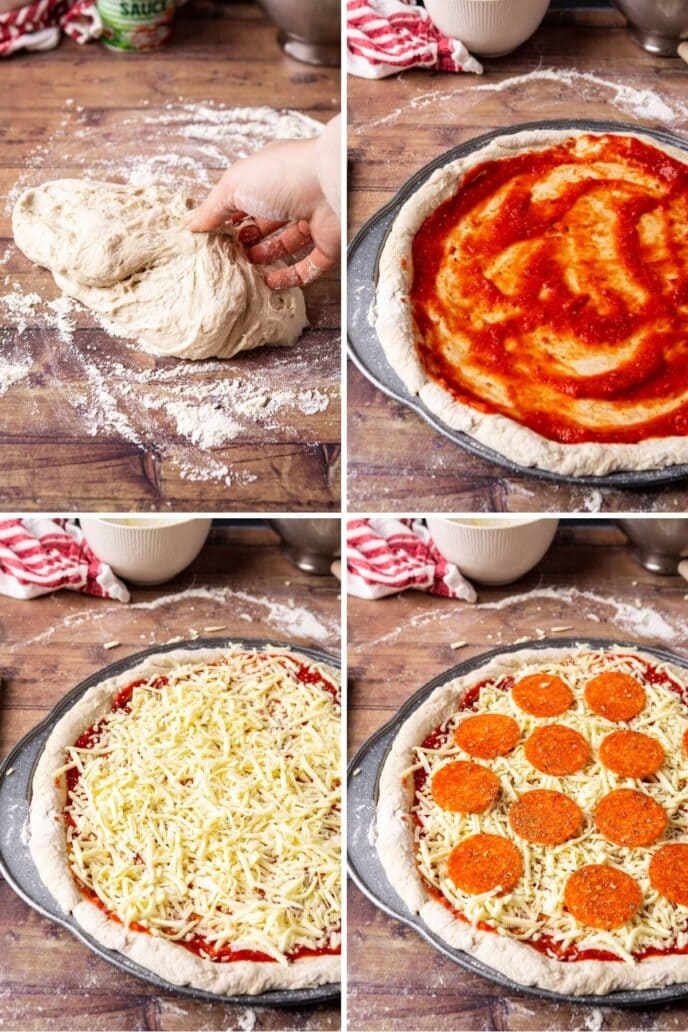 If you're in a hurry, or just want an easy and quick meal, you can buy refrigerated pizza dough and jarred pizza sauce from the store. Although it won't taste quite as authentic as making your own homemade pizza dough and quick pizza sauce, it's an easy way to speed up the recipe. Without making the dough and the sauce, the delicious meal comes together in just over 20 minutes. The combination of crispy crust, tomato sauce, melty cheese, and pepperoni is absolutely delicious whether or not it's made entirely from scratch.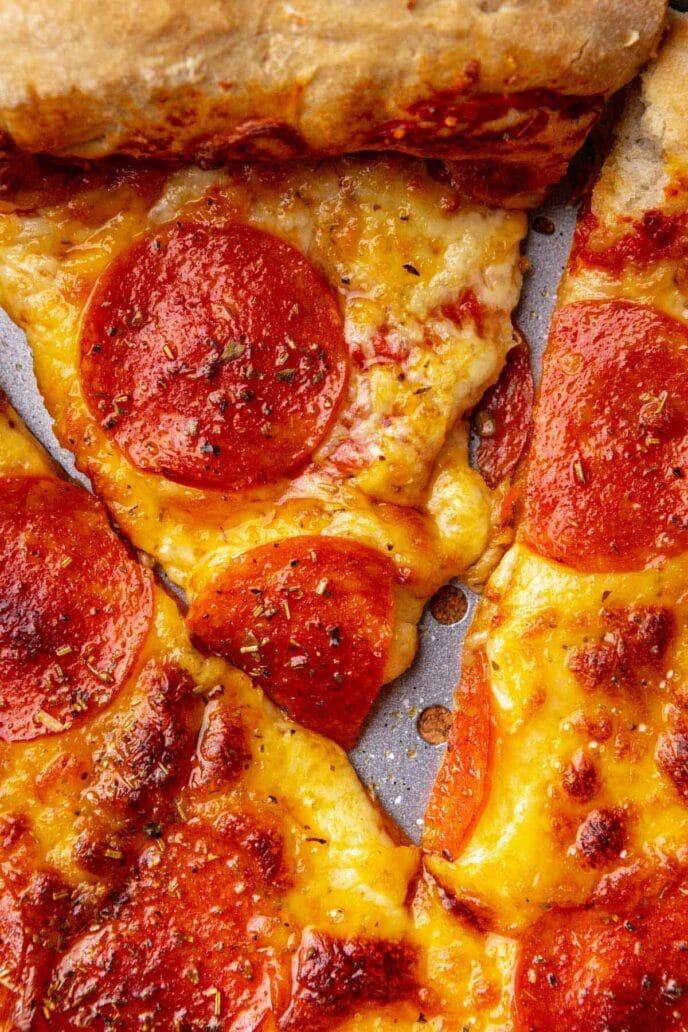 Pepperoni Pizza Inspired Recipes
Key Ingredients 
Pizza dough: Of course you make the base of any pizza recipe with simple pizza dough. You can use store-bought, make the pizza dough the day of, or prep pizza dough in advance and keep the dough ball wrapped in the fridge until you're ready to make the Pepperoni Pizza.
Pizza Sauce: Another good thing about making homemade pizza is that you can adjust the amount of ingredients according to your taste. If you want a lighter layer of sauce, then just spread a little over the dough. But, if you love the tomato sauce taste, you can add extra marinara sauce to what's already recommended.
Cheese: Mozzarella makes the perfect pizza cheese topping because it melts bubbly and stringy. While in the oven the mozzarella will brown on top, and come out wonderfully gooey.
Pepperoni: Of course, it wouldn't be a pepperoni pizza without pepperoni. This is another ingredient that you can add as much or as little depending on your taste. Or make half the pizza pepperoni and half of it plain cheese. It's all up to you!
Cooking Tips
Prep time: Start by preheating the oven temperature to 425 degrees. Get out a pizza stone, or baking sheet if you don't have a pizza stone. If you're using a baking sheet, prep it with parchment paper or cooking spray.
Dough: Flour your hands and prep your countertop with flour. Take out your ball of pizza dough. Roll it out on the floured surface until flattened out about ¼ inch thick and 12 inches across. Place it on your baking pan.
Layer: Once the dough is formed, spread a layer of sauce over pizza dough, but make sure you leave some space for the crust at the edge of dough. Sprinkle the mozzarella cheese evenly over the top. Top that off with pepperoni, and finish with a sprinkling of Italian seasoning.
Cook time: Put the Pepperoni Pizza in the preheated oven for 12-16 minutes. As the pizza cooks, you can watch for the cheese to become slightly browned and bubbly, and for the edges of pizza to become golden brown. Remove the pizza from the oven. Allow some time to cool, and once you've let the pizza rest, slice it into wedges.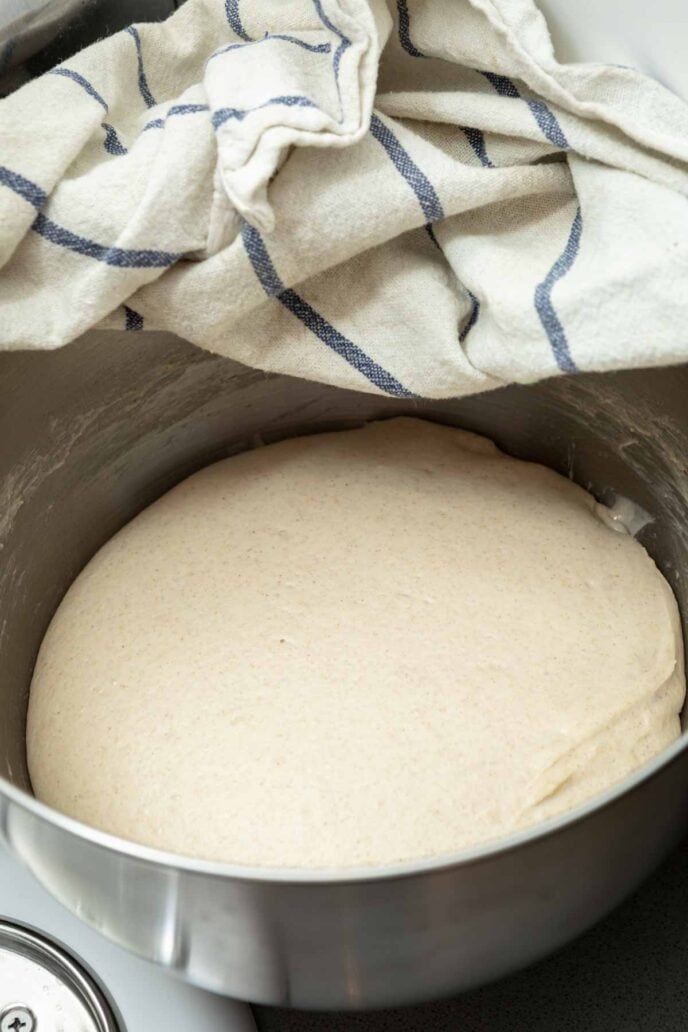 Create a free account to Save Recipes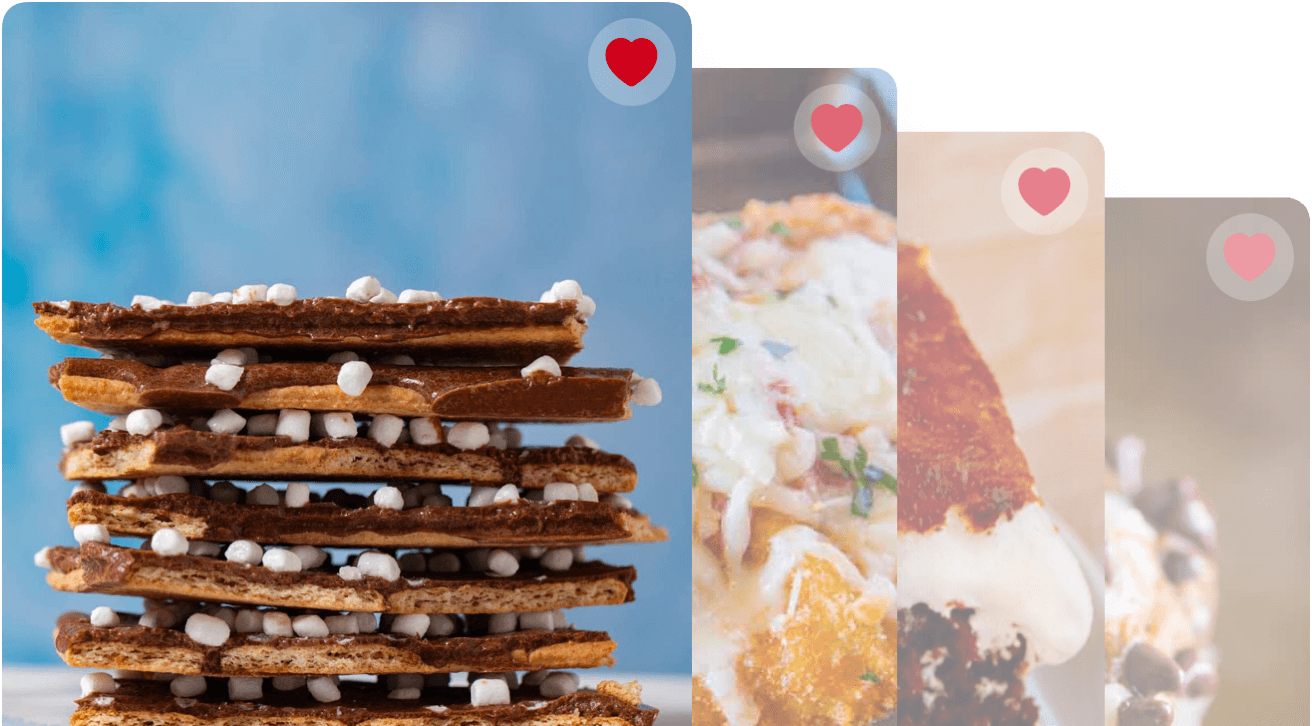 Variations
Seasonings: You can add any of your favorite Italian herbs and spices to the top of the pizza for some extra flavor. Fresh oregano, fresh garlic, basil, rosemary, or extra red pepper flakes would taste delicious over the Cheesy Pepperoni Pizza.
Cheeses: There are lots of different cheese varieties that taste great with pizza. Try sprinkling on some parmesan cheese, cheddar, Havarti, or provolone along with the mozzarella.
Toppings: There are just so many options for pizza add-ons, you can really add any of your favorite pizza toppings. Try cooking up some bacon, and sausage to make a meat lovers pizza. You could also just use sausage to replace the pepperoni for a classic sausage pizza. There are lots of fresh ingredients you could add too, like green peppers, banana peppers or bell peppers. You could even make yourself an exciting specialty pizza like Basil Spinach Artichoke Pizza, broccoli and mozzarella, or Hawaiian pizza. Whatever your favorite takeout pizza is, you can use the same toppings to make it for yourself at home.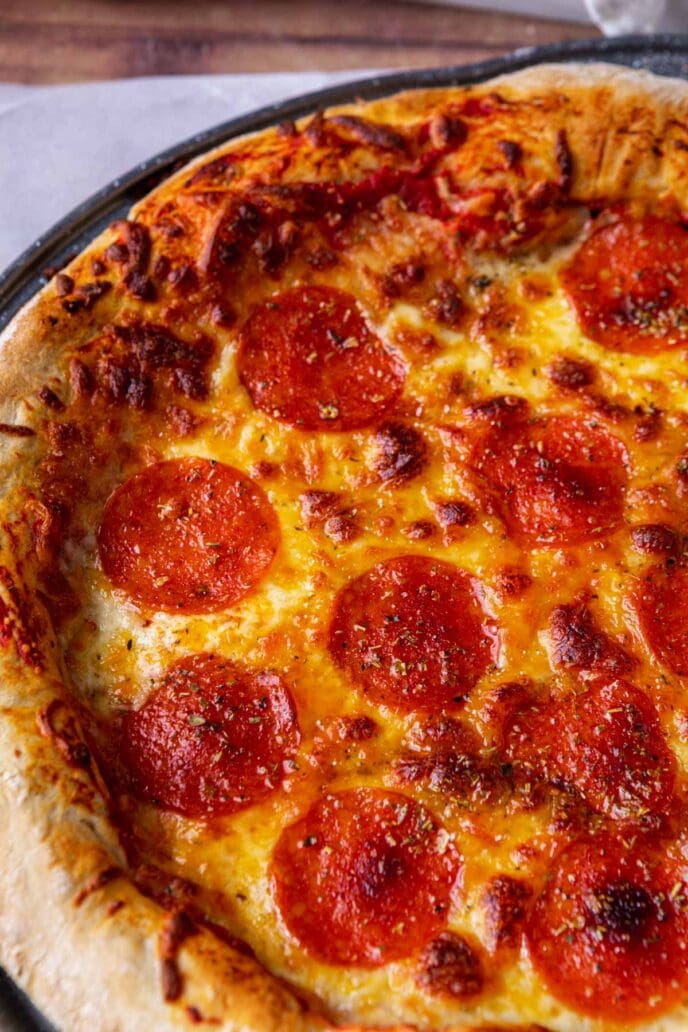 More Classic Family Friendly Dinners
How to Store
Serve: After baking, Homemade Pepperoni Pizza can be at room temperature for up to 2 hours before it should be stored. Cool before storing.
Store: Keep any leftover pizza in an airtight container or wrap it in tin foil to store in the fridge. It will stay good for up to 5 days. Reheat the pizza in the oven to keep the crust nice and crispy.
Freeze: As long as you carefully seal pizza, you can freeze it for up to 2 months. Wrap in plastic wrap and place in a freezer safe bag. Reheat in the oven until heated all the way through.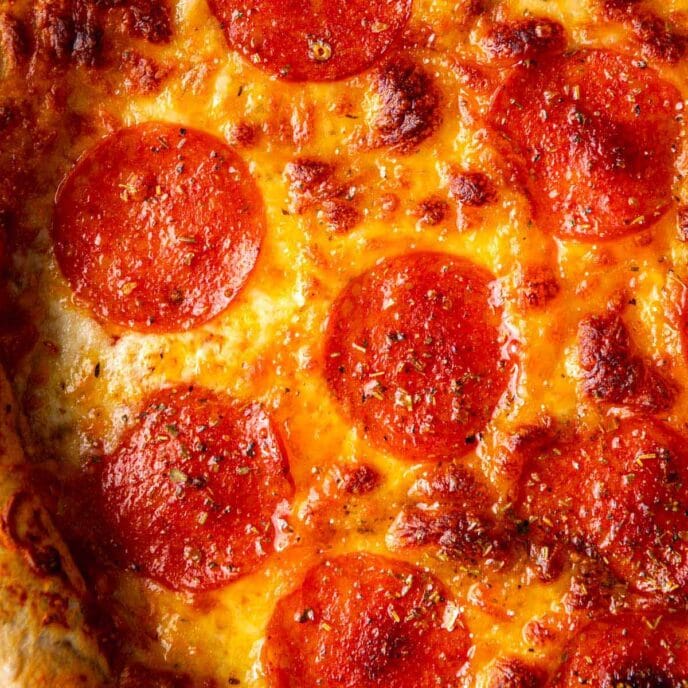 Ingredients
Pizza Dough:
1

cup

warm water

, (110 degrees)

1

teaspoon

sugar

2 1/4

teaspoons

active dry yeast

, 1 packet

2 1/2

cups

bread flour

2

tbsp

olive oil

1

teaspoon

kosher salt

1/2

teaspoon

garlic powder
To Make Pizza:
2

tablespoons

flour

1/2

cup

pizza sauce

1 1/2

cups

mozzarella cheese

, shredded

24

slices

pepperoni

1/2

teaspoon

dried Italian seasoning

1/4

teaspoon

crushed red pepper flakes

, optional
Instructions
Pizza Dough:
In a stand mixer mix the water, sugar and yeast together and let it sit for 10 minutes.

Add in the flour, oil, salt and garlic powder and whisk together on medium speed until well combined, then swap out for the dough hook and let it knead for 5 minutes on medium speed.

Remove the dough hook and let it rest, covered with a damp clean towel for 30 minutes before using.
To Make the Pizza:
Heat the oven to 425 degrees.

Roll the pizza dough out to 1/2" inch thickness on a floured countertop or cutting board about 12" across

Layer the pizza (except for the outer 1" ring) with the pizza sauce, mozzarella cheese, pepperoni and Italian seasoning.

Bake for

13-15 minutes

until the cheese is browned and bubbling and the crust is golden brown.
Nutrition
Calories:
149
kcal
|
Carbohydrates:
17
g
|
Protein:
7
g
|
Fat:
6
g
|
Saturated Fat:
3
g
|
Polyunsaturated Fat:
1
g
|
Monounsaturated Fat:
2
g
|
Trans Fat:
1
g
|
Cholesterol:
15
mg
|
Sodium:
448
mg
|
Potassium:
59
mg
|
Fiber:
1
g
|
Sugar:
3
g
|
Vitamin A:
153
IU
|
Vitamin C:
1
mg
|
Calcium:
75
mg
|
Iron:
1
mg