Baked Spaghetti is hearty and family-friendly with a crispy cheesy top layer and ground beef filling that your kids will ask for every week!
This Italian Dinner is a more classic version of Baked Spaghetti, it costs less than our Baked Million Dollar Spaghetti and is easier to make than Ultimate Meat Lasagna and Cheesy Beef Pasta Bake.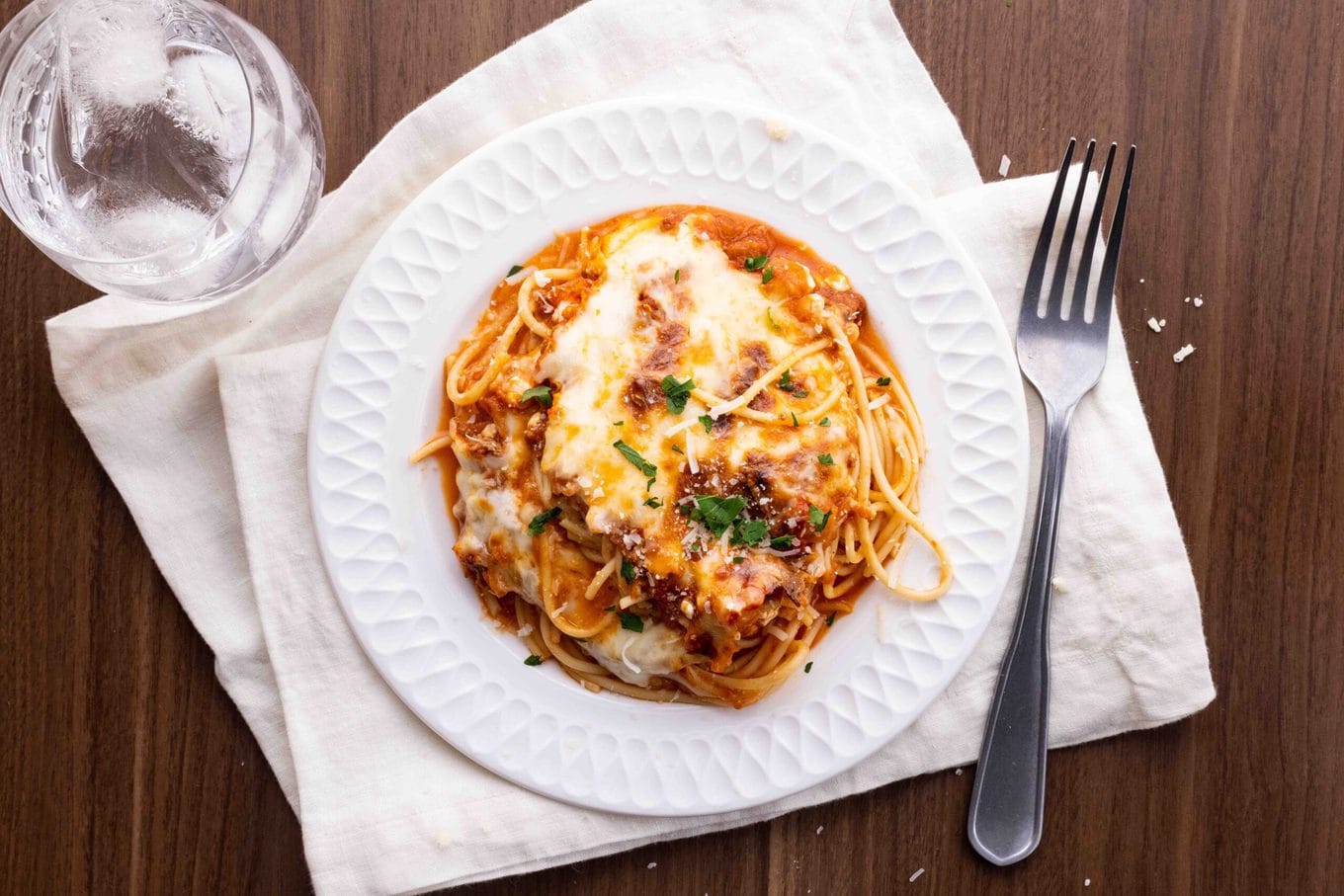 Baked Spaghetti is the perfect make-ahead meal for parents. After you try this recipe, if your kids could vote on dinner every night, you'll be serving this 4 days a week. And when you do serve it you can even take it from the freezer!
If it's your first time cooking a baked spaghetti recipe, this is a good one to try. Dinner tonight starts out like a traditional pasta dinner and ends like a hybrid of spaghetti and lasagna. Baking spaghetti instead of just boiling it gives you the crispy, cheesy top layer that lasagna fans love. This easy-baked spaghetti is a great middle ground between spaghetti dishes and a Traditional Baked Ziti.
Baked Spaghetti is so much more than just tomato sauce over noodles. This easy recipe is a great meal for weekdays since you will have leftovers for later dinners. Make it for the whole family and let the kids scoop out what they want (you'll be surprised how much they eat).
Serve Baked Spaghetti with Garlic Bread, a traditional favorite, and the perfect way to scoop up extra sauce. Try this Italian Salad Dressing drizzled on garlic bread to give it an extra kick. Add some Roasted Green Beans to the mix and roast them alongside the baking noodles. A great way to end a rich dinner is with a light, fluffy Angel Food Cake.
How to Make Baked Spaghetti
This Baked Spaghetti recipe is a delicious, hearty meal that can easily be made at home. What you are making is basically a baked spaghetti casserole – but the best version of one you'll ever taste! With crispy edges, mozzarella, and cottage cheese this is a dish people will crowd the pan asking for seconds. Check it out!
Step One: Boil the spaghetti noodles until al dente, or one minute shy of the directions.
Step Two: Brown your meat in a skillet and add in the Quick and Easy Marinara Sauce.
Step Three: Whisk eggs, cheese, and butter together and stir in your cooked spaghetti.
Step Four: Layer your spaghetti mixture into a dish with layers of cheese and meat sauce. Enjoy when ready! 
Frequently Asked Questions
Can I use a different type of pasta?
Yes, you can substitute spaghetti with other pasta types such as linguine, fettuccine, or even penne. Just make sure to adjust the cooking time accordingly.
Can I make this recipe vegetarian?
Absolutely! Replace the ground beef with a plant-based protein option or simply add more veggies, like mushrooms and bell peppers, to the marinara sauce.
What if I don't have cottage cheese?
You can use ricotta cheese as a substitute for cottage cheese, which will still yield a creamy, delicious meal.
How long will the Baked Spaghetti last in the refrigerator?
Baked spaghetti can be stored in an airtight container in the refrigerator for up to 4 days. Make sure to reheat it thoroughly before serving.
Can I freeze Baked Spaghetti?
Yes, you can freeze the baked spaghetti in a freezer-safe container for up to 3 months. Thaw it in the refrigerator overnight before reheating and serving.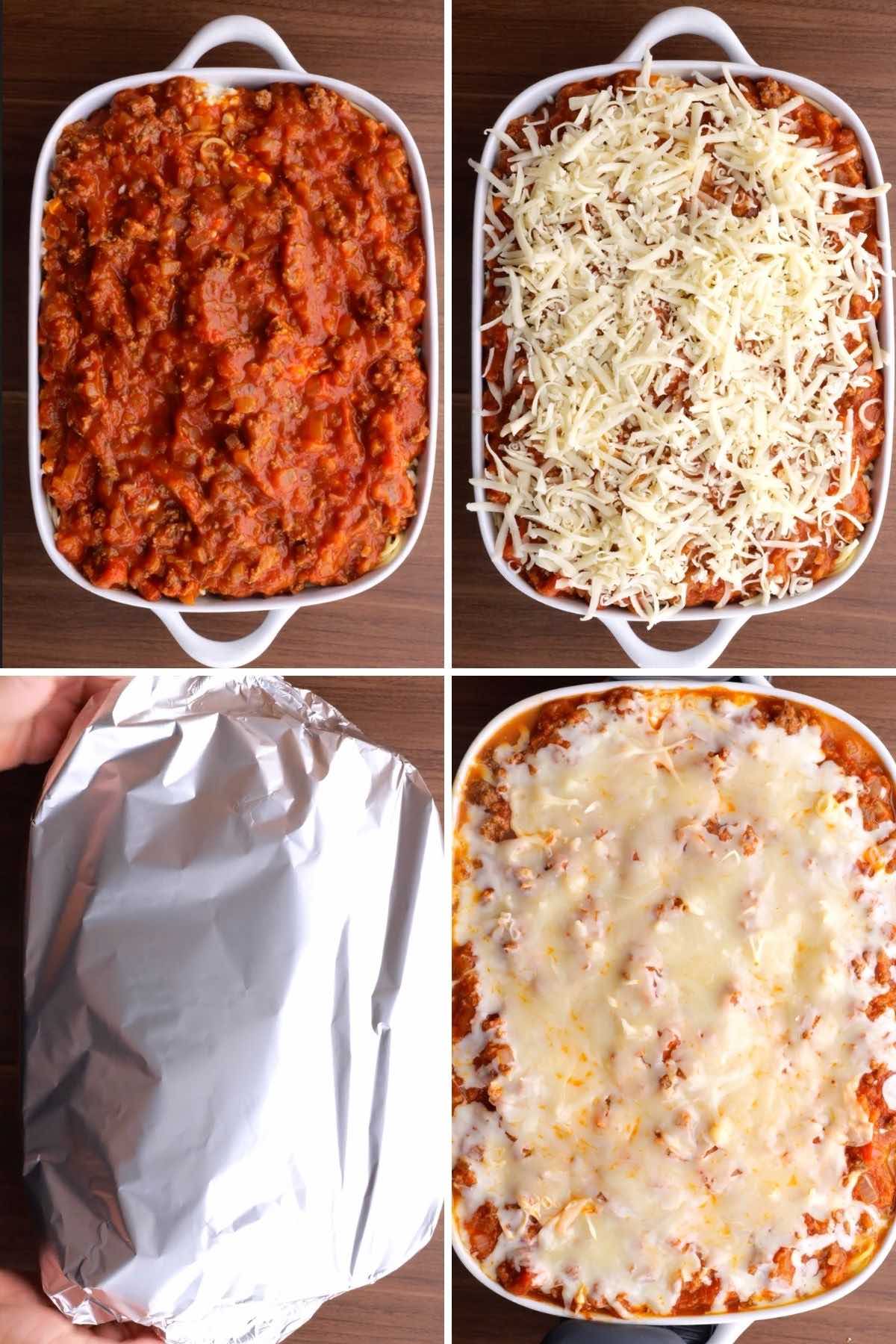 Create a free account to

Save Recipes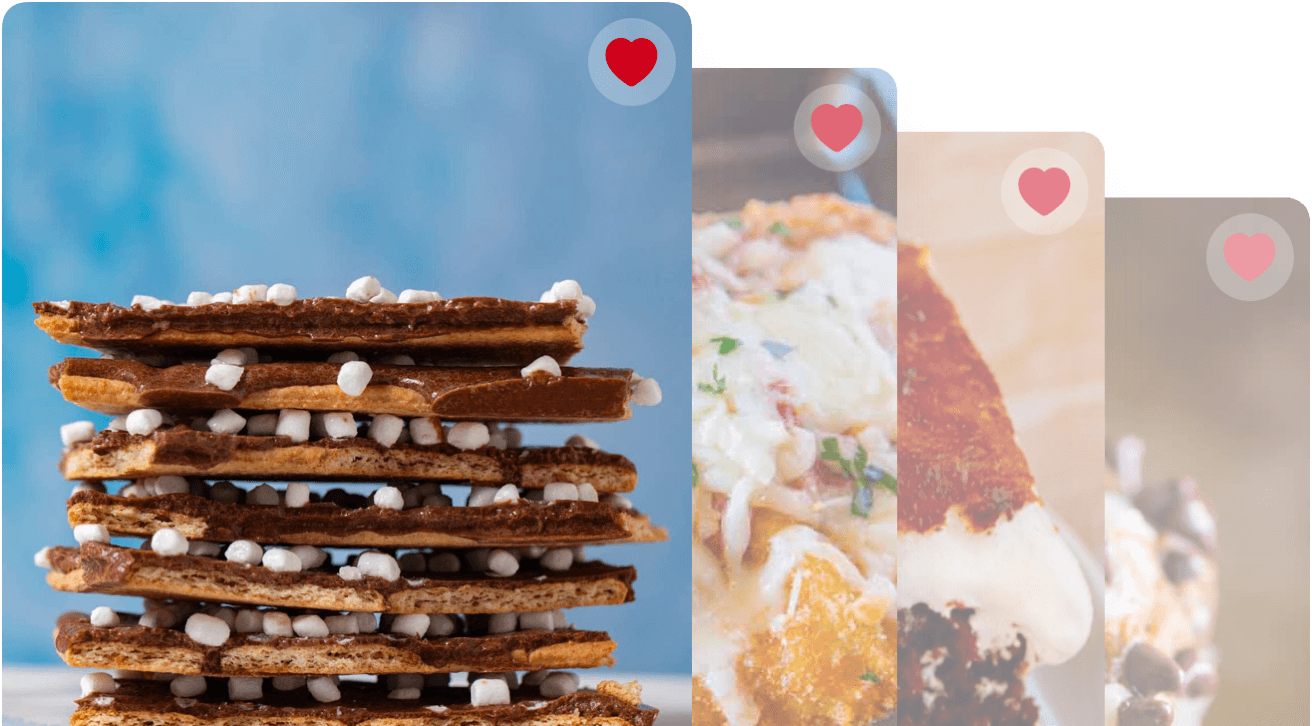 Key Ingredients in Baked Spaghetti
This Baked Spaghetti recipe is easy to make using simple, accessible ingredients from your local grocer that come together to create a delicious, comforting meal. Check it out! 
Spaghetti: The main ingredient in this dish, spaghetti is a versatile pasta that pairs well with a variety of sauces and flavors.
Ground Beef: Ground beef adds a hearty, savory flavor to the dish. You can substitute with ground turkey or chicken for a lighter option.
Marinara Sauce: A classic tomato-based sauce that provides a rich, robust flavor to the dish. You can use store-bought or Homemade Marinara Sauce.
Cottage Cheese: Adds creaminess and a tangy flavor to the baked spaghetti. Ricotta cheese can be used as a substitute if preferred.
Mozzarella Cheese: A mild, melty cheese that adds a gooey, delicious texture to the dish.
Can Baked Spaghetti be made ahead of time?
Yes, you can prepare the baked spaghetti up to a day in advance. Assemble the dish, cover it tightly with plastic wrap, and refrigerate until ready to bake. Allow the dish to come to room temperature for about 30 minutes before baking. You may need to adjust the baking time slightly if the dish is still chilled when placed in the oven.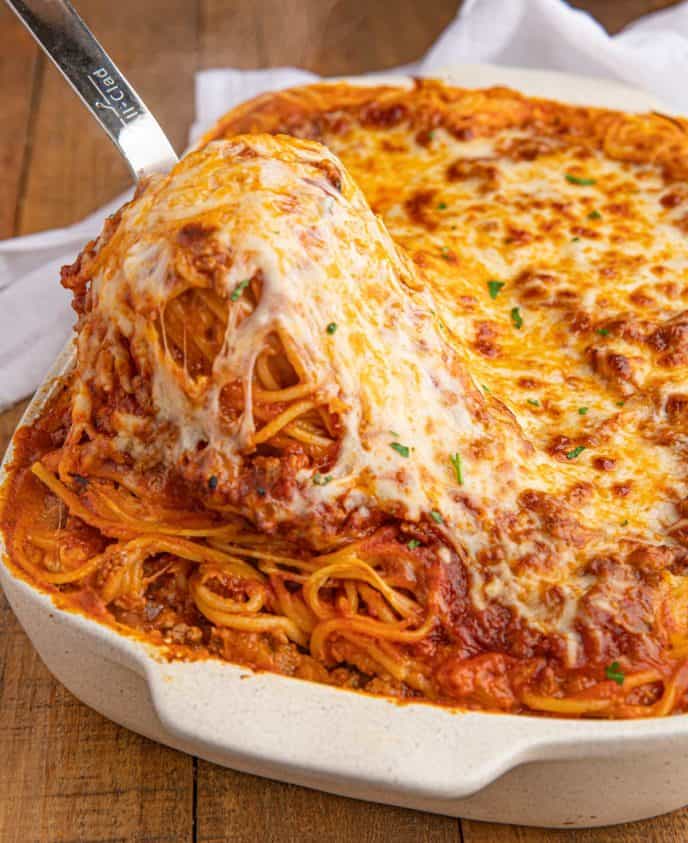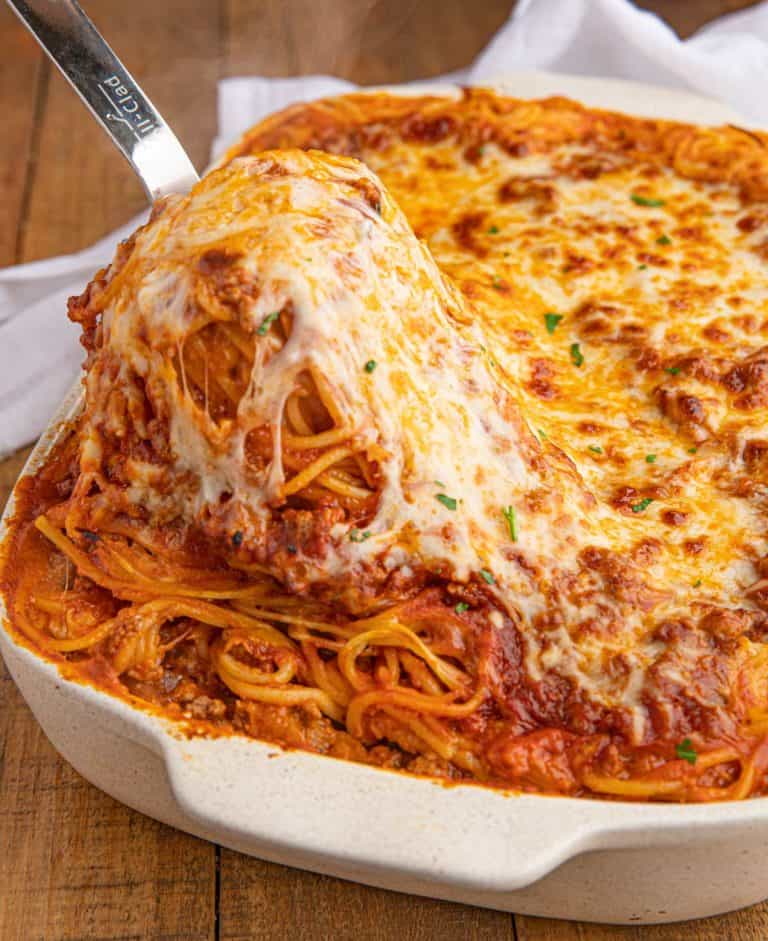 Alternatives to Ground Beef
Italian sausage: the seasonings in Italian sausage add a kick of flavor to the baked spaghetti.
Ground turkey: an alternative to red meat that is delicious and filling.
Ground tofu: tofu takes on a lot of the flavor of the sauce, and is a delicious vegetarian option.
Jackfruit: This one takes a little more prep, but its meaty texture is hearty and tasty.
Mushrooms: Delicious and versatile, mushrooms are great browned in melted butter.
Slow Cooker Baked Spaghetti
If you are going to be out all day and want something ready when you get home, slow cookers are a great way to go. Slow cooking the spaghetti lets it stew in its own juices, infusing it with flavor.
Cook the spaghetti noodles in a pot of boiling water until al dente (still firm.)
Brown the ground beef in a pan with the chopped onion until cooked through, and then add in the marinara sauce and stir on medium heat.
Mix the eggs, cheese, and butter together and add the cooked spaghetti noodles.
Layer the spaghetti mixture and the meat sauce into the slow cooker, and cook on low for 4 to 6 hours.
Variations on Baked Spaghetti
Baked Spaghetti offers plenty of opportunities for customization to suit your taste preferences or dietary needs.
Vegetarian Baked Spaghetti: You can replace ground beef with a plant-based protein, like extra-frim tofu, or add extra vegetables like mushrooms and bell peppers.
Spicy Baked Spaghetti: Add crushed red pepper flakes or chopped jalapeño peppers to the marinara sauce for a kick of heat. Toast the jalepeños on the grill or a pan to give them a nice smoky flavor. 
Cheesy Baked Spaghetti: Everyone loves extra cheese! Use a combination of different cheeses, such as fontina, provolone, or asiago cheese.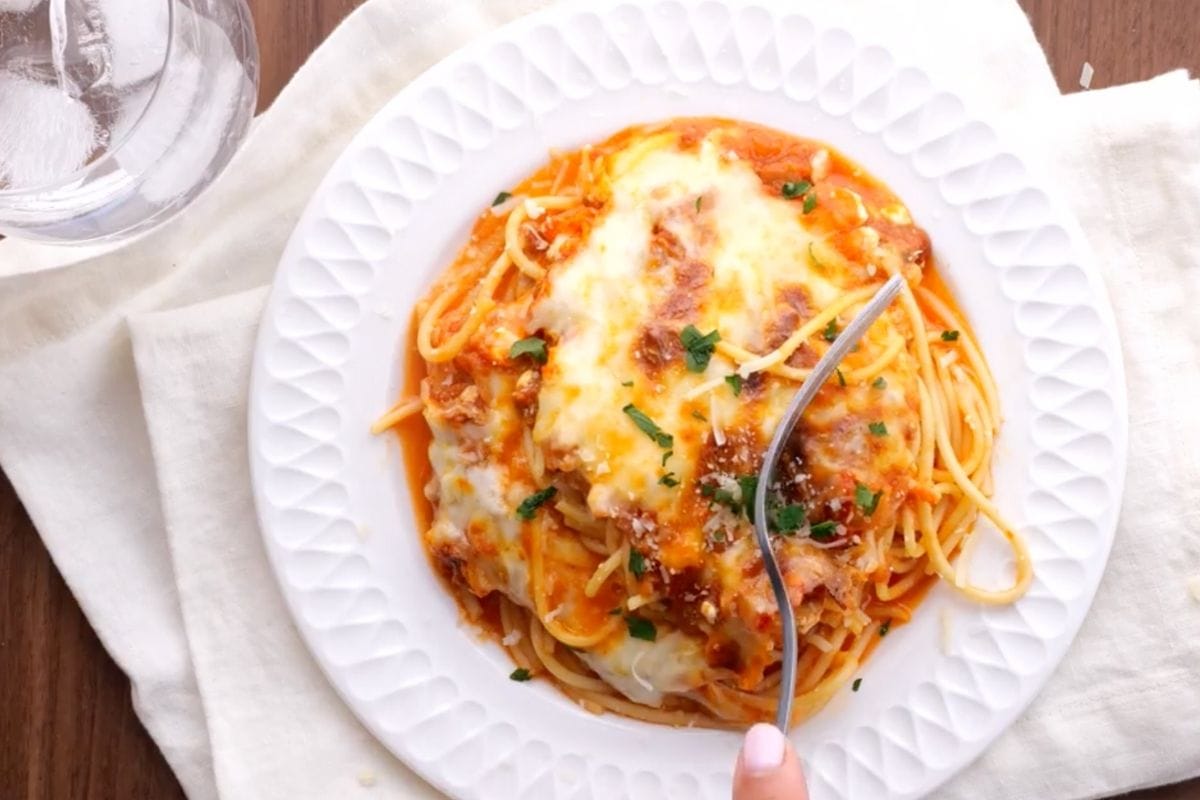 How to Serve Classic Baked Spaghetti
Baked Spaghetti is a delicious and satisfying main course that can be paired with various side dishes, appetizers, and desserts to create a complete and yummy meal. Here are some ideas to make it really fancy!
Side Dishes: A fresh, crisp Seven Layer Salad with a light vinaigrette dressing is an excellent choice for balancing the richness of the baked spaghetti. You can also serve Easy Roasted Vegetables for added color and nutrition. Sliced Garlic Bread is perfect for soaking up any remaining sauce on the plate.
Appetizers: Start your meal with some classic Italian appetizers like Balsamic Bruschetta or Caprese Salad to set the tone for your baked spaghetti feast. Alternatively, you can offer a simple soup, such as Classic Minestrone Soup, to whet the appetite.
Desserts: End the meal on a sweet note with traditional Italian desserts like Tiramisu. If you prefer something lighter, consider serving an Easy Fruit Salad to cleanse the palate.
More Family-Friendly Pasta Recipes
How to Store Baked Spaghetti
Serve: You can leave the baked spaghetti out after serving for no longer than 2 hours.
Store: Store Baked Spaghetti in an airtight container in the fridge for up to 3 days. Reheat in the oven at 250 for 10 minutes, or in the microwave.
Freeze: Wrapped well, you can freeze Baked Spaghetti for 3 months. Let it thaw in the fridge overnight and then reheat.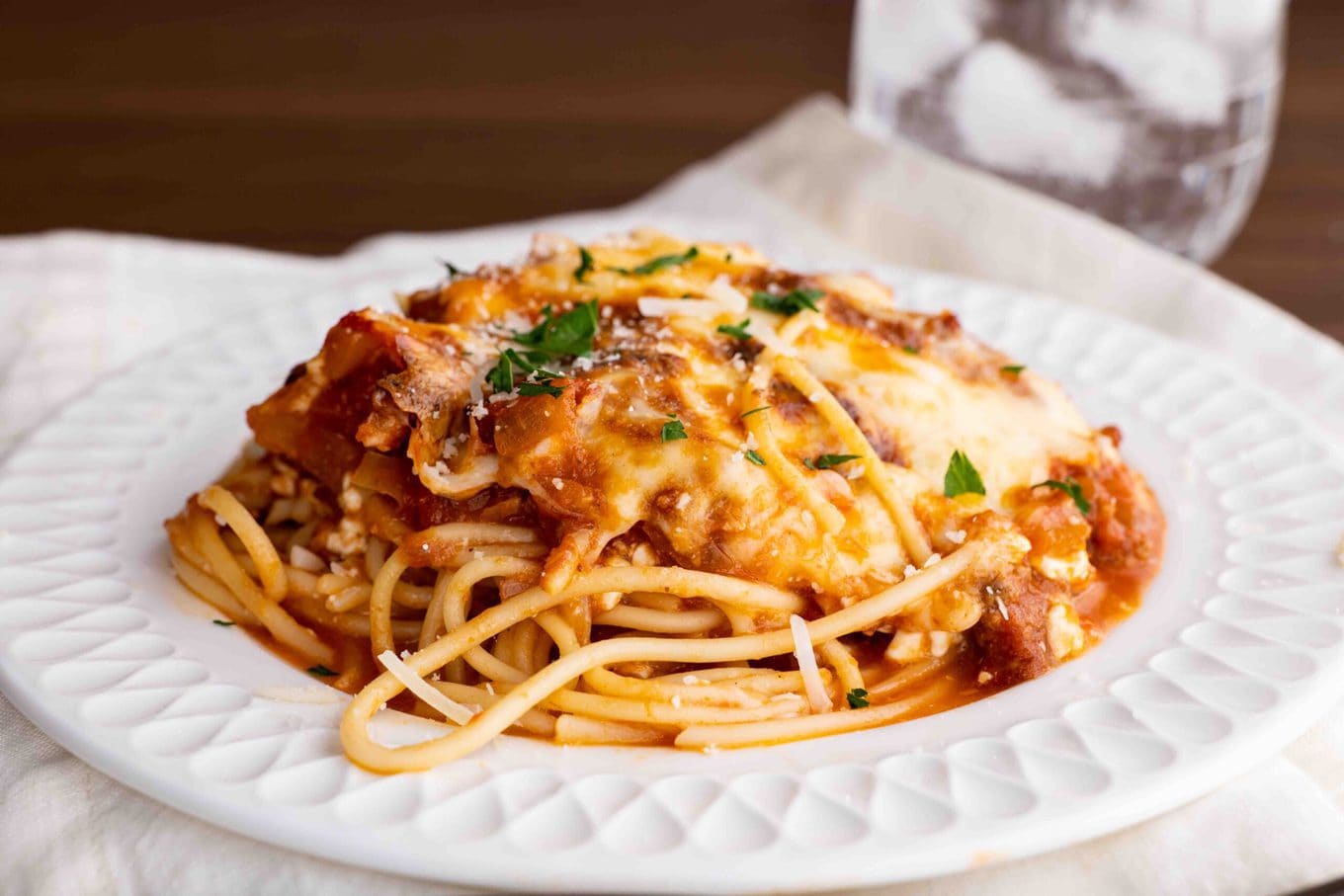 Ingredients
1

pound

spaghetti

1

pound

ground beef

1

yellow onion

, chopped

4

cups

Marinara Sauce

1/2

teaspoon

kosher salt

2

large

eggs

5

tablespoons

unsalted butter

, melted

2

cups

cottage cheese

, divided

4

cups

mozzarella cheese

, shredded and divided
Instructions
Preheat oven to 350 degrees and spray a 9×13 baking dish with vegetable oil spray.

Cook pasta 2 minutes shy of the directions.

Add meat and onions to a large skillet on medium-high heat and brown while breaking it apart until fully cooked, about

5-6 minutes

.

Add in the Marinara Sauce and mix well.

Toss the noodles in the salt, eggs and butter.

Put half the pasta in the bottom of the baking dish, then add half the cottage cheese, half the meat sauce and half the mozzarella.

Top with the rest of the noodles, the rest of the cottage cheese, meat sauce and mozzarella.

Cover with foil and bake for

30 minutes

, remove the foil and bake an additional

15 minutes

or until the cheese on top is crispy and golden brown.
Nutrition
Calories:
651
kcal
|
Carbohydrates:
53
g
|
Protein:
41
g
|
Fat:
30
g
|
Saturated Fat:
16
g
|
Cholesterol:
162
mg
|
Sodium:
1406
mg
|
Potassium:
855
mg
|
Fiber:
4
g
|
Sugar:
9
g
|
Vitamin A:
1285
IU
|
Vitamin C:
9.6
mg
|
Calcium:
378
mg
|
Iron:
3.8
mg
Photos used in a previous version of this post.