Baked Rigatoni is the perfect filling weeknight meal with pasta, sausage, marinara sauce, and melty cheese all baked in one pan.
This is such an easy family Dinner perfect for any weekday. You can also use it for meal prep or bring it to potlucks. For more delicious pasta bakes, try our Cheesy Beef Pasta Bake and Chicken Bacon Ranch Pasta Bake.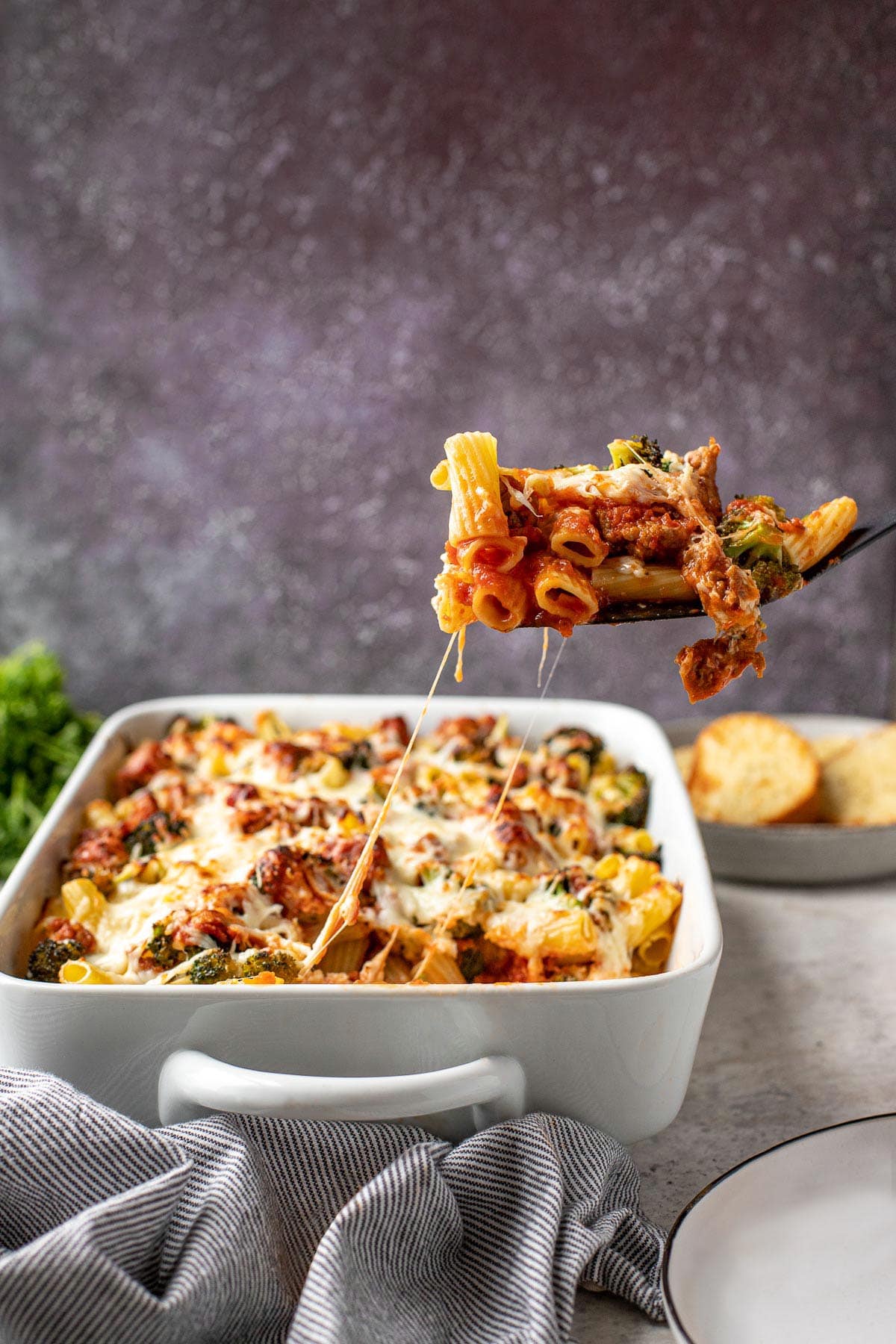 If you're looking for an easy meal that everyone is going to love, then you can't go wrong with this classic pasta bake. This Baked Rigatoni recipe is made with pasta and sausage for a filling dish. Delicious marinara sauce adds classic Italian flavor, and you get a dose of vegetables by mixing broccoli florets in with the baked noodles. Plus, it's a cheese lover's dream with layers of mozzarella, parmesan, and ricotta baked into the layers for the ultimate comfort food.
Baked Rigatoni is perfect for gifting to a loved one on those occasions when you want to help them out. Drop it off to a new mother, a friend who's recently lost a loved one, or a neighbor that had to undergo a surgery. You can even assemble it in a disposable foil baking dish before baking, and leave instructions for them to heat and serve. It is an easy way to offer support and lighten someone's load, and nothing is more comforting than a hot home cooked meal.
This hearty, crowd pleasing pasta casserole makes an easy weeknight dinner. Once it's done be sure to serve this cheesy pasta bake with amazing side dishes like Garlic Bread, Mushroom Risotto, or a fresh tossed salad.
What is the difference between Rigatoni and Ziti?
Rigatoni and Ziti are both tubular shaped pastas that are often used for saucy baked casseroles. The main differences are the texture and size. Ziti tends to be smooth and slightly narrower, while rigatoni are wider, shorter, and have a ribbed texture. This makes rigatoni ideal for holding onto meaty sauces like in this Baked Rigatoni recipe.
How to Make Baked Rigatoni
Prep time: Preheat your oven to 375 degrees and spray a 9×13 inch baking dish with nonstick cooking spray.
Cook pasta: Put a pot of water on the stovetop, and cook the rigatoni pasta just 3 minutes shy of the box instructions. Then drain the pasta water and toss it in olive oil.
Brown sausage: Add the Italian sausage to a large, heavy pot over medium-high heat. Break the meat apart with a spatula to break the sausage out of their casings if you're using sausage links. Cook the sausage for about 4-5 minutes until cooked through and browned.
Sauce: Add the garlic, basil, and oregano to the pot and stir for 30 seconds. Then add the broccoli, and stir again. Next, add the beef broth, and stir.
Combine: Spread a cup of marinara sauce over the bottom of the casserole dish, then layer in the cooked pasta. Add half the parmesan cheese, half the mozzarella, and all the ricotta cheese. Then top with 2 cups marinara. Add the remaining pasta and the pasta sauce. Then top it all off with parmesan cheese and mozzarella cheese.
Cook time: Put the Rigatoni Pasta Bake in the oven and bake for 20-25 minutes until all three types of cheese are bubbly and it's lightly golden brown on top.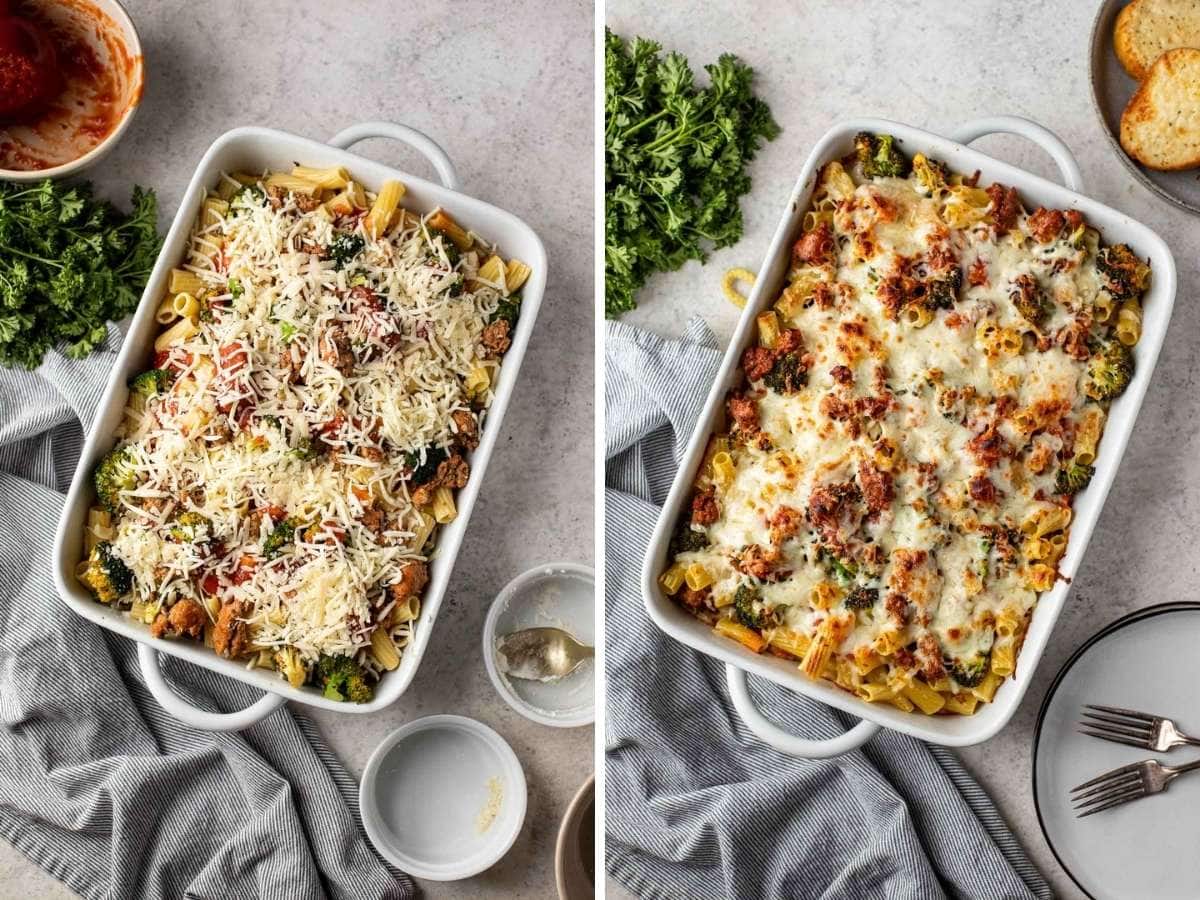 Baked Pasta Dishes
Frequently Asked Questions
How do I keep baked pasta from becoming mushy?
When you boil the pasta, undercook it by about 3 minutes shy of the directions on the box. It will still be slightly more firm than al dente. This way, the pasta can finish cooking in the oven and will absorb some of the sauce and broth you will add to it. You can also leave some of the noodles uncovered by the sauce and cheese so that you get some nice crunchy baked bites on top.
How do I make Spicy Baked Rigatoni?
If you'd like to add a kick to your Baked Rigatoni, use hot Italian sausage instead of regular. You can also add some red pepper flakes to the marinara sauce, or use a spicy arrabbiata sauce instead of marinara.
How do I make Vegetarian Baked Rigatoni?
To make this Rigatoni Pasta Bake vegetarian, you can just leave the sausage out. Swap the cup of beef broth for a cup of reserved pasta water before you drain it. Then add other vegetables to round out the dish with some more filling ingredients.
How do I make Gluten Free Baked Rigatoni?
Simply swap out the regular rigatoni for your favorite gluten free alternative. You will still cook it to al dente before assembling and baking the dish. Check the pasta a few minutes shy of the cooking time on the package and be careful not to overcook gluten free pasta.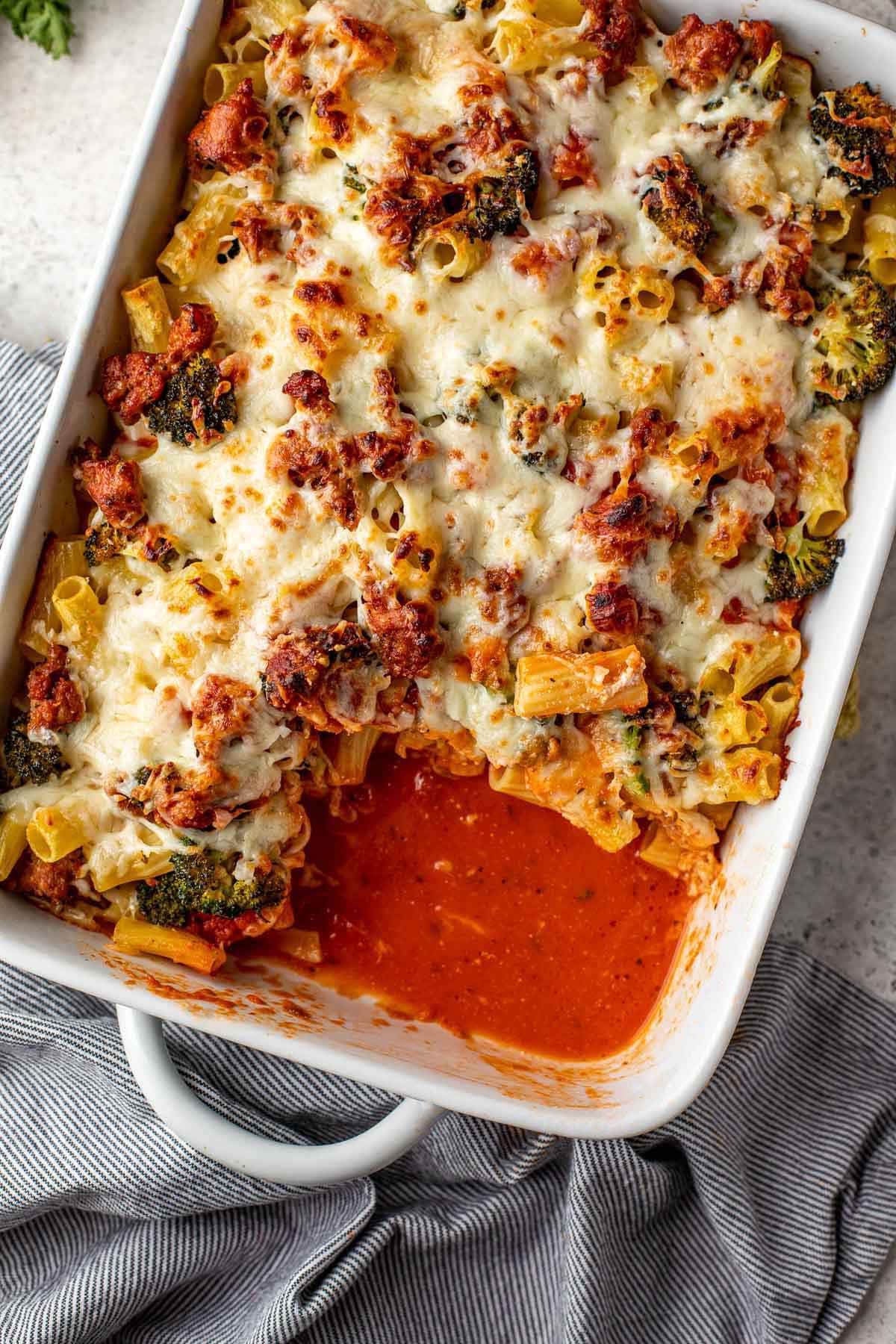 Create a free account to Save Recipes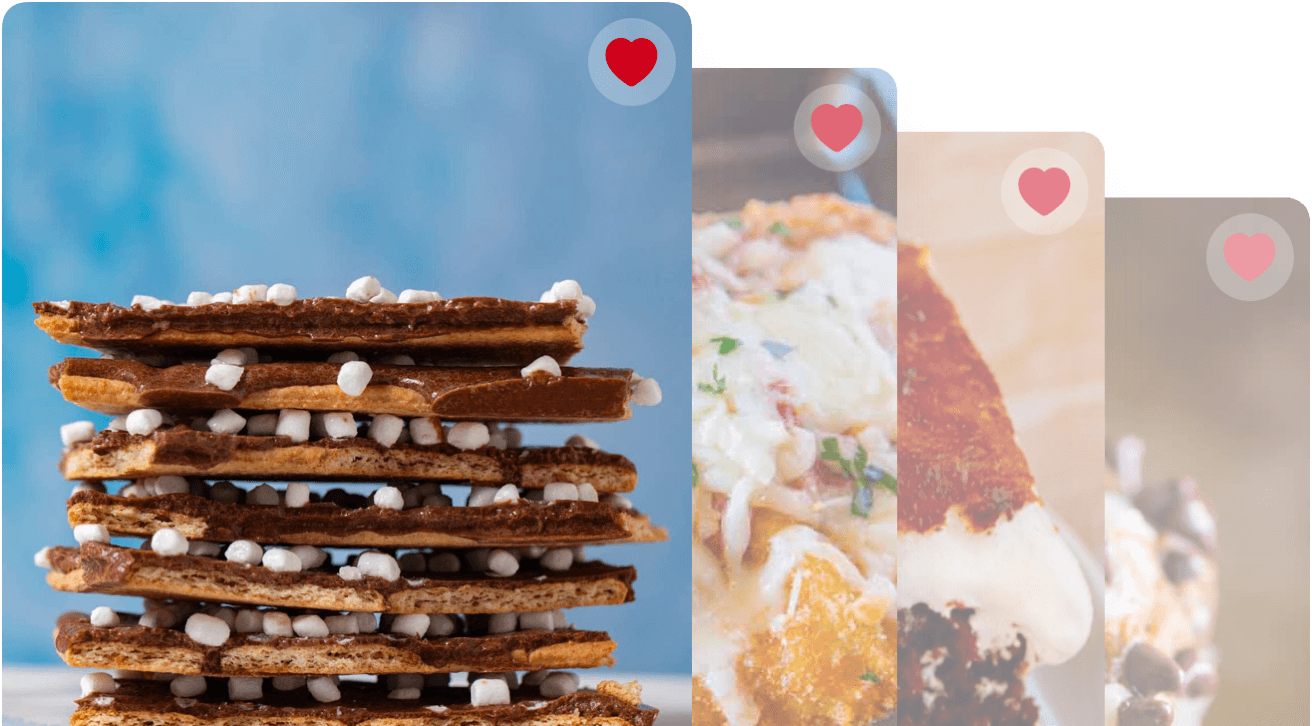 Key Ingredients in Baked Rigatoni
Pasta: Rigatoni noodles are perfect for this Italian dish. They have a sturdy shape that holds up well when baked. The ridges also help the meat sauce and cheese to stick to the noodles.
Sausage: Italian sausage is a great way to add extra hearty flavor and protein to your Rigatoni Pasta Bake. Purchase fresh sausage, not the kind that is already smoked, and remove from the casing to crumble and brown.
Marinara Sauce: For the pasta sauce in this recipe you can follow our easy recipe for Easy Marinara Sauce, or pick up your favorite brand of jarred sauce.
Cheese: This cheesy dish uses a blend of Parmesan, mozzarella, and ricotta cheese. The classic Italian cheeses melt perfectly while the dish bakes for the perfect, gooey cheese bake.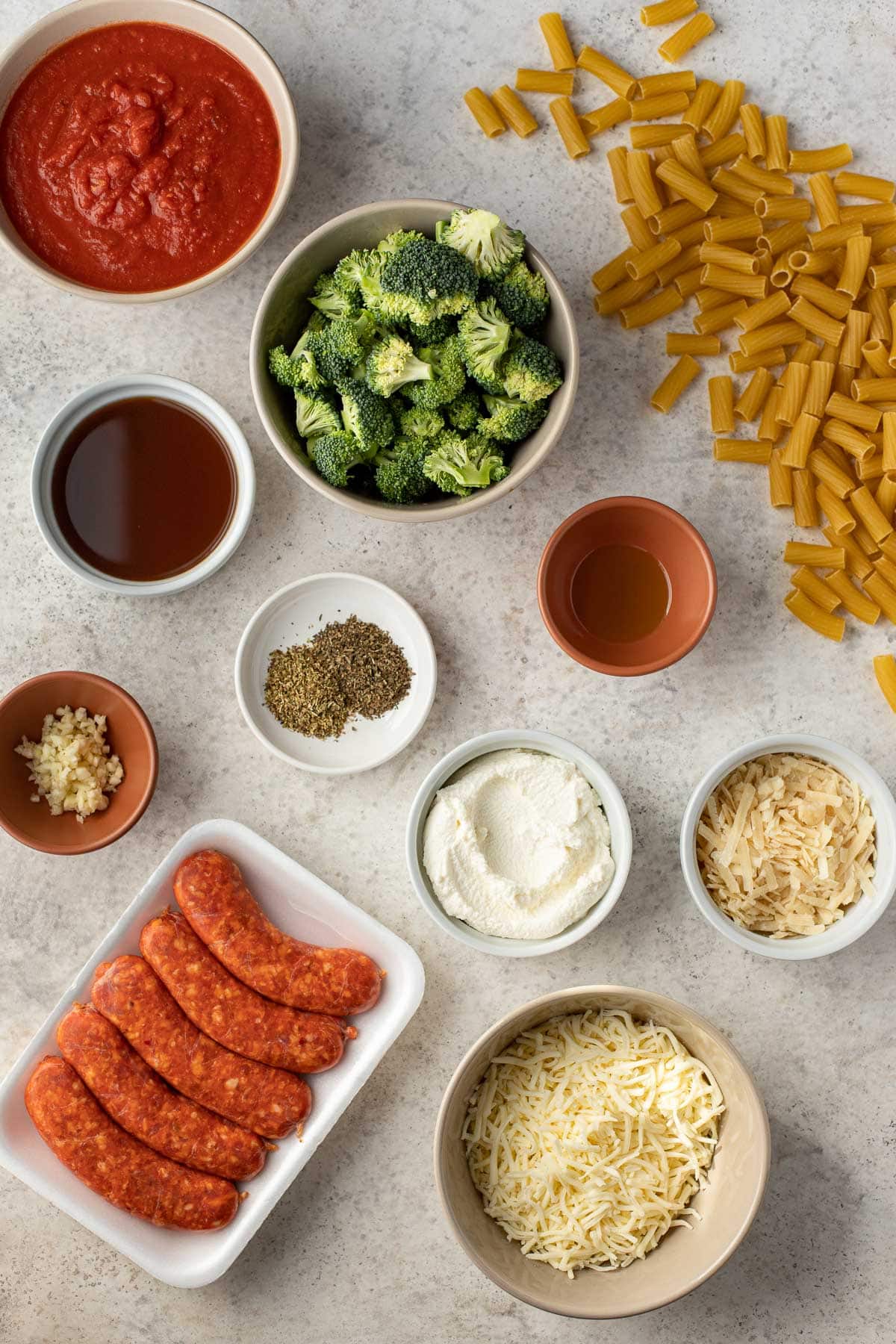 Can Baked Rigatoni be Made in Advance?
To meal prep this casserole, follow the recipe right up to the point of baking. Then cover the dish in plastic wrap or aluminum foil. You can keep it in the fridge or freezer until you're ready to cook it in the oven and serve. You can also assemble the ingredients in smaller disposable foil baking dishes, then wrap tightly in plastic wrap and freeze. When you are ready to bake, thaw in the refrigerator overnight or bake directly from frozen. You'll have a delicious home cooked individual meal at the ready.
Variations on Baked Rigatoni
Ground beef: You can make a beefy pasta sauce by replacing the sausage in the meat sauce with ground beef. Use regular beef or lean ground beef, depending on your preference. Either one will give the Rigatoni Pasta Bake a delicious beefy flavor.
Chicken: Lighten up this baked dish by using chicken instead of sausage. This is a great way to use up leftover grilled chicken or rotisserie. You can also use an Italian flavored chicken sausage or ground chicken.
Pasta: If you don't have rigatoni, try another kind of delicious pasta like farfalle, ziti, rotini, shells, or penne pasta.
Vegetables: You can add more vegetables like bell peppers, olives, artichoke hearts, mushrooms, zucchini onions, fresh spinach or diced tomatoes.
Seasonings: You can also add flavoring with different kinds of herbs and spices. Try adding red pepper flakes, onion powder, and paprika. You can also add fresh parsley, oregano sprigs, or fresh basil to the top for garnish.
Cheese: Different types of cheese like Swiss, provolone, fresh mozzarella, fontina, or gouda would taste amazing in this Rigatoni Pasta Bake as well.
Baked Alfredo Rigatoni: Substitute the marinara for this Easy Alfredo Sauce to make a super creamy cheese pasta. When assembling, leave out the 1 cup Parmesan, because you will already have lots of Parmesan flavor in the Alfredo sauce.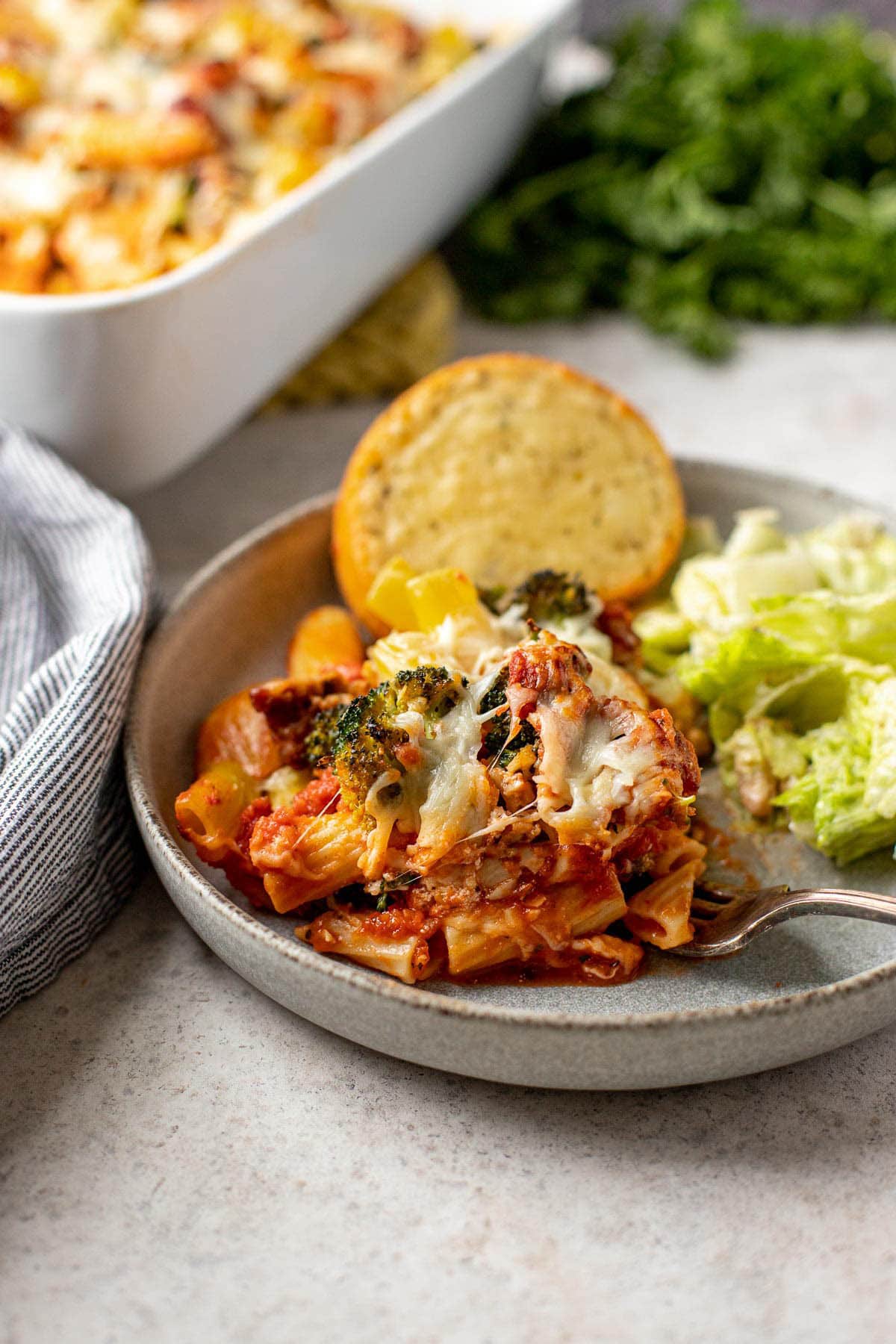 Italian Favorites
How to Store Baked Rigatoni
Serve: Don't leave the Rigatoni Pasta Bake at room temperature for more than two hours.
Store: If you have any leftovers, cover the dish in aluminum foil, and store it in the fridge for 3-4 days.
Freeze: Casseroles like this are great for freezing. Carefully seal the dish and keep it for up to 6 months.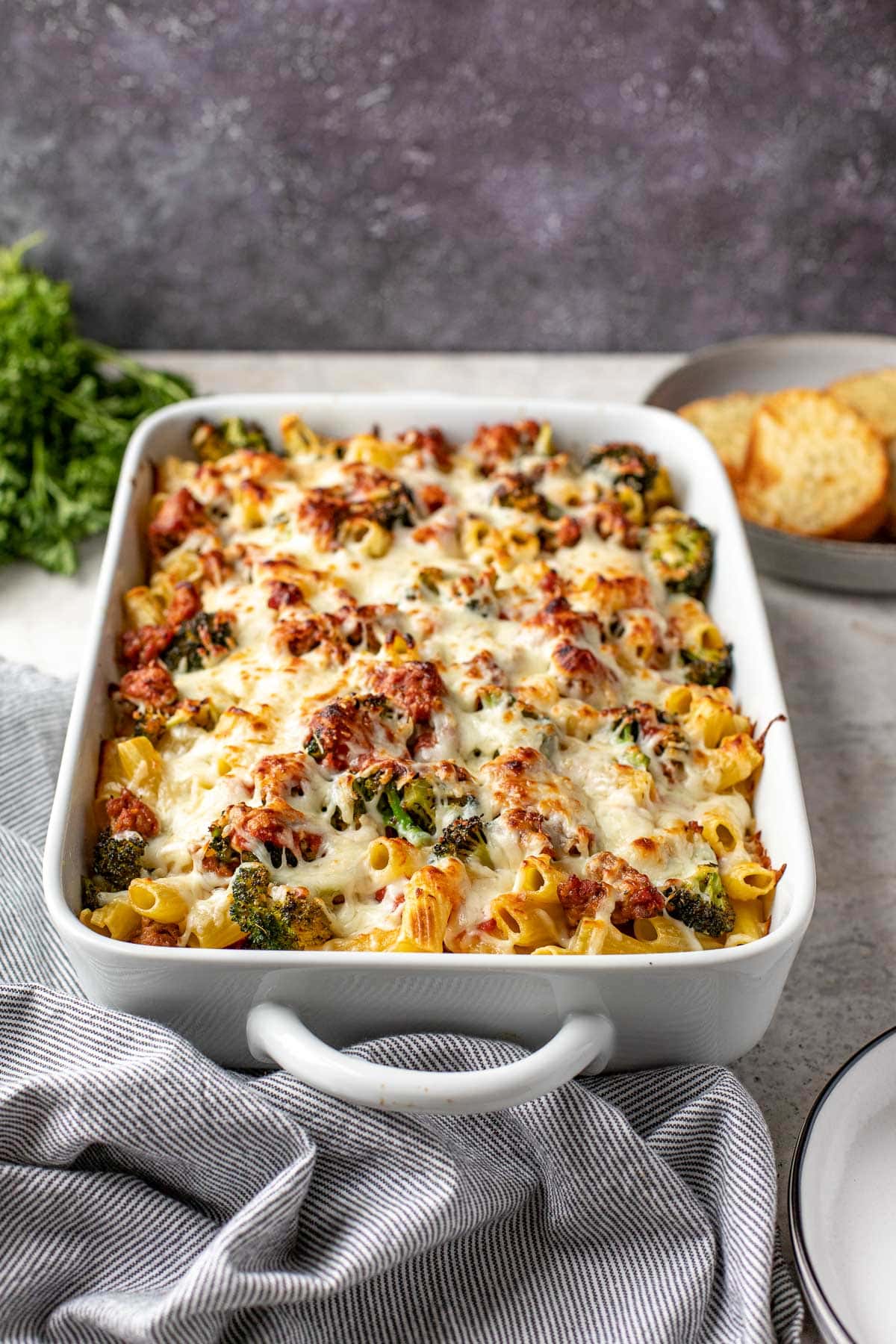 Ingredients
1

pound

rigatoni pasta

1

tablespoon

olive oil

1

pound

Italian sausage

3

cloves

garlic

, minced

1

teaspoon

dried basil

1

teaspoon

dried oregano

3

cups

broccoli florets

1

cup

beef broth

4

cups

Marinara Sauce

1

cup

Parmesan cheese

, shredded

2

cups

mozzarella cheese

, shredded

1

cup

ricotta cheese
Instructions
Pre-heat oven to 375 degrees and spray a 9x13 baking dish with vegetable oil spray.

Cook rigatoni 3 minutes shy of the directions on the box.

Drain, then toss with olive oil.

Add sausage to a large heavy pot on medium high heat, breaking it apart with a spatula (remove sausage from casings if you bought sausage links).

Cook the sausage, keep the crumbles larger, until completely cooked through, about

4-5 minutes.

Add in the garlic, basil and oregano, stir and cook for

30 seconds.

Add in the broccoli and stir well, then add in the beef broth and stir.

Add one cup of marinara sauce to the bottom of the baking dish.

Layer with half the pasta.

Top with half the parmesan cheese, half the mozzarella cheese and all the ricotta.

Top with 2 cups of marinara sauce.

Add remaining pasta, the remaining one cup pasta sauce, the remaining Parmesan cheese and mozzarella cheese.

Bake for

20-25 minutes

or until cheese is bubbly and golden brown.
Nutrition
Calories:
327
kcal
|
Carbohydrates:
27
g
|
Protein:
16
g
|
Fat:
17
g
|
Saturated Fat:
8
g
|
Polyunsaturated Fat:
2
g
|
Monounsaturated Fat:
7
g
|
Cholesterol:
45
mg
|
Sodium:
792
mg
|
Potassium:
438
mg
|
Fiber:
2
g
|
Sugar:
4
g
|
Vitamin A:
586
IU
|
Vitamin C:
20
mg
|
Calcium:
209
mg
|
Iron:
2
mg