Cheesy Taco Lasagna takes all your favorite taco ingredients like beans, salsa, cheese, and peppers and bakes them in layers of tortillas.
This delicious twist on lasagna is the perfect Mexican meal for an Easy Dinner. It takes flavor inspiration from Beef Tacos but bakes it all into an easy, shareable, and comforting casserole dish, just like Chicken Parmesan Stuffed Shells and Philly Cheesesteak Mac and Cheese.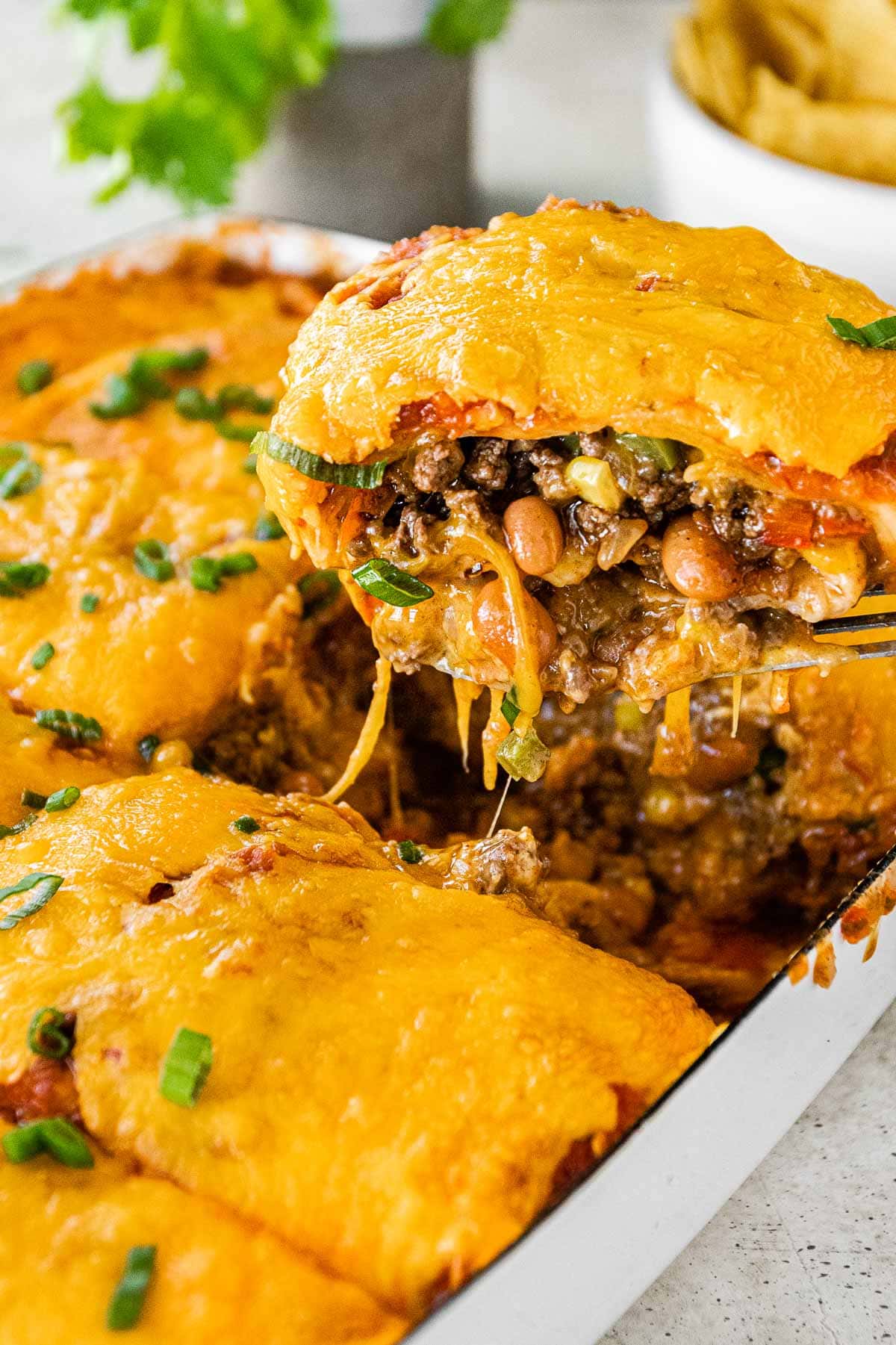 If you have all the fixings for tacos but are in the mood for comfort food, this Cheesy Taco Lasagna recipe is the best of both worlds. You get all the iconic flavor from savory taco meat, beans, salsa, and tortillas, but they're all baked into a crowd-pleasing casserole recipe.
This delicious dinner idea is perfect for a weeknight dinner or to bring along to a potluck. If you're serving a big group, it can save you from a lot of mess because instead of everyone making their own tacos, it's all baked into one casserole dish to scoop up into filling servings. Plus, the surprising but familiar dish gets eaten fast!
If the name Taco Lasagna sounds a little too crazy, don't worry! The casserole isn't made with actual lasagna noodles. Instead, crispy flour or corn tortillas are layered with meat, beans, and veggies. This dish would taste just as good with pasta though, so feel free to swap the flour tortillas with cooked noodles.
This delicious and simple family-friendly meal is great served with more flavor from classic taco toppings. Try adding chopped green onion, sour cream, extra Salsa, hot sauce, or Guacamole to the top of your serving. You can experiment with all different add-ons depending on your taste.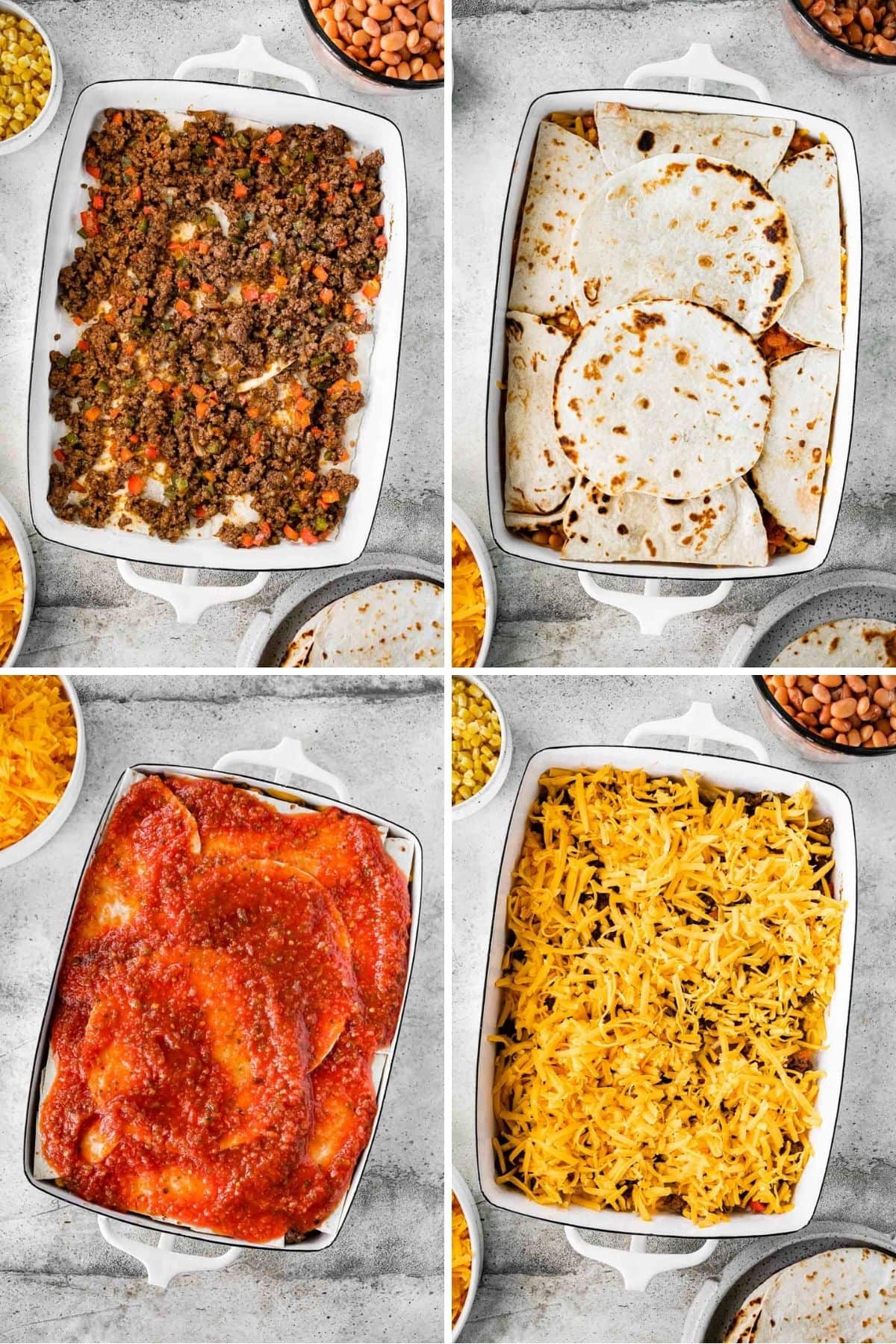 How to Make Cheesy Taco Lasagna
Prep time: Start by preheating the oven temperature to 375 degrees. Prep a 9×13-inch baking dish with cooking spray.
Beef mixture: Add the ground beef, diced onions, and red and green bell pepper to a large Dutch oven. Cook over medium-high heat until the meat mixture is completely cooked through, breaking the beef apart with a wooden spoon as you cook. Add the water and taco seasoning to the mix. Stir it all until the mixture is well blended. You can put the stove on a low simmer to keep the meat warm after the cooking time.
Tortillas: Add vegetable oil to a large skillet and put it over medium heat. Then add the tortillas. Cook each tortilla for about 20 seconds on each side until they're crispy.
Salsa: Add the salsa to your food processor, then puree the mixture until mostly smooth.
Layering: Spread the salsa over the baking dish. Add a layer of tortillas followed by the beef mixture, cheddar cheese blend, pinto beans, and corn. Top that off with another layer of tortillas, the remaining salsa, and a handful of cheese.
Cook time: Put the dish in the preheated oven to bake for 40-45 minutes. Then let the Cheesy Taco Lasagna cool for 15 minutes. That way, it won't be too hot, and it will do a better job staying together when you serve it. You can add any of your favorite taco toppings to finish.
More Mexican Dinner Recipes
Frequently Asked Questions
What can I serve with Cheesy Taco Lasagna?
A light refreshing side would taste great with the spicy cheesy flavors of this taco bake. Try pairing it with a Mexican Corn Tomato Salad, or a green salad with Ranch Dressing. Don't forget your favorite taco toppings and a refreshing cerveza to round it out!
How do I make a Vegetarian Taco Lasagna?
To make this dish meat-free, substitute the ground beef for your favorite meatless crumble, or replace it with an additional type of bean such as black beans or kidney beans.
Can I make Taco Lasagna low carb?
There are many varieties of low-carb and keto tortillas in grocery stores. Use your favorite low-carb corn or flour tortilla in place of traditional ones if you want to save carbs with this recipe. Or make it completely keto by omitting the tortillas and replacing them with thinly sliced zucchini or eggplant. To keep the veggies from making the casserole runny, grill them first. Another way to remove excess moisture is to sprinkle salt on them and let them sit for about 20 minutes. Then rinse and pat dry before assembling the Taco Lasagna.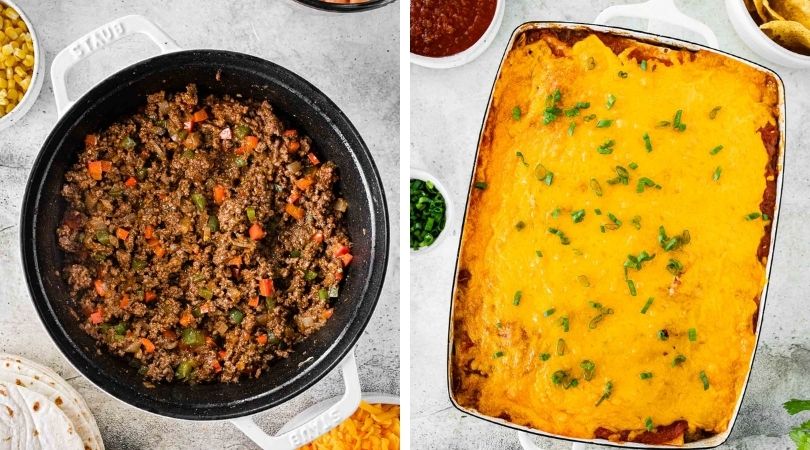 Create a free account to Save Recipes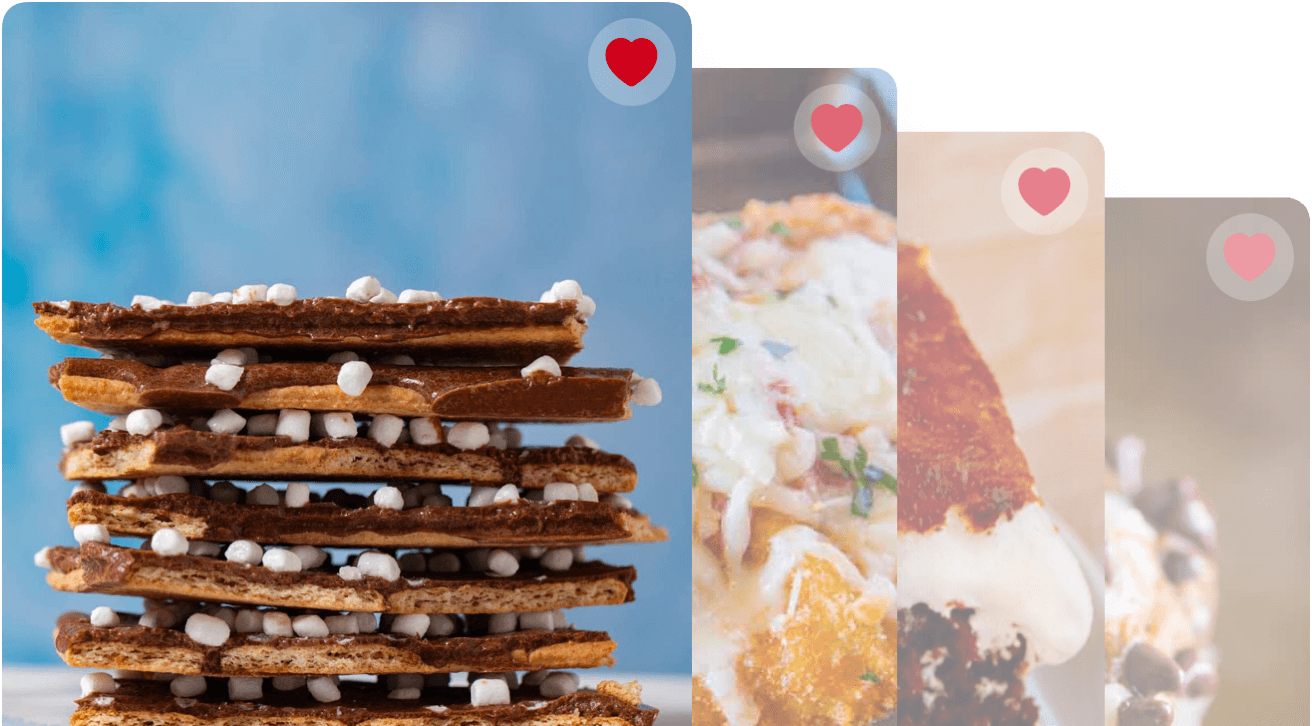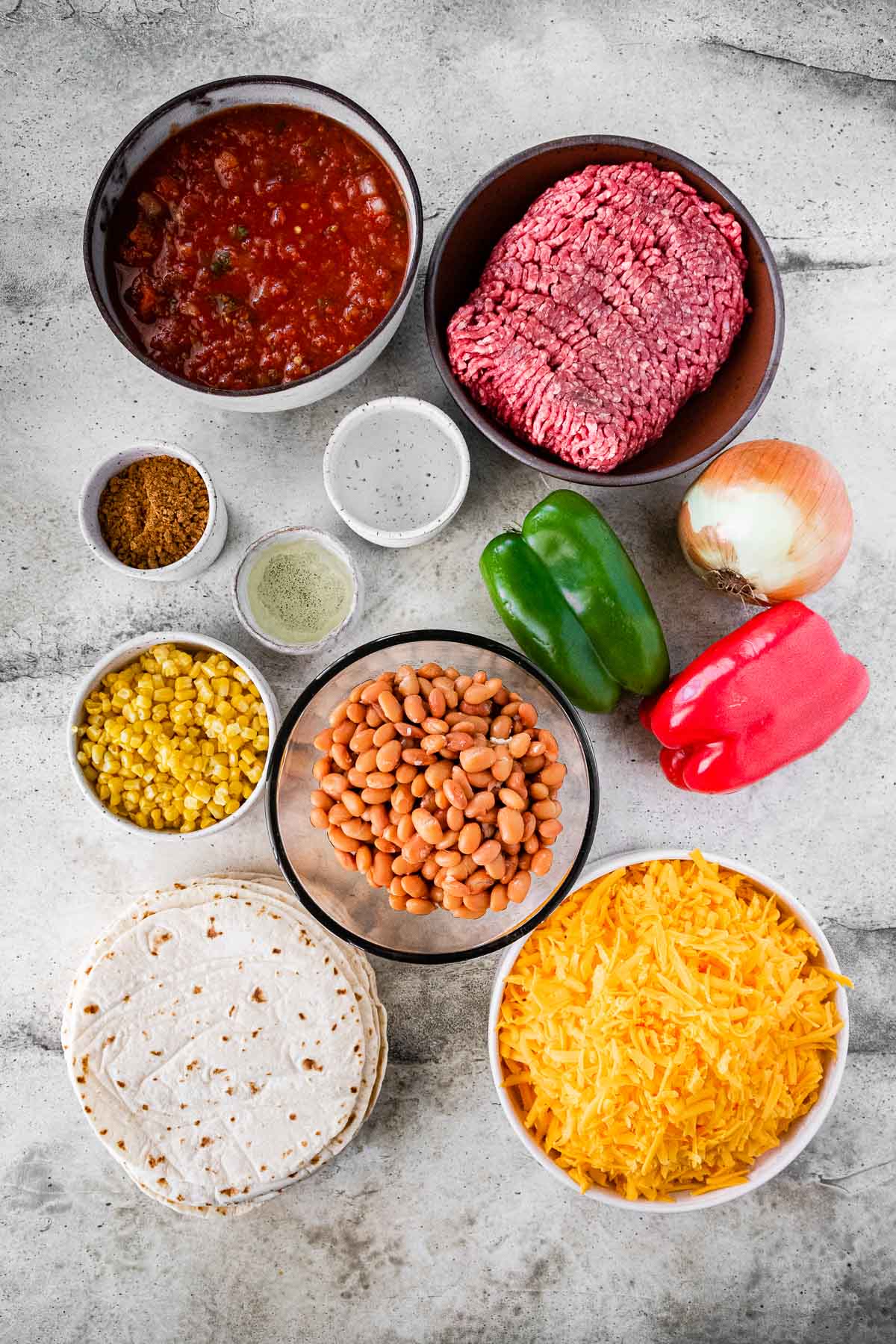 Key Ingredients in Cheesy Taco Lasagna
Ground beef: To make the seasoned taco ground beef, all you need is 2 pounds of ground beef, taco seasoning, and water. Ground beef is easy to flavor and cook quickly. The standard is to use 85/15 beef, which means that it's 85 percent lean and 15 percent fat. If you want a slightly leaner batch of taco meat, just use 90/10 beef.
Veggies: Along with the basic meat ingredients bell peppers and onion add lots of flavor. Dice the veggies so that there aren't very large pieces in the meat mixture. Then cook them with the meat for a more fragrant and mouthwatering recipe.
Tortillas: We've used tortillas to replace pasta in this Taco Lasagna recipe. Cook up the tortillas so they're a little crisp. That way, they'll be sturdy enough to hold up the layers of meat, veggies, and beans.
Salsa: Another important recipe in Cheesy Taco Lasagna is salsa. Use mild to spicy salsa depending on your taste. The spicy tomato sauce helps keep the inside of the lasagna moist and adds lots of flavor.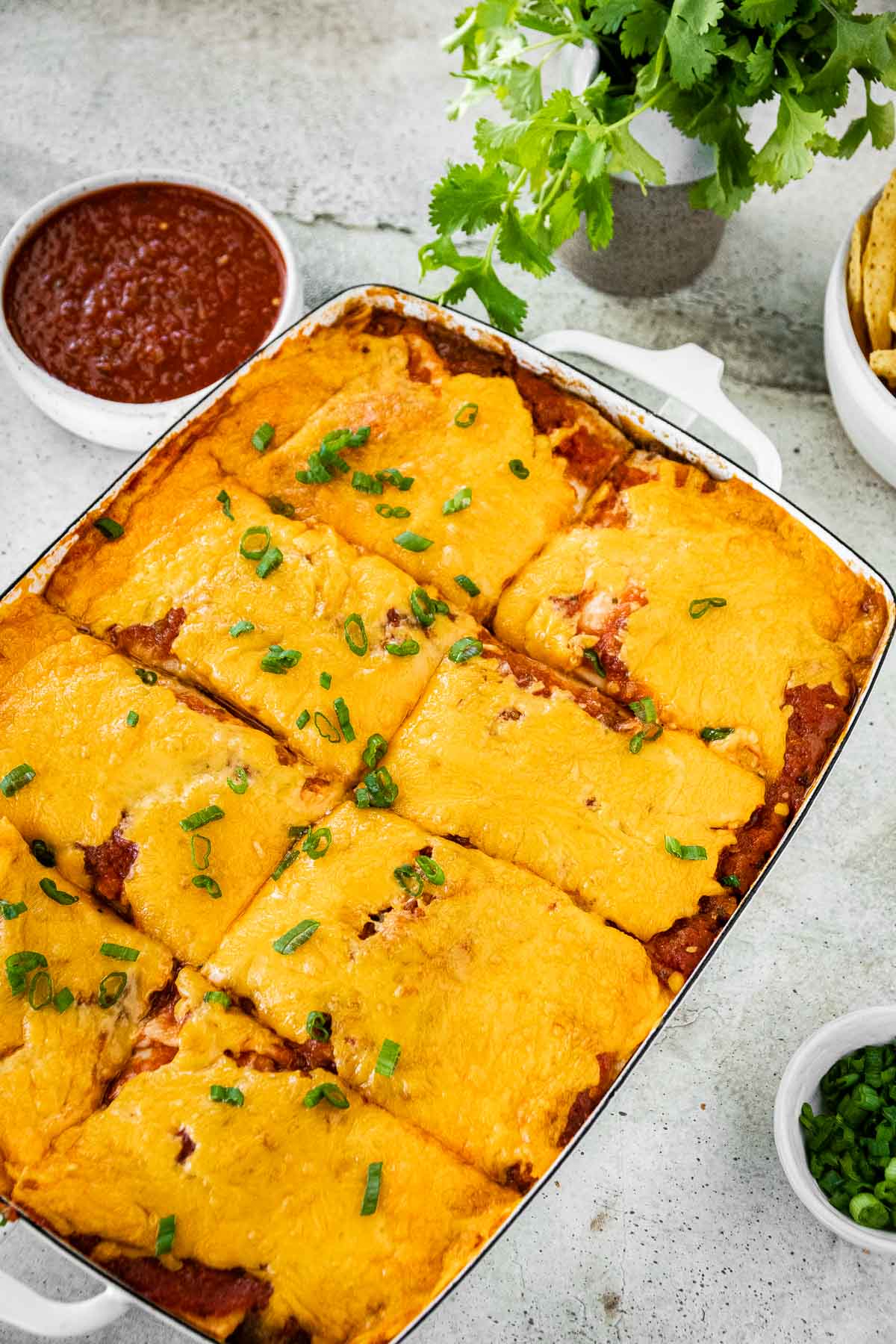 Can Cheesy Taco Lasagna be made ahead of time?
Yes! Prepare the lasagna in advance and store it in the refrigerator for up to 24 hours before baking. When you're ready to bake, remove the lasagna from the fridge and let it sit at room temperature for about 30 minutes. Then, bake as directed in the recipe. If the lasagna is still cold when you put it in the oven, you may need to increase the baking time by a few minutes to ensure it is heated through.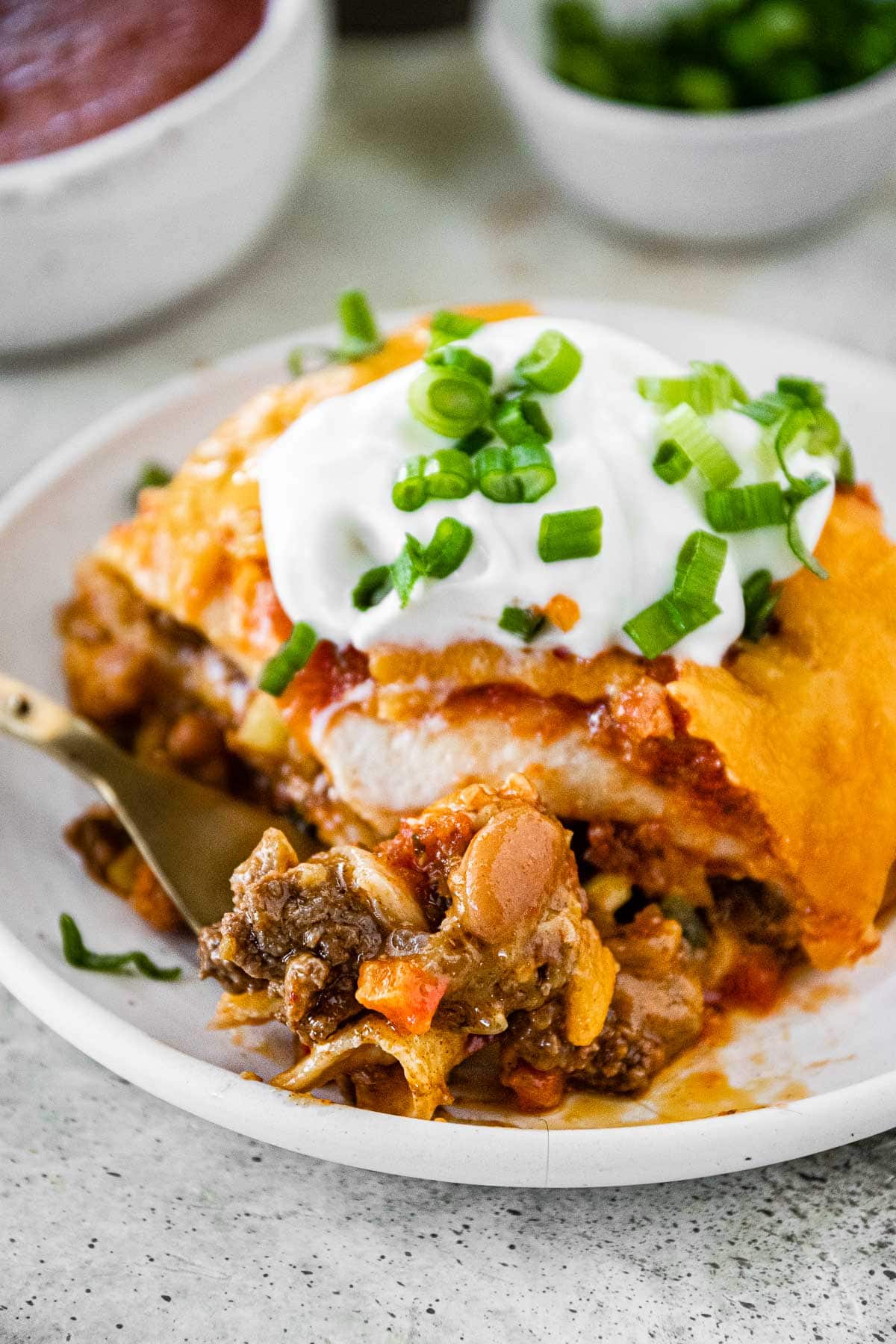 Variations on Cheesy Taco Lasagna
Beans: You can use different kinds of beans instead of just pinto beans. Navy beans, black beans, or refried beans would all taste amazing in the Cheesy Taco Lasagna. You could also do a bean mixture with a layer of refried beans topped off with pinto beans.
Cheese Mix: Try using different types of cheese in your taco lasagna. Of course, you can choose if you want mild, medium, or sharp cheddar cheese depending on your taste. But, you can also try out completely different cheese varieties like pepper jack, mozzarella, Swiss, or Monterey Jack. You can also pick up a Mexican cheese blend at the grocery store.
Seasonings: For extra flavor, add your favorite seasonings like a teaspoon of garlic powder, cumin, oregano, or paprika. If you want to make the meat mixture extra spicy, you could also add cayenne pepper or red pepper flakes.
Meat: If you're trying to avoid red meat, then you can replace the ground beef with ground turkey, or ground chicken or use a vegan ground meat crumble.
Veggies: There are lots of vegetable add-ins that would taste great in this Taco Casserole. Try adding chipotle peppers, fire-roasted diced tomatoes, chopped cherry tomatoes, or green onion.
Regular Lasagna Noodles: If you're feeling adventurous and want to really blend Italian and Mexican, you can make your Taco Lasagna with actual noodles. Boil Lasagna noodles until they're al dente. Layer in the regular lasagna noodles with the meat mixture instead of tortillas. You may want to take out certain parts of the recipe that won't go as well with pasta, like the beans.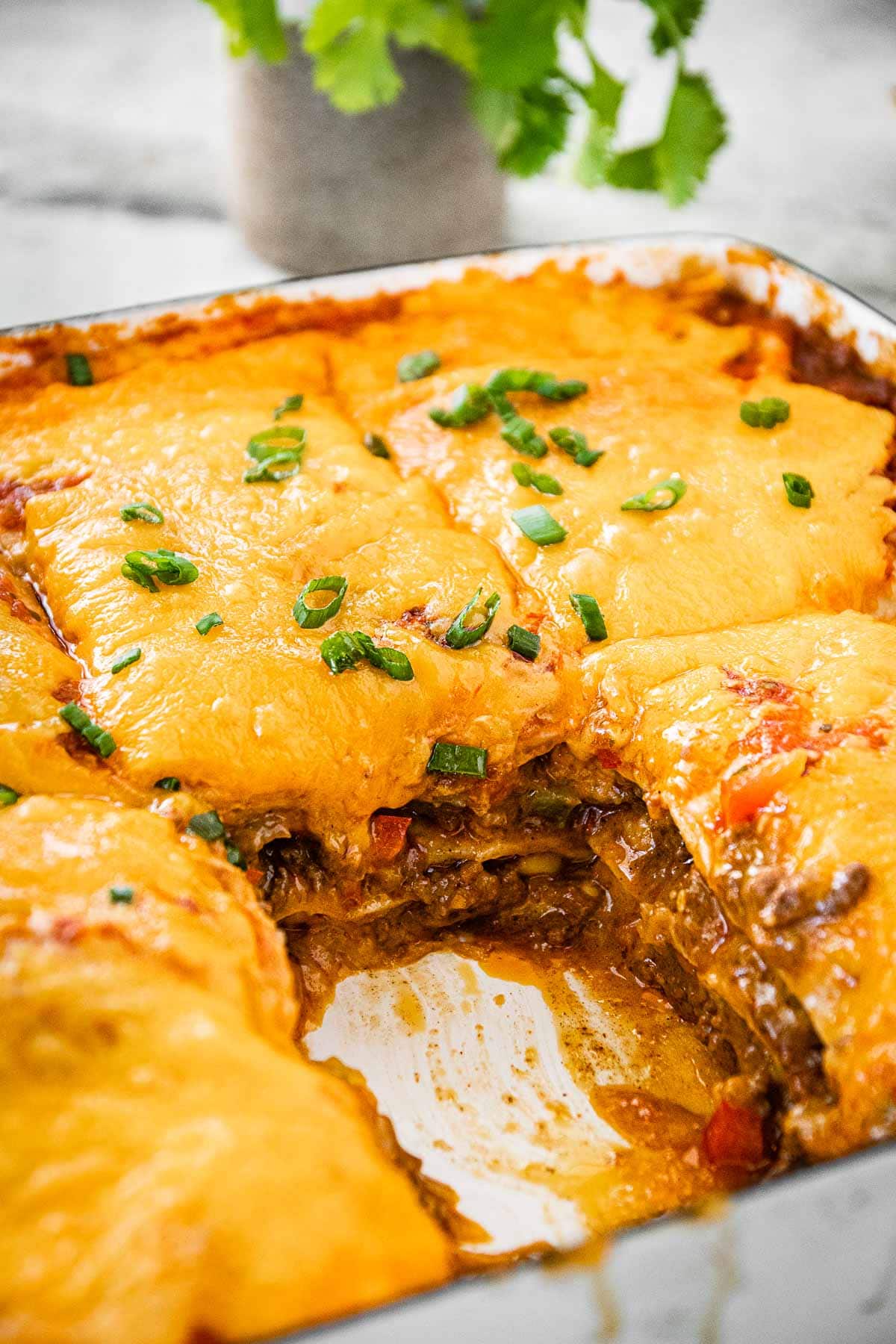 How to Store Cheesy Taco Lasagna
Serve: This Cheesy Taco Lasagna is best served hot and can be at room temperature for up to 2 hours before cooling to storing it.
Store: If you have leftovers, make sure to let the Taco Lasagna cool completely before storing. You can put the covered baking dish in the fridge to store for up to 2 days or separate it into sealed containers.
Freeze: To freeze, carefully wrap the pan with plastic wrap and foil or transfer leftover servings to an airtight container. As long as it's properly sealed, the Cheesy Taco Lasagna will stay good frozen for up to 6 months.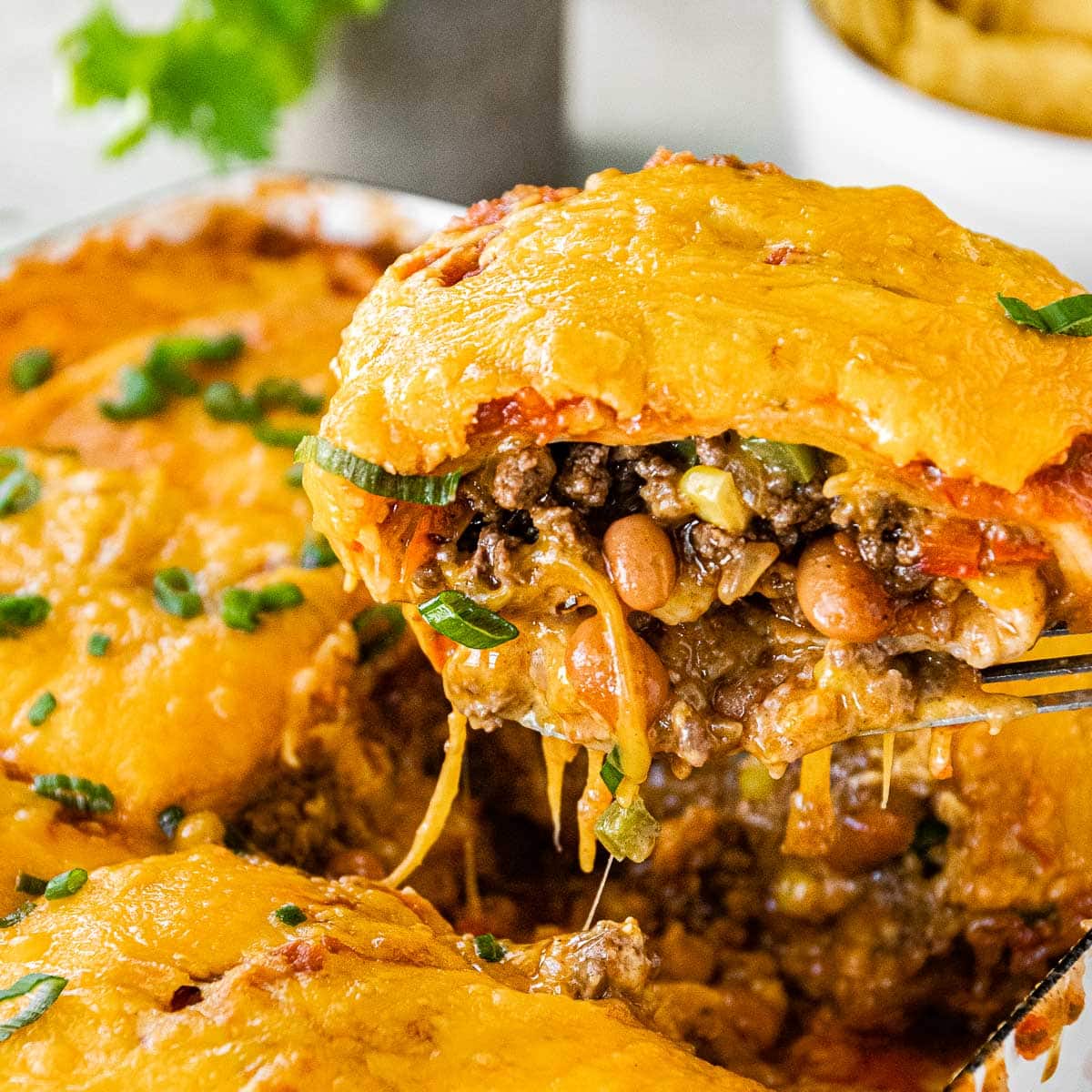 Ingredients
2

pounds

ground beef

, 85/15

1

yellow onion

, diced

1

red bell pepper

, diced

1

green bell pepper

, diced

4

tablespoons

taco seasoning

, 2 packets

1/2

cup

water

18

tortillas

, flour or corn, 6 inch

2

tablespoons

vegetable oil

2

cans

pinto beans

, drained and rinsed

1

cup

corn

4

cups

salsa

4

cups

cheddar cheese

, shredded
Instructions
Preheat the oven to 375 degrees and spray a 9×13 baking pan with cooking spray.

In a large Dutch oven add the ground beef, onions and both bell peppers and cook until the ground beef is fully cooked through, breaking it apart as it cooks then add in the water and taco seasoning mixing it in well and stirring it together.

In a large skillet add the vegetable oil and fry all the tortillas to crisp them up on both sides on medium heat,

20 seconds

on each side.

Add the salsa to your food processor and puree it until it is mostly smooth, then start layering the lasagna.

Layer in the order of salsa, tortilla, beef mixture, cheese, beans, and corn ending with a topping of tortilla then a bit of salsa and a big handful of cheese.

Bake for

40-45 minutes

then cool for

15 minutes

before cutting and serve with and toppings you'd like including more salsa, sour cream or green onions.
Nutrition
Calories:
388
kcal
|
Carbohydrates:
26
g
|
Protein:
22
g
|
Fat:
22
g
|
Saturated Fat:
11
g
|
Polyunsaturated Fat:
1
g
|
Monounsaturated Fat:
8
g
|
Trans Fat:
1
g
|
Cholesterol:
68
mg
|
Sodium:
954
mg
|
Potassium:
492
mg
|
Fiber:
3
g
|
Sugar:
6
g
|
Vitamin A:
940
IU
|
Vitamin C:
18
mg
|
Calcium:
271
mg
|
Iron:
3
mg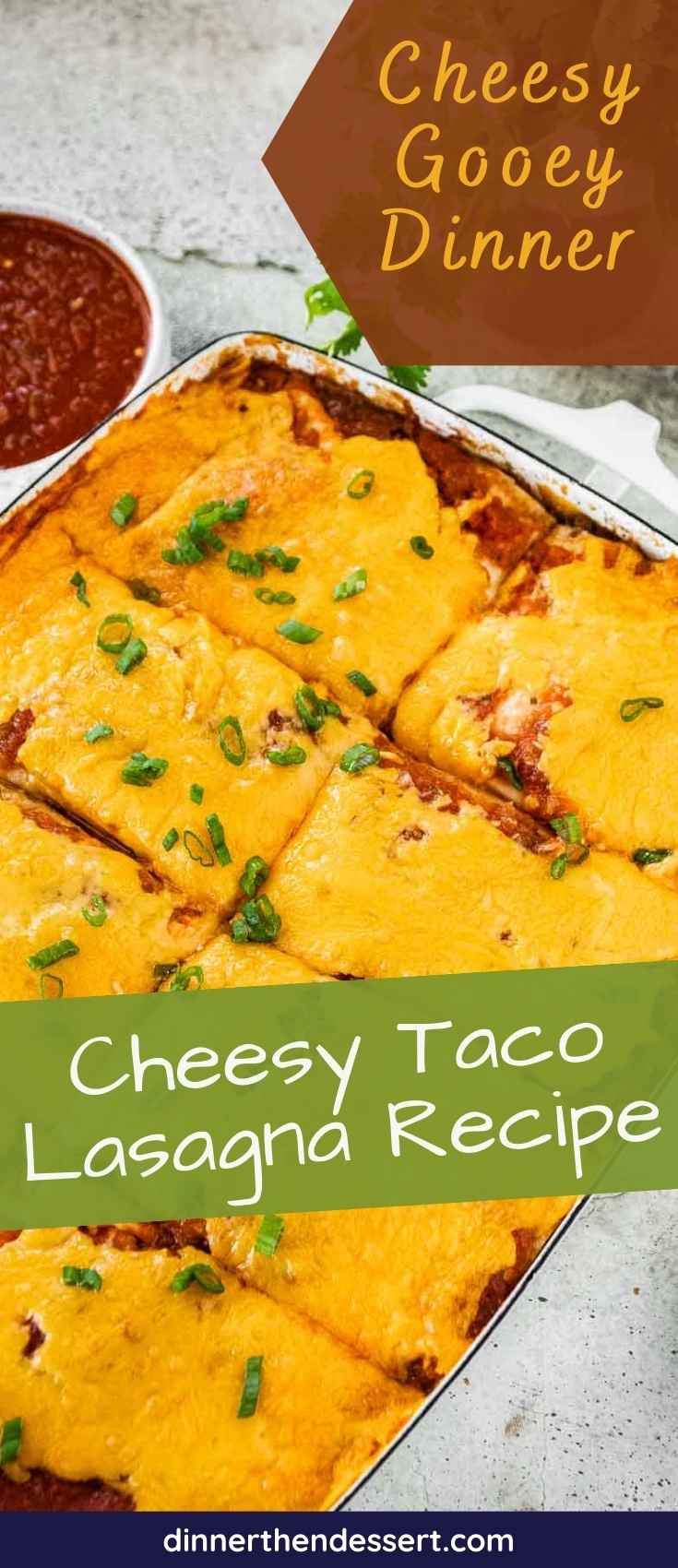 Photos used in a previous version of this post.