Cheesy Herb Muffins are tender, savory, and buttery with dried oregano, thyme, and melty chunks of mozzarella cheese throughout.
These muffins are perfect for a savory breakfast or delicious brunch or to serve as a Side Dish with dinner. The dried herbs and other savory ingredients make this muffin recipe versatile. It goes just as well with your morning eggs as it does with your favorite Soups.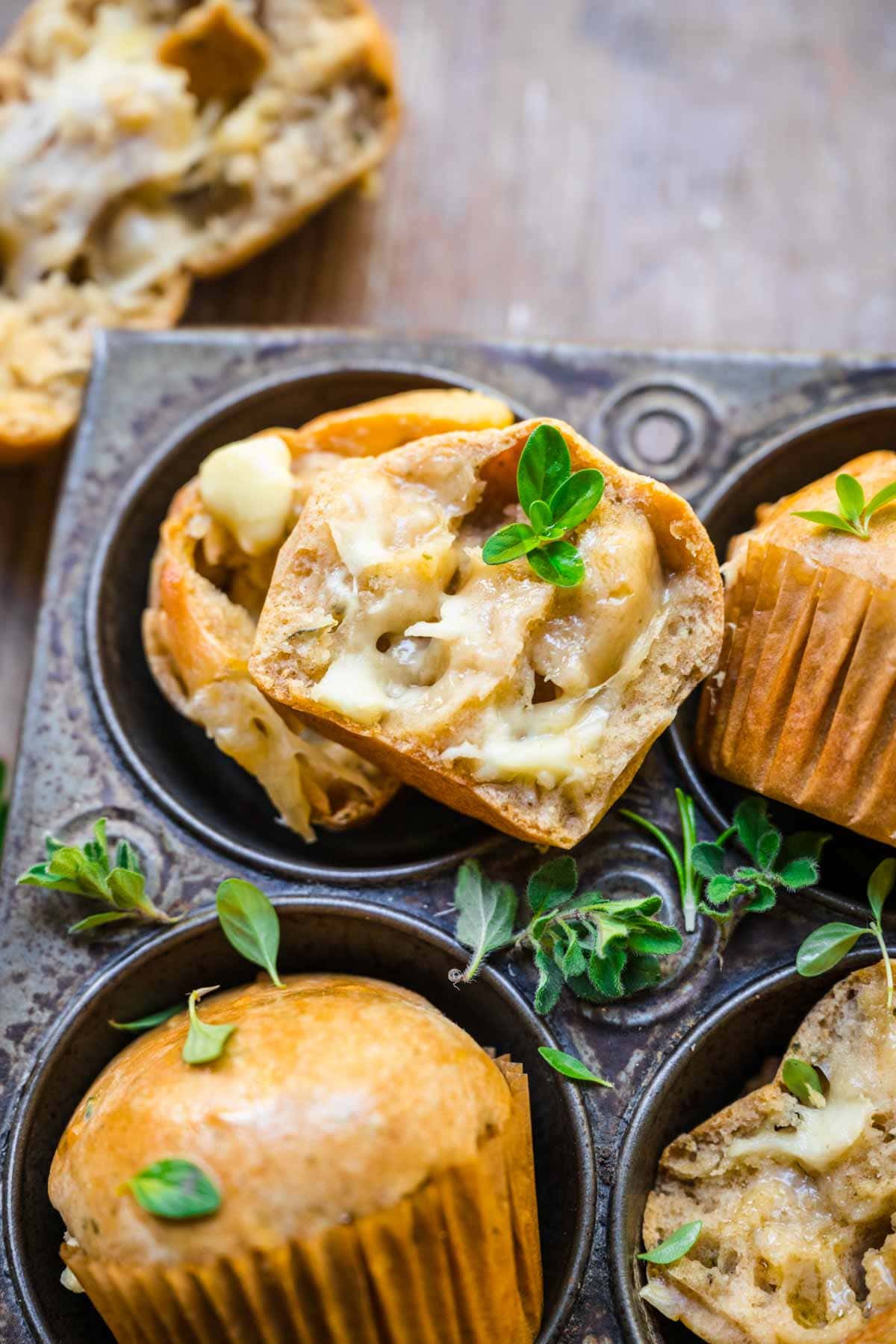 Delicious Herby Cheese Muffins have the same basic ingredients as Cheesy Herb Bread. Baking the hearty ingredients into a muffin instead of a loaf makes them more similar to cheese scones. Baking them up in a muffin tin also makes them easier to eat on the go. You can just grab a Savory Muffin on your way out the door and enjoy a filling snack while you're rushing around.
These muffins also last well in the freezer. If you want to double the full recipe to make extra muffins, you can serve half of them fresh and freeze the rest for later. Then in a few months, you just take the muffins from your freezer and enjoy them after they defrost.
You can use Cheesy Herb Muffins to make a comforting dish even more filling and delicious. Serve these muffins on the side of Beef Chili or Chicken Noodle Soup and dip them in the same way you would with Cornbread. They'll also go well with any number of other dinner ideas like Pot Roast and Chicken breast.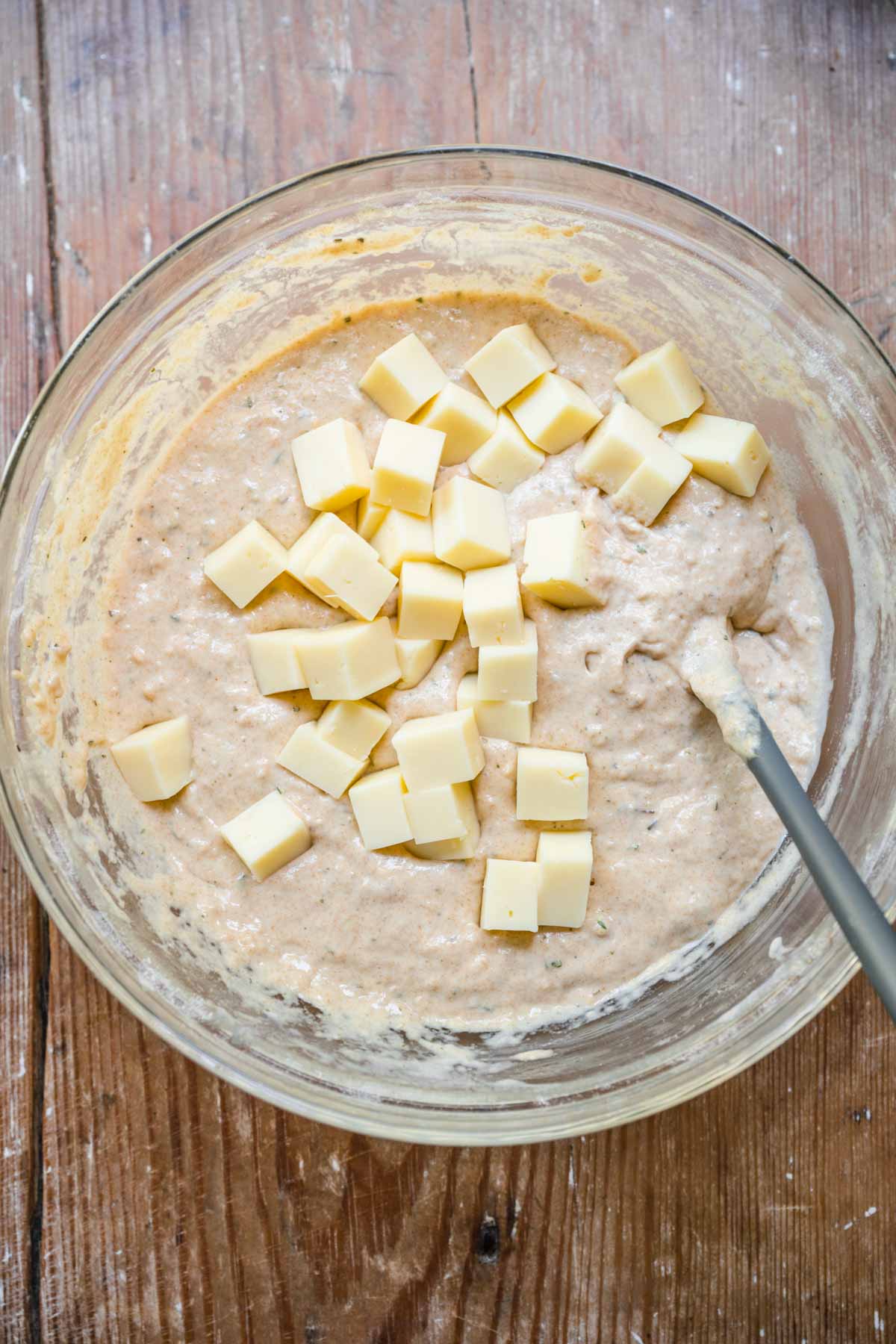 How to Make Cheesy Herb Muffins
Prep: Start by preheating your oven to 350 degrees and lining a standard cupcake pan with paper liners. Alternatively, you can grease the muffin tin or spray them with cooking spray.
Batter: Add the egg, milk, oil, and sugar to your mixing bowl and mix them together until well combined. In a separate small bowl sift together the flour, whole wheat flour, baking powder, thyme, oregano, garlic, powder, and salt. Whisk dry ingredients together then add them to the mixing bowl with the wet ingredients. Stir the batter together until just combined without overmixing. Cut the cheese into 1/2-inch chunks then fold it into the Savory Muffins Batter.
Bake: Scoop the muffin batter into the muffin tin so each muffin cup is about ¾ full. Bake for 18-20 minutes until golden brown. To test if the muffins are done stick a toothpick in the center of one muffin. If it comes out clean, then the cooking time is done. After a few minutes remove the muffins from the tin and let them cool on the wire rack. It's an easy recipe and the total time to make it should be less than 30 minutes!
More Muffin Recipes
Frequently Asked Questions
How do I know when Cheesy Herb Muffins are done?
Your muffins will be ready when the tops look golden brown and set, and the spring back from a light touch in the center rather than leave a mark. To make sure your muffins are done, insert a toothpick in the center and see if it comes out clean or with just a few crumbs.
Why did my muffins turn out dry?
If your muffins are turning out too dry, you could be measuring your flour incorrectly and using too much. To correctly measure flour for baking, fluff the flour with a measuring cup so it is not compacted, before spooning flour into the measuring cup, then leveling it off with a flat knife. This way you are not using additional flour from it being compacted in the bag. Your oven could also be too hot. Use an oven safe thermometer to check that your oven temperature is correct. If it is off, adjust the dial accordingly until the thermometer reads the correct temperature.
Why did my muffins stick to the pan?
If you are not using paper or silicone muffin liners, then you want to make sure to thoroughly grease the pan with cooking spray or baking spray that contains flour. You may also want to carefully remove your muffins from the muffin tin after they've cooled for about 10 minutes, and are still warm. Some of the steam will have helped the muffins to release from the pan.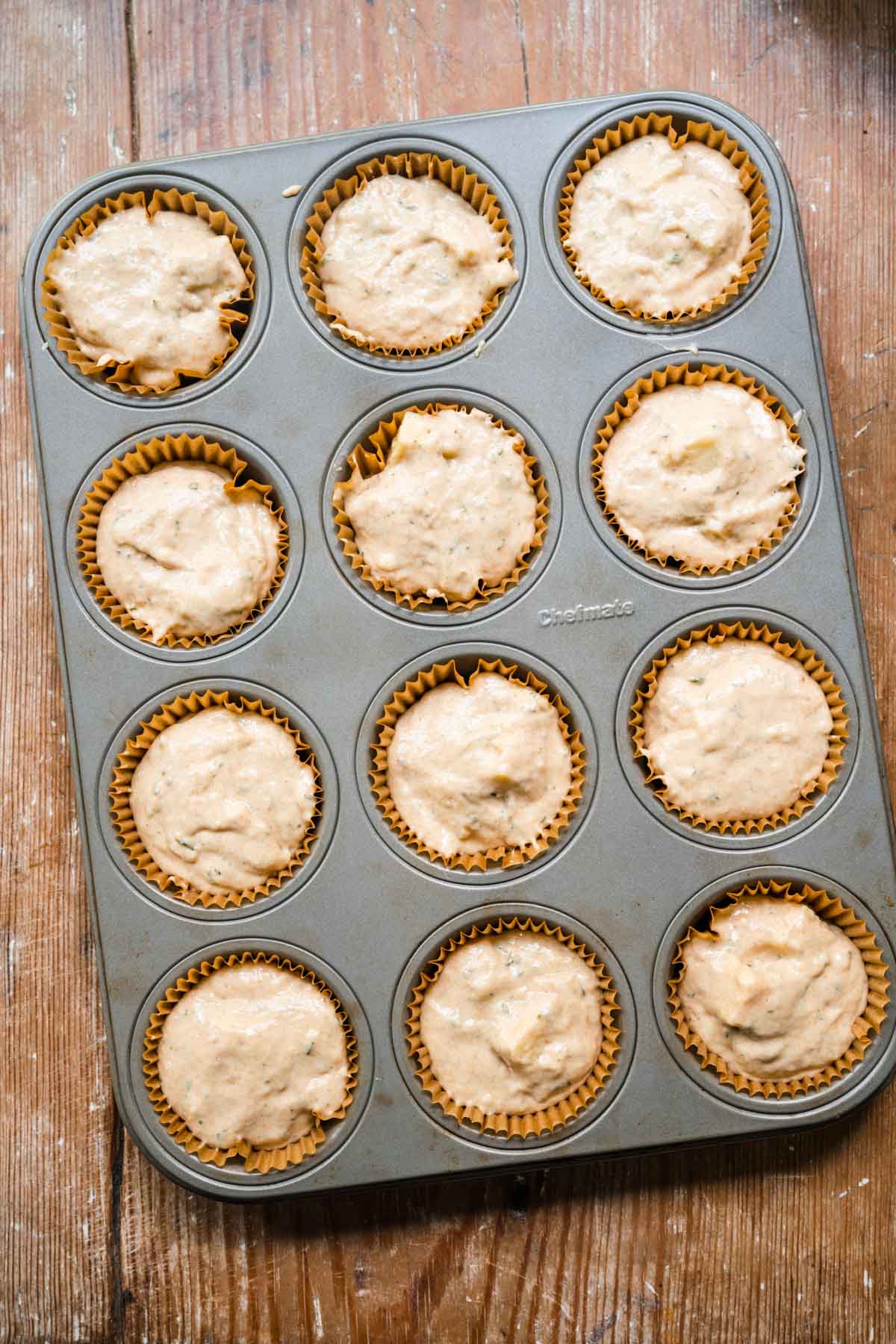 Create a free account to

Save Recipes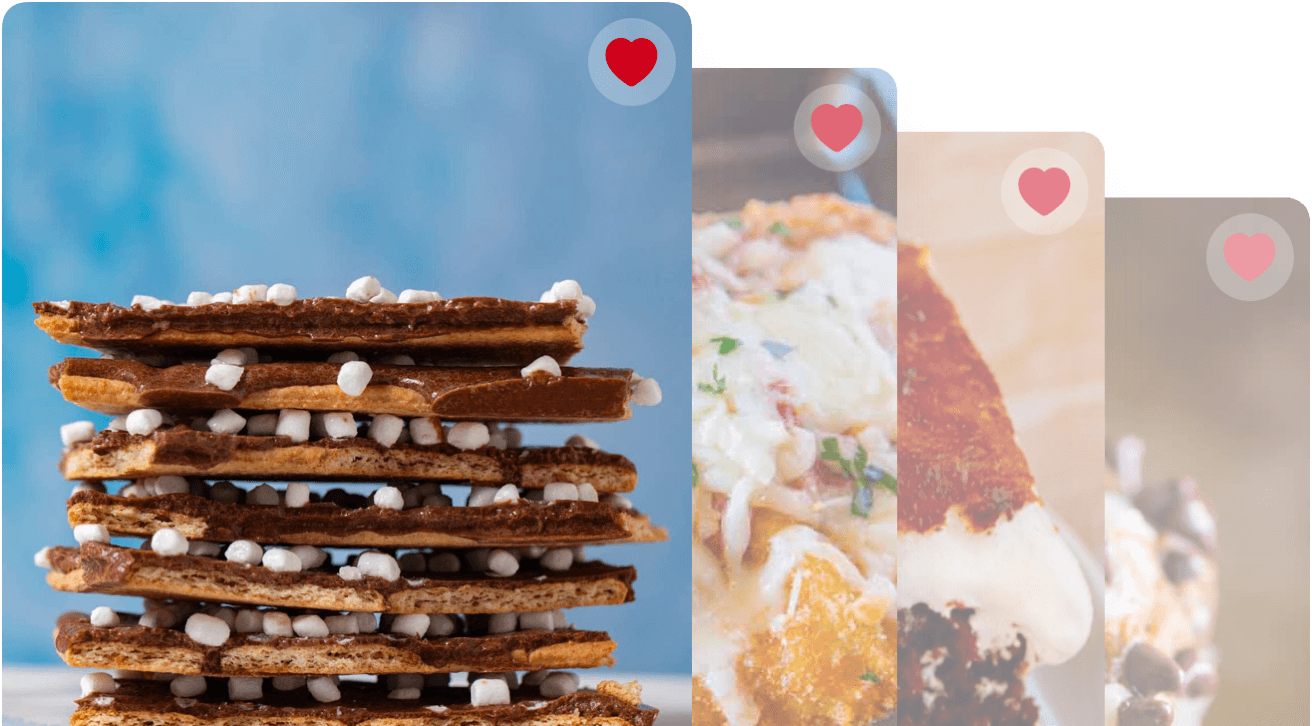 Key Ingredients in Cheesy Herb Muffins
Dry Ingredients: Using a combination of all purpose flour and wheat flour in this savory muffin recipe gives you a nice earthy texture that makes these muffins a little heartier to go with the seasonings. There is a small amount of sugar to balance the flavors, along with baking powder and salt to round out the recipe.
Wet Ingredients: An egg, vegetable oil, and milk combine to add moisture to the Cheesy Herb Muffins. Use full fat ingredients for the best texture and flavor.
Herbs: Dried thyme and oregano are easy pantry items you most likely have on hand. The beginning of the fall baking season in the perfect time to take inventory of your spice rack and replace anything that is more than six months old. This ensures your recipes will have all the flavors shine through as intended.
Cheese: Make sure you use low moisture mozzarella, not the fresh mozzarella that comes in liquid. The hard mozzarella will melt beautifully into your muffins without making them soggy. Buy a block and cut it into chunks so your muffins have gooey pockets of cheese throughout.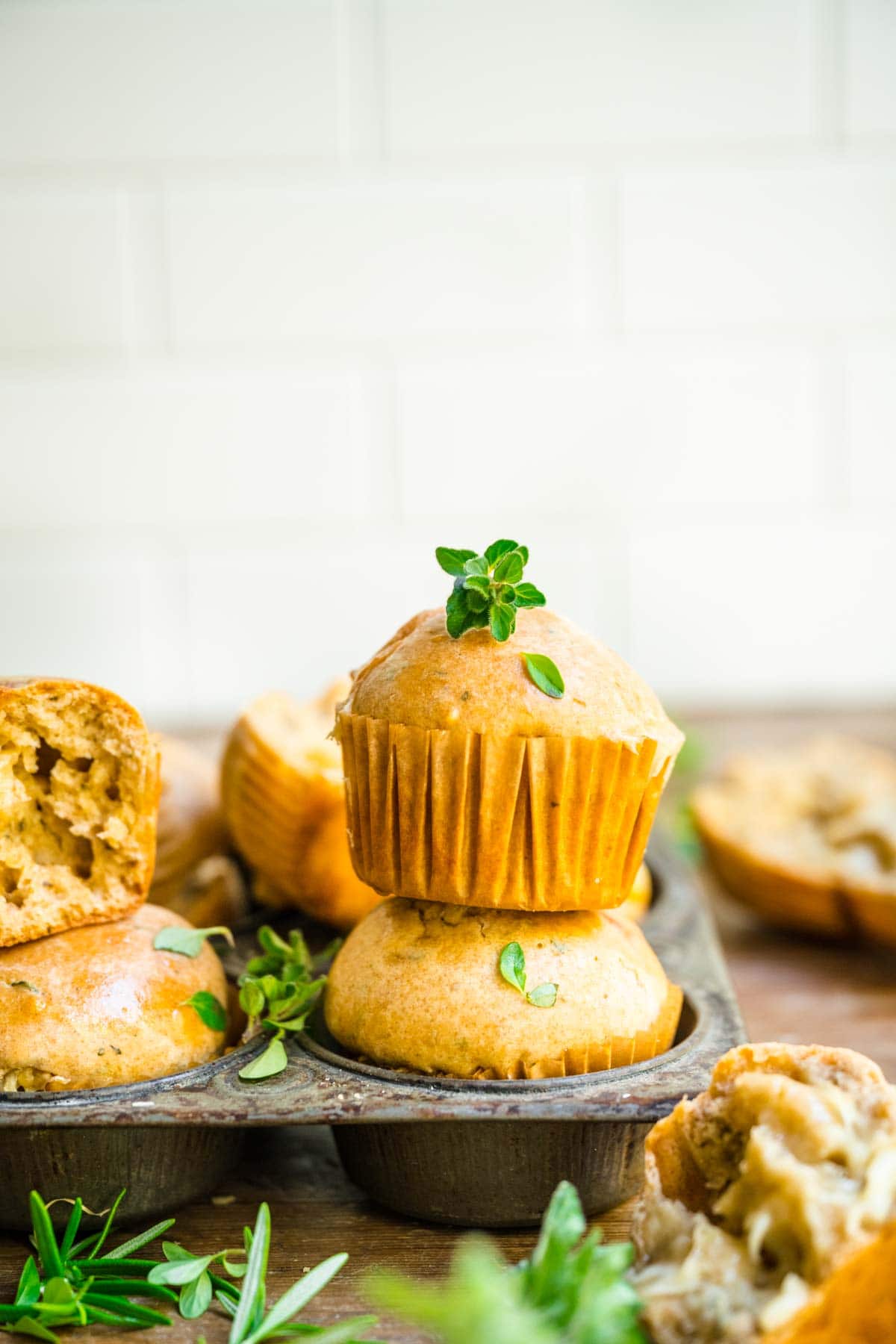 Variations on Cheesy Herb Muffins
Cheese: There are plenty of different kinds of cheese you can use for the muffins cheese. Any kind of grated cheese like cheddar cheese, parmesan, Colby cheese, or marble cheese. Instead of shredded cheese, you could also crumble in some blue cheese and goat cheese to make the cheesy core. Practically any of your favorite cheeses will go great in this Cheese Muffin. You can use these different cheeses as replacements for the mozzarella or add them on as additional cheese.
Herbs and seasonings: Instead of using dried herbs, you can use fresh herbs. Mix in some fresh thyme and fresh oregano. You can also add some new flavors like fresh chives, fresh basil, Italian seasoning, or dried dill. For a little spice add in some cayenne pepper or chili powder.
Gluten-free: If you're interested in gluten-free friendly recipes, you can make Gluten-free Cheddar Muffins with easy ingredient substitutions. Instead of using an all-purpose flour and wheat flour mixture, use gluten-free flour. Almond flour, coconut flour, and oat flour would all work well for Gluten-Free Cheddar Muffins. Using gluten-free flour also helps make these Cheese Muffins into a Savory Keto Muffin Recipe. They're delicious Savory Low Carb Muffins.
Buttermilk: You can make this into Buttermilk muffins. However, you'll have to change multiple ingredients to make sure the Cheese Muffins turn out well. Combine 2 cups flour, 1 tablespoon sugar, 1 ½ teaspoon baking powder, ½ teaspoon baking soda, 2 teaspoons dried thyme, 1 teaspoon dried oregano, ½ teaspoon garlic powder, ½ teaspoon salt, 1 ½ cup buttermilk, ¼ cup melted unsalted butter, and 1 egg for the batter. If you don't have buttermilk, use sour milk or Greek yogurt.
Ideas for Serving Cheesy Herb Muffins
Breakfast Sandwich: Use a butter knife to slice a warm muffin in half. You can spread some butter over the muffin then serve it with cooked egg white and bacon in the middle for a tasty breakfast sandwich. You could also serve it with smoked salmon and cream cheese.
Snack: To enjoy Cheese Muffins as a quick breakfast or easy snack spread some compound butter or gourmet spreadable cheese over them. If the muffins are warm then the melted butter will get partially absorbed by the warm muffin for a delicious and moist taste. You can also add honey for some sweetness added to the muffins. It's quick, easy finger food that makes a perfect delicious brunch food.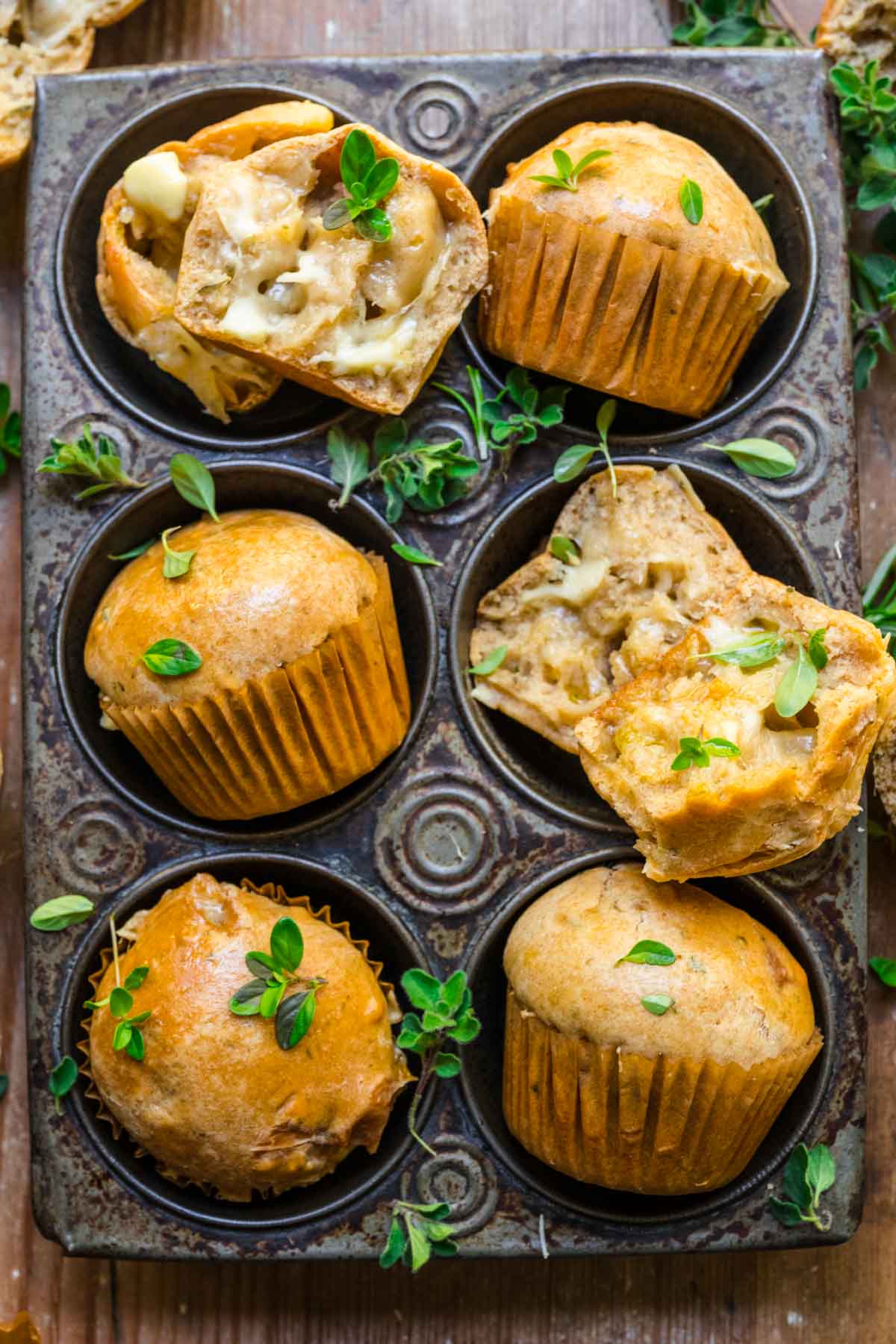 More Savory Bread Recipes
How to Store Cheesy Herb Muffins
Serve: Freshly baked Cheesy Herb Muffins can be kept at room temperature for up to 3 days. Let them cool, then store them in a zip lock bag or another airtight container in your pantry.
Store: You can also keep them in an airtight container in the fridge for 1 week.
Freeze: To freeze Tasty Cheese Muffins, put them in the freezer for 1 hour while still in the muffin tin. After the hour, move the muffins, in their muffin liners, to a freezer bag. Freezing them for an hour will help make sure the muffins don't freeze together. Let them thaw in the fridge, then reheat them for a few minutes in the oven to make sure you have melty cheese to enjoy.


Ingredients
1

large

egg

1

cup

whole milk

1/3

cup

vegetable oil

2

tablespoons

sugar

2

cups

flour

1

cup

whole wheat flour

1

tablespoon

baking powder

2

teaspoons

dried thyme

1

teaspoon

dried oregano

1/2

teaspoon

garlic powder

, (optional)

1/2

teaspoon

salt

1

cup

mozzarella

, cut into ½ inch chunks (not fresh)
Instructions
Preheat oven to 350 degrees and line a 12-cup muffin tin with muffin liners or spray with baking spray.

In a large bowl whisk together the egg, milk, oil, and sugar.

Sift together the flour, whole wheat flour, baking powder, thyme, oregano, garlic powder, and salt.

Add to the wet ingredients and whisk until just combined.

Stir in the mozzarella chunks.

Scoop into muffin cups and bake for

18-20 minutes

until a toothpick comes out clean.
Nutrition
Calories:
220
kcal
|
Carbohydrates:
27
g
|
Protein:
7
g
|
Fat:
10
g
|
Saturated Fat:
3
g
|
Polyunsaturated Fat:
4
g
|
Monounsaturated Fat:
2
g
|
Trans Fat:
1
g
|
Cholesterol:
25
mg
|
Sodium:
171
mg
|
Potassium:
208
mg
|
Fiber:
2
g
|
Sugar:
3
g
|
Vitamin A:
129
IU
|
Vitamin C:
1
mg
|
Calcium:
130
mg
|
Iron:
2
mg