Poppy Seed Muffins are the perfect way to start your day! Make sweet, tender, and buttery muffins in 30 minutes that are great to keep in the freezer.
Baked Goods like muffins make an excellent breakfast or filling snack. Just like Blueberry Crumb Muffins and Cinnamon Streusel Muffins, these Poppy Seed Muffins are great to grab on your way out the door and enjoy on your way to work or to run errands.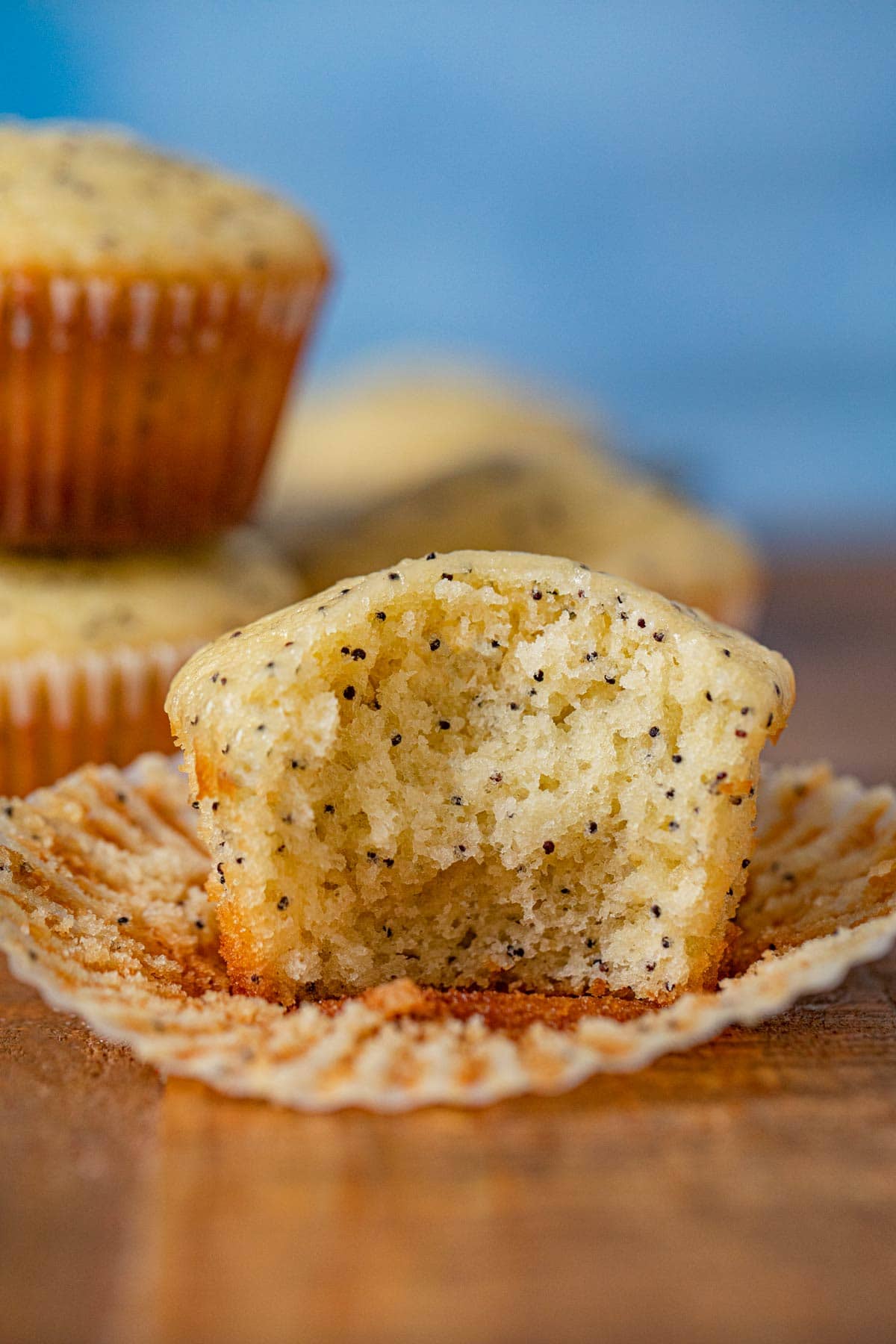 POPPY SEED MUFFINS
These muffins are perfectly sweet and soft. The vanilla and almond extract in the ingredients add a lot of excellent flavor to the poppy seed muffins. The almond gives a lot of sweetness to the breakfast. The poppy seeds also add some great flavor and crunch to the moist vanilla cake.
Just like Poppy Seed Bread, this recipe for Almond Poppy Seed Muffins is a moist, bakery-worthy breakfast. Enjoy them on a slow morning with a cup of coffee or on your way out the door on a busy day. It's an easy go-to recipe for any kind of day.
For a delicious breakfast with some extra flavor, you can pull-apart the muffin and add some butter, cream cheese, or raspberry jam to the center.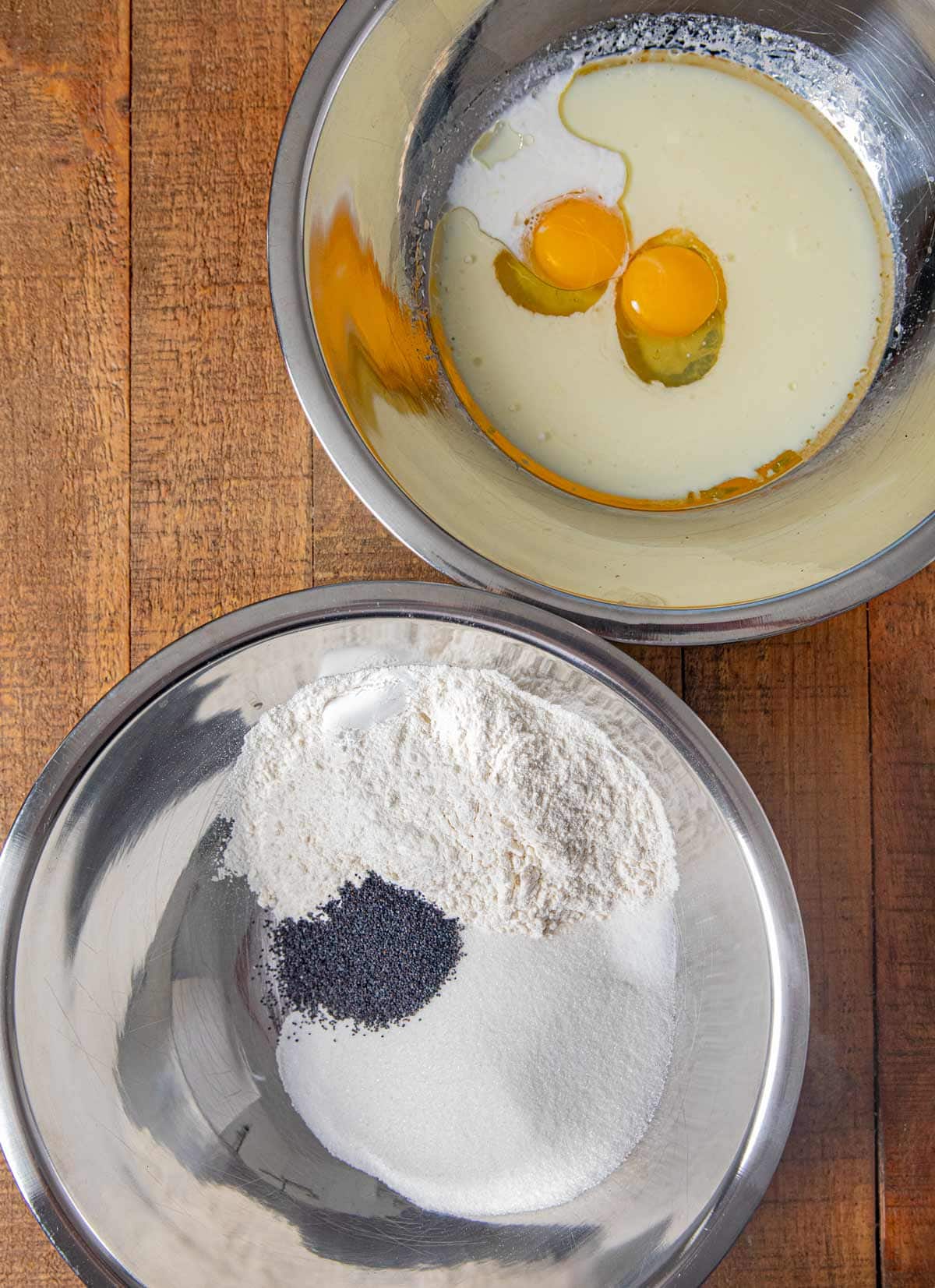 MAKE-AHEAD MUFFINS
Poppyseed Muffins are perfect for making ahead of time and freezing for later. Prepare the muffin recipe as usual, then wait for it to cool before putting the muffin cups in the freezer.
Leave the Almond Poppyseed Muffins in the muffin tin and freeze them for an hour. After flash freezing the muffins move them to a freezer bag. Freezing them for the hour will make sure the Almond Poppy Seed Muffins don't stick to each other in the freezer.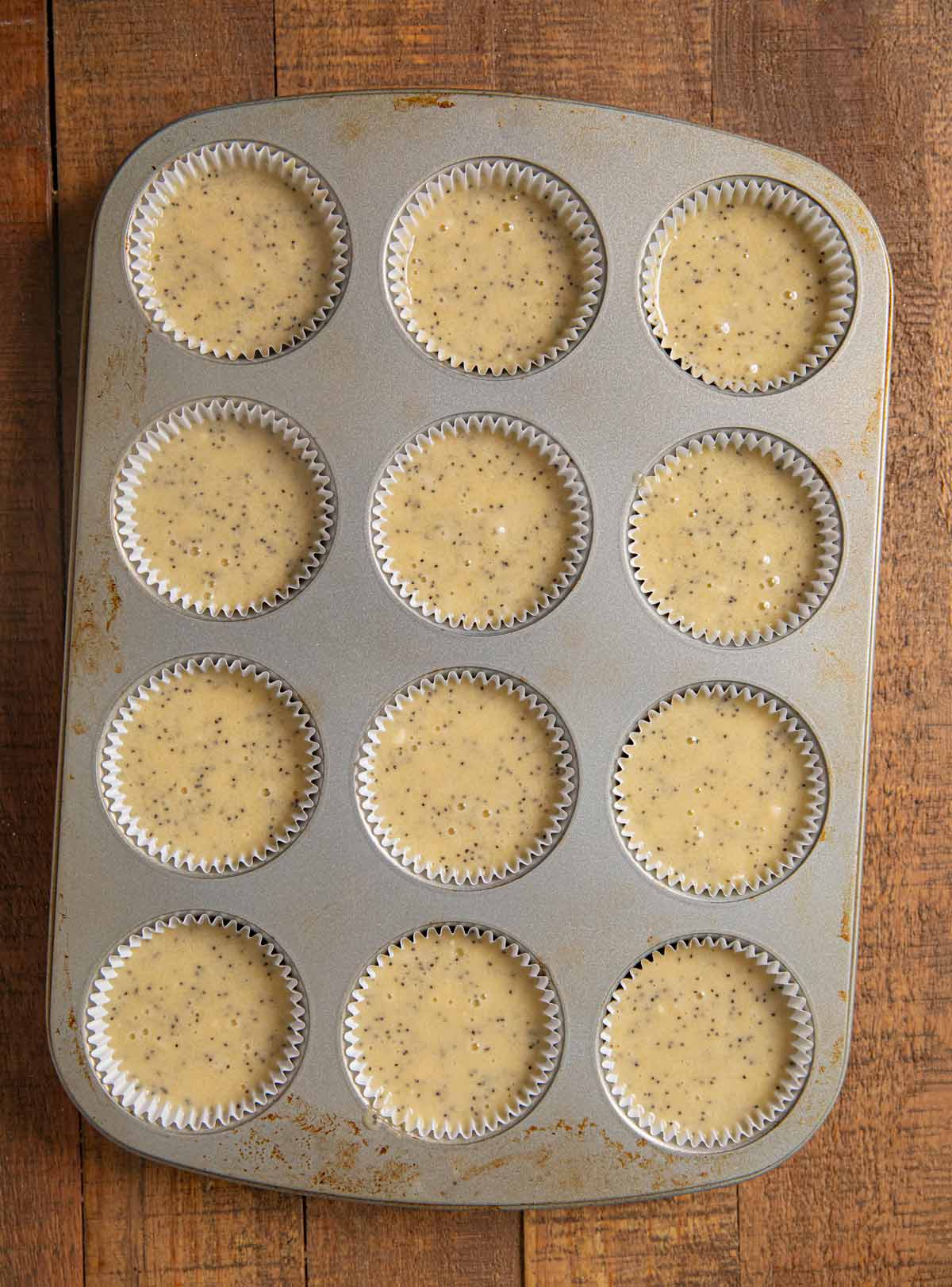 They'll last well in the freezer for up to 3 months. You can take the muffins out a few at a time and put them in the fridge to defrost to enjoy Poppyseed Muffins slowly over a few months.
MORE MUFFIN RECIPES
TIPS FOR MAKING THE PERFECT POPPY SEED MUFFINS
Prep: Preheat your oven to 350 degrees F and line your muffin pan with paper liners.
Wet ingredients: Whisk together the milk, sugar, oil, eggs, poppy seeds, almond, and vanilla extract in a large bowl.
Dry Ingredients: Slowly sift together the all-purpose flour, baking powder, and salt. Then mix in the wet ingredients, but be careful not to over-mix.
Bake: Use an ice cream scoop or another spoon to scoop the batter into the muffin liners. Bake the Almond Poppy Seed Muffin recipe for 20-22 minutes. To check if they're done, put a toothpick in the center of the muffin. You'll know the muffins are finished baking when the toothpick comes out clean, and the bread is soft and springy.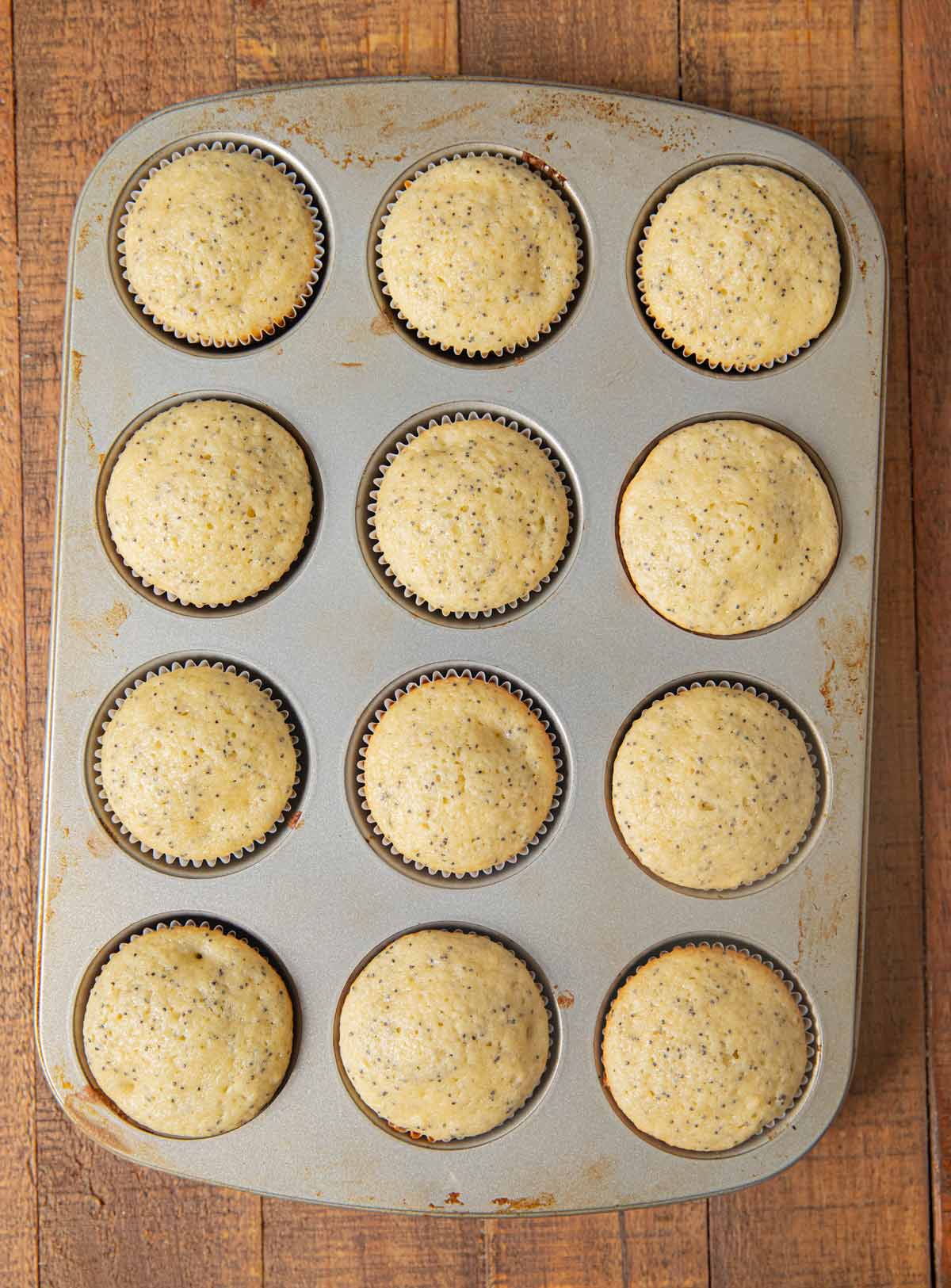 Create a free account to Save Recipes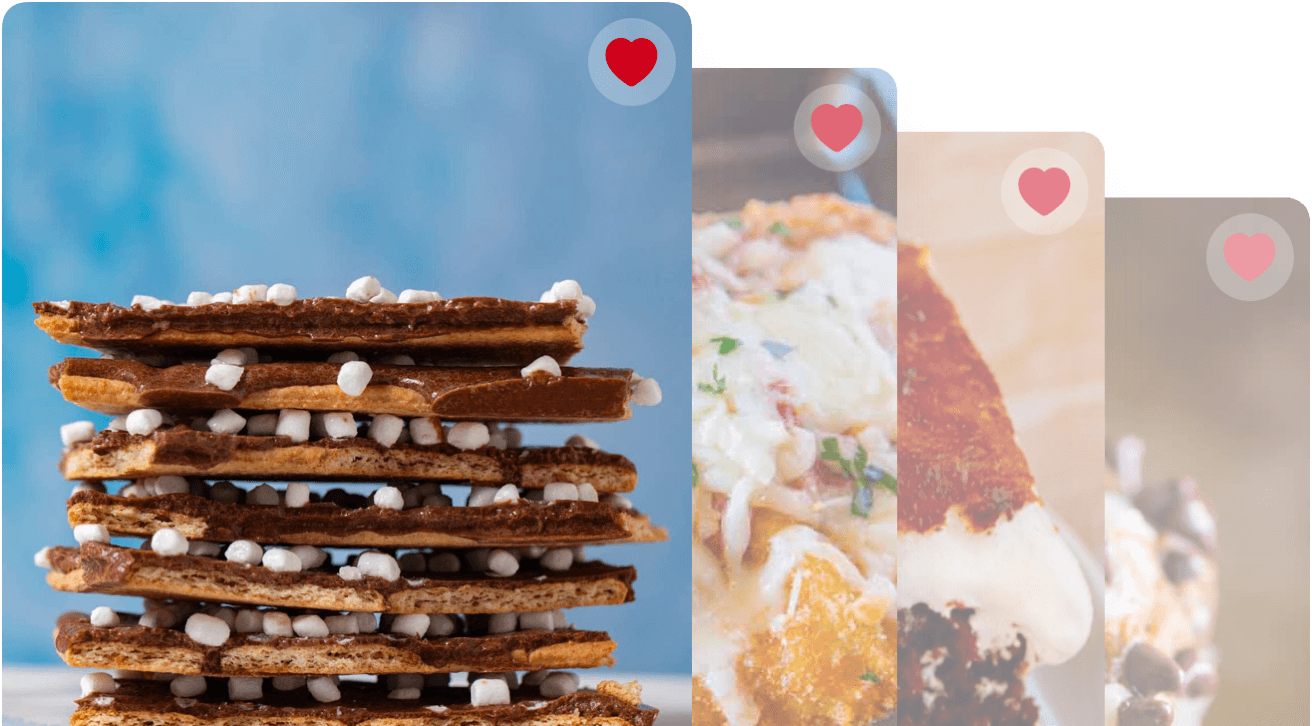 VARIATIONS ON POPPY SEED MUFFINS
Lemon Poppy Seed Muffins: Poppy seeds pair wonderfully with lemon-y flavor. Use either lemon zest or lemon juice to replace the almond flavor and make Lemon Poppy Seed Muffins. For perfect Lemon Poppy Seed Muffins, add in 2 tablespoons fresh lemon juice and 1 ½ tablespoon lemon zest to the batter.
Orange and Lemon Poppy Seed Muffins: For even more delicious tangy flavor, add in some orange zest along with the lemon juice to make Orange and Lemon Poppy Seed Muffins.
Flour: You can exchange the all-purpose flour for wheat flour to make slightly healthier muffins. You could also use oat flour or almond flour to make gluten-free muffins.
Add-ins: Try adding in some more mix-ins besides the poppy seeds. You could add blueberries, sliced almonds, pecans, or coconut flakes to the Almond Poppy Seed Muffins.
Mini-muffins: To make mini-muffins prepare the Poppy Seed Muffins or Lemon Poppy Seed Muffin batter as usual. Mini Poppy Seed Muffin recipe will take less time to bake, so keep your eye on them in the oven.
MORE BAKERY-STYLE RECIPES
GLAZED LEMON MUFFINS
To add some lemon flavor to your Poppy Seed Muffins, you can make an easy glaze to put over the top. Here's a step-by-step guide to making a lemon glaze with just 3 ingredients.
In a small bowl, whisk together 1 cup of confectioner sugar and 2 tablespoons of milk or almond milk.
Mix in 1 tablespoon lemon juice.
Add more milk or sugar as needed to reach the right consistency.
Drizzle the glaze over your lemon muffins, and enjoy.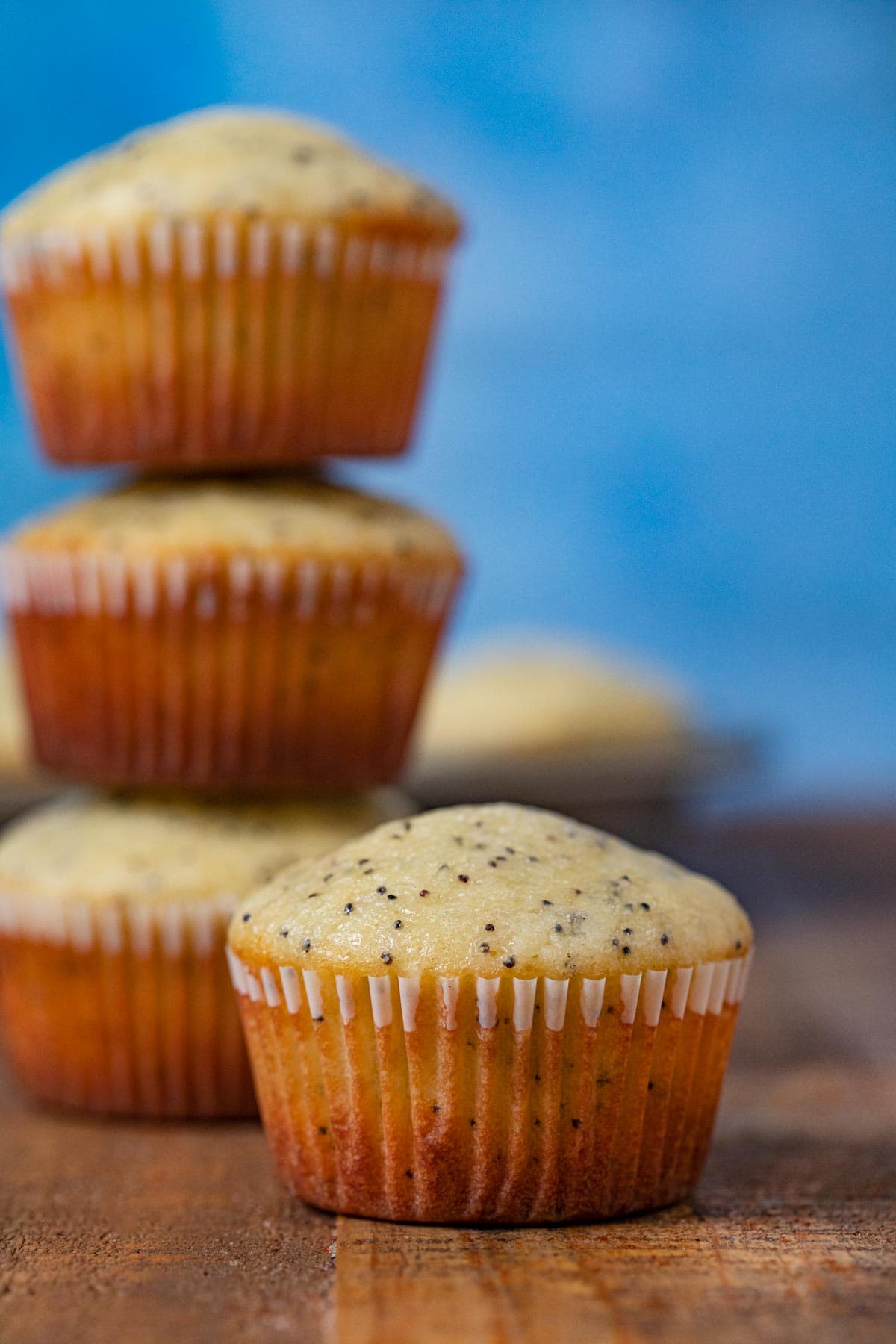 CREAM CHEESE FROSTING
To make Poppy Seed Muffins more like a cupcake, add spread some frosting over the top and enjoy Poppyseed Cupcakes. The vanilla poppy seed cupcakes will pair very well with many types of frosting, but this is a simple recipe for cream cheese frosting.
Mix together ½ cup softened unsalted butter and 8 ounces cream cheese.
Add in 4 cups of confectioner sugar and 2 teaspoons vanilla extract.
If you'd like to add some almond flavor add in almond extract. Or for Lemon Poppyseed Cupcakes add in lemon juice or lemon curd to the frosting, and make lemony cupcakes.
HOW TO STORE POPPY SEED MUFFINS
Serve: If you don't add frosting to the muffins, you can keep them at room temperature for 1-2 days. Put them in an airtight container to keep them fresh and moist.
Store: Almond Poppy Seed Muffins can be stored in the fridge for up to a week. After baking, let them cool to room temperature then put them in a freezer bag or other airtight container in the refrigerator.
Freeze: Flash freeze your muffins for an hour in the muffin tin, then move them to a freezer bag to keep them frozen for up to 3 months.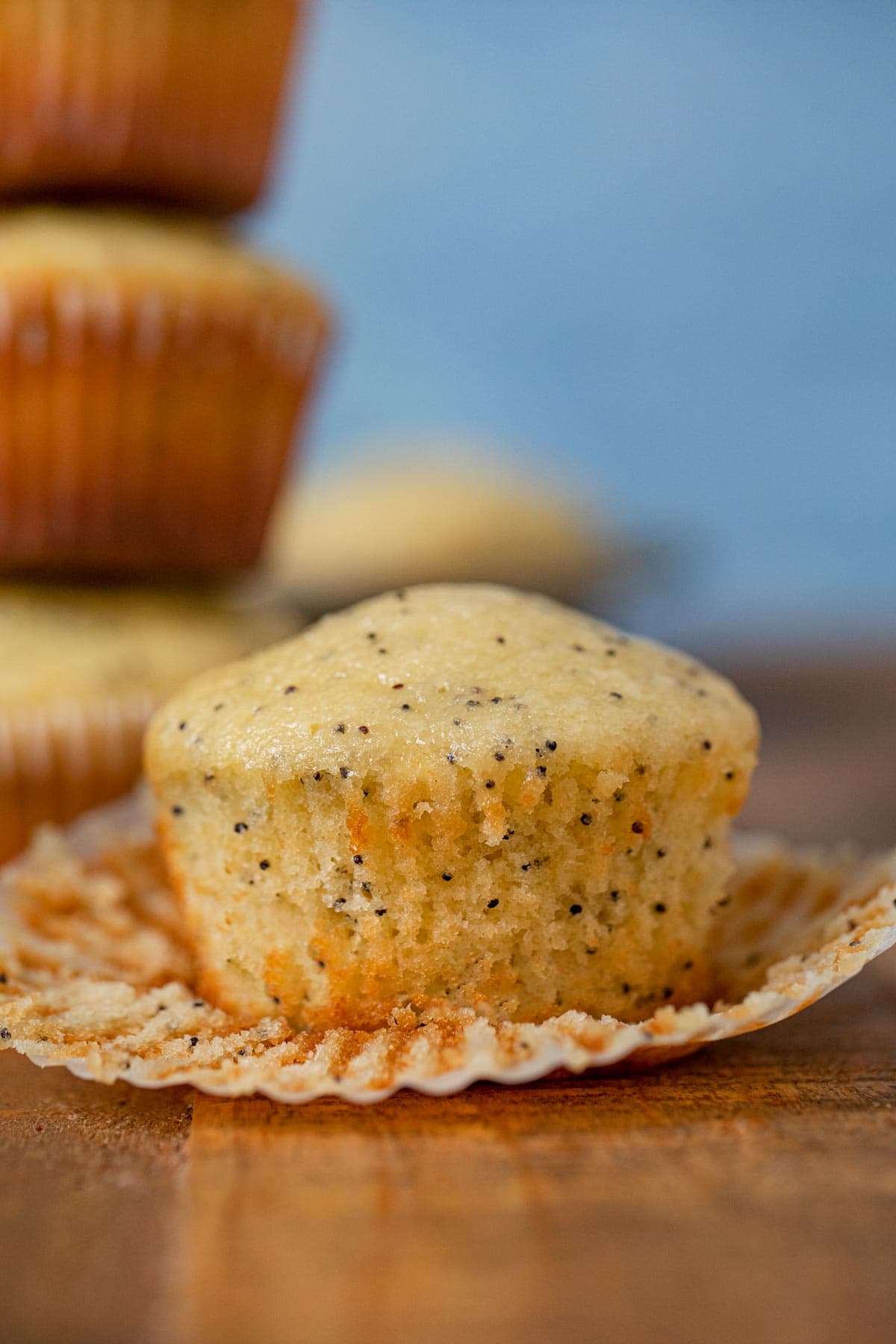 Ingredients
3/4

cup

whole milk

1 1/4

cups

sugar

1/2

cup

vegetable oil

2

large

eggs

1

tablespoon

poppy seeds

1

teaspoon

vanilla extract

1

teaspoon

almond extract

1 1/2

cups

flour

3/4

teaspoons

baking powder

1/2

teaspoons

salt
Instructions
Preheat oven to 350 degrees and line a muffin tin with muffin liners.

In a large bowl whisk together milk, sugar, oil, eggs, poppy seeds, vanilla extract, and almond extract.

Sift together flour, baking powder and salt then add to the wet ingredients and whisk until combined.

Scoop batter into muffin liners (an ice cream scoop works well for this).

Bake for

20-22 minutes

until a toothpick comes out clean.
Nutrition
Calories:
243
kcal
|
Carbohydrates:
34
g
|
Protein:
3
g
|
Fat:
11
g
|
Saturated Fat:
8
g
|
Cholesterol:
33
mg
|
Sodium:
116
mg
|
Potassium:
79
mg
|
Fiber:
1
g
|
Sugar:
22
g
|
Vitamin A:
70
IU
|
Calcium:
46
mg
|
Iron:
1
mg