Banana bread muffins are made from a classic easy banana bread recipe topped with walnuts for an easy portable breakfast.
We all know and love traditional American recipes like Banana Bread (just one bowl, no mixer!), but you aren't just limited to using a loaf pan. Spice up an old favorite by making perfectly sized, shareable banana bread muffins or try our Chocolate Banana Muffins too!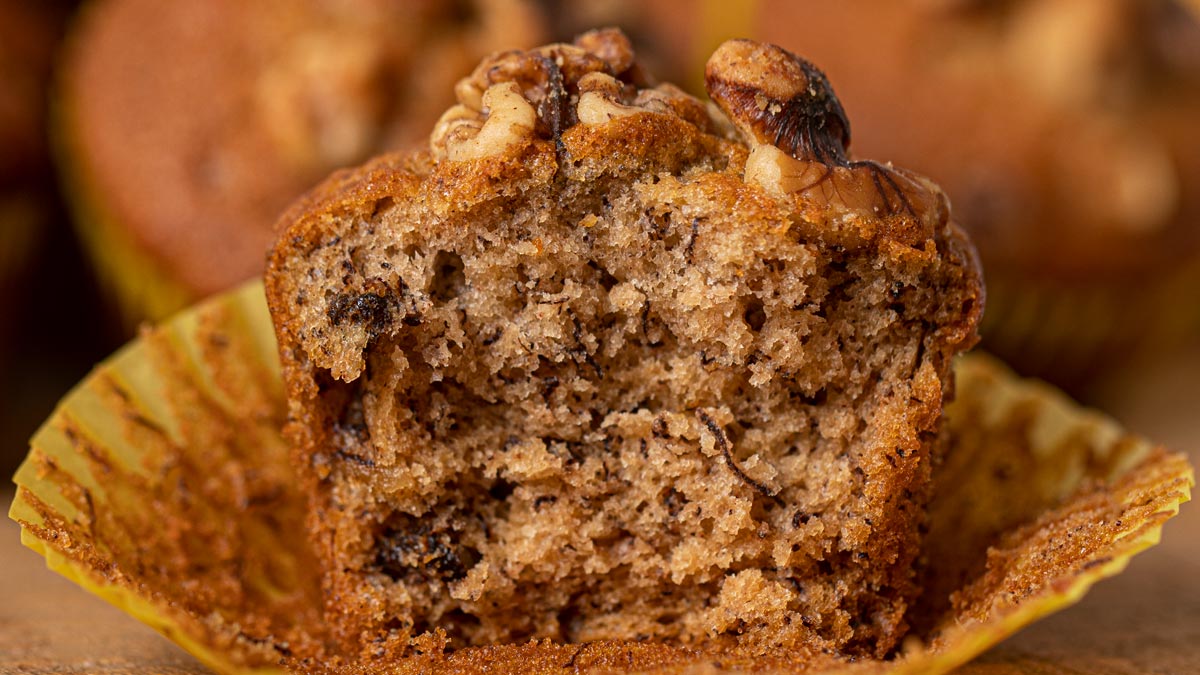 BANANA BREAD MUFFINS
This banana muffin recipe has a short cook time, is perfect for bake sales and potlucks, and makes banana bread even more portable for school lunches (plus, it's much more fun than using a classic muffin recipe.)
I get asked all the time:
Can banana bread be made into muffins?
Yes, banana bread can very easily be made into muffins with just a quick alteration to the cooking time. Instead of baking for 1 hour, you bake your muffins for 18-20 minutes.
This delicious muffin recipe takes all of that banana flavor you love and molds it into cute, mini loaves. This is such an easy meal to make that it may quickly become one of your favorite recipes.
If you're looking for more Banana Bread Recipes we have a number of them for you to try including Hawaiian varieties, chocolate ones, cake mix hacks and more. A whole section full!
HOW TO MAKE BANANA BREAD MUFFINS
Preheat oven to 350 degrees F (176.6 degrees C), and fill a muffin pan with standard white muffin cups.
In a large bowl whisk together the sugar, oil, egg and vanilla extract until combined.
Stir in the mashed bananas and half of the chopped walnuts.
Set the rest aside for later.
Mix in the dry ingredients (all-purpose flour, baking soda, salt and cinnamon.)
Divide the batter evenly into the muffin tin and sprinkle the remaining walnuts on top.
Put it in the oven and bake until a toothpick poked in center muffin comes out clean.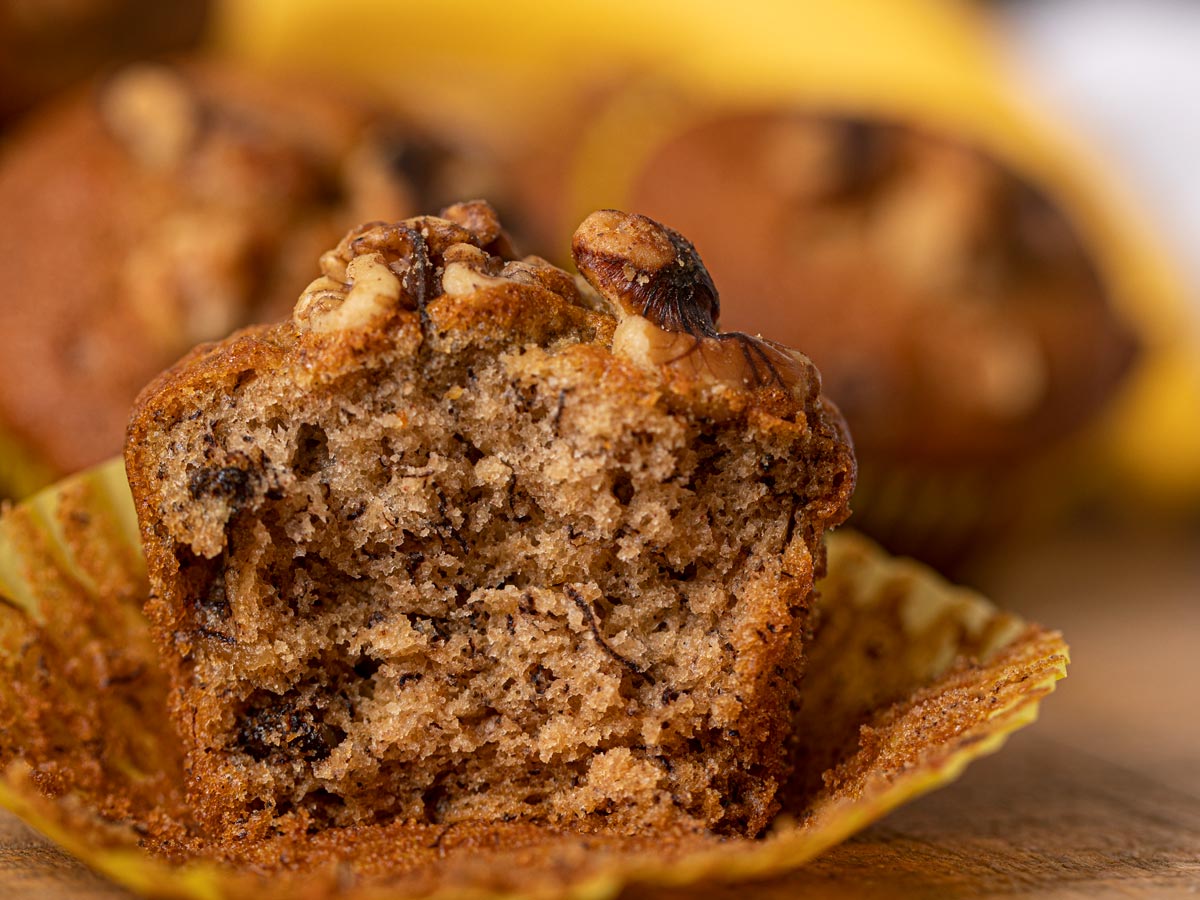 VARIATIONS
Chocolate Chips: Chocolate Chip Banana Bread Muffins has been a favorite for as long as banana bread has been around, and for good reason. The chocolate chips add some sweetness to the savory bread and also have a pleasant crunch.
Blueberry: mix in blueberries for a light, summery taste that goes great with coffee for brunch.
Peanut Butter: you can add peanut butter to the batter (make sure you mix well) for a denser, more savory flavor. Peanut butter also makes your banana bread have a thicker, more dessert feel.
Pecans: you can stir in chopped pecans along with the walnuts or instead of. Sprinkling the top of each muffin with a handful of nuts can really dress them up and make them more eye catching.
Brown Sugar: lightly dust each muffin with a little brown sugar. The extra sugar is crunchy and delicious.
Cupcakes: use the recipe for banana bread icing from the Iced Banana Nut Bread and frost the tops of your banana bread muffins for a fun, fancy dessert.
Applesauce: Banana Bread Muffins with Apple sauce are an easy and popular variation. Swap out half the oil for applesauce to make these muffins a bit healthier.
Sour Cream: Banana Bread Muffins with Sour Cream can be a richer treat, if you want you can add ½ cup of sour cream to your batter and cut your oil in half.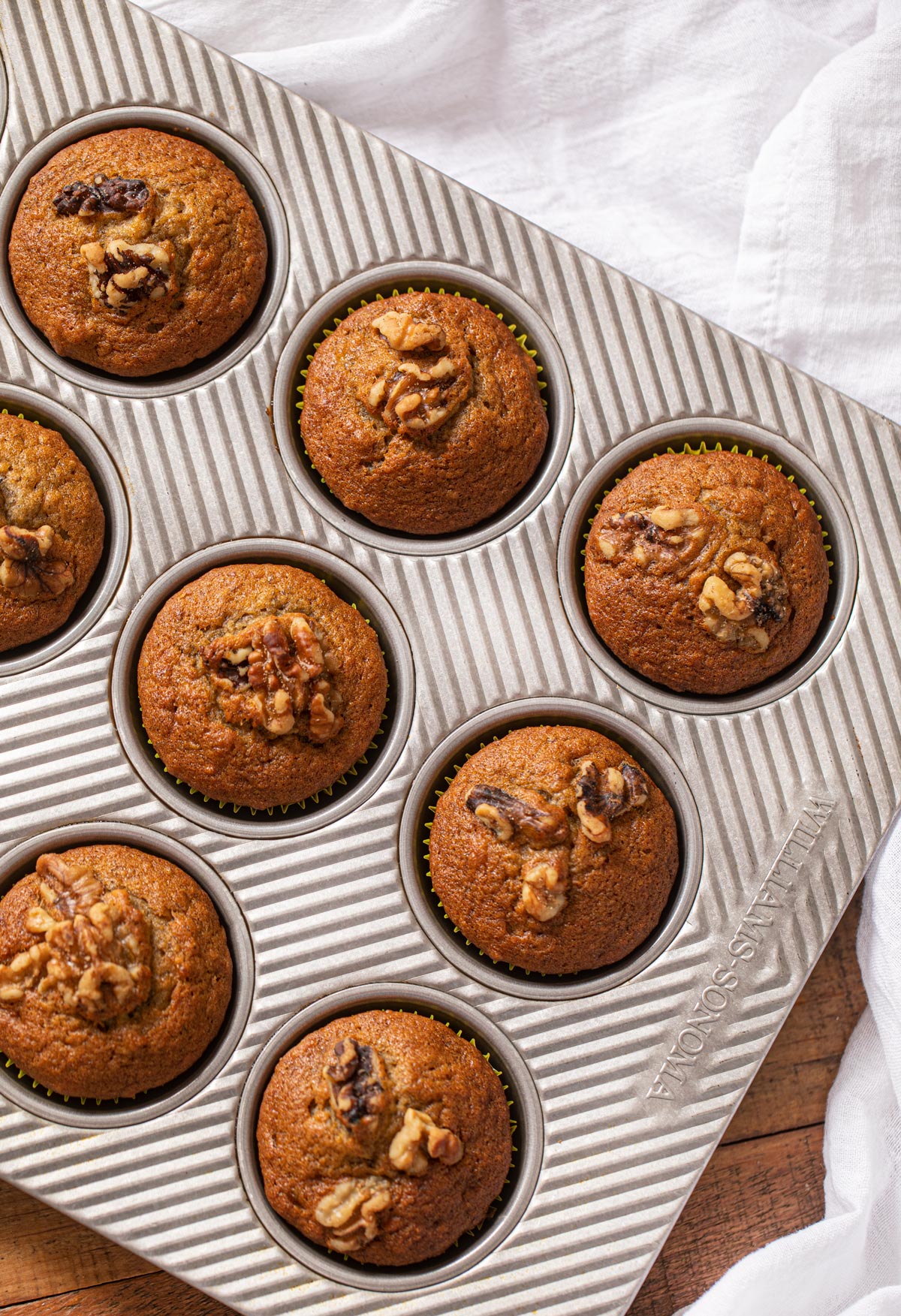 Create a free account to

Save Recipes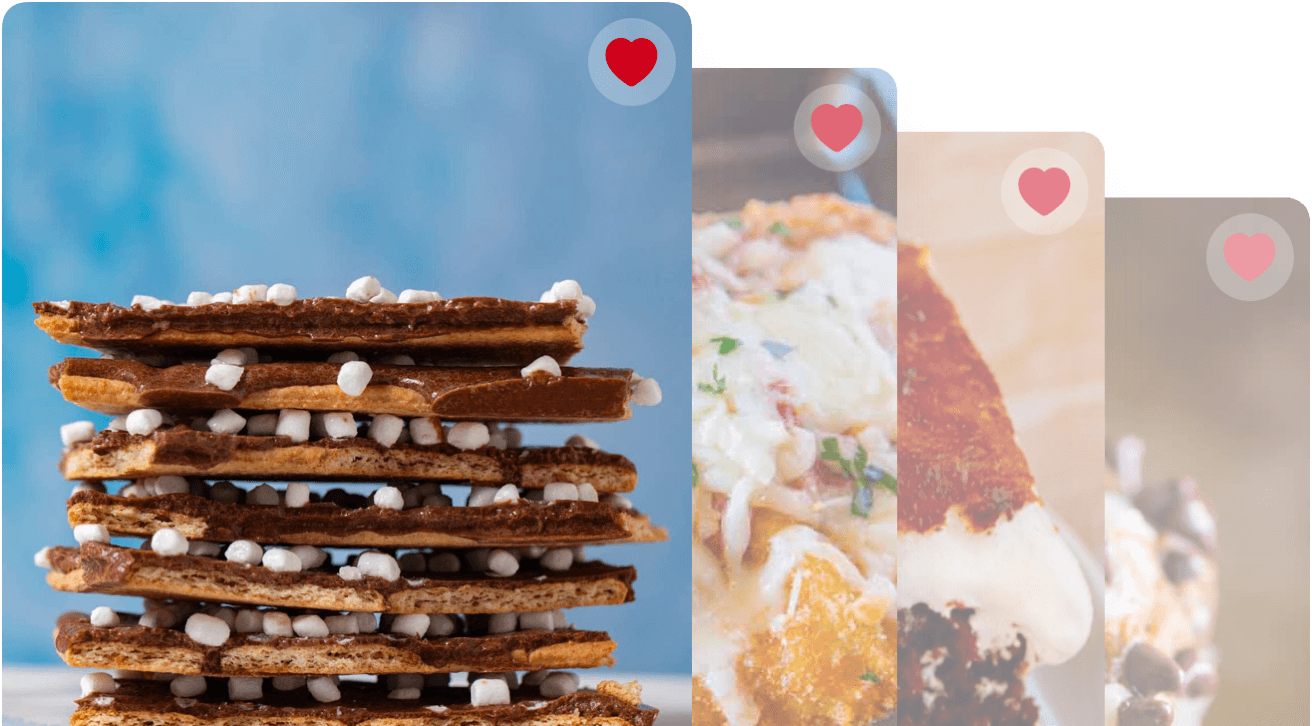 SERVE WITH
Banana bread muffins are great for breakfast and go great with a ton of brunch foods. If you're looking for other easy make ahead breakfasts, here are some recipes to try.
HOW LONG DOES IT KEEP?
Serve: banana bread is good for about 3 days at room temperature if you keep it in an airtight container.
Store: your leftovers will last a bit longer in the fridge. If you wrap them in plastic wrap, banana bread muffins will stay good for about a week.
Freeze: you can freeze the leftover banana muffins for about 3 months. I would recommend thawing it and eating it before you hit the 3 month mark to enjoy it while still moist.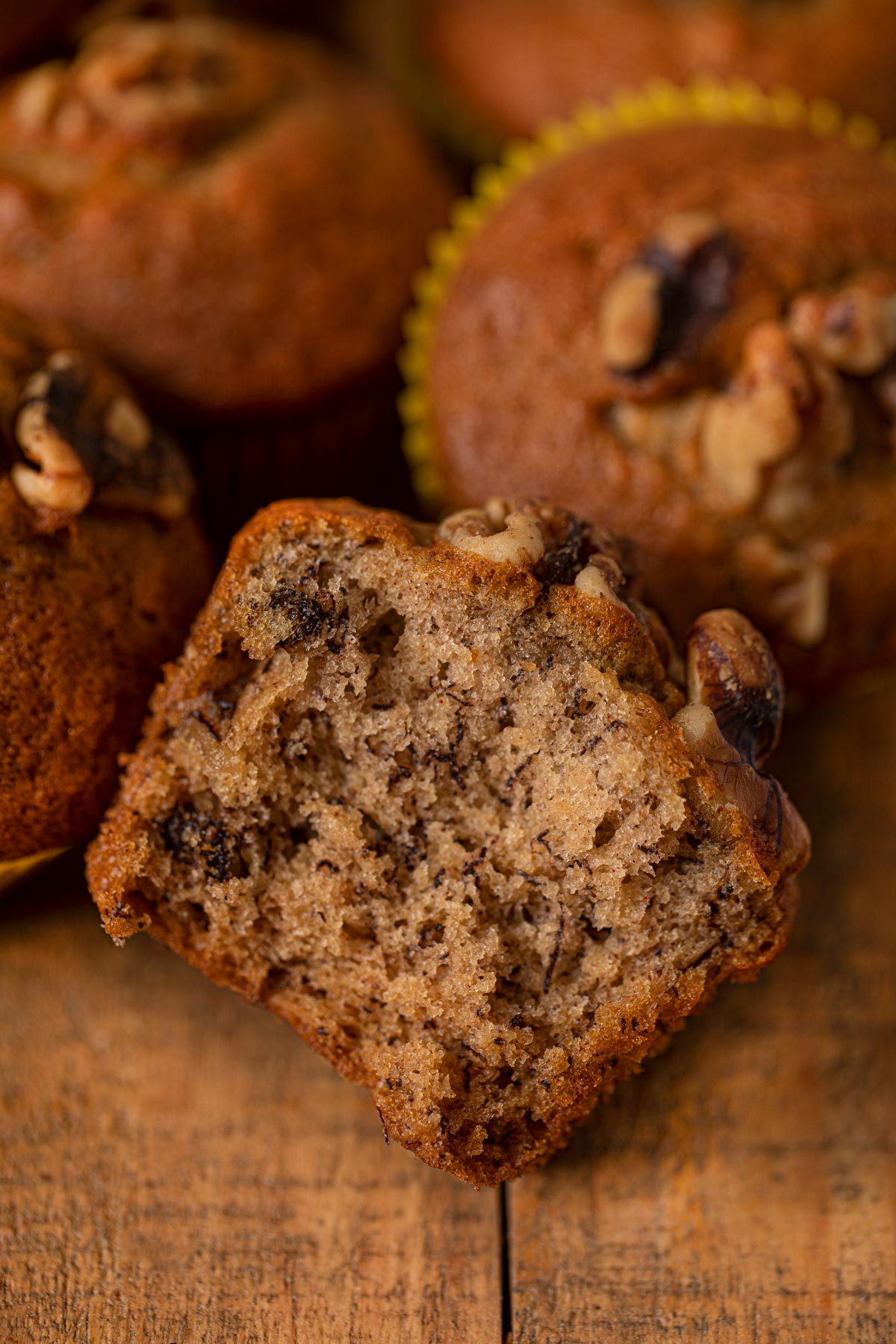 Ingredients
1/2

cup

sugar

1/2

cup 

vegetable oil

1

large

egg

1

teaspoon

vanilla extract

3

ripe bananas

, mashed

1/2

cup

walnuts

, chopped

2

cups

flour

1

teaspoon 

baking soda

1/2

teaspoon

salt

1/4

teaspoon

cinnamon
Instructions
Preheat oven to 350 degrees and line muffin tin with cupcake liners.

In a large bowl whisk together the sugar, oil, egg and vanilla extract until well combined.

Add bananas and half of the walnuts.

Add flour, baking soda, salt and cinnamon.

Add to muffin pan and sprinkle the rest of the walnuts on top

Bake for

20-25 minutes

, until toothpick poked in center muffin comes out clean.
Nutrition
Calories:
258
kcal
|
Carbohydrates:
32
g
|
Protein:
4
g
|
Fat:
14
g
|
Saturated Fat:
9
g
|
Cholesterol:
14
mg
|
Sodium:
215
mg
|
Potassium:
154
mg
|
Fiber:
2
g
|
Sugar:
12
g
|
Vitamin A:
39
IU
|
Vitamin C:
3
mg
|
Calcium:
11
mg
|
Iron:
1
mg