Honey Banana Muffins are tender, buttery, and sweet. Made with honey, bananas, warm spices like nutmeg and cinnamon, and with crunchy pecans throughout.
There's a reason we have so many banana muffin recipes on the site like Chocolate Banana Muffins, Classic Banana Muffins, and Banana Bread Muffins. Breakfast Baked Goods and bananas just go together so well! The mashed banana makes these Honey Muffins extra moist and adds a little sweetness.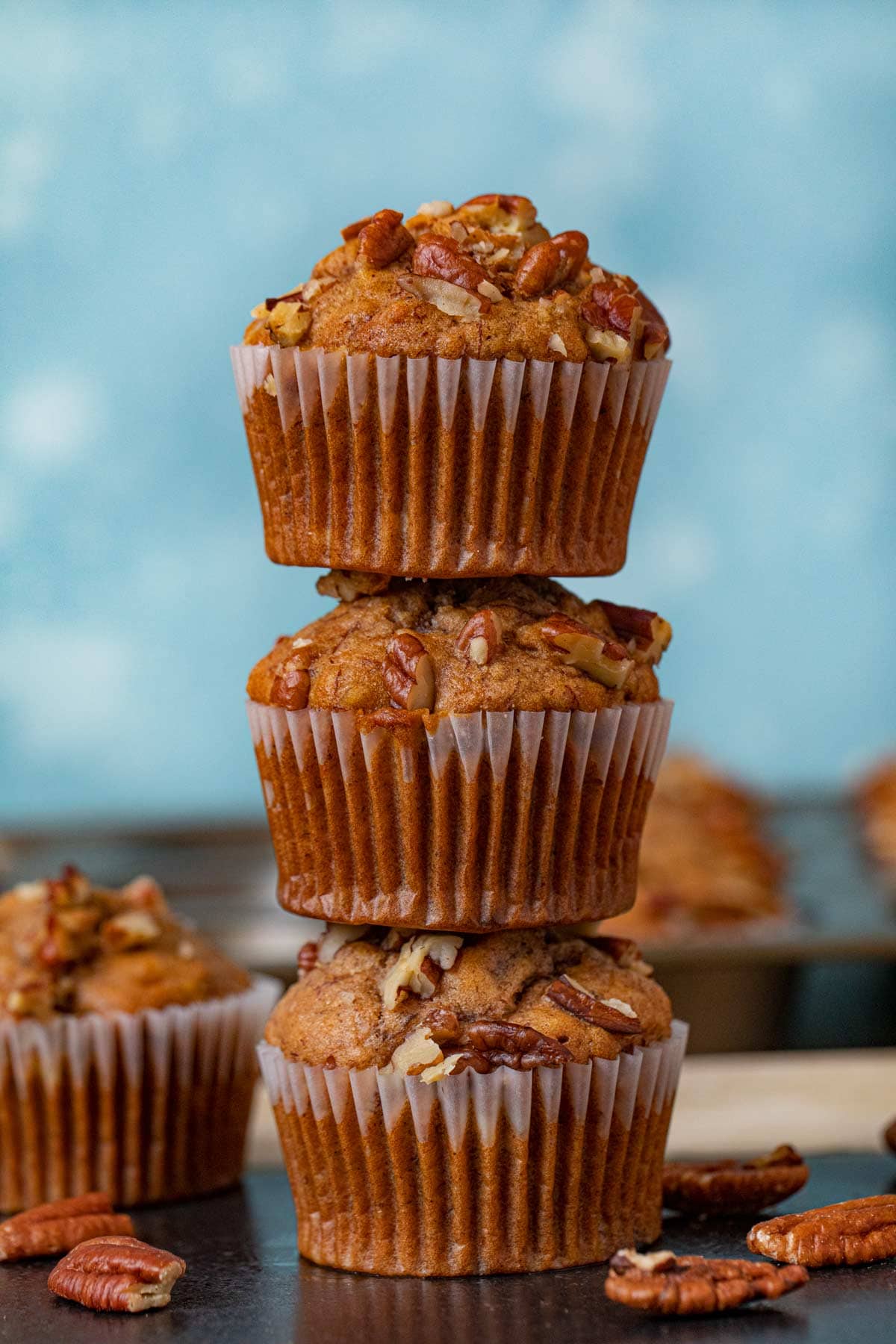 HONEY BANANA MUFFINS
Delicious Banana Muffins are a great way to use ripe bananas. So the next time you have a bunch of bananas about to go bad you can make this muffin recipe along with your favorite Banana Bread. Along with the bananas and pecans this recipe is made with the basic ingredients that you probably already have in the pantry. So, they're easy to throw together at any time.
Moist Banana Muffins make a delicious breakfast for the whole family or the perfect gift. Just wrap up individual muffins in plastic wrap then put them in a basket or gift box to make an easy and delicious present. If you're enjoying them for breakfast, try cutting a warm muffin in half with a butter knife and spread on some butter and a little extra honey for a sweet morning treat.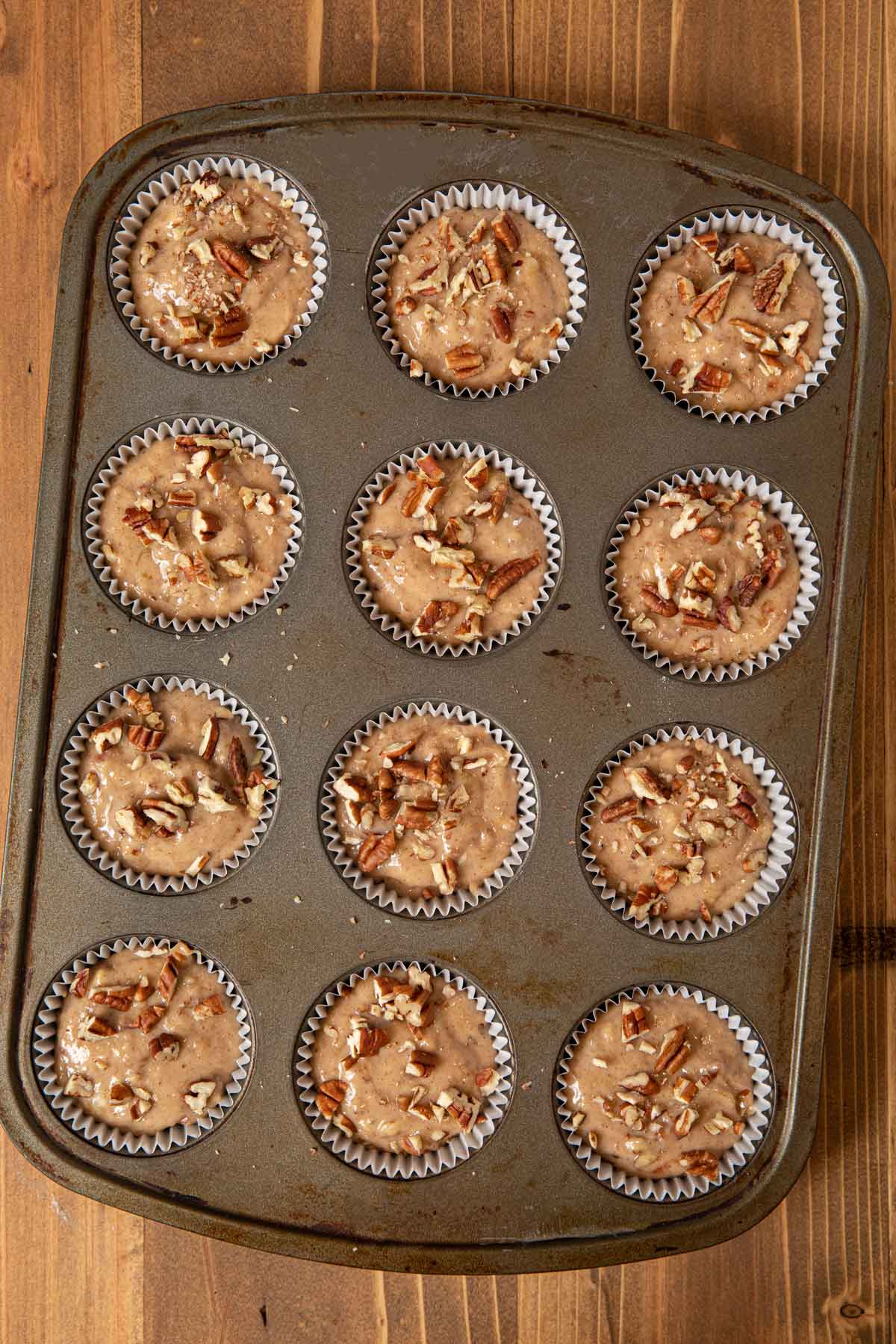 While these muffins have a light, sweet flavor, they're also relatively healthy muffins. The sweet honey and bananas make it so you don't have to mix in any extra sugar. So, as far as muffins go these are wonderfully Healthy Banana Muffins.
MORE MUFFIN RECIPES
TIPS FOR MAKING HONEY BANANA MUFFINS
During the prep time make sure that you grease the muffin tin, use cooking spray, or use paper cup liners to make sure the Honey Banana Muffins don't stick to the tin.
When you combine the wet and dry ingredients in a mixing bowl, don't overmix. The batter will still be a little lumpy, but this will make beautiful domed muffin tops.
Use a cup measurer or spoon to get a large scoop of the Honey Banana Muffin Batter. Then fill the prepared muffin tin so each individual muffin cup is about ¾ full.
The baking time is 18-20 minutes. Keep your eye on them for when they start to look golden brown. Use a toothpick to check if they're done baking.
After letting them cool you can take the muffins from the muffin tin still in their paper cups and move them to a cooling rack on the kitchen counter.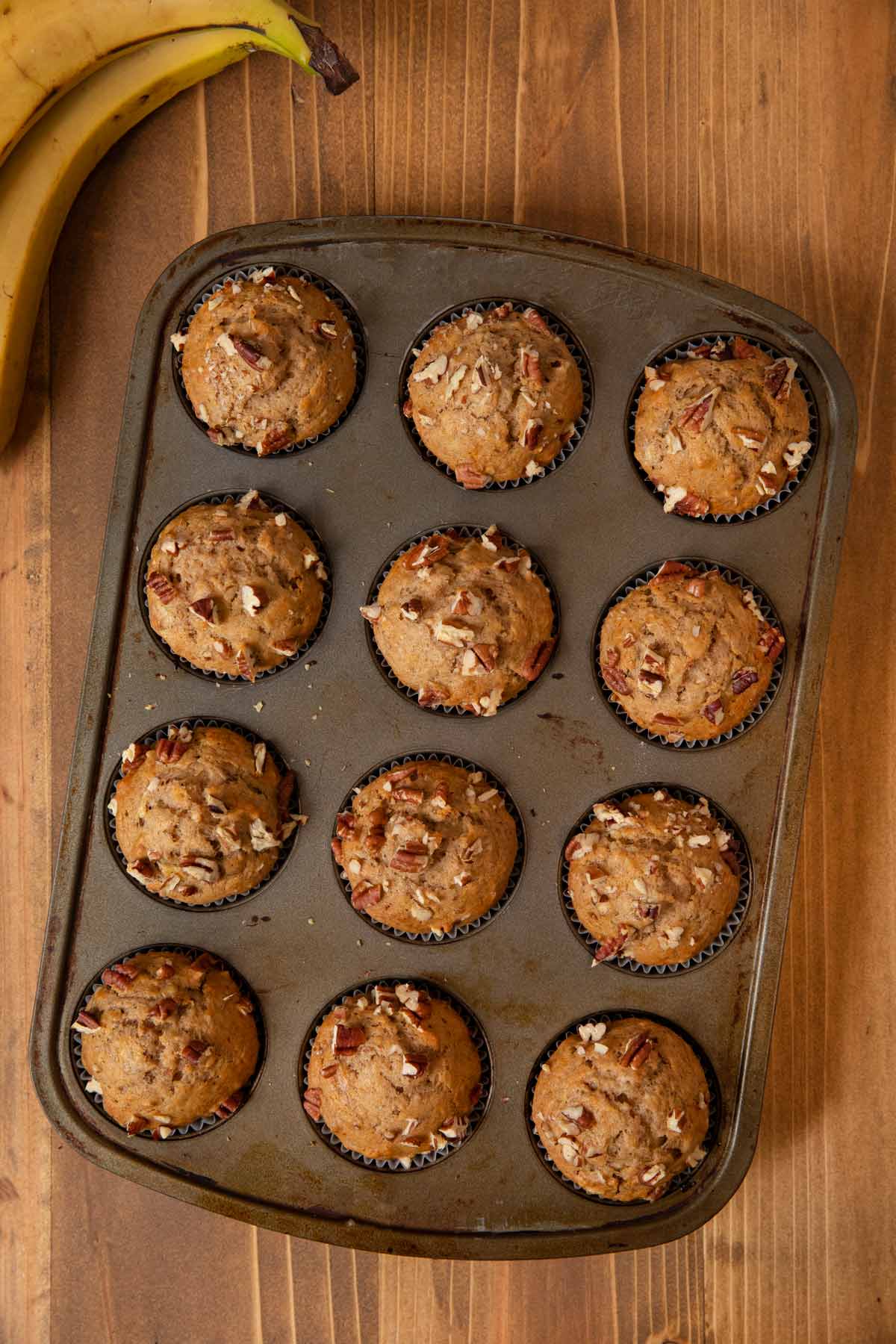 Create a free account to

Save Recipes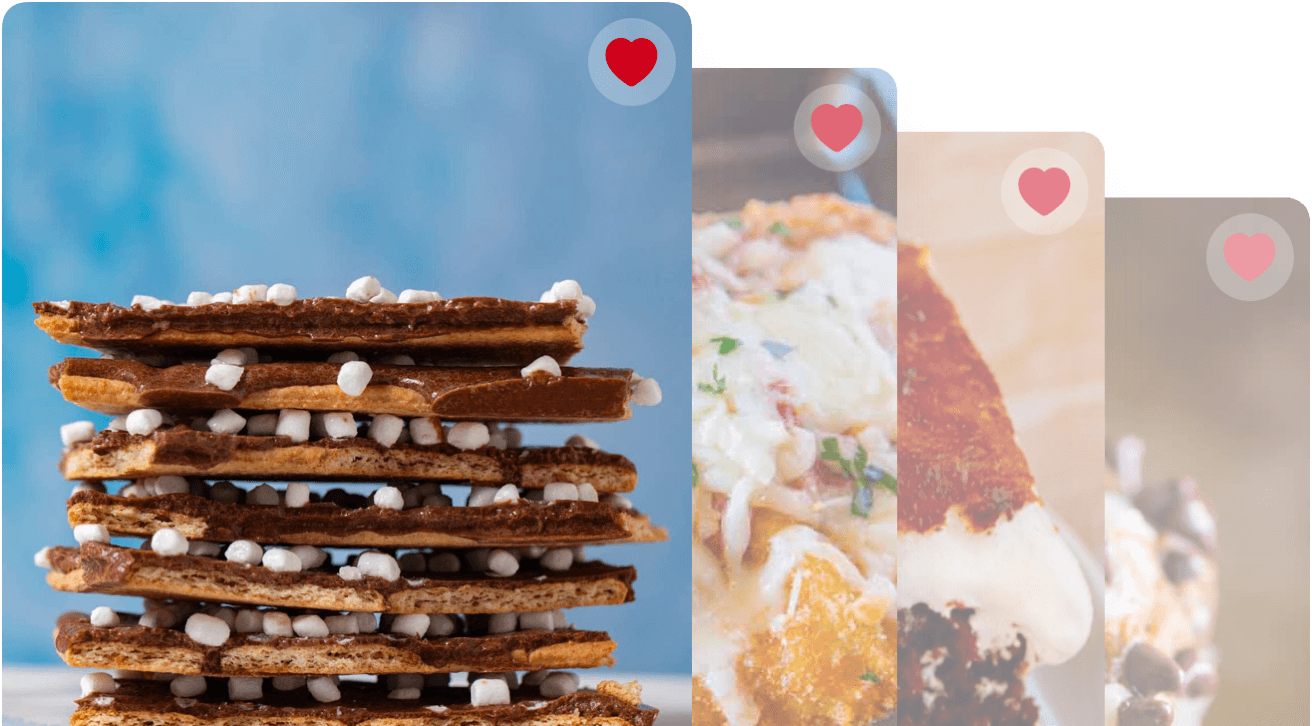 VARIATION ON HONEY BANANA MUFFINS
Vegan Honey Banana Muffins: To make these muffins vegan take out the 2 regular eggs and substitute with flax eggs and substitute brown sugar for the honey. Alternatively, you could use ½ cup unsweetened applesauce to replace the eggs. A third option is mixing in extra banana. It takes 1 mashed banana to replace 1 egg.
Oil: For some oil replacements, instead of vegetable or canola oil, try using melted almond butter, olive oil, or coconut oil. You could also replace the oil with buttermilk. To make the buttermilk combine vinegar and milk. You can use almond milk to replace the milk. Use mostly buttermilk with some melted butter mixed in to replace the oil. You could also add in a spoonful of Greek yogurt or sour cream to make the muffins extra moist.
Flour: You can make healthy Whole Wheat Banana Muffins by using whole wheat flour in place of the all-purpose flour in the recipe. Use the same amount of whole wheat flour that the recipe calls for. For a cute, healthy breakfast make Mini Wholewheat Banana Muffins. Some more alternatives you can try in the flour mixture are wholemeal flour, white wheat flour, hard red wheat flour, whole grain, almond flour, or oat flour. These are all easy ways to make healthy banana muffins.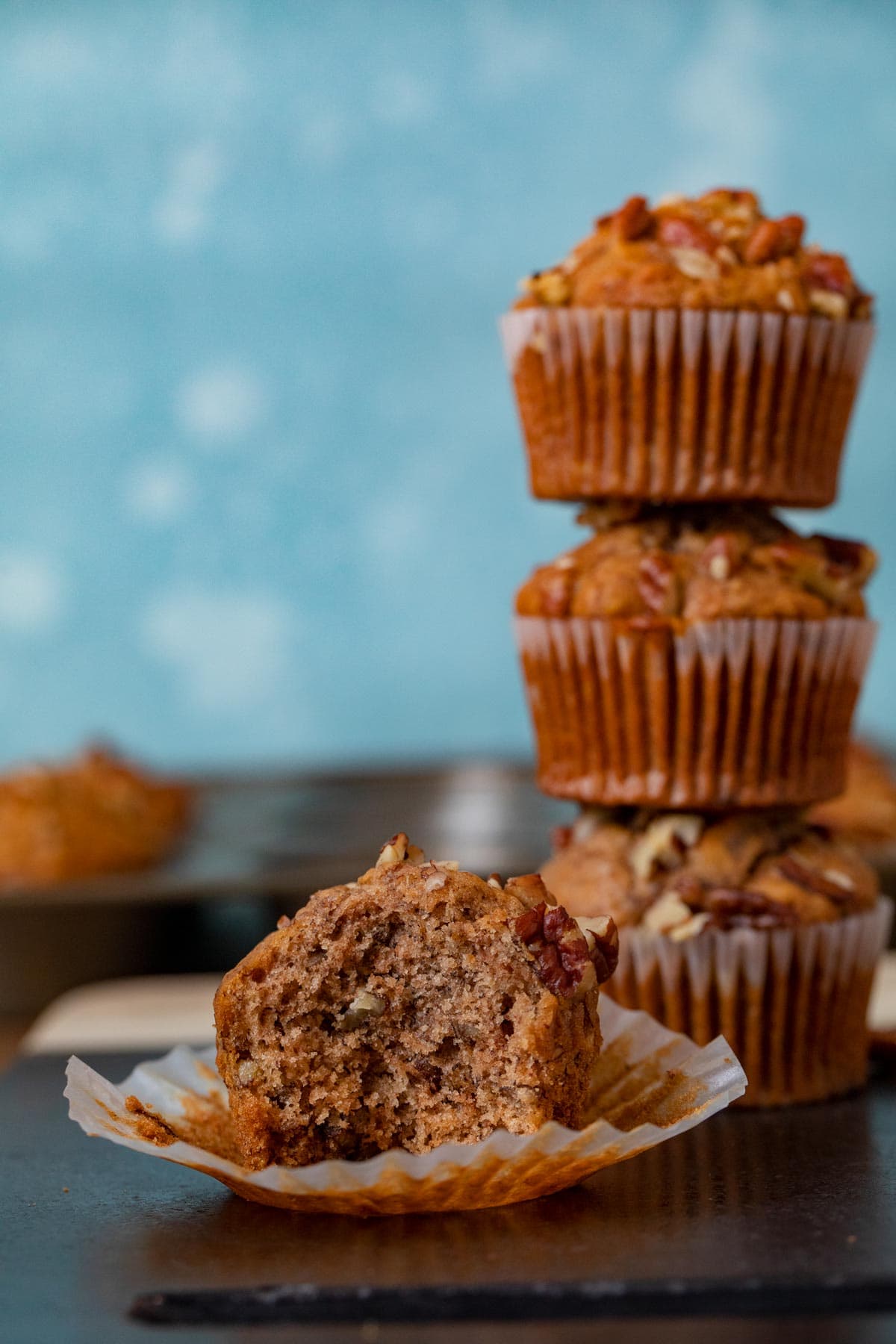 Sweeteners: If you don't have honey or just want to experiment with the flavor of the muffin, there are plenty of other sweeteners you can try. Simply use brown sugar, white sugar, maple syrup, or molasses. Even if you're still using honey, but just want some extra flavor adding a bit of maple syrup in could do that. Maple syrup has a distinct, sweet taste, that's perfect for any breakfast recipe. If you're on a sugar-free diet use artificial sugar instead of refined sugar. Just keep in mind that honey is a relatively healthy sweetener so for Healthy Banana Muffins you may want to stick to the original recipe instead for a refined sugar-free Banana Muffin.
Chocolate Chip Banana Muffins: Easily make these delicious muffins even sweeter by folding in some chocolate chips. Use milk chocolate, white chocolate, or dark chocolate depending on your taste for Chocolate Chips Banana Muffins.
Add-ins: There are plenty of other add-ins you can try besides chocolate chips in these Fluffy Banana Nut Muffins. Mix in ½ cup of creamy peanut butter to make Peanut Butter Banana Muffins. You could also add in some frozen blueberries or chopped walnuts. For some flavors try mixing in vanilla extract. Vanilla is strong enough that 1 teaspoon vanilla should do the trick. You could also mix in an extra teaspoon ground cinnamon to play up the flavors already in the muffins.
Mini Banana Muffins: Instead of using a standard cup muffin tin to make medium size muffins, you can use a non-stick 24 mini muffin pan to make mini banana muffins.
MORE BANANA RECIPES
HOW TO STORE HONEY BANANA MUFFINS
Serve: You can keep Honey Banana Muffins at room temperature for up to 3 days. Let them cool then store them in a plastic bag or another airtight container to store in the pantry.
Store: Put the Banana Muffins in an airtight container, and they'll keep well in the fridge for a week.
Freeze: You can freeze Honey Banana Muffins for up to 6 months.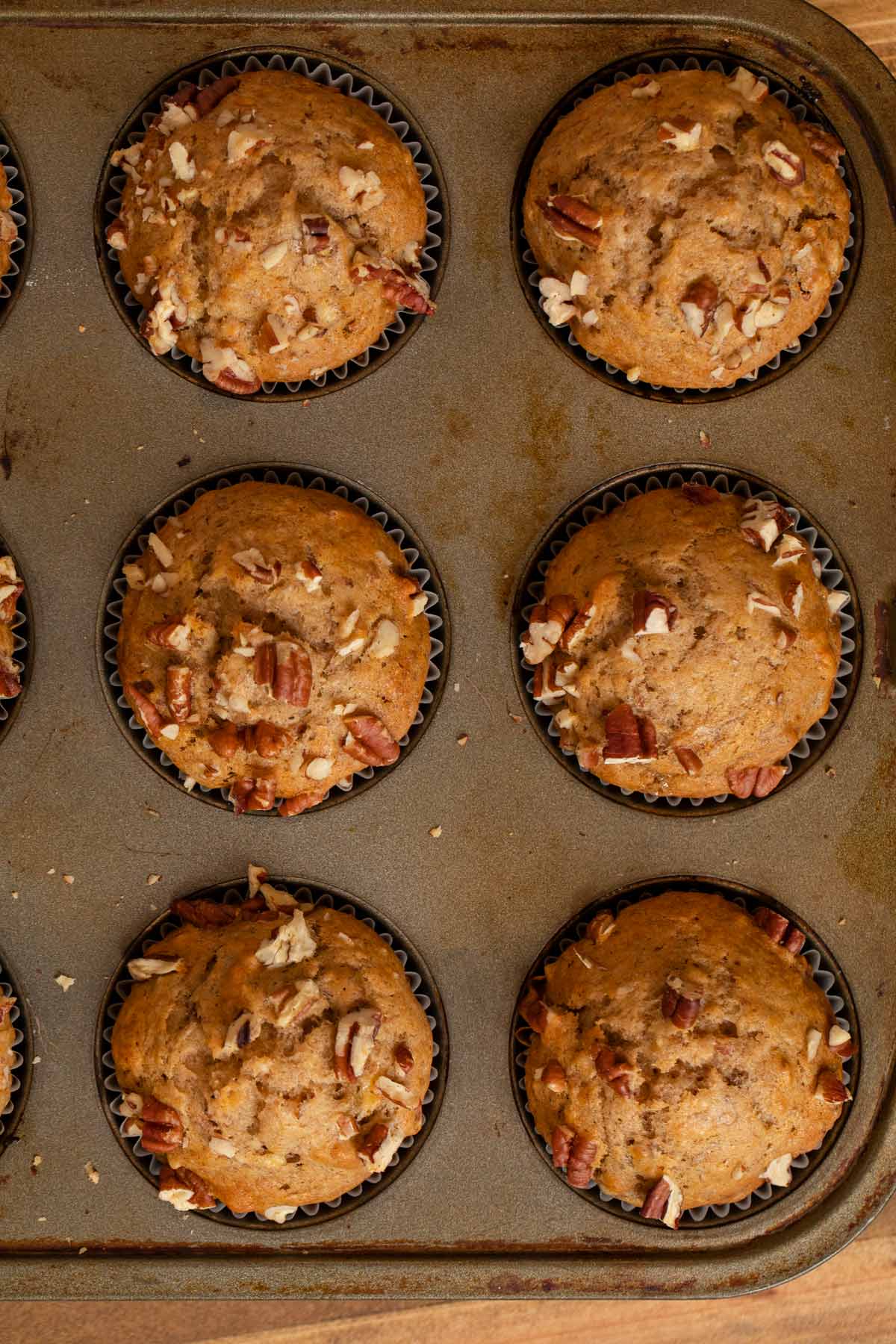 Ingredients
2

large

eggs

1

cup

mashed ripe bananas

, (1 to 2 medium)

1/2

cup

vegetable oil

1/3

cup

honey

1 1/2

cups

flour

1

teaspoon

baking soda

1

teaspoon

cinnamon

1/2

teaspoon

nutmeg

1/4

teaspoon

salt

1

cup

pecans

, chopped
Instructions
Preheat oven to 375 degrees and line a 12 cup muffin tin with muffin liners.

In a large bowl whisk together eggs, banana, oil, and honey.

Sift together flour, baking soda, cinnamon, nutmeg, and salt.

Whisk the dry ingredients into the wet ingredients until just combined.

Stir in the pecans (reserve some to sprinkle on top of muffin batter).

Scoop batter into muffin liners and top with remaining pecans.

Bake for

18-20 minutes

or until a toothpick comes out clean.
Nutrition
Calories:
245
kcal
|
Carbohydrates:
24
g
|
Protein:
4
g
|
Fat:
16
g
|
Saturated Fat:
8
g
|
Cholesterol:
31
mg
|
Sodium:
152
mg
|
Potassium:
112
mg
|
Fiber:
2
g
|
Sugar:
10
g
|
Vitamin A:
58
IU
|
Vitamin C:
1
mg
|
Calcium:
14
mg
|
Iron:
1
mg