Raisin Bran Muffins are hearty, sweet, and moist muffins made in just over a half hour with wheat bran, buttermilk, brown sugar, vanilla, and cinnamon.
If you've tried our regular Bran Muffins, adding raisins is a simple way to change up this classic Breakfast Recipe. Muffins like these are healthy, sweet, and easy to take with you on the go.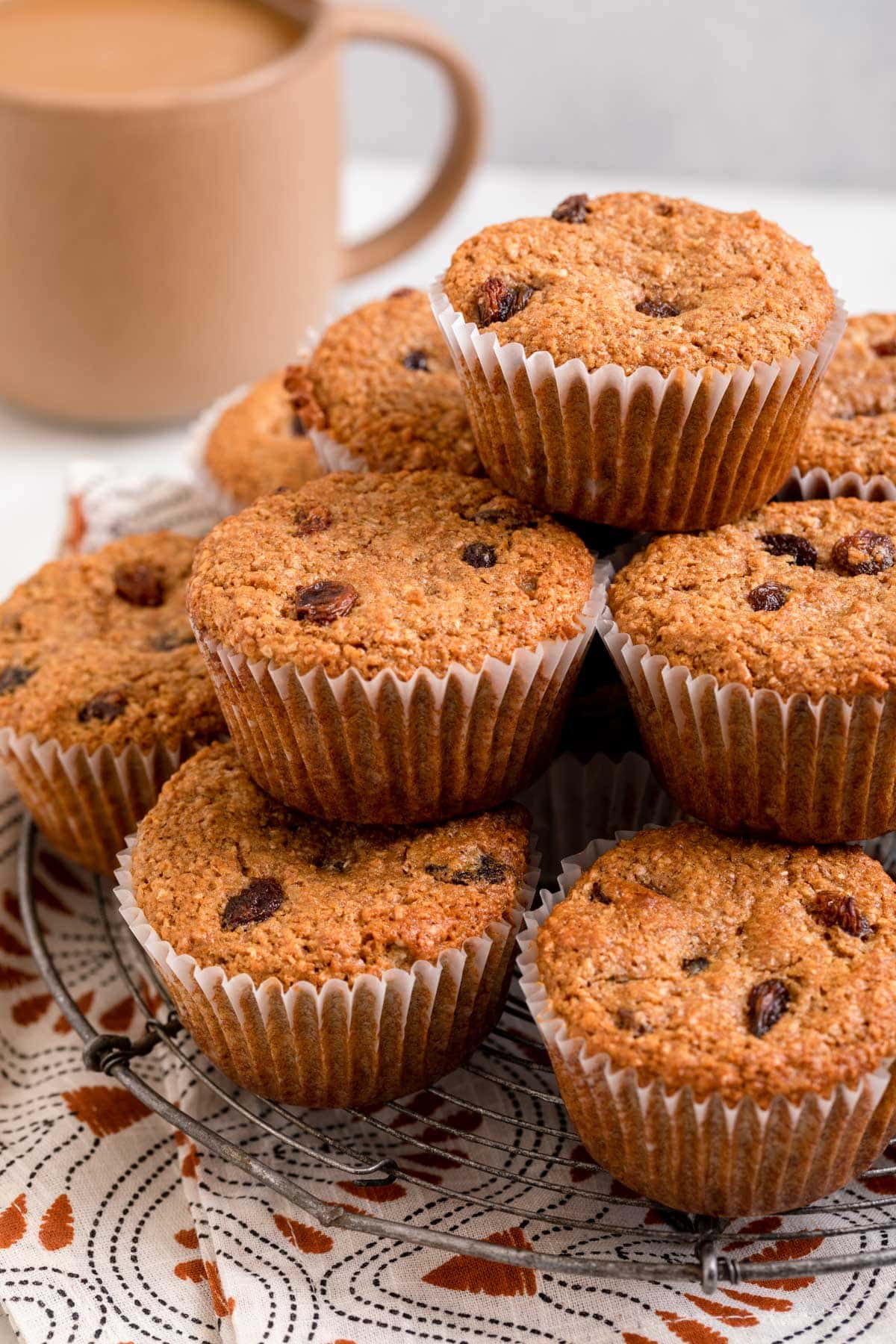 We've all tried Raisin Bran as a cereal. The slightly sweetened flakes and delicious raisins are a classic breakfast combo. This recipe takes the idea of raisin bran cereal and bakes it into a delicious buttermilk muffin. What's not to love?
Between Cinnamon Streusel Muffins, Blueberry Crumb Muffins, and Chocolate Chip Muffins there are plenty of breakfast baked goods to choose from. However, these Raisin Bran Muffins have the added benefit of being healthy.
Not only are they sweet and buttery, but these bran muffins are also full of fiber and relatively low in fat. Wheat bran comes from the outer layer of a wheat kernel. It's high in dietary fiber and a great way to make your baked goods delicious and healthy! They're a kid-friendly breakfast that you don't have to feel any guilt for indulging in.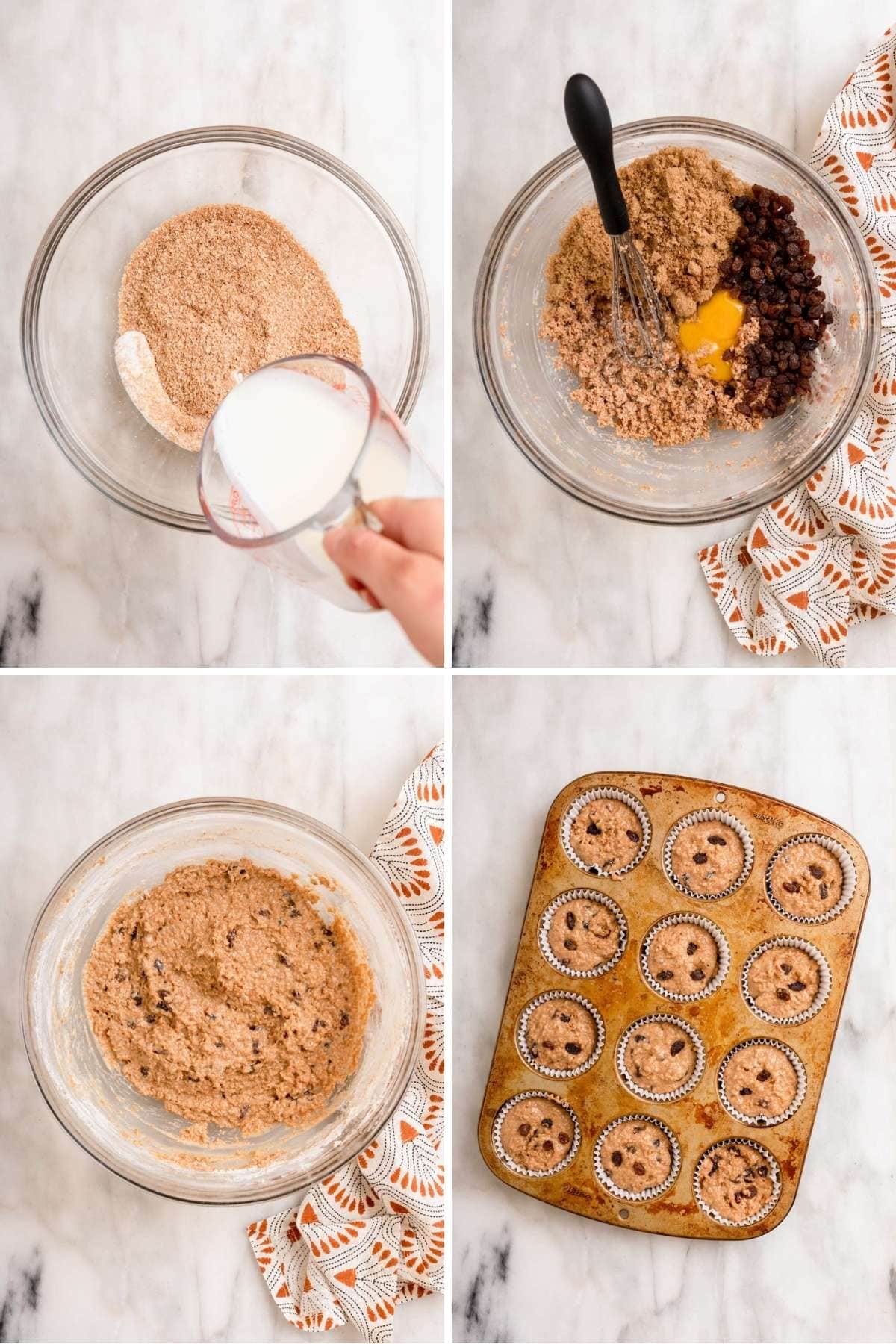 TIPS FOR MAKING RAISIN BRAN MUFFINS
Start by preheating the oven and lining your muffin tin with paper liners.
Mix the wheat bran and buttermilk together in a large bowl. Set the bran mixture aside and let it sit for 10 minutes.
While the bran and buttermilk set combine the oil, egg, brown sugar, vanilla, raisins and whisk them well.
Slowly sift together the dry ingredients.
When you combine the dry and wet ingredients be careful not to overmix.
Scoop the muffin batter into the prepared muffin tin and bake for 18-20 minutes.
Insert a toothpick in the center of a muffin to see if they're done baking. If the toothpick comes out without batter on it you can take the Raisin Bran Muffins from the oven.
HOW TO MAKE YOUR OWN BUTTERMILK
Don't have a bottle of buttermilk in the fridge? There's no need to rush out to the store. You can easily make homemade buttermilk with ingredients you already have in the kitchen.
Put 1 tablespoon of lemon juice or vinegar into a 1 cup measurer.
Fill the rest of the cup with milk.
Mix the two together.
Let it sit for about 5 minutes until the milk curdles, then use in your recipe.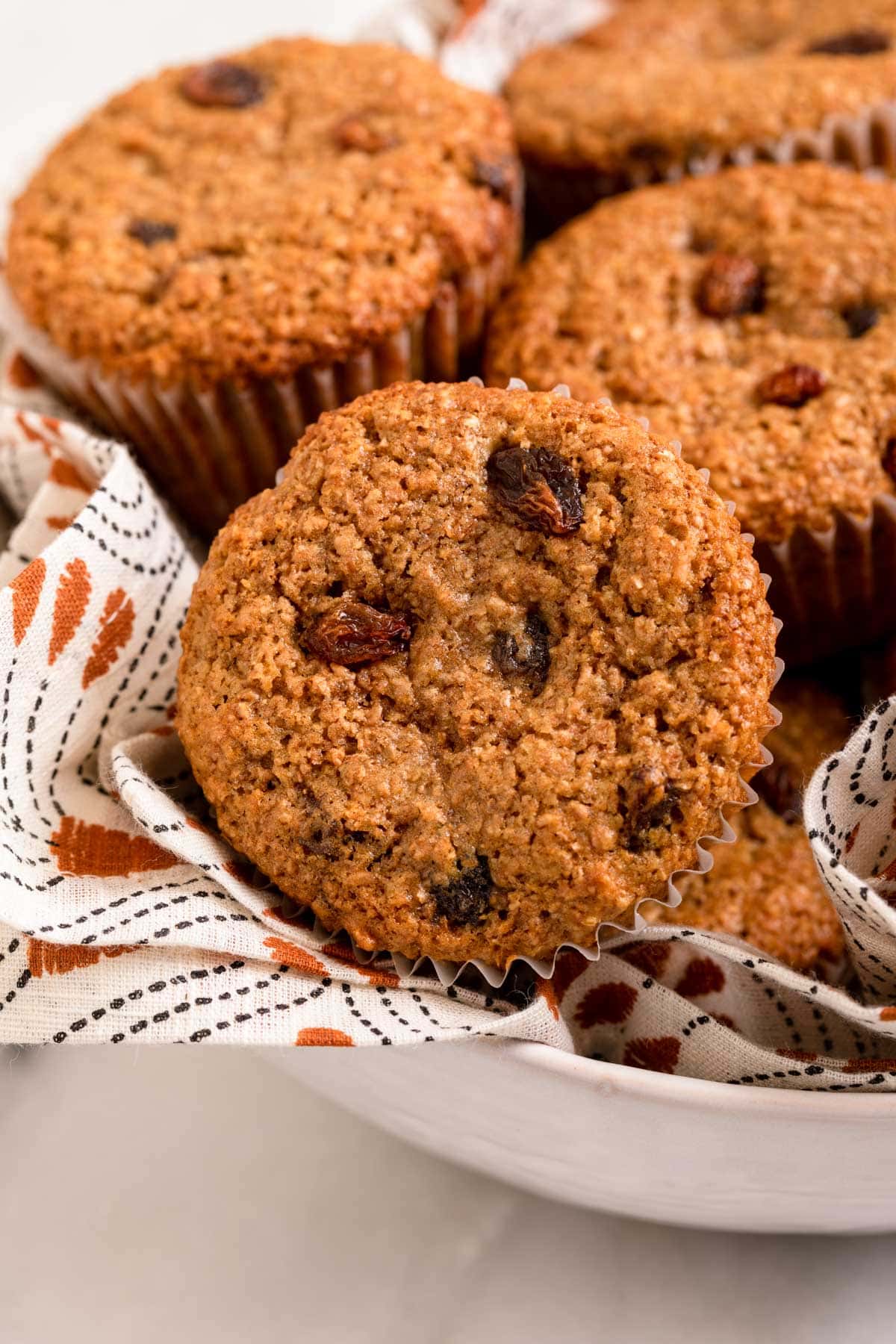 MORE MUFFIN RECIPES

Create a free account to

Save Recipes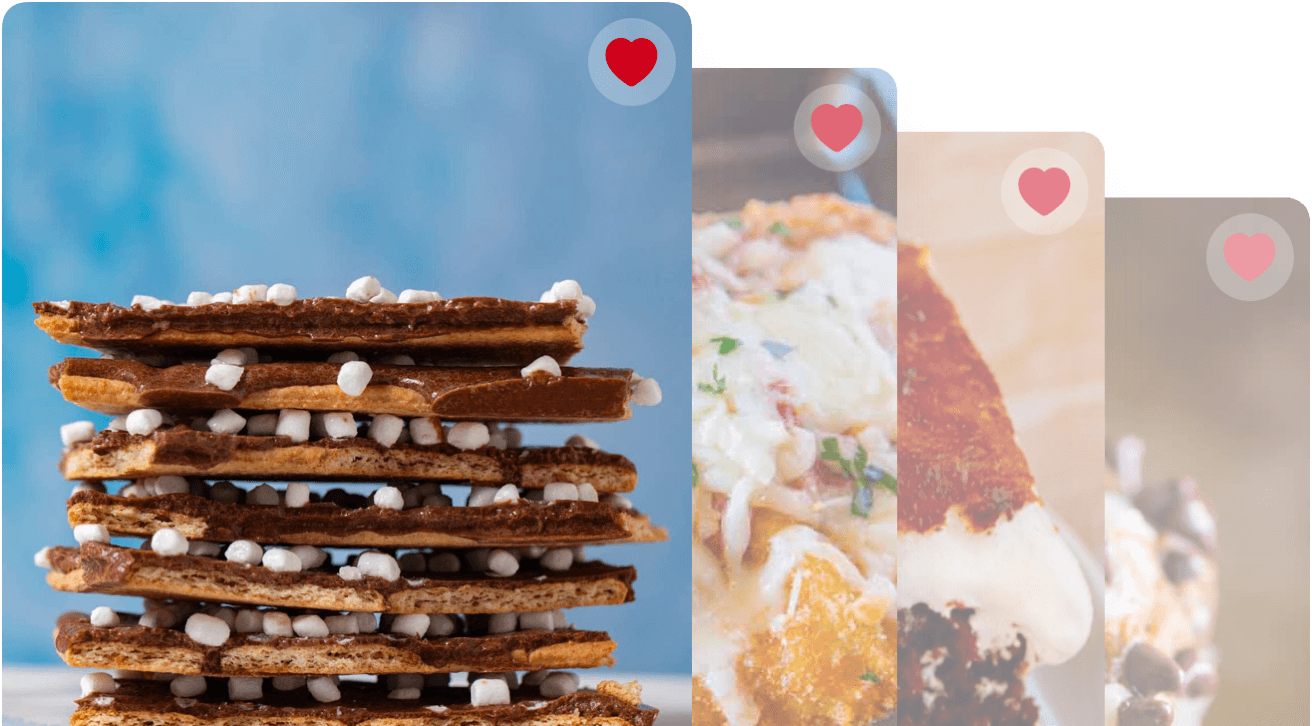 VARIATIONS ON RAISIN BRAN MUFFINS
Add-ins: For some mix-ins try putting some blueberries, raspberries, pecans, or chocolate chips instead of raisins in the muffin batter to change up the taste and texture of your Raisin Bran Muffins.
Gluten-free: Wheat bran has gluten in it, but you can make the same batter using oat bran. Make sure to get a package of oat bran that's labeled gluten-free. That way you'll be sure there was no cross-contamination during production.
Vegan: To make your muffin batter vegan replace the egg in the recipe with applesauce. Use a quarter cup of unsweetened applesauce to replace the egg.
Mini-muffins: For bran muffins that are even more portable make them in a mini muffin pan. The mini muffins will bake faster so make sure to keep an eye on them in the oven.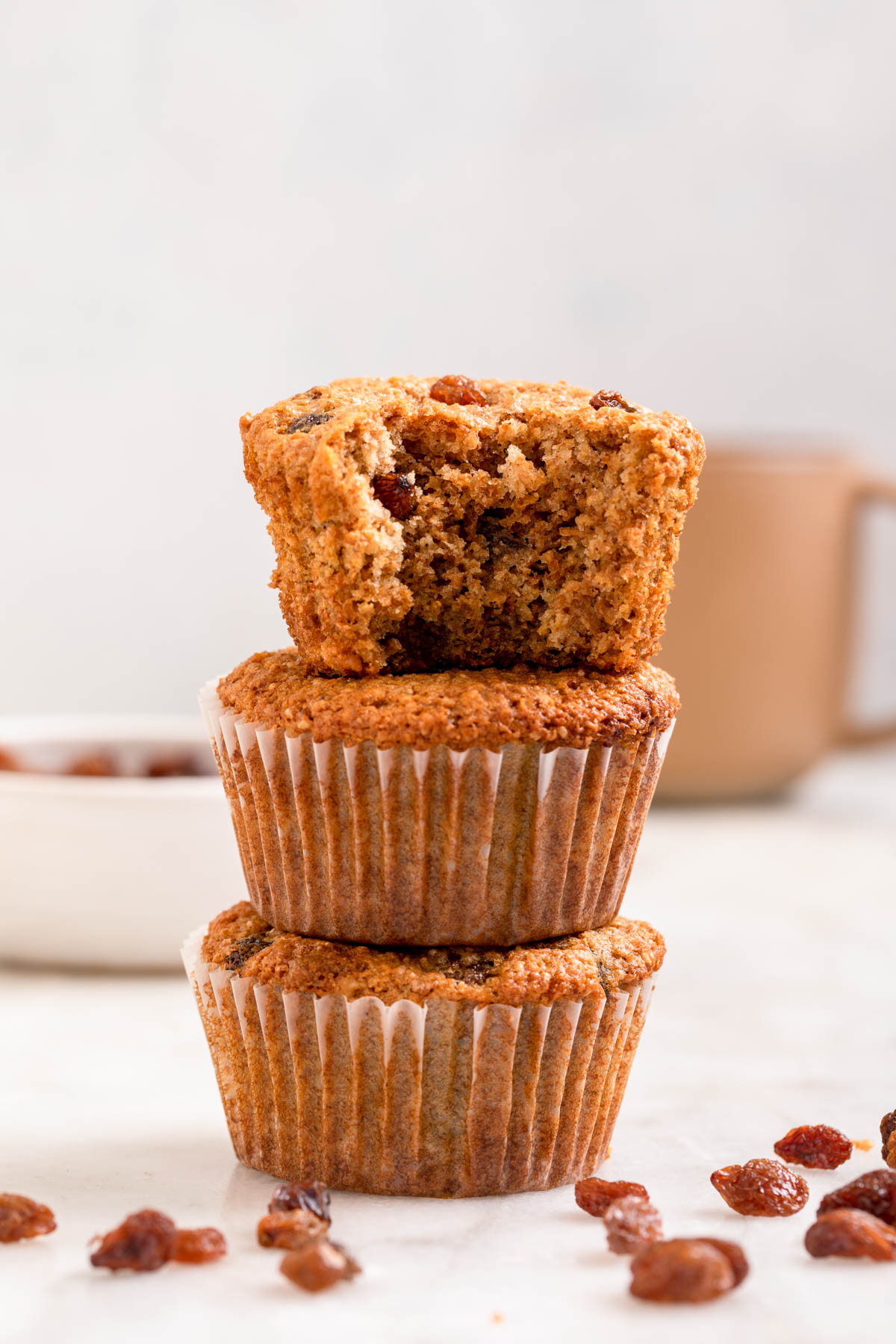 MORE BAKERY-STYLE RECIPES
HOW TO STORE RAISIN BRAN MUFFINS
Serve: You can keep raisin bran muffins in an airtight container at room temperature for 1-2 days.
Store: To store your Raisin Bran Muffin recipe in the fridge, wait for them to cool to room temperature then store them in a zip lock bag. They'll stay good for up to a week in the fridge.
Freeze: This is also a great recipe to freeze. Flash freeze the muffins for an hour while they're still in the muffin pan. After the hour the muffins should be frozen and you can put them in a freezer bag without worrying about them freezing together. They'll keep well in the freezer for up to 6 months.


Ingredients
1 1/2

cups

wheat bran

1

cup

buttermilk

1/3

cup

vegetable oil

1

large

egg

2/3

cup

brown sugar

, packed

1/2

teaspoon

vanilla extract

1/2

cup

raisins

1

cup

flour

1

teaspoon

baking soda

1

teaspoon

baking powder

1/2

teaspoon

salt

1/2

teaspoon

cinnamon
Instructions
Preheat oven to 375 degrees and line a muffin tin with muffin liners.

Add wheat bran and buttermilk to a large bowl and mix well.

Add oil, egg, brown sugar, vanilla extract and raisins and whisk well.

Sift together flour, baking soda, baking powder, salt and cinnamon.

Add to wet ingredients and stir until just combined.

Scoop into muffin liners and bake for

18-20 minutes

.
Nutrition
Calories:
126
kcal
|
Carbohydrates:
20
g
|
Protein:
2
g
|
Fat:
5
g
|
Saturated Fat:
4
g
|
Cholesterol:
12
mg
|
Sodium:
147
mg
|
Potassium:
153
mg
|
Fiber:
3
g
|
Sugar:
9
g
|
Vitamin A:
37
IU
|
Vitamin C:
1
mg
|
Calcium:
39
mg
|
Iron:
1
mg