Blueberry Muffin Bread is an easy summer quick bread with a bakery-style sweet crunchy crumb crust and fresh blueberries. Perfect for breakfast on the go!
Banana Bread is a go-to Quick Bread Recipe all year long, but this sweet bread with fresh blueberries is a summer favorite. Serve warm for breakfast, snacks, or dessert.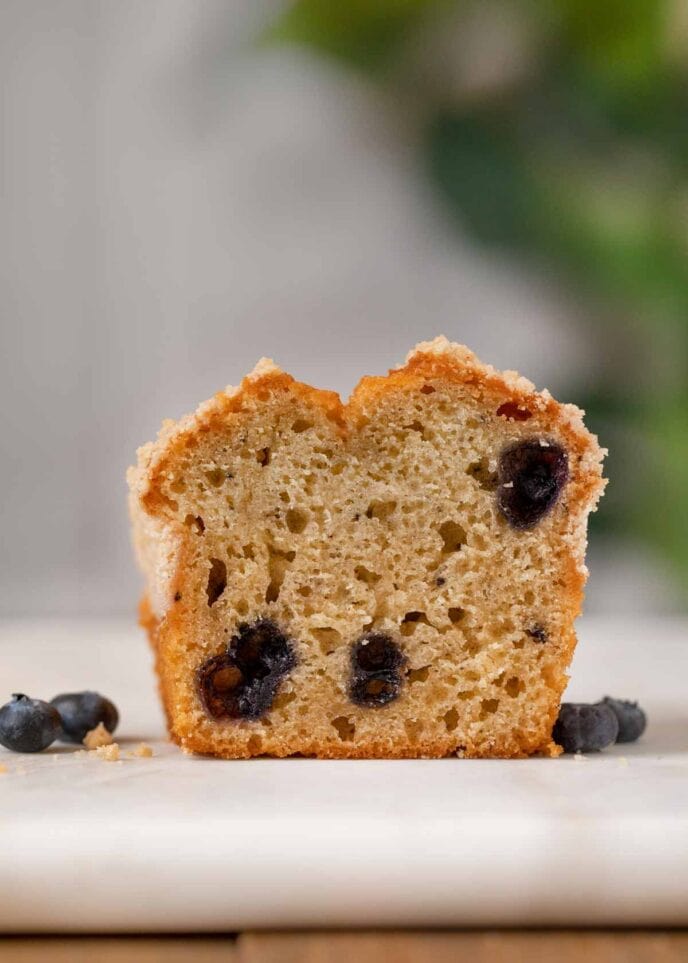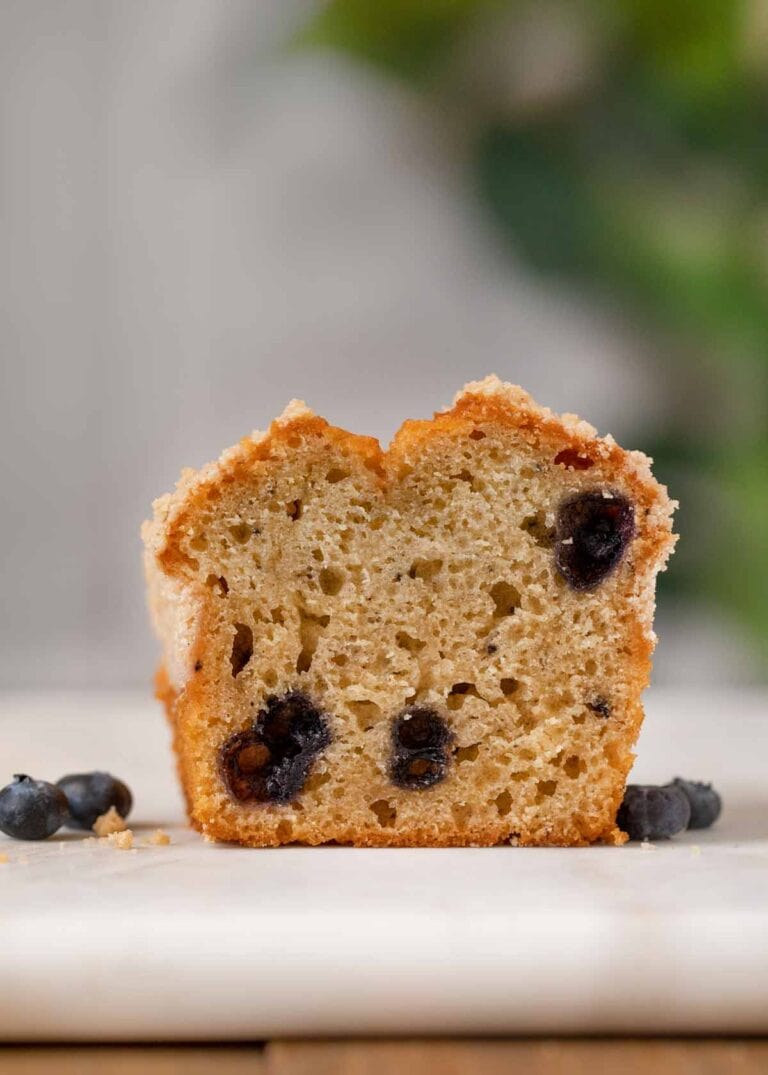 BLUEBERRY MUFFIN BREAD
Naturally sugary with a little bit of sour, blueberries are a classic breakfast berry that goes so well in Baked Goods. The bursts of blueberry juice in buttery cake makes every bite moist and sweet. From Blueberry Muffins to Blueberry Coffee Cake, these bright summer berries make breakfast, brunch, or snacking delicious.
Who doesn't love a warm, fresh blueberry muffin especially when they are made from scratch! Homemade blueberry muffins make your whole house smell amazing and they just melt in your mouth. This Blueberry Bread recipe has everything you love about muffins without having to scoop individually into a muffin tin!
Just like your favorite muffins, this Blueberry Muffin Bread recipe can be made with fresh or frozen blueberries. For frozen blueberries, you don't need to thaw them before adding them. It's actually better for the blueberries to be frozen in this recipe.
Unlike bakery-style blueberry muffins, the crumb topping on Blueberry Bread is more firm and less, well, crumbly. A streusel topping is great for enjoying at home, but this bread recipe is a great recipe for breakfast on the go with no mess. You still get all the buttery, sugary taste without the crumbs!
Blueberry Muffin Bread is just as beautiful as it is delicious, making a great bread recipe for holidays or brunch. You can also serve Blueberry Bread for dessert with a scoop of Vanilla Ice Cream or Whipped Cream. Frost with Buttercream Frosting with 1 tablespoon lemon juice added for a classic lemon-blueberry combo!
This Blueberry Bread recipe is great for freezing ahead in individual slices for quick breakfast or snacks. Cut bread and arrange slices on a baking sheet and freeze for 1 hour. Individually wrap in plastic wrap and place in a freezer bag. Microwave or warm Blueberry Bread slice in the oven and enjoy!
Tips for Making Blueberry Muffin Bread
It's important not over-mix your batter. Just like blueberry muffins, you should use a stand mixer on low or mix by hand, and only mix until just combined.
One way to avoid over-mixing is to sift the dry ingredients into a separate bowl before adding them. Often cooks see lumpy batter (which is okay for muffins) and keep mixing until smooth. Sifting reduces the lumps and the mix comes together easier.
The thick muffin batter for this Blueberry Bread should hold your blueberries up, but sometimes they will still sink to the bottom. To get blueberries stay throughout the bread, toss them in flour or cornstarch before gently folding into the batter by hand.
To keep blueberries from streaking the batter, gently fold with a spatula until just combined. You can also alternate adding blueberries and batter to the loaf pan, starting and ending with batter.
OTHER DELICIOUS QUICK BREAD RECIPES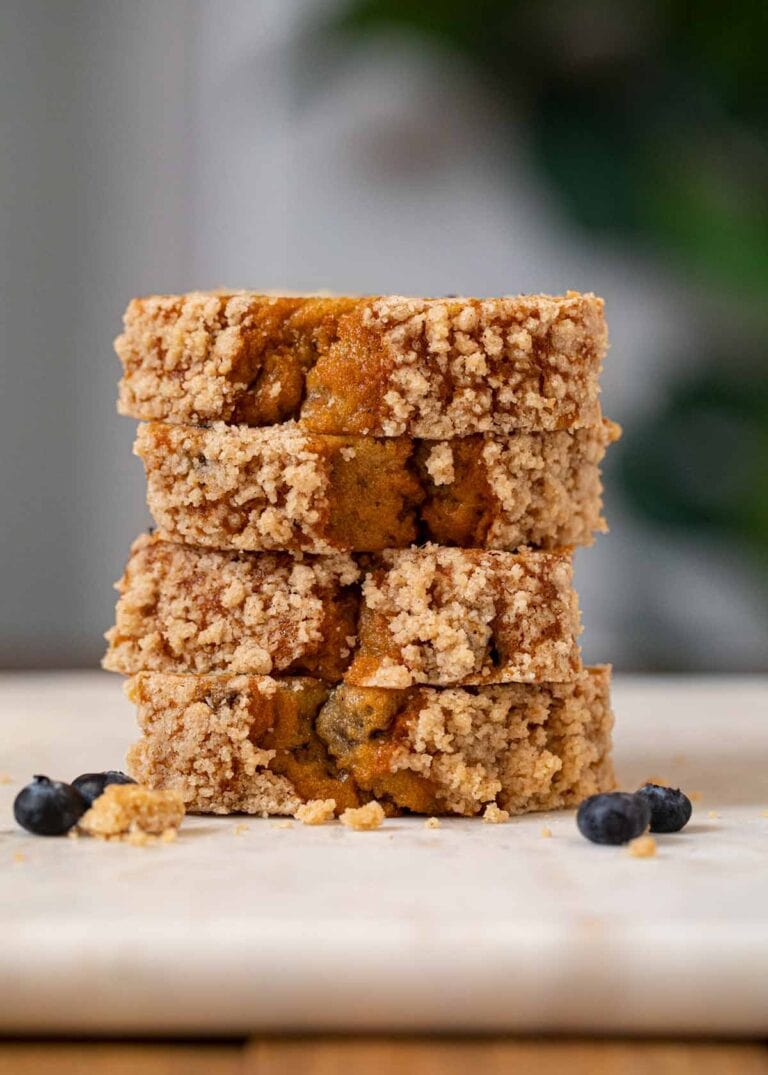 Create a free account to

Save Recipes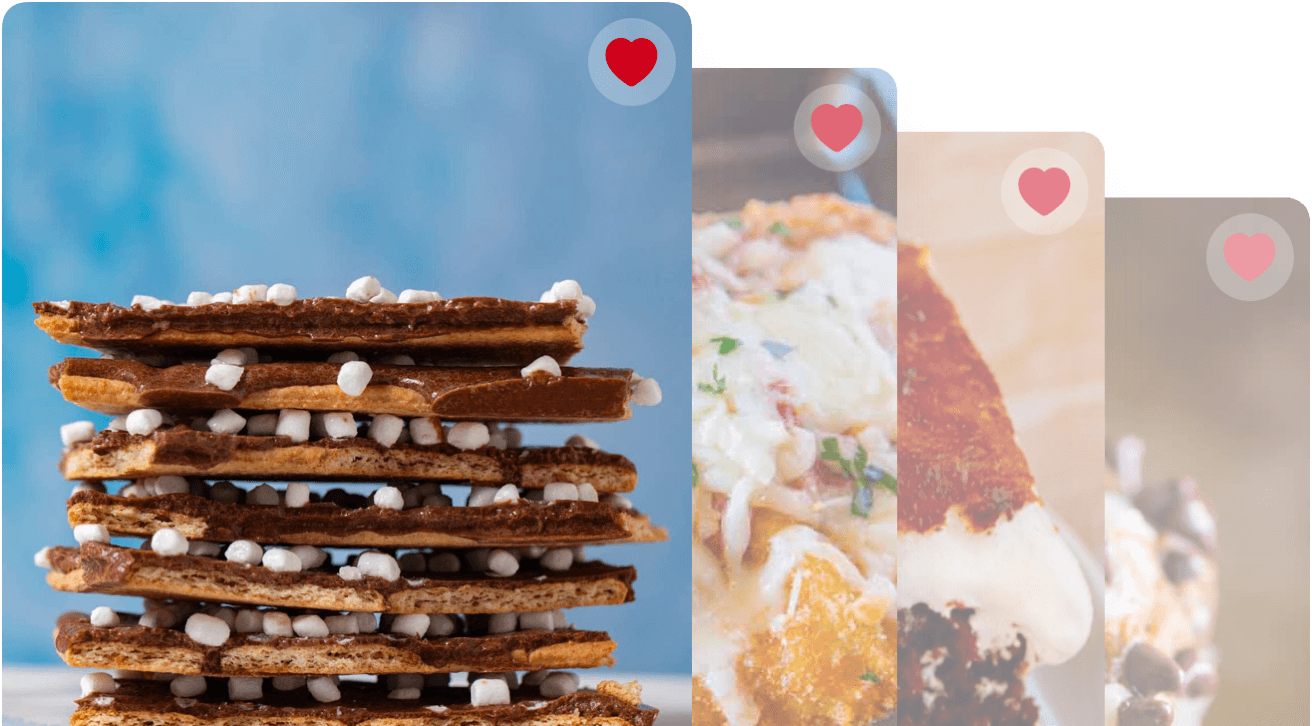 VARIATIONS ON BLUEBERRY MUFFIN BREAD
Berries: You can use up to 2 cups fresh or frozen berries in this recipe. Either double the blueberries or make a Mixed Berry Muffin Bread with a cup of raspberries, strawberries, or blackberries.
Poppyseeds: Give your Blueberry Loaf a bit of crunch with a ½ cup poppyseeds added to the milk. Heat the milk to almost boiling, add the poppyseeds, and allow to come to room temperature before preparing this recipe.
Yogurt: To add some extra moisture and richness, add a ½ cup greek yogurt or sour cream. If using greek yogurt or sour cream, add 1 teaspoon baking soda.
Lemon: To make a Lemon Blueberry Muffin Bread, add 2 tablespoons lemon juice and the zest from one lemon to the wet ingredients.
Brown Sugar: Replace ¼ cup white sugar with brown sugar for a chewier, more moist muffin bread that has a hint of caramel flavor.
Topping: Instead of the streusel, you can sprinkle turbinado sugar, raw sugar, or sparkling sugar over the batter before it bakes. Large sugar crystals don't melt easy so you get a pretty, crunchy sweet topping.
Gluten Free: To make Gluten Free Blueberry Muffin Bread, swap all purpose flour for a gluten free blend in equal amounts. If the alternative flour doesn't have xanthan gum already, add 1 teaspoon for best results.
OTHER TASTY MUFFIN RECIPES
HOW TO STORE BLUEBERRY MUFFIN BREAD
Serve: Blueberry Muffin Bread is best served warm or at room temperature. Keep fresh by placing bread in a sealed container lined with paper towels and storing in a cool, dry place.
Store: You can refrigerate Blueberry Bread for up to 1 week in an airtight container. Use paper towels in the bottom to absorb moisture.
Freeze: Freeze Blueberry Bread whole or in slices. Wrap bread in plastic wrap, place in a sealed container, and freeze for up to 6 months.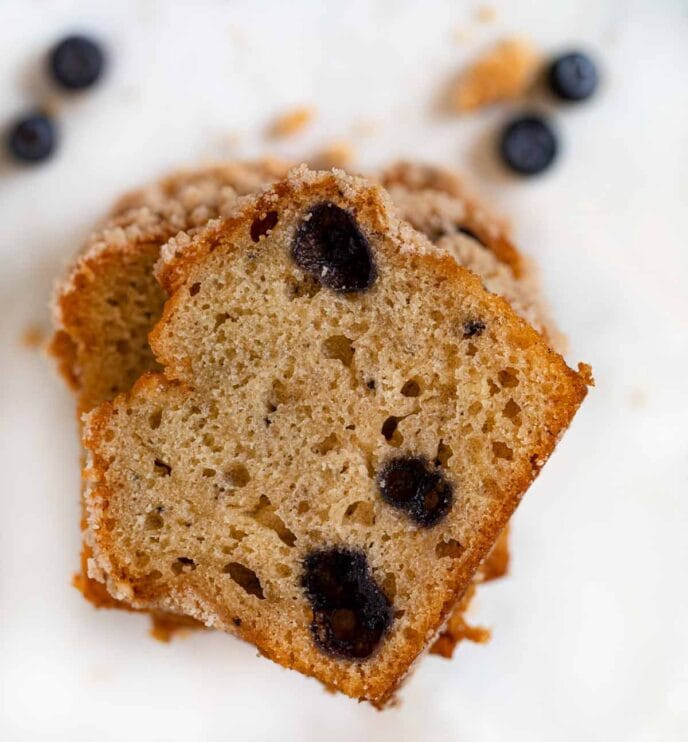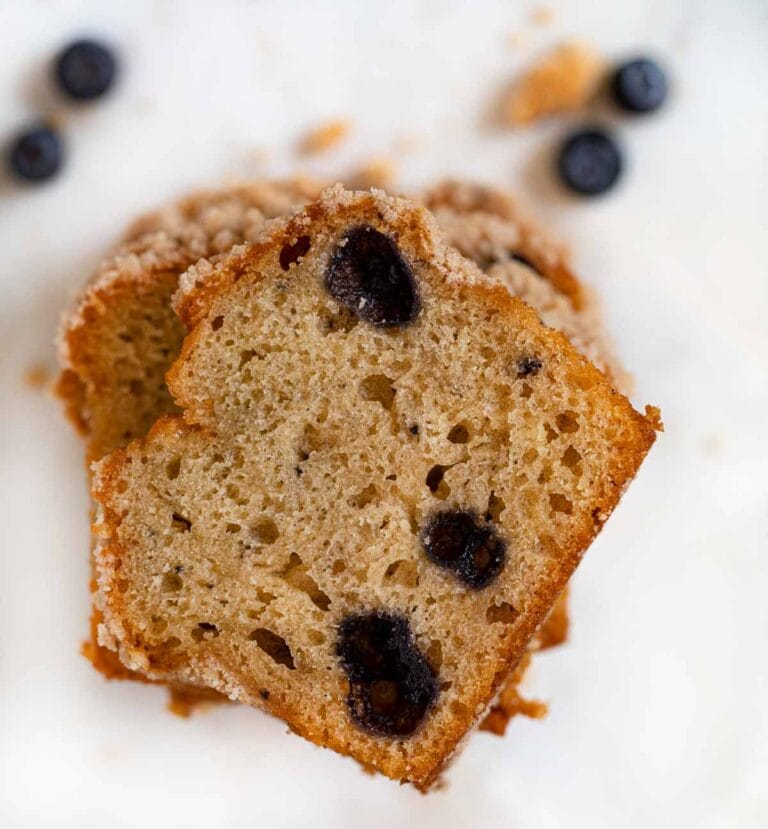 Ingredients
Blueberry Bread:
1/2

cup

unsalted butter

, softened

1 1/4

cups

sugar

2

large

eggs

2

teaspoons

vanilla extract

2

cups

flour

1/2

teaspoon

salt

2

teaspoons

baking powder

1/2

cup

whole milk

1 1/2

cups

blueberries

, fresh

2

tablespoons

flour

, (for tossing with blueberries)
Crumb Topping:
1/4

cup

white sugar

1/3

tablespoons

flour

2

tablespoons

unsalted butter

, cold, cubed

3/4

teaspoons

cinnamon
Instructions
Preheat the oven to 350 degrees and butter and flour an 8x4 inch loaf pan.

Add the crumb topping ingredients to a food processor and pulse until fine crumb, like cornmeal. Set aside.

In a stand mixer cream your butter and sugar until light and fluffy, about

2-3 minutes

.

Add the vanilla and eggs until fully combined.

In a separate bowl sift together the flour, baking powder and salt before adding it into the stand mixer on low speed, alternating with the milk until just combined.

Toss the blueberries in the remaining flour then fold them in by hand until just combined and pour into the pan.

Spread crumb topping evenly over top of blueberry loaf.

Bake for

60 minutes

, until a toothpick comes out clean.
Nutrition
Calories:
274
kcal
|
Carbohydrates:
43
g
|
Protein:
4
g
|
Fat:
10
g
|
Saturated Fat:
6
g
|
Cholesterol:
56
mg
|
Sodium:
136
mg
|
Potassium:
100
mg
|
Fiber:
1
g
|
Sugar:
27
g
|
Vitamin A:
334
IU
|
Vitamin C:
1
mg
|
Calcium:
42
mg
|
Iron:
1
mg